Introduction
An Initial Game Offering or IGO is a fundraising strategy that blockchain game development teams use to raise money at an early stage. Early backers might get valuable in-game items and tokens at a significant discount before it is listed and available to everyone on an exchange.
Here in this article we have compiled a comprehensive best IGO Launchpads list.
IGOs are distinct from initial coin offers (ICOs) because they are specific to the gaming sector. However, I will call IGOs a vairant of ICOs as both are similar tools. To know more about ICOs here.
IGOs allow developers to directly approach the public for money for their video game ideas. The blockchain gaming industry has seen a significant increase in its audience. And hence the increase in interest in IGOs.
Before we explore the best IGO Launchpads, let's first briefly discuss what IGO launchpads are.
What Are Initial Game Offering (IGO) Launchpads?
Initial game offerings (IGOs) give people the chance to take part in gaming initiatives that have the potential to produce large rewards after their release. In order to host such offerings, there are specialized platforms. These platforms host Gaming projects so people can invest in them.
You rightfully guessed it these are called IGO Launchpads or IGO Platforms.
IGO Launchpads do not only list Gaming projects on their platforms for funding they make sure that the marketing & advertisement of the projects are properly done.
In order to participate and get an allocation in IGOs, you have to buy the native tokens of Launchpads. Most allocations for IGO Launchpads follow a tiered pattern.
Your tier, priority status, and the likelihood of receiving a guarantee about the allocations increase with increasing token staking quantity and duration. For the lowest tier, the majority of IGO platforms use lotteries.
Additionally, holders of the native tokens of the IGO platforms get discounts, all-access giveaways, enticing prizes, and airdrops. Even though token farming produces benefits in terms of earning more native tokens, they normally do not qualify you to take part in IGO unless they are unfarmed.
However, most IGO platforms consider Staked tokens for participation.
How to Participate in IGO Launchpads?
Each one the belowmentioned best IGO launchpads has a unique procedure for participation. Though most have these common steps:
After a researched selection of your best IGO launchpad, you have to connect your wallet with the Launchpads Platform. You can use any one of the many Cryptocurrency wallets like MetaMask, Trust Wallet etc.
Once connected the Launchpad automatically tells you your tier depending upon the native tokens you own to which your expected investment value will correspond.
The Gaming projects available for investment are visible on the launchpad and you can click on the one that you wnat to invest in. Some launchpads ask you to complete your KYC before participating.
You can then participate and claim the game tokens as per the claiming schedule.
The Best IGO Launchpads
Considering aspects such as:
Infrastructure support,
Financing mechanisms,
Add-ons,
Cross-chain compatibility,
Ease of IGO joining procedure,
Entry thresholds,
NFT stores, etc.,

I consider the following to be the Best IGO launchpads in the crypto gaming market.
However, I always appreciate readers doing their own research. If you feel there are other platforms that need to be mentioned here, drop them in the comment section below.
The greatest IGO launchpad for creating thriving communities and running crowdfunding campaigns with blockchain technology is Enjin Starter.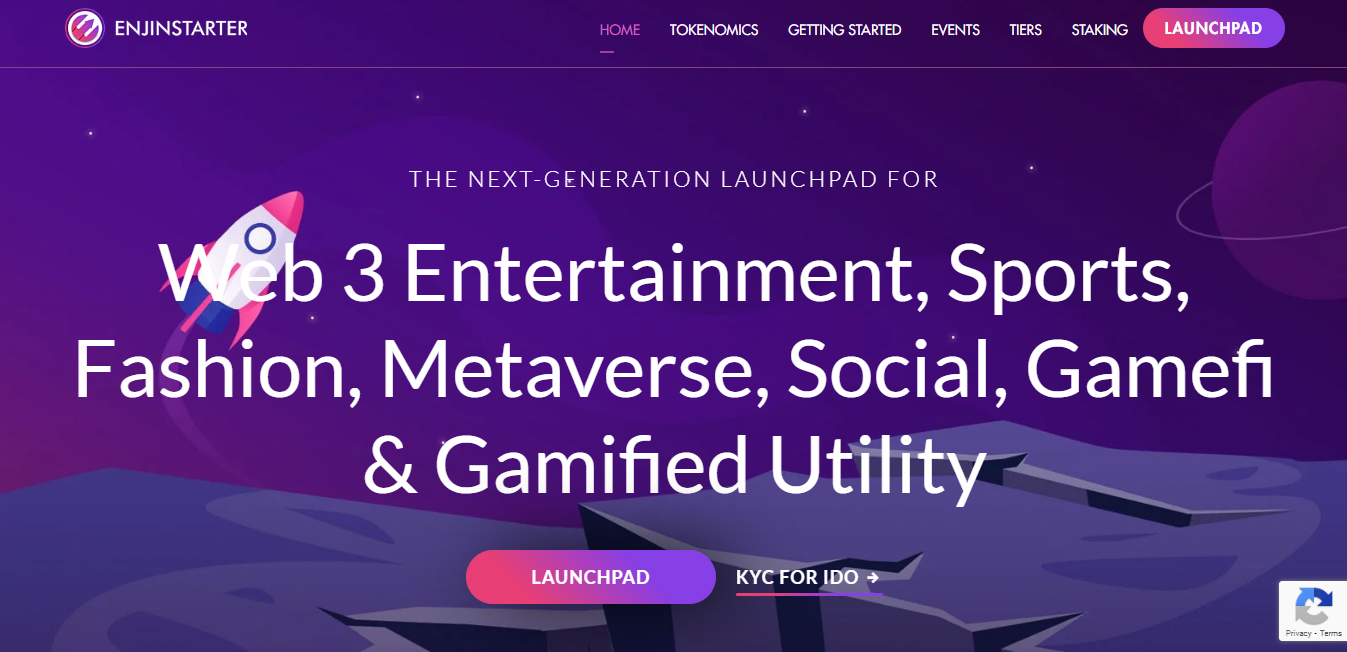 It offers customers instructions for migrating NFT to Efinity and integrating several chains. Additionally, it provides value-added advantages including carbon-negative NFTs, support for smart contracts, and gasless transactions.
A holding of between 25,000 and 500,000 Enjin starters (EJS) tokens is needed to participate in the money-back guarantee allocation, and 25% of Enjin starter's remaining tokens are subsequently made available in the community pool.
Here is the complete list of Tier at Enjin Starter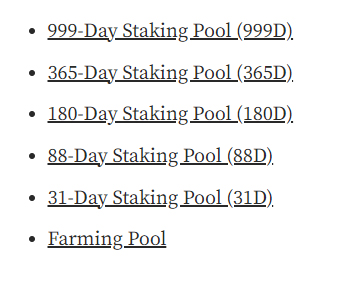 Last but not least, its incubation program, which also is put out in cooperation with certified partners, offers full project assistance for long-term sustainability and profitability.
GameFi is another product from Icetea Labs, the company behind Red Kite. It is one of the best IGO launchpads with an extensive collection of resources for everyone that has any involvement in the gaming finance industry.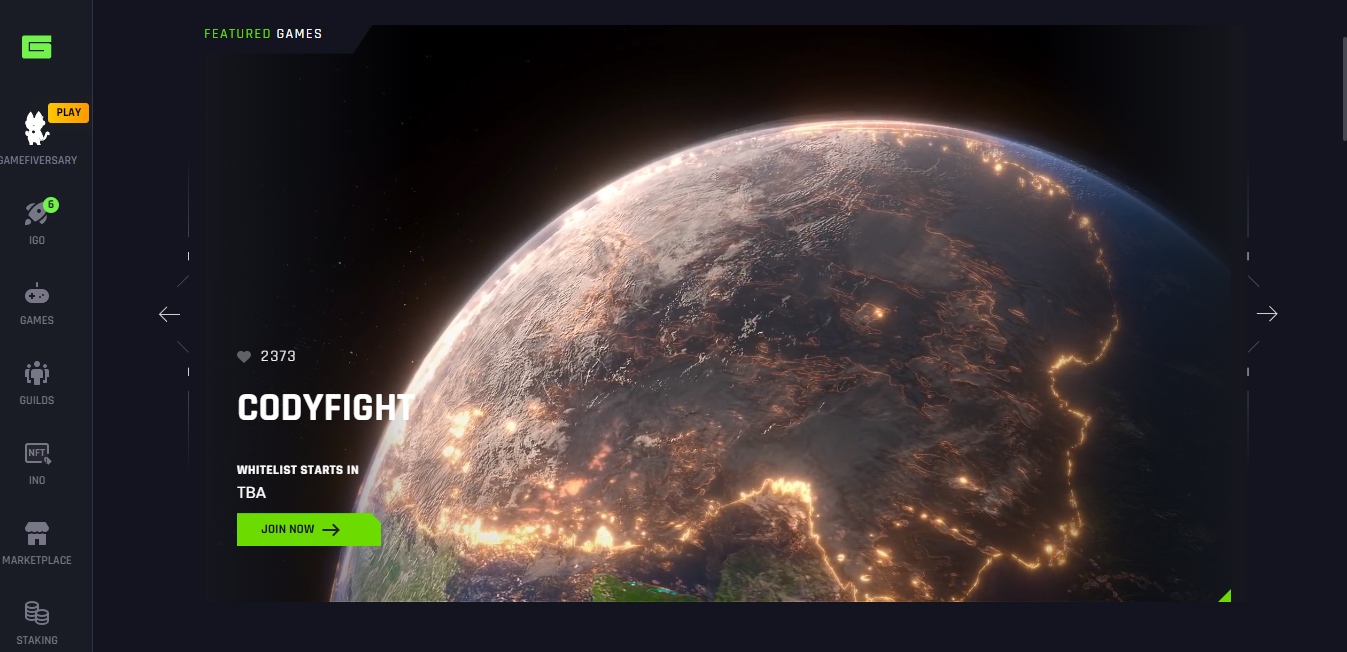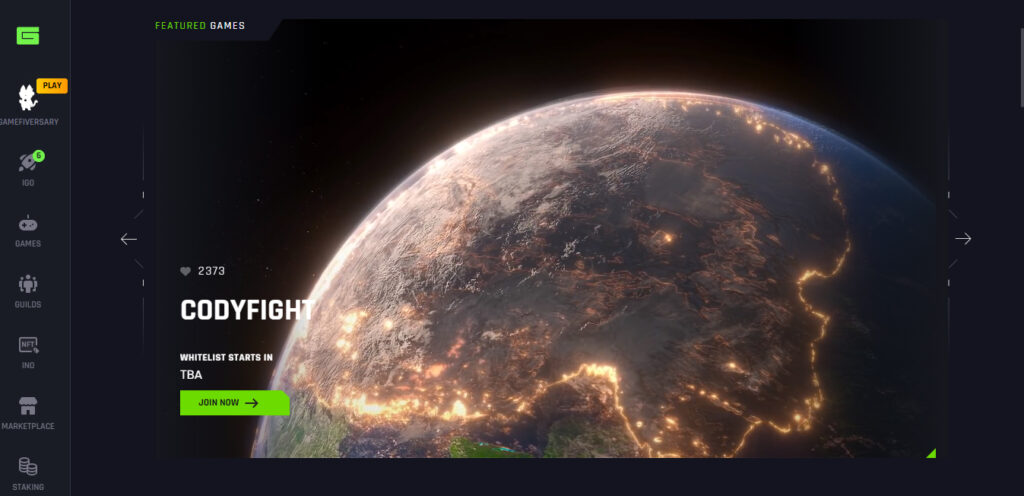 The likelihood of getting the assurance of a position increases with each tier because three of the four levels are lottery entries. The "Elite" category, for instance, offers five entries into the lottery and costs 100 GAFI tokens. The whitelist for GameFi has a finite amount of slots. All investors wishing to invest in an IGO get the information in advance of this number.
Details of the Tier System are below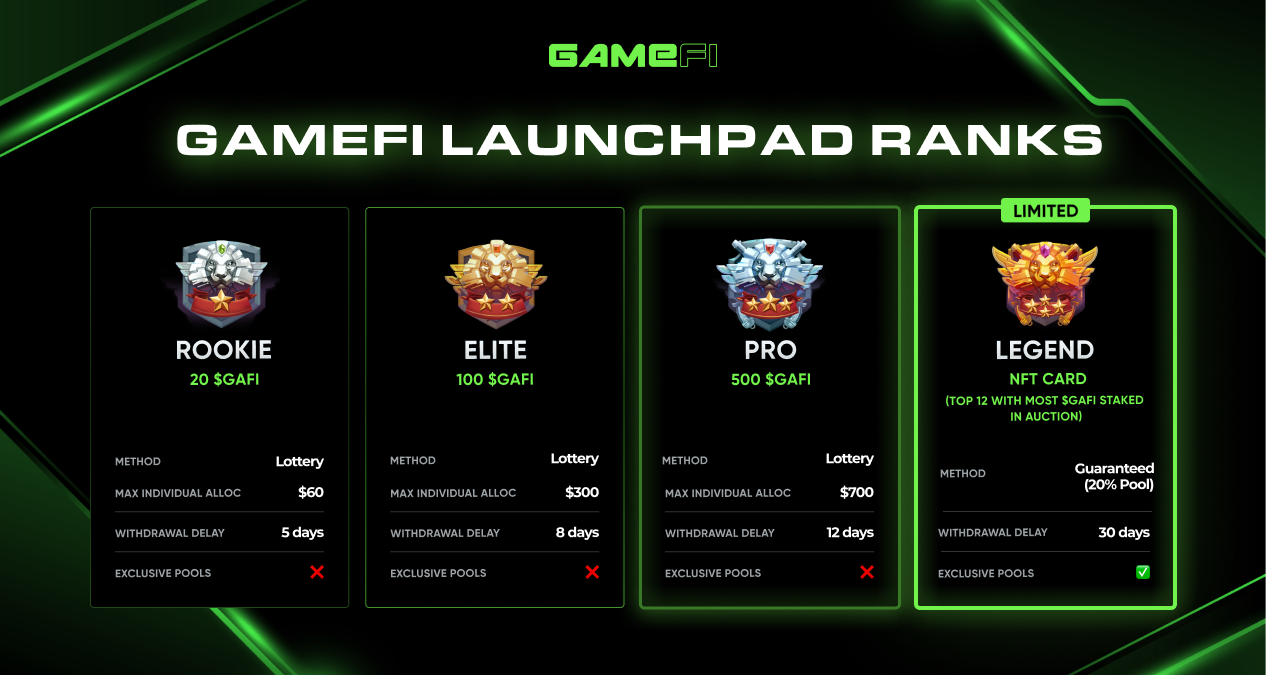 Benefits for Stakeholders
As Project
A wider audience for games and in-game assets, player-focused development financing, and seamless holder-player relations.
Speculators
Simple student onboarding increased liquidity, priority allocations, and $GAFI staking rewards.
The Players
Liquid marketplace, free P2E games, and simple game monitoring.
Notable Characteristics of GameFi include:
Unified dashboard for accessing games, tracking yields, and valuing gaming riches. Game aggregator.
Launchpad for any chain, specific to any game.
Mini-games
A venue for fair and impartial bidding on rare NFTs.
The multi-chain market for gaming assets with yield.
Yield guild for BSC/Polygon game token owners to support P2W gameplays by grants or other creative endeavors.
NFT factory contracts, tokenomics, and P2E workings accelerator to increase delivery targets.
Use Solana to safeguard user data.
Popular Projects Launched at GameFi
BeFitter
Orbitau
GunStar Metaverse
MetaOasis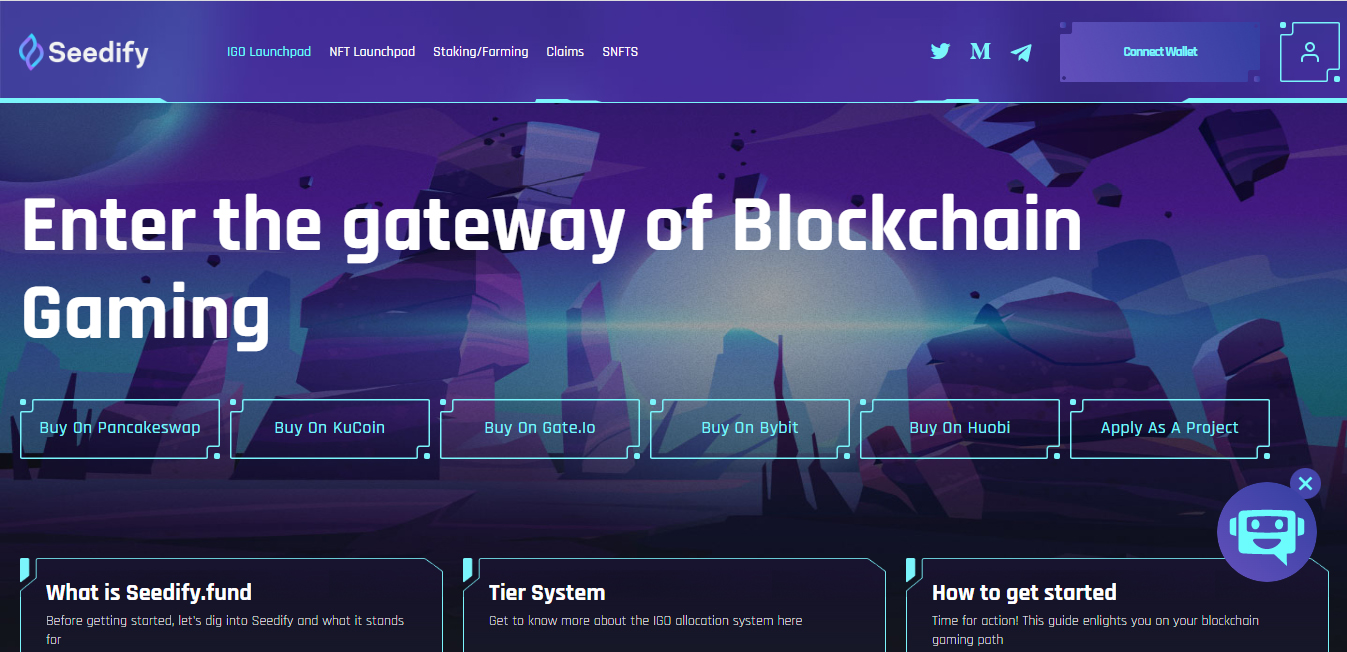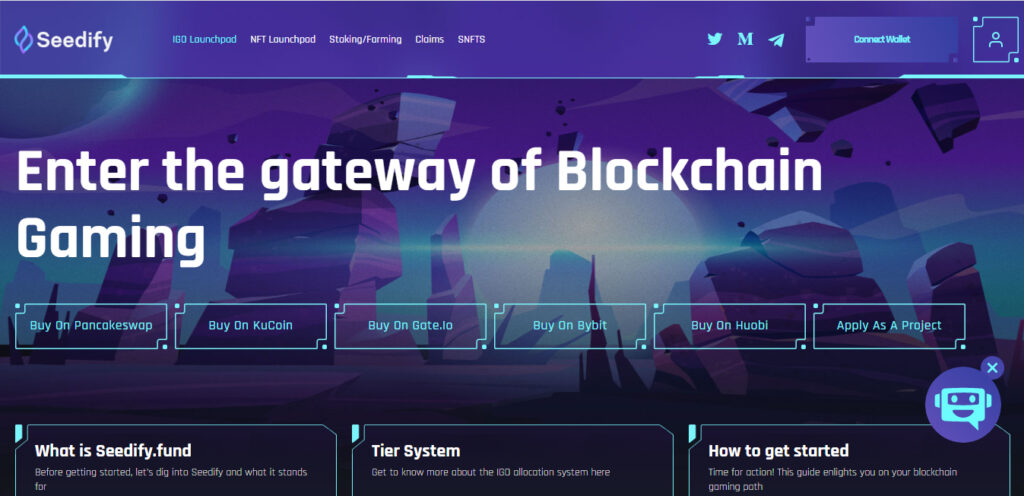 A community-led ecosphere with more than 50 successful launches and 4500 participants per IGO, Seedify is bootstrapped. As an extra source of passive income and utility, its seed staking function enables $FUND holders to obtain free tokens from incubated enterprises.
Additionally, it has a balanced 9-tier mechanism for allocating IDO/IGO funds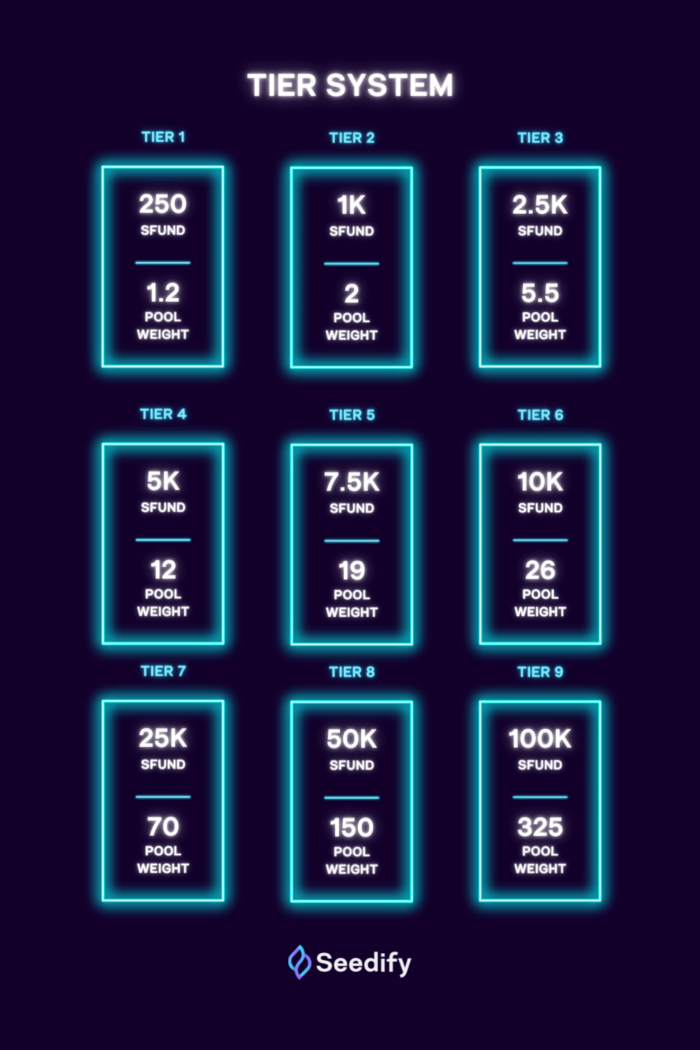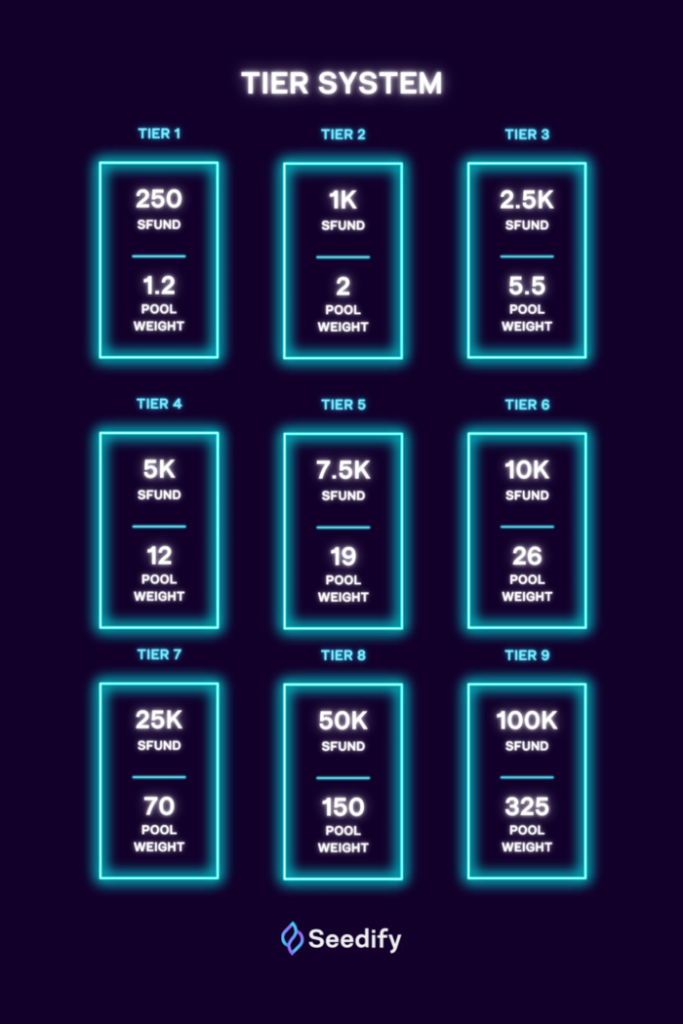 Sections of Seedify:
Digital artists with popular brands make up the Meta Studios team.
Launchpads for the initial Metaverse Offering (IMO) and initial NFT Offering (INO).
Grants by the Metaverse Asset Program are only for exceptional creators.
NFT space with research toolkits and UI integrations for NFT trading.
Guaranteed allocation, as opposed to lotteries, makes sure that investors always have access to a share of the launchpad's total projects. According to the investor's investment level or tier, this allocation is allocated proportionately.
Recent Popular IGOs at Seedify
Amazy
Realms of Eternity
Metaverse Wear
Nomad Exiles
Outer Ring
Battleverse
The game starter is built on DAO Maker and sets new benchmarks for crowdfunding for independent games. IGO insurance, a 300K USDT cover for all IGOs in the event of launch failures or team mistakes, is its most notable feature.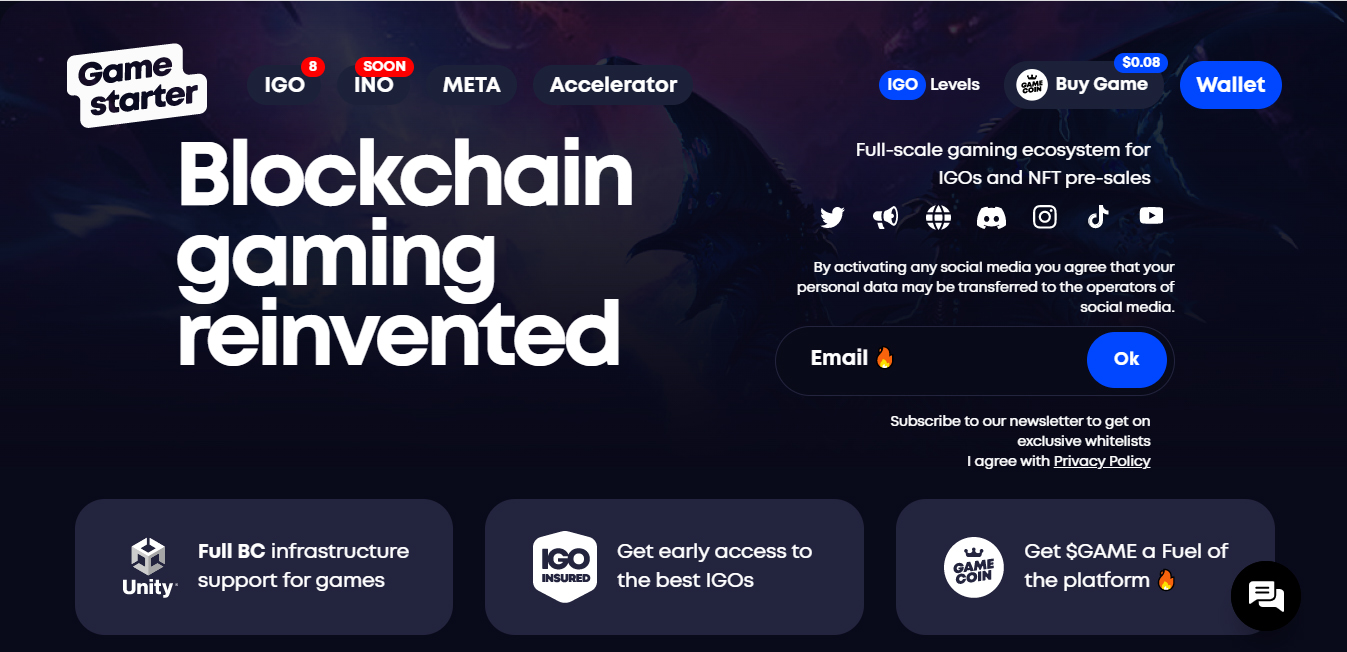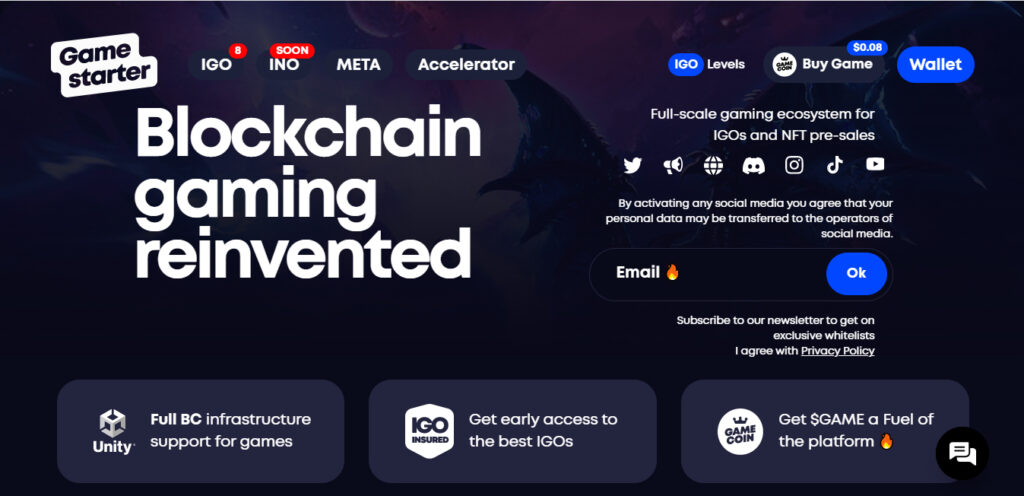 Additionally, you can stake or use $GAME in the guilds, NFT emporium, originals (as an in-game booster), and the metaverse of Game starter.
The following are the comprehensive toolkits that Game starter offers.
NFT storefront in-game that is simple to create.
Smart contracts on ETH, BSC, and Polygon have been a part of the audit.
Solutions for liquidation.
Staking mechanisms for tokens/NFTs.
System for verifying Unity 3D games.
Its versatile metaverse provides fractionalized NFTs and an integrated game testing environment. Every gaming island offers IGO-whitelisting, leaderboards, periodic presents, and confidential NFT drops.
The Tier system in this IGO launchpad looks like this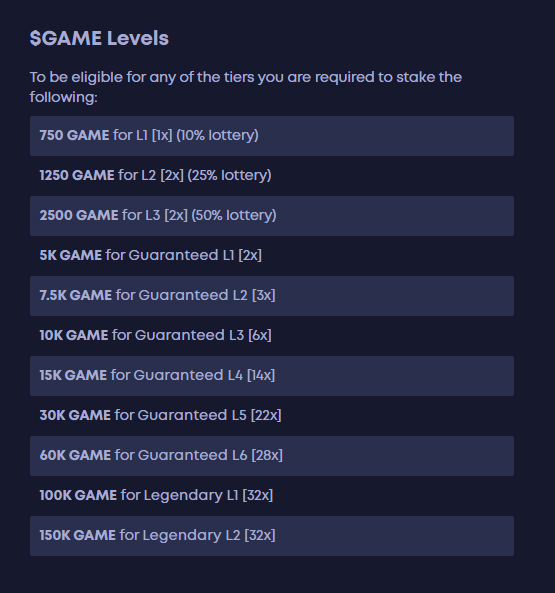 Famous IGO Launched at Gamestarter:
Project Seed
Dark Frontiers
BitHotel
Demole
Dynasty
Drivez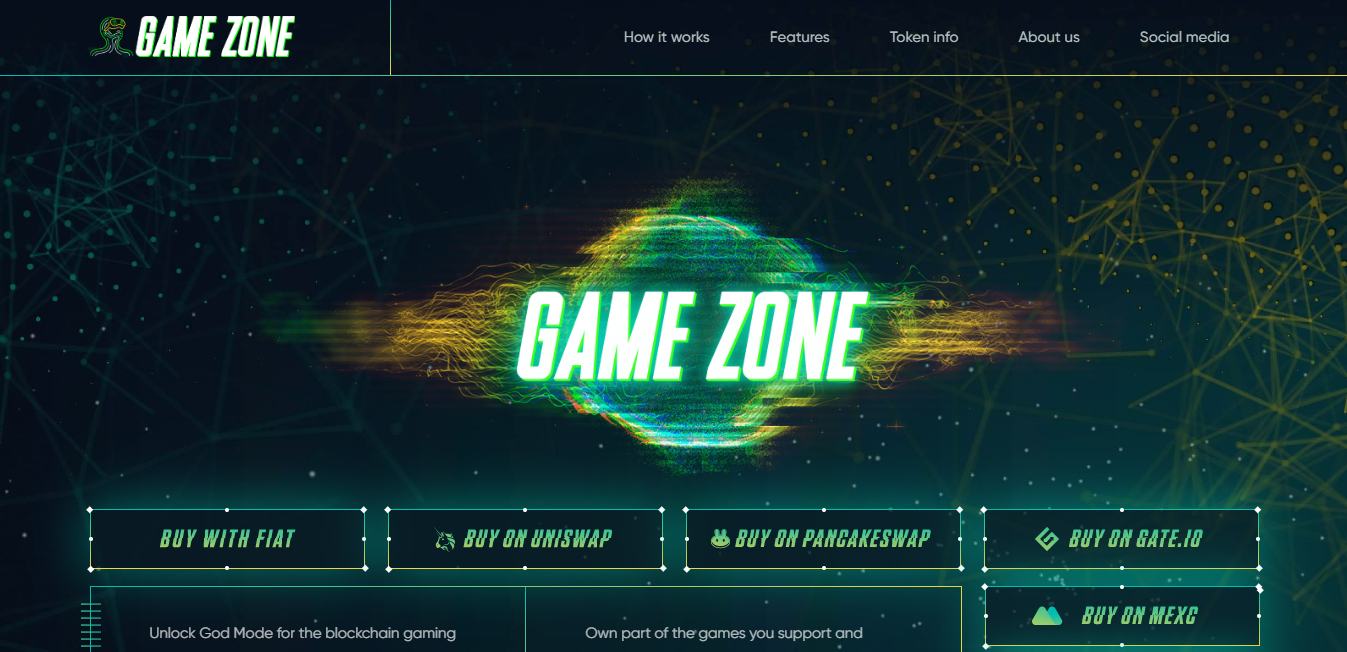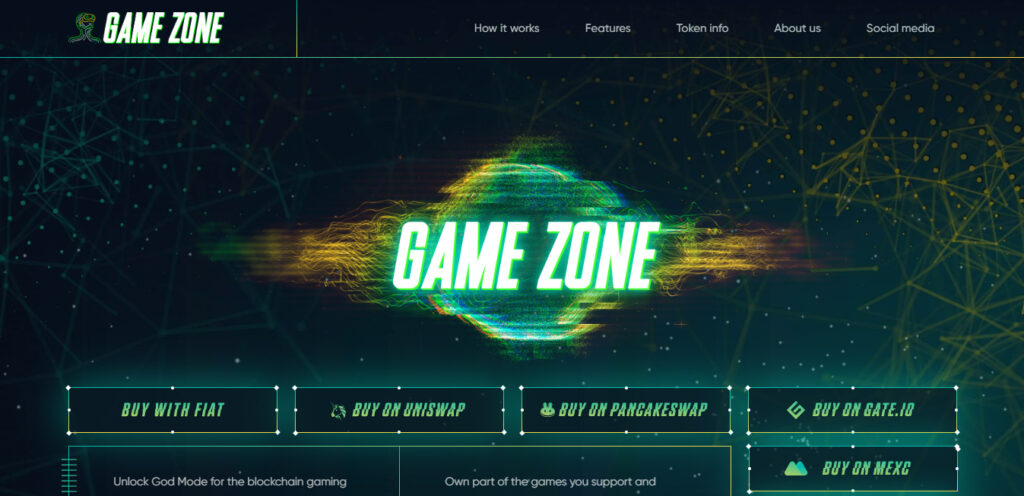 GameZone is a Paragon Blockchain-based gaming Launchpad. It offers it's community enormous opportunities with amazing rewards:
Early access to groundbreaking new game releases,
Gaming tokens and NFTs,
Play-to-earn opportunities,
Staking opportunity
Scholarships,
Advantageous tutorials, etc
GameZone also follows a Tier system just like the other best IGO launchpads on this list. Here is a snapshot of the same


Popular Games Launched at GameZone include:
OuterRing
MetaMate
Polysports
MetaFame
MetaShooter
MoveZ
Fight of the Ages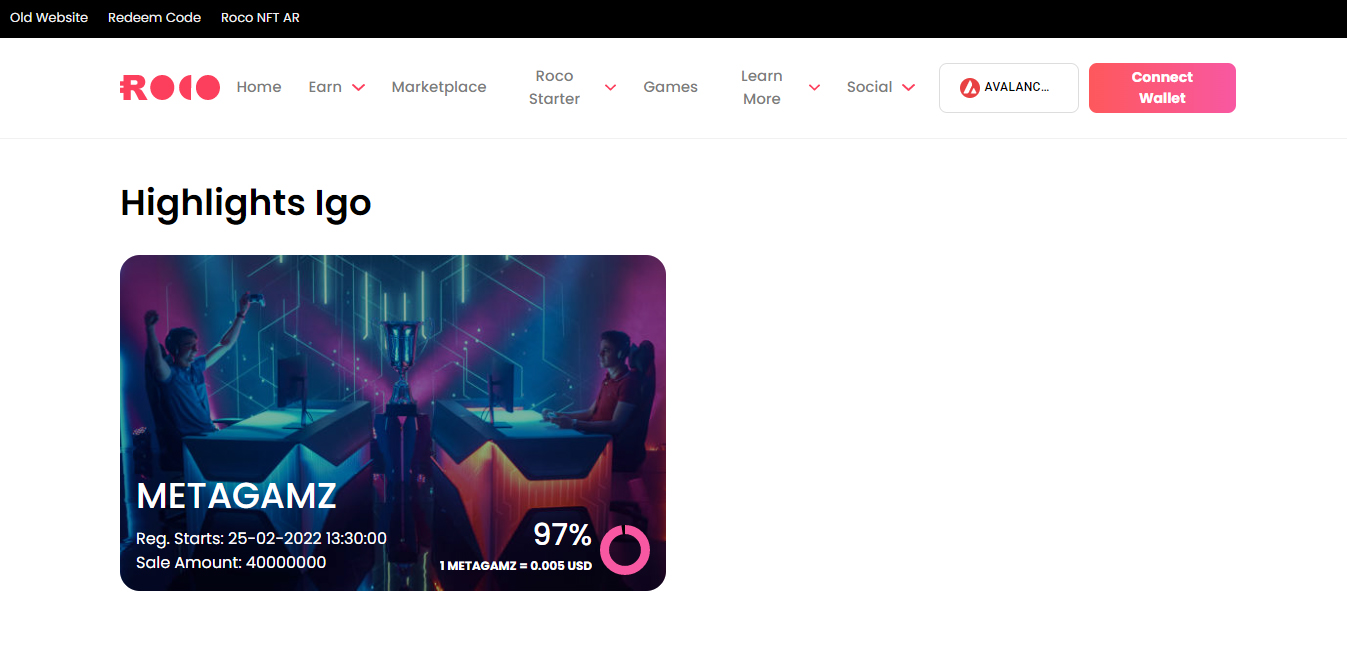 An AVAX-based decentralized IGO (Initial Game Offerings) platform called ROCO Finance has notable products like:
Liquidity provisions,
Software development kits,
Add-on collectibles,
NFT management apps,
APIs,
the RocoNFTAR app,
And payment gateways.
Additionally, it organizes IDOs for partner companies to create player communities and offers support for DeFi gaming projects.
The functional benefits of ROCO Finance include speed, affordability, the authenticity of rarity, peer-to-peer trading, and safe NFT transactions. From the standpoint of the developer, it lowers R&D expenses, carries out IDOs in a methodical way, and permits listing in-game NFTs in the market before/after game launch.
Additionally, the dispersal of NFT transaction commissions generates additional income for ROCO token stakes OR investors.
Play Pad is a fully transparent IGO launchpad that supports all crypto projects using the Ethereum EVM, regardless of their blockchain.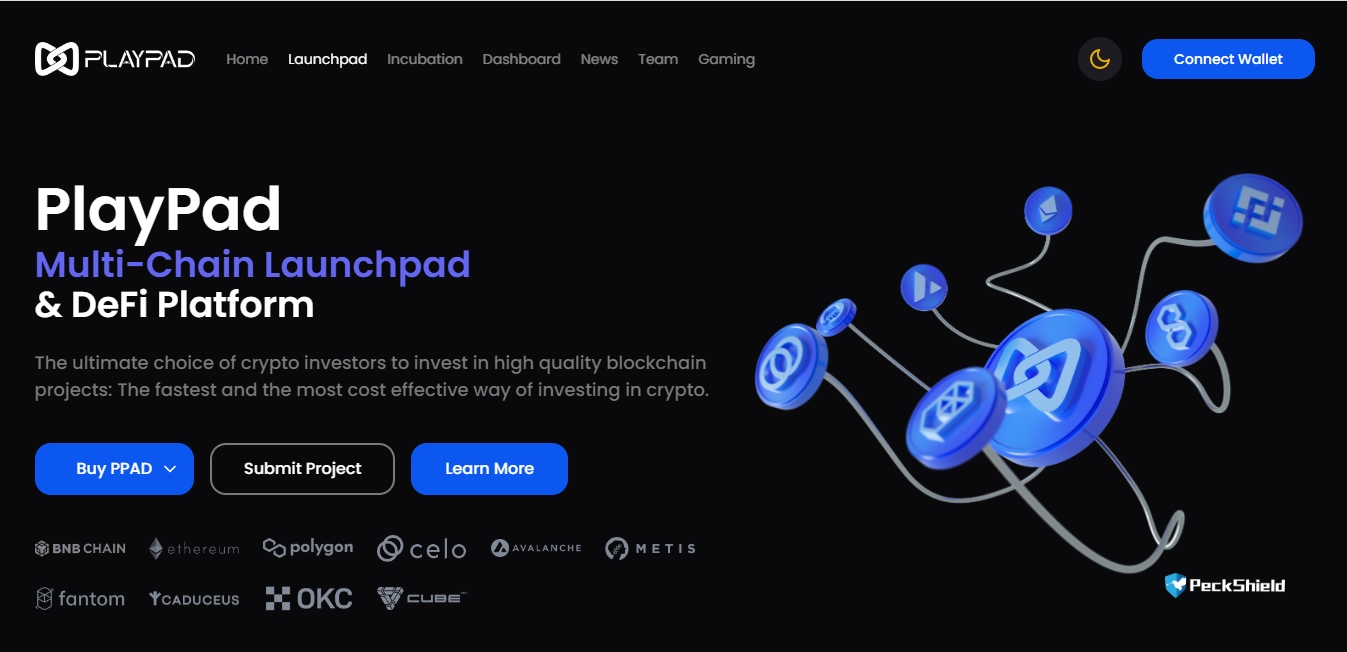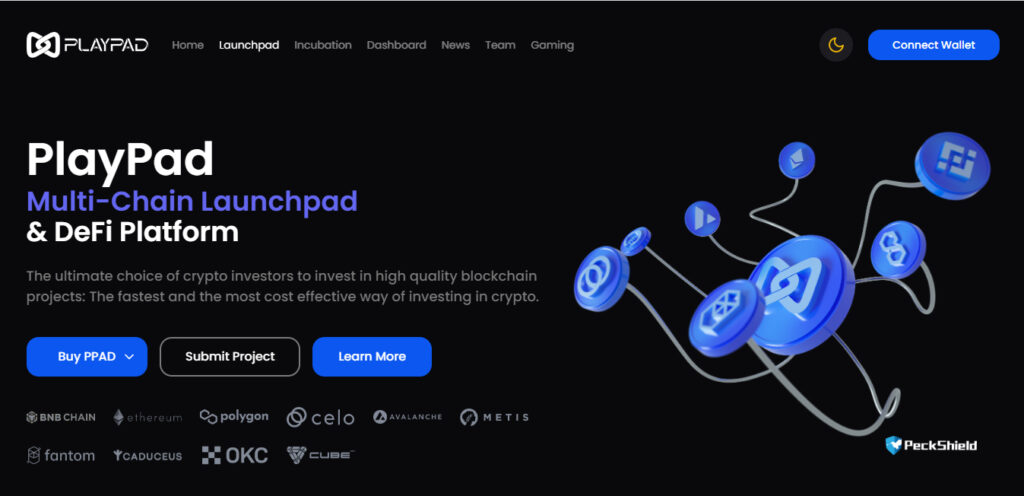 By offering cutting-edge financial infrastructure, revenue models, marketing platforms, reward pools, and a token ecosystem, it empowers artists.
PlayPad lets customers raise money using EVM-based chains by providing comprehensive, results-driven solutions for cross-chain NFT and crypto gaming ventures.
Whitelisting takes up 20% of IGO allocations, PP ticketing takes up 70%, and KYC user rounds take up 10%. You must invest a minimum number of PPAD tokens that are stored on BSC to receive a PP ticket.
In the metaverse, iNFTs are one aspect of PlayPad that sets it apart. The value of the NFT increases by 100x by iNFTs, which are modern, interactive, creative, scalable, intelligent, and AI-powered.
Popular Games launched at PlayPad
SolChicks
CheersLand
Astra Guild Ventures
Altava
The Road Ahead
Blockchain IGOs are a significant funding method for cryptocurrency game ventures. Before the game releases, an IGO might generate sufficient buzz to draw in players. The second step is to make the game popular with Investors and finally the launch of the game.
IGOs are a fairly recent product. While many IGO-funded blockchain game projects have been successful, several developers have fallen short of their commitments. Investors are left in the dark since many developers never release the finished product.
Participating in an IGO still carries a considerable risk for investors, particularly those backing early-stage, conceptual game businesses. To avoid some of the most typical traps and scams while investing in IGO initiatives, research and due diligence are essential.
However, the IGO market is still expanding. IGOs are launching more high-quality projects than ever before, and they are gradually taking over the blockchain gaming sector as well as the crypto industry as a whole.
The Verdict
Enjin Starter IGO Launchpad or ROCO Finance will draw users who want to create or play games on Enjin, Polkadot, or Avalanche. Due to its extreme speed and wealth of features, GameFi may prefer fans of e-sports, fantasy sports, or gambling.
While the Game starter is a blockchain gaming reinventor with the functionality of new technology, the Seedify IGO Platform enables users to sell NFTs made both inside and outside of its ecosystem. The PlayPad is the greatest crypto gaming launchpad for multi-chain compatibility.
In conclusion, each IGO launchpad delivers full gaming & marketing solutions while enhancing immersive experiences. The ultimate decision is made according to the individual needs. On the personal front, I prefer either one of Enjin Starter, GameFi, or Seedify.