Introduction
ICO or Initial Coin Offering is a way to raise capital for New Cryptocurrency Projects.
ICOs often aim to seek and gather voluntary financial contributions for Investors. In layman's words, the Initial Coin Offering of a Cryptocurrency is similar to an Initial Public Offering of Stocks. Well for practical purposes at least.
The process of investing in an Initial Coin Offering (ICO) isn't a hard nut to crack. The following article will help you have a complete idea of ICOs and their framework. So, let's dig in.
What exactly does an Initial Coin Offering (ICO) refer to?
An ICO relates closely to the fundraising concept. It is inclusive of the venture selling new cryptocurrencies to public investors to raise capital. Investors, in return for their monetary commitments, receive cryptocurrencies.
It can be considered a win-win situation for both the project developers who get funds to develop, run and market their projects and for investors who can make multifold profits while exiting the project over time.
Businesses and firms associated with retail investing and stock launches might have heard about IPOs. IPOs refer to public offerings in which shares of an organization are offered to institutional investors or various financial backers.
Recommendation: Though ICOs can be very lucrative to investors, one must understand that they are Very Risky. ICOs are unregulated as most countries still don't have concrete guidelines to tackle them. Therefore, Insurance of Investor funds is not possible.
A number of Cryptocurrency projects have been successfully launched through ICOs. Resulting in both investors and investee gaining from the launch. Few known examples of the same are:
Ethereum
Ethereum ICO fetched project $18.3 million in 2014 and we all know how much a unit of ETH values today for an investor.
Brave
Brave a web browser could raise $35 million in under 30 seconds. All thanks to ICOs.
Filecoin
Filecoin raised $257 million and out of this $200 million were within the first hour of their token sale
Apart from ICOs, coins can even be mined.
Let us now see what the different types of coin offerings are.
What are the Different Types of Initial Coin Offerings?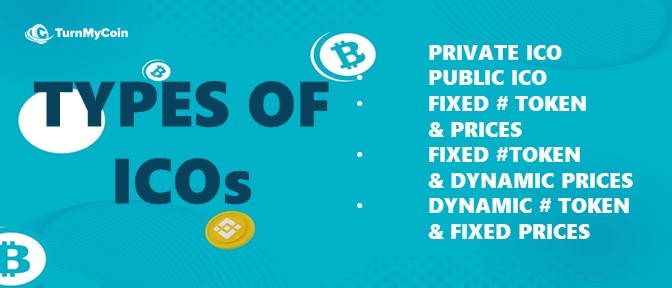 On a broader level, ICO can be categorized by type of market offerings like Private ICOs and Public ICOs. However, they can also be categorized based on the ICO implementation criteria. Let us first understand the former one first.
Categorization based on Type of Market Offering
Private ICOs
As the name suggests, Private ICOs are open only to a restricted set of investors. This set comprises Venture Capitalist firms (like Pantera, Fenbushi Capital, and Alameda Research), Financial Institutions, and High Net-Worth Individuals
Public ICOs
Public ICOs can be compared to Crowdfunding where funds are raised from the general public. People like you and me.
It is a more attractive way as it automatically markets the project before the final investor. However, with tons of scams and criticism of Public ICOs most cryptocurrency project developers like using Private ICOs to raise initial funds.
Categorization based on Implementation Criteria (Structure)
Fixed Number of Tokens & Fixed Prices
This is the most common ICO type wherein the project announces the total number of tokens and prices of the crypto investors beforehand
Fixed Number of Tokens & Dynamic Prices
An ICO may have dynamic funding requirements but a fixed number of tokens. Hence, the total funds received decide the overall prices of the token.
Dynamic Number of Tokens & Fixed Prices
More often than not, projects may fix the prices for tokens. Those willing to buy the token at that fixed price may participate in the ICO. Here, the total number of token offered are flexible. It is like deciding a reserved price for the sale.
How to Evaluate an ICO for investment?
Please note: ICOs are high-risk propositions, please do your own research before investing. These are a few tips that may be helpful for you to decide:
WhitePaper & Website

As an investor, you need to gather as much information as possible to make sure that your funds are invested in the right ICO. The best source of information in my view is the Whitepaper of the project and the website.

There are too many rumors and un-vouched information available on the market. You should look for two things:

Firstly, that the information is correct, and

Secondly, the information is complete for you to decide.

Accordingly, the whitepaper & website of the project should contain a description, goals, tokenomics, and roadmap.

Further, a good glance at the social media handle can provide you with information about how others are responding to the project. Moreover, they keep you updated about the recent advances in the project.
Innovative Project

One needs to have confidence in the idea of the project. Innovative projects are more likely to succeed. A replication unless it is accompanied by an advancement may not do that well.
Terms & Conditions of the ICO

Many projects have a lock-in period for investors before which they cannot trade their investment. If you are looking for a quick exit, you may need to check this condition. Likewise, Government regulations play an important role when you invest in an ICO.
Ensure the Safety of your funds

You should make sure that your funds are lying in safe custody post completion of the ICO and are used in the promised manner. Accordingly, please make sure that the funds are stored in Escrow accounts and that provisions for Independent Audit of the utilization of funds are there.
Initial Coin Offering (ICO) – How can I launch my ICO?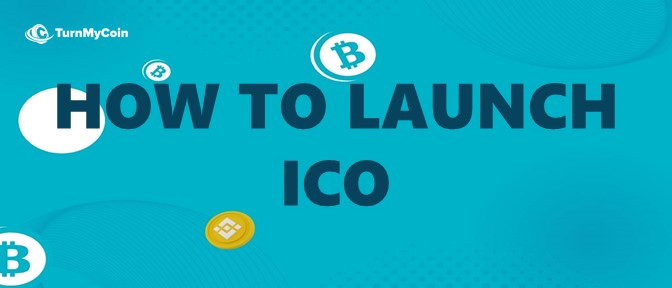 Launching an Initial Coin Offering (ICO) includes following a few easy steps. Since ICOs are prone to a high potential risk of frauds and scams, one should be precautious before launching their ICOs. A project's success depends upon carefully implementing the steps below:
1. Make a head start by devising a strategy for the project launch
Success comes guaranteed when you know what you're aiming at. Accordingly, projects that readily solve real market problems go up at a higher pace.
There is cut-throat competition in the Cryptocurrency Market with over 20,000 cryptocurrency projects available. You need to devise an unambiguous plan to merge cryptographic money into your project.
2. Check for the SEC's securities laws (other laws of the land) relating to ICOs
For the most part, Initial Coin Offerings are partially unregulated. However, there is some say of Security and Exchange Commission (SEC) in authorizing the operative aspects of ICOs.
In the US, residents owe a record of the transactions made to the Internal Revenue Service (IRS) while China has banned ICOs. It is interesting to note that most countries are still formulating legislatures related to ICOs.
The crux is that knowing cryptocurrency regulations in your area is important. So kindly proceed only when you have found out the legal status of an ICO in your country.
3. Evaluate competitions and risks in this domain
Tons of projects invest in an ICO every second aiming to solve different market problems. There are a plethora of worthy projects competing for the monetary contribution of the investors. Yours needs to stand out for attracting potential investors.
Hence, you should get your hands on the statistical evaluation of calculated risks. Likewise, knowing who your competitors are, is important too.
4. Draft a white paper
The next step is putting up the project documentation right into place. A white paper is the most important document for your project. Your prospective investors need as much information about your project as possible.
This document will contain everything about your project, its value, and its future goals. A 'white paper' includes:
General analysis of project details,
Road Map
Token distribution particulars i.e. Tokenization,
Warranted issues,
An account of the people investing in the project,
Firm advisories,
Future goals, etc.
5. Launch a pleasing website
An eye-catching website always gives you an edge over other competitive projects. Moreover, when your targeted audience is well acquainted with what the project is offering, your chances of success get boosted. So, a website should be informative as well as a feast to the eyes. It should precisely contain –
A brief description of your project
An account of your ICO
Adaptive subscription forms
Video presentations that will win over your audience
Handy information regarding early investors, project partners and collaborators
Documentation: White paper, terms & conditions, reports, fundraising plans, etc.
Future goals and aspirations
Product samples
Press coverage or digitisation of press release
Social network links and contact details
You'll see how a convincing website can be all you'll ever need.
6. Begin with Initial Coin Offering Tokenization
Following up, ICO Tokenization should be enabled. Public transaction ledger and tokens are the backbone of the crypto ecosystem. Tokenization is a fairly easy process. You can achieve it by following a simple guide –
Step 1 – Develop a robust marketing strategy
Given the type of Initial Coin Offering you're launching, you'll see different work schemes. One needs to precisely analyze the given ICO launch.
Moreover, having a check on different stages of a token sale is also essential. One can make necessary schemes for the distribution in phases of pre-sale, post-sale, and general sale.
Please Note: Facebook & Google have banned ICO advertising because of the risks involved.
Step 2 – Initiate token distribution
The next step is planning a layout for token distribution. Deduce how many tokens are to be issued. Settle upon the share of tokens between your teammates.
Finally, know how many tokens are to be sold out or need to be issued besides.
Step 3 – Search for blockchain platforms to register the tokens
The final and foremost step is searching for platforms to issue your tokens. There are several options in the market – Ethereum, IBM Blockchain, etc.
One needn't necessarily be tech-savvy for all this. But, you might argue that managing features of a crowd sale are a slightly demanding task. Alternatively, you can always hand over this work to professionals.
7. Readily engage investors or fund donors
After going through all these hassles, it's now time to engage investors for raising funds. Marketing and PR are the two efficient strategies to tackle this problem. Promote your ICO tokens to reach out to potential investors and fund donors.
For this, you need to make sure that you budget for a handsome amount of cash for marketing. Also, good marketing techniques and strategies boost your chances to be cherry-picked by investors.
8. Launch your ICO
Congrats, you have made it so far! At this point, you are rewarded by your Initial Coin Offering (ICO) going live.
Statistical analysis of successful ICOs indicate that an ideal ICO should last somewhere around 41 days. Evidently, this is the ideal timeframe to catch the attention of the fund donors.
Moreover, while your ICO is live, communicate often with your targeted audience regarding the cryptocurrency-related project.
9. Analysis of the post-ICO launch steps
Once your ICO has been successfully launched and receiving praise and applause from the community! What now? It is now time for token distribution. So take the responsibility all up on your shoulders. Likewise, also commit to providing the best to your customers.
Launching an ICO is just the beginning. What's even more important is maintaining its pace and making it stand against the stiff competition by performing what you promised.
Initial Coin Offering (ICO) – Costs and benefits of investing in one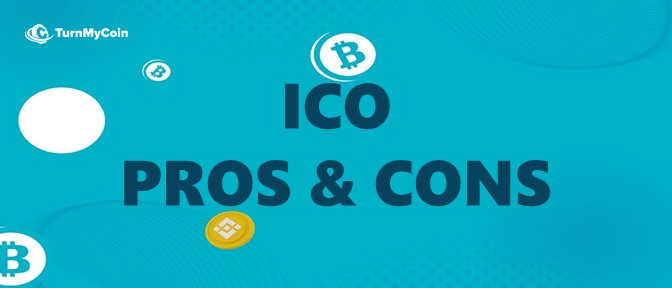 The launch of an Initial Coin Offering comes both with its pros and cons. Firstly, let's have a look at some of the reasons why you would give yourself a pat on the back after investing in an ICO.
Advantages of investing in an Initial Coin Offering
One of the key advantages of investing in an ICO is that it allows for the liquidation of new tokens. It exposes the crypto project to the high availability of a large sustainable audience.
Under an ICO almost everyone gets authorized for the funding.
The often decentralized nature of crypto projects under an ICO allows peer-to-peer transactions to be carried out in a distributed ledger.

Hence, the investors and firms can deal directly with each other. Consequently, this way one doesn't need to communicate under the shadow of a centralized exchange.
A good initiative for raising funds
Firms that register themselves for getting these funds are readily approached by potential investors. Once the ICO goes live, businesses need to invest in PR and marketing and the project is backed by investors' contributions.
Disadvantages of investing in an ICO
Initial Coin Offerings aren't regulated. The public authorities have zero to no say in the proceedings of an ICO launch. Therefore, it becomes prone to a high risk of frauds and scams.

Adding a bit to it, most countries are in the nascent stage of drafting regulations. Therefore, Insurance of investor's funds is a far-sighted possibility.
In today's era, there is high competition in the crypto market. So, if someone is struggling to find success in the crypto world through traditional methods, sadly they may soon dry out of funds.
Investors don't secure any stake in the crypto project
If you are someone willing to contribute to an ICO project, then this may not be something you should eye for. Putting your money into one will not fetch you any stakes in the company or the crypto project. Likewise, you can only buy or sell the received tokens.
Bottom Line
Just like any investment tool, ICOs have their set of advantages and disadvantages.
Investment is Initial Coin Offering has given good returns to investors. They are a win-win for both developers and investors.
Having said that, it is important that you do your due diligence before investing in ICO as many turn up to be scams.