Introduction
Cryptocurrency is growing faster than ever in the contemporary world. It indeed stands firm on the grounds of today's financial market.
With-cut throat competition in the market, developers look for creative ways to fund their projects. Initial Dex Offering (IDO) is one of the latest funding tools.
Back in 2017, we could see the hype for the Initial Coin Offering (ICO) everywhere. Many ventures resolved to raise funds through this fundraising concept. However, ICOs were prone to scams & frauds. They may have made a few millionaires but left many oppressed when the ICO bubble burst in 2018.
This was then followed by Initial Exchange Offering (IEO) but the dependence on Centralized Exchanges faded the concept of decentralization. Accordingly, ICO & IEO were the predecessors of IDO.
Nonetheless, IDOs flooded the markets around 2020-21 and seemed more affectionate. I know you have an obvious question here and that is:
What is an Initial Dex Offering?
And a few more like:
How can I Invest in an Initial Dex Offering?
How can keep my investment safe?
What is the future of Initial Dex Offering?
What are the Advantages & Disadvantages of Initial Dex Offering? and so on
So, let us dive deep into its intricacies.
What does an Initial Dex Offering (IDO) mean?
Initial Dex Offering is a crowdsourcing mechanism that uses Decentralized Exchanges to raise Funds for new startup projects.
I tried to simplify the definition as much as possible but if it is still overwhelming for you, I will break it down. The above definition has a few parts and respective explanations thereof:
Crowdsourcing: this is a word of common parlance now. Developers of projects these days want to raise funds from the general public instead of Institutional investors.
Decentralized Exchanges: These are cryptocurrency exchanges that are not controlled by any agency or company. There are no mediators in between. More on Decentralized Exchanges here.
Funding Startups: This is where the magic happens. It is a Win-Win arrangement for both investor and investee. Investors enjoy mammoth returns and the developers get adorable publicity.
Initial Dex Offering – A brief idea
An IDO involves unveiling a coin's first presentation on a Decentralized Exchange. It is done to raise subscription from retail stockholders. However, a few investors buy the coins for their utility too.
IDO has gained years of credibility by replacing other Crowdfunding methods. ICO, IPO and other IEOs stand last in the queue. But what makes an Initial Dex Offering (IDO) stand out? Without any doubt it is the way it works. It is ever ready to deploy ease and comfort. Let us take a look at its framework and underlying principles.
Initial Dex Offering (IDO) – The fundamental framework
The question that now arises is how does an Initial Dex Offering (IDO) work?
Launching a cryptocurrency could have never been easier. IDOs work like clockwork for their users. Trading within the crypto ecosystem is a simple process. It includes most projects providing liquidity to the DEX by allocating a cut of the assets.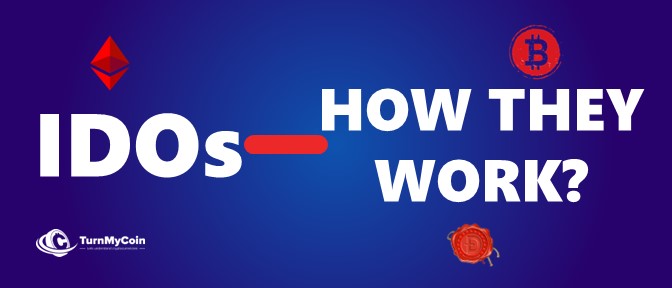 How does it all actually work?
At the initiation of the project, early stockholders can exchange their tokens at a certain price. This helps them get funds to push the development and marketing of the project.
It is an advantageous scheme for the early investors once the IDO is launched. After the first sale, the price of the token increases by leaps and bounds.
Smart contracts make the process hassle-free. They easily manage the asset token and liquidity pool. IDOs can mint tokens without much delay.
Poor-quality projects don't guarantee ready qualification to raise funds. One should avoid them at any cost. One can stay away from having things spiral out of control. Just launch high-quality IDO projects and you're good to go.
Besides, the fact that they offer fast and secure token listing, gives the IDOs an edge. Bid off a sweet goodbye to long hours of waiting for your tokens to get enlisted. Just as soon as the IDO goes live, the enlisting of the tokens initiates.
As a trader in the cryptoworld, it becomes an eye-catching feature. Nonetheless, everything comes with its own costs and benefits.
However, IDOs are reliable and trustworthy. Their other counterparts don't make up to that level. IDOs are secure as they don't need a human intermediary. Yet, they are at a high potential risk of mechanical tricks. Even after they being secure, the choice of a good IDO is dependent upon your acumen. Please perform a due diligence before investing.
Successful IDO Launches in the Past
Historically, there have been highly successful Token launches across various blockchains. These have fetched the investors and developers enough money to cherish for a lifetime.
A few examples are listed below:
Raven Protocol IDO
Sushiswap IDO
Polkastarter IDO
BSC Pad IDO
How can I Invest in an Initial Dex Offering?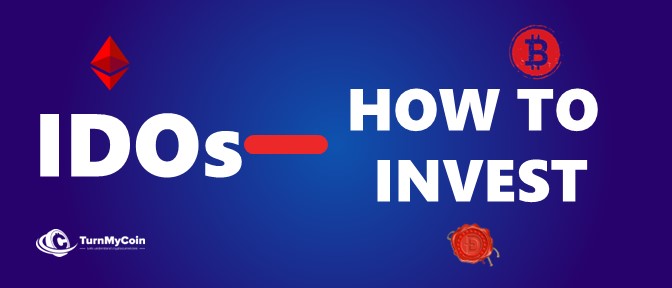 I am going to now discuss this risky proposition. Initial Dex Offerings as mentioned above can get you high returns but please bear in mind that they are very risky too.
6 Step Process
Research: about the Coin, you are planning to participate in the IDO of. Well, it is your hard-earned money. Do not trust Youtube channels, Telegram updates, random group Whatsapp texts, etc. unless you are yourself satisfied with an IDO.

It is best to read the Whitepapers and know about the developing team and advisors of the project. Once you get convinced about the project, you can move to the next step.
Complete KYC: due to strict regulations in most countries, you will have to complete and submit the Know Your Customer details. The documents required will be Identification & Address proof(Passports are accepted), selfies, if you are planning to invest a large amount then most platforms also ask for your Bank Statements and previous tax returns.
Stake Launchpad Tokens: Since you will be participating through a launchpad that hosts an IDO. You have to stake some tokens with it. Basically, you are providing liquidity to the launchpad beforehand (mostly 3 hours but you can always stake longer).

The higher you stake, the higher weightage the launchpad gives you in the pool.
Acceptance in the Whitelist: the reason for an IDO is to bring the cryptocurrency project into the eyes of the people. Apart from providing the liquidity that we just discussed, the project also needs you to pass the words.

The launchpad can ask you to share, comment, and follow Twitter pages, Facebook pages, YouTube channels, Instagram handles, etc. to get you listed in the whitelist before you get an allocation.
Ready your Wallet: You have to get your wallet ready to stake and get the allocated tokens. There are many options that you can try but Metamask & TrustWallet are front runners.

Do take a look at our review of Metamask and review of TrustWallet here.
Tips to Stay Safe while Investing in an IDO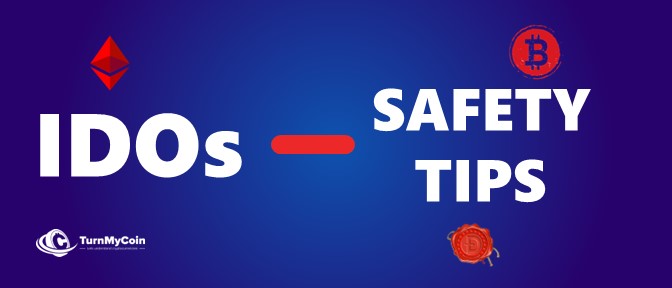 We have discussed this ton of times in the article that investing in IDO is risky. However, due to the returns associated with them, every investor wants a piece of it. Here are some tips that can come in handy while investing in an IDO.
Invest only if you afford to lose: with the kind of volatility the cryptocurrency world has it is important that every investor should know this Rule of Thumb. Only invest if you can afford it to go to NIL.
Research: We have already discussed this one in the paragraphs supra.
Use the Correct Website: Once the information of an IDO hits the market, a lot of false & phishing websites will flood the internet too. Be aware of such scams and only refer to official websites to stake your crypto. The same is valid for the Telegram & the Whatsapp groups.
IDO Terms & Conditions: I will take an example for this. Some of the IDOs have a condition that post allocation the hodler should hodl the crypto for a fixed time. This condition may not be preferable for many as people may want to sell quickly post allocation.
Trusted Launchpad: there are tons of trusted launchpads. Uniswap, dYdX, and Pancakeswap are a few of the names.
Initial Dex Offering (IDO) – Deploying the needful
An Initial Dex Offering (IDO) gives an ace up the sleeves of the investors. It sustains the cryptocurrency industry by solving problems using the blockchain and its essence of decentralization.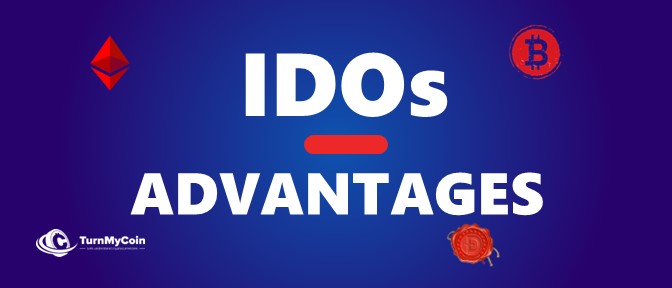 Hence, let us now enlist some of the advantages of investing in an Initial Dex Offering (IDO).
1. Trading on-the-spot
As already mentioned, token listing begins as soon as the IDO is launched. You don't need to wait for long hours for a token listing.
It is rather a quick process.
2. Safe & Suitable for everyone
You don't need to be any technical savvy to invest in the platform. Unlike other IEOs and ICOs, IDOs are for everyone. Further, there are a number of safe and secure DEXs in the market to protect investors' funds.
3. Better liquidity and fundraising
Investors claim that Initial Dex Offerings (IDOs) offer better liquidity. It often creates room for more opportunities for fundraising. One can enlist and trade tokens without any barrier and delay.
IDOs are good at providing quick liquidity provided post-deal and once it goes live. DEXs will more often than not reward liquidity pool suppliers with attractive prizes.
Additionally, the protocol of IDOs readily facilitates token sales. This enables the projects to raise capital. These funds are raised in a decentralised, permissionless, and interoperable climate.
4. Zero intermediary fees
IDOs are pocket-friendly as compared to other IEOs. The reason behind the same is zero overhead costs of intermediary fees. IDOs work without any need for a negotiator in between.
Hence, you get relief from paying any exchange fees. All you will ever need to pay for is payment gas for the arrangement of savvy contracts. All things considered, DEX charges a low expense. It is around 0.3%, for exchanges like Uniswap.
As IDOs facilitate direct peer-to-peer transactions. They enable anonymous and highly secure transactions. Also, there is minimal risk of identity and information theft.
Hence, opting for an IDO sounds like the most reasonable choice in the crypto ecosystem.
5. Simple and effective solutions
IDOs, in turn, provide simpler and more effective solutions. These IDOs provide services to the projects to make the launch possible. All this happens in a short duration of time.
Likewise, IDOs take care of the fundraising portions. This way, the firms can focus more on the development of their projects. Investors are engaged by limiting the payment to a selected set of whitelisted wallets.
Moreover, this can too be helpful for the investors investing in the projects. They can just have proper knowledge and idea of the project and that's it! This, in turn, boosts their chances of getting invested.
6. Low Initial Market Cap
IDOs are normally meant to raise only small capital. It serves the purpose of both investors who get cryptos at low prices and the projects which get optimum exposure.
The investors who invest in IDO get cryptos allocated at a low Initial Market cap overall. This ensures that as the market cap increases the price will increase(supply being constant) and hence investors will get a higher return.
7. No Sign-ups are required
I mentioned above that you can use your Cryptocurrency Wallet like Metamask & TrustWallet. These wallets do not require a sign-up process and investors can protect their anonymity.
Disadvantages of IDO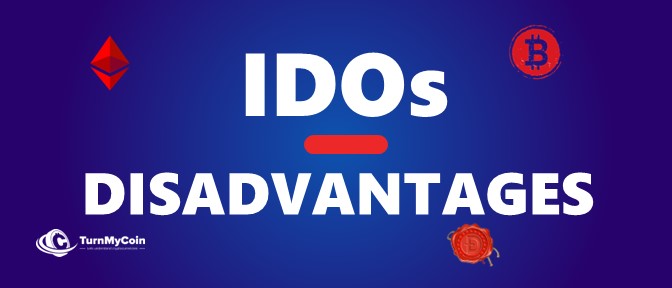 1. Limited research on the projects
The DEXs conduct limited research while listing IDOs compared to Exchanges listing ICOs. This is a drawback in the case of IDOs. However, investors who perform their due diligence before investment are at a better podium.
2. Expensive Participation
IDOs require investors to stake tokens of launchpads. And in highly competitive cryptocurrency markets these days the stake amount can be large.
3. Irregular Tokenization
From the perspective of a project, the major benefit of launching an IDO is exposure i.e market reach. The amount they receive through IDOs is not what most of the Projects eye for. Hence, in the case of most of the IDOs, the projects keep most of the tokens for the team and private round investors.
Future of Initial Dex Offering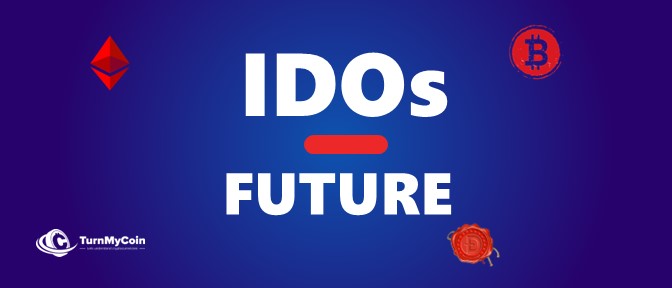 IDOs are promising tools for fundraising and exposure for both investors and projects. ICOs & IEOs developed in IDOs over time to add decentralization. Now there are:
1. Multichain IDOs
Projects are launching their IDOs on different blockchains now. The initial offerings were restricted to Ethereum but now projects are on Ethereum, Binance Smart Chain, Polkadot, and Solana simultaneously.
2. Multiple Launchpads
There are a number of DEXs in the market like dYdX, Pancakeswap, Sushiswap, Uniswap etc. Projects eye for different launchpads to get the maximum exposure.
3. Initial Farm Offering
This is going to be a sub-model of IDOs. IFOs help Decentralized Finance(DeFi) projects to raise funds. The vetting process is strict in spite of it being conducted by Third Parties.
Conclusion
Investment in an IDO is attractive but it comes with its own downsides as well. Any investment that you make surely involves risks. But that shouldn't hinder you from making one.
So, do proper research and jump in. Awaiting your success stories.