Introduction
Who doesn't love freebies and when it comes to free cryptocurrency, nothing gets better than that. Cryptocurrencies have transformed the financial world globally. A concept that once seemed impossible has already become a reality in our lives.
Everyone wants to be a part of this crypto world. While most of us know how to invest in crypto, very few know how to earn free cryptocurrency.
It is not difficult to earn cryptocurrencies for free. The fact is we are just not aware of the ways, tricks, and tips. Many crypto websites claim the free crypto giveaway. While some are genuine others can be fake and scam you into losing your money. You should always be cautious of such malicious schemes.
To help you sort out the legal and proven ways to earn cryptocurrency for free we have compiled a list for you. Let's go ahead !
5 Ways To Earn Cryptocurrencies For Free
The expansion of the crypto market has widened the scope to earn cryptocurrencies without any investment. Several websites, exchanges, and crypto platforms are coming up with schemes offering you the chance to win free crypto by completing simple tasks.
Here are some of the legit ways to earn cryptocurrencies with zero investment.
Coinbase isn't just a crypto exchange platform. With its learn and earn features you can earn free crypto every day. All you need to do is to start your course to learn about new crypto projects.
By enrolling in crypto learning programs you can earn cryptocurrencies worth $30. It might seem a very small amount but the prices of cryptocurrencies appreciate over time. What now seems like only $30 will become over $100 in the future or even $500 if you hold on to your crypto.
In its Coinbase Learn program, the platform is presently offering courses in The Graph (GRT), AMO and others. You will have to watch 3 minutes of video lessons on the courses and take quizzes afterward.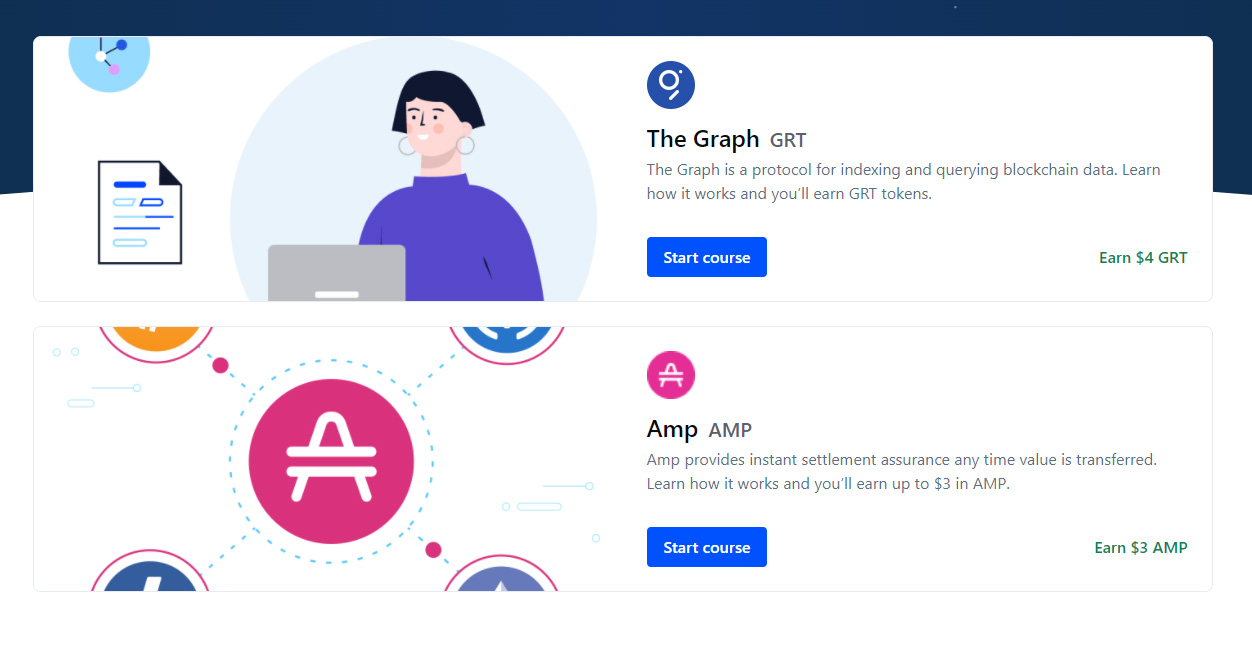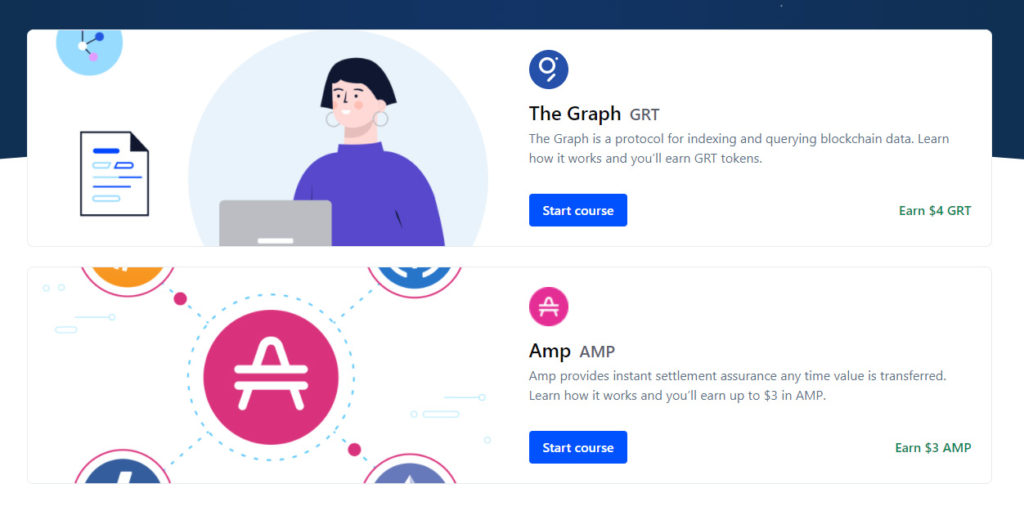 If you decide to learn about The Graph then you will be credited GRT tokens after course completion. The best thing is that Coinbase is not so serious about the quiz part. Even if do not give the right answers you will not lose the crypto you have received.
To enroll in the Coinbase Learn program you will have to sign up on the platform. You will also have to complete KYC and provide your personal details and ID to create an account.
Those who already have a KYC completed account can easily enroll in the courses and earn cryptocurrencies for free.
2. Freecash – Best Way To Earn Cryptocurrencies
With an overall rating of 4.5, Freecash is one of the best platforms for earning crypto rewards. On Freecash you can earn cryptocurrencies for free just by completing simple tasks.
With surveys, online games, sign-up offers, bonuses, and referrals, you can earn crypto easily in your free time. You only have to take out some free time every day for company surveys or games and earn coins every hour. You can even earn up to 50 Freecash coins just by following and liking asked social media accounts or pages.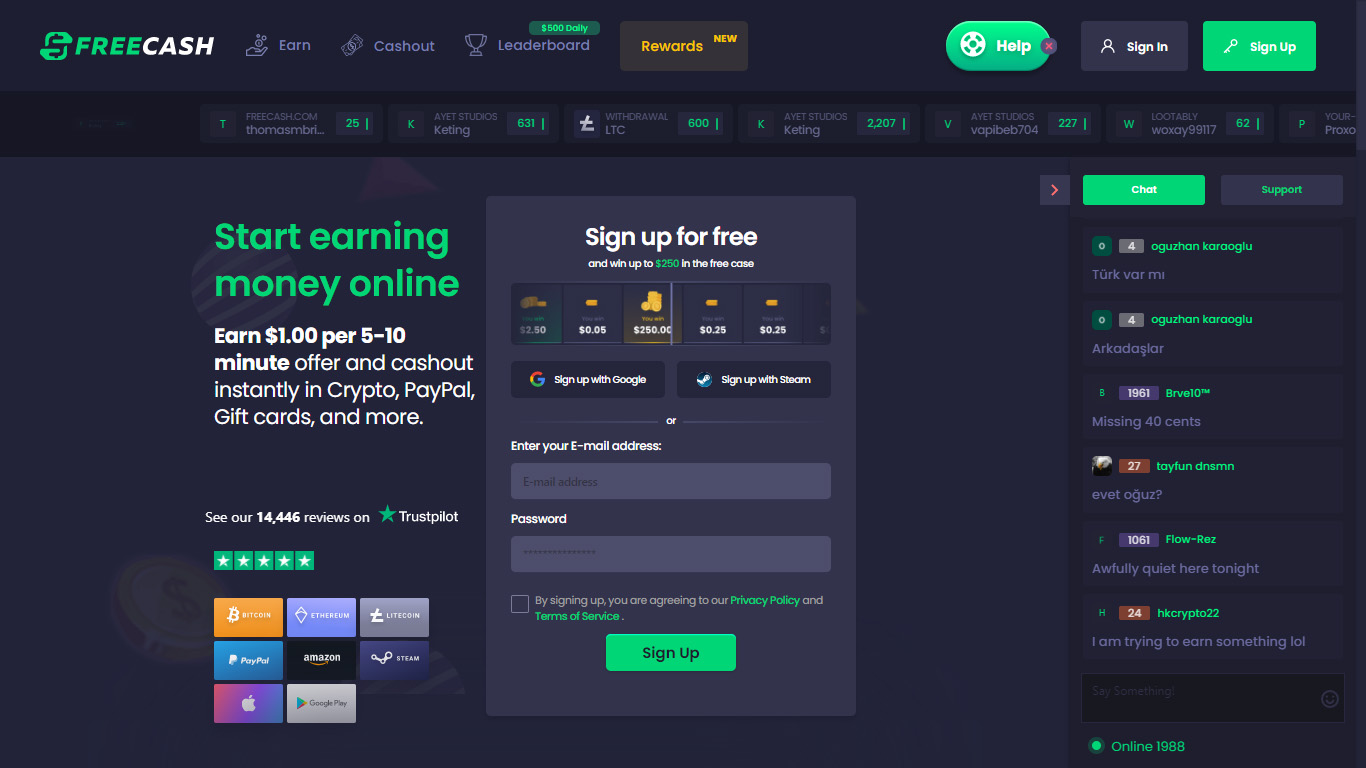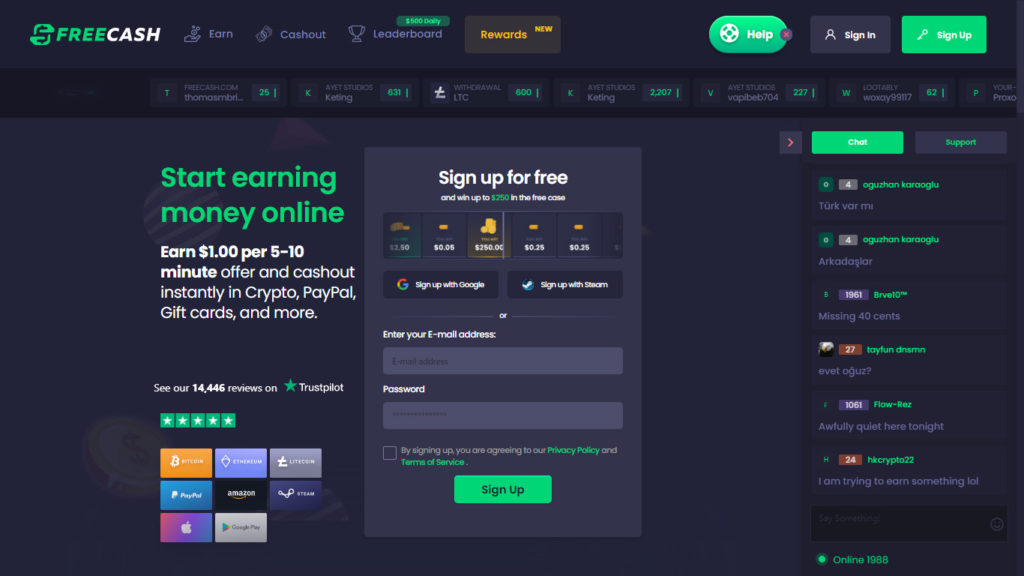 What makes Freecash the best website for earning free crypto rewards is that the credited coins are redeemable. You can easily redeem the coins for coupons, gift cards, cryptocurrencies like Bitcoin, ETH, Litecoin, Dogecoin, and many more. As of now, 1000 Freecash coins is equal to 1 USD.
On Freecash you can earn coins worth over $20 every day with instant crypto cashouts starting at $0.10. Top users on the leadership board get the chance to win $500 every day on Freecash.
If you are a gamer, then winning coins on Freecash becomes simpler for you. What can be better than playing games in your free time and earning cryptocurrencies? You can even download and test out the asked game or complete missions on the game to win more coins.
To participate in Freecash tasks, you will have to sign up using your email id. Then fill in all your details like name, contact details, address to register on the portal. You will also have to verify your link received on the registered email id to complete the account registration.
Once you have your account on the Freecash website, you can explore and choose the tasks you are eligible for and start earning free cryptocurrencies.
CoinMarketCap has this amazing feature to earn cryptocurrencies by taking lessons. It is a double package for you. On one hand, you get to learn about new crypto projects. While on the other hand, you are earning cryptocurrencies as well.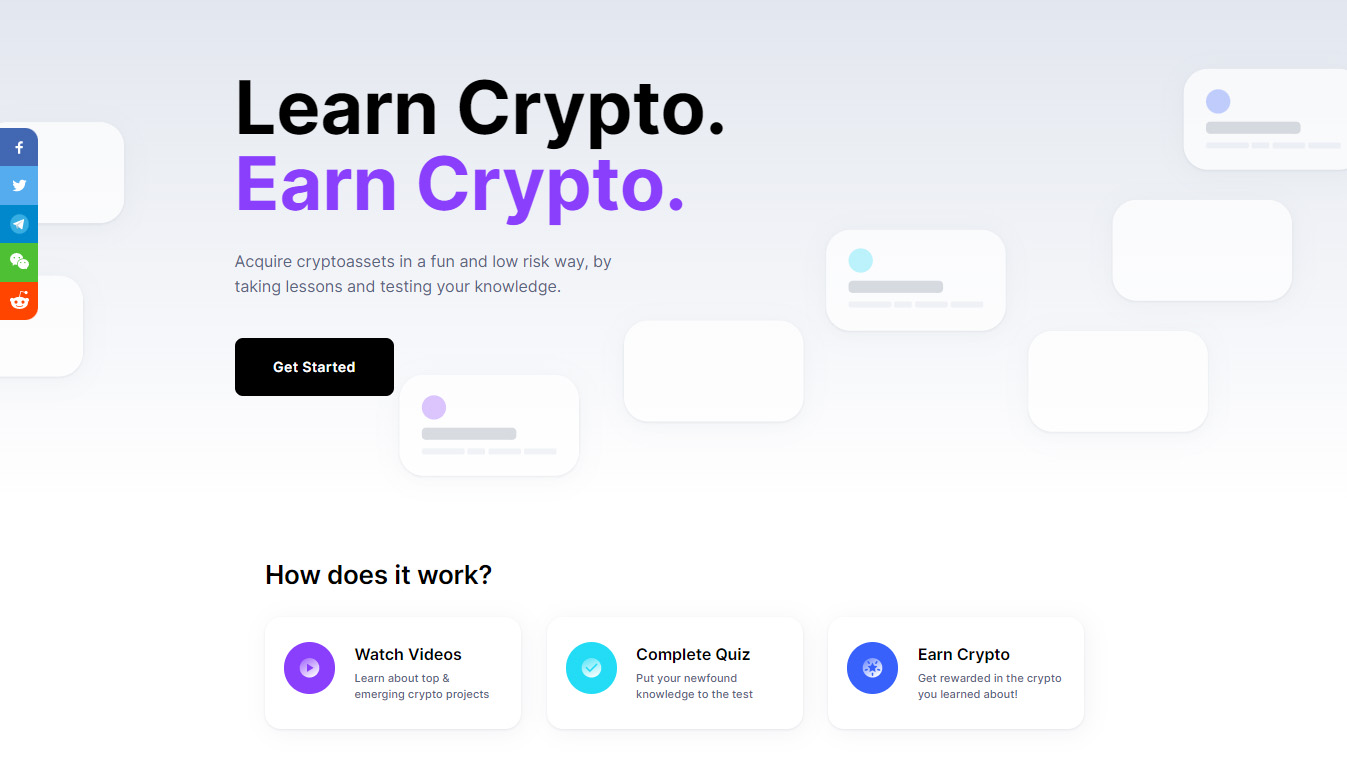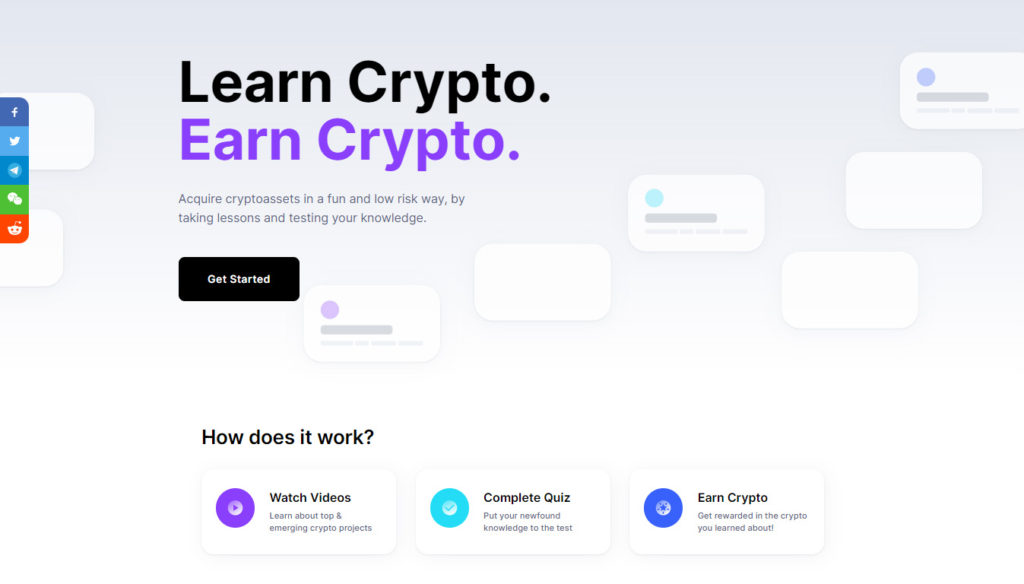 In simple words, you receive crypto rewards to learn and study about it. Similar to Coinbase you will have to watch videos and take quizzes about new and upcoming crypto projects.
However, the only difference is that CoinMarketCap will pay you crypto only when you score 100% on the quiz. If you fail the quiz test you will end up with nothing.
That is why you have to pay attention to the video lessons. Only then you can answer the quiz questions correctly.
CoinMarketCap gives you the opportunity to earn emerging and potential crypto tokens for free. These projects might prove successful and kick-off high in the future.
As of now, you can learn and earn Oasis Network (ROSE), NEAR Protocol, Only1, Perpetual Protocol, Mars Ecosystem, Aurox, NFTb, Sandbox, Cybertino, and many more to name.
To participate in CoinMarketCap learn and earn cryptocurrencies program, you must have an account on the platform.
4. Brave Browser Rewards
Brave Browser is a crypto-powered, privacy-first browser that by default prevents websites from monitoring you. Brave's main goal is to change the way we think about online browsing by preventing websites from tracking you. It also rewards you with crypto in exchange for watching advertising.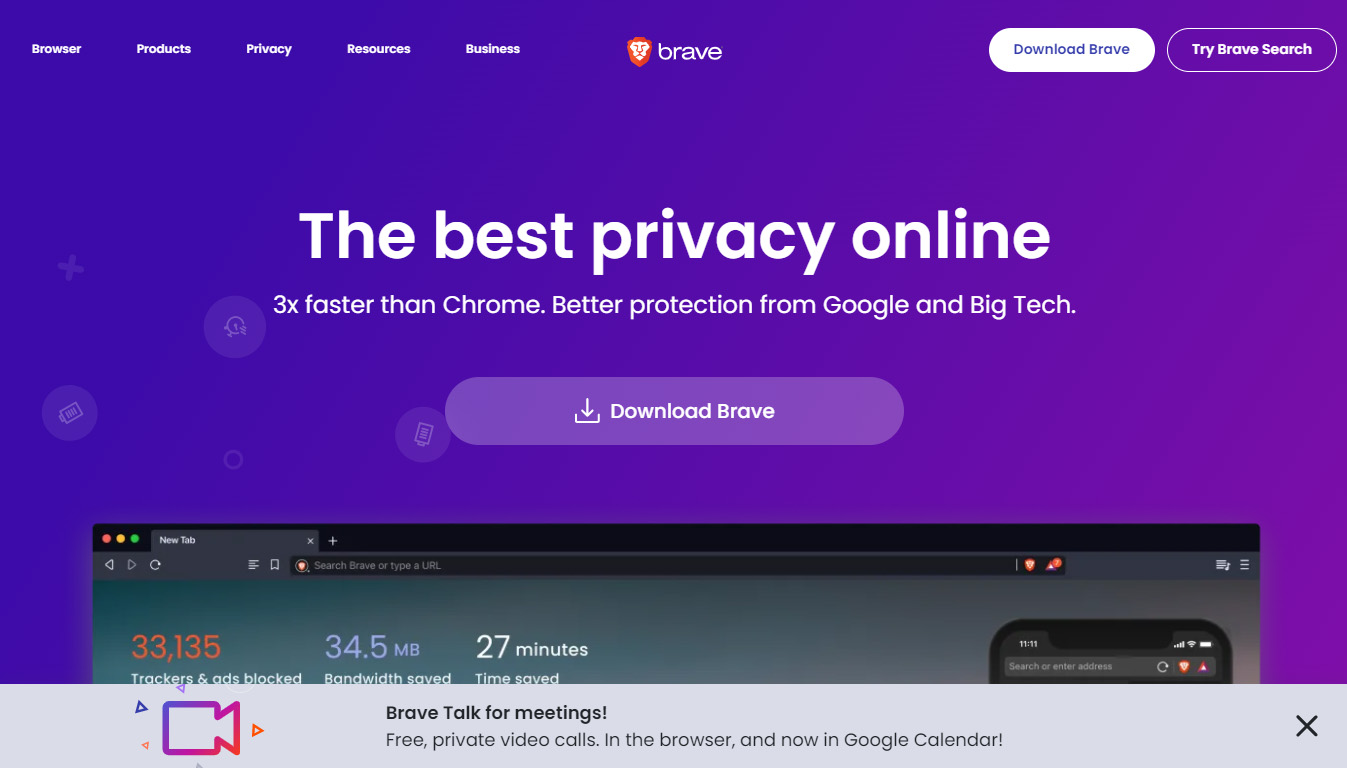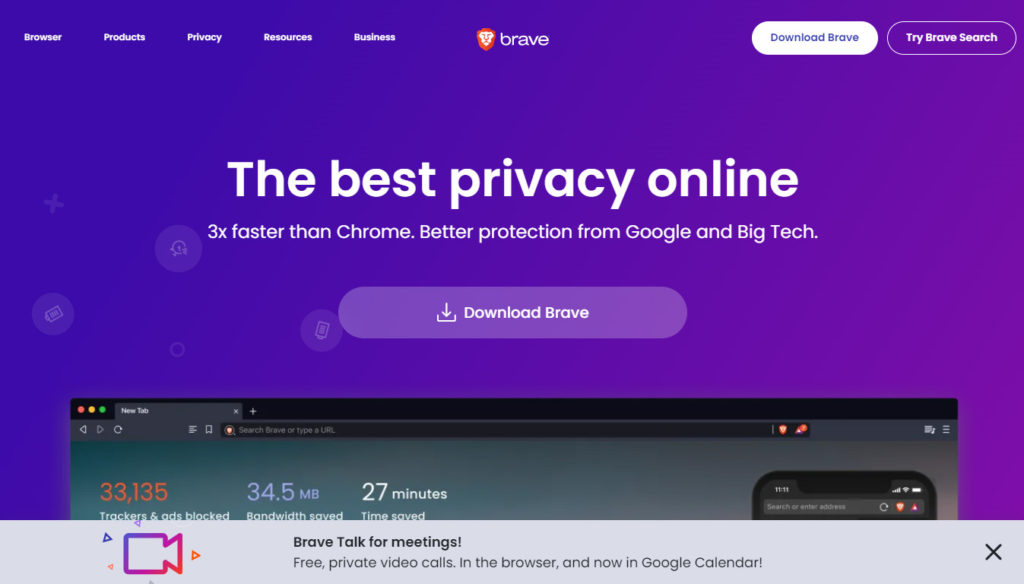 The Brave Browser removes all creepy advertising and trackers from every online page you view by default. The platform then asks you if you want to watch the ads. If you do, you get Basic Attention Tokens (BAT).
However, the ads of Brave Browser are not malicious with pop-ups and embedded links. The ads are from popular brands with great offers. Moreover, you can opt out or dismiss the ad as and when you want.
You can collect BAT and redeem it for gift cards, crypto assets, cryptocurrencies or use it to tip websites or creators.
To earn cryptocurrencies for free with the Brave browser you will have to turn on Brave Rewards while using it.
5. Earn Cryptocurrency With Online Games
You may get cryptocurrencies for free by playing a variety of online games. This is an interesting topic in itself because Crypto gaming has gained huge traction over the years.
SandBox & Gala are popular Metaverse Games where people can earn while they play in the Metaverse. Similarly, Axie Infinity is yet another cryptocurrency games that has made people mint money.
For better understanding, you can refer our articles about:
Apart from the above popular games, I thought I should mention a few that give good rewards but aren't that popular yet. Here is their mention:
Rollercoin
Rollercoin, for example, is a simple and entertaining way to go through the levels of these games. Rollercoin bestows onto you a power known as hash rate. You can use this power to mimic crypto mining within the game.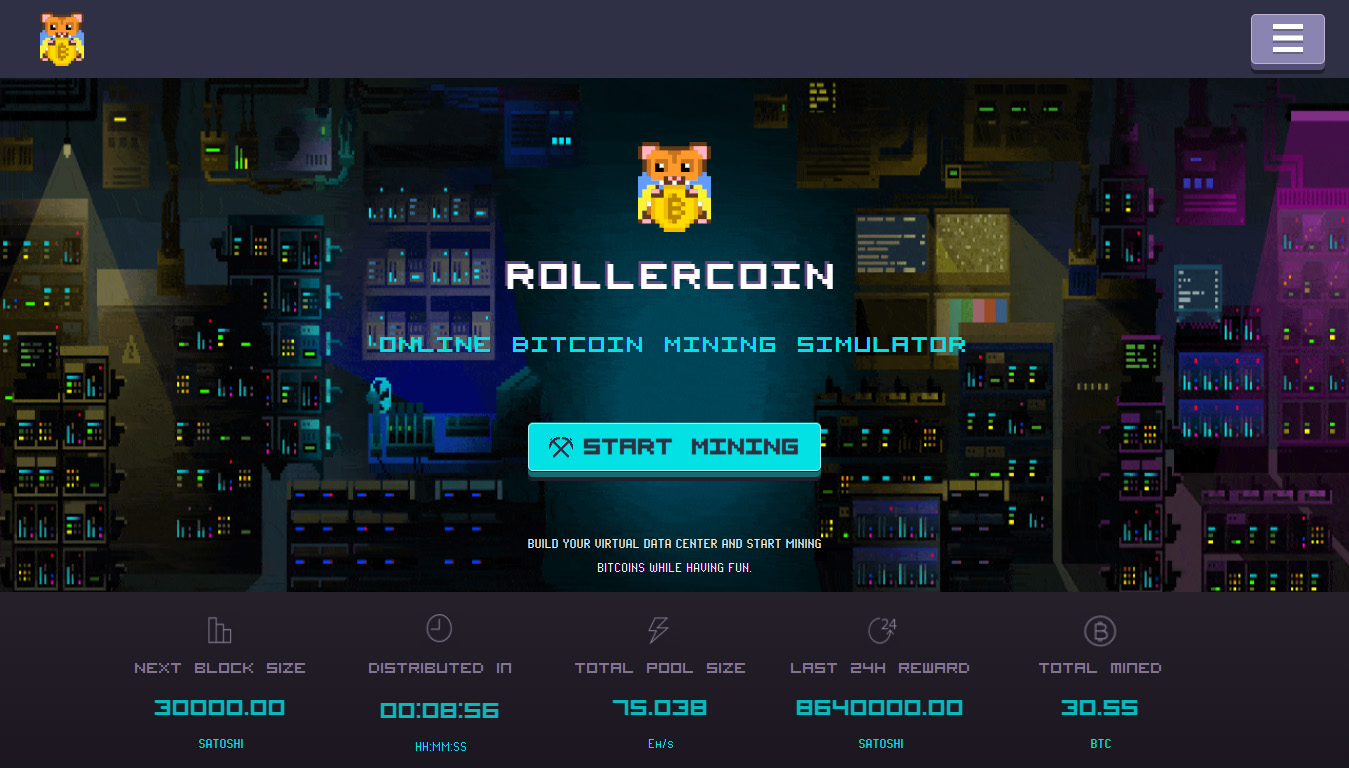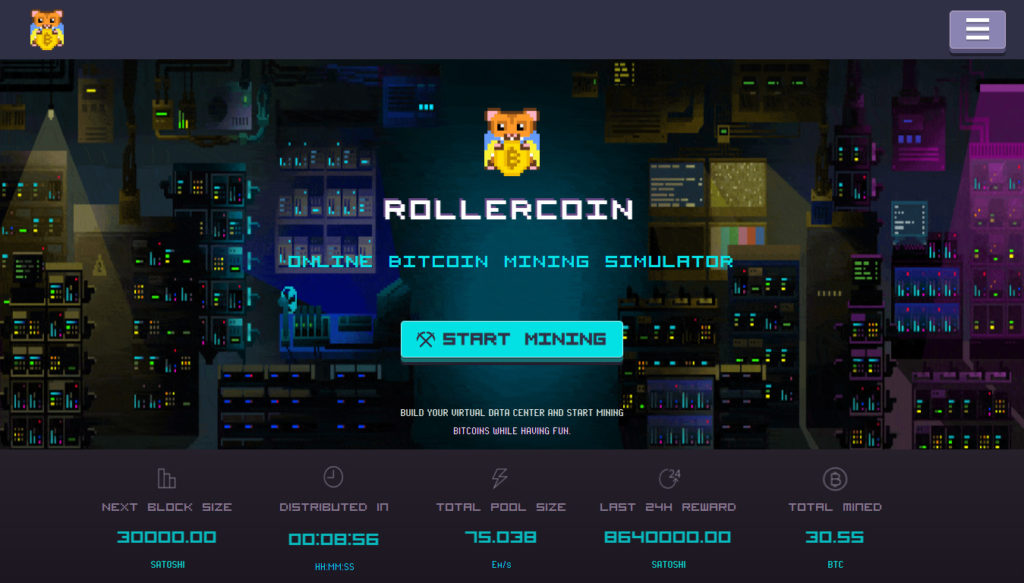 Crypto PopCoin
Crypto PopCoin is another popular game that lets you earn cryptocurrencies like Ethereum for free. Crypto Pop is a free match-two game developed by Vweeter, a Hong Kong-based firm.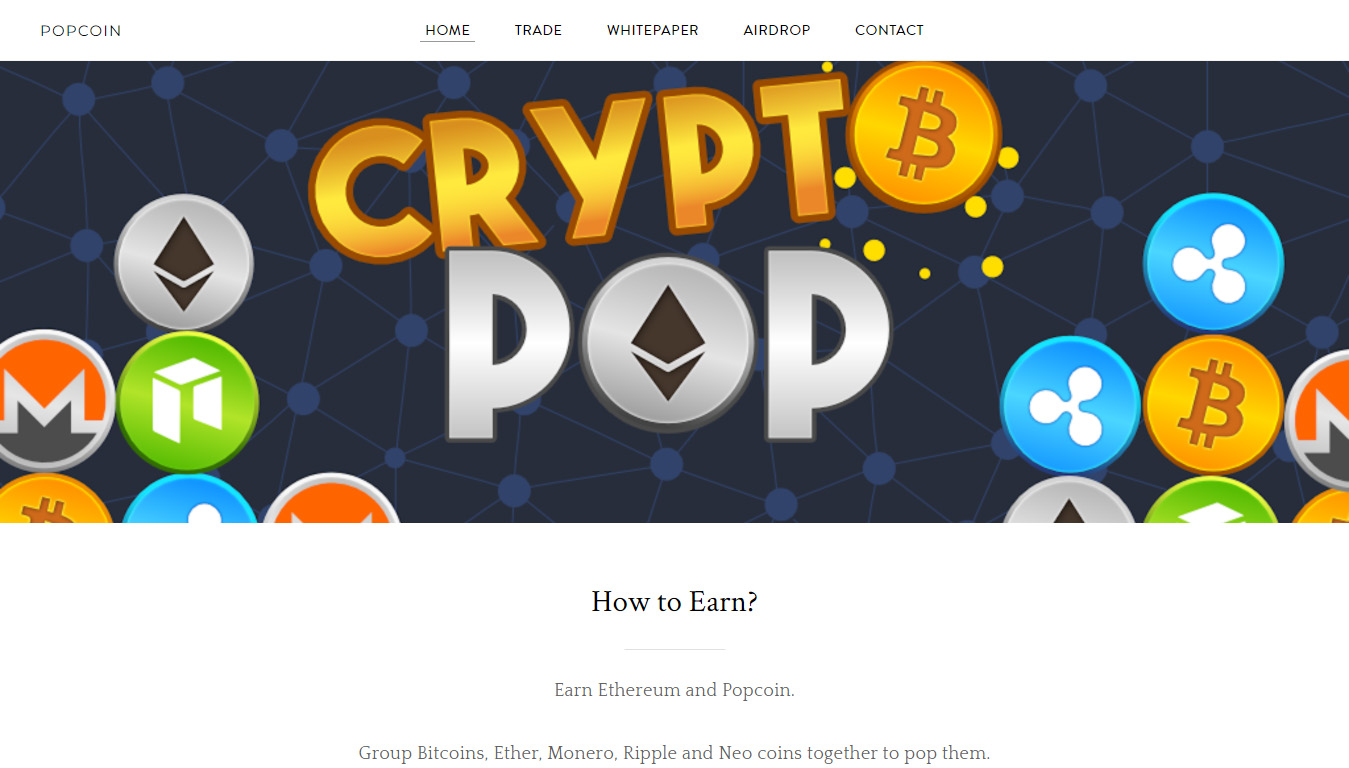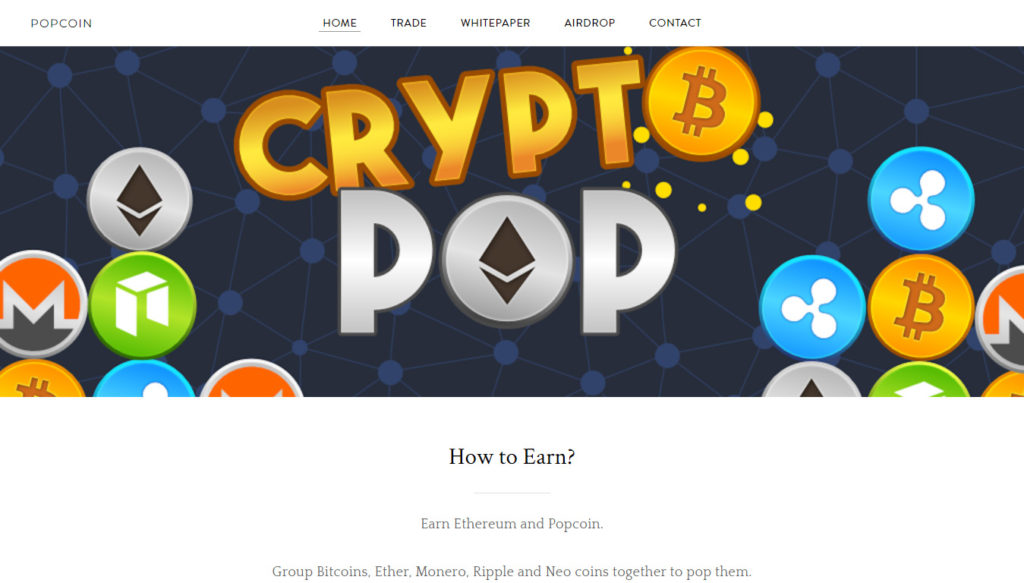 The game is similar to Candy Crush, but it has the potential to be far more addicting due to the ability to convert points into cryptocurrency.
To pop the coins, you must first group them and then tap them. The goal is to pop as many coins as possible before each stage ends. When you blow a large number of coins at once, you will receive bonuses.
You can combine 2 or more identical coins together to win extra points, but the more coins you group together, the more points you'll receive.
Some examples are as follows:
2 coins = 20 points
3 coins = 45 points
4 coins = 80 points
Points are also known as "coins mined" in the game. Gwei represents the quantity of Ethereum (ETH) you will earn, which is proportional to the number of coins mined.
1000 Gwei = 0.000001 ETH.
Coin Hunt World
Another fun game to earn cryptocurrencies is Coin Hunt World. CHW is a geolocation game that lets you earn bitcoin by walking, running, biking, driving, or skateboarding around collecting keys to unlock trivia questions at "vaults."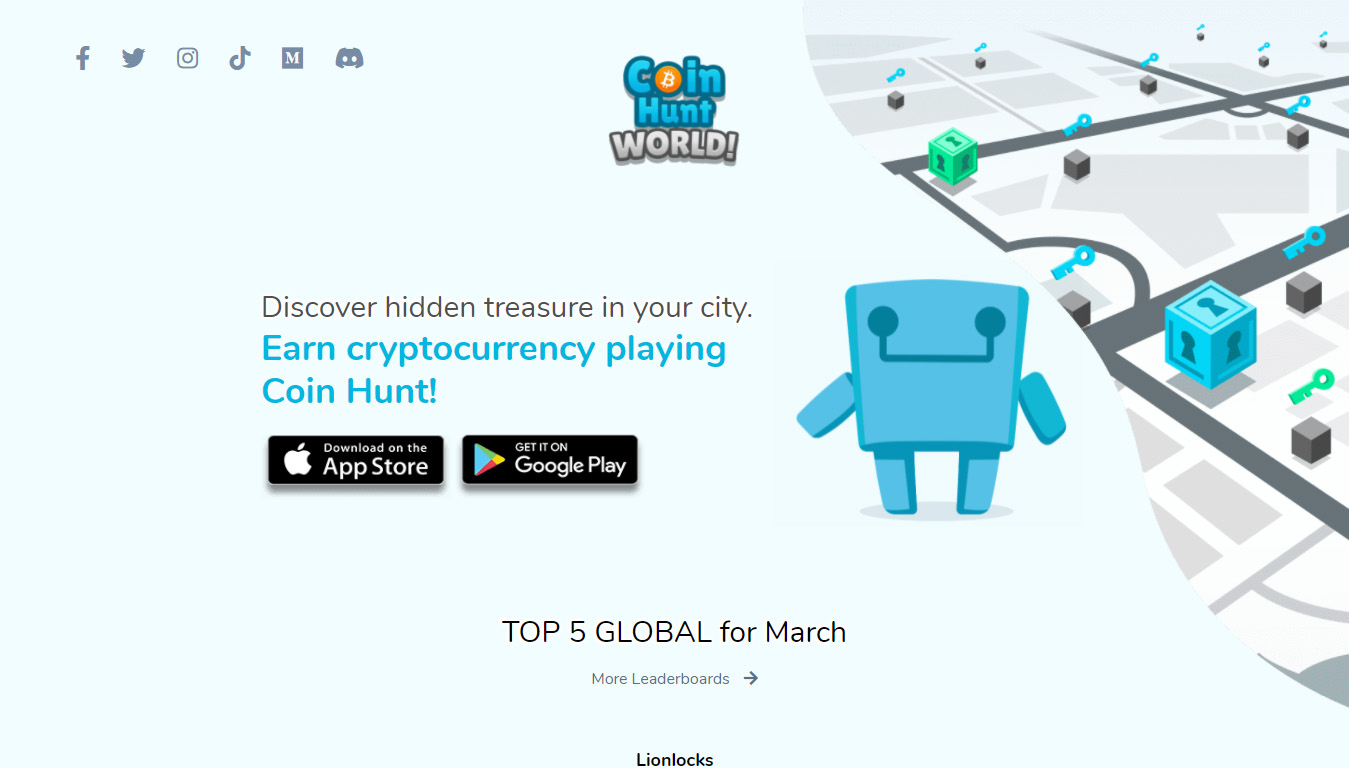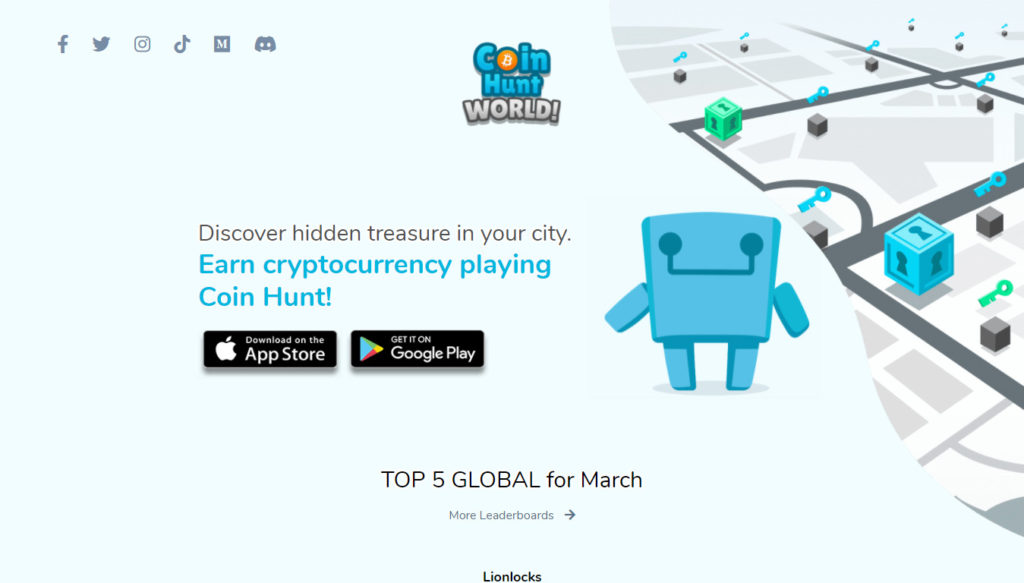 Depending on the rarity of the vault, you can get anywhere from $0.10 to $100 for every correct answer. You will spend 99.99% percent of your time answering questions at the omnipresent $0.10 blue vaults.
Your earnings are solely dependent on your free time, the number of keys/vaults in your neighborhood, and your stamina for visiting vaults. Again, the majority of the vaults in the game right now are the $0.10 blue vaults. So you'll need to visit ten of those to earn $1.
Green vaults are sparsely strewn about and pay up to $1. Yellow vaults are extremely rare and can pay up to ten dollars. Only red and purple vaults appear for special events, and they pay up to $100 and $1,000 respectively.
Currently, the game pays out in Bitcoin and Ethereum. The game is similar to Pokemon Go and is available only in the UK, USA, Canada, and El Salvador.
Conclusion
The above-mentioned websites offer you legit ways to earn cryptocurrencies in your free time by taking courses, quizzes, surveys, and playing games.
If asked to recommend the best out of the five ways, you should go with Freecash and Brave Browser Rewards to earn free cryptocurrency without any investment.
However, every scheme has its own pros and cons. You should explore the different crypto rewarding schemes before devoting your time and efforts to it.