Introduction
Today, we get to talk about the Sandbox cryptocurrency. It is a popular gaming metaverse that requires absolutely no introduction. This cryptocurrency game needs the spotlight because it has a massive potential to bring crypto to the masses through gaming.
I am sure you have heard of Metaverses as Facebook is in the process of introducing its gigantic metaverse. Sandbox is one such blockchain metaverse game that has been in existence since 2011. We will talk about the game and undertake a complete Sandbox review in this article.
During our discussion on Sandbox Review, we will answer a list of questions marked below. If you have more questions in your mind, do let me know in the comments section below. Let's begin!
1. What is SandBox Metaverse?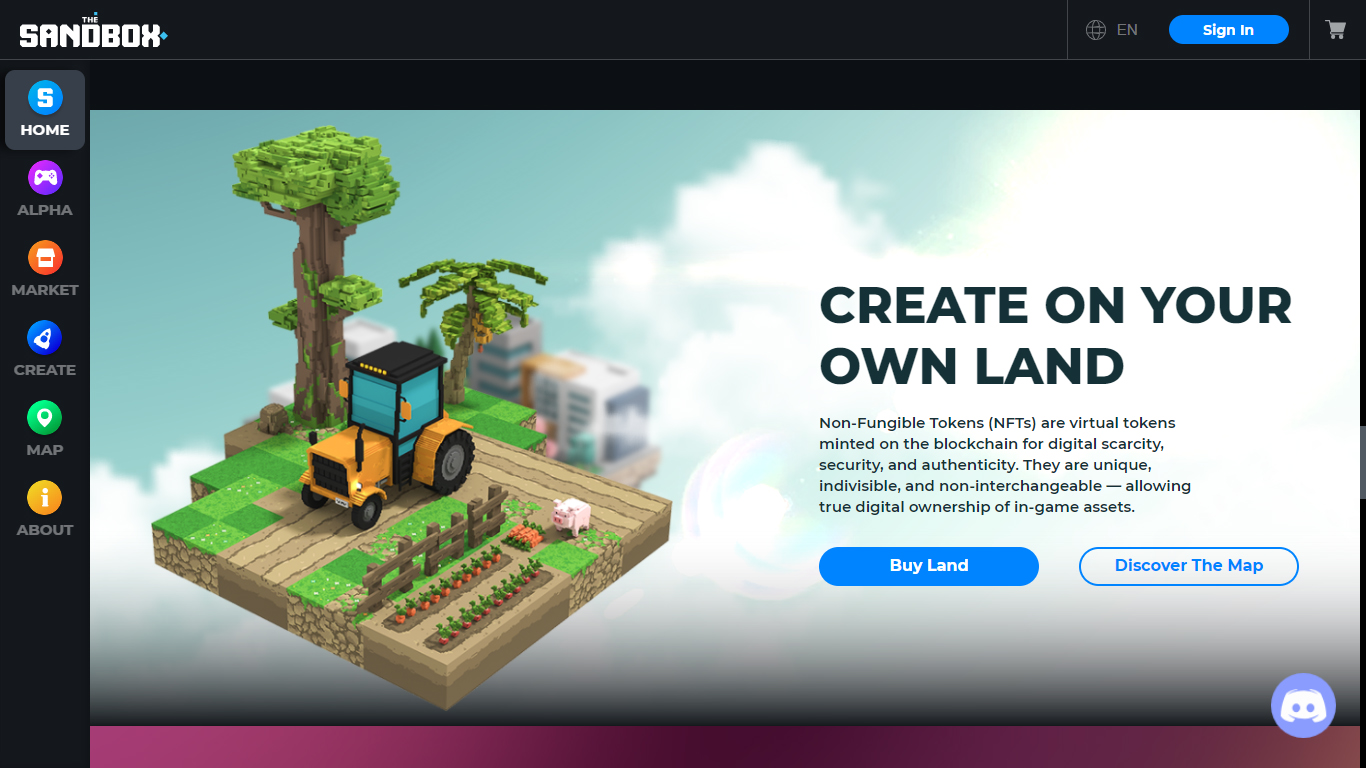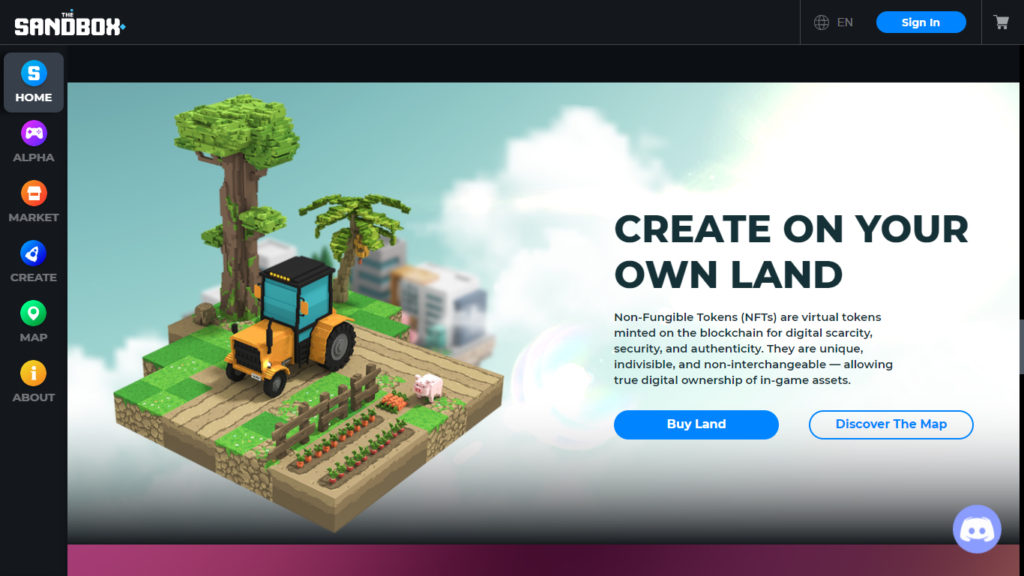 SandBox is an Ethereum Based Decentralized Non-Fungible Token blockchain gaming metaverse. Its native token is "Sand". If you are a new investor then words like NFT, blockchain, metaverse may be new to you. I will explain each of the above in the following words shortly. However, if you want to understand these in detail then you can refer to the below-mentioned links:
Getting back to the topic!
Earn Money through NFTs: With Sandbox, you can create, sell, use, and monetize your own virtual reality NFTs. This game is an investment in itself. Like your investments in share trading, Sandbox is a crypto investment.
The fact that makes SandBox different from the other metaverse cryptocurrencies is that it enables you to create your own NFT and sell it on its platform to earn handsome returns. Moreover, you can sell these NFTs on other platforms as well just like in normal markets.
Further, you can earn money by just playing the game and creating your own game to monetize. We will come to that in the next section.
No Coding Skills required: The most interesting thing about SandBox is that you do not require any coding experience.
Blockchain to Gaming: You would agree that, in recent years, online gaming has become exemplarily big, and the industry is growing tremendously. The growing productivity in this field has brought new opportunities for gamers and developers. SandBox's main aim as per its Whitepapers is to bring blockchain technology to mainstream gaming.
The far-fetched thought is now a reality. You can earn huge through gaming because this field has grown massive after the blockchain technology improvement over the years.
Here is a handy table depicting important information about SandBox
Table depicting The SandBox Crypto Review Market details, Tokenomics and where to buy SandBox information.
Let's now quickly understand the keywords I mentioned above while explaining what SandBox is.
2. What is a blockchain?
Blockchain is a digital record of the transactions made by the public for the cryptocurrencies, for example, Bitcoin and Ether. Crypto games are games based on the blockchain.
3. What is the Purpose of Sandbox?
I connect to the purpose behind Sandbox because it is to bring out creativity via playing, share ideas with the world, and then trade in a secure network but without central control. It was also made to increase the possibility among people to earn money.
4. Why Sandbox?
Ethereum blockchain is the basis on which the game survives. Ethereum help to back the items within the game. It means that you can buy or sell the assets of the game.
Let us take a quirky peek into the different features of Sandbox. We will begin from the Main Page of the Game's site. On the left you will see a menu which has the following components:
4.1 ALPHA
On clicking ALPHA, you get to see a Login screen. The innovative Blockchain Metaverse opens for playing at certain intervals of time. Accordingly, the game has successfully released Alpha Season 1 and Alpha Season 2.
The participants of the game stand a chance to win 1000 Sand tokens. I have attached a snapshot of the rewards that the participant can earn.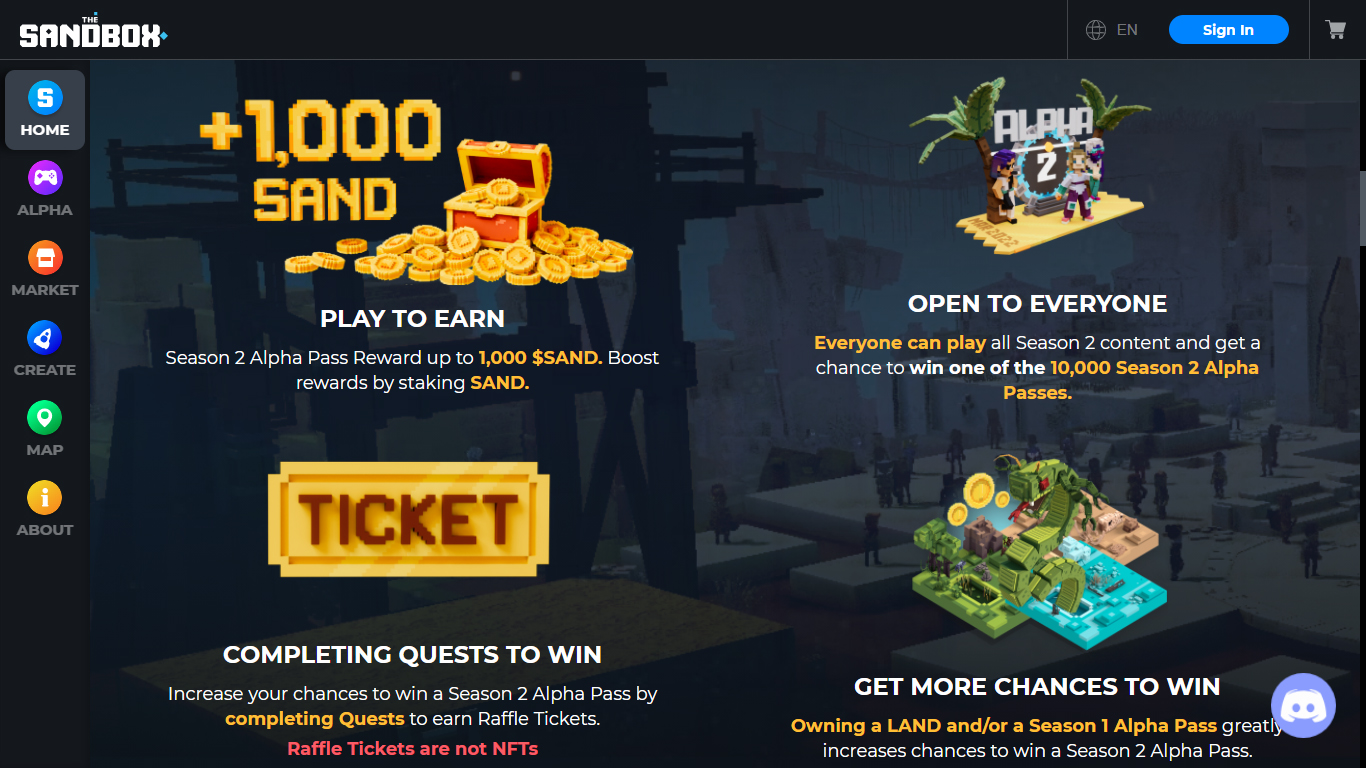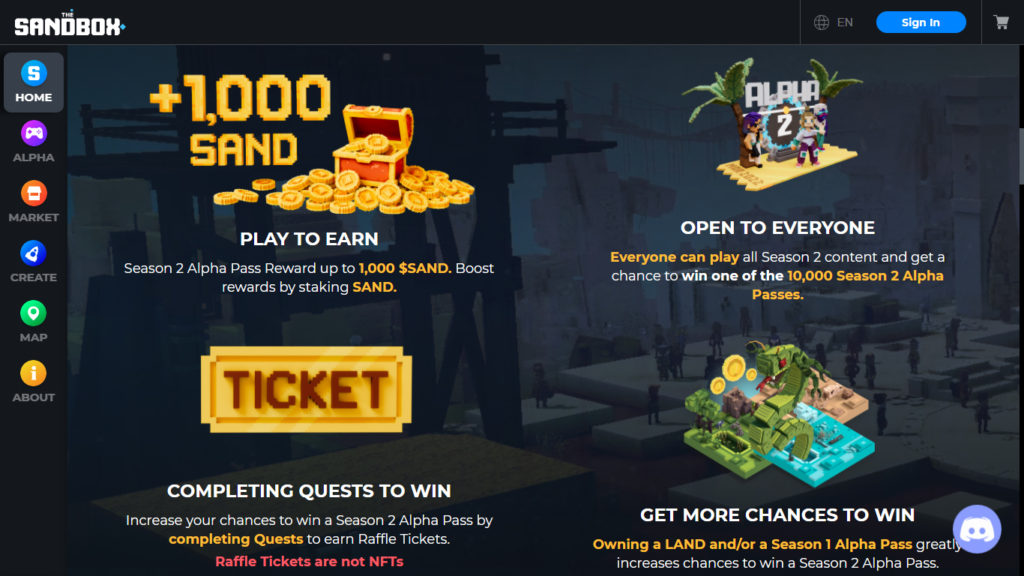 4.2 MARKET
The second thing on the left of the game is MARKET. In the Marketplace, you can buy items, the characters of your game, swords, and the list goes on. It is an everything kind of a store for the essentials which you can use in the game. Along with it, you can also customize your characters to make them unique.
The shop consists of different subcategories- Rarity, Categories, and Themes being a few of them. With these options, you have the access to bring your creativity to the forefront.
4.3 CREATE
Below the Market tab, we have CREATE, where the VoxEditor is present. Here you will be able to create your items, to sell in the marketplace. We will have an exhaustive discussion about VoxEditor below.
4.4 MAP
The map is the most captivating part of the game for me. It is where the real investment side comes out. It interests someone like me who has been in crypto for a while.
The sandbox map has its little unique area in the map. It is exemplary to see it because you have got some new areas. It means that no landmasses have been opened up recently.
You can also buy land in the game, for a few bucks, depending on the size. And, if some big company wants to buy your plot, then you can sell it to them. It is a viable investment like you invest into these games. There will be potential for return on investment depending on how big the game is- Sandbox has great potential, so it could do well.
5. What is the Sandbox Ecosystem?
This is my most favourite part of the Sandbox Review. The ecosystem is a community driven platform where creators can use voxel ASSETS to earn.
The ecosystem consists of:
VoxEdit
MarketPlace
Game Maker
These three are the backbones of Sandbox and one can call them as integrated tools. The VoxEdit is your hand and the core of every asset by which you can design 3D objects and characters.
Let's understand them one at a time.
5.1 VoxEdit
VoxEdit enables you to create, rig and animate your voxel-based NFTs. You can not only use these NFTs in the game but can also sell them at the SandBox Marketplace. As far as the inter-platform compatibility of these NFTs is concerned, you will be amazed to know that you can even sell these NFTs at other platforms like OpenSea apart from the SandBox Marketplace.
This means that the NFTs carry value beyond the SandBox Ecosystem as well.
VoxEdit does not require you to be a coder or learn coding. You can create your Voxel Assets without any coding knowledge with VoxEdit.
5.2 MarketPlace
NFT marketplace is the exchange platform where you can Sell & buy your created NFT assets. One can sell them in the marketplace with complete rights and full proof ownership.
The Marketplace (Market) formerly termed as Shop is where the business happens. You can Buy & Sell the NFTs that you created here at the marketplace. It is simple to understand interface. Though you would require some time and crypto experience to effectively use the platform and earn money.
Different NFTs are showcased under different categories of NFT like Lands, Entities like battleships, vehicles etc. and Equipments like shields, android arms, legs glasses, caps, swords etc; wearables and arts.
You can also buy Featured NFTs from Snoop Dogg, Atari, Binance etc.
5.3 GameMaker
The last part of this segment of the Sandbox crypto review is the Game Maker. GameMaker is the creative hub to design the games. You can make any type of game you wish to play. Here, you can showcase your creativity and design characters, create your storyline, and build assets like land.
In order to monetize from the game you created, you can share your games with others so they can also participate with you.
The visuals of the game you create are similar to Minecraft with real-life stuff, games within games. It would be correct to say that it is an advanced version of Minecraft. And you are likely going to like it.c
The GameMaker provides you with the True SandBox Metaverse Experience with as I mentioned No Coding required.
5.3.1 Avatars
GameMaker enables you to create your own avatar. You can customize your avatar, upgrade it with equipment (Coming soon). You can socialize and play with your friends.
GameMaker requires you to download the application to craft your game. Accordingly, the Minimum System Requirements for GameMaker are as below:


6. How to Play the Game?
I am going to discuss the basics of creating an account and linking it to your wallet (in our case the Metamask Wallet) in this article. Because I will otherwise be drifting from our main topic.
Anyway, The game is fairly easy to play and designing a custom one is limited only by imagination.
Creating an account is a simple process if you know how to connect your account with Metamask. Let's quickly take a look at it.
On the Homepage you need to click on "Play Now", please make sure that the event is in progress (we are registering for Alpha 2 game right now). If it is not, you can still create an account and play once the next event starts. Sandbox provides the details of the every upcoming event on its website itself.
Once you click on "Play now" or "Create Account", you will get a pop up like the one shown below: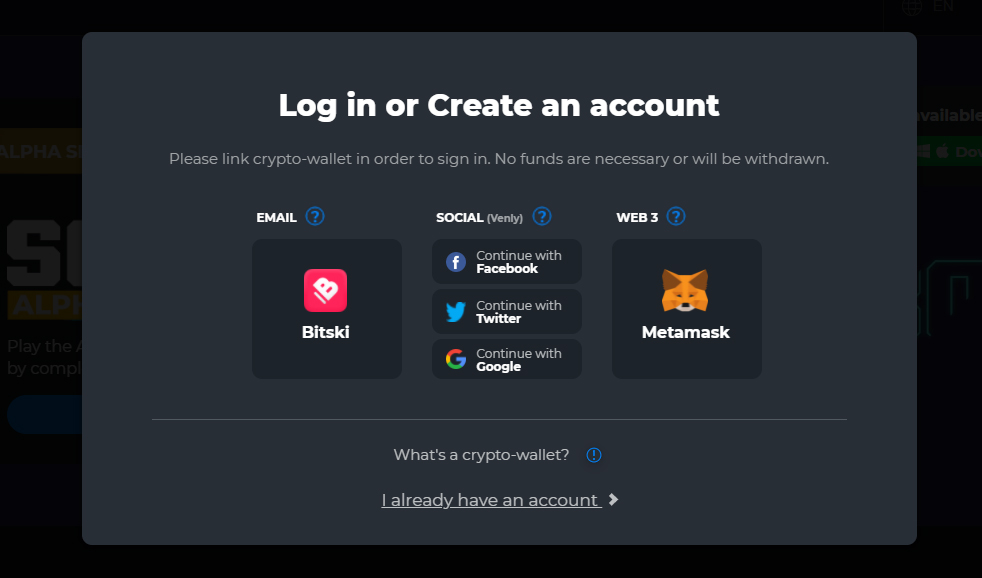 You can log in with Email(via Bitski) or Social logins like Facebook, Twitter and Google or Web3 Metamask. Sign up is Free.
If you want to buy or sell SandBox NFTs on other platforms and you are using Metamask Wallet then you have to transfer Ethereum to your Metamask wallet first. Hopefully, I will write a complete article on How the game is played for users of our site.
7. The SandBox Review: SandBox Products
The SandBox Ecosystem consists of the following products that it offers to its users. As I mentioned earlier, SandBox is not just a game but an ecosystem. So apart from being a gaming Metaverse, you can stake your SAND to provide Liquidity Mining and earn rewards in return. The SandBox Ecosystem has:
LAND
Game Maker
Game Maker Fund
Liquidity Mining
7.1 LAND
You can acquire land in the metaverse and do the endless. LAND is a digital piece of real estate in the game. And Multiple lands form an Estate in the Metaverse. However, there is a restriction on the total number of Land units available in this Metaverse and it stands at 166,464 lands.
There are Gems & Catalysts that define the quality, scarcity and attributes of the LAND asset. CATALYSTS are empty slots where Gems can be added. The higher and better the catalysts are, the better GEMS can be added and better becomes your LAND.
Sometime back a piece of this digital land was sold for a whopping 4.3 Million Dollars.
Now, in order to earn revenue from your land in the Metaverse, you can monetize by:
Creating and Selling Assets on NFT marketplace. This is a direct income, you create and sell your asset like an NFT and/or;
Buying LAND from one of the LAND sales. Once you own it, you can either build it or rent it with assets and/or;
You can also use this land for Building games on Game maker.
7.2 GAME MAKER
We have already discussed the Game Maker in the article above. Therefore, we can conveniently move on to the Game Maker Fund.
7.3 GAME MAKER FUND
Sandbox Foundation manages a fund for Game Makers which is it uses to support Game designers by funding and publishing their games. Consequently, the Goal of the fund is to generate awesome games and innovative experiences.
The idea, the asset and the game are yours and you own the copyright. SandBox showcases the games on its website for people to come and play. In return for your hard work put in designing the game, you get rewards. You can take a sneak peek at some of the games designed by people like you.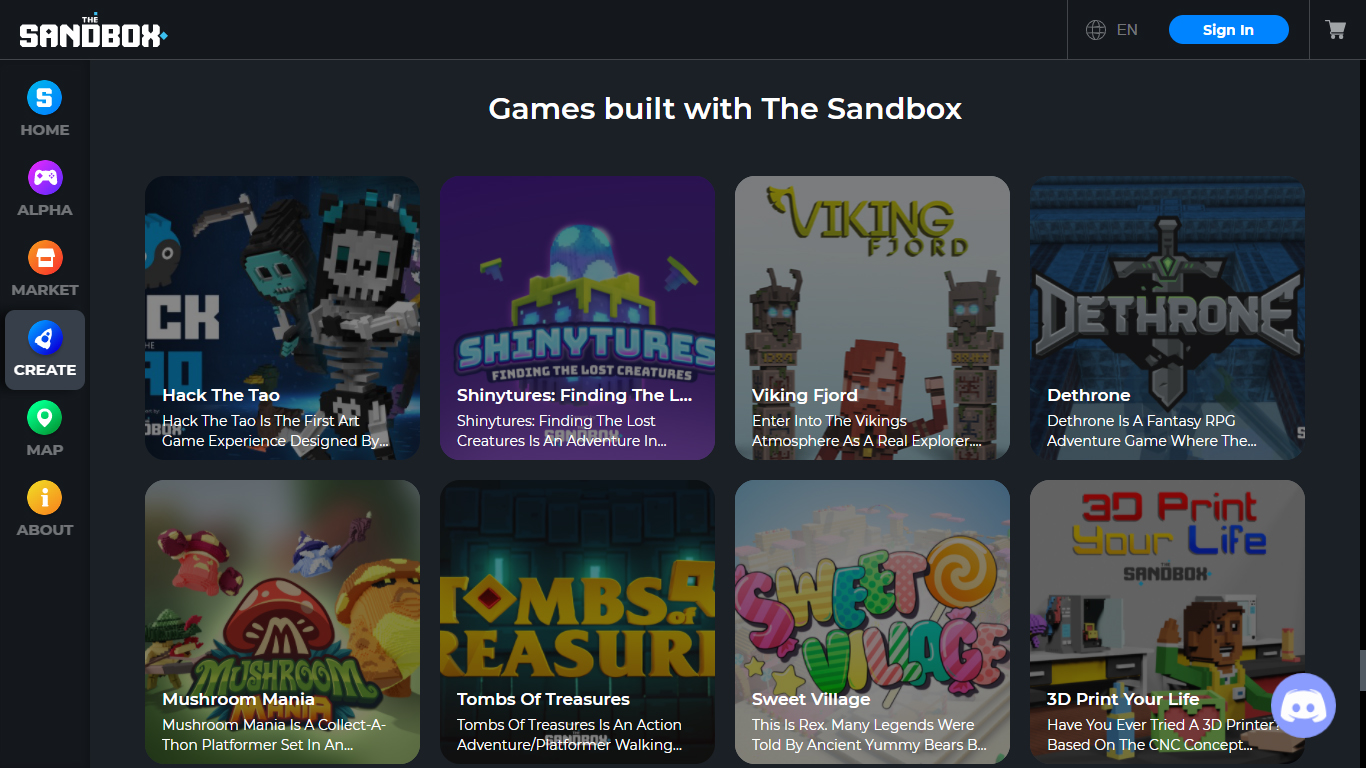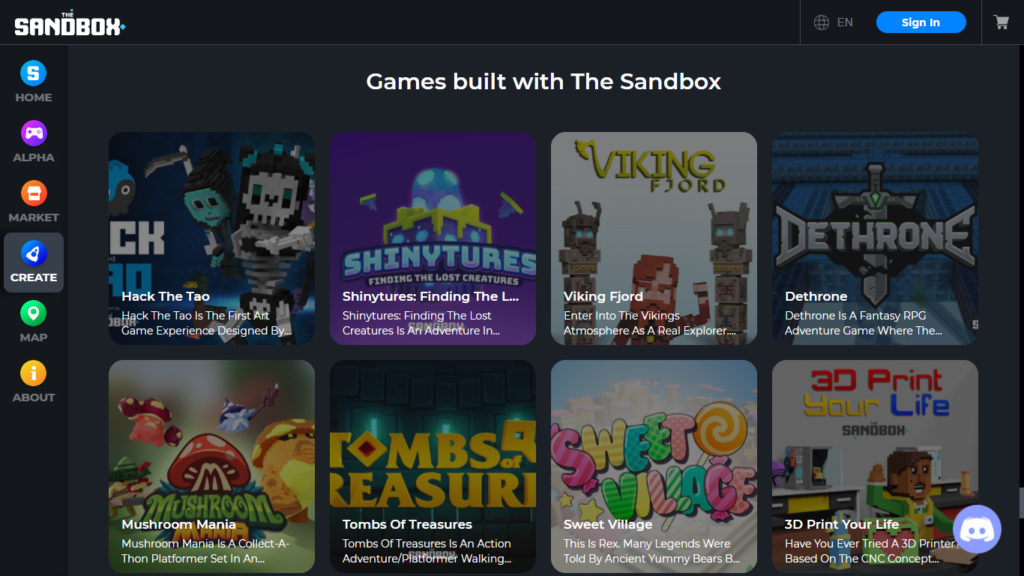 7.4 LIQUIDITY MINING
With liquidity mining at the platform, you can invest cryptocurrency and earn more SAND (native currency) for providing liquidity to the platform.
To understand Farming, Liquidity mining etc, you can take a look at our exhaustive article.
8. The SandBox Review: Project Partners
The interest in SandBox metaverse is quite evident from the well-known companies that have Partnered with SandBox. Below is the list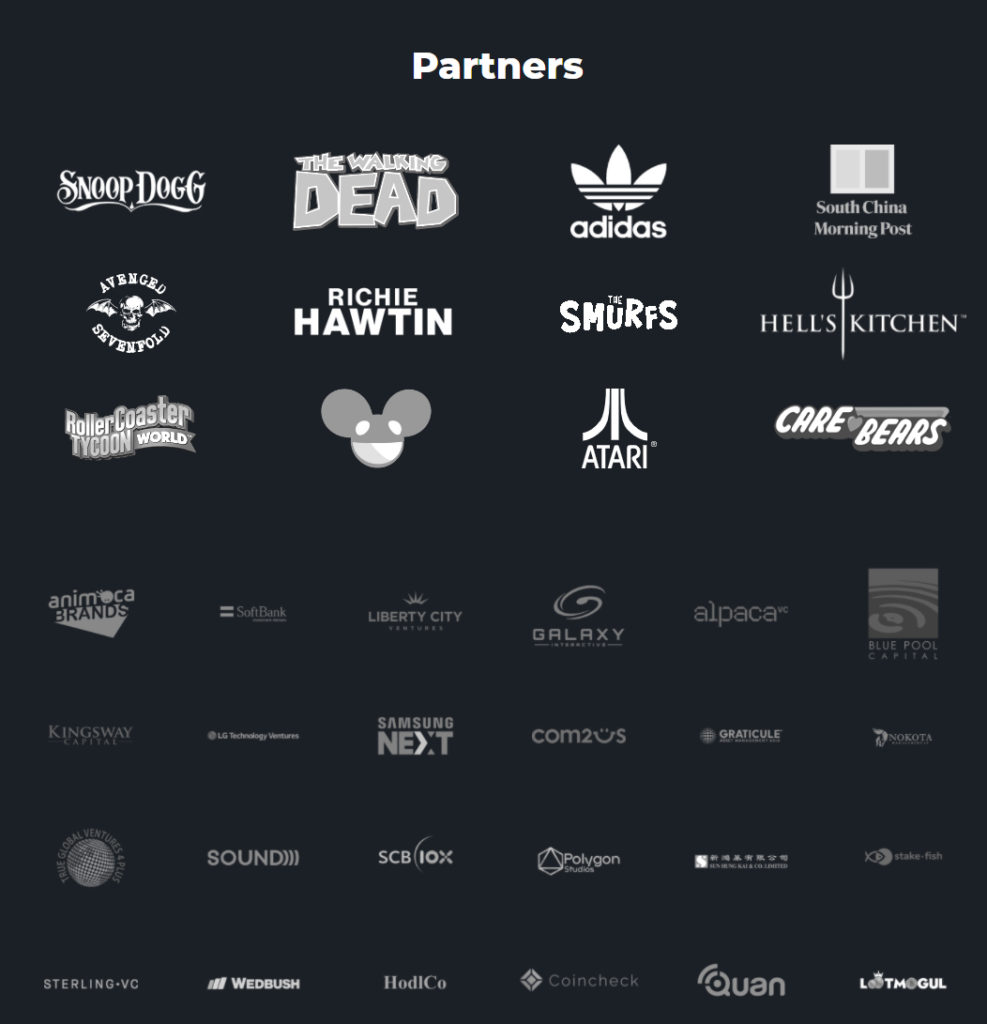 9. The SandBox Review: Meet the Team
Headed by Arthur Madrid, SandBox CEO, SandBox has a creative group of individuals that form its Team.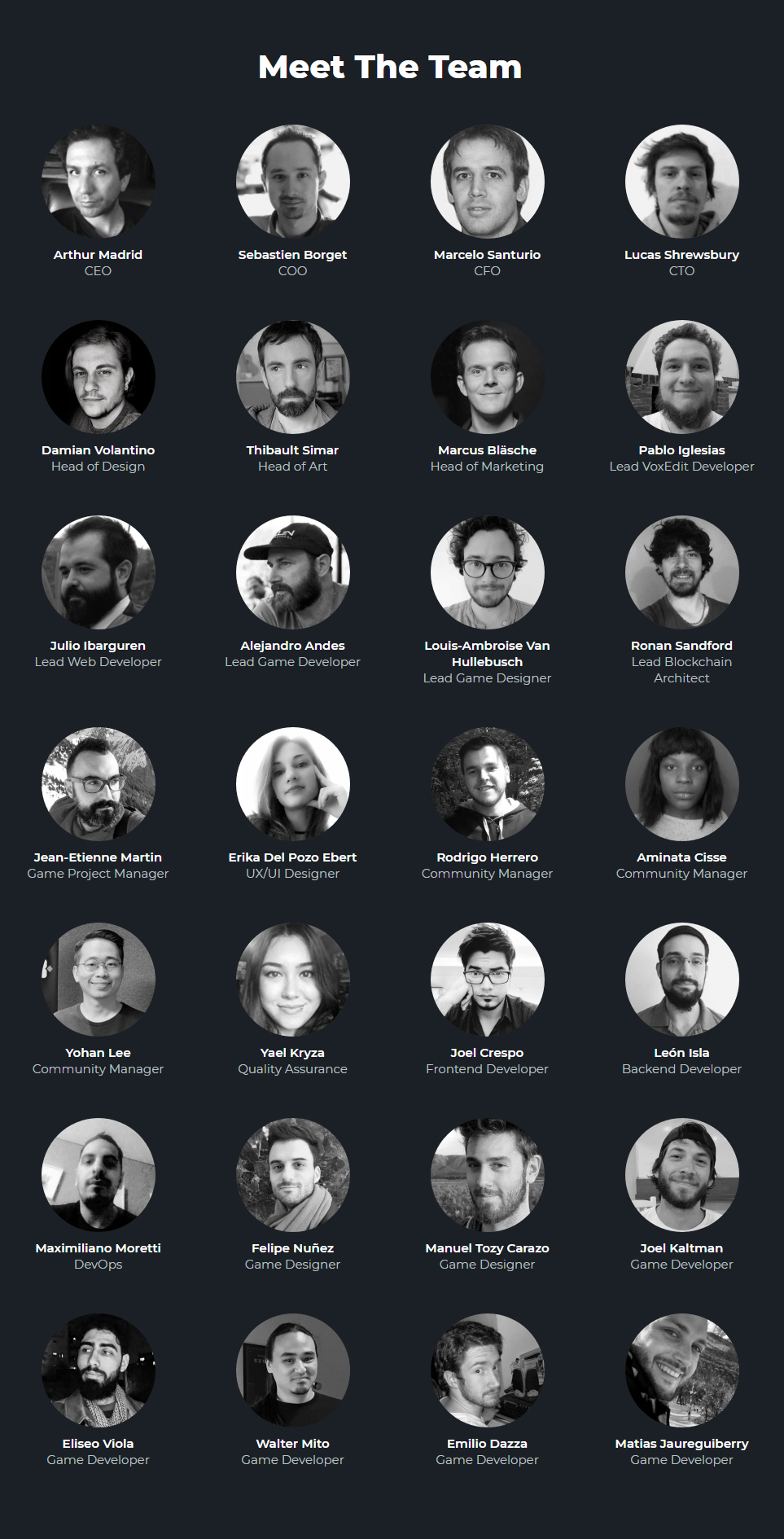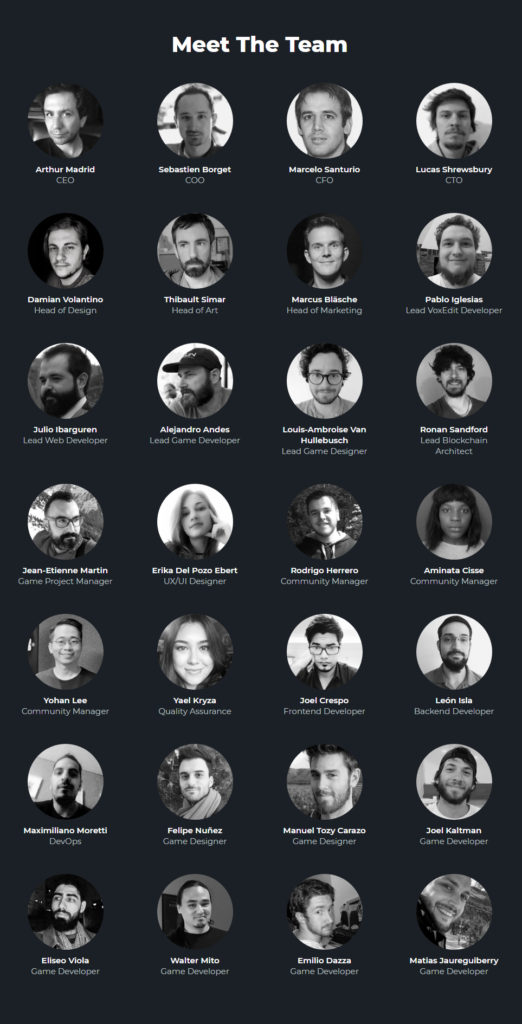 10. What is the Future of the SandBox Metaverse?
The project has a number of things lined up in the time to come. It is impressive to see such a clear roadmap of a Blockchain project. Here is a gist of the planned developments:
LAND
The project will progressively open Metaverse to Land owners who have built high-quality experiences
Launch of the DAO with staking and voting mechanisms for SAND, LAND and AVATAR holders
Launch of the first virtual concerts (Deadmau5, Richie Hawtin) and The Walking Dead game
Partnerships, New IPs and Premium NFTs to be announced
Games Platform
Over 1,000 Games available
Multi-platforms
Availability of Game on consoles. For Example- in some games like Warzone, Minecraft, Call of Duty, if you get good at them and if they have an in-game item like a wearable, you could loot and probably sell it for a million dollars because gaming is a massive industry. The same is the case in Sandbox. It would open earning opportunities because the game has the potential to grow.
LAND Public sale
Regular LAND sales will continue
Game Maker
Co-Building Mode – creating games with Friends, Custom Scripting with programming 3rd layer and major updates with more gaming packages and Behaviors
New Events
Additional Seasons with big rewards to earn
VoxEdit
Major updates with more behaviour to make creation of voxel assets & NFTs easier
11. Sandbox Price Prediction
We all have seen all over social media that the gaming industry is exploding. With this exposure to the gaming industry, crypto rates are going to increase with time.
The current price of Sandbox as of 2022 is $3.40. It is estimated that till end-2022 it would reach around $15.
Please note that we are optimistic about SandBox but the above are estimations only.
12. Where can we buy/sell SAND?
Where to turn SAND into actual money is a usual query that I have also faced. But you won't. You can buy your SAND from any of the under-mentioned Centralized Exchanges.
Binance is the largest exchange company for cryptocurrencies with more than 13 million users. The exchange offers you great liquidity and volume for the respective SAND trading pairs. SAND can be sold for the following currencies- USDT, BUSD, BTC, AUD, TRY, and BNB.
A Seychelles-based crypto exchange that has been working since 2017. According to Coinmarketcap, it stands in the TOP 10 list of 0 Crypto Exchanges. With a huge volume of $7,420,000,765.57 traded Kucoin, you should exchange SAND. In Kucoin, SAND is traded into USDT.
A team of the leading quant firm and crypto liquidity provider in 2019 founded the FTX. Among the major players of the crypto exchange industry, they have an ultimate range of crypto derivative products. SAND can be sold as well as bought on FTX.
Gate Tech. Inc runs Gate.io since 2013. This trading platform helps the users to trade spots and futures effortlessly for the crypto exchange. Also, it supports a maximum of 500 coins, BTC, DAI, ETH, and others. This platform also accepts SAND in exchange for USDT< USD, and ETH.
Huobi is one of the oldest exchanges and has been running since 2013. It has 3 different iterations for Korean, Japanese and other countries(Global) users.
Huobi supports a staggering number of 416 cryptocurrencies. And charges a minute fee for using their platform.
The Verdict
SandBox can be considered as the pioneer of Blockchain Metaverse Gaming. It has been there since a while and is holding strong. Facebook's recent announcements of stepping into the untapped Metaverse domain has certainly added value to the SandBox's concepts.
The native cryptocurrency of the Ecosystem SAND is highly useful as it can be used within the game to earn rewards and create & sell NFTs. But the created NFTs can also fetch money in the open NFTs marketplaces.
SandBox has an added functionality of Liquidity Mining wherein the users can stake their cryptocurrencies at the platform i.e provide Liquidity to the platform and earn rewards.
In a nutshell, the fundamentals of cryptocurrency are strong. And that is what makes me highly optimistic about the future of the project.