Introduction
Ledger vs KeepKey! In this round of the "battle of the crypto hardware wallets," we will pit two of the most competitive and well-liked new cryptocurrency hardware wallets against one another.
Due to its improved user experience and the capability to execute trades while maintaining your private keys in your hands at all times, Keepkey is certainly a favorite of many.
Having said that, the Ledger significantly improves on the Ledger Nano X, which is the model with the most recent sales. The two standout features that the updates brought are the wireless Bluetooth support for management while on the road with the new Ledger Live mobile app and the capacity increase to allow up to 100 assets to be held on the device simultaneously.
Which option will prevail? What is the superior hardware wallet? Read the article to find out who prevails in the KeepKey vs Ledger contest!
1. Overview: Keepkey Vs Ledger
One of my all-time favorite hardware wallets has been KeepKey. I was requested to test the ShapeShift beta, which was a total makeover, and used the KeepKey as its cornerstone to promote keeping ownership of your private keys as you perform trades.
It was a lofty aim, but they accomplished it, leading to one of the simplest user experiences one can ever have with a hardware wallet.
Keepkey is quick, secure, and makes managing your funds, portfolio, and trades simpler than ever while keeping all of your keys in a hardware wallet and maintaining custody at all times.
It is a real game-changer that will open the door for hardware wallets in the upcoming decade.
The Nano X arrives in a sleek package that includes the hardware itself, a USB-C connector, a manual, and some recovery seed cards. The device's once-bulky buttons on the top flawlessly merge into it in a way that is almost difficult to see.
Overall, an attractive design. The device's main characteristics are its Bluetooth connection, which enables you to control it with an iOS or Android smartphone app.
Furthermore, you may now hold, store, or administer 100 cryptocurrencies at once without using a desktop or laptop computer.
It is undoubtedly one of its biggest new features, but in addition to having more storage and wireless connectivity, the gadget is now bigger, has a built-in 2-function button, and has a larger screen overall for validating transactions.
It makes it far more practical to invest the extra money to store more coins and one that you can easily carry with you as you travel if you have a reliable smartphone and a more versatile charging cable.
Ledger Nano S Plus is an advanced version of Ledger Nano S that previously existed. It is a DeFi & NFT-friendly wallet. What this means is that apart from storing your Bitcoins safely it can also store your DeFi tokens and NFTs. This is quite impressive as DeFi tokens and NFTs remained ignored by many hardware wallets for long enough.
Private keys are stored in Ledger's hardware wallets for this purpose. Private Keys are crucial pieces of data used to approve offline cryptocurrency blockchain transactions for outgoing transactions.
When employing cryptocurrency for transactions, cryptographic private keys are used. They are typically kept online and are subject to theft and hacking.
Users of cryptocurrency have created alternate storage mechanisms, such as hot wallets, air-gapped mobile wallets, and paper wallets, in response to the issue. Hardware wallets are the safest type of offline storage in turn.
2. Keepkey Vs Ledger: Security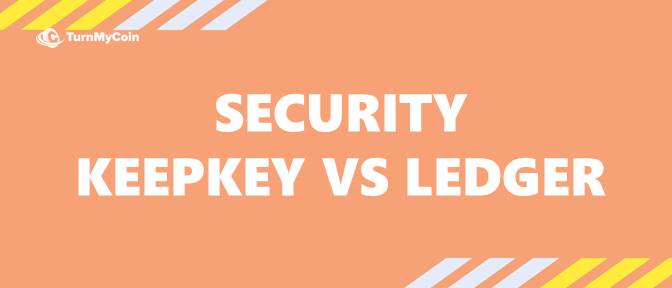 Keepkey Security
To add additional physical protection, KeepKey's PIN interface uses a true random number generator (TRNG). KeepKey's PIN code and number randomization ensure that, in addition to offline storage,
Physical theft renders your wallet practically useless to the thief.
That a hacker could not use malware to steal assets from your wallet.
Since KeepKey is an HD wallet, the 12 words created during setup can be used to back up your whole wallet. Although KeepKey offers seed lengths of 18 and 24, 12 words are the default.
Entropy from the device and the computer used for setup is used to create the seed. On the KeepKey, the seed is offline and shown on the screen. The device's offline screen ensures that the seed is never seen on a device that has an internet connection.
This protects your assets from illegal access by hackers.
Ledger Nano X Security
Leading the industry in creating highly secured devices is Ledger. Here are the reasons why:
EAL5+ SECURE ELEMENT FOR CC

The entire accreditation from the French cybersecurity organization ANSSI is only valid for Ledger's products.

A "secure element" is a component that is present in both the Nano X and Nano S Plus. The Nano X's newest chip, which can be seen below, is of the following generation:
The secure chip utilizes Ledger's exclusive BOLOS operating system and is CC EAL5+ certified.
Ledger Nano S Plus Security
The Ledger Nano S Plus, however, also offers the same strong security levels. This wallet has a security chip that is approved and adds a two-layer security system made up of ST31H320 (security) and STM32F042 (OS) chips to store your private keys and the sign transactions as two distinct parts. When a user wants to unlock the device, a 4-digit PIN and those paraphrasers are also to increase security.
Additionally, ANSSI has approved the security it offers ( the French National Agency for the Security of Information System). Speaking specifically about security in Nano S Plus, there have not been any distant instances when it's been a problem because the defense layers are so strong.
3. Keepkey Vs Ledger: User Experience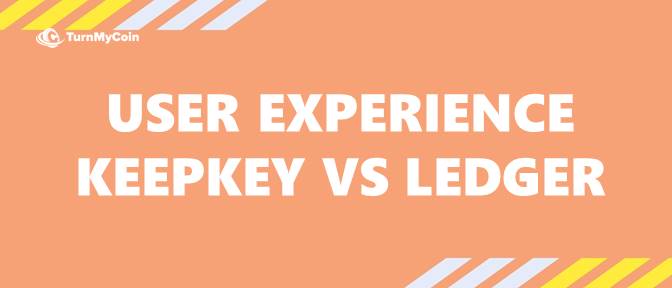 Keepkey User Experience
All of their services, including Instant Trades, Real-Time Market Data, In-App Crypto Purchases, and KeepKey Integration, have undergone a comprehensive redesign.
I am particularly interested in that final sentence because I have been trying to figure out how to make purchases and trades while my KeepKey has the connection, while still making sure that my private keys are secure at all times.
It is a crucial aspect, particularly if you want to shop online with extra security and guarantee that your private keys are never exposed in a trade.
The best non-custodial hardware wallet option is this, in actuality.
Ledger Nano X: User Experience
The screen is still somewhat small and can not fit a QR code for scanning. After utilizing several hardware wallets, it may not seem like a big thing, but it makes a significant difference.
In addition to being substantially faster and making the entire offline transaction process much simpler, using a QR code is safer (since it eliminates the possibility of error when manually putting in a wallet address).
I still think that using an entirely new form factor could have been advantageous and a little more imaginative than copying their first generation device with a few minor adjustments, even though this device has improved its quality significantly from its most recent incarnation.
Ledger Nano S Plus User Experience
Ledger consistently earns good customer satisfaction ratings, however, the most common concerns are the absence of Bluetooth or security protocols. In summary, while others have voiced worries regarding the device's storage capacity, the price paid is marginally less convenient for top-notch security. However, those who like size and restrictions can opt for the Bluetooth-enabled Nano X.
For the convenience of consumers, users must submit an online return form within 14 days of receiving the hardware wallet if there is an issue with a Ledger device after purchase. The business provides a comprehensive support center, a phone number, and email address, and an online contact form for claims.
4. Keepkey Vs Ledger: Coin Support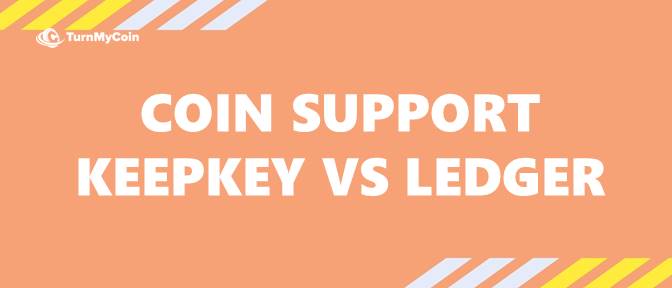 Keepkey Coin Support
This wallet already supports more than 40 assets natively, and more are on the way in the beta version. Here is a list of the assets that are currently supported. >>
Let us now get down to business. KeepKey previously only supported the following cryptocurrencies:
Litecoin,
Namecoin,
Dogecoin, and
Dash.

That needs a significant update if a hardware wallet were to compete in this market.
Fortunately, they have been making some AMAZING adjustments, not only adding a tonne of ERC-20 support but also completely redesigning their platform to have one fluid, seamless experience that unifies all of their key services.
It is a very strong move, and I think it will put them far ahead of the opposition.
Ledger Nano X: Coin Support
The "Ledger Live" dashboard, a desktop application that lets you manage all of your currencies, portfolio, and possible trades in an intuitive interface, is used by the Ledger Nano X. This can be used on a desktop computer, an iOS or Android app, or both.
You may handle up to 5,500+ coins using this software, as long as your device supports them. Only 100 of them, though, are "native" apps. This indicates that you can manage them directly within the Ledger Live app, without the need to link to a third-party wallet like MyEtherWallet or MyCrypto. With a list of coins that are completely supported.
Ledger Nano S Plus Coin Support
To store your bitcoins is the main purpose of getting a wallet in the first place. As a result, picking the right wallet for you requires careful consideration of the number of coins that each wallet supports.
There are presently more than 5500 digital assets supported by Nano S Plus than there are by Keepkey, including Ripple and ERC20 tokens.
Dogecoin (DOGE),
Litecoin (LTC),
Ripple (XRP),
Zcash (ZEC), and
other cryptocurrencies include Bitcoin (BTC), Bitcoin cash (BCH), Ethereum (ETH), Ethereum Classic (ETC), Dogecoin (DOGE), and Litecoin (LTC)
The Verdict
Sincerely, choosing which hardware wallet is "better" was difficult. The KeepKey is my personal choice over Ledger Nano X, even if they both have advantages and disadvantages.
Why? The ability to manage your portfolio overall and to make transactions while still in control of your private keys is unequaled.
Having said that, I appreciate the wifi support and the Ledger Nano X's ability to carry up to 100 assets at once. You can't go wrong for users who have a bigger portfolio and want the option to manage their assets offline. You truly can't match the KeepKey, though, if you frequently trade and want a secure and reliable desktop computer connection experience.
The Ledger Nano S Plus is more expensive than the Keepkey. When purchasing a hardware wallet, there are still other things to take into account. And to choose between Ledger Nano X and Nano S Plus, it's all your choice.
Everything will rely on what you, the user, want. You need to reflect on things like-
What kind of cryptocurrencies will I keep on the gadget?
How frequently will I use the gadget?
How trustworthy is the wallet manufacturer?
Before, concluding, you need to explore both- The Ledger and KeepKey. It would help you to develop a clear vision of these two devices and choose the best for your crypto investments.
Some advice:
Avoid purchasing used Ledger or KeepKey technology.
Try to get the devices from reputable retailers; however, it is recommended to purchase them directly from the manufacturer's websites.