Dear Reader, as a blogger, I may earn a small affiliate commission from this blog without any additional cost to you. This helps me keep the blog updated and running. However, the information provided on this blog is unbiased as I make sure only quality information is provided to the readers.
Introduction
Hardware cryptocurrency wallets are the most suitable and secure alternative to store bitcoin and other cryptocurrencies. Although digital wallets have been there since the inception of bitcoin. The hardware or cold wallet segment has only gotten popular recently with the latest technologies and better encryption methods. In this article, we are going to discuss the best hardware wallets for your cryptocurrencies.

Before jumping into 'best hardware wallets', let's understand bitcoin or cryptocurrency wallets in general.
A wallet is a virtual software or physical peripheral that lets users store their private keys and credentials. It allows users to manage and operate cryptocurrencies through blockchain.
The wallets, in whatever form they are! They do not store cryptocurrencies, instead, they store the private keys and allow users to transact through.
Most high-value cryptocurrency investors keep their cryptocurrencies in Hardware Wallets.
In fact, you can also stake and earn rewards on your cryptocurrencies which is otherwise lying stored with certain Hardware cryptocurrency wallets.
Suggested Reading: What is Staking of Cryptocurrencies? An amazing way to claim rewards
What Are Hardware Cryptocurrency Wallets?
Hardware wallets are physical devices that may look like any typical computer peripheral USB drives or miniature versions of external hard disks. The private keys and public addresses are integrated into the microcontroller itself and can't be influenced by any malicious programs.
While there haven't been any successful virtual attacks on hardware wallets, but, being physical devices, have their own specific risks.
You need to connect to any computer or mobile – doesn't necessarily mean personal – to access your cryptocurrencies and undertake transactions.
While a hardware wallet can't be hacked virtually. There is a risk of it being stolen, destroyed, or compromised before or during shipping and manufacturing remains ever-imminent.
In our analysis, these best hardware wallets offer exceptional security for your private keys.
Best Hardware Wallets Reviewed
There are tons of hardware wallets available in the market, but choosing the best one for the sake of your ever-increasing cryptocurrency operations can be challenging.
However, we have made an honest effort in bringing the most secure wallets in different price ranges and features. Our pick for this article are as below: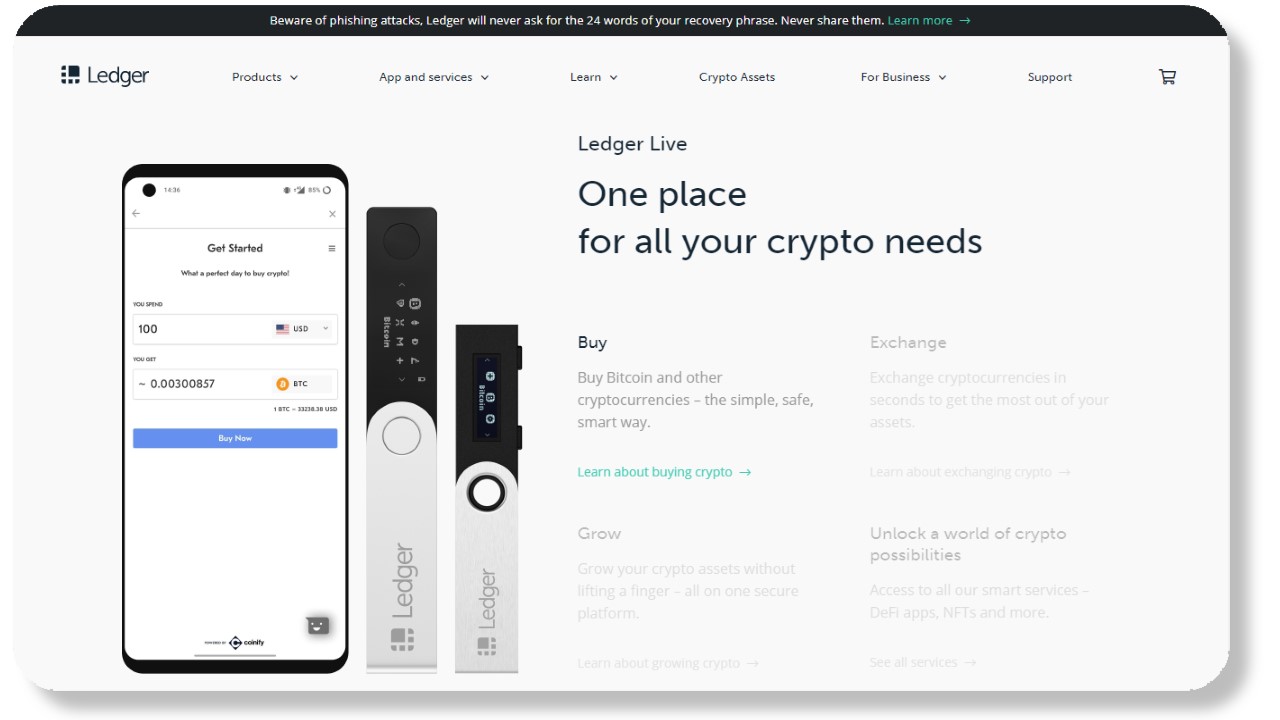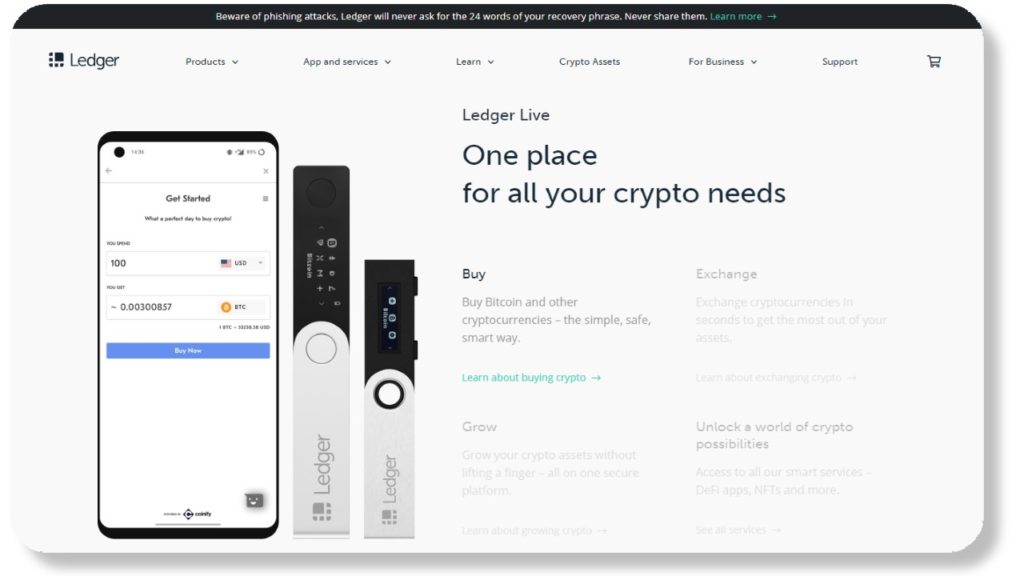 The Paris-based company Ledger certainly has the upper hand, when it comes to hardware wallets. Their two premium hardware wallets, named Ledger Nano X and Ledger Nano S are the market standards with the proprietary OS "BOLOS". It is directly integrated into the chips they use to manufacture the USB-like hardware wallet with Bluetooth support.
Pros
Security
Thanks to their exclusive Operating System and two chips. Ledger has managed to produce the most secure crypto wallet for general enthusiasts.
Bluetooth Functionality
The liberty to use the device anywhere on your mobile devices is what makes the product convenient and popular.
Multiple Cryptocurrencies
The principal difference between Ledger Nano S and Ledger Nano X is that the latter supports multiple cryptocurrencies to be installed with the same device.
Lightweight
Being a USB- like peripheral, the Ledger Nano X looks very attractive. It is very easy to carry around with you.
Cons
Not Open Source
Ledger understandably hasn't released their source code in the public domains to be examined.
Recovery Sheet
Ledger provides a piece of paper with 10 private keys to recover your backed-up data after something goes wrong. But paper being paper, you can misplace or destroy it if you do not take utmost care.
User Interface
The user interface of the software counterpart could have been a little easier to understand for beginners.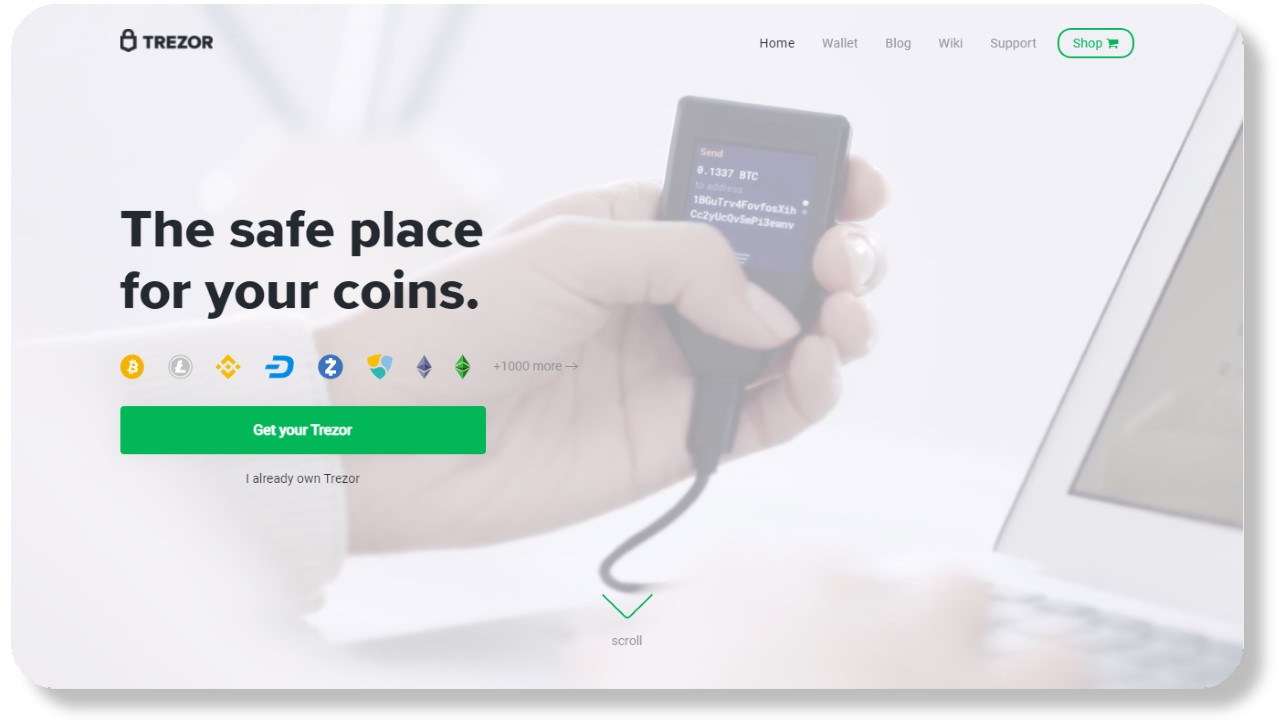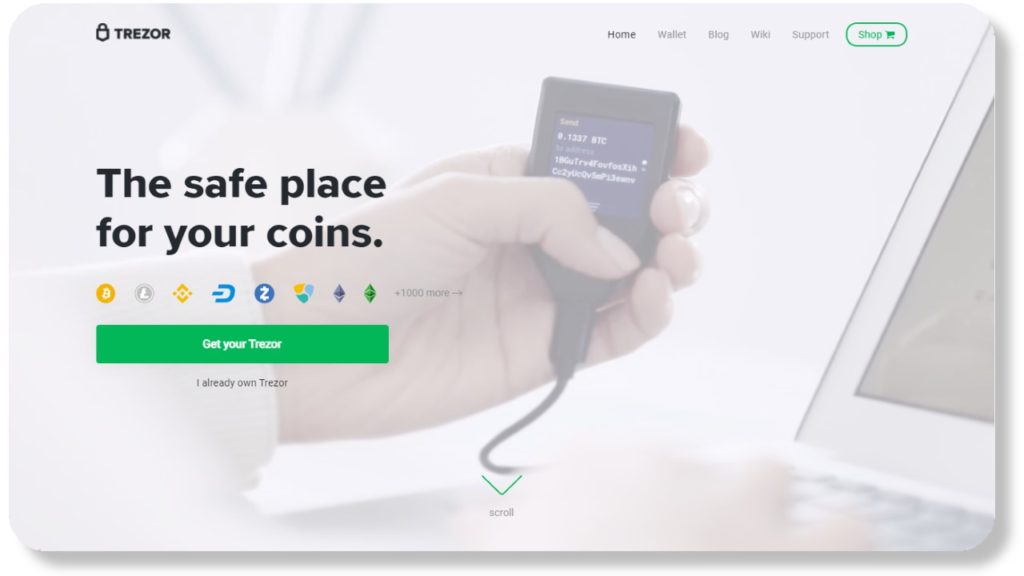 Trezor was the very first firm in the cryptocurrency sector to develop hardware-based wallets. It is a leader in the field of safe cryptocurrency wallets.
Trezor wallets resemble early mobile phone versions, with only two keys and a tiny OLED display. Trezor wallets are available in two versions: Trezor One and Trezor T, with the latter including a touchscreen and USB-C connectivity.
To safeguard private seed data, there are two levels of protection: a procedurally chosen authorization pin and chip encryption.
Pros
True Random Seed
When setting up your Trezor T for the first and only time to protect your backups, you'll be given a truly random seed code. You must maintain its safety. If anybody tries to hack the wallet with brute force, then the time it takes to open grows exponentially by the power of two with each unsuccessful effort.
Ease of Usage
The Trezor T is the most basic of the crypto wallets available. Every transaction that follows the first installation is as smooth as silk.

To make work easier, the software equivalent is likewise provided with a highly friendly user interface.
Touchscreen
While the button system of Trezor One is less prone to failure, the touchscreen is undoubtedly more convenient to use.
More Options
Trezor T has more coin options than its predecessor Trezor One, including the previously omitted XRP, ADA, and XMR.
Cons
Bad Design
Trezor T doesn't have a very good design.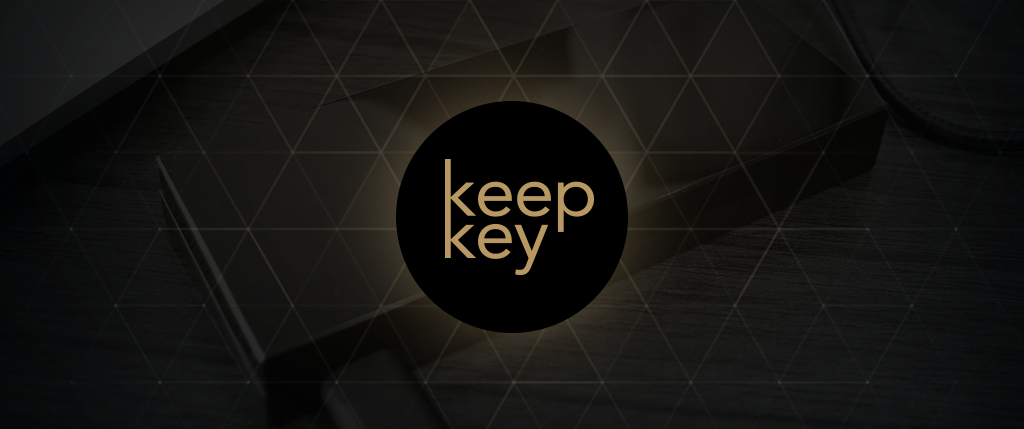 After Shapeshift's acquisition of Keepkey, this device has now been garnering interest in the cryptocurrency community thanks to its rock-solid construction, large display, and lower price range than previous models.
KeepKey excels in such two areas, but it falls behind rivals such as Ledger and Trezor in level of protection, mobility, and token support.
Each bundle of KeepKey includes a new recovery cipher, which contains 12 randomly generated jumbled words to help keep your wallet secure.
Pros
Recovery code
Keepkey includes a recovery sentence made up of 12 randomly generated words that keeps your cryptos safe even if the computer you're using is infected with malware.
One Lone Key
On the device's top, there is a single key that may be used as a confirmation or cancellation button. Depending on the user, it might be a benefit or a hindrance.
Premium Looks
With a huge Led screen, aluminum back, and box design, KeepKey seems like a premium device. The screen, which shows all your details of transactions, is pretty effective in what it does.
Security
Keepkey also keeps your private keys integrated into the microcontroller as Trezor and Ledger, which when paired with the recovery cipher system, makes up for a really good hardware wallet.
Cons
Recovery Seed
When setting up KeepKey for the very first instance, the restoration seed is only displayed once. To preserve your funds safe from threats, note it down very meticulously in a highly secure location.
Huge Size
The hardware wallet is understandably pretty huge to make room for the LED screen.
No Internal Power
You need to connect the hardware wallet to a power bank in order to operate it.
Chome Web App
Shapeshift provides the chrome web app to execute functions through Keepkey. There's no proprietary software available.
Customer Service
If you are a beginner, you might need really thorough customer support to get your head around any hardware wallets. The customer support for KeepKey leaves a lot to be desired.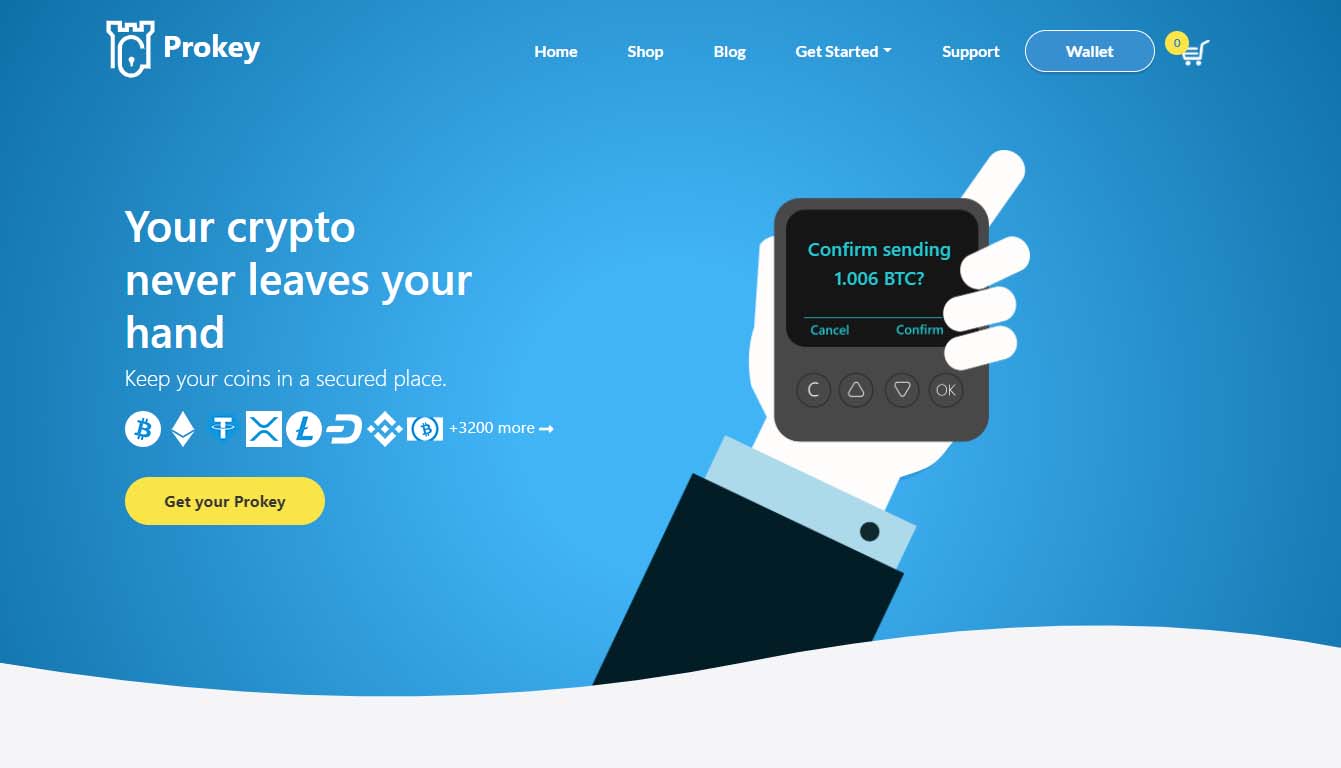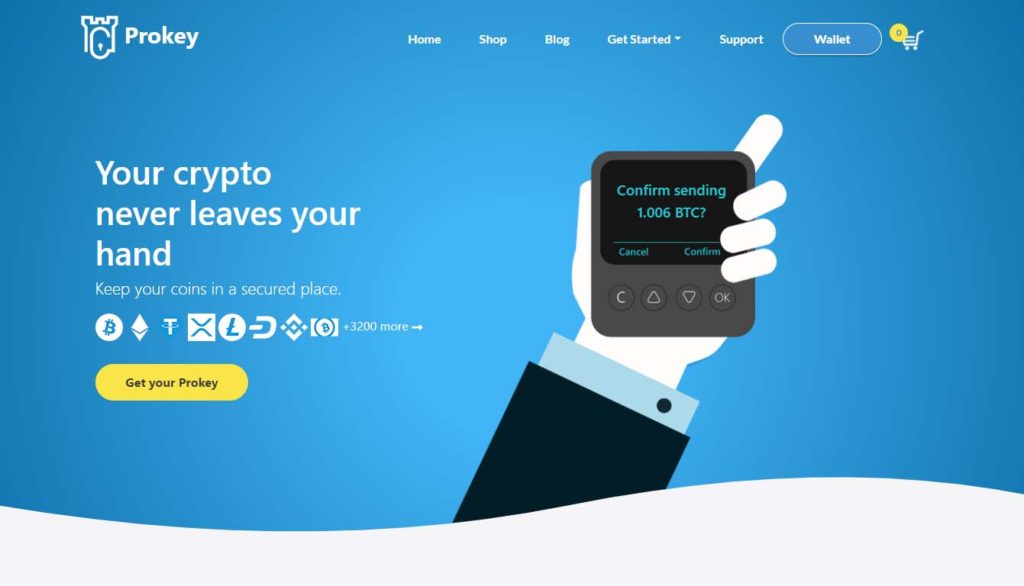 Most cost-effective hardware wallet with over 1500 coin support. Prokey is new compared to all the major competitors! But it already has rippled the market with its extensive features and price point.
This hardware wallet employs a web app to let you manage the transactions and funds for your cryptocurrencies. It is quite a beginner-friendly wallet.
Prokey also lets you try their platform out before buying.
Pros
Security
Prokey produces a truly random 24-word recovery seed to backup your wallets and stores your private keys within the hardware itself to ensure safety from malware.
Extensive Token Range
Prokey supports over 1500 tokens including the major ones. This is the major selling point of the hardware wallet.
Open Source
Prokey platform is based on open-source code! It usually means better security and fluidity.
No Installation
Thanks to the Prokey web app, you don't need to install anything on your PC. Just plug and play.
Customer Support
Prokey has a 24/7 customer support platform.
Cons
Very Small Screen
Although you wouldn't need much of it, having a bigger screen would've helped to see the transactions.
Relatively New
Prokey hardware wallet is a relatively new product, only coming to light in 2018. But, with the open-source code and trader support, it has made a place for itself pretty well.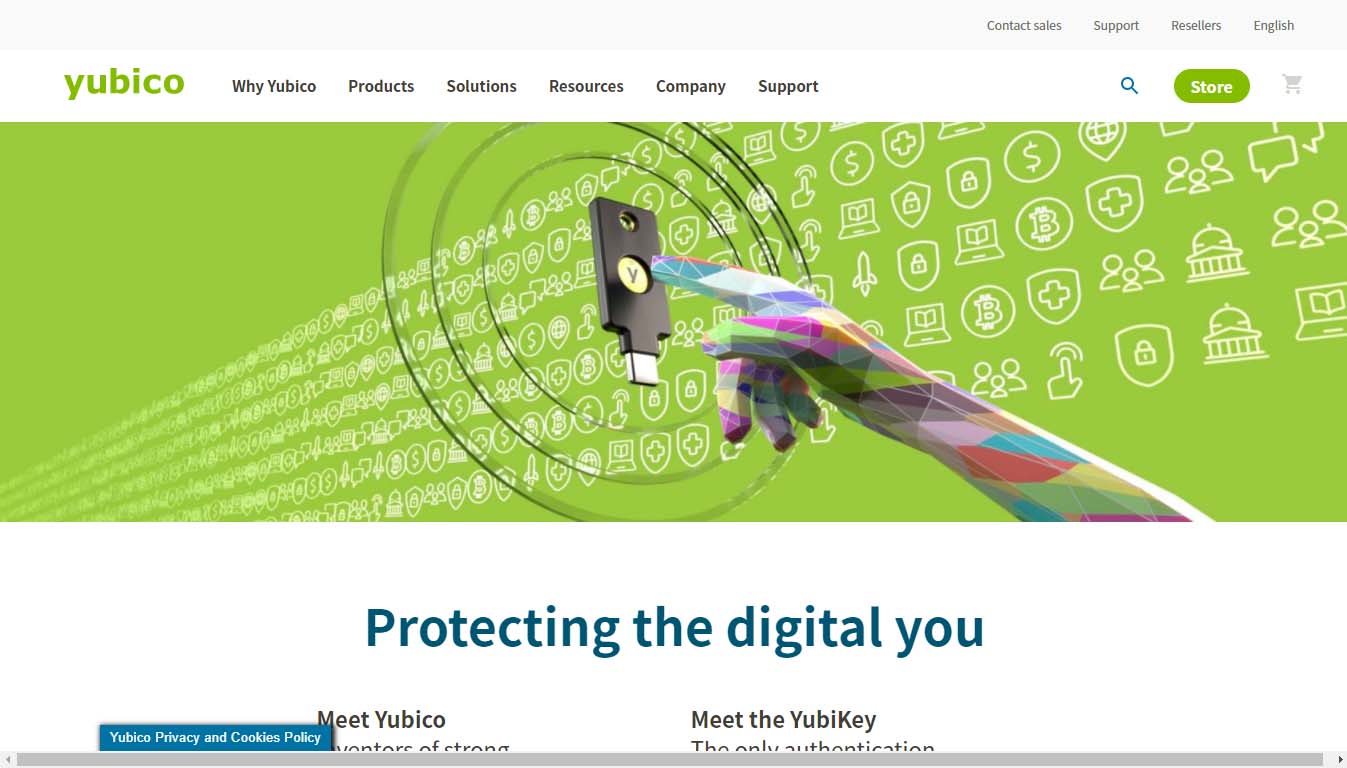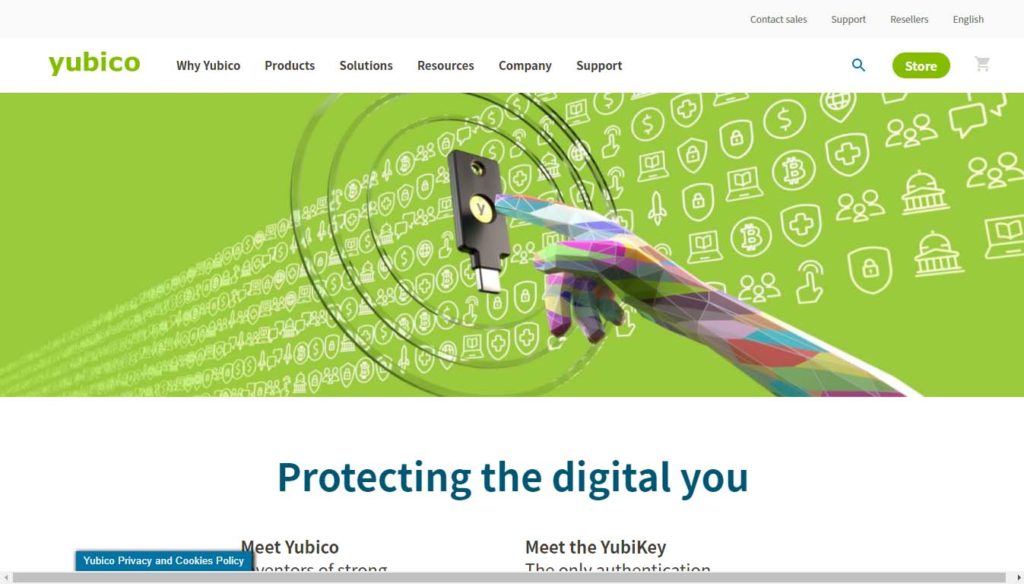 Yubikey is a physical device for providing 2-Factor Authentication (2FA) but it does not fall under the category of Hardware Cryptocurrency Wallets as such. It can pair with Centralized Exchanges to provide security to your funds at the Exchange.
Historically, Centralized Exchanges are more vulnerable to cyber-attacks. However, due to their ease of use, most of the cryptocurrency transactions take place through Centralized Exchanges only.
So, how do you safeguard your assets while using Centralized Exchanges?
Well, a Sweden company, YubiCo has an answer with its product YubiKey. YubiKey basically integrates with Centralized Exchanges like Binance to provide advanced 2-Factor Authentication.
Suggested Reading: What are Centralized Exchanges? 12 super interesting facts!
With basic 2-Factor Authentication namely, SMS, Email or Authenticators if you have configured everything on one mobile device. You are at grave risk if you lose your device.
Using your SMS, Email or Authenticator on this device, anyone can log in and transfer cryptocurrencies from your Centralized Exchange application because you have kept everything on the same device.
Some people use separate devices for 2-Factor Authentication but then you have to carry an additional bulky device everywhere.
However, if you use an external 2-Factor Authentication device like YubiKey. You have to plug it into your device, press it (to confirm that you are human) and only then you can undertake a transaction. Further, YubiKey is a mini pen drive sized device. Which is very easy to carry.
YubiKey can be useful at every place where 2-Factor Authentication is required. The below snapshot is from its website: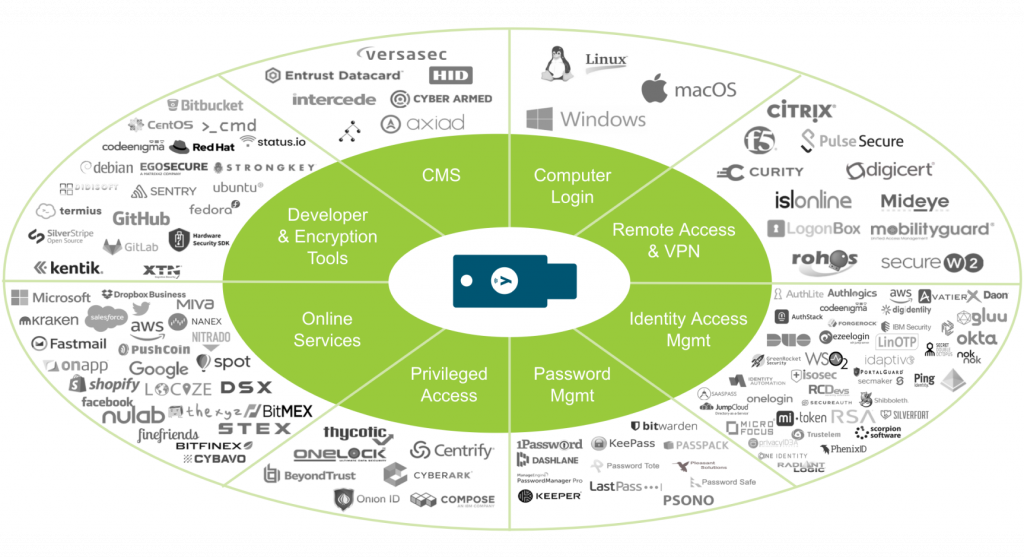 Advantages of Hardware Cryptocurrency Wallets
The major advantages that cold wallets have over hot wallets are:
The private keys are hardcoded in microcontrollers and can't be brought out of the device.
Viruses and malware can't access the keys.
Most hardware cryptocurrency wallets are open source: the users can verify the operations themselves.
Disadvantages of Hardware Cryptocurrency Wallets
It is quite evident that Hardware cryptocurrency Wallets are the safest cryptocurrency wallets in the market. But here, it is important to point out that there are certain risks related to hardware cryptocurrency wallets. And these are,
Unauthorized access: Since they are physical devices, someone can steal, misuse or damage them. If any of the above happens you can lose your hard-earned funds in a snap of a finger. Accordingly, you need to keep your hardware wallet in a safe place.
Genuine Sources: It is very important that you buy your Hardware Cryptocurrency Wallets from genuine sources preferable from their official websites. All hardware cryptocurrency wallets come with a seed phrase. This seed phrase is used to reset your wallet and recover your PIN in case you forget it. There have been several incidents in the past where random vendors have copied the seed phrases and sold these wallets. You know how easy it is these days to safely open, reseal and repack a box.

They wait for you to load your wallet with cryptocurrencies. Once done, it is then at their mercy to decide the cleanup. And with the speed of blockchain, it doesn't even need a few minutes to conclude the transaction. So be cautious where you buy your hardware wallet from.
The Bottom Line
When it comes to cryptocurrencies, security is the prime most concern. The thefts and cyber attacks are ever-increasing. Hackers come up with new and advanced methods to steal funds. Hardware cryptocurrency wallets require physical possession before undertaking transactions and that is where the security lies.
From the above-provided list of Best Hardware Wallets, you can choose as per your budget. Because some of them can burn a hole in your pocket.
If money is not a constraint, Ledger Nano X is the best option closely followed by Trezor T. Otherwise, an economical option is Keepkey wallet. Further, investors using Centralized exchange can buy YubiKey for additional security.