Introduction
With inflation rates expected to exceed 7% in 2022, investors are looking for strategies to outperform inflation through their investments. During inflationary times, investors flocked to gold as a safe haven to store value.
Nevertheless, more people are flocking to Bitcoin to store value in a rare asset that is widely accepted around the world. While holding Bitcoin is a smart investment strategy in and of itself, there are other ways to build your portfolio faster than simply holding digital assets.
The simplest method is to earn interest on Bitcoin, which is available on various investing platforms now.
The History of Bitcoin
Let's get into a bit of history before learning how to earn interest on Bitcoin. Bitcoin was the first digital asset to give life to the current crypto ecosystem since its inception. The release of a whitepaper outlining the technology soon after the 2008 financial crisis signaled the quiet start of the crypto revolution.
For a long time, it had a cult following of investors who saw it as a potential replacement for the physical monetary system. Bitcoin is now a household name as institutions and governments seek to address the increased desire for exposure among their customers.
Bitcoin has received similar criticism as the internet was first viewed as a speculative investment. In reality, the current rate of Bitcoin adoption exceeds that of the internet in 1998, and millions of people own Bitcoin. And the rate of adoption is increasing.
El Salvador has become the world's first government to declare Bitcoin legal tender in 2021, with Paraguay and other smaller countries set to follow suit.
El Salvador is also the world's first and only country to use Bitcoin as a currency. As of early 2022, El Salvador had 1,800 Bitcoin.
President Nayib Bukele is not reluctant about tweeting about his purchases. Infact, sometime back, the President announced that El Salvador is going to buy one bitcoin every day. It supposedly is doing so since then.
Is Bitcoin Still a Good Investment in Light of the Risk?
Purchasing Bitcoin, like any speculative investment, carries a high level of risk. As traditional finance acknowledges Bitcoin's disruptive potential, they must decide whether to adopt cryptos or risk becoming obsolete.
One of the key factors determining whether Bitcoin is a suitable investment is its volatility risk. It isn't necessarily positive or negative. Your decision to invest in Bitcoin is influenced by your risk tolerance and perspective on humanity's future.
Russia, for instance, has stated that it is looking into cryptocurrency in order to minimize its dependency on the US dollar. Bitcoin has the potential to massively destabilize the US dollar. It is simply too huge to ignore at this juncture. Bitcoin might be a terrific investment if this upheaval is successful.
The major reason a traditional investor might want to invest in Bitcoin is to protect themselves against inflation and the potential collapse of the fiat-based economy.
Many investors are concerned about Bitcoin's volatility, but it is projected to fall permanently as institutions and governments make long-term investments in the sector.
How to Earn Interest on Bitcoin?
You can earn interest on Bitcoin by depositing it with various bitcoin lending companies or exchanges just like you do with your money by depositing it with the bank. There is an important thing to note here and that is that the company/exchange needs to be genuine.
You can lend your Cryptos to Exchanges like
The difference between lending at exchanges and specialized lending platforms in my opinion is security. I usually find Exchanges more secure.
KuCoin & Binance are two simple exchanges where you can acquire bitcoin with a bank account. These exchanges feature mobile apps that make it simple to manage your cryptocurrency while on the road.
You can get good interest when you lend your Bitcoin to these exchanges and these are relatively safer options in my opinion as I mentioned earlier due to higher liquidity and market standing.
However, the interest rates at these exchanges are not as high as the lending companies that we will discuss shortly. You are kind of setting off the difference in interest with the security of your Bitcoin.
Lending companies are specialized vehicles that make you earn interest and that is the reason for a higher return. I usually prefer the security of Bitcoin over higher returns but you may differ.
I am explaining the steps to earn interest on Bitcoin for Lending Companies in this article. However, earning interest on Bitcoin at Exchanges like Kucoin and Binance is even simple. I have noticed that Kucoin normally offers a higher interest rate than Binance, but you can explore either one.
You just need to Open your account at Kucoin by clicking here
OR Binance by clicking here
and head to the earn section.
Let's now see the step that you need to follow to earn interest on Bitcoin:
Step 1: Open a crypto account
The most frequent approach to earn interest on Bitcoin is to open a savings account with a bitcoin lending company. These platforms lend bitcoin to institutional and individual investors and require them to collateralize their loans with cryptocurrency in the event of a default.
BlockFi and Nexo.io are two popular cryptocurrency accounts that allow you to earn interest on Bitcoin. At 8% APY, Nexo.io has the highest interest rate.
Furthermore, Nexo is now running a promotion that offers new users free cryptocurrency in exchange for signing up. The promotion bonuses increase with the amount of money deposited, beginning with a $10 bonus for users who deposit $100 and ending with $100 in free cryptocurrency for users who deposit $1,000 or more on the platform.
You may also use Bitcoin on the Ethereum blockchain – Wrapped Bitcoin (WBTC). Many organisations on Ethereum's blockchain allow you to earn interest on Wrapped Bitcoin without even having to form an account. You can start to earn interest on your Wrapped Bitcoin once you link your Ethereum wallet to a decentralised platform like Compound or Aave.
For newbies, bitcoin lending sites are the most straightforward way to take an interest in their cryptocurrency. All you have to do is open an account, and once you've financed it, you may start earning interest.
Most of these accounts do not have minimum lockup times, so you can withdraw your Bitcoin whenever you want. A centralised exchange, such as KuCoin, makes it simple for newcomers to begin collecting interest on their Bitcoin.
Step 2: Compare interest rates
If you want to earn interest on Wrapped Bitcoin, you can purchase WBTC on CB and send it to your preferred Ethereum wallet. CB Wallet and Metamask are excellent software wallets for Ethereum because they work well with decentralised applications.
The rate of interest on your Bitcoin savings account will differ depending on the platform you select. Most platforms provide annual interest rates ranging from 3% to 8% on Bitcoin, but some, such as BlockFi, offer tiered interest rates based on the amount of Bitcoin you deposit.
For example, you'll get 6% interest on deposits of up to 2.5 bitcoin but just 3% interest on deposits of more than 2.5 bitcoin. There is no minimum investment required to begin earning interest on your bitcoin, and you can deposit as much as you like into your BlockFi account.
The majority of these interest rates are floating, which means they fluctuate in response to market supply and demand. Most interest rates do not fluctuate significantly, but there may be swings from time to time. It's a good idea to keep track of your interest earnings to ensure you're getting the best possible rate.
Step 3: Add Bitcoin to your portfolio
Some bitcoin lending platforms, such as BlockFi, allow you to acquire cryptocurrencies directly from your bank via wire transfer. To do so, enter your bank account number and routing information into your account. After you've entered your banking information, you may purchase bitcoin and begin earning interest.
Other platforms, such as Nexo.io, solely accept cryptocurrency deposits. You'll need to open an account with a crypto exchange if you don't already hold bitcoin.
Once you've put your WBTC into your Ethereum Wallet, all you have to do is link your wallet to a tool like Compound or Aave to begin collecting interest on your Wrapped Bitcoin.
Step 4: Earn interest
You should start generating interest as soon as you deposit your funds into an interest-bearing account. The rate of interest on your savings account will differ depending on the quantity of bitcoin you deposit and the platform you select.
Because interest rates range from 3% to approximately 10%, it's best to put your assets in a savings account for the long term if you wish to earn any substantial amount of interest in bitcoin.
How Does Bitcoin Compound Interest Work?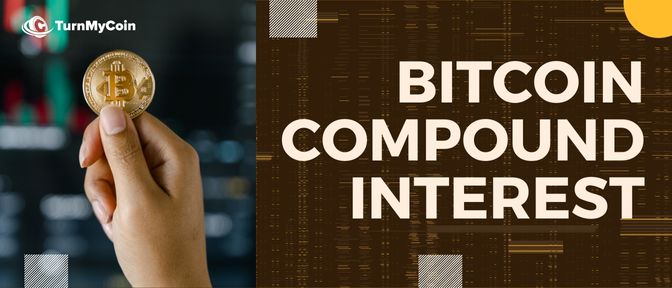 A savings account can yield one of two forms of interest: simple interest or compound interest. Simple interest earns interest simply on your principal investment, whereas compound interest earns interest on both your principal investment and previously earned interest.
As a result, compound interest builds your account quicker than basic interest.
Compound interest is added to the network at intervals determined by the savings account in which you invest. The more you gain via compound interest, the shorter the time interval.
This is due to the fact that you will begin earning additional interest on your previously earned money as soon as it is put into your savings account.
Both KuCoin and Binance compound interests. Also, BlockFi provides compound interest that is put into your account monthly. Other services provide compound interest at even shorter periods; Nexo.io provides daily compound interest.
While shorter time periods will help your portfolio develop faster, the difference in potential earnings between compound interest deposited weekly and daily is not significant.
Intervals for compound interest are significantly more crucial when the interval is quarterly or monthly because the interest you earn during this time will be much more than the income you earn daily or weekly.
Pros & Cons of Earning Bitcoin Interest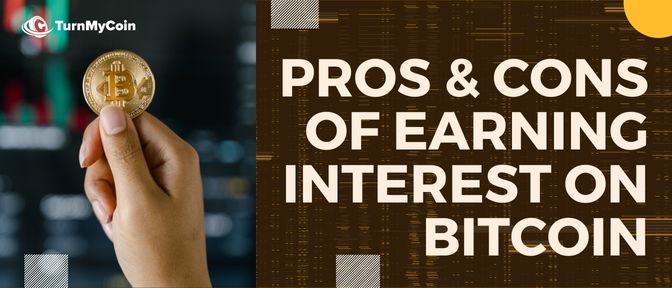 The ability to generate high-interest rates on Bitcoin is a huge advantage. While most standard savings accounts pay less than 1% yearly interest, most bitcoin savings accounts pay at least 5 times that rate. And because the interest is paid in Bitcoin, if the value of bitcoin rises, so will the interest you've earned.
The most significant risk of utilizing Bitcoin to generate interest is the fluctuation of the cryptocurrency's price. While you can get 6% interest on your bitcoin, if the price of bitcoin decreases by 6%, the USD value of your account will remain the same after a year. If you feel the price of Bitcoin will climb in the long run, an interest-bearing bitcoin account could be a good investment for you.
The possible downside that I see in earning interest on bitcoin is if you choose a lending partner who puts your bitcoin in a fixed-term saving account. During that fixed term, you cannot withdraw your Bitcoin even if you need it. So choose a saving account that doesn't have a fixed term if you wish to withdraw at your will.
Trading Bitcoin vs Earning Interest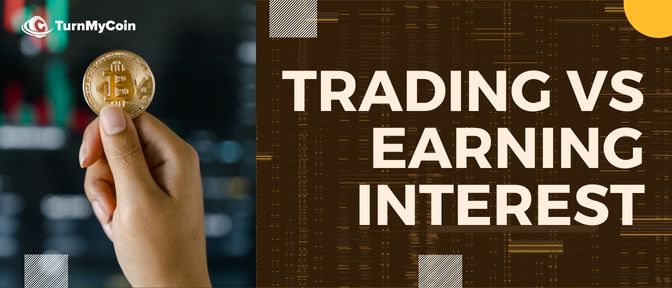 As a Bitcoin investor, you must decide whether you want to trade or hold your bitcoin. Trading your bitcoin is another way to gain additional cryptocurrency, but you run the risk of losing your investment in the market.
With cryptocurrency values still erratic, trading crypto is a high-risk strategy. Instead, many Bitcoin believers merely retain their cryptocurrency in order to speculate on its value. If you intend to keep your Bitcoin for a long time, earning interest is a terrific low-risk strategy to expand your bitcoin holdings.
Where can you trade Bitcoin?
Kucoin
Kucoin is one of the best cryptocurrency exchanges for newbies, but it's also popular with seasoned investors and enterprises. It is a fantastic spot for new traders to get started. It has a user-friendly design, a simple onboarding procedure, and a tiny free amount of Bitcoin for starting an account.
It's also a terrific location to keep up with alternative coins, crypto projects, and the newest digital asset news. Kucoin, with enhanced charts and bitcoin trading tools, is available to more experienced traders. Kucoin supports hundreds of digital currencies and altcoins, giving users a wide selection of alternatives.
As mentioned earlier you can earn interest on bitcoin by lending at Kucoin. So it can serve two purposes.
Huobi
This beginner-friendly collection is ideal for individuals who are just getting started. It is also for those who want to gain exposure to the most popular cryptocurrencies on the market. Huobi has established a simple application with no trading commission expenses by focusing on mobile first.
Binance
Binance has grown in popularity because it allows cryptocurrency traders to exchange almost any alternative coin on the market. Users in the United States must visit Binance.us. It is a U.S.-regulated cryptocurrency exchange where investors may buy and sell more than 100 cryptocurrencies.
Binance is an excellent choice for new cryptocurrency traders. But it is also a popular choice for crypto day traders. Thanks to its low trading fees, powerful charting tools, and simple mobile interface.
Conclusion
With institutions including Bitcoin on their account balances and El Salvador officially declaring Bitcoin legal money, Bitcoin appears to be the future of currency, or at the very least, an acknowledged store of value. However, given the market's volatility, risk-averse investors are still unwilling to purchase Bitcoin, let alone any other cryptocurrency.
Because Bitcoin is not controlled by a single body, its monetary policy is far more sound than that of any government.
Cathie Wood, CEO of Ark Invest, views Bitcoin as a "rules-based monetary system" because the parameters of the code determine Bitcoin's monetary policy.
Investors are seeking for alternative investments to protect against inflation as governments print more money than ever before in response to the pandemic. Many are flocking to Bitcoin to do so, encouraging long-term cryptocurrency acceptance.