Dear Reader, as a blogger, I may earn a small affiliate commission from this blog without any additional cost to you. This helps me keep the blog updated and running. However, the information provided on this blog is unbiased as I make sure only quality information is provided to the readers.
Introduction
It has been long debated that Cryptocurrencies are the currency of the future! The combination of blockchain, decentralization coupled with the interest shown by the people has made crypto trading a reality.
You can buy/sell Cryptocurrencies at Exchanges. These exchanges can be Centralized or Decentralized. We will discuss the best Centralized cryptocurrency exchanges in the market in this article.
A Cryptocurrency Exchange is a trading platform where investors can invest their money in different cryptocurrencies. The cryptocurrency exchanges are the intermediary between a buyer & seller.
These exchanges make money from the transaction fees and commissions earned on the total transaction value.
Many cryptocurrency exchanges provide the option to trade in cryptocurrencies in terms of digital assets & traditional fiat money. For example, you can exchange $100 in terms of Bitcoin/Ethereum's worth. This applies to different assets that value in terms of cryptocurrency and other trades accordingly.
The two types of cryptocurrency exchanges:
Centralized exchange: Centralized cryptocurrencies exchanges(CEx) are the third-party intermediary between a buyer and seller. A third party can be an enterprise or an organisation. In most cases, they are privately owned entities.

These are more reliable and offer better control and stability. More than 95% of all crypto transactions take place via centralized exchanges.

Decentralized exchange: Decentralized cryptocurrency exchanges(DEx) are the ones that cater to peer-to-peer transactions. Here there is no requirement of a third party for validation.

Most investors who like the decentralization concept prefer DExs. These are the ones that want to keep control of their funds. In technical terms, it is called keeping the Private Key of the currency.
Suggested reading: Centralized Exchanges Vs Decentralized Exchanges
Out of the above two types, centralized exchanges are the ones that are the first choice of most people because of their simplicity and ease of use. Hence, we have jotted down a list of best-centralized cryptocurrency exchanges.
Best Centralized Cryptocurrency Exchanges
Let's start with the importance and differentiators of each one of them now.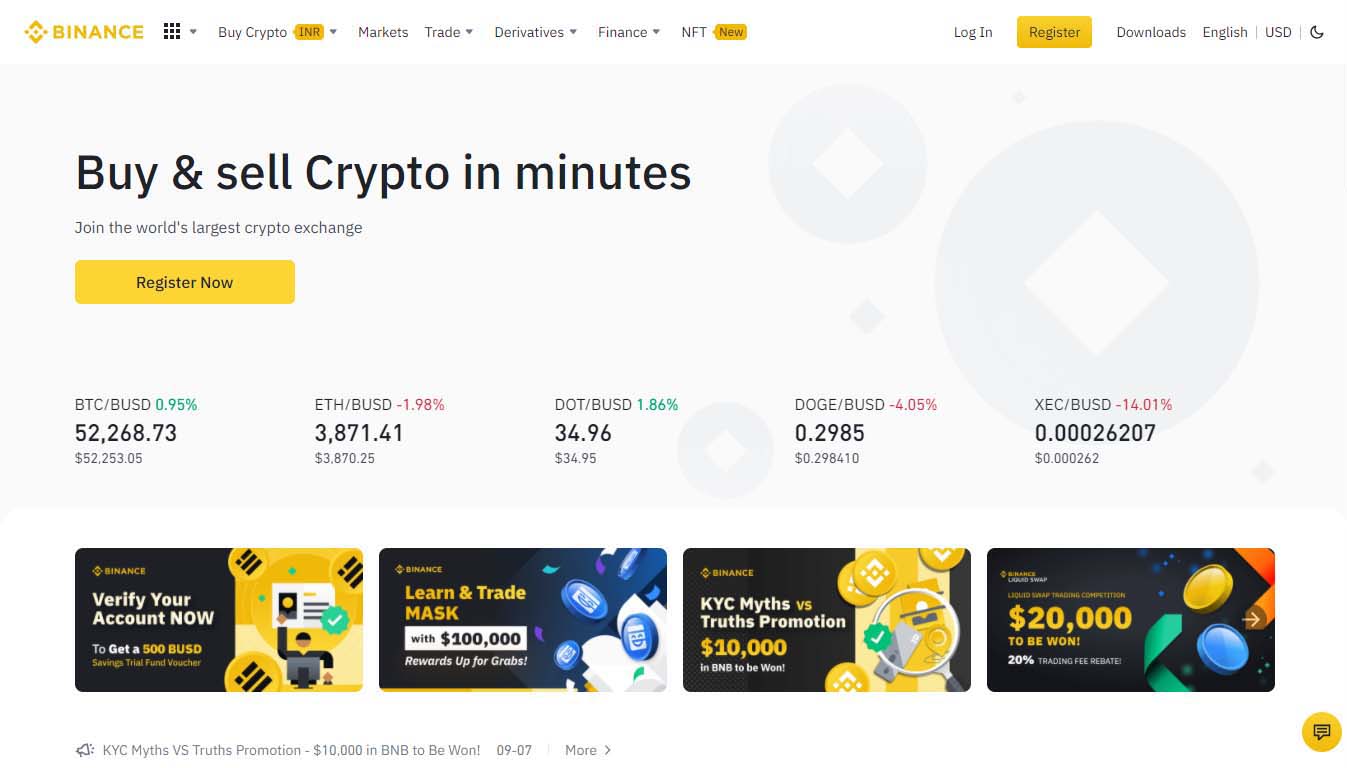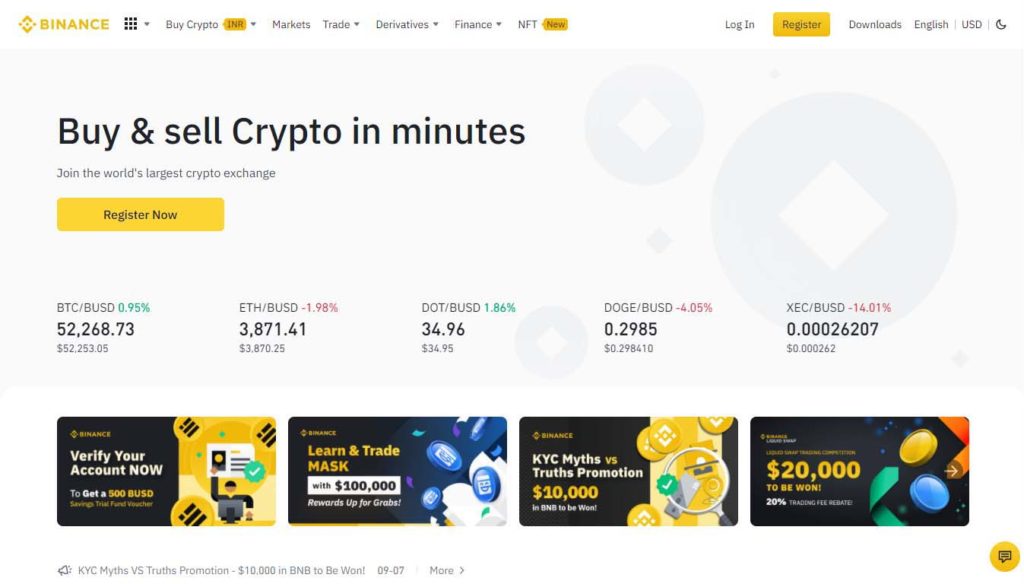 Binance is a popular cryptocurrency exchange for experienced cryptocurrency investors. It has listed over 400 coins. The most interesting thing about Binance is that it offers low trading fees along with a wide selection of cryptocurrencies to trade globally.
It has two versions based on the location of users. Binance US and Binance(for the rest of the world).
Although the low fees might attract a lot of people, the platform had run into some regulatory issues with the United States government. Hence, Binance came out with Binance US in order to adhere to the US Cryptocurrency Laws.
Binance is (volume-wise) the largest cryptocurrency trading platform in the world. All the credit goes to its high selection of trading options and features.
Although, it is not very user-friendly. The platform has done well by introducing two separate versions i.e. Lite and Pro
The Lite version is for new investors. It is distraction-free and solves the main purpose of simple buying/selling and storing cryptocurrencies. The second version is Binance Pro. The investors need to acquire skills, as there is a steep learning curve to understand Binance Pro. Consequently, seasoned investors normally prefer Binance Pro.
The platform is available in both desktop and mobile dashboards. Binance comes with a wide variety of features including market charts and supports hundreds of cryptocurrencies. Also, the investors can explore other trading options including future and options, Non-Fungible Tokens(NFTs), and much more.
Despite being the largest cryptocurrency stock exchange, the platform has its pros and cons as mentioned below:
Pros of using Binance
Support for hundreds of cryptocurrencies around the world.
Lower fee, at par with the Industry.
Gives a wide range of investment and trading options.
Cons of using Binance
Regulatory restrictions on the Binance platform by the US government.
The platform has its learning curve, not recommended for beginners unless they use the Lite version.
Unfortunately, Binance has been banned by a few countries across the globe apart from the US. Please make sure you check on that before using it for trading.
You can register at Binance here >>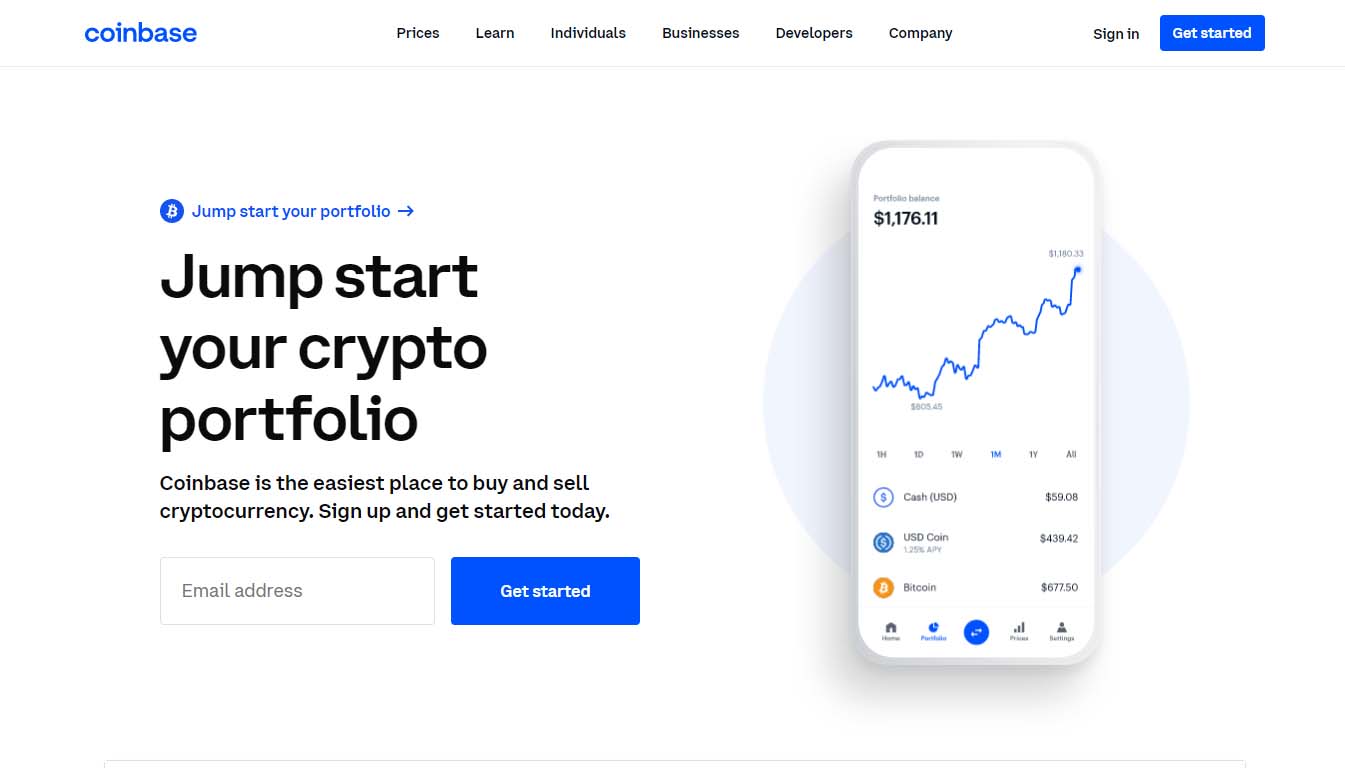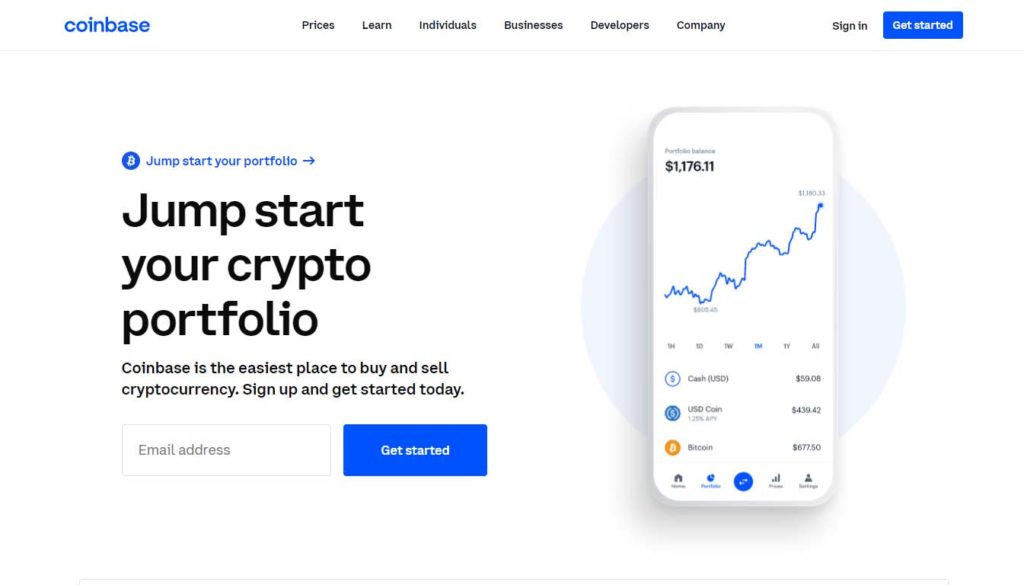 Coinbase has listed more than 140 cryptocurrencies. It is one of the most beginner-friendly and easy-to-use platforms. Coinbase functions on the web and via Android and iOS devices. It is similar to trading on stock brokerage accounts. Further, on the main dashboard, you can see and manage your Coinbase portfolio.
All the investments are funded through the connected bank account. The fee is decided based on how you will pay for a cryptocurrency purchase. Also, the purchases are credited instantly to your account, and then you have to wait for your deposit to clear before you can make a withdrawal on the investment.
Apart from the traditional Coinbase application, there's another variation of the Coinbase trading known as the Coinbase Pro. As the pro word depicts the urgency and essence of professionalism. The Coinbase Pro is a delight for professional traders. Although it is accessible to all having access to the Coinbase application. But if you are more into trading then you can enjoy the smooth transitions on the trading platform.
Here are some pros of using Coinbase
Wide range of cryptocurrencies.
Extremely simple user interface.
Very high liquidity.
The platform provides free cryptocurrency(Air-Drop) to promote and learn about new digital tokens.
Comes with a Coinbase debit card that allows you to spend in terms of cryptocurrency at all Visa accepted outlets.
Here are some cons of using Coinbase:
Complex fee structure
Fee can be high for small transactions.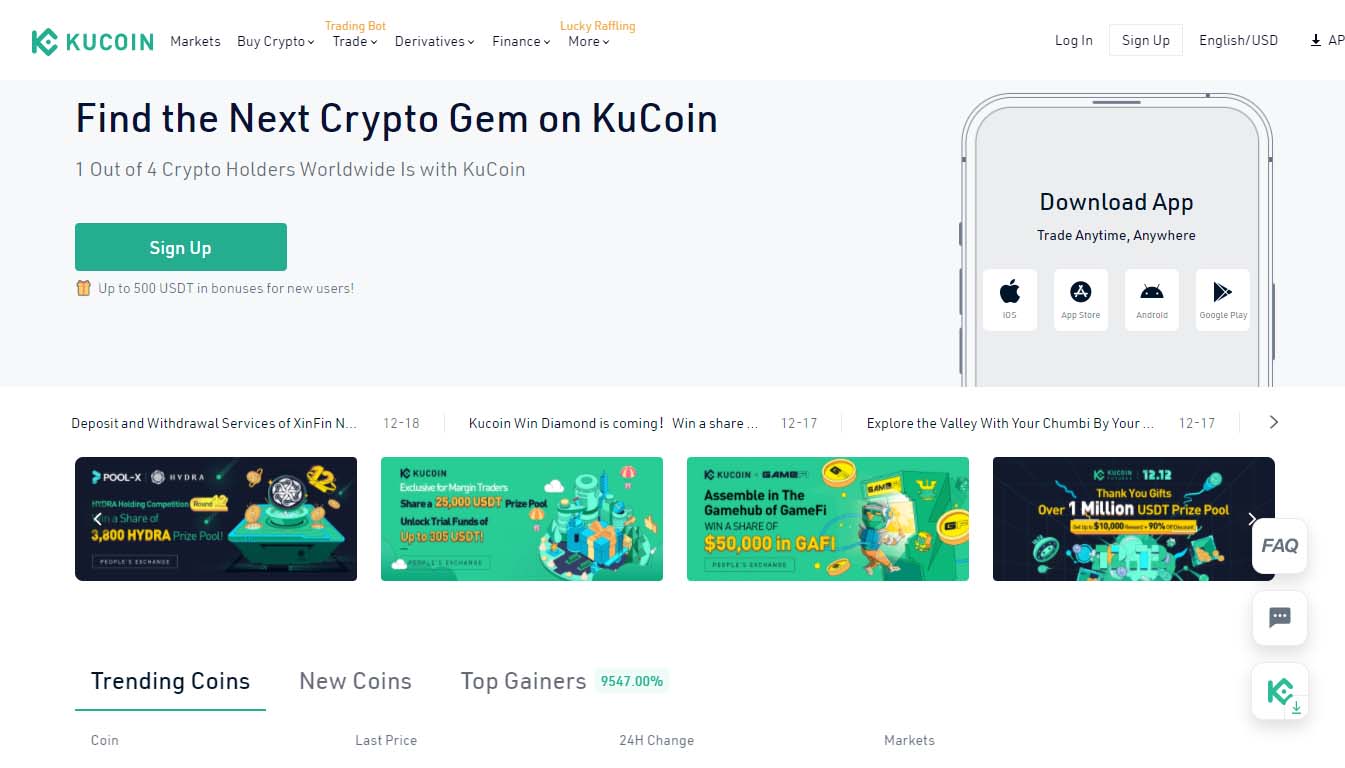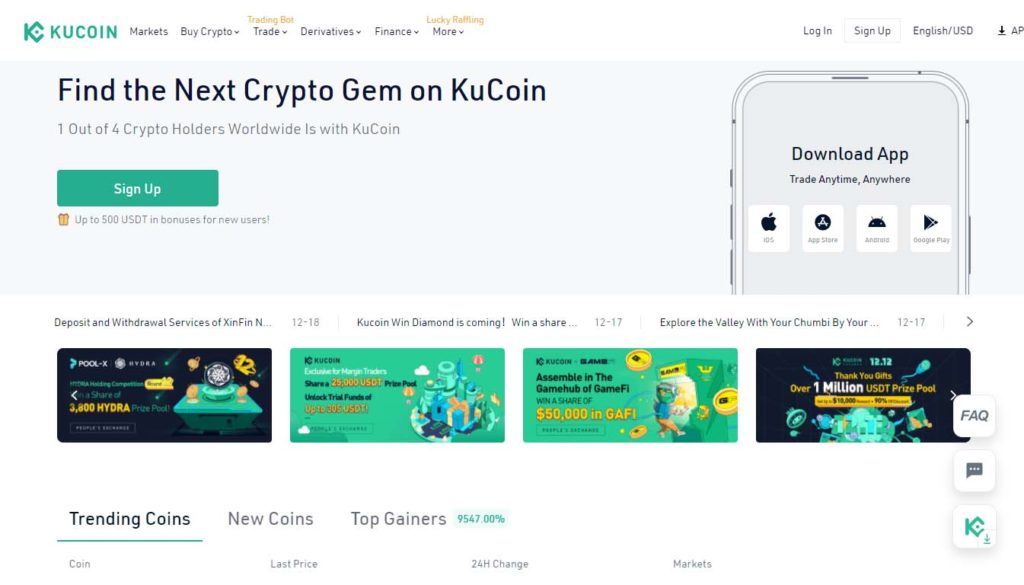 KuCoin started its operations in 2017. It is relatively new compared to many of the exchanges in this list. The number of listed coins stand at 568. By any Centralized Exchange coin listing standards, that is a huge number.
Kucoin has abundant features for its investors. One out of every 4 cryptocurrency investors, invests through Kucoin. Its huge investor base in turn provides ample liquidity to the exchange to keep listing new coins.
The most impressive feature of this exchange is the Kucoin Trading Bot. Interestingly, the Kucoin Trading bot not only makes you automatically complete your transaction. In fact, it also helps you copy the trading strategy of highly successful investors. This feature comes in very handy for new investors who can earn while they learn.
Further, this simple, attractive and sleek interface is available for both PCs and Mobiles.
Even after being bundled with features, when it comes to Kucoin Fees, it is quite low. It ranges from -.005% for huge investors to 0.1% for new investors. Below is the snapshot of different fees levels on Kucoin.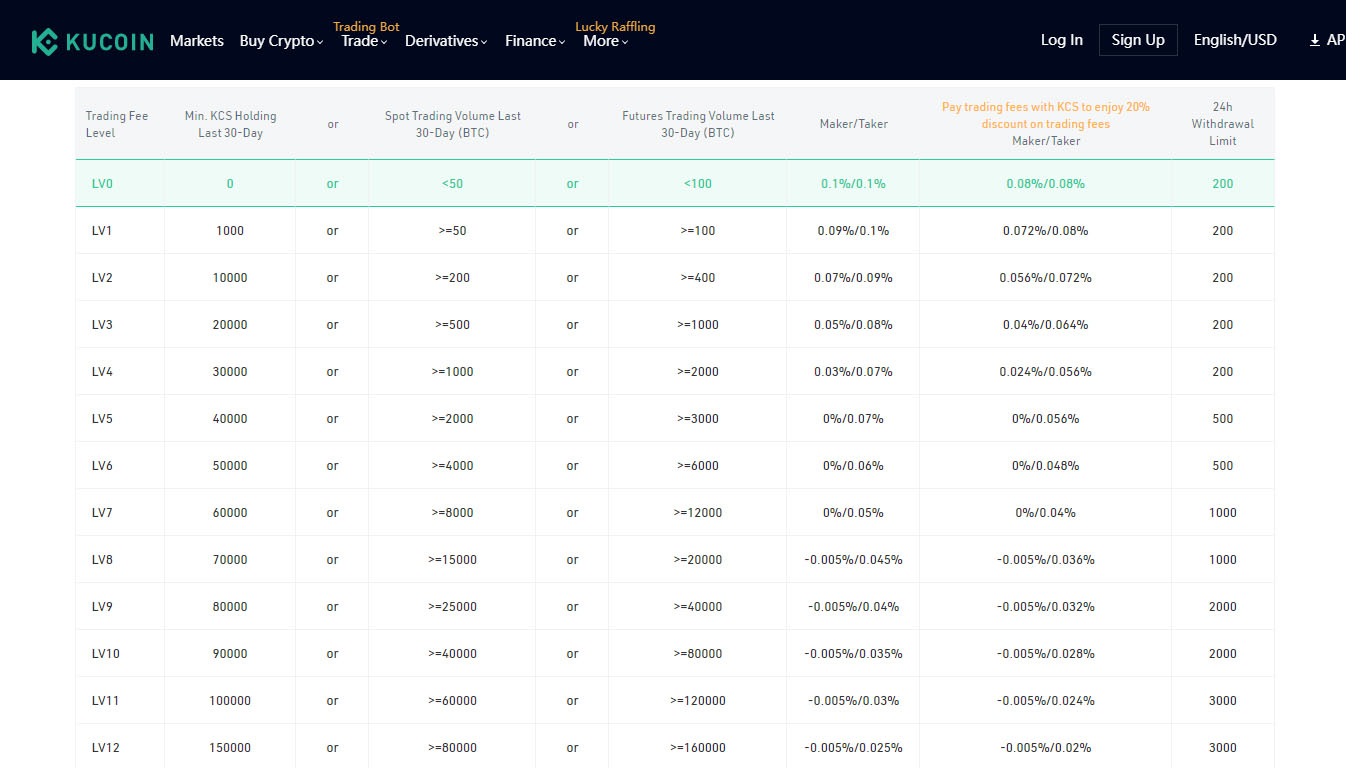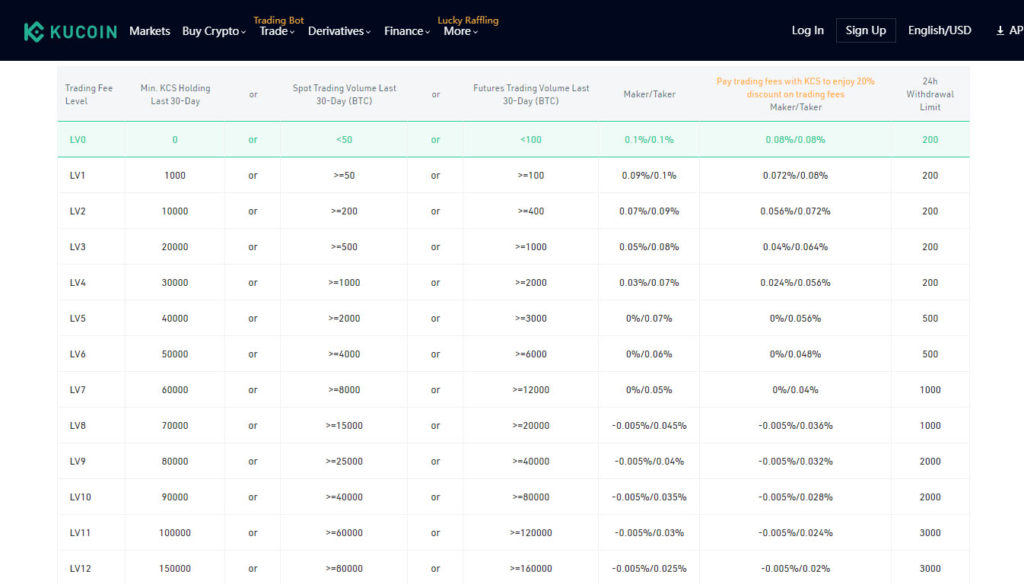 Let's now look at the Pros and Cons of Kucoin Cryptocurrency Exchange:
Pros of Kucoin
Low Fees
KuCoin Trading Bot for making and copying trading strategies
A high number of listed Coins
Feature-rich, simple interface
Abundant User base
Cons of Kucoin
Not available to US customers as it is not licensed there
Fiat payment methods are somewhat limited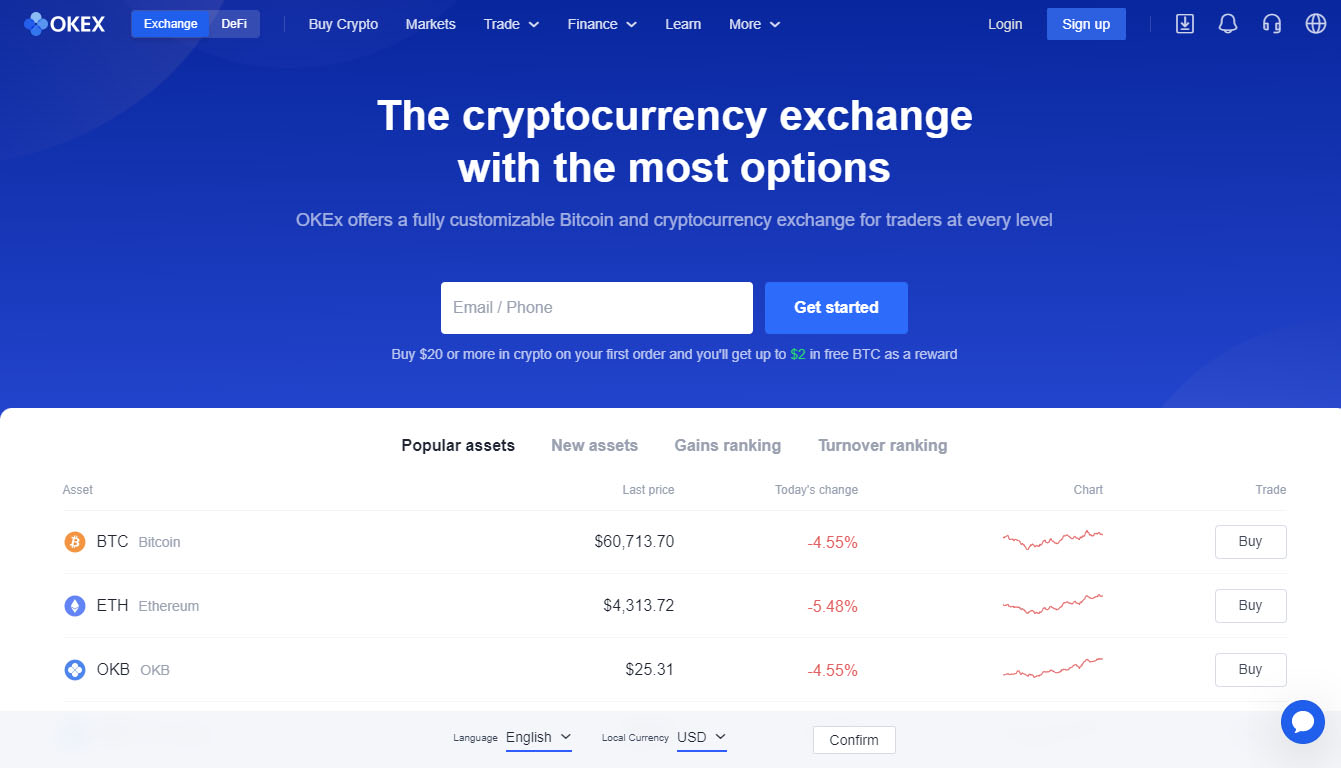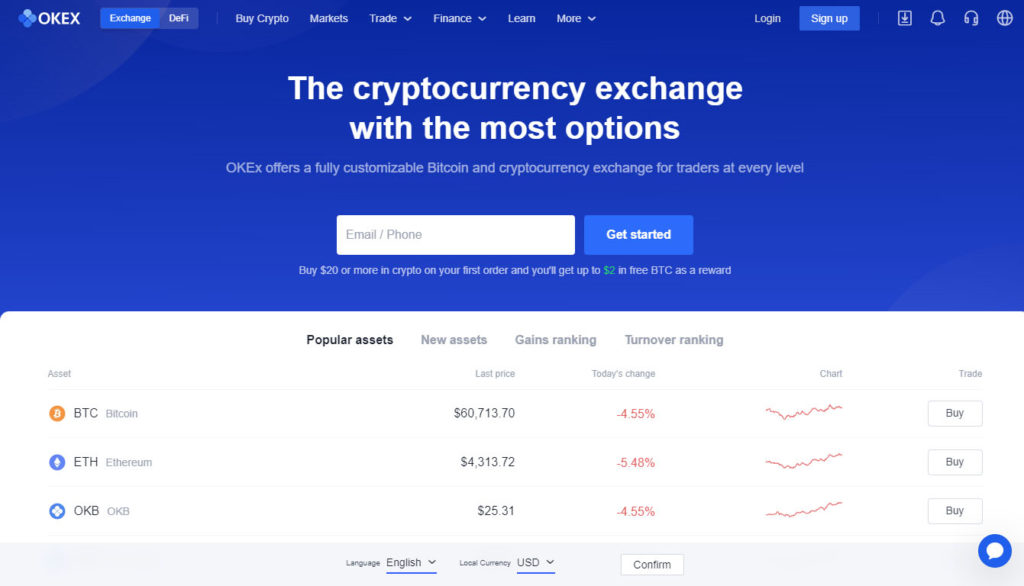 OKEx is yet another innovative exchange in the cryptocurrency market today. It offers a brilliant feature for new investors wherein they can trade without investing real money. It helps them trade in the real-life cryptocurrency markets without risk.
There is a handsome number of cryptocurrencies listed on OKEx which add up to 321. It started in 2014 and has been a big player since then. OKEx doesn't directly operate in the United States of America but through OKCoin. However, OKCoin has limited cryptocurrencies and features.
OKEx charges nominal fees for trading from its investors. It ranges between -0.010%(for VIP Level 8) to 0.080% (for starters)
Pros & Cons of OKEx
Pros
High APY products
It has a good knowledgebase and support
Innovate exchange which helps you trade in real-time without real money
Cons
Not available for US investors. US investors would have to use OKCoin which has limited cryptos and features.
Relatively complex interface. It may get difficult to navigate initially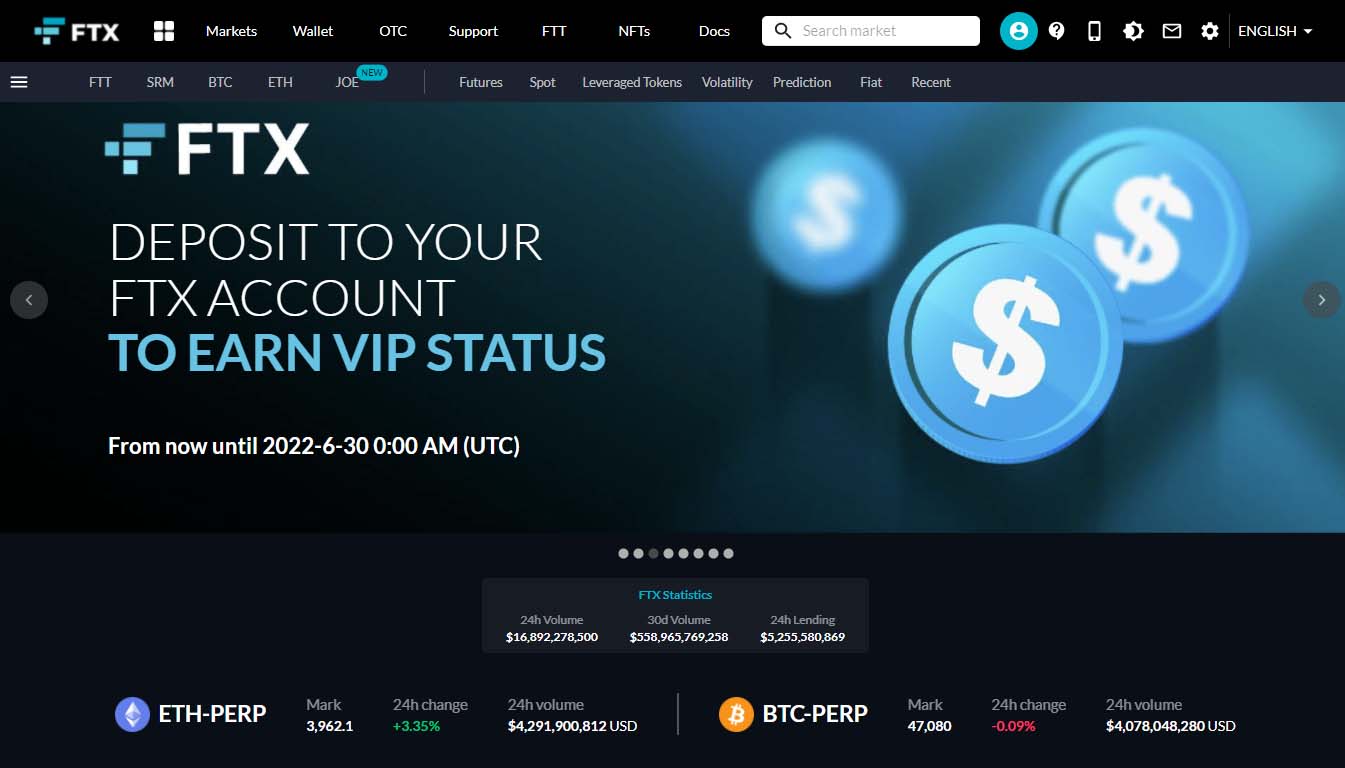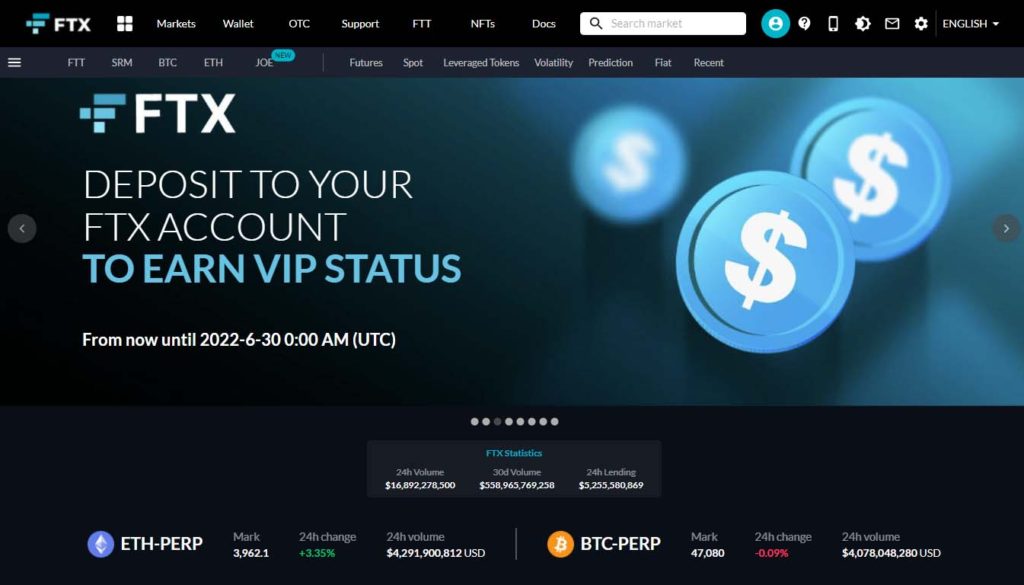 FTX has listed over 260 cryptocurrencies. It is one of the top cryptocurrencies exchanges in the market. Presently, FTX supports around 10 fiat currencies including USD, EUR & GBP.
Like other Exchanges, FTX also has a Tier structure for Fees. FTX's Fee ranges from 0% to 0.020% depending upon the 30Day Trading Volume of the trader.
FTX offers a FTX Virtual Debit Card which can be used to pay for online purchases.
Pros & Cons of FTX
Pros
Lower Fees
It has its oven cryptocurrency called FTT which you can use to avail additional discounts while trading.
It has its own NFT Market.
Apart from the normal features FTX also offers a FTX Debit Card.
Cons
FTX International has a FTX US version. Though the US version gets the job done, however, it does not have all the functionality that the International Version has.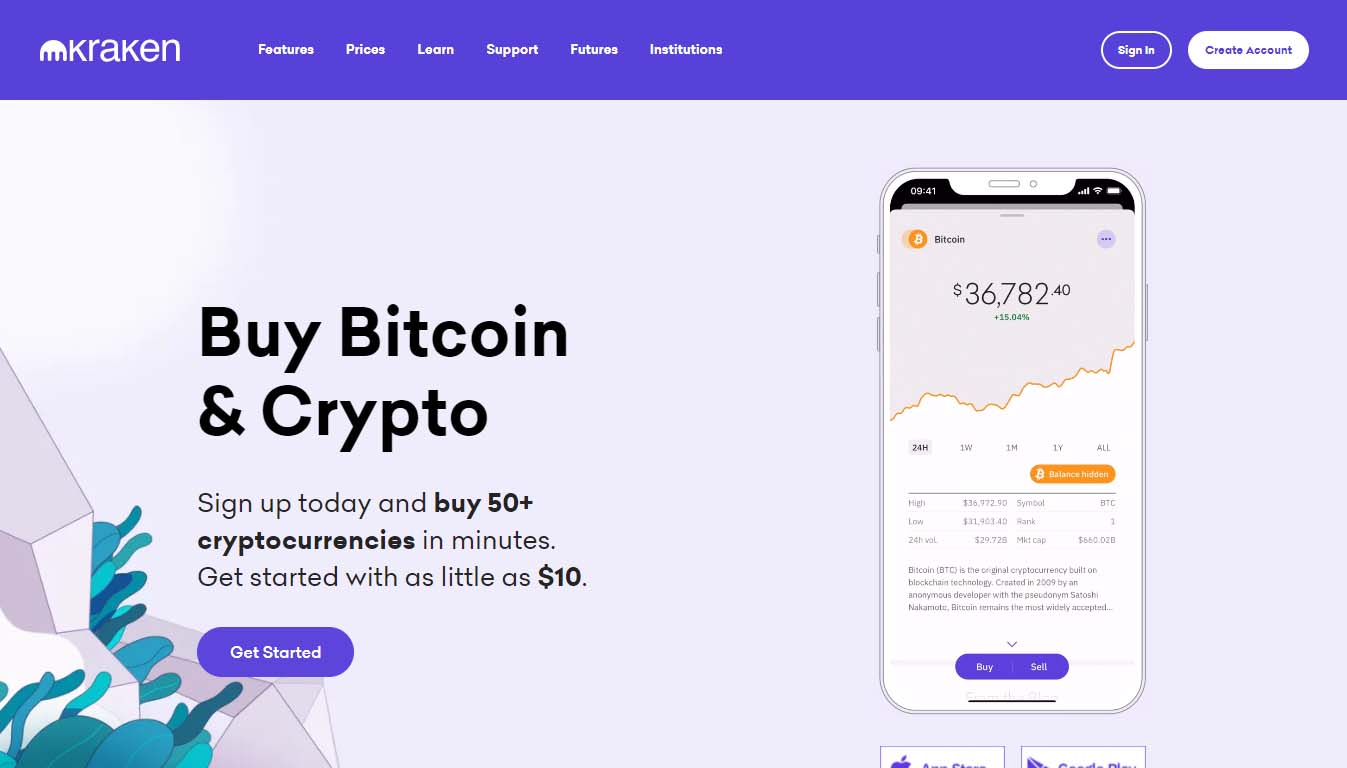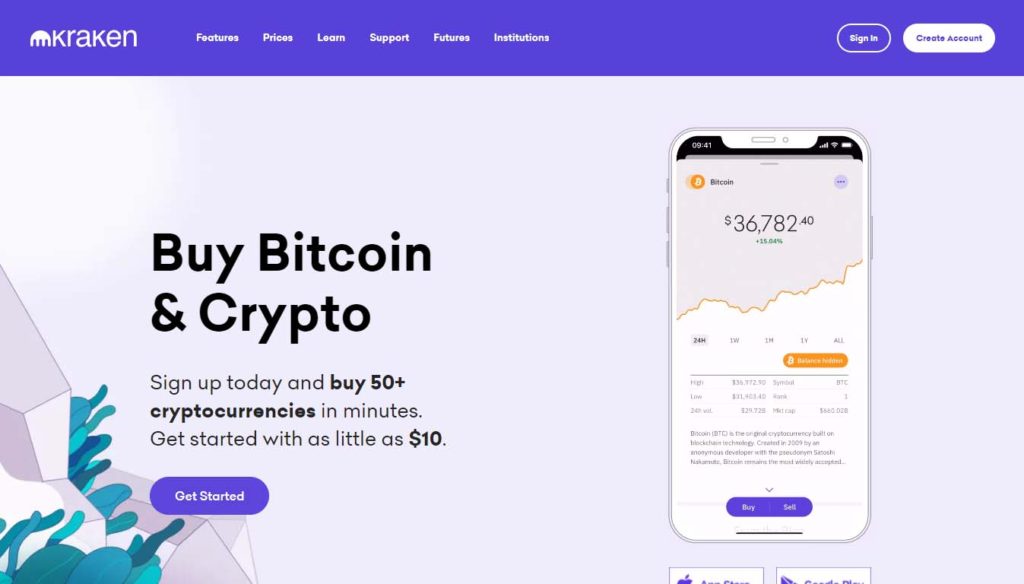 Kraken is a cryptocurrency exchange that started just 2 years after bitcoin was proposed. The platform supports over 100 different coins for buying, selling, and trading. The platform is easy to use and suitable for both new cryptocurrency investors and traders for low trading fees and accessibility to a wide range of cryptocurrency coins.
Along with the option to trade in cryptocurrencies such as Bitcoin and Ethereum. It also gives users the option to trade in user margin and futures trading, and other products for strategies. The easiest place for new crypto investors is to start the Kraken ecosystem with the app. More experienced traders, even outside of cryptocurrency might choose the low-cost trading platform Kraken pro.
Here's a list of the pros and cons of Kraken:
Pros of Kraken
The platform supports more than 100 altcoins.
Easy to use & simple user interface.
High liquidity exchange & where crypto-assets can be liquidated at any time.
Cons of Kraken:
Fee can be higher in normal Kraken platforms, investors can use Kraken pro to reduce fees.
Though more than 100 altcoins are available for investments, but still, it misses out on a lot of coins compared to other trading platforms.
Historically, users have reported losses due to hacking.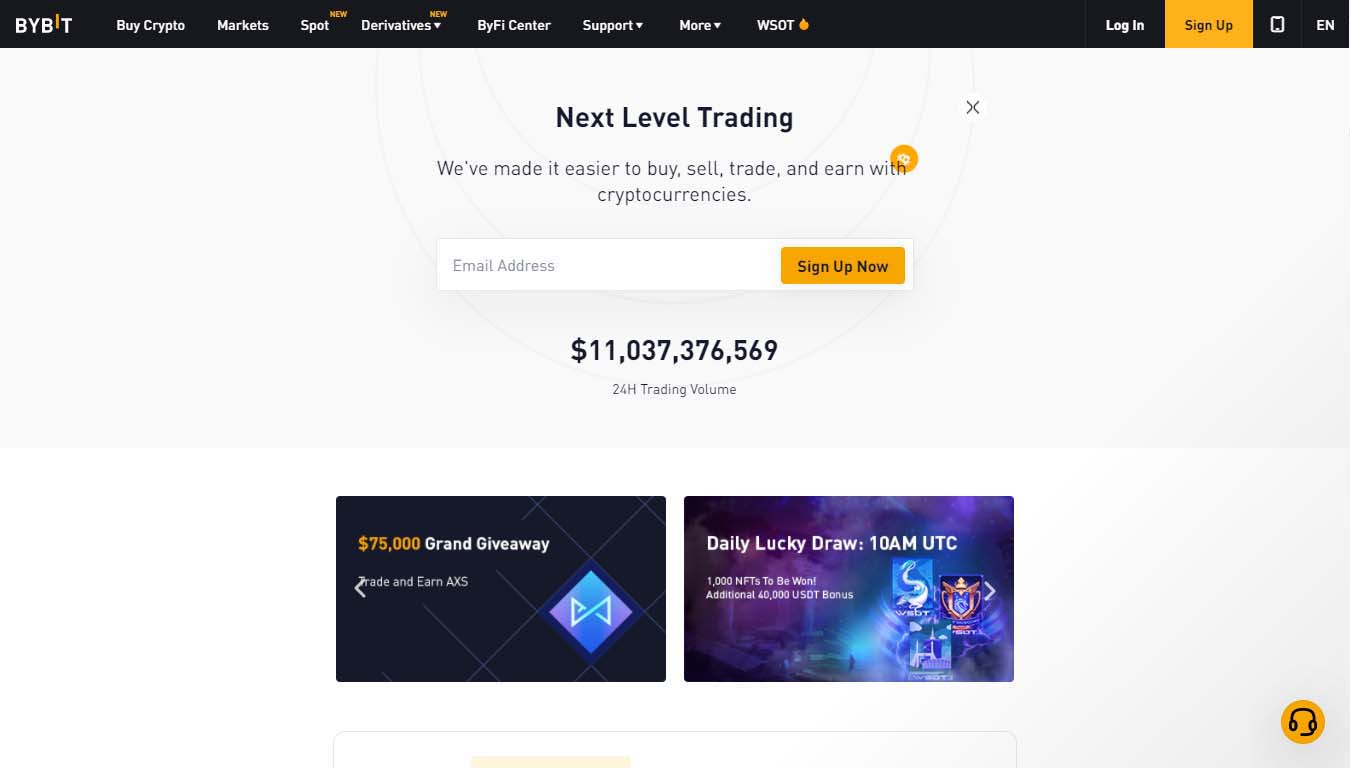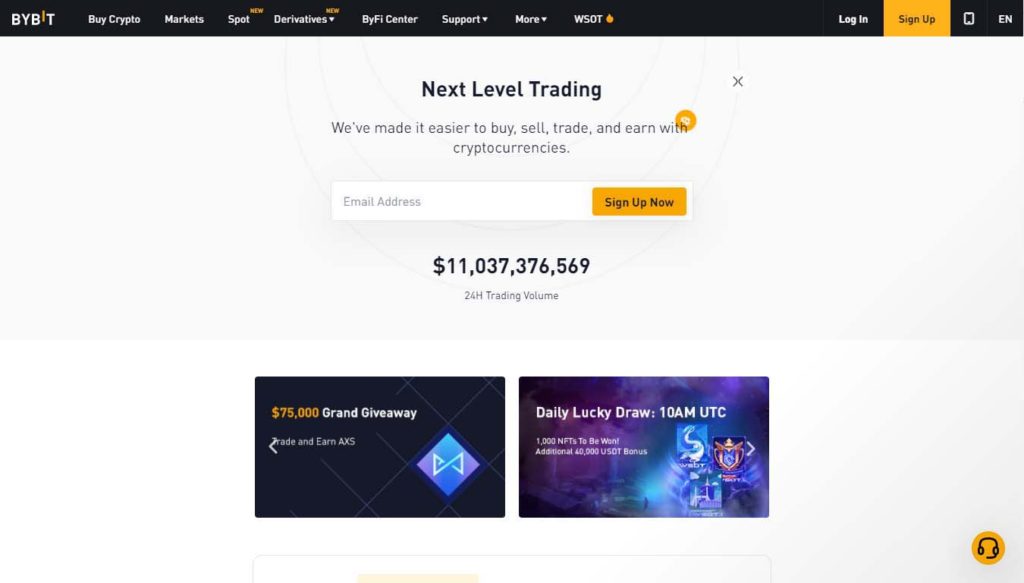 The Bybit exchange is a cryptocurrency derivative exchange! It is ideal for non-US cryptocurrency traders who want to trade margin and other derivatives. It has listed around 110 coins.
The United States has strict regulations in place to control both derivatives trading and cryptocurrency exchanges. As a result, Bybit is not accessible to users in the US, and other countries like the UK. You must pass through & confirm that you are not a US citizen.
There is no KYC(Know Your Customer) check to proceed with using the service, just a simple check box. Therefore, it's a big risk as your account could be frozen, and they won't be able to access money.
Even though it is not legal for citizens of the United States to access, it is still a good platform for non-US citizens. If you are confident using advanced trading investments. Then, it is an easy-to-use platform to start investing in cryptocurrency derivatives!
Here are some pros and cons of the Bybit exchange
Pros of the Bybit exchange
A good number of crypto options for investment.
Advanced tools supported by technology.
Risk-free test environment to learn and experiment.
The best platform to learn to invest in cryptocurrency derivatives.
Cons of the Bybit exchange
Not accessible to US citizens.
Very high risk involved in cryptocurrency derivatives. Proceed with caution
Not recommended for any investor interested in spot trading.
The platform might share your data with third parties for remarketing and other promotional events.
Best Centralized Cryptocurrency Exchanges – Summing Up!
Cryptocurrency exchanges work as standalone regulated platforms for the investors to invest their money & make profits. Although it departs from the concept of decentralization, the concept behind the development of cryptocurrencies.
As a result a lot of people still prefer decentralized exchanges, as they follow the traditional cryptocurrency exchanges of the peer-to-peer network. Even though Centralized Exchanges have this shortcoming! Still, they are far better in terms of user-friendliness and ease of transaction.
Hence, if you are someone looking to invest in cryptocurrencies?
Then you can try any of the centralized cryptocurrency exchanges I mentioned in this blog! Make sure that you do your research because investing in cryptocurrencies can be risky. Some people have lost a lot of money in the crypto arena, and the reason is investing without any research!