Introduction
If you have been around the cryptocurrency scene for a while, you would know that Bittrex is one of the leaders when it comes to exchanges. However, if you are a curiosity freak like me, then here are some of the best Bittrex alternatives for you.
What is Bittrex?
Bittrex is a cryptocurrency exchange platform that facilitates the buying and selling of cryptocurrencies. The company was founded in 2014 by Bill Shihara, Rami Kawach, and Richie Lai.
Bittrex uses a unique blend of software and hardware to bring you a fast, secure, and reliable trading platform.
Bittrex offers both a web-based trading platform as well as a mobile app for iOS and Android devices. Now that you know what Bittrex is, let's move on to the next part of this guide: the best Bittrex alternatives.
However, we suggest that you read: Bittrex Review on 8 Undeniable parameters
1. Binance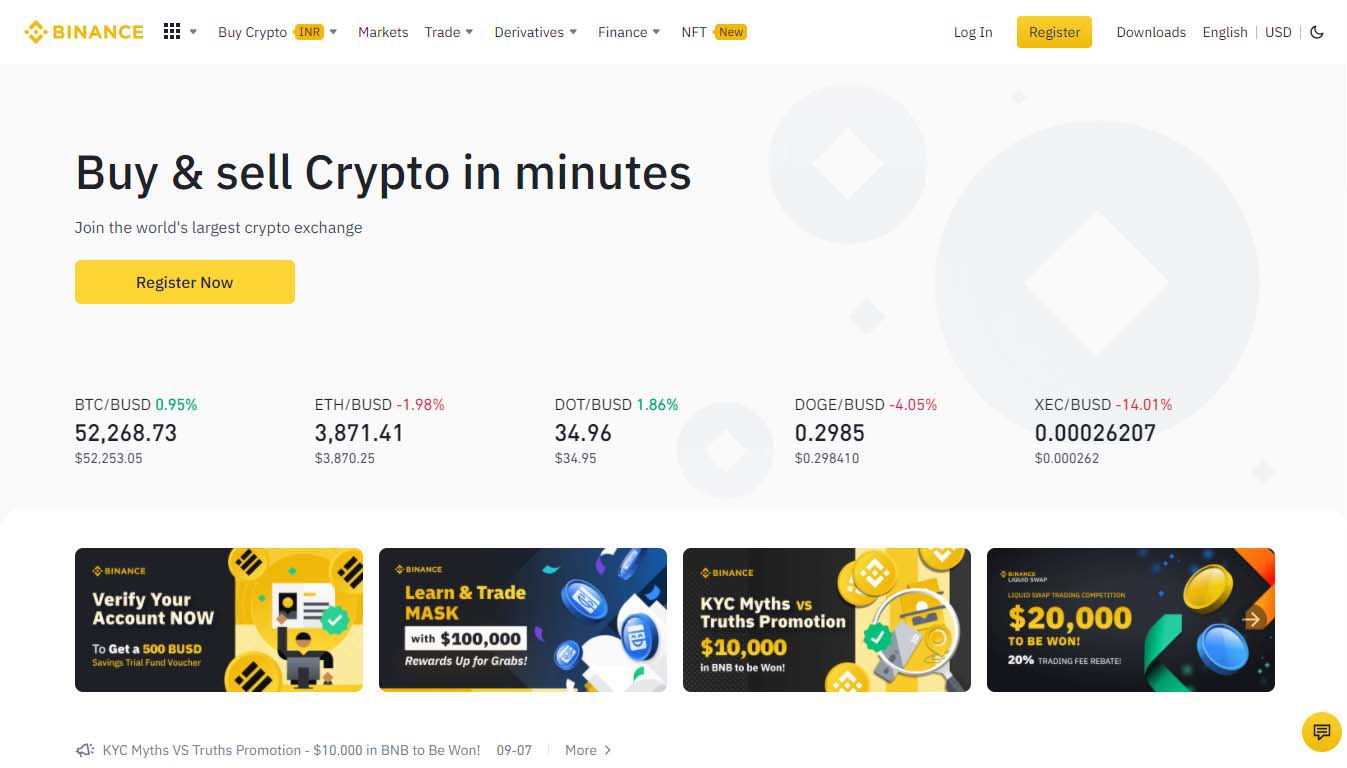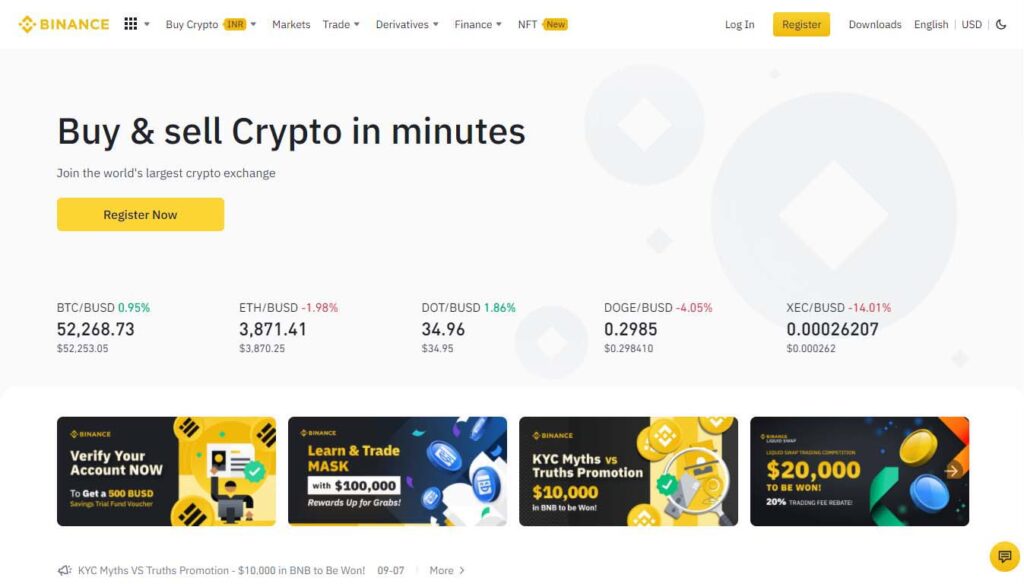 Binance is the closest in our list of Bittrex Alternatives. Binance crypto exchange is a Cayman island-based cryptocurrency exchange. The platform allows users to trade digital currencies such as Bitcoin and Ethereum, with more than 200 trading pairs available on its platform.
Since its inception, the company has grown to become one of the largest cryptocurrency exchanges in the world.
Binance was founded in 2017 by Changpeng Zhao (CZ). The company has grown rapidly due to its focus on customer service, which includes providing 24/7 support through email or live chat. Binance charges a flat 0.1% spot trading fee. Fees range between 0.1%-5% depending on payment method.
Pros and Cons
Pros
Extremely easy signup process (you can create an account with just your email address).
Support for credit and debit cards -Free deposits (up to 1 BTC worth of Bitcoin per day).
Extremely quick transactions (the vast majority of trades are settled within seconds).
Lucrative on-site staking options (you can earn up to 5% interest per year by holding BNB tokens in your account).
Cons
Considerable withdrawal fees – there are fees associated with moving your money in or out of Binance, which can be high enough to make arbitrage strategies less effective than they would be on competitors like KuCoin.
Exchange has been hacked in the past – this is a big red flag for many investors, who want to know that their assets are safe.
Main site not available in the USA – this might not be an issue if you're using BISQ rather than the main Binance exchange, but if you want to use the main site it may be an issue for you.
Less regulated than some competitors – while this might not be a concern for some investors, it could cause problems if you're trying to use your Binance account as collateral for a loan or something similar.
2. Kraken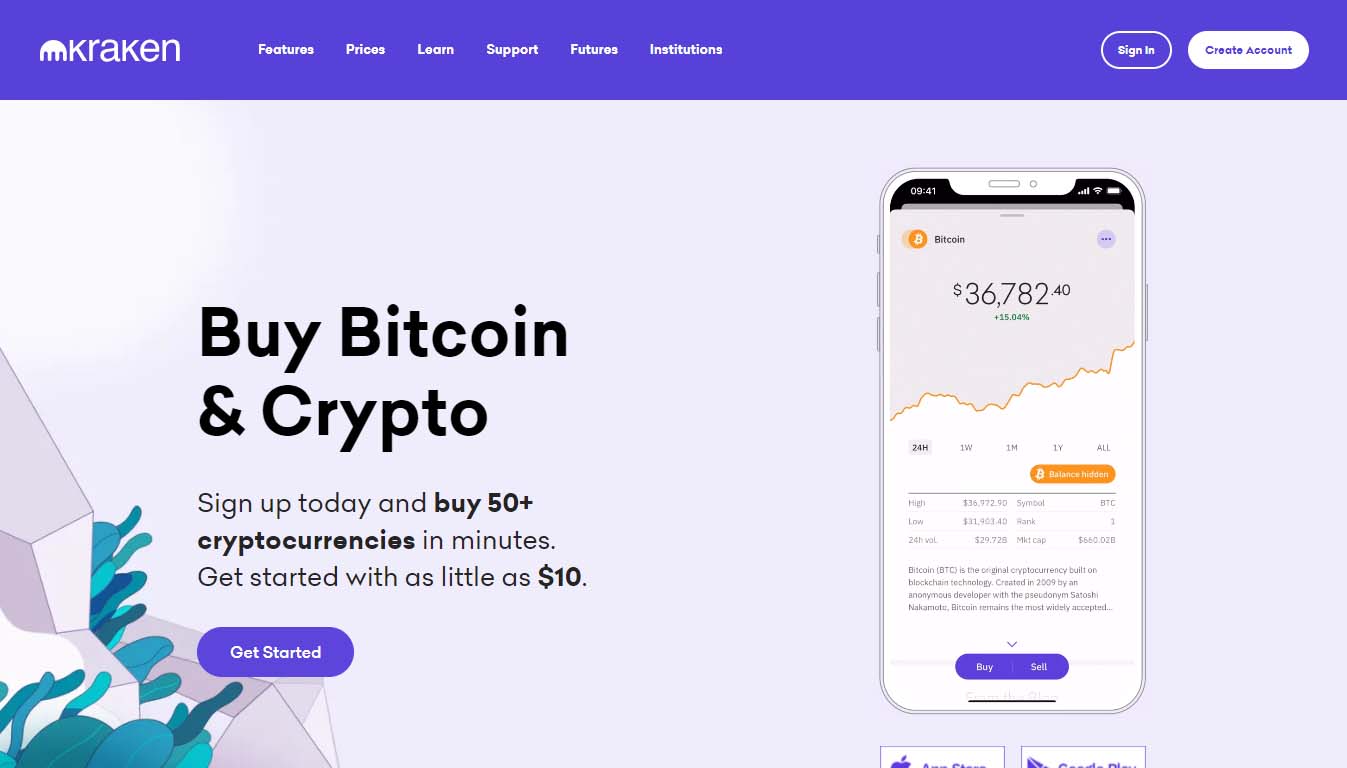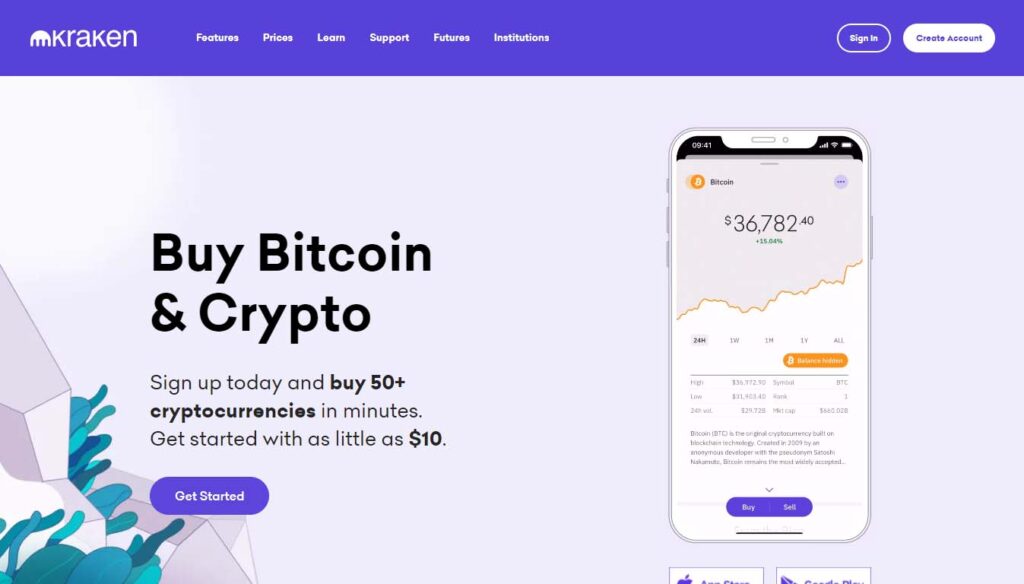 Kraken is next closest to being a Bittrex Alternatives. Why? Because Kraken has quite a high reputation among all the exchanges, with great customer service and a reputation for being highly secure.
Kraken crypto exchange is a popular cryptocurrency exchange and trading platform. It offers users access to Bitcoin, Ethereum, Monero, Litecoin, Ripple, and other cryptocurrencies. Kraken is a trading platform founded in 2011 and based in San Francisco, California.
It is operated by Payward, Inc., a privately held company that also operates the Coinsetter brand. The fee structure at Kraken is pretty simple: there's a flat 0.9% fee for any stablecoin and 1.5% fee for any other crypto or FX pair.
Pros and Cons of Kraken
Kraken is a cryptocurrency exchange that offers a wide selection of digital assets. It's also one of the few exchanges that offer margin trading.
Pros
Large selection of digital assets. Kraken supports many different cryptocurrencies, including Bitcoin (BTC), Ethereum (ETH), Litecoin (LTC), Ripple (XRP), and Monero (XMR). If you're looking for a particular digital asset, it's likely that Kraken has it.
Cons
Kraken is a great option for U.S.-based traders looking to trade Bitcoin, Ethereum, Litecoin and other cryptocurrencies. It has high liquidity and low fees.
But the biggest downside to Kraken is that it only accepts U.S.-based traders from certain states and does not offer any deposit options other than bank transfers or wire transfers.
3 .Kucoin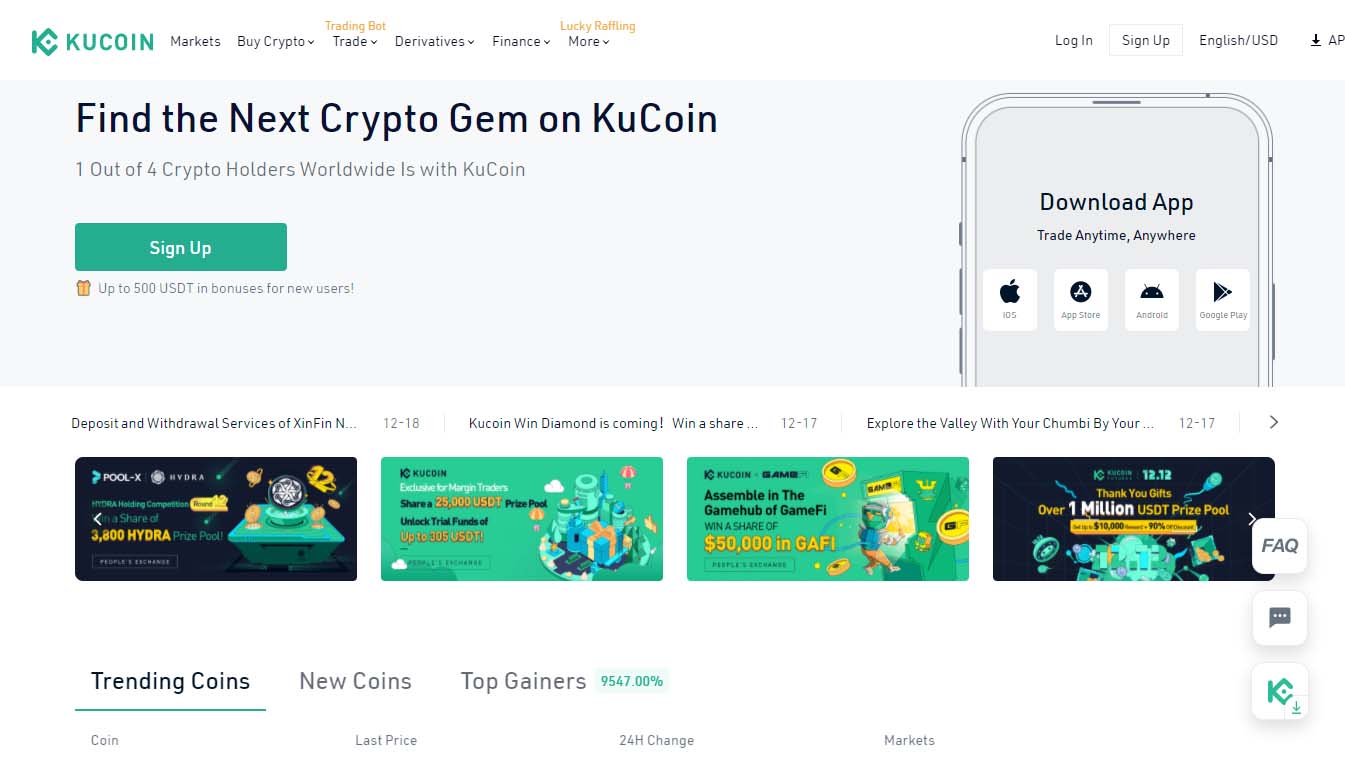 Kucoin is a cryptocurrency exchange that was launched in 2017. The exchange offers over 1298 trading pairs, which makes it one of the most diverse exchanges on the market. The platform includes 24/7 customer support, high liquidity, and fast transactions.
Kucoin aims to provide users with a secure and easy-to-use platform for trading cryptocurrencies. The exchange offers its own token called Kucoin shares (KCS) as a reward for holding KCS on your account.
You can trade these tokens on the exchange or hold them until their value increases over time through their dividend system (the more you hold at any given time, the higher your payout).
Pros and Cons
While Kucoin came at No 3 in our list of Bittrex Alternatives. Let's take a look Pros and cons of it.
Pros
Anonymous trading: Unlike other exchanges, Kucoin does not require you to provide any personal information to trade on its platform. If you want to keep your cryptocurrency transactions private, this is a huge benefit.
Secure: Kucoin has implemented a two-factor authentication system. The system requires you to input a code from your mobile phone before completing any withdrawals or deposits. This adds an extra layer of security for users and prevents hackers from accessing your funds.
Supports a variety of cryptocurrencies: The number of cryptocurrencies supported by Kucoin is one of its biggest draws. It has over 763 different coins available for trade, which is double what most other exchanges offer. You can find all kinds of different coins here. Including popular options like Bitcoin (BTC), Ethereum (ETH), Litecoin (LTC), and NEO (NEO).
Cons
Low trading volume: Although Kucoin has been around since 2017 and has been growing steadily, its trading volume is still relatively low compared to other exchanges. This could make it difficult for traders who are looking for more liquidity.
4.Bitfinex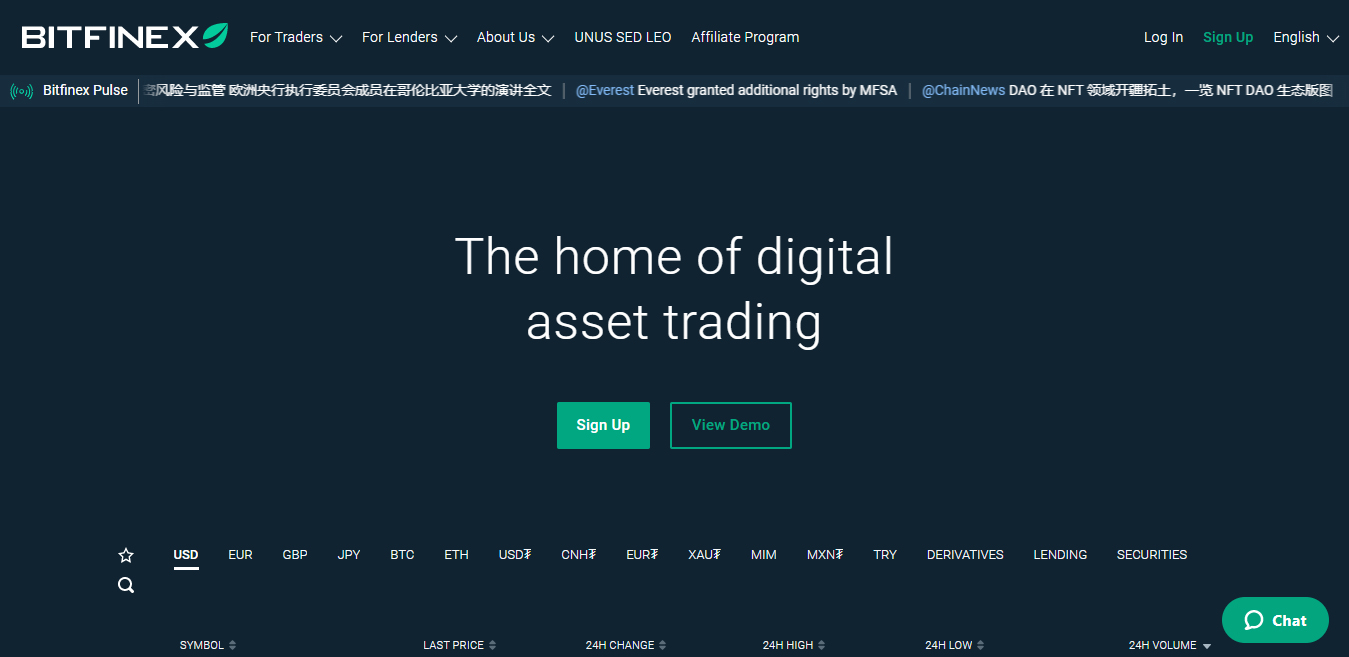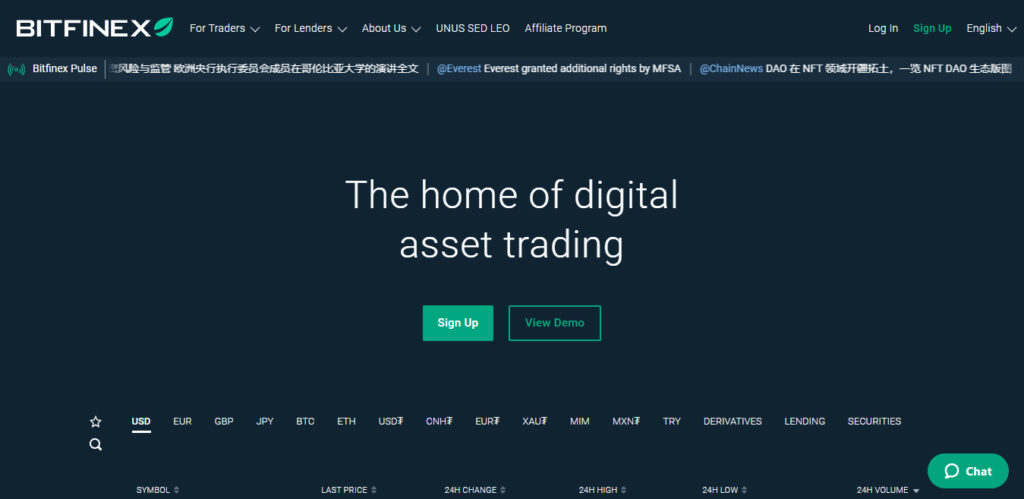 Bitfinex is a digital asset trading platform with a focus on providing advanced tools and investment products to professional traders. It was founded in 2012 and is one of the world's largest cryptocurrency exchanges.
It offers leveraged margin trading through a peer-to-peer lending market. With a focus on providing advanced tools and investment products to professional traders.
With more than $1.5 billion in transactions per day as of 2019, They are one of the oldest exchanges. We can say that bitfinex is the best Bittrex Alternative.
Pros and Cons
Pros
It is highly trusted, as it is one of the oldest cryptocurrency exchanges out there and has proven itself over time. Their security is top-notch, and they also have an in-house mobile app that works well.
The leverage at this exchange in derivatives can be high—as much as 3.3x. That means you can make big profits on small investments if the market moves the right way.
Orders are illustrated in the chart of the platform, so you can see exactly what's going on with your trades all day long without having to open up any additional windows or pull up another screen.
Withdrawals from exchange are unlimited (for verified accounts), which means you can take out your money whenever you want without having to wait for approval from customer service or anything like that.

This is especially helpful if you're looking for altcoin brokers because some other places will require limits on how much money can be withdrawn per day or per week/month/year etcetera
Cons
The only real drawback here is that they want a lot of verification information before you can start trading (including things like social security numbers). This process can be pretty daunting for some people, but if you're up for it then it will be a great choice.
5. Coinbase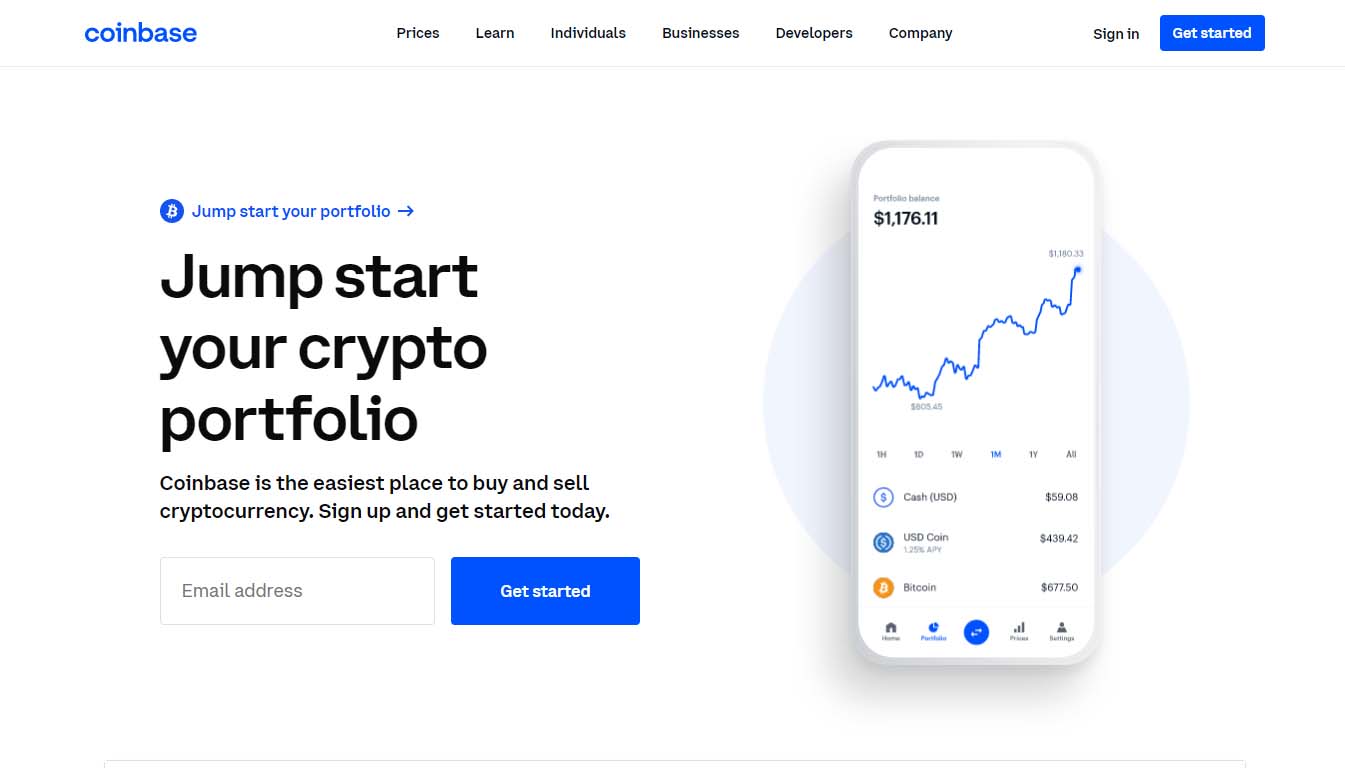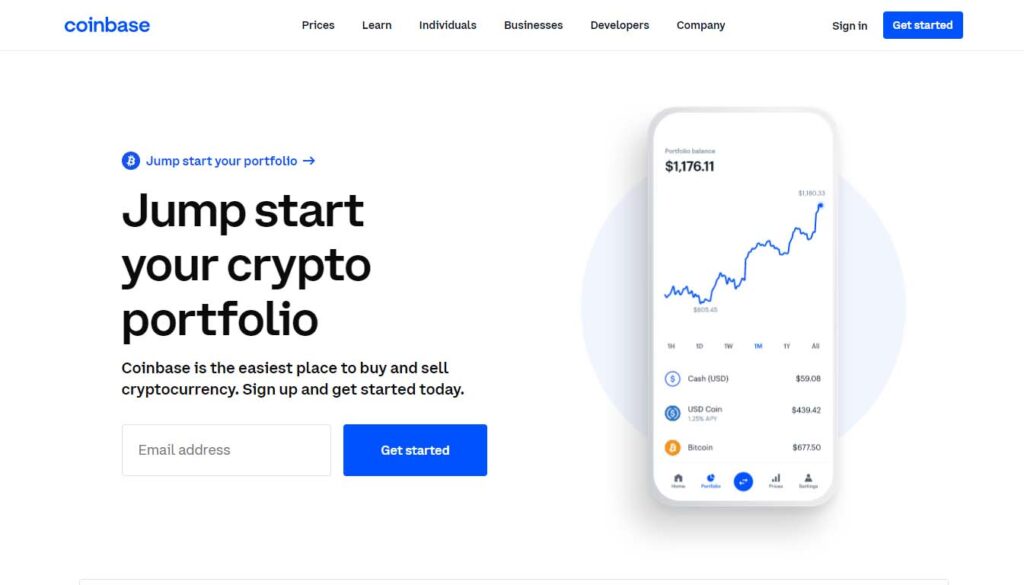 Coinbase crypto exchange is one of the most popular and trustworthy digital currency exchanges in the world. It offers a wide range of services, including an online brokerage that allows you to buy and sell Bitcoin, Ethereum, Litecoin, Bitcoin Cash, and Ethereum Classic as well and It work as a digital wallet that lets you securely buy, use, and accept cryptocurrencies like Bitcoin.
Coinbase, a San Francisco-based company, was founded in 2012 by Brian Armstrong and Fred Ehrsam.
This Duo wanted to create an open financial system for the world. Their goal was to make it easy for anyone to use cryptocurrencies like Bitcoin.
Pros and Cons
we're going to take a look at the pros and cons so you can make an informed decision about whether or not it's right for you
Pros
Offers access to more than 229 cryptocurrencies. The Coinbase platform is one of the most popular cryptocurrency exchanges in the world, and part of the reason is that it offers access to a huge variety of coins that you can buy and sell.
Low minimum to fund account. Another benefit of using them is that you can get started with $100 or less.. This makes it an ideal place for beginners who want to dip their toes into crypto trading without having to put in too much money at first.
Quick crypto withdrawals. If you need to withdraw your funds from Coinbase quickly, this exchange has some of the fastest transaction times around—usually within 20 minutes or so. You won't have to wait days or weeks before getting your money back into your bank account.
Cons
Higher fees than other cryptocurrency exchanges – Coinbase charges higher fees than other cryptocurrency exchanges. It charges 0.60% / 0.40% (maker / taker) fees from entry level investors but it reduces as you increase your trading volume.
6.Gate.io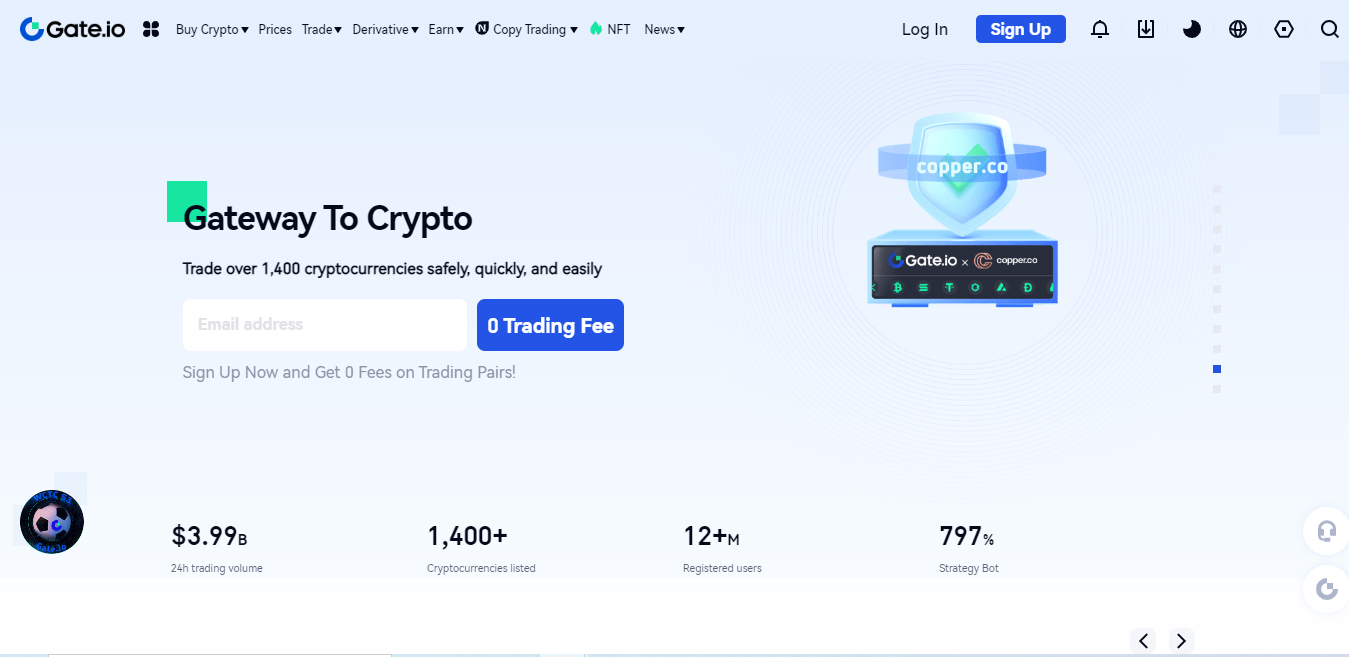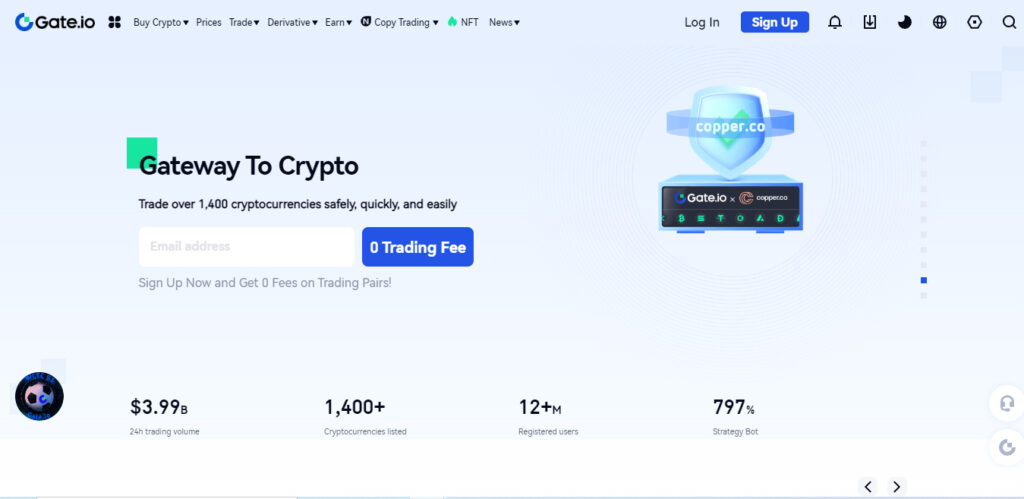 Gate crypto exchange is a cryptocurrency exchange that allows you to buy and sell Bitcoin and other cryptocurrencies. The exchange also supports many other cryptocurrencies, including Ethereum, Litecoin, Dash, Ripple, and Dogecoin.
It also has an impressive number of trading pairs available for trading which stands at 2577. The exchange has been operating since 2013 and has experienced one security breach in the past.
Gate.io is an exchange platform that was rebranded in 2017 and has quickly become one of the fastest-growing crypto platforms in the world. It offers a large selection of cryptocurrencies i.e. 1553 and also has margin trading with leverage, as well as other advanced financial services like margin lending or borrowing.
The trading engine is powerful, but the interface feels somewhat cluttered, so it's not the best place for inexperienced investors to start their crypto journey.
Pros & Cons
Pros
Good user experience.
You can trade on multiple crypto coins and tokens.
The platform is available on Android, iOS, and desktop devices.
Cons
Exodus does not support fiat currencies like USD or EURO; only cryptocurrencies can be traded on this platform.
7. Uphold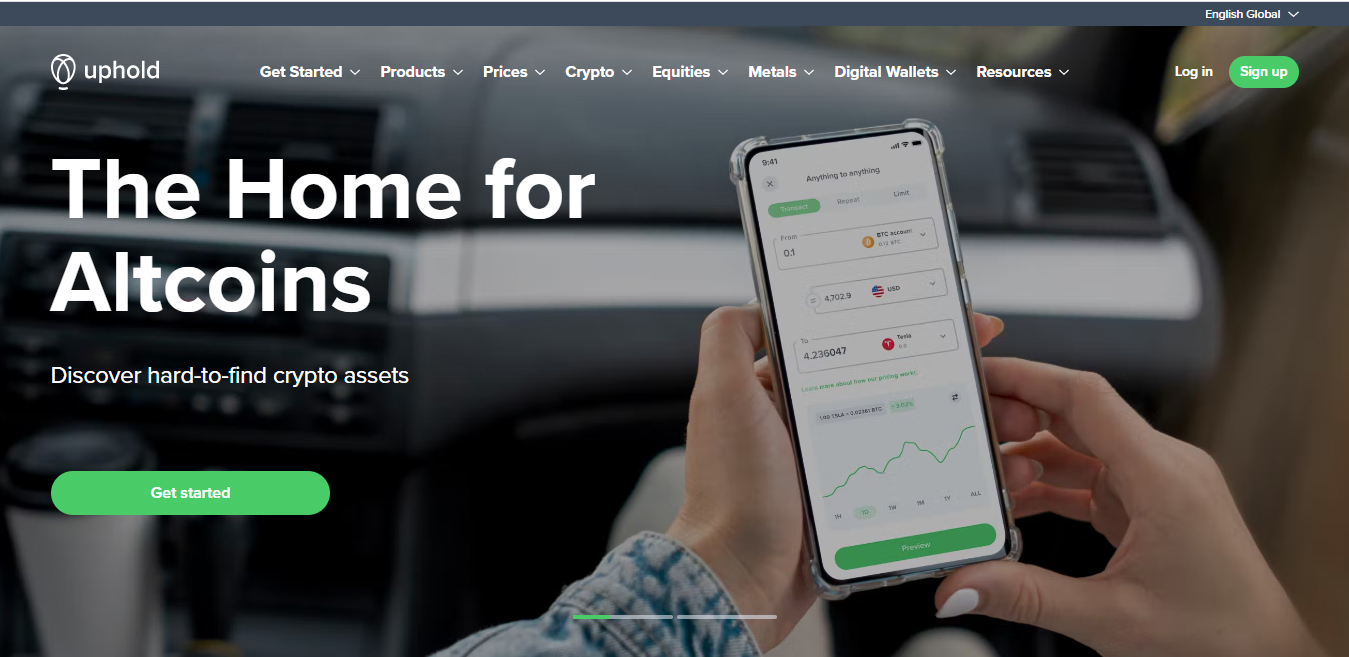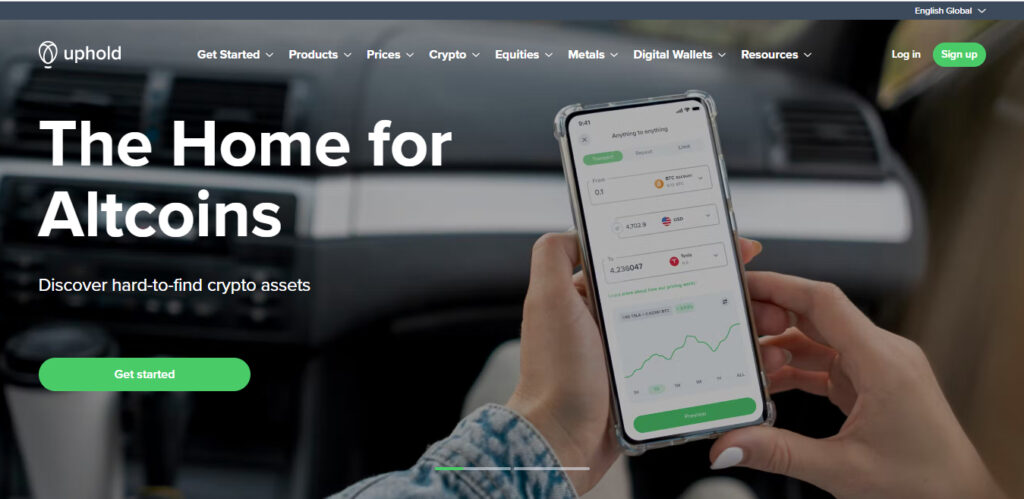 If you're looking for a secure, easy-to-use crypto exchange, look no further than Uphold. Uphold is a digital money platform that allows you to buy, sell and store your favorite cryptocurrencies. With Uphold, you can store all of your crypto assets in one place. You can also exchange them easily using their supported currencies.
If you need help getting started with Uphold's services, the support team is always ready to answer questions about how their platform works or how to use it properly. The company charges a flat fee of 0.8% for all transactions on its platform.
The price varies depending on the cryptocurrency being traded; for example, in the U.S. and Europe, Uphold typically charges 0.8 to 1.2% on BTC and ETH (Ethereum). In other exchange, the transaction fee is typically around 1.8%.
Pros & Cons
Pros
The exchange is easy to use and has a simple interface that is easy to understand.
It has a good selection of coins to trade, with different types of currencies.
Cons
Less Educational content on the website
Bittrex Conclusion
There are some important Bittrex alternative exchanges you can use. Quite evidently it is the type of trade, platform's characteristics, trading volume, and services that you want to conclude which will help you decide the best amongst these. I prefer either Kucoin, Bitfinex & Binance when it comes to finding alternatives to Bittrex.
We hope that list of these Bittrex Alternatives is helpful to you.