Introduction
Bittrex Exchange has two separate versions. One for the United States users and the other for Global Users. It is one of the oldest exchanges in the Cryptocurrency arena. Started in 2014 by three cybersecurity engineers, Bittrex is one of the exchanges that has made sure it complies with the Cryptocurrency laws of the United States of America. Accordingly, most of the investors are from the US. It is worth mentioning here that Bittrex is a Centralized Cryptocurrency Exchange.
This article on Bittrex review unveils the pros & cons of this exchange on various parameters as mentioned below:
Fees
Security
Trading options
Liquidity
User Friendliness
Number of listed cryptocurrencies
Support
Verification Process
Let's discuss them individually now!
1. Bittrex Review: Fees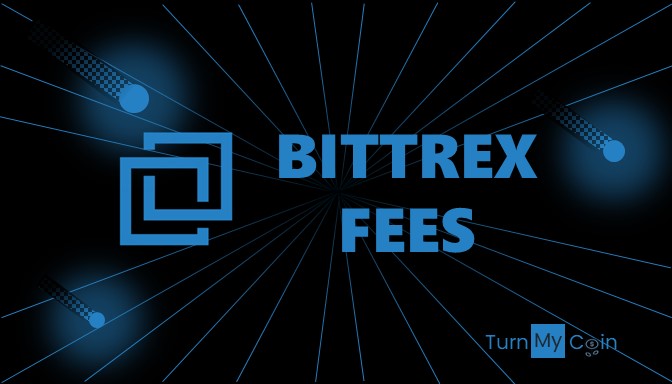 Bittrex charges a commission on each transaction that you complete on the exchange. This is the fee for using the platform to buy, sell or exchange your cryptocurrency.
Bittrex has a slab fee structure that depends on the 30 Day Trading volume of the trader. The more you trade on Bittrex, the lesser would be the fee. Bittrex calculates 30 data trading volumes on a daily basis. And the update of every individual account's fee happens between 00:30 UTC and 1:30 UTC each day.
For the lowest trading volume, Bittrex charges a 0.75% fee and it reduces to 0.00% for large investors. I have attached Bittrex's Global & US users Fee Schedule below for your reference: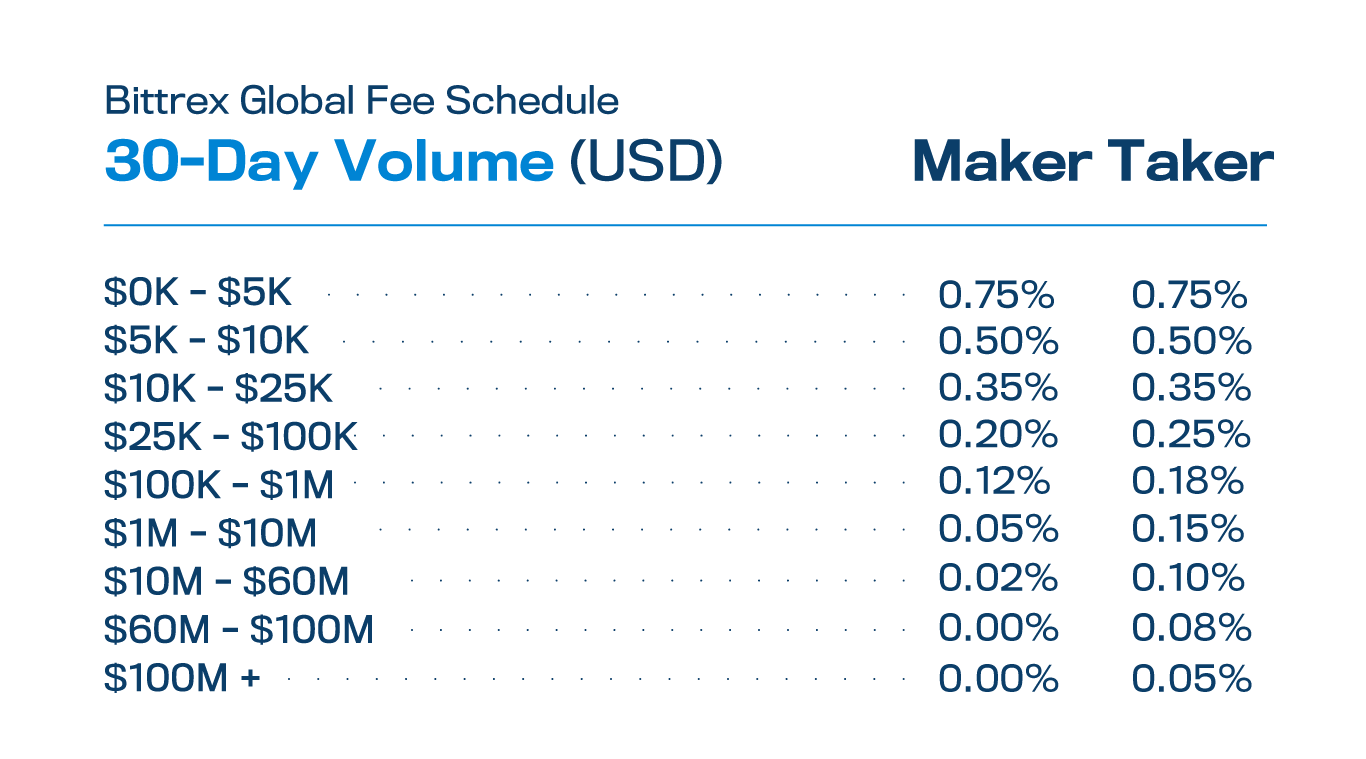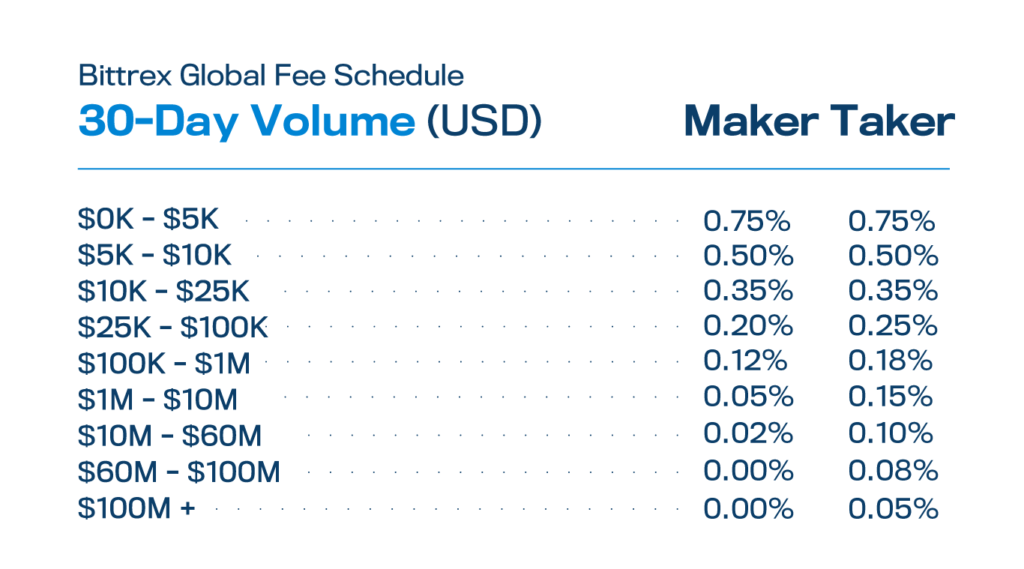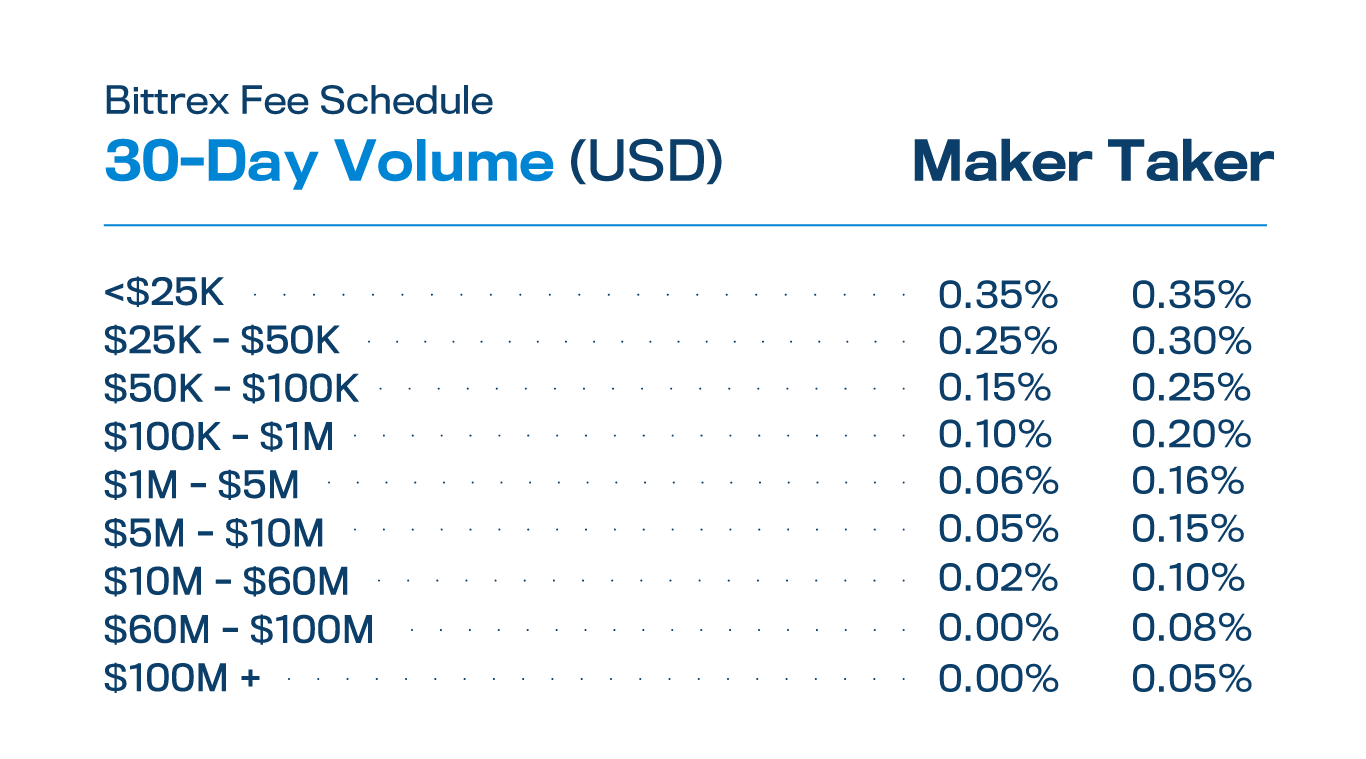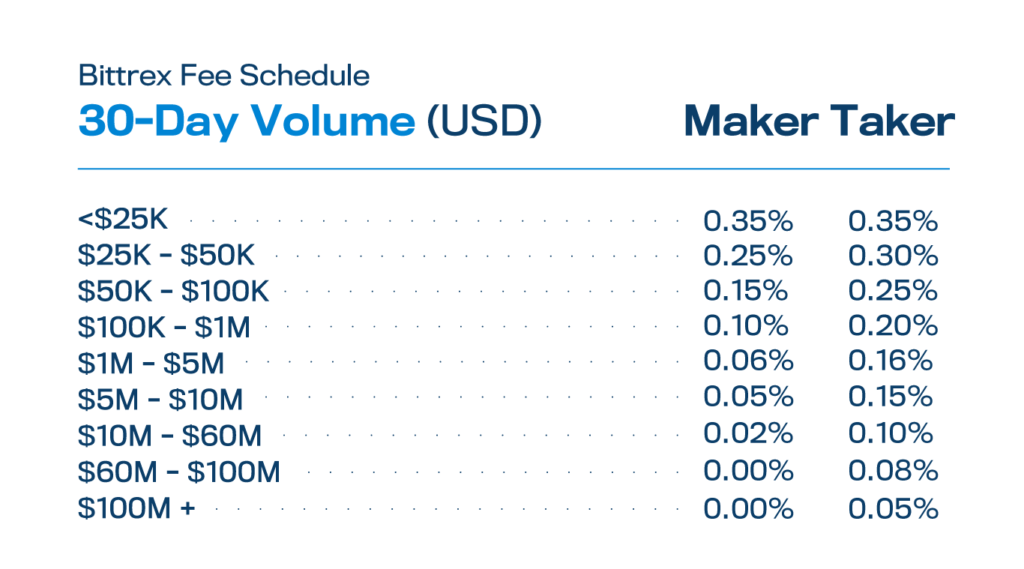 2. Bittrex Review: Security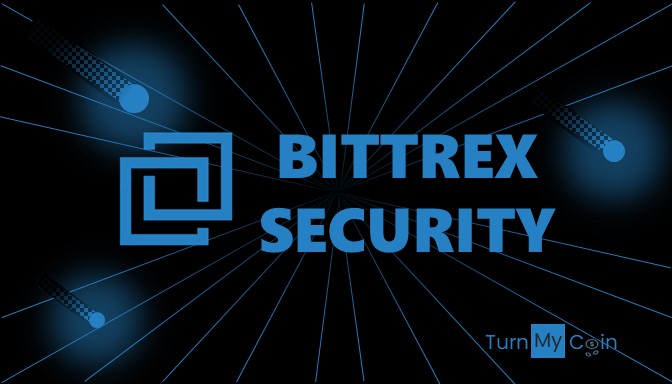 Security is the prime most concern for any cryptocurrency investor. The fact that too many cryptocurrency exchanges get hacked is fearful for investors.
Recommendation: Users should use 2-Factor Authentication (2FA) to safeguard their funds at least from the user's end. 2-FA makes sure that you provide a code that you receive either at your Mobile or Email or Google Authenticator before completing a transaction.
In fact, there are hardware 2-Factor Authenticators like Yubikey which can be very helpful while storing your funds with Exchanges. YubiKey is a physical, thumb drive like device, that you can configure with the Centralized Exchange. Once you configure it, each transaction will require you to connect the device before completing transactions.
Bittrex maintains very high standards of Security. As an example, the platform uses SSL encryption for all network communications. Further, Bittrex also stores over 90% of the Cryptocurrencies in Cold Storage.
Cold storage wallets are air-gapped wallets and are not connected to the internet and hence are safer. In order to ensure security at the user level, it also allows users to enable 2-Factor Authentication including Google Authenticator.
Bittrex is a custom made platform and adheres to high-security guidelines. Consequently, Hacking Bittrex is not that easy.
Additionally, Bittrex has a cross-chain recovery system. If you land up accidentally transferring your funds to the wrong wallet, you can use this service to recover your funds. However, please make sure you read their terms & conditions before making an application for the same.
3. Bittrex Review: Trading Options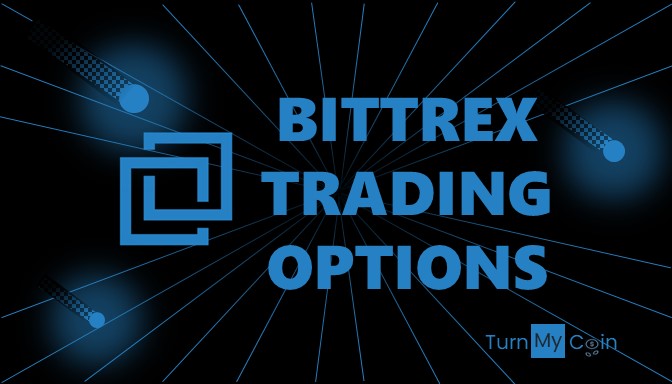 Bittrex is a trading focussed platform. Accordingly, it provides loads of trader friendly features. It is a preferred choice for advanced investors and may not be that suitable for new traders with no trading knowledge.
Bittrex offers very interesting Spot Trading features. It has options like:
Limit Trade,
Market Price Trade,
Stop Limit,
Trailing Trade,
One Cancels the other Orders(OCO),
Ladder Limit
These tools are highly suitable for professional traders as mentioned before.
Instant Buy & Sell
In order to allure new investors, Bittrex has kept buying & selling at its platform really simple. You can buy and sell cryptocurrencies instantly through Credit & Debit Cards and also through your USD linked account.
Please Note: it is necessary to get your account verified before you transact as above at Bittrex.
4. Bittrex Review: Liquidity & number of users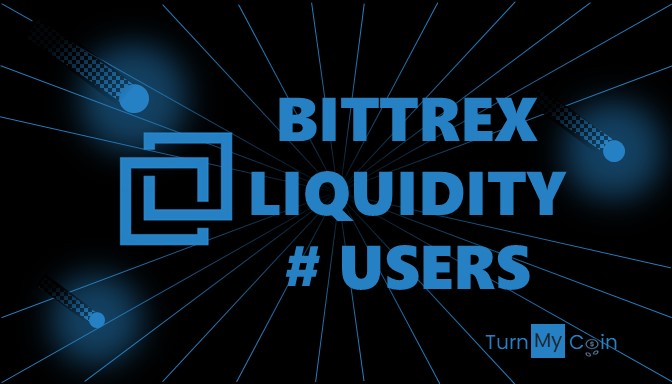 Both liquidity and the number of users are important factors that decide the stability and efficiency of an Exchange. The higher the numbers better it is to transact. I will add another important point over here and that is the exchange confidence index.
Hence, you can transact safely at an Exchange if it has high Liquidity and the Number of users provided confidence index is also high.
Liquidity refers to the ability of the exchange to conclude your transactions without affecting the price.
Overall it can be said that Bittrex does fairly well in respect of maintaining a high Liquidity and Number of users. As it has over 500,000 users and has a huge volume of transactions.
5. Bittrex Review: User Friendliness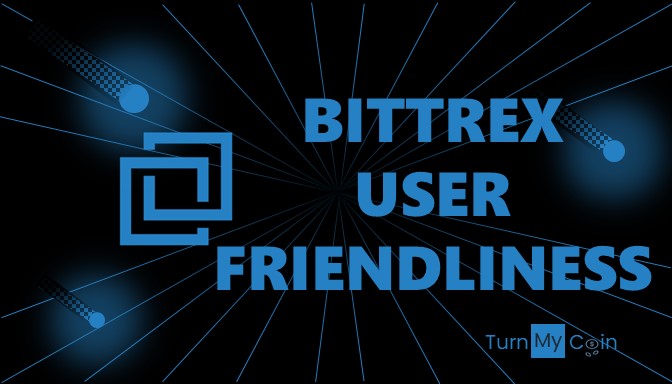 Bittrex has platforms for both PCs and Mobiles. The interfaces are very simple and easy to operate. As mentioned earlier, even a novice investor with basic knowledge can find it very easy to navigate and use.
The US users have to connect their Bank Accounts to the platform before transacting as is required by the US Cryptocurrency laws. Moreover, the process of connecting your traditional bank account with Bittrex is extremely simple.
6. Bittrex Review: Number of Listed Cryptocurrencies & Fiats Supported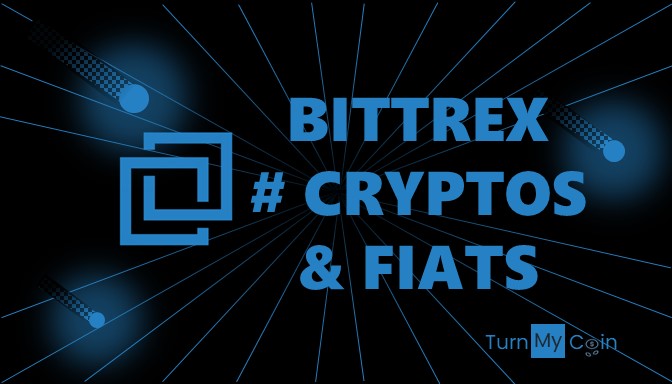 Bittrex support only USD for its transactions in the US version. But the global version also supports transactions through EUR.
Apparently, even in the Global version, there is a scarce choice of Fiat currencies, which is unlike most of its competitors.
Having said that the Fiat currencies are limited in both US and Global versions of Bittrex, even then it is impressive that it has listed a lot of cryptocurrencies.
Bittrex lists new projects frequently. Consequently, it has listed over 430 cryptocurrencies at the time of writing this article. This gives an edge to Bittrex as most of the competitors do not offer that many cryptocurrencies for trading on their platforms.
7. Bittrex Review: Support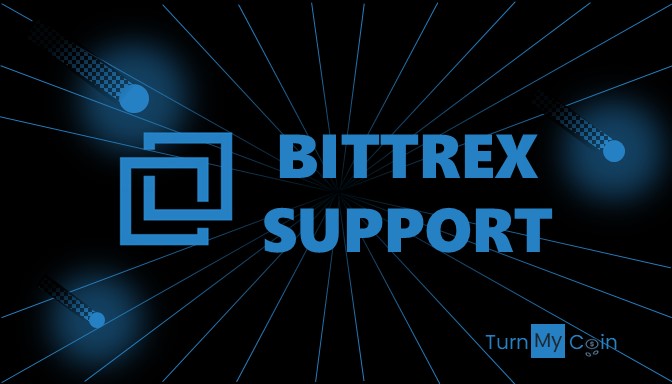 Bittrex uses Zendesk for its customer support implementation. It has both Live Chat and Ticket support systems. Furthermore, it maintains a huge knowledge base of frequently asked questions for its users.
As far as the social presence of the platform is concerned, Bittrex has a highly active Twitter handle and also has a Telegram community for updating its customers.
8. Bittrex Review: Verification Process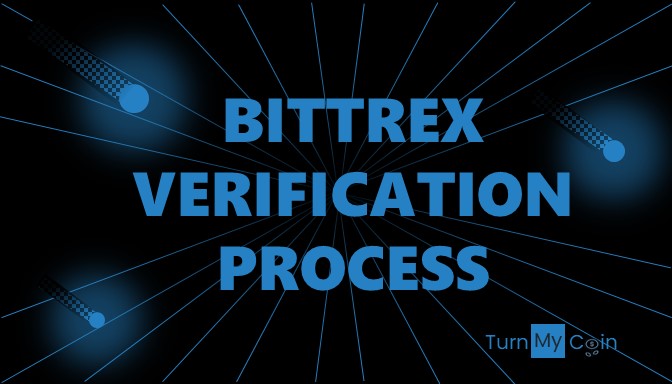 The cryptocurrency domain is highly unregulated. The assets i.e. cryptocurrencies are themselves decentralized. Resulting in practically no control of any governing organisation which can resolve issues. Most Governments across the world have not even legalized it yet. Answers to many questions still lie in the grey area.
In spite of all the complications, people are investing in it. And that is where the Governments have to step in and make certain guidelines through which they can protect the money of investors at large.
Cryptocurrency Exchanges listed in the US are made to follow stringent norms. Bittrex US is one such exchange and verification of user is one such norm.
Bittrex has created a 4 step verification process from creating your account to the final verification. Moreover, it states that the whole process would take around 10 minutes.
First, you have to create your account at Bittrex by visiting the link below:
Select your username, provide your email address, verify and create your account. However, unless you complete your ID verification, Bittrex wouldn't allow you to buy assets.
This is Know Your Customer(KYC) details that most of the Centralized Exchanges require. You can provide your Passport (or any other Government ID depending upon your country). The system finally asks for a selfie that is matched with the ID proof you submitted in the last step.
The Verdict
With advanced security and trading features, Bittrex does impress users. Especially users from the US.
However, it is not amusing to see, that an Exchange this advanced lacks most Fiat currency support. Even in the Global version, the platform provides support for just USD and EUR.
Overall, it is a good exchange for investors from the United States as it takes ample security measures and abides by the law of the land. But the Global version needs improvement to attract global users.