Introduction
Looking to dive into the NFT space?
Have a look at our guide on how to make and sell NFTs to start your own NFT venture.
Today NFTs have become a global phenomenon. From being just a bubble and mere digital copies of art to offering utility, NFTs have come a long way.
NFTs are not limited to just digital creators but also conventional artists and musicians. It has opened a borderless global market for everyone to thrive.
Artists are selling their paintings as NFTs, and musicians and actors are selling their merchandise and music as NFTs. While gamers are hooked on collecting unique in-game NFTs and earning income from them.
The coming of the metaverse gave more meaning to NFTs. Not only metaverse games are popular, investing in real estate NFTs like Land NFT in Decentraland is quite popular these days.
Suggested Reading on Metaverse:>>
Though NFTs are with us since 2014, last year the NFT exploded to become a multi-million-dollar market. Crossing the $40 billion mark in 2021, the NFT market is all set to break all records in the future. According to reports from an investment bank, Jefferies, the NFT market will cross $80 billion by 2025.
Everyone wants to be a part of this alluring rapidly growing market. However, most of us feel that it's too technical to handle.
The most common question is – How to make and sell NFTs?
You can't let technicalities come in way of your profits. NFTs are simple to understand. If you are clear on basic concepts, you can mint NFTs in just a few clicks.
That is why today I have come up with a guide on how to mint an NFT and sell it. Stay with me till the end of this blog to become an NFT expert. And I assure you will.
What is an NFT?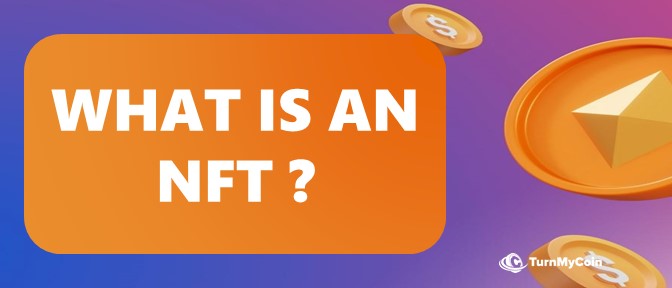 An NFT is a digital token that represents unique and rare assets. The assets could be anything from art prices, music, videos, photos, in-game items, virtual real estate, memes etc.
NFTs are stored on a blockchain network that is compatible with smart contracts. The unique ability of the NFTs to tokenize any physical or digital asset makes it easier to buy and sell. Moreover, it creates a more secure way of handling assets to avoid fraud.
In simple words, NFTs are tokens that give you the ownership right of the asset it represents. It also gives you a certificate of authenticity of the asset. If you own an NFT that represents an art, it certifies that only you are the sole owner of this original art. No one else can own the particular art unless you decide to sell it.
Additionally, being stored on the blockchain network, the NFT records all the crucial data of the asset. You can easily check the history of its ownership and authenticity before buying the asset.
When you are buying an NFT, you are actually buying the right to own that asset. Moreover, you are also getting a certificate that the asset you are buying is original. Everyone loves to own rare pieces and NFT gives people this enjoyment.
You can buy NFT tokens for investment from any of the exchanges listed below:
Similarly, when you are selling an NFT, you are selling the ownership right to someone else. Once you sell it, that person will be the new legal owner of that asset. And yet again this information will be visible on the Blockchain itself.
To know more about NFTs, please refer to my article "Everything you should know about NFTs" here.
You will be surprised to know that every week around 15,000 – 17,000 NFTs are sold. According to market statistics, NFTs worth over $1.87 million are sold every month.
The actual reason for the introduction of NFTs
NFTs have given more power to artists and creators. According to Kevin Mc Coy, the sole purpose of creating NFT was to give artists the credit they deserve. It was to safeguard talented artists from discriminatory rules of the art galleries and auction houses.
With NFTs, artists have authority over their creations. They have the freedom to choose how they want to sell their art, at what price, and to whom. NFTs have liberated the creators and generated multiple income sources.
Non-fungible tokens have brought together creators and art collectors on a global platform. They are the ones in control of the assets they want to buy and sell setting the price and terms of sale.
How to Mint an NFT?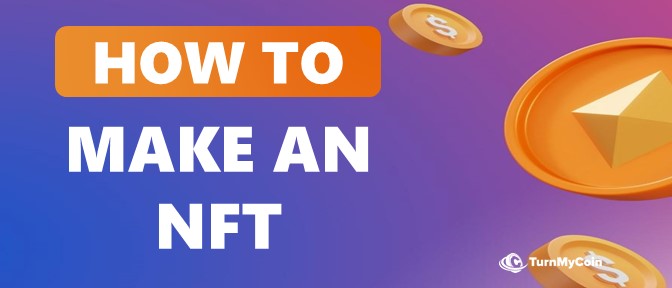 Minting an NFT means creating an NFT from the scratch. In simple words, it means to convert any physical rare art, photo, video, or anything to NFTs.
Some people do not dive into the NFT space as they think it's too technical to understand. However, this is not the truth. You need not be a tech geek to create and sell NFTs.
You just need a clear understanding of what is NFT, its mechanisms, and how to make and sell NFTs. That's all you need to start your NFT venture.
You need not go deep into the coding or consensus or technical concepts to be an NFT artist. There are several NFT marketplaces and tools to help you mint and sell NFTs in a few simple steps.
You will be surprised, but it's similar to uploading products online and listing them for sale. I encourage you to learn the basic concepts to make so that you don't fall into scams or any traps. You should be aware of what you are doing and how the whole NFT system works. Only then you will be able to master it and earn a living out of it.
Let's now have a look at the step-by-step guide on how to mint an NFT from scratch.
1. Pick Your Niche and Item
When it comes to NFTs, the asset that you wish to convert to an NFT must be very rare. It should be niche specific and quite unique in its own way.
So first you should select your niche. Decide whether you want to be specialized in memes, videos, photos, or digital art.
You must have observed the features of top-selling NFTs. They are quite rare and have different attributes that attract buyers.
Picking the right niche and asset is important because it will narrate the story that will lure the buyers. If you specialize in a specific niche, your NFTs will seem different from others and have a unique vibe from others.
The vibe and the personality that your NFT will convey are what will fetch you, high bidding clients.
Take an example that you are exceptionally good at illustrations. Then you can turn your original illustrations into NFT. These illustrations will convey your perspective to the world and will be unique from average regular NFTs.
In the NFT world the more unique an asset is, the more valuable it is. So make sure you come up with unique and original ideas for creating NFTs.
Moreover, pick up only those items whose intellectual property rights you own. You cannot take the famous painting of Picasso and sell it as NFT. It is illegal and fraudulent as you are not the authorized owner of the painting.
You can convert those assets whose ownership you own or are your original creations.
2. Choose the Blockchain Network
All NFTs are built on the blockchain network. This is what makes NFTs a secure and innovative way of trading assets in the decentralized world.
After you have selected your NFT niche you need to choose the blockchain network over which you wish to mint the NFT.
Here there are a few things you must take into account.
Firstly,
The blockchain network you choose will decide the gas fees that you have to pay at the time of minting NFT.
Gas fees are like network charges that you pay to the validators to process your transaction on the network faster.
Gas fees depend on the traffic of the network.
The more the traffic on the blockchain network, the higher the gas fees will be.
Secondly,
You will need to pay in crypto according to the blockchain you choose.
Lastly,
You can list your NFT on only those marketplaces that support your selected blockchain network.
If you have minted NFT on the Polygon network and you want to list it on an NFT marketplace that does not support Polygon. Then you cannot list it on that particular marketplace.
That is why it becomes very important to choose your blockchain network wisely.
Some of the popular and efficient blockchain networks are as follows:
Ethereum
Binance Smart Chain
Polygon Matic
Cardano
Tezos
3. Set up Your Digital Wallet
After selecting your blockchain network, it's time to move on to the next step. Now you need to set up your digital crypto wallet.
As mentioned earlier in the blog, you need to pay the gas fee in crypto, so you will need a crypto wallet too. Moreover, all the buying and selling of NFTs is carried through cryptocurrencies only. Later you can cash out the crypto you received after selling the NFT.
A digital crypto wallet fulfills two things for you.
Firstly you will be able to buy crypto for paying gas fees.
Secondly, it will also safely store the crypto you receive after selling the NFT.
Additionally, the digital wallet will also securely store your valuable NFTs.
You will have to connect your wallet to the NFT marketplace. It will give you access to pay the fees and receive payments from the marketplaces.
Metamask, Trustwallet, Math Wallet, Alpha Wallet, and Coinbase Wallet are some of the most secure digital wallets.
4. Choose an NFT Marketplace
Once you have set up your digital wallet and created an account on the NFT marketplace, you are halfway on the quest for how to make and sell NFTs.
NFT marketplaces are intermediaries that simplify the NFT minting, selling, and buying process for you. Instead of coding the smart contract from scratch, these NFT marketplaces equip you with tools that help you mint and sell NFTs in a few simple steps.
There are several NFT marketplaces online. However, not all are the same. Some NFT marketplace is only for sport NFTs, some are only for NFT art. While some marketplaces cater to all types of NFTs like OpenSea.
Every NFT marketplace is different and attracts different buyer categories. So choose your marketplace wisely.
Here are some of the tips on choosing the best NFT marketplace for you.
Choose the NFT marketplace that is credible, safe, and trusted by the majority.
Always select the marketplace that has a large base of buyers.
Get on the NFT marketplace whose charges are low.
You should go for the marketplace that supports cross-blockchain networks.
Your selected NFT marketplace should be well equipped with advanced tools, features, and technologies for your benefit.
5. How to Mint an NFT – A Step-by-Step Process
Once you have selected the NFT marketplace, it's now time to create your collection and mint your first NFT.
Follow the step-by-step process to understand how to mint an NFT as a beginner.
Create an account on the NFT marketplace. Here we are assuming OpenSea.
Sign up using a valid email id, fill in all the required details and complete your profile.
You cannot mint NFTs on the OpenSea app. So always go for the browser version.
Then connect your digital wallet to your OpenSea account.
To do so, log in to your OpenSea account.
Then click on the wallet icon
Next from the options select Metamask wallet. (You can choose the digital wallet you have. I have opted for Metamask.)
The browser will automatically take you to the Metamask website and request you to log in to the wallet.
After logging in, it will ask for your signature request.
As soon as you confirm the signature request, your wallet will be connected to your OpenSea account.
Now again to your OpenSea account.
Click on My Collections.
Then click on create a collection
Add name, cover photo, and description to your collection.
Then upload the assets that you wish to convert to NFT.
Then set your royalty percentage and supply.
Now select your blockchain network.
Simply click on Create to mint your NFT.
After deducting the gas fees from your wallet, the NFT will be successfully minted.
You will receive a notification and email as soon as your NFT is minted.
You can see all your created NFTs in your My Collections section on your OpenSea account.
Note: You must ensure that your digital wallet has an adequate amount of crypto to pay the gas fees.
After minting your NFT, it's now time to list it for sale.
How to Sell NFTs?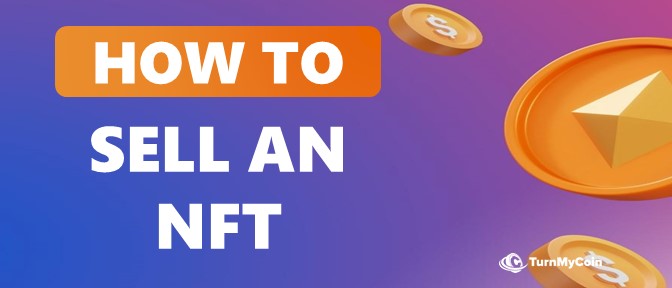 In the case of NFTs, it is you who decides the price of an NFT. As a creator, you have the freedom to sell your NFT at the price you desire. You might even get high-bidding clients that might exceed your desired price.
However, you must understand that not every NFT is sold for millions. Still, you can earn hundreds of dollars for a rare NFT. The price of an NFT depends on its rarity, uniqueness, and attributes.
Nowadays NFTs also offer special utilities to their buyers. You can choose to give discounts, early access to your next NFT collection, and other benefits to the buyers of your NFT. These days buyers are attracted to NFTs that are not only showpieces but also have some utility.
We will look at how to price your NFTs better later in this guide. For now, let us have a look at how to sell NFTs.
After you have successfully minted your NFT on OpenSea, you can now list it for sale.
Go to the NFT collection you want to sell.
You will find all your NFTs in the My Collection section.
Open the collection you wish to sell.
On the top right side, you will find the Sell option.
Click on the Sell button
A new page with a list of information will open.
You should fill in all the information that is asked.
Set the quantity you wish to sell.
Enter the price of each NFT.
Also, set the duration for which the NFT will be on sale.
Then click on Complete Listing.
It will automatically open your Metamask wallet.
Now you need to sign your NFT with your wallet address.
Once you sign the NFT it will finally list your NFT on the marketplace for sale.
How to Sell NFTs at the Best Price?
There are a few things you need to understand before getting set on how to sell NFTs. These points will ensure you earn the profit your NFT deserves.
What scares you the most as an artist is appropriately pricing your NFT art. It's reasonable to be perplexed and intimidated, as the price is the most essential factor for your art and you as an artist.
So, how do you price your NFTs correctly? What are the aspects on which you should concentrate your efforts?
Let's take a closer look at how to sell NFTs so that their genuine value isn't lost.
1. Wait Patiently
It takes time for good things to happen.
If your NFT sells within 1-2 days of being listed, it's a miracle. Only the most well-known and well-known branded collections sell out shortly after they are listed. It takes time for most NFTs to attract potential buyers and offers.
We appreciate that generating your NFTs took a lot of effort, hard work, and time. However, this does not imply that it will be sold. You aren't the only one who works with NFT. Thousands of brilliant and skillful creators can be found all over the world. Like you, they're all struggling to make and sell their NFT at the greatest possible prices.
It doesn't mean your NFT isn't good or that you aren't a great artist if it doesn't attract any bids. It simply means that you must assess the optimal pricing range for your NFT painting and have patience.
2. Conduct Thorough Research
Intuitions are a kaleidoscope of feelings.
When it comes to pricing your NFT work, never rely on your gut. Before deciding on a price, you should conduct a thorough investigation.
Exploring alternative marketplaces, their features, marketing breadth, and NFT floor prices is always a good idea. It will show you how to make use of the features to your advantage.
Furthermore, you will gain a better understanding of which marketplace is best for your NFT art collection. To minimize extra deductions, look for hidden platform fees, charges, blockchain support, and other aspects.
You'll wind up paying significant gas fees if a platform only supports the Ethereum network. Platforms interoperable with other blockchains such as Polygon, Solana, Cardano, and others with lower gas fees should be considered.
Don't be swayed by high-volume NFT collections. Always keep an eye on and analyze your competitors. Explore the collections of medium-level NFT artists, pages, and accounts. Examine their work for rarity, scarcity, and other distinguishing characteristics, as well as pricing.
All of them will offer you an indication of how these well-known artists price their NFT works.
Additionally, learn about their following, buyers, and marketing strategy. It will provide you with a good notion of your target audience's likes and interests, as well as how to approach them.
4. Offer Value
Today, the most desired aspect of NFTs is their usability. It provides the buyer with additional value and something to anticipate. NFT collectors are excited to have not only the artwork but also additional perks.
As a bonus, consider adding cool features. An actual print, a discount on your next piece, or even early access to your future release are some options. Consider and devise novel ways to make the collector's experience meaningful and to show your gratitude for their trust in you.
5. Raise Your Floor Regularly
If you're a new artist, don't set your pricing too high at first. Begin with a lower or average price range and progressively raise your pricing as market demand and buyer interest in your collection increase.
Even if you're a well-known creator, don't overprice your NFTs. If you overprice your NFT, you risk scaring away potential purchasers. Giving your customers a small discount is never a bad idea.
The majority of NFT purchasers do so as an investment. They wish to buy NFT at a cheaper price and sell it at a higher price to profit. You can retain the copyright and specify the royalty % to profit from secondary sales of your NFT as an artist.
6. Utilize the NFT Marketplace to its Full Potential
You will benefit from the platform's distinctive features depending on whatever NFT platform you use.
OpenSea, for example, has an enterprise-friendly platform with cutting-edge technology, NFT utilities, APIs, fiat support, cross-chain support, and automated NFT infrastructure.
You must ensure that you get the most out of the features of the platform you're using.
7. Market Your NFTs Effectively
Use Twitter, Discord channels, Telegram, Instagram, Facebook, and other social media platforms to inform the community about your recently published and planned NFTs.
Marketing in the appropriate manner will raise the value of your NFTs and create a buzz among the buyers.
Conclusion
NFTs are the next big invention of blockchain technology that will power the decentralized economy. Being a part of such futuristic technologies is attractive, exciting as well as profitable.
The detailed guide on how to make and sell NFTs will clear all your doubts. It is will simplify the NFT ecosystem and help you to start your NFT collections.
Everything comes with experience and skill. If you have a creative mind you can mint unique NFTs and end up becoming the next famous NFT artist.