Introduction
Changpeng Zhao, also known as "CZ" started Binance in the year 2017. He could have never imagined that one-day Binance would become the World's Largest Cryptocurrency Exchange. The Exchange initially had a lot of trouble with the US Lawmakers. When it finally launched a separate version for the US, "Binance US". It still maintains a separate version for other International users though.
In this article, I will review Binance Exchange. We will discuss all about Binance including a hot question on if Binance is safe enough to invest? Meanwhile, if you want to explore, you can register at Binance here>
Binance is a Centralized Cryptocurrency Exchange and has its Headquarters in Cayman Islands; Mahé, Seychelles. Initially, its headquarters were located in China. In 2019, in order to expand its base in India, Binance acquired WazirX. If you are an Indian user, you can register for WazirX here
As mentioned earlier that Binance is a Centralized Exchange. In simple words, Centralized Exchanges means that the control, decision making and operations of the Exchange is Centralized. This assumes, the above functions are in the hands of a third party (enterprise or an association).
This is in contradiction to the concept of decentralization on which Cryptocurrencies are based. To read more about the differences between a Centralized & Decentralized Exchange, please read this article. Centralized Exchanges Vs Decentralized Exchanges.
In order to keep this article simple, I have divided it into various parts or parameters as listed below:
Binance Review: Parameters
Fees
Security
Trading Options
Products Offered
Number of Users & Liquidity
User Friendliness
Number of Listed Cryptocurrencies
Support
Let's now dive into each of them individually now.
1. Binance Review: Fees
When you trade i.e. buy, sell or exchange your cryptocurrency on any centralized exchange, you pay a fee. Each centralized cryptocurrency exchange like Binance spends a lot of funds in developing, innovating and maintaining their platforms. Hence, this fee is the compensation to the exchange for letting you use their platform.
Most exchanges charge a small amount of fee. But when the quantum of transactions increases the total fee amount becomes significant.
Binance charges fees that range from 0.1% to 0.02%(for higher trading volume). These are spot trade fees. Since Binance allows different types of trades like Spot, Margin, Futures, P2P the fees for each set varies. We will discuss them shortly.
Binance has an organized structure of charging Fees and has categorized it based upon the 30-Day Trading volume of each individual investor. With VIP0 being for the traders with the least trading volume. VIP9 is the highest tier. Below is the list of all the spot fees at different levels.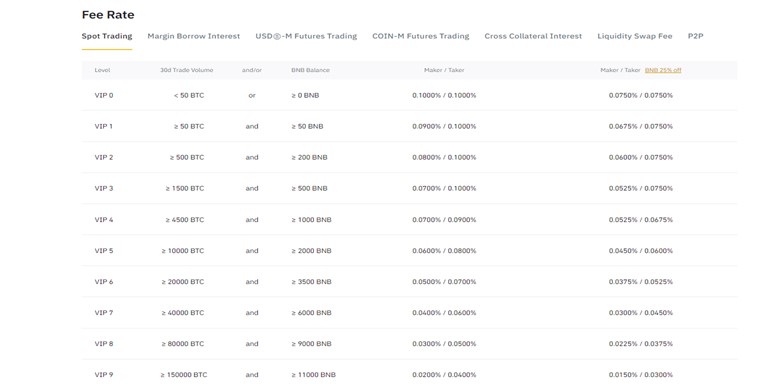 The Margin borrowing interest charged by Binance is attached here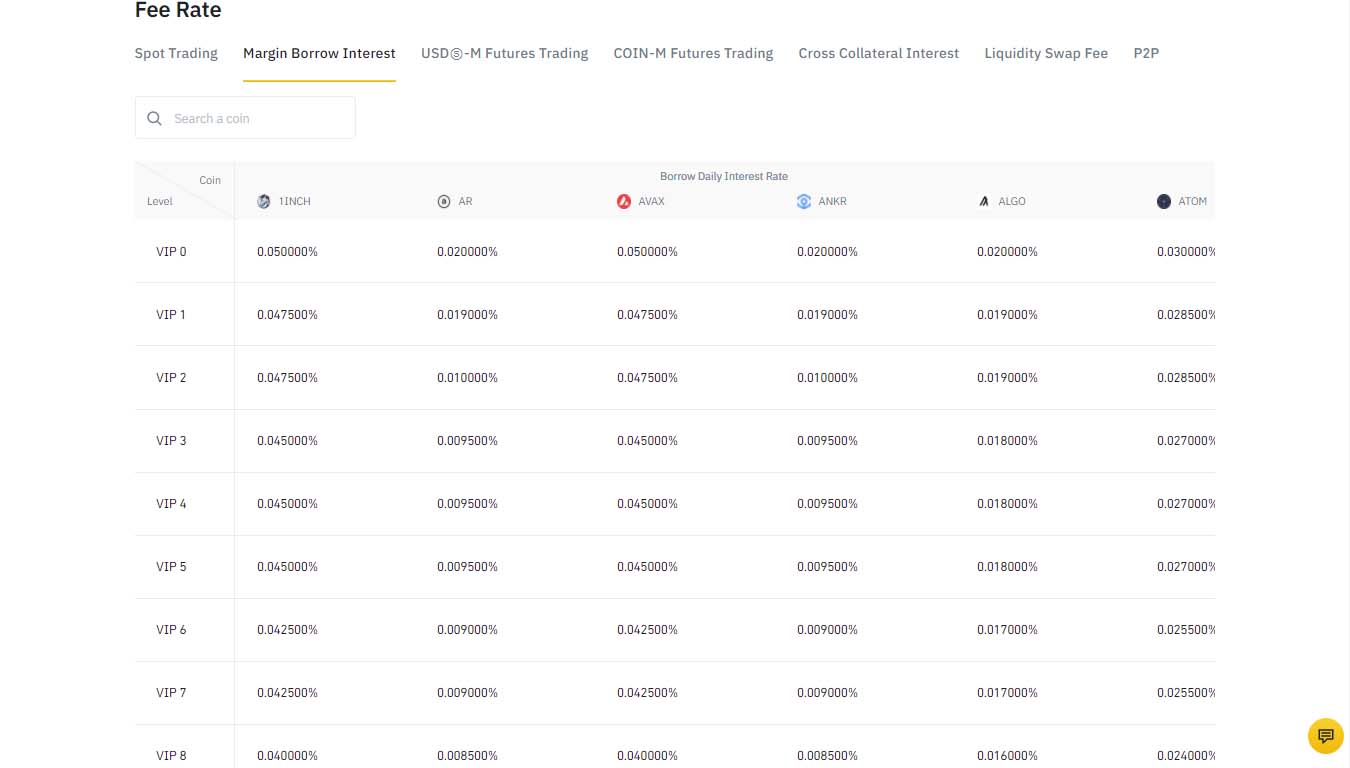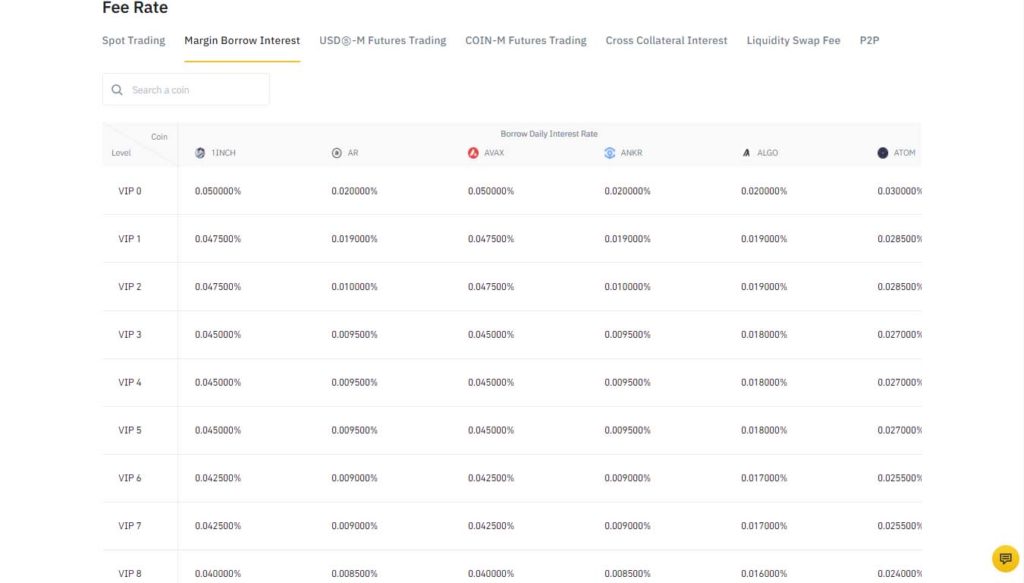 Likewise, Binance future trade fees are attached in the snapshot below: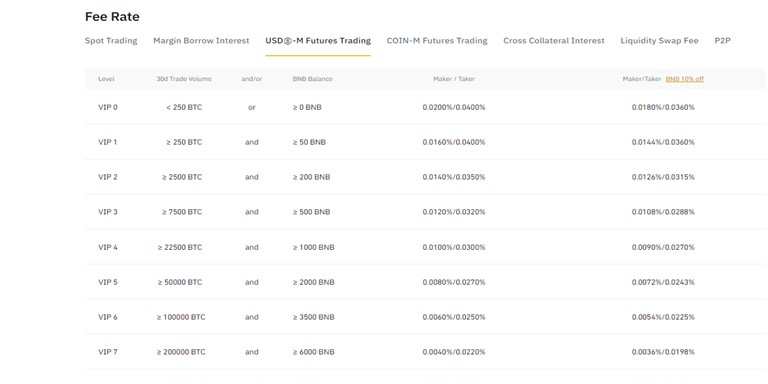 Please Note: Binance gives a 25% fees discount if you transact through its native currency Binance Coin(BNB).
Contrastingly, Binance does not charge any fee for Peer to Peer (P2P) trading.
2. Binance Review: Security
Security is the utmost concern for any cryptocurrency investor. There have been many instances of hacking as Centralized exchanges, in general, are vulnerable.
This vulnerability is due to the fact that the private keys of cryptocurrencies lie with Centralized Exchanges and not with the investors. In simple words, whenever you transact on a Centralized Exchange, you transact with the pool on the Exchange and not the actual cryptocurrency. The ownership of the cryptocurrency is with the Centralized Exchange(CEX). The CEX displays you as the owner for record-keeping and trading sake.
This is the case with all the Centralized Exchanges including Binance. However, in the case of Decentralized Exchanges, the private keys remain with the investors in their own wallets.
Historically, even Binance has not been an exception to hacking. But thanks to the gigantic financial standing of the exchange, it was able to bail out the investor's loss. Even when Binance got hacked thereby losing funds worth 7000 BTC in 2019 the investors were reimbursed and did not suffer any loss.
Binance now keeps most of the Cryptocurrency in Cold Storage instead of Hot Storage. Cold storage is safer than Hot storage as it is not connected to the internet.
2 – Factor Authentication
Recommendation: You can use 2 Factor Authentication (2FA) if you transact at a Centralized Exchange including Binance. A 2-FA gives an additional layer of security to your funds. Let's understand how!
Whenever there is a login or transaction request from your account, the Binance platform asks for an additional code sent on your mobile(SMS), email or Google/ Binance Authenticator.
Accordingly, please configure the 2-FA with your mobile or Email or Google/ Binance Authenticator beforehand to use this feature.
Interestingly, Binance also supports hardware 2FA keys like YubiKey as well. You have to physically connect Yubikey to your device before any transaction can take place from your account. You can take a look at the YubiKey and its features here.
3. Binance Review: Trading Options
Binance Spot Trading
It offers various types of spot trading like Market, Stop Limit while keeping the interface simple. However, as an advanced investor, you may need a few more tools like Trailing trade, Ladder limit etc which are not offered by Binance for the time being. Having said that, as a new investor, you may not require more than what Binance presently offers.
Binance Margin Trading
Margin trading enables investors to leverage their trade by borrowing funds. For example, if you have $100 and you want to enter a trade. Then Binance can lend money to you for a small commission and leverage these $100. Let's say you, select leverage of 3x then with Binance's funds now you can enter into a trade valued at $100×3 i.e. $300.
This triples any profit that you make on the trade. However, if you lose then Binance's algorithm automatically squares the transaction so you don't suffer losses over and above your initial fund (less borrowing commission). Binance allows both cross and isolated margin trading.
Binance Options Trading
Options trading gives investors a choice to buy or sell a crypto asset at the pre-agreed price. There is no obligation to buy or sell as the case may be. However, in either case, the investor has to pay a fee to Binance for entering into the arrangement.
Binance Futures Trading
Binance Future Trading allows you to buy or sell a crypto asset at a future price. Irrespective of the present price, the buyer and seller enter into a mutual agreement to buy/sell the asset at an agreed price.
4. Binance Review: Products Offered
An important reason for the phenomenal success of Binance is its innovative range of products. Just to clarify these products are separate from the trading options I mentioned earlier.
Binance gives lots of options to its investors to make a profit. You can locate it on their website in the "Earn" tab. Popular products that Binance offers are:
Staking
Investors can pool their cryptocurrency in Binance's Staking pool. This can assure better returns to investors compared to solo staking. Since the higher the amount of cryptocurrency staked, the higher are the chances of returns. It is always advisable to use a Staking Pool.
Presently Binance offers 80 products for locked staking and 11 for DeFi staking. To understand more about staking and rewards associated with it. Please read this article.
Liquidity Mining
Often used irreplaceably with Liquidity Farming, Investors can earn interest or rewards by adding liquidity to the Liquidity pools with Binance. Like staking, Binance has a huge liquidity pool for various crypto assets. More about Liquidity Farming here.
Mining Pool
Binance also offers Cryptocurrency Mining pools for investors who want to lend their hash rates to mine cryptocurrencies.
BNB Vault
BNB is a yield aggregator. Investors can participate in Launchpool, Savings, Defi staking and other projects using BNB to earn rewards.
Dual Investment Plan
Dual Investment as the name suggests involves two currencies. You have to deposit currency by subscribing to the plan and get returns in either currency.
Auto Invest
With the Auto invest plan, you can earn passive income on a recurring basis. You just need to pick the cryptocurrency you want to invest in and schedule the plan. You can redeem the cryptocurrency at your will.
Apart from the above Binance also has its own:
Launchpad
Binance operates its native Launchpad. Binance Launchpad and Launchpool are platforms that provide advice to teams with new projects. It looks after the pre-launch, listing and even marketing of the projects. So the project team can focus just on the project development and implementation.
NFT Marketplace
The Binance NFT marketplace is one of the most successful NFT marketplaces around. Binance hosts a huge collection of NFTs including Gaming NFTs which are hot selling NFTs. You can also host your NFTs by creating an account with Binance here
5. Binance Review: Number of Users & Liquidity
Binance is a massive exchange in terms of the number of users & Liquidity. The question that hovers over the mind is, but why are these two so important? Let's see!
An exchange's Liquidity is its ability to quickly allow the sale, purchase or swap of your cryptocurrency without affecting its price. For example, you want to buy say DogeCoin at Binance and you place a huge order. (We are assuming you want to transact at the current or prevailing price).
Once you place the buy order, you would expect that the system quickly completes the transactions before the prices fluctuate. If the liquidity of the exchange is low then it may take a lot of time to complete the transaction.
Further, if the liquidity is low there are good chances that your order would not fully process as the prices would increase.
Similar is the case with the Number of users on the exchange. You need a good number of buyers and sellers for trading to properly take place.
Binance users are really lucky in this respect. Because it is trading volume-wise the largest exchange in the world.
6. Binance Review: User Friendliness
Binance is a very user-friendly platform. It has a simple and seamless design of its Website and Application. It targets advanced users with its 'Pro Version' and new users with its 'Lite Version'.
The lite version allows users to quickly buy and sell their cryptoassets without much hassle. It is fairly simple to use even if you do not have any prior investing experience. Once you understand the basics of investing through the Lite version you can toggle to the Pro version with a click. As shown below.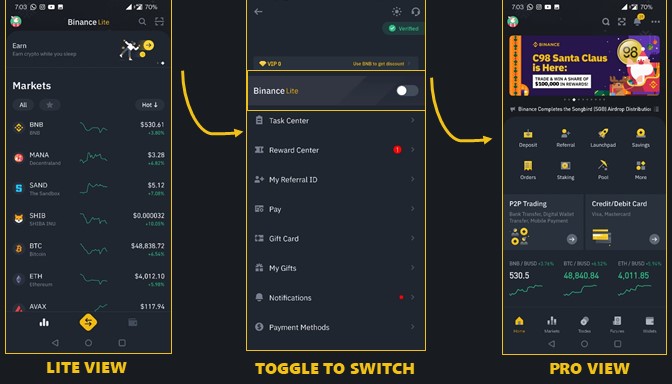 Further, it gives you enough flexibility to switch back to the Lite version at any time.
The website, however, has only one version but it's pretty easy to understand and walkthrough.
7. Binance Review: Number of listed Cryptocurrencies
The good thing about Binance is that it is a very innovative platform. It doesn't only innovate its own features but also lists innovative projects. You can expect Binance to list new and innovative cryptocurrencies on its platform every now and then.
Binance has launched its own coin called the Binance Coin (BNB) which initially used Ethereum Blockchain. And later shifted to its native Binance Smart Chain. There are a number of cryptocurrencies that now use the Binance Smart Chain.
It has listed over 400 coins and supports 46 Fiat currencies. This figure is staggering as there are few centralized exchanges that have listed more cryptocurrencies than Binance.
Further, Binance has assured that people from a large number of countries can buy cryptocurrencies using their native/fiat currency.
8. Binance Review: Support
In my opinion, this is one area where Binance needs to work on. Although it has Live Chat support and the Knowledge base looks user friendly and appealing still the support lacks the kind of resolution that would be expected from a Numero Uno exchange.
I have seen my queries remaining answered for days all together so can't vouch for it being good at least at this time.
Having said that, the knowledge base on the platform is easy to understand and cruise through for your answers. Further, Binance also has its academy (Binance Academy) to educate people about its features.
Binance is quite active on Twitter. It shares useful insights, tutorials and guides on its YouTube channel for its users.
Binance Review: Is Binance Safe?
I can answer this question in absolute and relative terms. Let me address the prior one first.
Binance is a very safe exchange considering the fact that it has a highly sophisticated security system at its servers end. To make sure that the system remains secure at the users' end, it has introduced 2-Factor Authentication which investors should use.
As discussed it has also allowed 2FA through hardware devices like Yubikey.
Most of the crypto assets (over 98%) are stored in cold storage, which will remain unharmed even with online attacks on its system.
I have noticed that Binance logs its users out after every few days. The user needs to log in again with 2FA. This I believe is another way to confirm user identity.
Overall if we talk about the security of a Centralized Exchange, I firmly believe, Binance is a safe exchange.
And now to the relative part. When we compare Binance to any of the Decentralized Exchanges like Uniswap. I would have to write that it is less secure. If you can swipe up quickly and note that Binance stores 98% of its assets in cold storage. This in turn means that the remaining around 2% of its assets are still in hot storage and at risk.
Decentralized exchanges(DEXs) normally do not have a great user interface or high liquidity. If you can accept it go for DEXs.
The Bottom Line
As spoken in the paragraphs supra, Binance is loaded with features. It has tried to entice every type of investor whether novice or amateur, whether small or large. And it has succeeded pretty well in its endeavour. The statistics speak for themselves. And they speak in Binance's favour.
It is apparent from the above that Binance is a very safe exchange. There is some bit that Binance needs to focus on especially its customer care.
It does not offer advanced trading features that professional traders need for the time being. However, as far as the novice investors are concerned. Binance provides more than enough.
With its huge staking, liquidity and mining pools, novice investors can earn passive income with just a click of a button.
If you can take proper precautions to take care of funds at your end like 2-Factor Authentication, activating firewalls, antivirus, not sharing your devices with others. It is pretty clear that Binance would be all that you would need for your cryptocurrency investing & trading.
Frequently Asked Questions
How to register at Binance?
Binance has a fairly simple process to register. Click on this link to register at the website.
Step 1: After you click on the link, you will get a screen as shown below. You can either register with your Email address(preferable) or Mobile number. Keep in mind that in either case, you will receive an OTP to complete the creation of the account. We will be using the Email address in this walkthrough.
Step 2: Click on the "Create Account" once you have entered your details.
Step 3: The platform will display a swipe puzzle screen. You have to swipe the puzzle to its position for the system to move forward with the registration.
Step 4: Once done, check your email address for an email from Binance for your 6 digit confirmation code. You can normally expect it within 10 minutes. Make sure you also check your spam mail.
Step 5: Next, paste this Verification Code in the box. The platform will automatically move forward after successful verification. Your email/mobile is now registered with Binance. Next is the verification process.
Step 6: Click on the "Verify" button to verify your details. It s basically the KYC that Binance is required to take from its investors. You have to complete the Verification process to transact at Binance. We shall see it in the next FAQ below.
What is the Verification Process at Binance?
Each Centralized Exchange like Binance has to take customer details. These are called Know Your Customer (KYC) details. Depending upon the country you are located in, the documents required can be different.
Taking forward from the registration process above in Step 6. Once, you click on the "Verify" button you will be directed to a Personal Verification screen.
You have to select your Region/Country and Binance will display the details it requires from you.
For most countries, Your personal information, Passport or Government issued ID is enough. You have to provide your facial recognition for further security.
Click on the "Start Now" button, as shown in the image below once you have collected all the documents.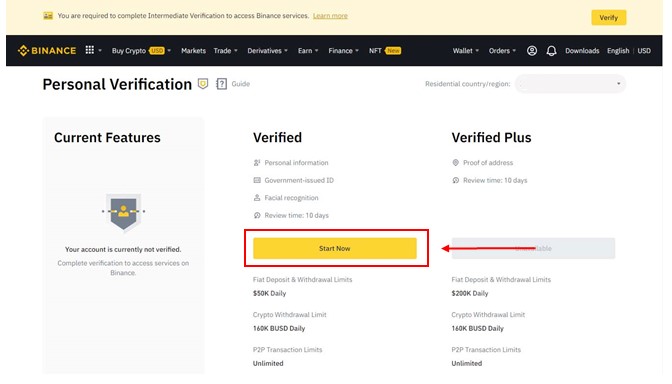 For beginners, a normal verification process (mentioned above) is enough. However, if you want to increase your daily deposit and withdrawal limits, you can start with "Verified Plus" verification.