Introduction
Paxful was founded by Ray Youssef & Artur Schaback back in 2015. It has its headquarters in New York, with offices in Estonia, the UK, the Philippines, Dubai, and St. Petersburg. It has over 400 employees serving over 6 million users.
It is one of the longest standing Peer to Peer exchanges in the world.
There are interesting questions that people normally ask about Paxful. Like:
Is Paxful legit?
Paxful a scam?
Can investing with Paxful be safe? Should you invest your money with it?
After noticing a plethora of questions on Paxful I decided to post a Paxful review. I have categorized the review of Paxful on the following parameters. These are summarised below:
Summary of Paxful Review Parameters
Fee structure
Platform Security
Number of Listed Cryptocurrencies & Payment Options
User Friendliness
Customer Support
User Verification Process
I will discuss each one of these in detail as we progress through the article. You can sign up at Paxful here >>
So, without delaying any further, let's start with the Paxful review!
1. Fee structure
In Paxful, the fee structure can be divided into different categories:
Trading Cryptocurrency (Based upon Payment Group)
Sending and Receiving
Converting Cryptocurrency
Just to clarify, these fees are not charged simultaneously but are based upon the type of transactions you undertake.
Let's dive a little deep here.
Fee-based on payment group
Paxful charges you based on what type of payment group you opt for trading. Also, the fee is only charged on selling only! There is no charge for buying cryptocurrency on Paxful. For selling, there are different categories:
Bank transfer (0.5% of the total value).
Transfer to some other bank (1% of the total value).
Credit/Debit card (1% of the total value).
Digital currency (1% of the total value).
Online wallet (1% of the total value).
Cash (1% of the total value).
Good & services (1% of the total value)
Gift cards (5% for Google Play and iTunes gift cards, 3 % of other gift cards)
Here is a snapshot of the Paxful's fees under this category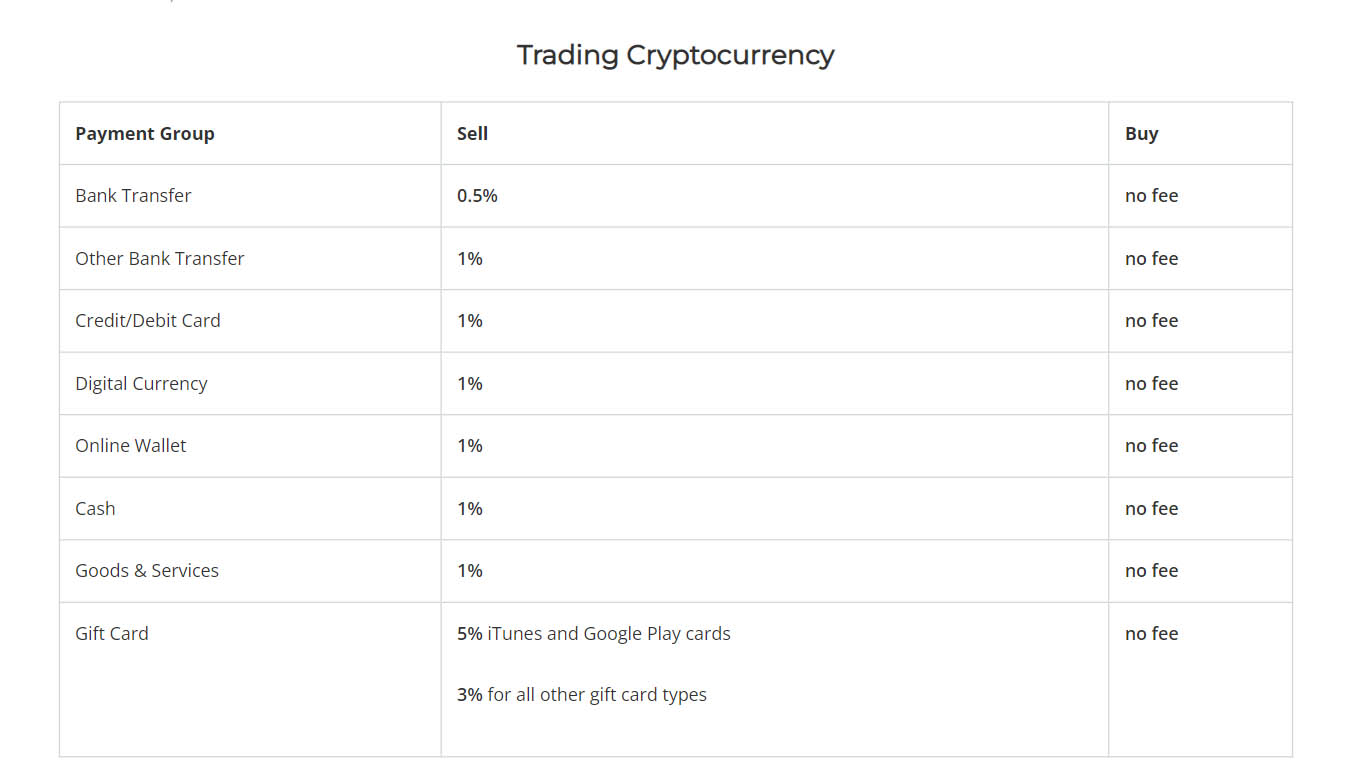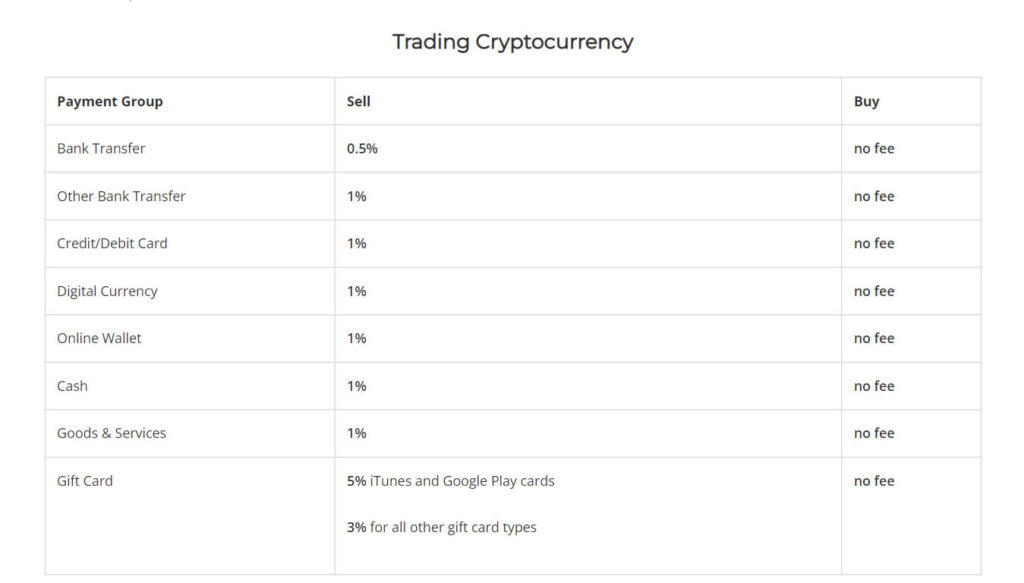 Sending and Receiving Fees
The next category of fees charged by Paxful is for sending/receiving cryptocurrencies. Just like, there is no fee on buying cryptocurrencies at Paxful similarly, there is no fee on receiving cryptocurrencies at Paxful.
Paxful supports buying/selling of only three cryptocurrencies i.e. Bitcoin, Tether, and Ethereum. But, there is a further bifurcation based on whether you use an external wallet or an internal wallet and the type of currency as provided by Paxful. Complicated? Let me break it down. Here's the complete fee structure for the cryptocurrencies:
Buying/Selling BITCOIN
Internal Wallet
While using the internal wallet there is no fee for receiving Bitcoin. However, for sending bitcoins, there is a limit of $1000 worth of BTC, which is free! Once you cross the limit of $1,000 BTC, then you have to pay a $1 or 1% fee whichever is higher.
External Wallet
Coming to external wallet transactions, the fee varies from platform to platform.
Bitcoin fee while using an external wallet:


Buying/Selling TETHER
Tether fee while using an external wallet: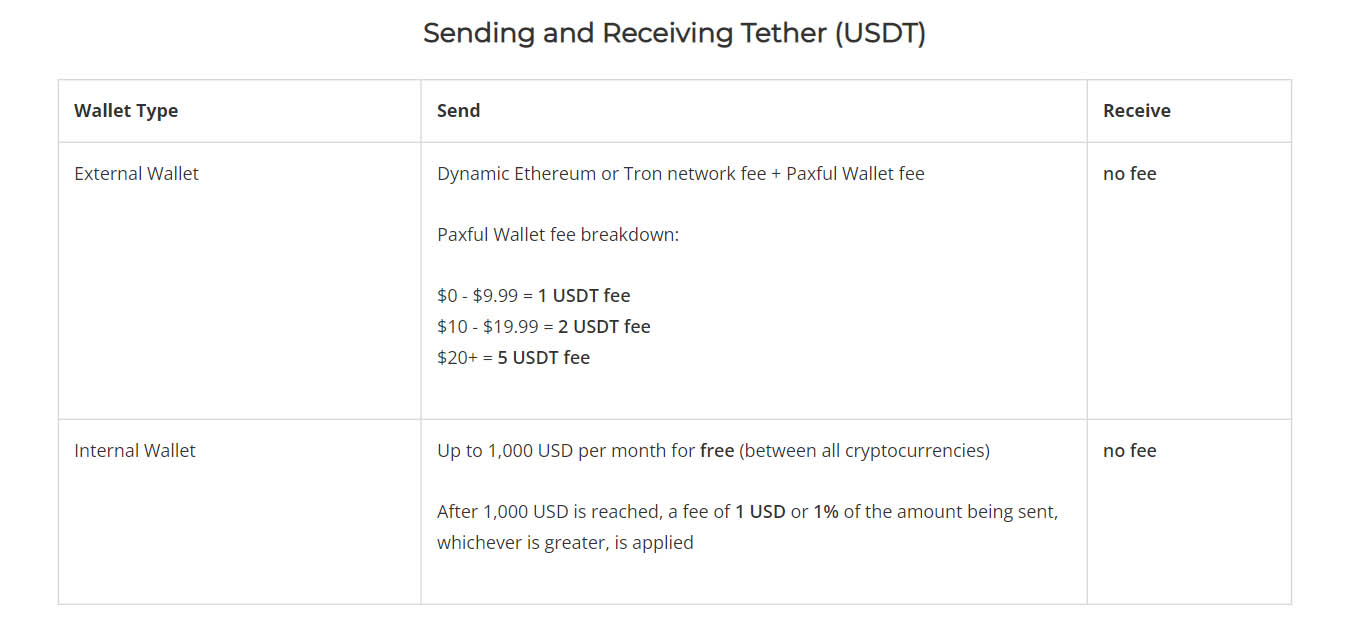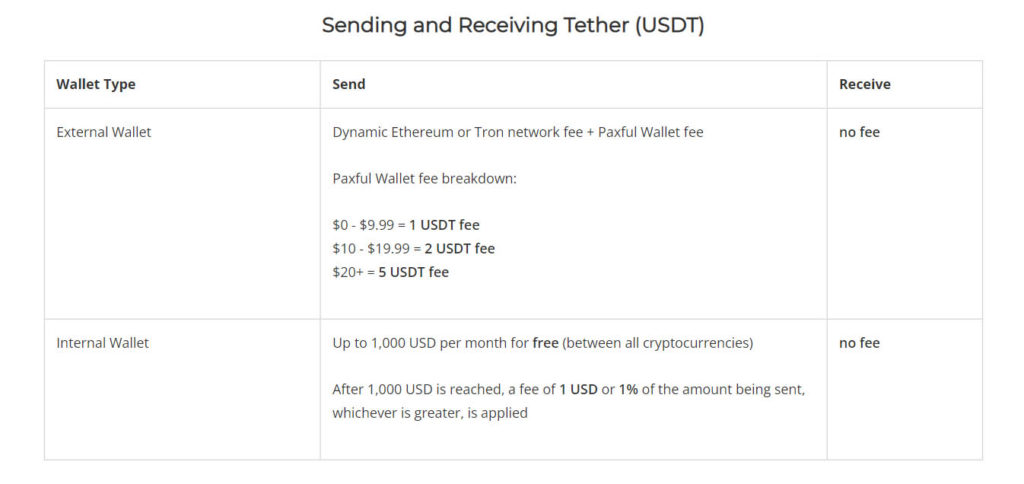 Buying/Selling ETHEREUM
Ethereum fee while using an external wallet: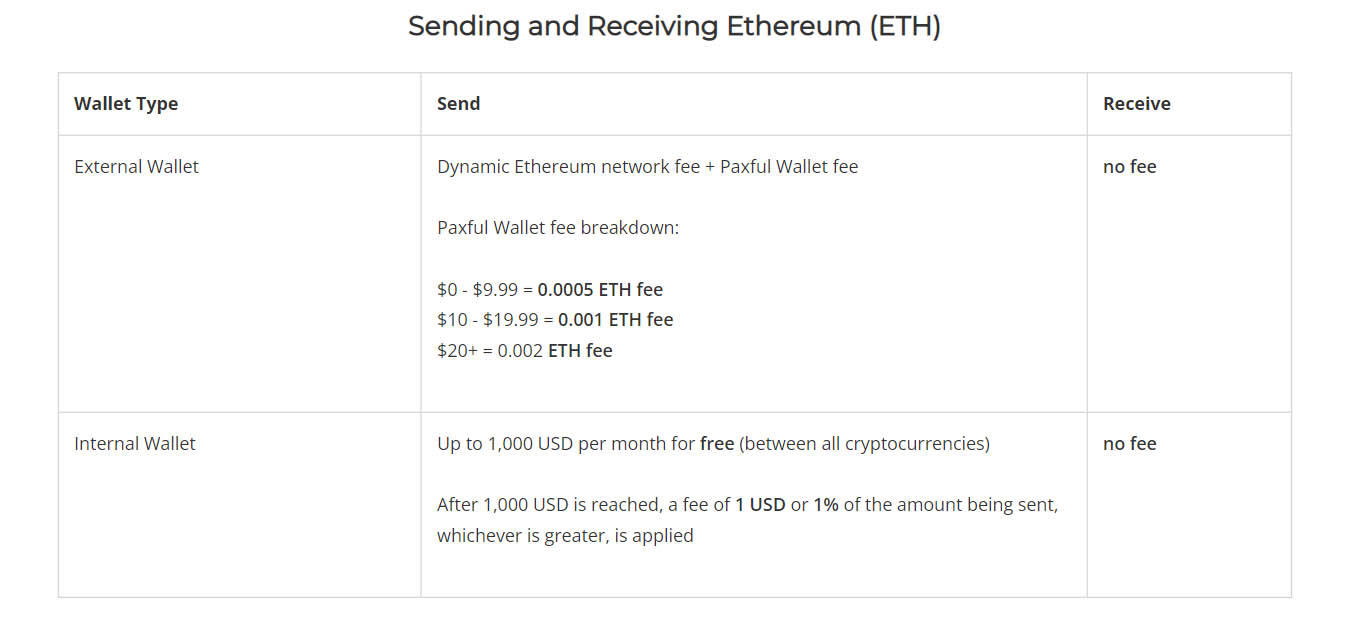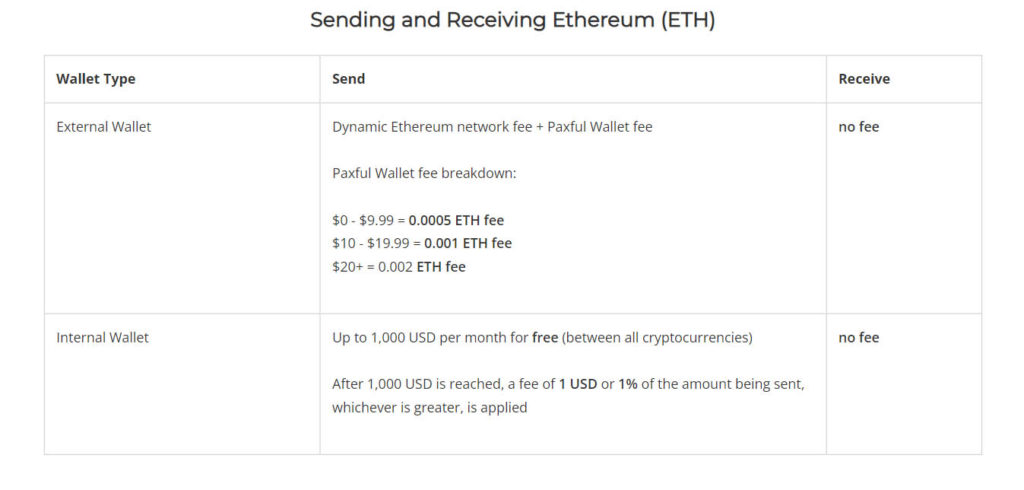 Converting Cryptocurrency
Apart from this, if you want to convert your cryptocurrency, then there is a fee of 0.5%.>>
Also, when you buy cryptocurrency on Paxful, then you are liable to pay the price set by customers themselves. Although the price variation might differ based on the payment method, currency pair, verification status, and order size.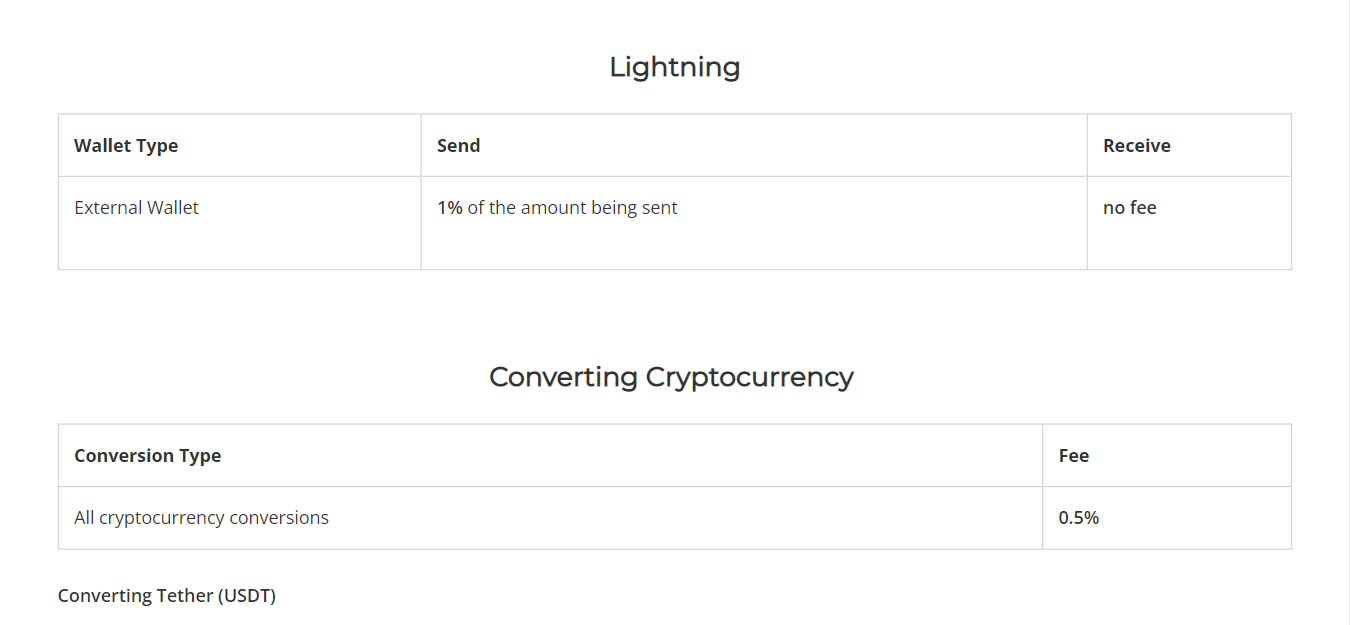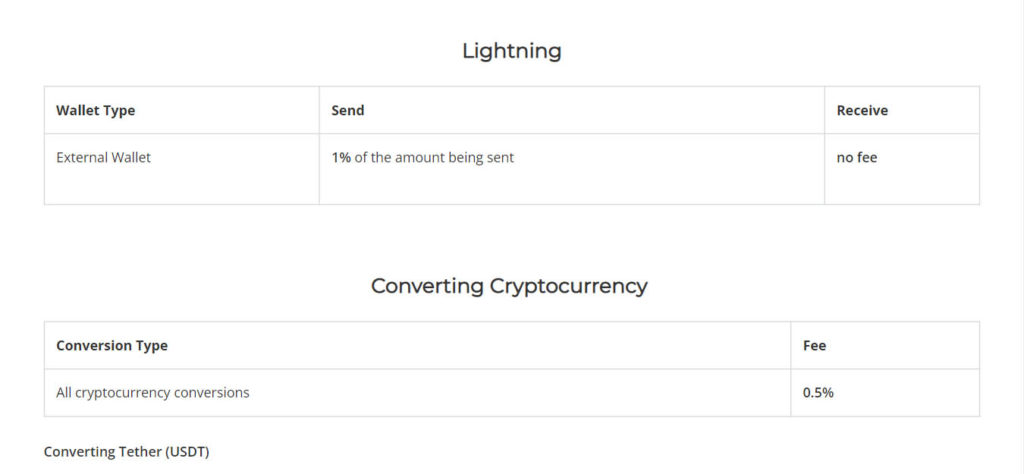 Use of Escrow Account
Paxful aims to ensure fair trade practices. Accordingly, Paxful uses escrow to ensure that the trade goes well. When trade becomes successful, then Paxful receives the escrow fee.
In case the trade does not go through, then the cryptocurrency is released from escrow back to the cryptocurrency seller.
2. Platform Security
Paxful is consistently changing and improving to provide the best security features to all investors. The platform encourages all its investors to place two-factor authentication (2-FA) & utilize the security deposit program.
Paxful provides its digital wallet for storing & trading any cryptocurrency. However, it does not hold the custody of any digital assets.
It functions like eBay where there are a number of buyers and sellers who can freely transact amongst each other. You can consider it as a cryptocurrency marketplace (I also like calling it a pseudo-exchange, just for fun!)
So, all digital assets are stored on their respective networks or blockchains. And the respective owners hold their Private Keys.
In a nutshell, it is very safe compared to most centralized exchanges that keep your Private Key with themselves. And as expected the chances of you losing your asset even if the exchange is hacked are drastically reduced.
Bug Bounty Program
Paxful's seriousness about its platform's security is evident from its Bug Bounty Program. The program allows people like you and me to earn rewards by identifying & reporting security and technical issues.
Therefore, if you happen to check a Paxful & found error then make sure that you report it and earn some reward 😉
Paxful security deposit program
As far as the Peer to Peer confirmation of prices and adhering to it is concerned. Paxful has a Security Deposit Program.
Security deposits allow all Paxful sellers to commit to selling offers; This reduces cancellations & builds a safer trading environment for all traders.
Although the amount for security deposit might change based on the country-wide rules & laws. The minimum amount for BTC is as low as 0.005 BTC. Due to this the processing time of each transaction is 7 days.
Paxful also holds the right to refuse the processing of any transaction that may look suspicious or violate any countrywide laws.
3. Number of Cryptocurrencies & Payment options (Fiats) supported
Paxful is one platform that is specifically designed to exchange cryptocurrencies directly amongst investors.
The platform only supports 3 cryptocurrencies for buying and selling:
Bitcoin
Ethereum
Tether (USDT)
I know you are surprised by the number of Cryptocurrencies it supports. With many crypto exchanges offering multiple investment options & support for more than 100+ cryptocurrencies; The limited trading options in Paxful is certainly a concern.
Having said that, Paxful offers over 455 payment options (like Bank Transfers, Gift Cards, Credit Cards, Debit Cards etc) to buy or sell your currencies.


Moreover, it can be used by investors from 190 countries.
4. User Friendliness
Buying and selling cryptocurrencies on Paxful is very easy. Paxful particularly targets novice investors and has developed the platform accordingly.
With over 450 payment options available buying cryptocurrency at Paxful is very convenient.
As stated above, you can also use your Cryptocurrency to buy goods/services like Cars, Gold, Game Items, Amazon Wishlist or buy gift cards for iTunes, AirBnb, Etsy, eBay and many more.
The platform is available for both iPhone and Android enabled Mobile devices along with Person Computers.
5. Customer Support
Paxful focuses 24×7 support to all its customers. It can be accessed via the Paxbot, where you can put up all your queries.
Apart from this, there is a dedicated help & support centre, where you can navigate and find solutions to your queries. Also, this section of the website acts as a complete knowledge base for all new investors looking to start investing with Paxful.
Further, Paxful is very active for its users on Twitter and Reddit.
6. User Verification Process
To verify as an investor on Paxful, you can verify your account based on 4 levels as follows:
Level 1: For level one, you need to verify your phone. On level 1 you get a per trade limit & trade volume lifetime limit of $1,000. Also, at level 1 you have a sending limit of wallet lifetime limit of $1,000.
Level 2: To become level 2 verified, you need to verify email & government id. On level 2, you get a per trade limit/trade volume lifetime limit/wallet transfer limit of $10,000.
Level 3: To become level 3 verified, you have to verify your address. Once verified on level 3, you get a per trade limit of $50,000. Also, you get an unlimited wallet to send limits & trade volume limits.
Level 4: At level 4 verification, as Paxful suggests enhanced due. Also, you get a per trade limit of $50,000+ and an unlimited wallet send limit & trade volume limit.
Users have to provide their KYC "Know Your Customer" details. It is used to verify the identity and transaction pattern of all business customers. Paxful is a platform to implement the AML (anti-money laundering) program.
All you have to do is to upload your details along with your government id. You also have to upload your picture/selfie.
Your photo is matched with the photo attached on the government id. In case your photo does not match, you will receive an email from Paxful regarding the same.
There is a list of countries where ID verification is mandatory by Paxful for traders. Also, to create an offer, you need to be id-verified.
Id verification involves the standard KYC procedure to verify its traders. Also, if your country happens to be on the OFAC grey list. If your country is on the list, then you need to be ID verified as well.
As explained above, you can verify to the level as per your investment requirement.
Pros & Cons of Paxful
Pros
Cons
✅ Simple & easy to use platform.
✅ Ownership of Private Keys stays with you only.
✅ Quick & responsive support system.
❌ Only supports 3 cryptocurrencies
❌ Lacks lucrative investment options, such as future & options, margin trading, etc. that are offered by other exchanges

Paxful Review – Final Words
Paxful is simple & easy to use platform! You do not need to be an expert to learn to trade on the platform.
It has limited choices with respect to cryptocurrencies with just Bitcoin, Ethereum and Tether (which anyway is a stable coin) available for trade. However, there are a huge number of payment options available and the platform is available to users in almost every country.
It is a favourite choice for security-conscious users, as the ownership of the Private Key of your asset is with you only. Thereby reducing the inherent security exposure that a Centralized Exchange normally has.
If you are not particular about having possession of the private keys then there are better exchanges out there that you can try!
Frequently asked questions?
Is Paxful legit?
Yes, Paxful is a legitimate platform for investing in cryptocurrencies.
What if my orders do not complete on Paxful?
Paxful uses the escrow method, where if an order is not executed, then the whole amount is refunded back to the source
Is Paxful secure?
Yes, Paxful is a secure platform to invest and make profit from crypto trading. It makes you enable 2-factor authentication on your account to ensure the security of your investment at the client's end. Also, Paxful does not hold any digital assets, all your assets are stored on the respective blockchains and the Private key with the respective owner.