Looking to open a crypto trading account online in India?
The Indian crypto market has been spurring up with several crypto exchange platforms. It has been estimated that currently, there are 15 to 20 million crypto investors in India.
You can also join the crypto league and enter the trillion-dollar market by creating your account at WazirX. WazirX is one of the leading and most credible crypto exchange platforms in India. Recently it has also launched its own NFT marketplace.
Today, we have come up with a detailed guide on how to create an account at WazirX and get KYC verification.
WazirX: An Introduction
WazirX was launched by Nishchal Shetty in 2017. Due to its enhanced security features, KYC processes, and user-friendly interface it has now become a top-rated platform. The best thing with WazirX is that it has low transaction fees and supports multiple devices for the best user experience. WazirX supports over 200 cryptocurrencies and over 400 trading pairs.
With 6 million registered users and over $5 billion in revenue trading volume, WazirX is one of the leading and most credible crypto exchange platforms in India.
Though it was launched in 2017, Binance acquired the largest crypto exchange platform in India in 2019. After the acquisition, the users on the WazirX platform can easily access the Binance marketplace for trade.
The platform offers trading over trading in over 200 cryptocurrencies with an auto-matching P2P machine that makes crypto to fiat conversions quick and easy. You can use the fiat deposits P2P service in almost 7 countries of the world.
The best thing with WazirX is its STF feature. You can connect with professional traders using it who can assist you in managing your investments. These seasoned traders are compensated with a 25% fee on your gains.
WazirX can be a complicated exchange initially, but trading becomes simple after you get used to the interface. The exchange provides a variety of cryptocurrencies from the metaverse and Web 3.0, among other areas of the cryptocurrency markets.
With the first auto-matching system in the world, the WazirX peer-to-peer exchange is very popular among traders. WazirX has advanced quickly, notably with the smart token fund, which is a good approach to increasing your cryptocurrency holdings.
Step-Up-Step Guide on How to Create An Account at WazirX
WazirX is your best partner to start investing in cryptocurrencies. An account on WazirX enables you to trade INR to crypto and vice versa. Thus, it makes crypto trading in India an easy and seamless process.
Here is a step-by-step guide to creating an account on the WazirX website.
You have to enter your email address and choose a password.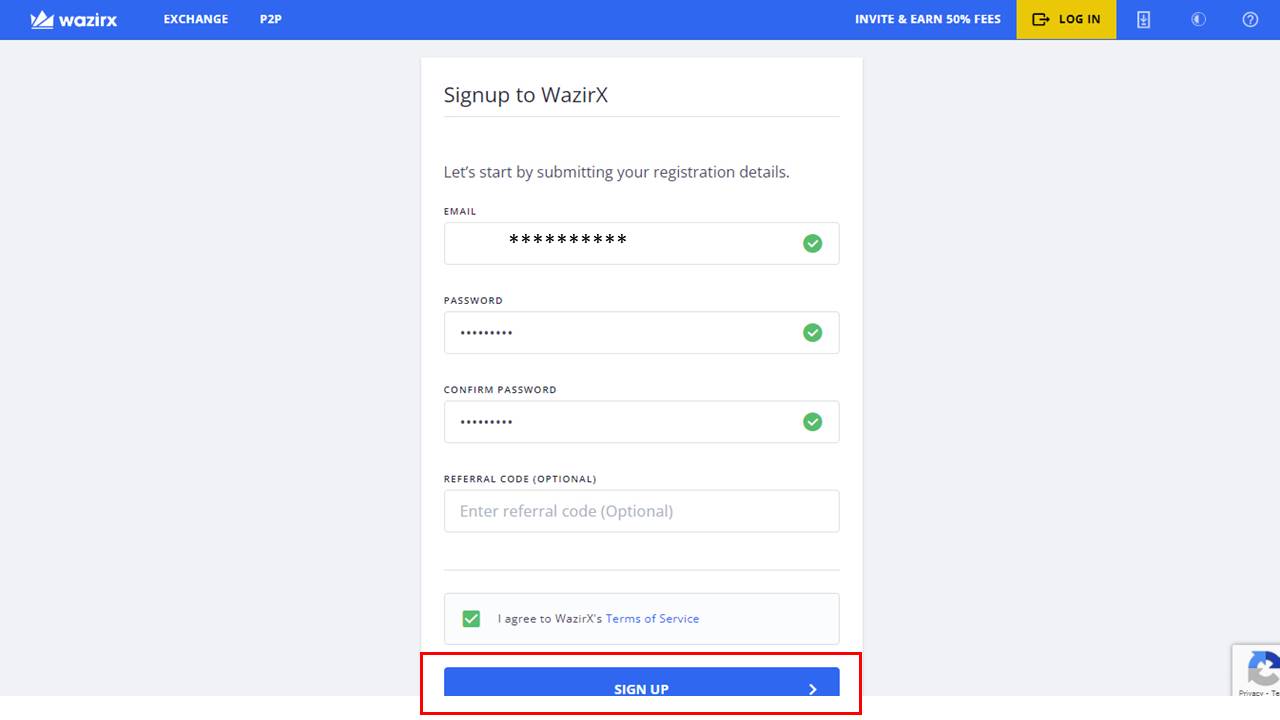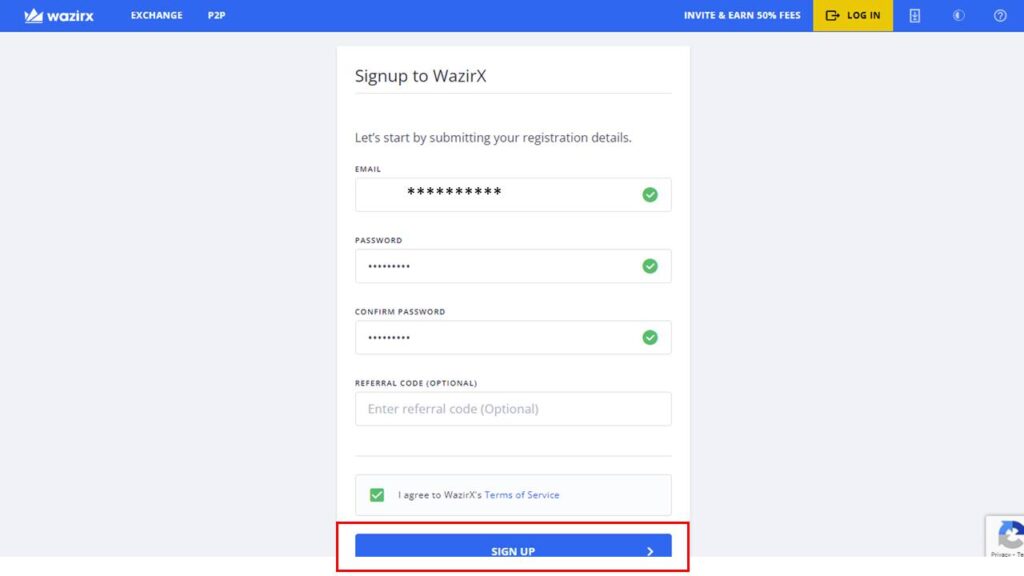 You will get a 6 digit password on your email address. You have to input it to proceed forward.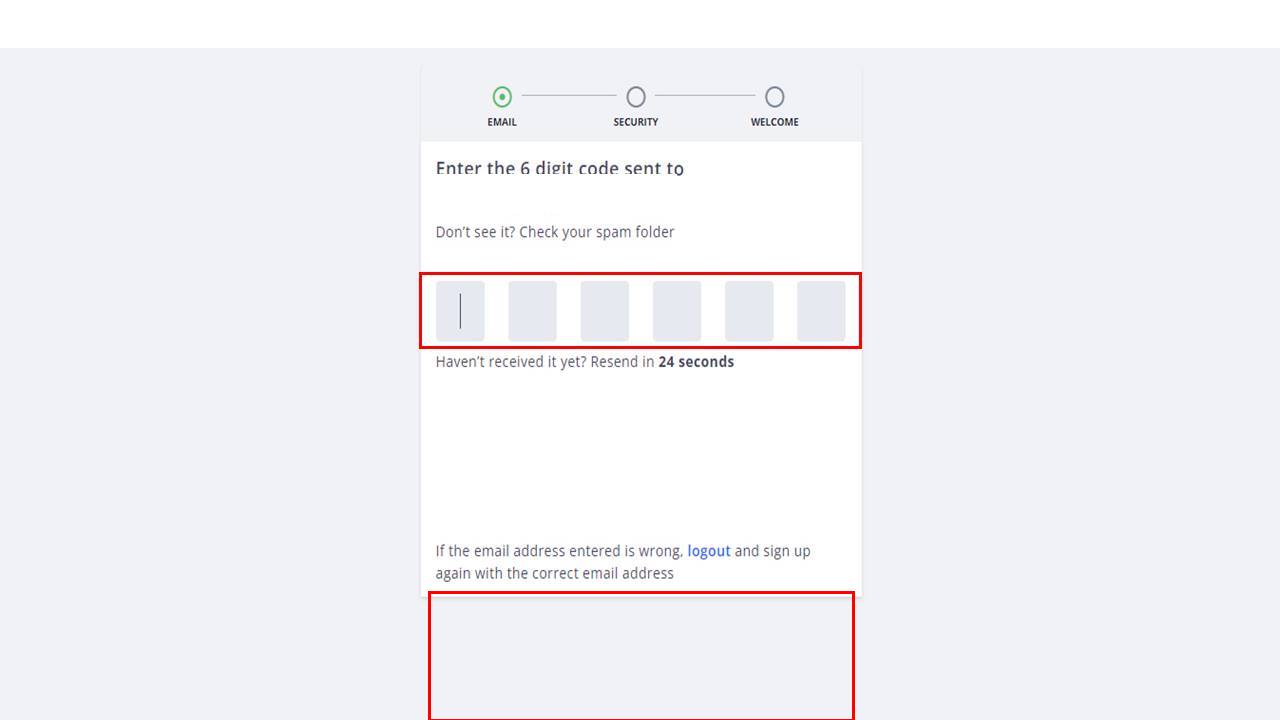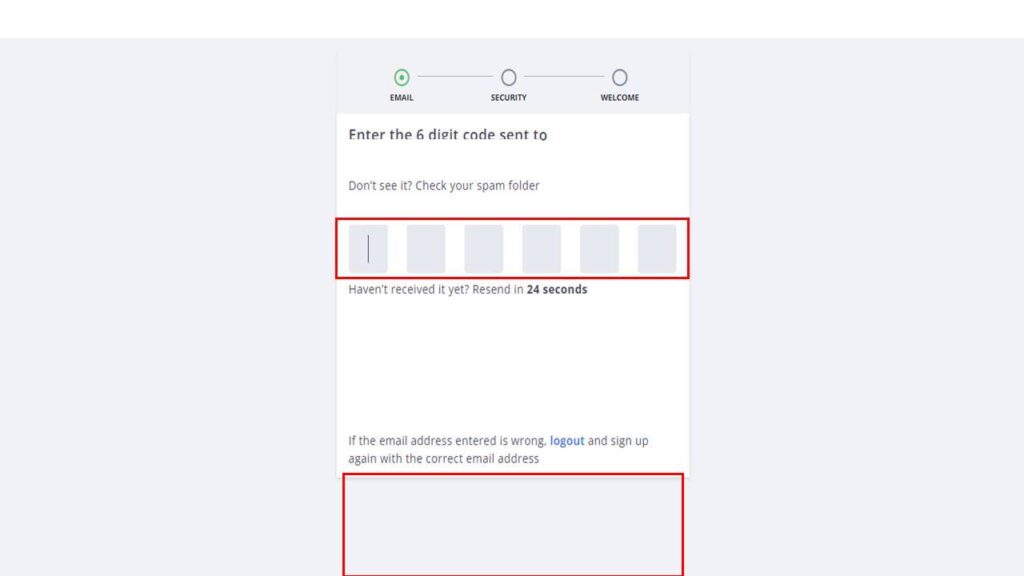 Now in order to secure your account you need to add a 2 FA authentication. It can either be an SMS on your mobile phone or an Authenticator App like Google Authenticator. It is better to use Authenticator app on another device to have complete security.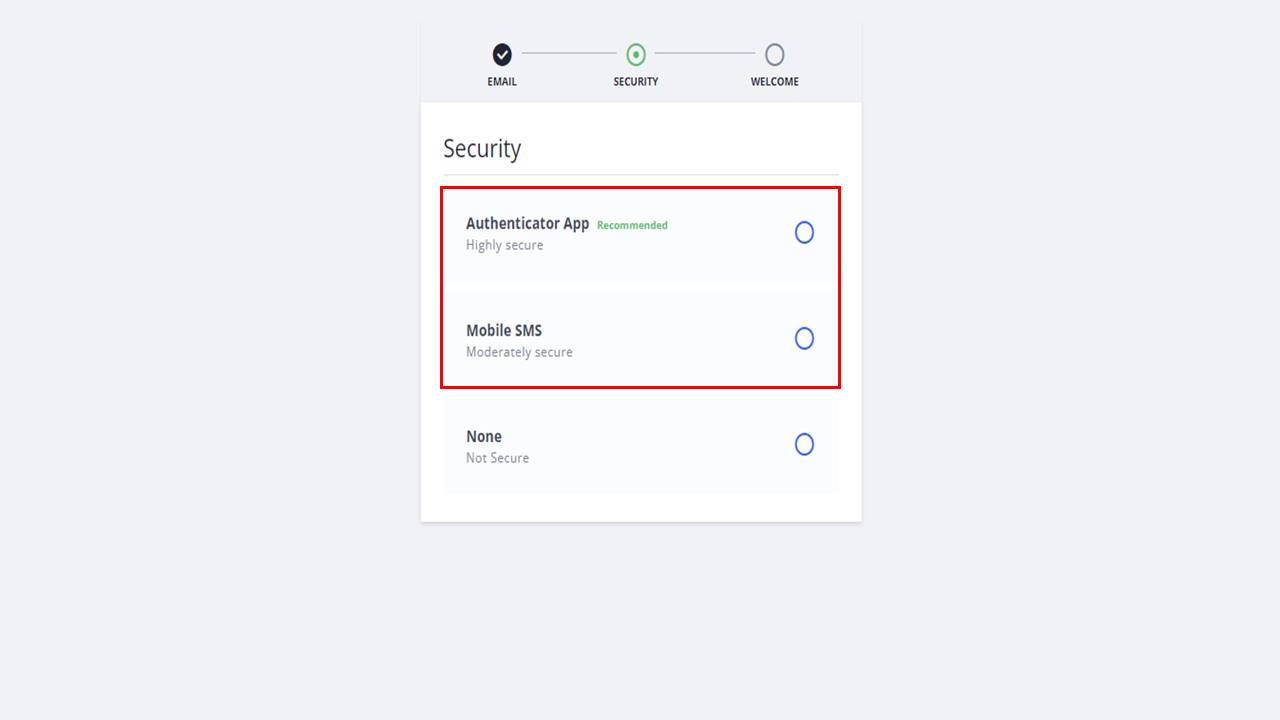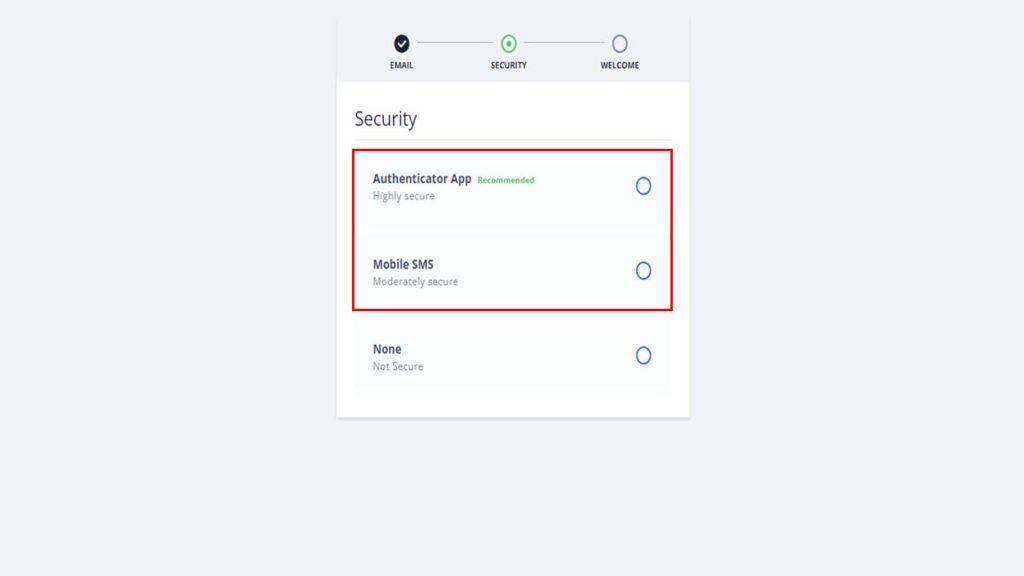 After your account has been created you have to complete your KYC so you can deposit crypto or buy crypto and trade.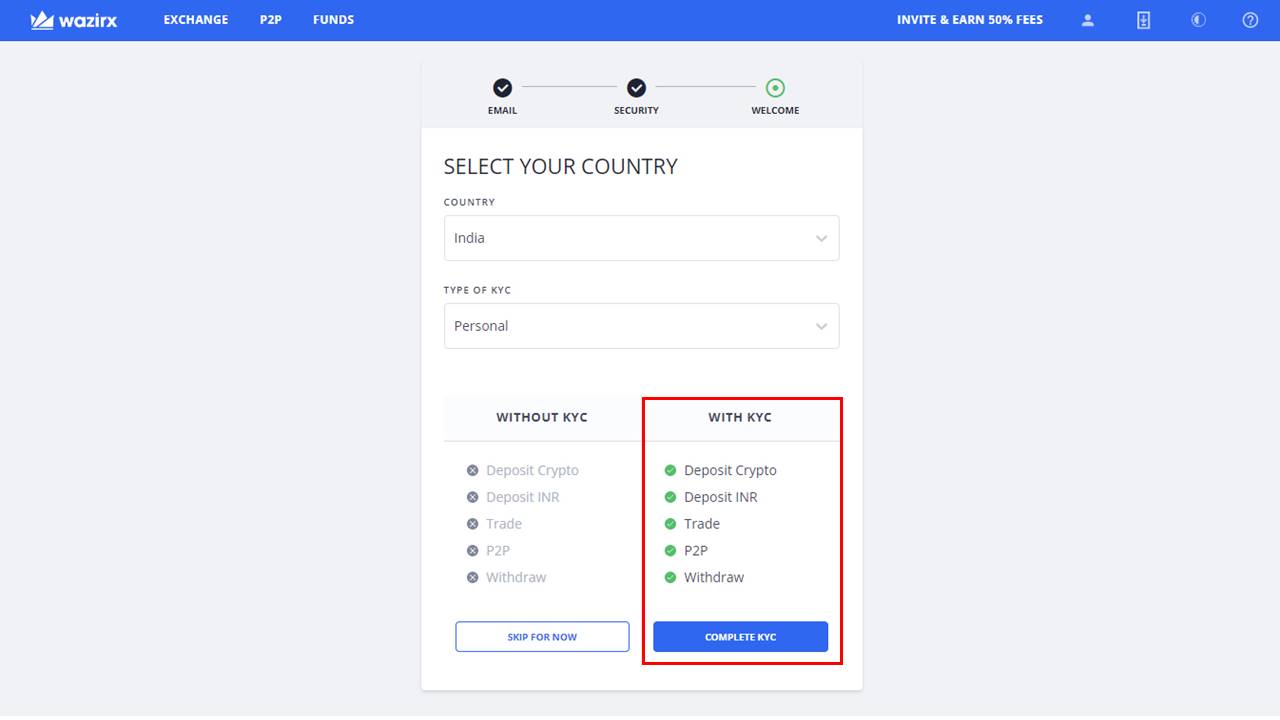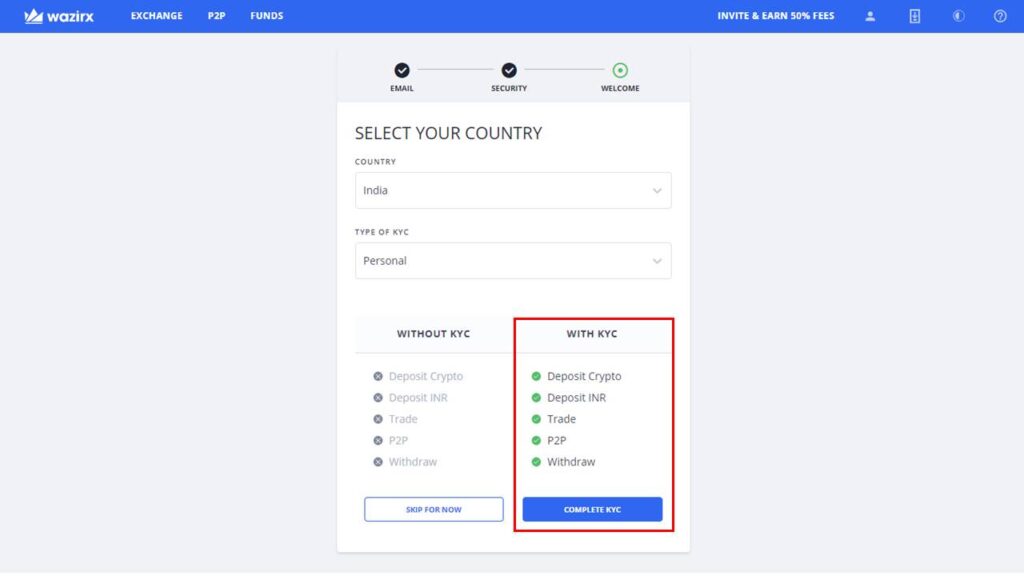 Select your country and fill in the details that the website requires. You will have to provide your:
Aadhar Card
PAN Card
Selfie
alongwith the basic information about yourself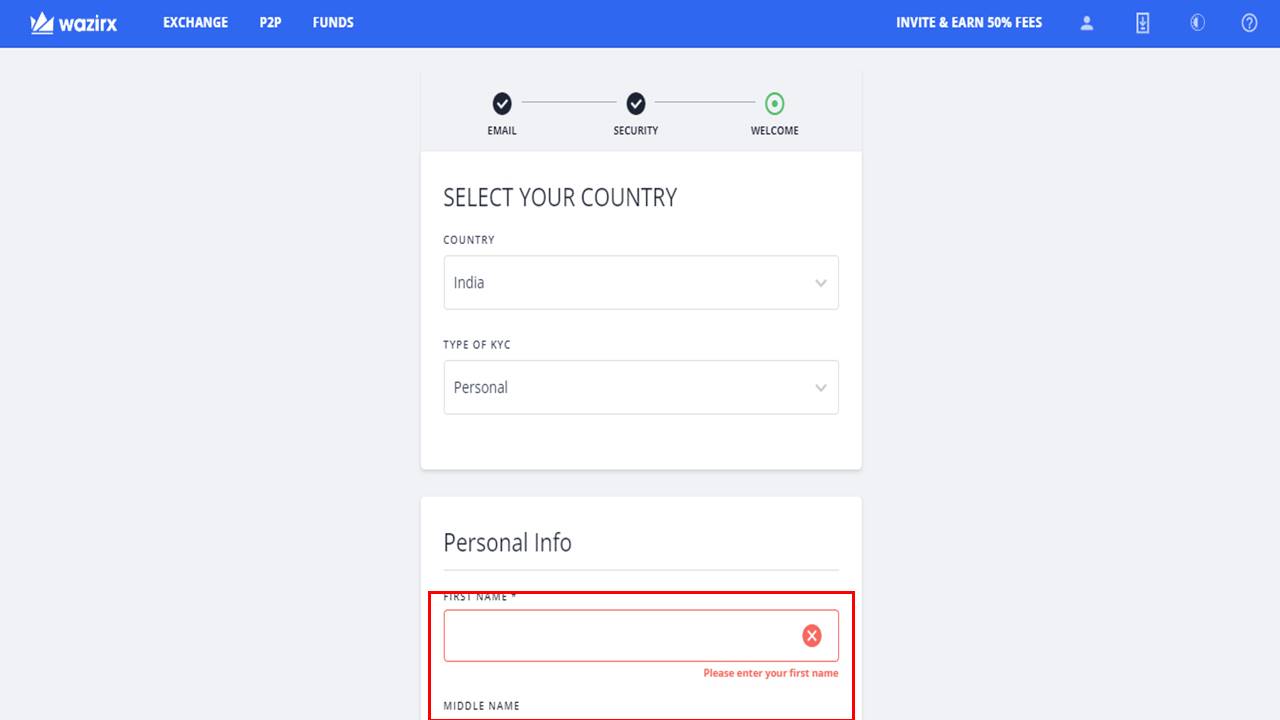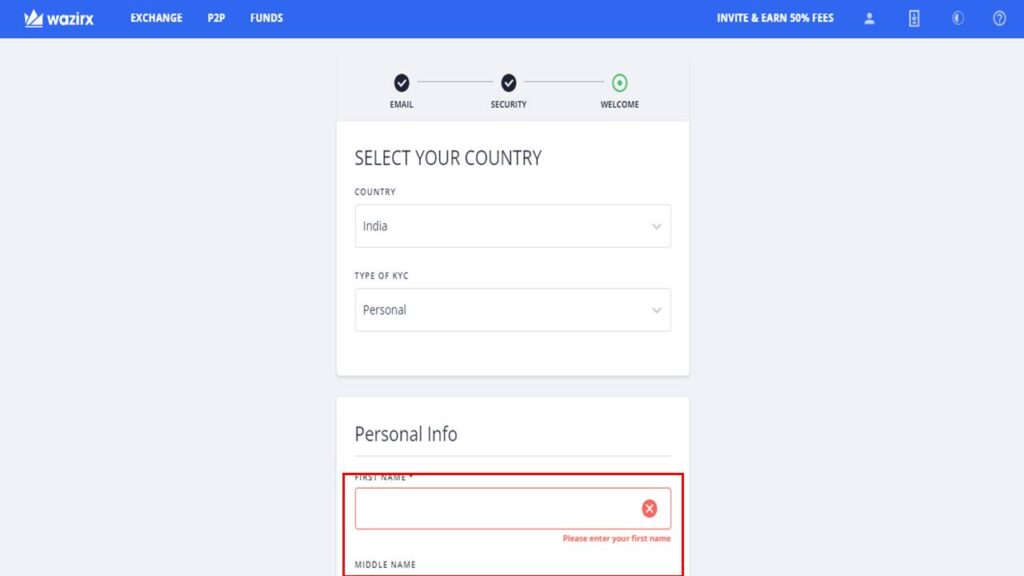 And that's it, you will be directed to the trading screen for you to start trading.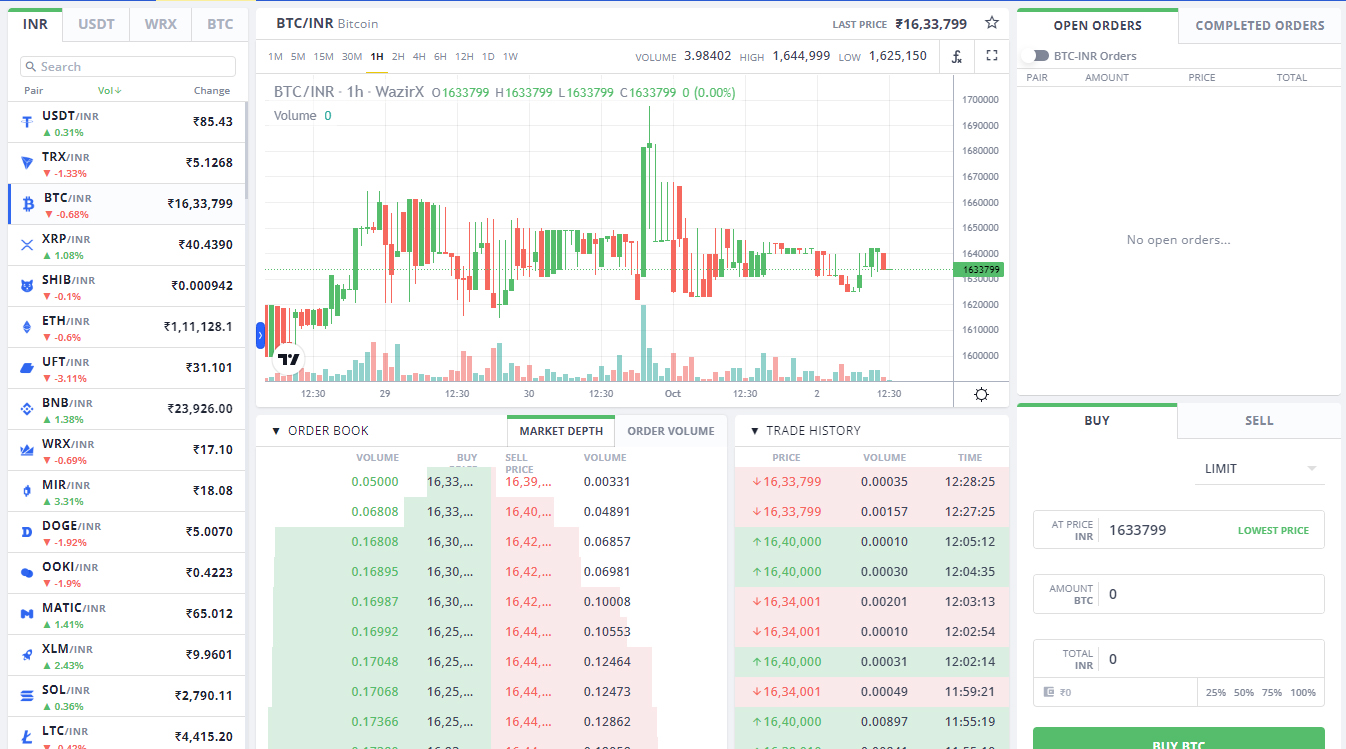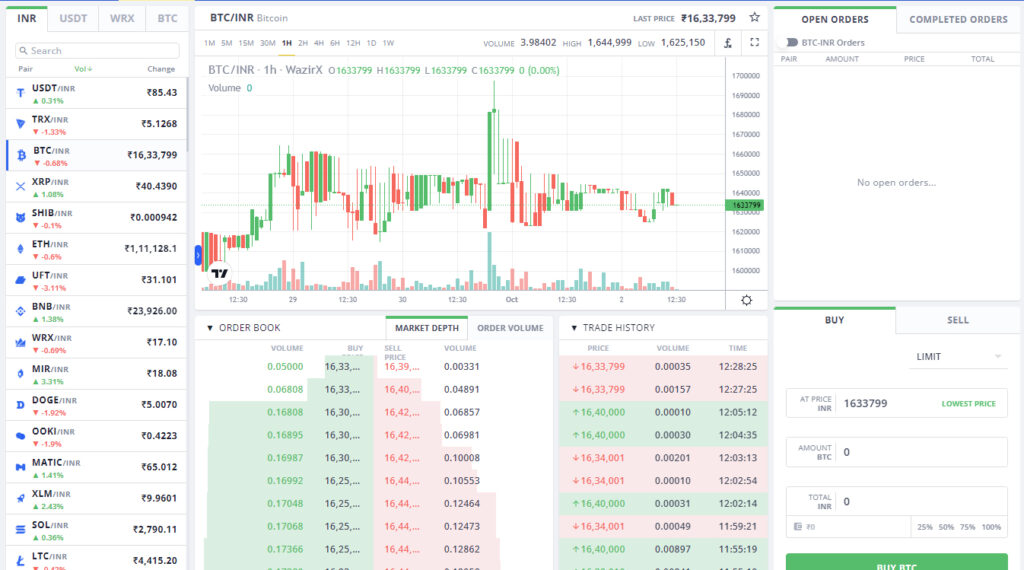 Similar to the account creation on the WazirX website. You can download the application on your mobile. Here is how to create an account at WazirX on Phone (iPhone or Android both have similar applications)
Go to your Play Store or Apple Store on your phone.
Then search for the WazirX app.
Download and install the WazirX app on your phone.
Then open the app and proceed to create an account.
As soon as you open the WazirX app you will see two options – Sign Up and Log in
Click on the Sign-Up button
Then fill in your email address and create a strong password.
After filling in the email address and password, tick on the box at the bottom of the page.
Then Click on Sign Up.
Now you will receive a verification email on your registered email id.
Open your email account.
Then open the verification mail
Then click on Verify Email to confirm your email address.
Once you have successfully verified your email you will receive this message on the screen.
After verifying your email address, return to the WazirX app.
Now you will be prompted to set your security.
For security reasons, we recommend enabling 2-factor authentication through Mobile SMS or Authenticator app.
If you select the Mobile SMS option, you will have to enter your mobile number.
Then you will receive an OTP on your mobile.
Enter the OTP and click on Next.
Now your 2FA is set and you will receive OTP every time you log in and make deposits or withdrawals.
On the next screen, you will have to enter your country.
Select India from the list of countries
Then click on Complete KYC
How To Verify Your KYC On WazirX?
Follow the steps to complete your KYC verification on WazirX and fully activate your account.
After you select the Complete KYC option, on the next screen you will see a KYC verification form asking you to fill in some specific details.
You will have to enter your name, DOB and address.
You will also have to enter the details of a set of government issues ID documents.
In the case of a Pan Card, you will have to enter your PAN number and also upload the photo or scanned copy of your Pan Card.
You will also have to enter your Aadhar Card, Driver's License and Passport details.
Lastly, you will have to upload a photo of yourself holding your Aadhar card.
Finally, click on Submit for verification after carefully entering all details.
Usually, it takes the WazirX team to verify your KYC in 2-5 hours. However, it may sometimes take up to 72 hours.
Once your KYC is verified, you can then go on to explore the platform and invest in Bitcoin, Ethereum, or other cryptos. But, before you invest in any crypto, we recommend you to do in-depth research about its founders, market, and statistics to be safe. We also recommend setting up a safe and trusted crypto wallet to keep your cryptocurrencies safe.
Things to know before creating a WazirX account
You can easily follow the process mentioned above to create a WazirX crypto exchange account and start trading with cryptocurrencies. However, before you begin creating an account on WazirX, there are a few details that you must know to avoid any issues later.
You should be 18 years of age or above to create an account on the WazirX platform. Anyone below 18 is not allowed to create an account on the platform.
Before you create an account on WazirX, ensure that you have valid photo ID proof. Unless you do not have a valid photo ID, you will not be allowed to create the account.
It would help if you had a bank account registered in your name to add money to the WazirX wallet and start trading. The bank account verification process might take 1-3 working days on WazirX, only after which you will be able to deposit money for transactions.
WazirX can disable your account or freeze it if it finds that the details given at the time of account creation were false or not right. Or in case you are using someone's identity for the account. Therefore, make sure to give your accurate details while opening the account.
Once you follow all these precautions before opening the account on WazirX, the entire process will be much easier. Once the account is created, WazirX will create a digital wallet for you, storing all your digital assets and cryptocurrencies. They will also send a code for the wallet on the registered email, which is used in case you cannot access the digital wallet due to a bad password. Keep the code safe and do not share it with anyone else. If it is lost, you will not be able to access your wallet again.