The changing world of virtual currency is becoming the new normal. It is never too late to jump into the virtual currency world. I was searching amid all the leading platforms in buying and trading bitcoin and other cryptocurrencies. Fortunately, I came across one of the best-centralized exchanges by Gate.io.
In this article, we will undertake a complete Gate.io Review to help you decide if you should use this exchange for your crypto needs.
Bet you might have heard about this popular cryptocurrency exchange on the Web, Gate.io. Founded in 2013 by Lin Han, Gate.io is quite an old & established exchange. It was renamed in 2017 to the present name Gate.io. The previous name was Bter.com.
You can sign up at Gate.io by clicking here >>
Our Gate.io review is based upon certain parameters for simplicity and effective categorization as below:
Fees
Security
Trading Options
Products Offered
User Interface
Number of Cryptocurrencies Listed
Should you use Gate.io
What are the limitations of the Platform
Let's dive into the Gate.io review to understand more about the exchange.
1. What are the Fees Charged by Gate.io?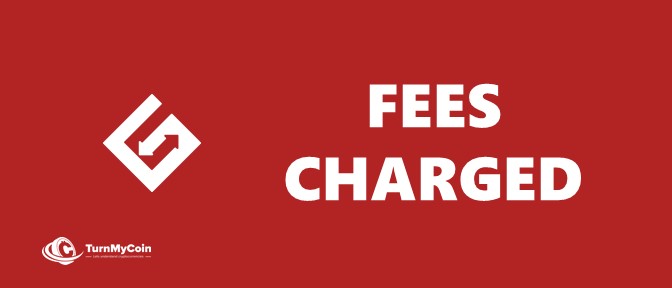 Gate.io charges fees as per levels (tiers) from its users. It gives rebates to users who transact more. The maximum fee that Gate.io charges for Spot Transaction from new investors is 0.2% for both makers and takers.
Further, if you hold GateTokens in your account, you can expect good discounts on the transaction fees.
I have attached chart showing fees charged by Gate.io at different tiers: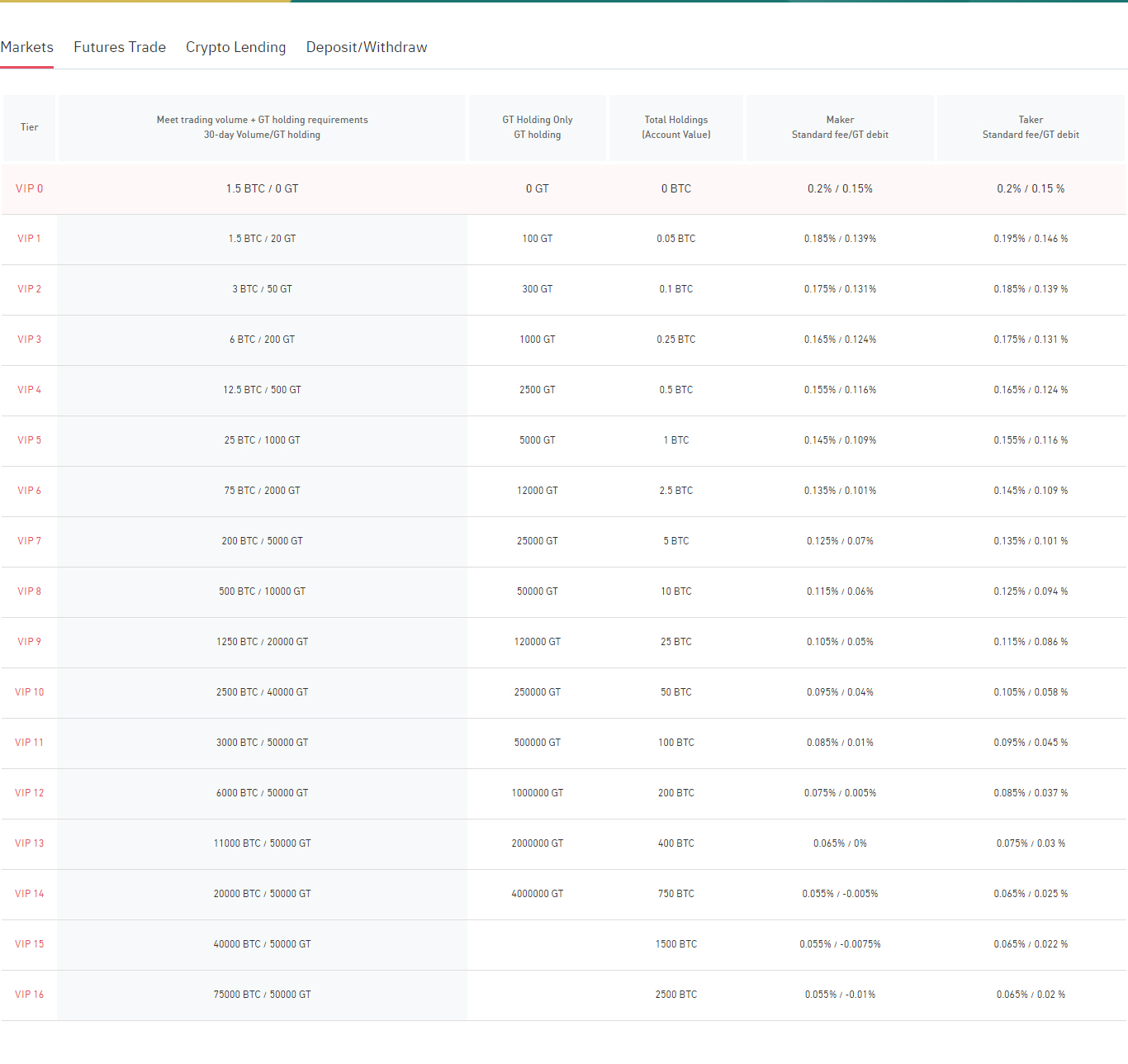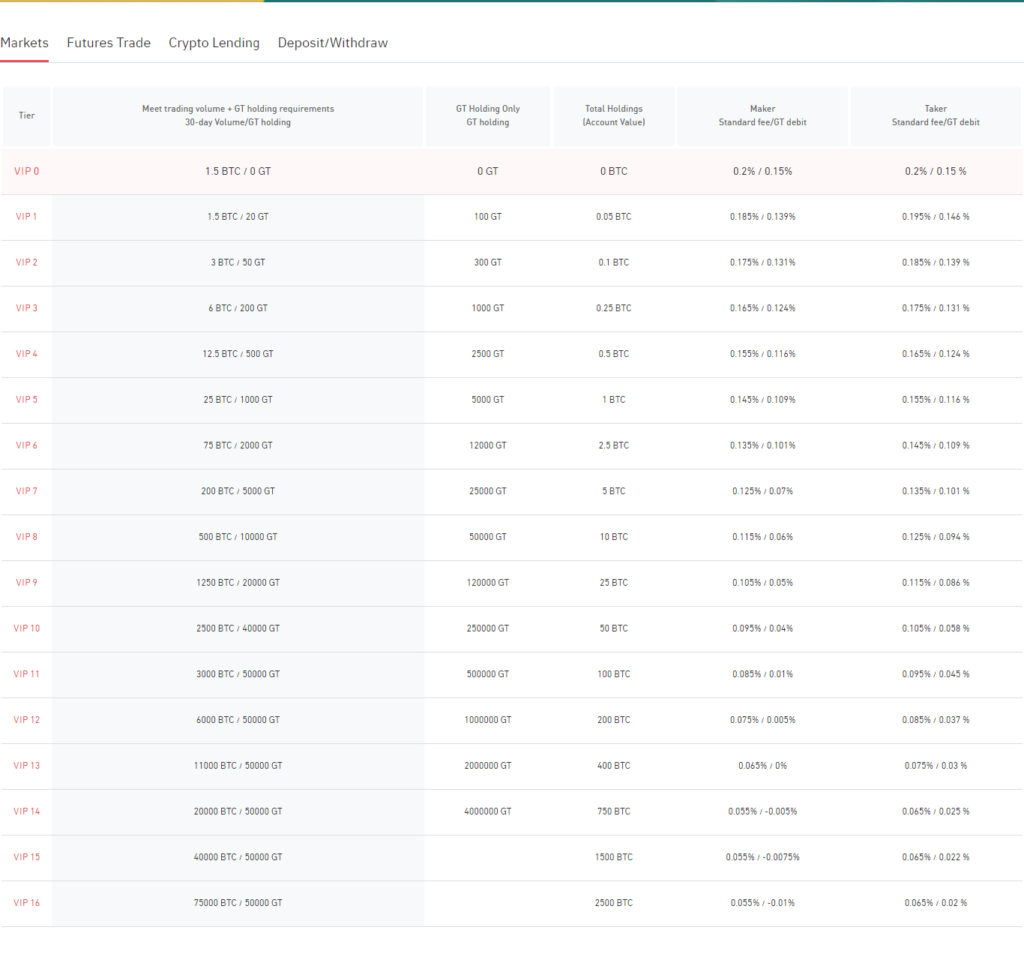 Similarly, the fee for Future Trading is also mentioned in the chart below: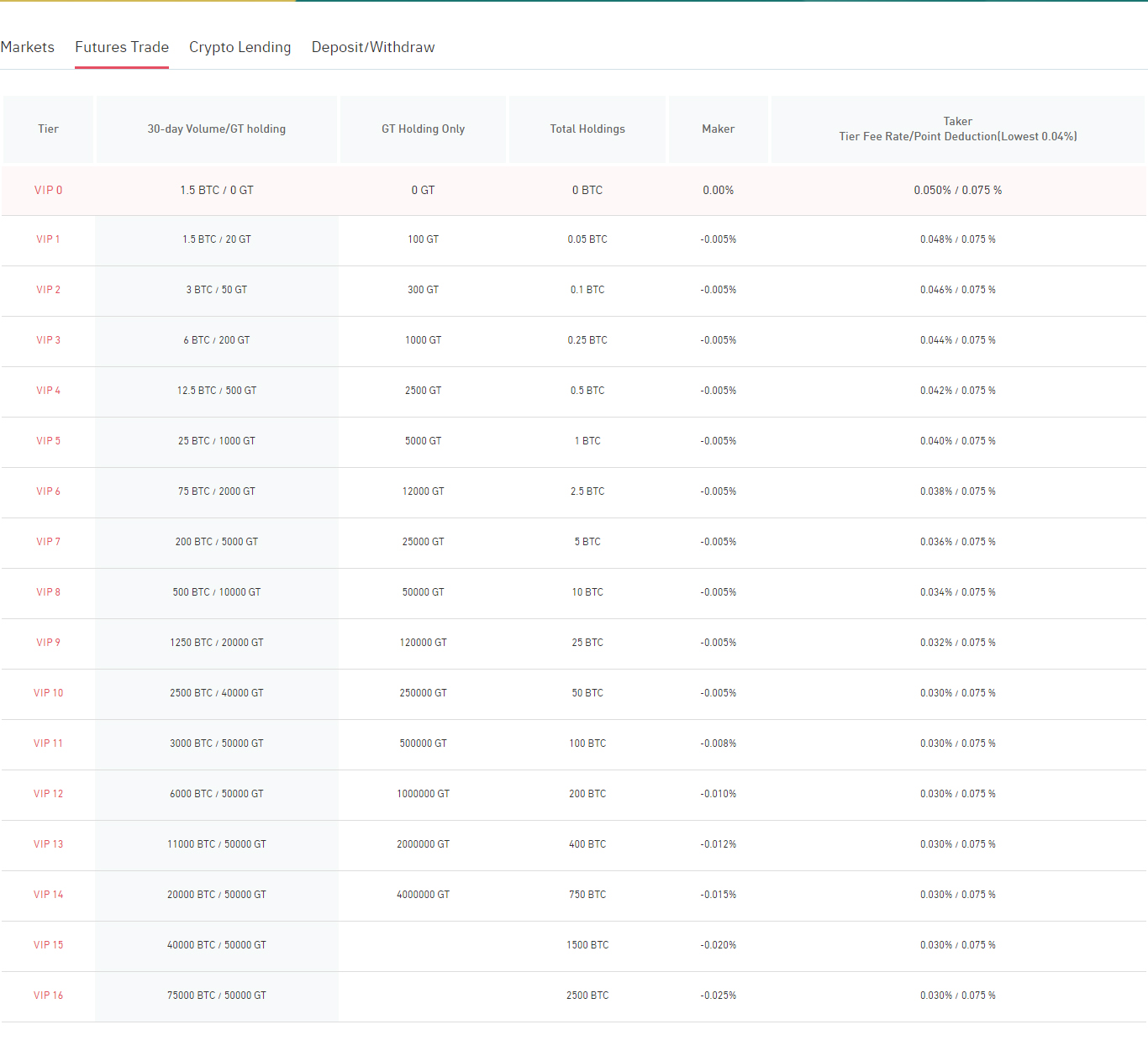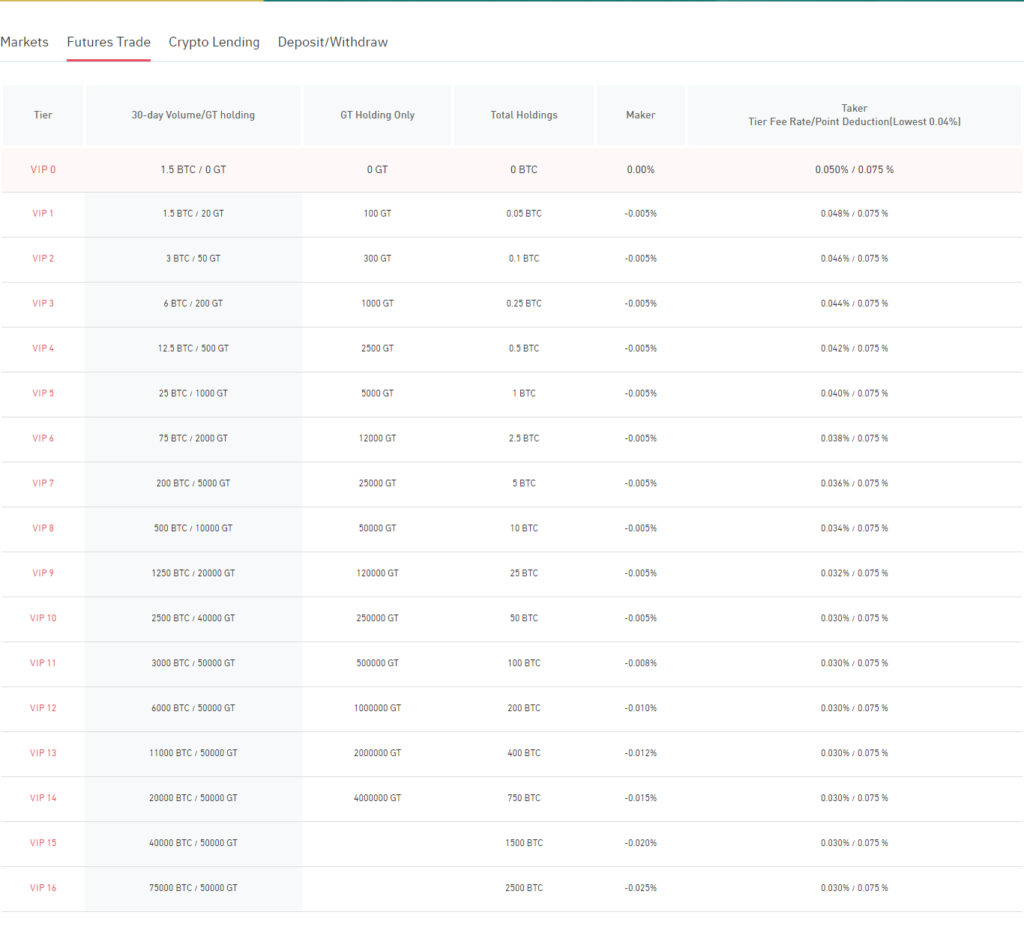 Deposit fee
Gate.io charges nothing in terms of deposit fees. It impresses me a lot because many crypto exchanges do charge deposit fees. However, zero deposit charges are gradually becoming more of a standard in the industry.
Withdrawal fee
Gate.io also offers you a low withdrawal fee for a majority of crypto coins, the fee is per transaction, regardless of the withdrawal amount. Different coins have different withdrawal fees, which have variable price amounts.
The daily withdrawal limit is also different for each cryptocurrency.
A list of all the cryptocurrencies on which Gate.io charges withdrawal fees along with their daily withdrawal limit is hereunder: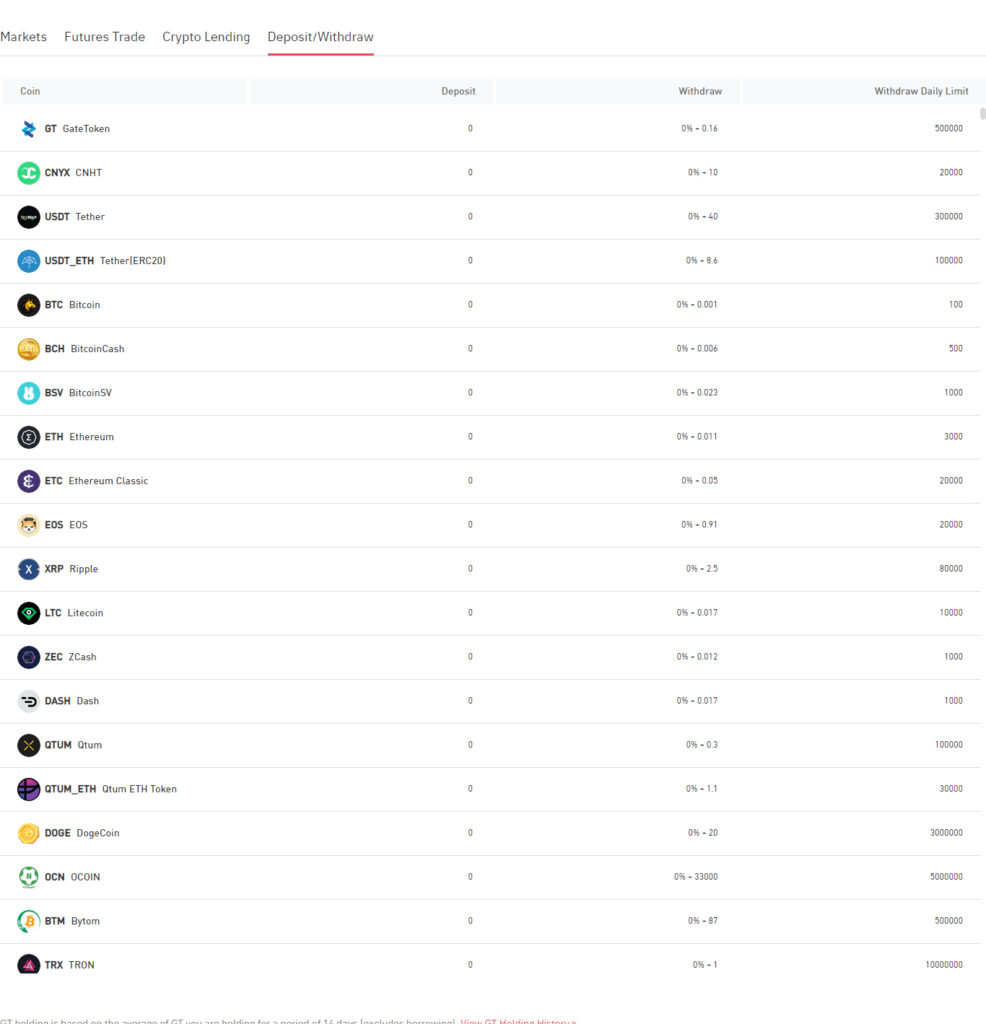 2. What is the Security infrastructure of Gate.io?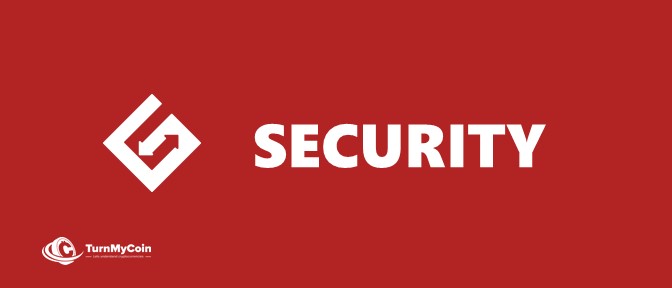 Gate.io considers the protection of funds and user data as their primary concern. Historically, it was hacked for USD 1.75 Million but seems like it has learnt its lesson from that blunder. And has added a number of security features to protect users' investments.
Here is their security system that ensures complete protection.
The Self Development Trading System.
The trading system that Gate.io uses is self-developed, and iterations within the modules in the system are separate. The system is secured, as observed by different professional auditing companies. Gate.io has successfully qualified all the security standards in this respect.
Defence services from Third Party Cloud security.
The front system of Gate.io is masked by Cloudflare Firewall Enterprise Edition. It helps detect the traffic and other attacks on the user data and funds. It is secured from malware attacks by an anti-malware defence which is the anti-robotic graphic verification code (CAPTCHA).
Security of Connection
Gate.io provides its users with a secure connection by the encrypted transport layer. And, it is an aid through which the website transmits data to the user.
Anti-DDOS Attack
The anti- DDoS attack mechanism is improvised now and then. The mechanism is a 4 step security process that includes Detection, Response, Defeat, and Recording.
WAF Protection System
Gate.io uses a Web Application Firewall which is also called WAF. The WAF helps in ensuring that no illegal intrusions, data tempering, or other vulnerabilities happen to it. If any such threat to the system is found; the firewall will automatically turn on and eradicate any threat found.
DNS Security
Gate.io takes special care about the performance of the dynamic servers. These servers prevent the system from getting hijacked or fraudulent customer communications.
With all these security methods your data is completely safe with Gate.io. Hence, you can trade tension free as Gate.io is trustworthy. Moreover, it is the most accommodating and less cumbersome exchange, especially for US users.
3. What are the Trading Options Available at Gate.io?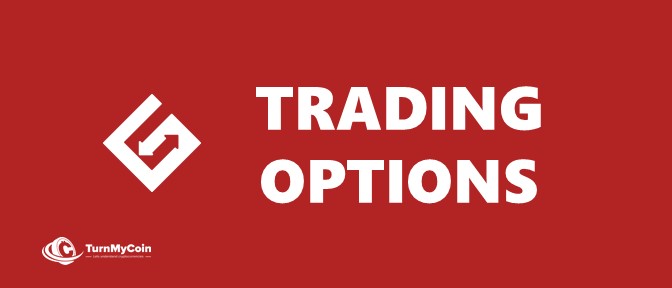 The Trading Options provided by them are as follows:
Spot Trading : Gate.io allows Crypto to Crypto trading like USDT to Bitcoin/ altcoins. Gate.io has divided Spot Trading into Standard & Professional. As their names suggest, Professional trading provides options for Advanced Traders however, Standard is for new users.

With Professional Spot Trading at Gate.io you can place Limit orders, Price Condition and Time Condition orders as well. Both Standard & Professional allow you to conclude IceBerg and Immediate-or-Cancel orders(IOC).

Iceberg orders are quite interesting as they can be used to hide the entered quantity from the public order book.

Leveraged Token Trading : You can enter into Leveraged token trading with upto 3x leverage. I have seen few other exchanges offer upto 5x leverage as well. However, 3x leverage as provided by Gate.io is still decent.

Perpetual contracts : Gate.io allows upto 100x leverage on Perpetual contracts. This is similar to many of the other famous exchanges in the industry.

Grid Trading: You can create trading bots with Gate.io if you cannot afford to invest too much too before the screen. Gate.io offers two types of Grid Trading i.e. Basic & Advanced.

You can create simple trading bots using Basic Grid trading to get your automation need fulfilled.

Alternatively, you can use Professional Trading bot to create strategies. You can use these strategies to automate & earn for yourself and also let others copy them. Gate.io rewards you @5% of profits people earn if they copy the strategies that you create.

Gate.io offers a huge range of default options to create Professional Grid Trading strategies like Unlimited Grid, Smart Rebalance, MACD, MACD-RSI, Double Moving Average etc.
4. What Are the Products Offered by Gate.io?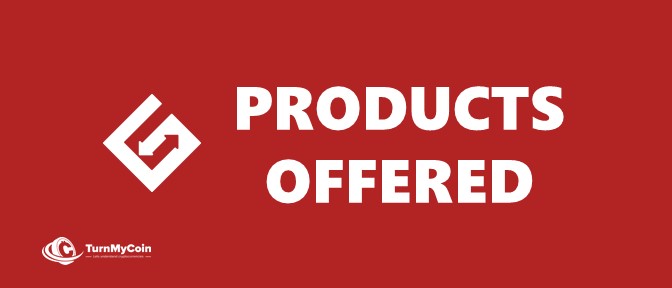 Gate.io offers a huge collection of products to its customers. While completing our Gate.io review I have concisely discussed each one of them.
i. Leverage tokens of the blockchain network
Leverage tokens are derivative tokens featured on some exchanges. They represent a leverage position against a spot token. Let's say, you are bullish on the DOT token, which is the native token of the Polka Dot blockchain network. You have two options:-
a. Either you can purchase the token in the spot market.
b. Or increase your potential profit. You can buy a DOT5L token. It represents a 5X leverage long position on the dot token.
Leverage Tokens are an alternative to margin trading. Here you do not need to maintain minimum margin or pay margin interest. Do note that leverage tokens are highly risky. Hence, you should not trade in them unless you have sufficient knowledge and experience.
The next on the list is the Push Transaction.
ii. Push Transactions
Push transaction features a peer-to-peer transfer mechanism. You can directly send or receive cryptocurrencies from another person. The exchanges charge on the transaction value, which is about 0.2%.
iii. Flash Swap
The Flash Swap feature is highly innovative! You get to swap your crypto tokens with other tokens using this feature. It services in addition to the spot market feature. Moreover, the price of tokens is different from the price quoted in the spot market order book.
The exchange does not charge a fee for trading through flash swaps. However, the buying price is slightly higher and selling prices are slightly lower compared to the spot market.
iv. Copy Trading
Yet another fantastic feature that most of the top exchanges are yet to introduce. You do not have to worry about creating your own foolproof investing strategies. YOu can just copy the strategies of successful investors.
Surprisingly, it is valid to review the performance of other traders and follow the undertakings. As soon as you activate the copy trading feature, the exchange will copy all the trade instructions of the selected trader to your account.
By doing so, you will be able to take advantage of the knowledge of other crypto experts and level up your game.
There is no fee for copying the strategy of the traders. However, you have to shed off 5% of the profit generated from these trades.
v. Fiat Purchase
Gate.io has several options for users to purchase crypto tokens with Fiat currencies. A user can either use credit cards or bank transfers for this transaction. Further, Gate.io exchange also has appeared to be a platform that users can explore to buy crypto tokens with Fiat currencies.
The only shortcoming that I noted was Gate.io's lack of support for different fiats. Presently, it supports only two i.e. EUR and KRW
vi. HODL and EARN
The user can deposit their crypto assets for a specific period and make a stable return on the same. The interest rates are mentioned on the website for various investment plans and Crypto assets. Rates and the user gets interest proportion to the days for the lock funds.
vii. Periodically Investment Plan
Many renowned exchanges in the world will introduce it soon. While Gate.io already has it. Just like a systematic investment plan is available in the traditional markets for investment in equities and mutual funds. A regular investment plan in Gate.io allows you to invest in crypto tokens at a specific interval.
It allows you to make a consistent investment in a particular crypto asset. Further, this automatically facilitates dollar-cost averaging.
viii. NFT Box
It is an NFT creation and auction platform. Gate.io is a profitable platform for traders who are the original NFT creators. Also, for the collectors who would like to collect these NFTs, Gate.io is a great aid.
ix. Gate.io Startup Feature
It is a launch platform for new crypto projects. These new projects can either launch as an initial exchange offer, a discount sale, or a private offering.
Therefore, this platform is a win-win for the projects and the platform users. The projects get an existing user base of Gate.io. Additionally, the users get to invest in the low cap startup at an early stage.
x. Crypto Lending
Users can earn a passive income by lending the cryptocurrency and earning interest from it. Accordingly, if you are a borrower, instead of any other physical asset, you can pledge your crypto asset and can redeem it back once you decide to pay back the loan.
xi. Liquidity Mining
This feature allows you to earn rewards by providing the Liquidity to the exchange; that is to share the exchange fees. You can read more about Liquidity Mining here >>
xii. Cloud Mining
With this, you can lease the mining power and mine the cryptocurrencies. This is quite beneficial as individual mining of cryptocurrencies may not be a profitable option in many cases.
5. Gate.io User Interface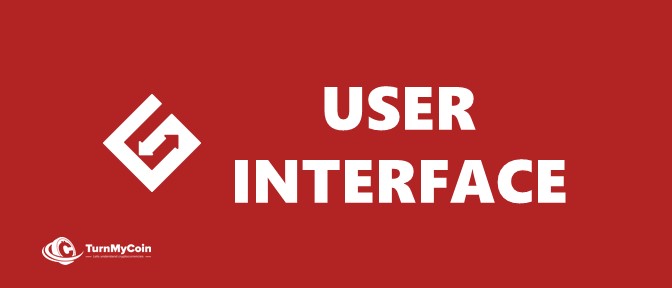 The best feature, I would like to talk about in the Gate.io review, is its User Interface.
The spine of the crypto exchange industry is the user interface. A clean user interface makes the accessibility of the trader or investor on the platform easy.
However, the web version of the interface is not easy to understand or use for a beginner. It can be due to the fact that the Gate.io exchange has put all the features in a single interface. It can lead the user directionless on the platforms.
Though the exchange has made several attempts to simplify the interface, it still does not look that clean.
Mobile Application
In addition to this, the platform also has a mobile application for iOS and Android users. It has a similar issue yet again. It has more than 1 million downloads with an average rating of 3.2 stars.
6. Gate.io Review: Number of Cryptocurrencies & Fiats supported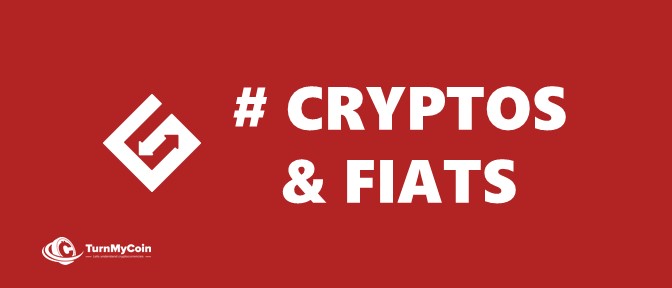 I consider it to be the biggest supporter in the section of cryptocurrency exchange. At present, it has more than 1,331 cryptocurrencies listed! This figure is staggering compared to its competitors.
However, the Fiat that the exchange supports is depressing. Gate.io supports only South Korean Won (KRW) and EUROS (EUR).
Being amongst the top 10 cryptocurrency exchanges in the world it is surprising to see just 2 fiats being supported.
7. Should you use Gate.io?
If you do not have experience in investing, then Gate.io is probably the ideal cryptocurrency exchange platform for you. You can convert any valid cryptocurrency to US dollars on this platform.
I am not very happy with the interface per se. But the other features that the exchange provides are enough to entice new investors.
Gate.io comes with new services daily to make the exchange easier. They have recently come up with the cryptocurrency exchange for dollars via debit or credit card. In this process as well Gate.io allows you to transfer crypto into their account and get the exchange amount. But, it involves high fees.
Therefore, if you can pay the high charges, the entire process becomes easier. Gate.io is safe for anyone to pursue trading because you will only trade on Gate.io when all the KYC ( Know Your Customer ) requirements are satisfied.
If you're wondering what this KYC process is, let me explain that as well.
A brief analysis of the KYC Process
The KYC process is a standard requirement for the users of crypto exchange platforms to fulfil. It verifies the identity of the users so that the risk to their funds reduces. Such platforms need to avoid illicit money from entering their company and reduce money laundering as well.
You cannot withdraw anything from Gate.io until you get a clean chit from the KYC process.
Gate.io requires you to provide your Government identification documents. In most cases, your passport will suffice. The Gate.io Algorithm also requires you to take a selfie before you invest to compare it with the Government ID you provided earlier.
8. What are the Limitations of Gate.io?
Our Gate.io review is incomplete without the limitation of the platform. Nothing is perfect, nor is it with Gate.io. A few limitations of Gate.io are mentioned hereunder:
Weak interface for the user.
The rating of the mobile application is below the industry standards.
The trading fee is low but many other exchanges offer better fees.
Lack of transparency of the founding and managing team.
Insufficient product Information.
The Verdict
You would have noticed by now that the exchange is rich with features and has a wide variety of tokens. Some exemplary features give the exchange a competitive edge in the market. However, some pain points cannot be ignored:
Such as the User Interface is not up to the mark .
The team is not very transparent.
Rebranding the past hacks has harmed the image of the exchange in the market.
Gate.io exchange is worth giving a try, but not for beginners. I won't suggest you keep it as your primary option. You can switch to Gate.io over time, once you get a hang of crypto investing.
I get inclined to use only those tokens that are not available on any other exchange.
This brings us to the end of our Gate.io review. Let me know what is your favorite feature about the exchange?