Introduction
If you are new to cryptocurrencies this probably is your first question "Where can I buy Bitcoin in India?". In order to make things cakewalk easy for you we have compiled this blog. You can read this blog to find the best Bitcoin exchanges in India where you can buy a Bitcoin.
Bitcoin (BTC), the first crypto ever established, introduced blockchain technology to the globe in 2009, and BTC has since hit an all-time high price of $66,231 in November 2021.
While this has helped BTC become the most valuable cryptocurrency by market capitalization, Bitcoin remains a highly volatile asset capable of large price swings in a single day.
An example of this is that Bitcoin has dropped by 74% in the last year.
So, before you purchase Bitcoin, be aware of the risks it poses, as well as its legal, regulatory, and tax position in India.
Now, let's dive into the main topic "where can you buy Bitcoin in India"?
Where can I buy Bitcoin in India?
1. WazirX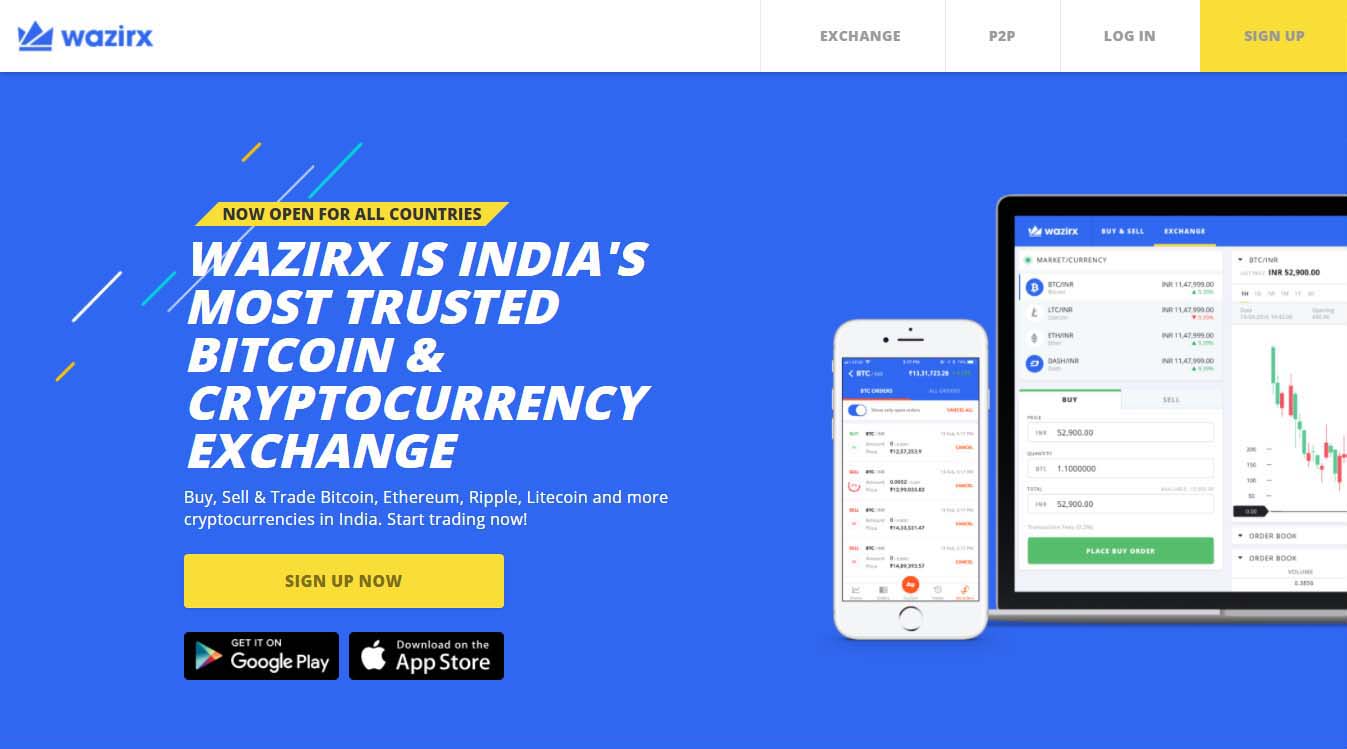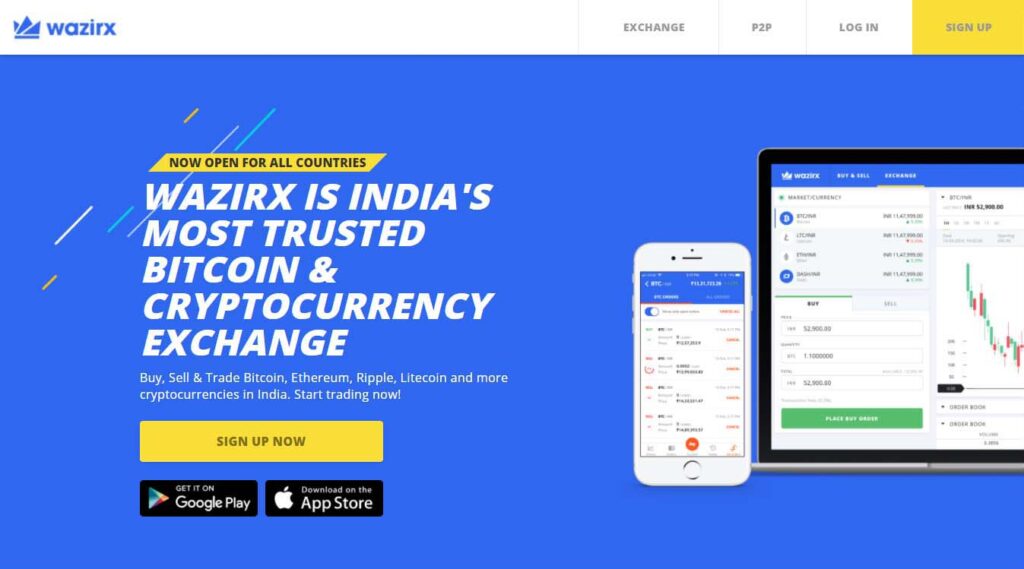 WazirX is primarily intended for Indian users. Indeed, it is most likely the best exchange for Indian customers. While the network is technically available to users worldwide, including in the United States, they cannot use fiat money at any time.
There aren't many opportunities for passive income on this exchange. Many will offer staking alternatives where you can earn an APY, as well as learn-to-earn choices. WazirX, on the other hand, provides extremely few of these alternatives.
You can primarily engage in the mining of the native token. This is a little something, but it doesn't produce much.
In addition, if you suggest a friend, you will receive 50% of their fees, which could end up being more valuable, particularly if you invite a few friends.
WazirX charges flat costs, which means that both makers and takers pay the same amount. WazirX charges 0.20% to both takers and manufacturers. This is consistent with the industry average of roughly 0.25% in the past. Nowadays, however, we are seeing an increasing number of exchanges go towards even lower trading costs, such as 0.10%. In comparison, 0.20% is possibly a little more than the industry average.
Withdrawal fees vary based on the cryptocurrency asset, although they are often a fixed sum of the relevant crypto asset rather than a percentage-based fee like trading fees. According to Cryptowisser.com's empirical research, the industry average BTC withdrawal cost is 0.0006 BTC.
WazirX levies a withdrawal fee of 0.0006 BTC for every BTC withdrawal, which is completely in line with the worldwide industry average.
2. Bybit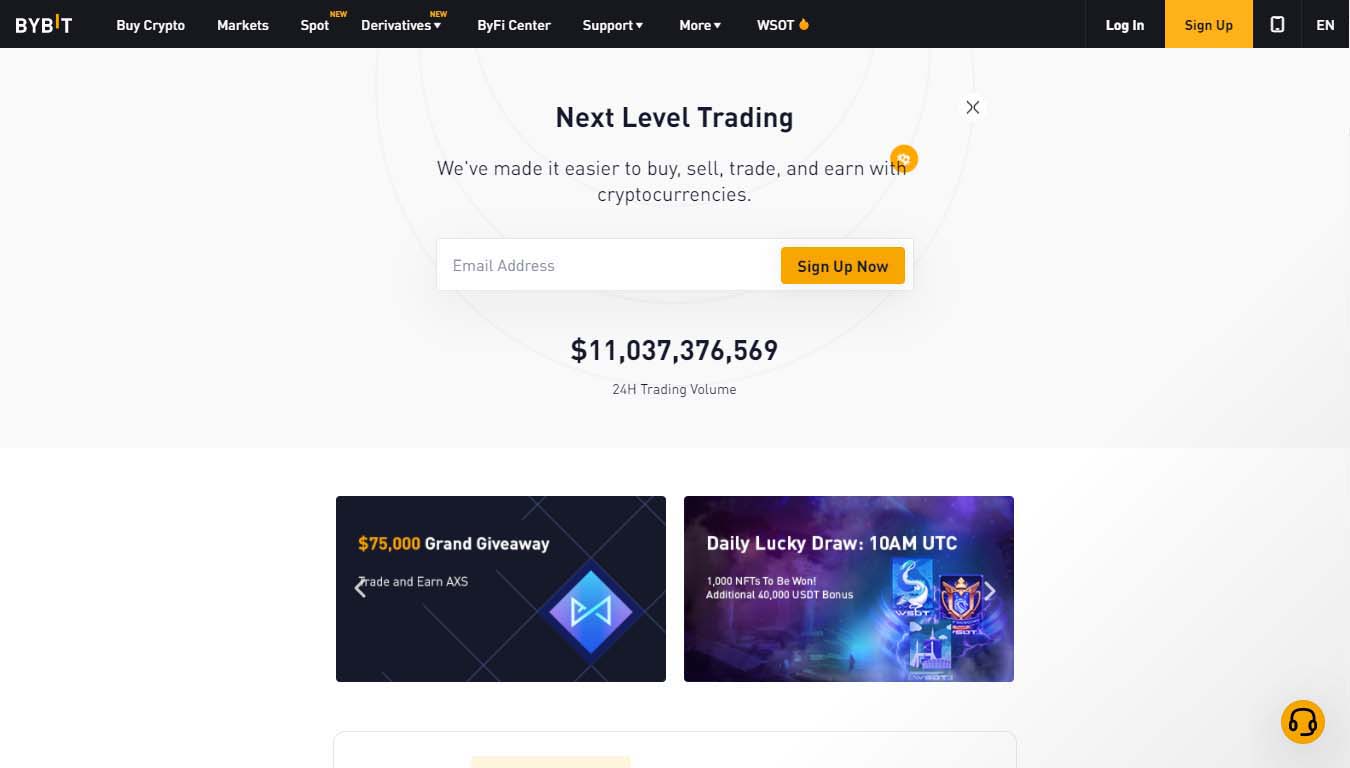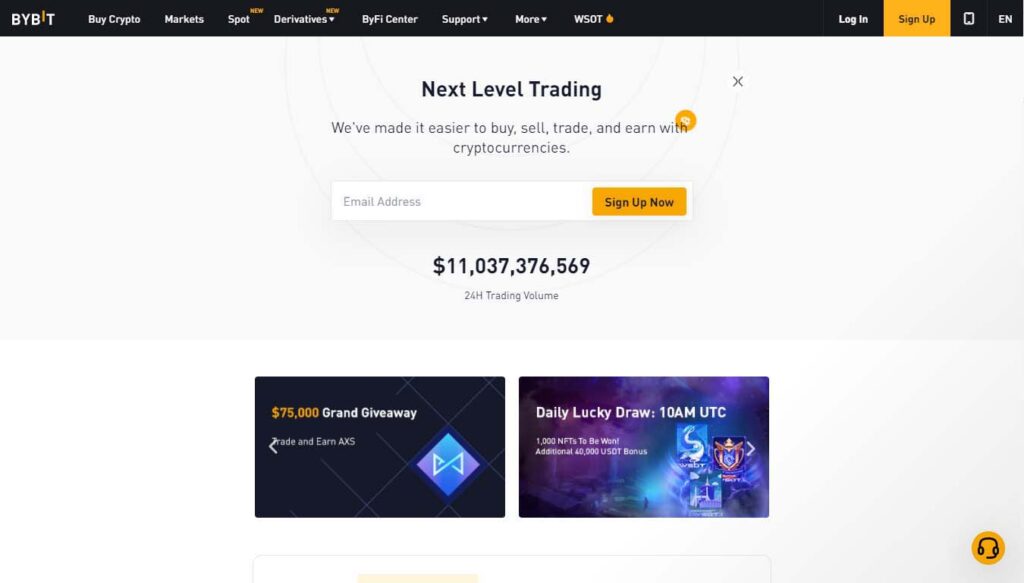 Well another exchange where you can buy Bitcoin in India is Bybit. Bybit is the best cryptocurrency exchange in India, with the lowest costs and the highest liquidity.
Right now, if you join up for a Bybit account using this link, you will earn an extra $5 free when you finish your KYC and up to $4,000 incentive when you complete all of the tasks offered on their platform.
Bybit takes pride in its competent customer service, which is available 24 hours a day, seven days a week. This is a frequently sought feature in the Indian market, and they have delivered admirably.
They also have the lowest trading charge on the market, with a 0% Spot Trading Fee and a plethora of bonuses for users to claim for completing various objectives.
Bybit, which was launched in March 2018, has over 10 million registered customers. They also have a big trade volume, a vast selection of coins, and great yield-generating products.
In terms of security, Bybit uses an industry-leading cold storage method to keep customer funds safe. They also handle withdrawals and deposits immediately, ensuring that your funds are always secure and available for use.
Overall, Bybit is a fantastic crypto trading platform that is incredibly simple to use, especially for beginning traders, and is also the world's fastest-growing Cryptocurrencies Exchange marketplace.
3. Binance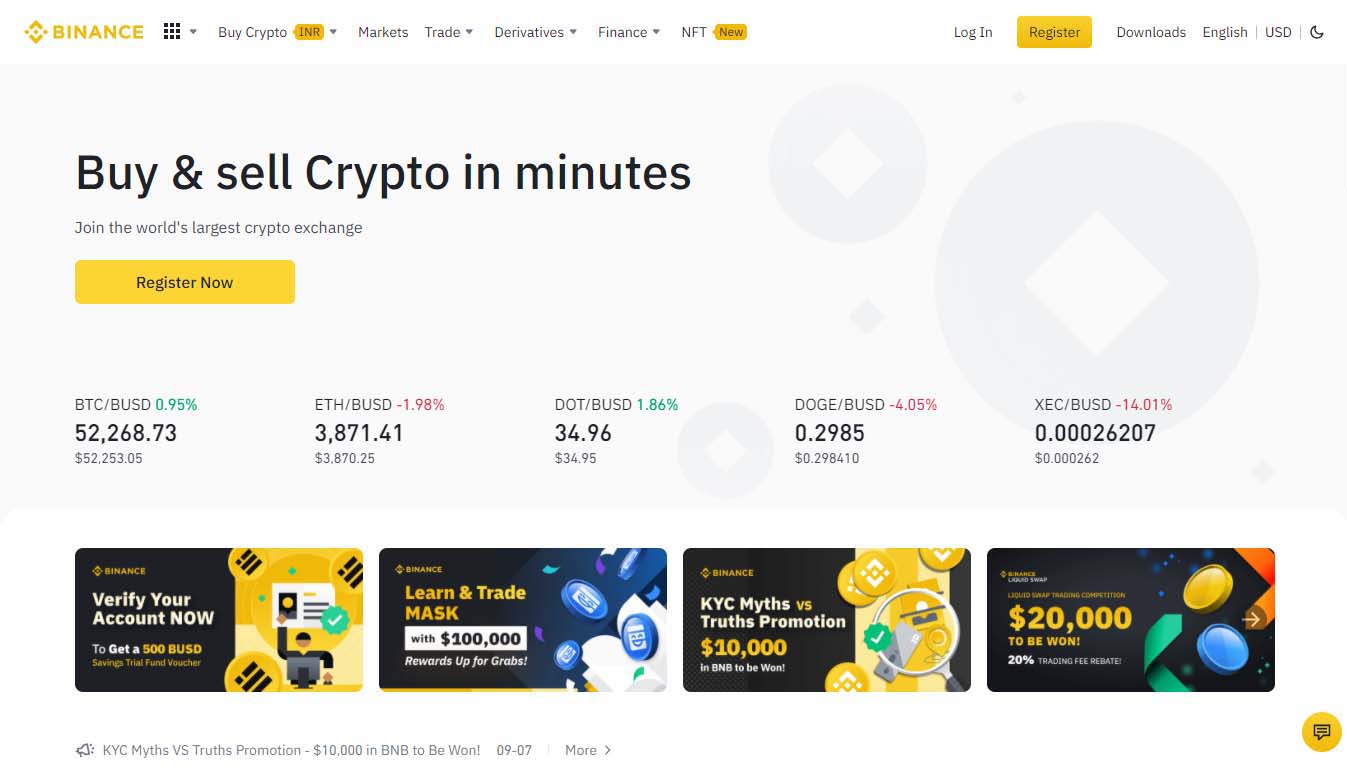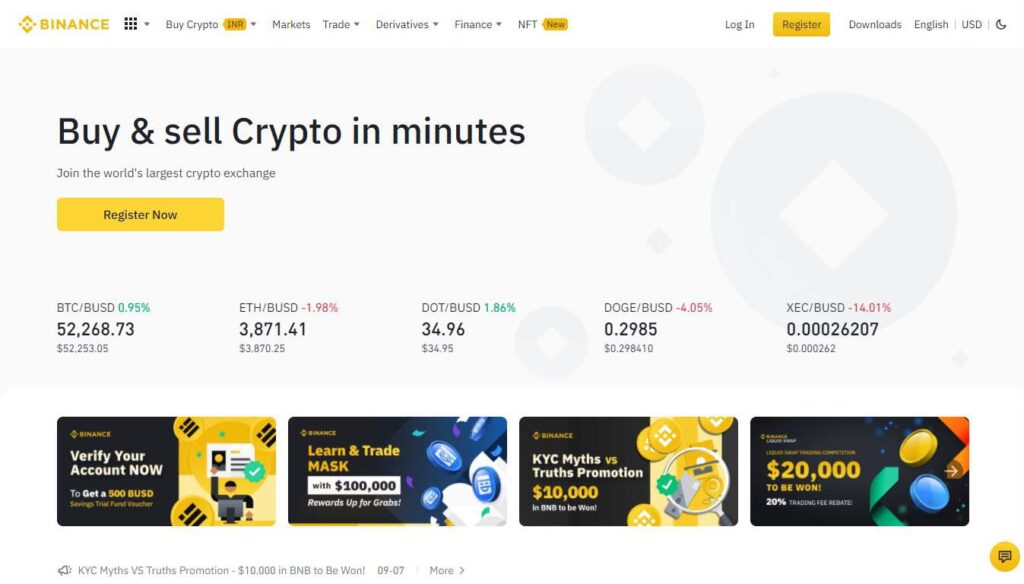 Binance is the world's best crypto trading platform in terms of liquidity, trading volume, and registered members. Margin Trading is available on the trading platform, which the customer can understand and execute in a few simple steps.
To use Binance's Margin Trading function, you must first complete your KYC Verification process, and your country must not be listed on the Binance country Blacklist. In addition, the trading platform has a Margin Insurance Fund to safeguard its overall liquidity.
If a trader becomes insolvent or bankrupt while margin trading and his assets are insufficient to cover his debt, the trading platform will refund the trader's loan using funds from the Margin Insurance Fund.
Binance now permits up to 125X margins on derivative contracts and 10X margins on spot trading. In addition, the Binance trading platform offers Leveraged Tokens as a Margin Trading option.
Moreover, by purchasing Leveraged Tokens, the trader avoids the issue or inconvenience of maintaining the requisite margin with the trading platform.
The Binance trading platform offers a wide range of financial instruments such as cryptocurrency, trading options, derivatives, and so on.
4. KuCoin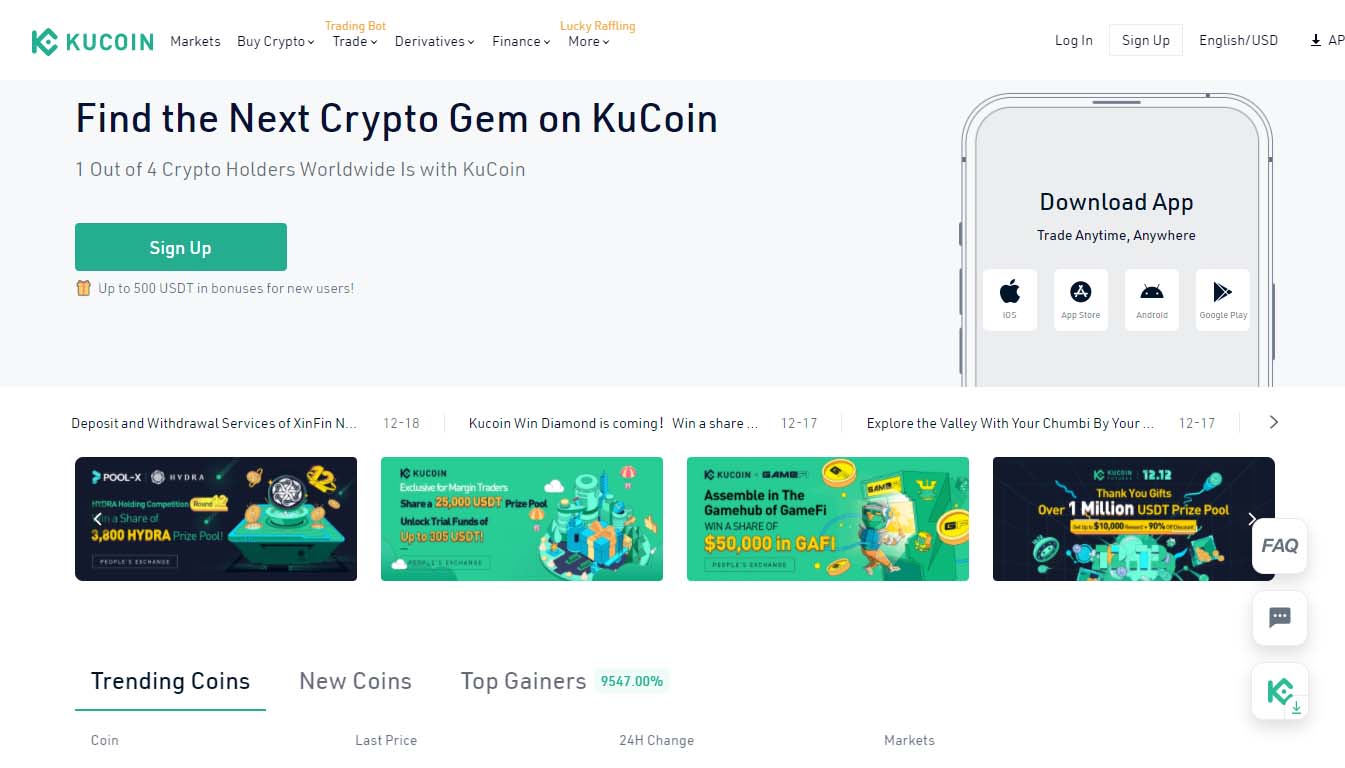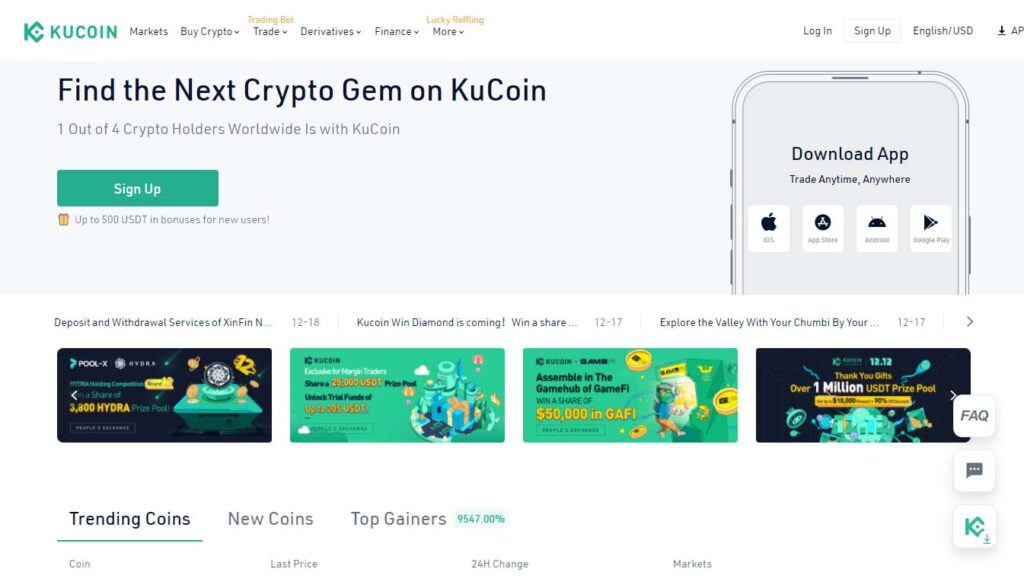 Another famous Cryptocurrency Exchange Platform is KuCoin, which started in Hong Kong in 2017 under the name "People's Exchange." Their primary goal was to provide their users with access to a simple and safe trading platform for a wide range of digital currencies.
With over 11 million members, they've already made a significant effect on the global cryptocurrency community. Kucoin is a trustworthy, secure, and easy-to-use Crypto Trading Platform that operates in over 200 countries.
It offers a wide range of Cryptocurrencies, including recently announced Cryptocurrencies.
Along with this, it offers incredibly low trading expenses, deposit and withdrawal fees, and effective precautionary measures. It offers irregular liquidity with low Trading Volumes and Coinsurances.
When there is a lot of traffic on the trading platform, you can run into some problems. By simplifying the trading process, the exchange platform hopes to equalize or democratize finance for all.
On the KuCoin trading system, only partial verification is required, with complete verification occurring only in the case of a suspicious activity or when the withdrawal limit reaches 2 BTC in 24 hours.
Customers can also use Two-Factor Authentication on the trading system.
5. Coinswitch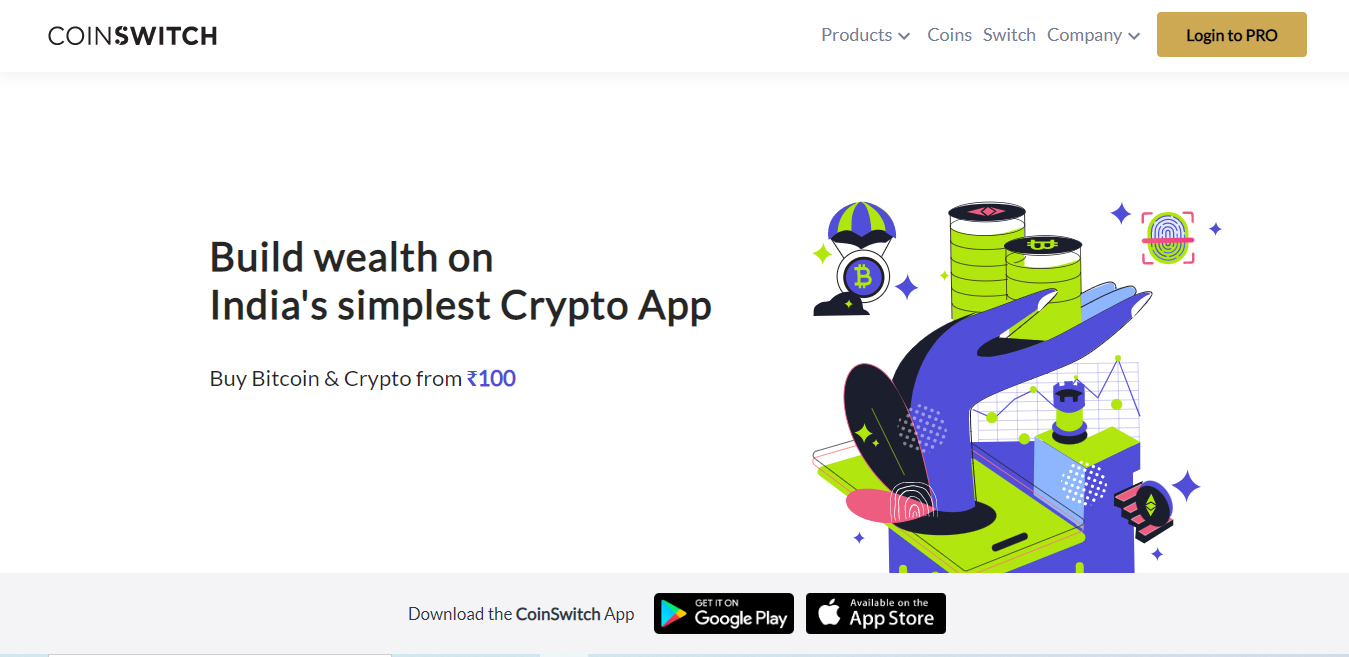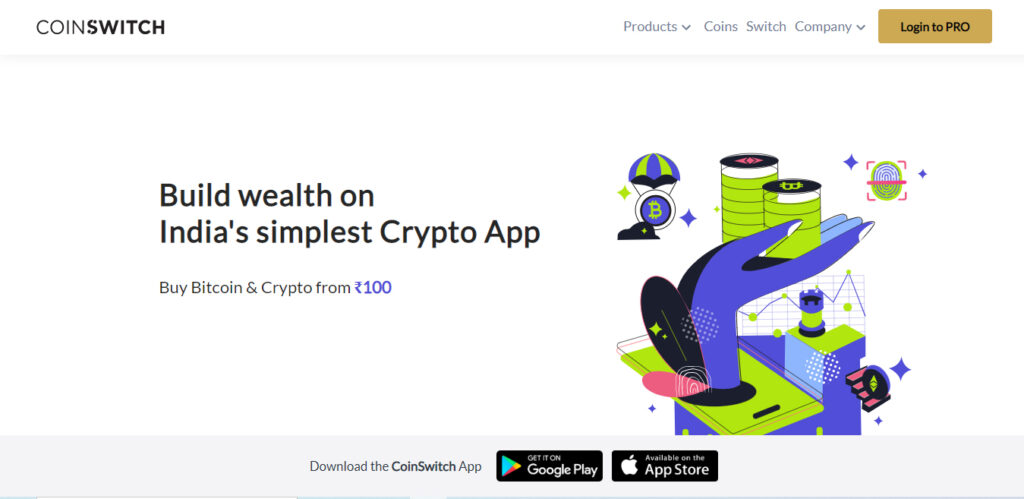 Coinswitch is a crypto exchange based in India. It was launched in 2017 by Govind Soni, Ashish Singhal, and Vimal Sagar Tiwari. Moreover, in June 2020, the platform debuted its India-specific version, currently named Coinswitch Kuber. The platform had over 5 million users by June 2021.
Coinswitch is a new exchange where you can buy bitcoin in India.
Coinswitch is among the safest and most user-friendly platforms, offering 100+ coins to users. Furthermore, unlike other traditional exchanges, Coinswitch does not generate its own liquidity.
This site, on the other hand, links to various exchanges to get the best exchange rates for users. The company also announced the debut of Coinswitch Pro on its medium blog, although it does not appear to be available anytime soon.
The site successfully brings and provides a simple and easy experience to its Indian crypto market customers. We understand the value of a user-friendly platform, and Coinswitch is committed to providing you with one. All difficulties are removed with the Coinswitch.
All it provides is a user-friendly experience for newcomers to the cryptocurrency market. With the rise of cryptocurrency in India, this app-based platform is the most efficient and user-friendly.
6. Bitbns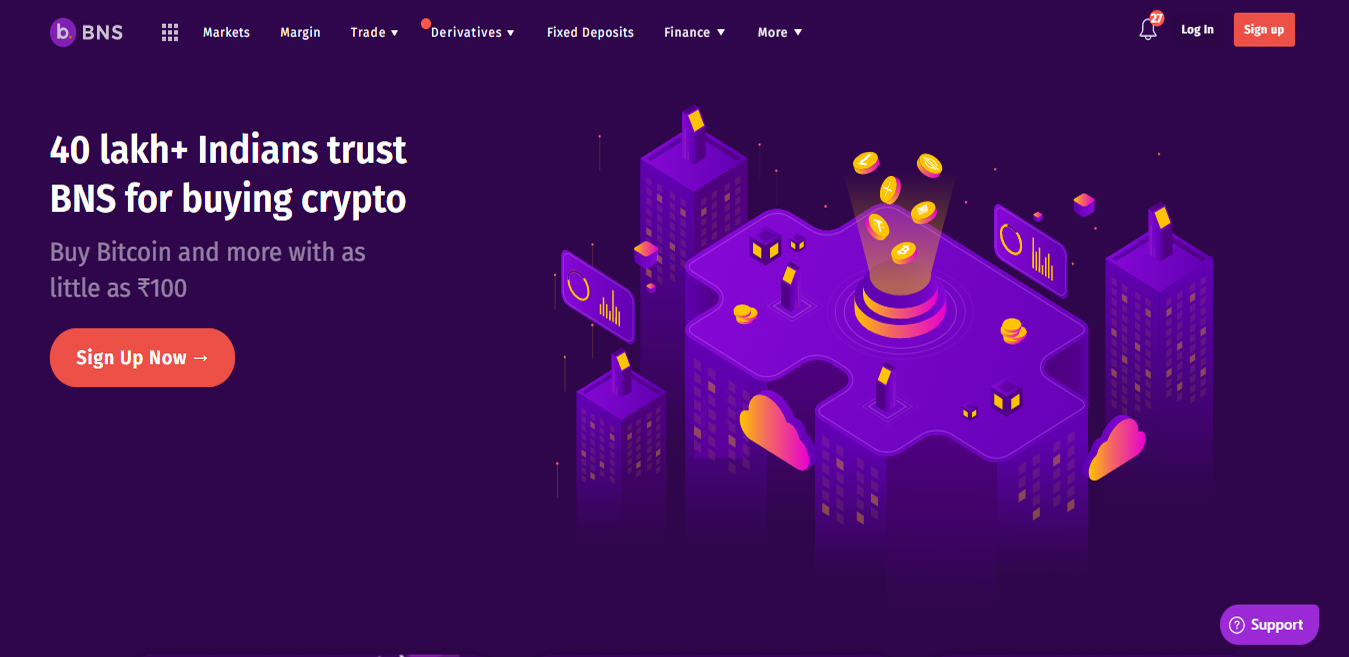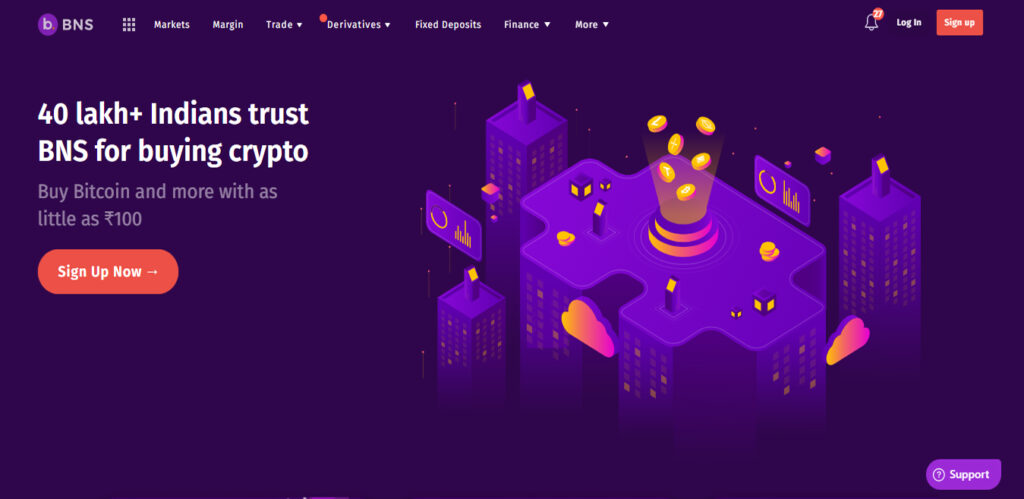 The Bitbns exchange is a platform for buying and selling cryptocurrencies, as well as an investment opportunity. The exchange trades Bitcoin, Ripple, BonusCoin, Ethereum, Tether, Tron, and dozens of other digital currencies and tokenized assets.
There are cryptocurrency-cryptocurrency and cryptocurrency-fiat pairs available, with the Indian rupee serving as the sole fiat. To store funds, you can use a normal e-wallet or order a hardware wallet.
The investment portfolio is changed every 30 days and comprises many programs. The minimal deposit is one dollar. The website includes a complete investment calculator as well as several financial tools.
The exchange provides a one-level referral program as well as a training system for new traders. There is no such thing as mobile trading. In terms of trading levels, commissions vary, although they are lower than the market average.
7. CoinDCX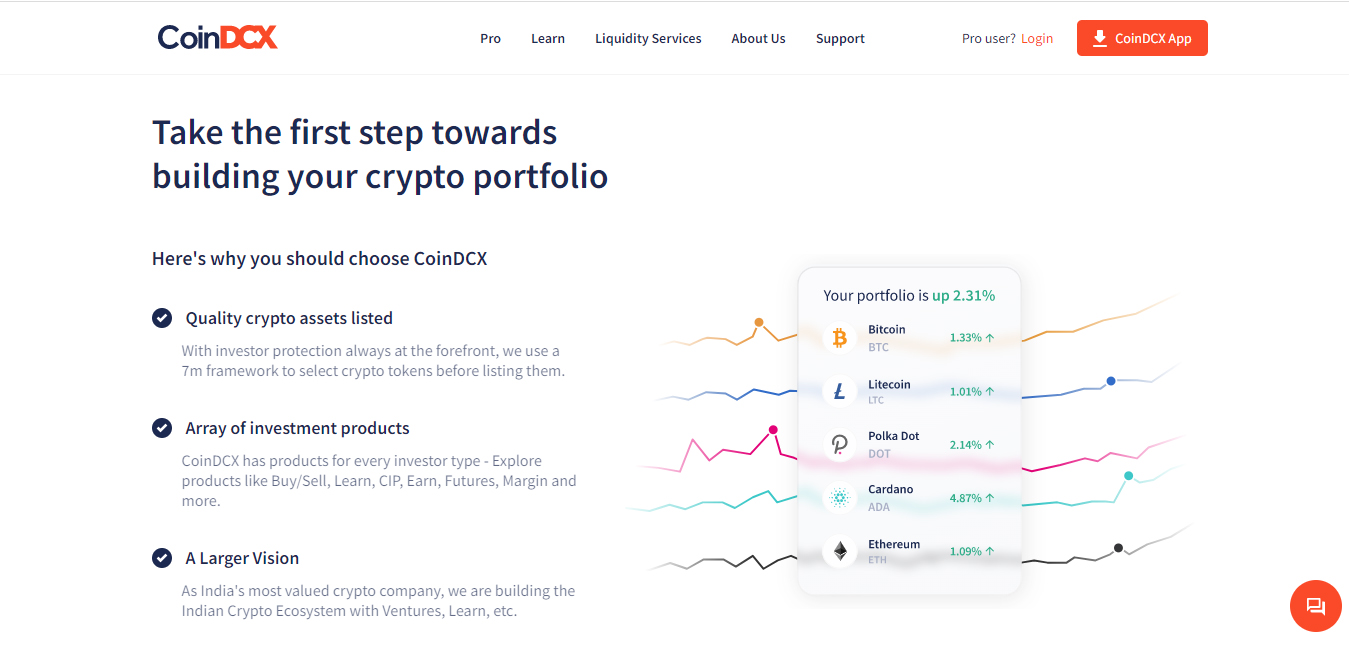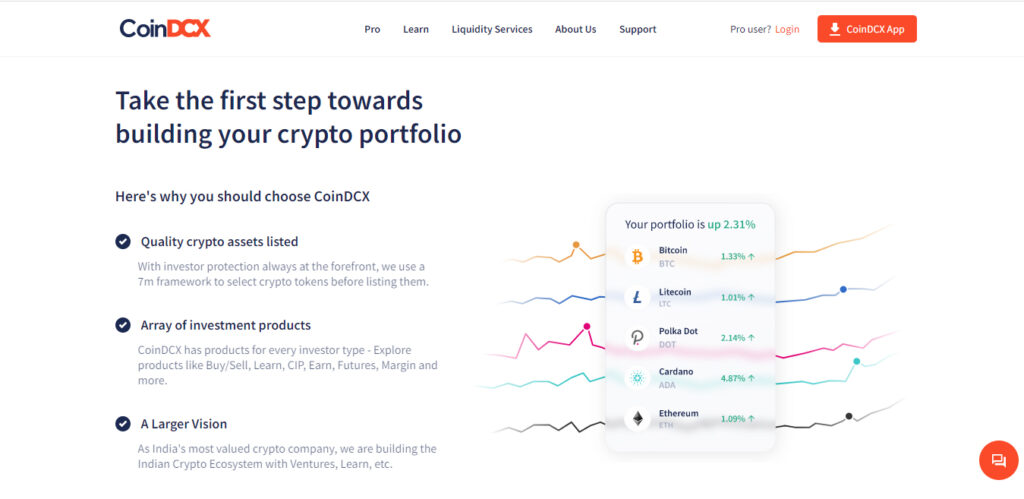 CoinDCX is an Indian crypto exchange platform for beginners that also offers a Blockchain Wallet. The company has received a significant investment from Coinbase Company and is the largest Cryptocurrency Trading Platform in India.
The trading platform promises to teach newcomers and amateurs about crypto trading and the crypto market, as well as to promote cryptocurrency trading on a big scale in India. With this trading tool, you can simply check the rate of Bitcoin or other well-known Cryptocurrencies in INR at any moment.
This trading platform provides services for several sorts of Crypto Assets or Cryptocurrencies, as well as a low or cheap trading fee.
The coinDCX platform is 100% risk-free. Hot Wallets only hold 5% of their registered users' total coins. All of your private details are entirely safe and private on this trading platform, and not even an internal member of the CoinDCX staff has access to it.
CoinDCX now offers Two-factor Authentication and a Notification setting for each trade for increased security. CoinDCX's trading platform supports Futures Trading as well as 20X Leverage. It also accepts fast payment gateways from common payment methods such as UPI, IMPS, Net Banking, and so on.
8. Coinbase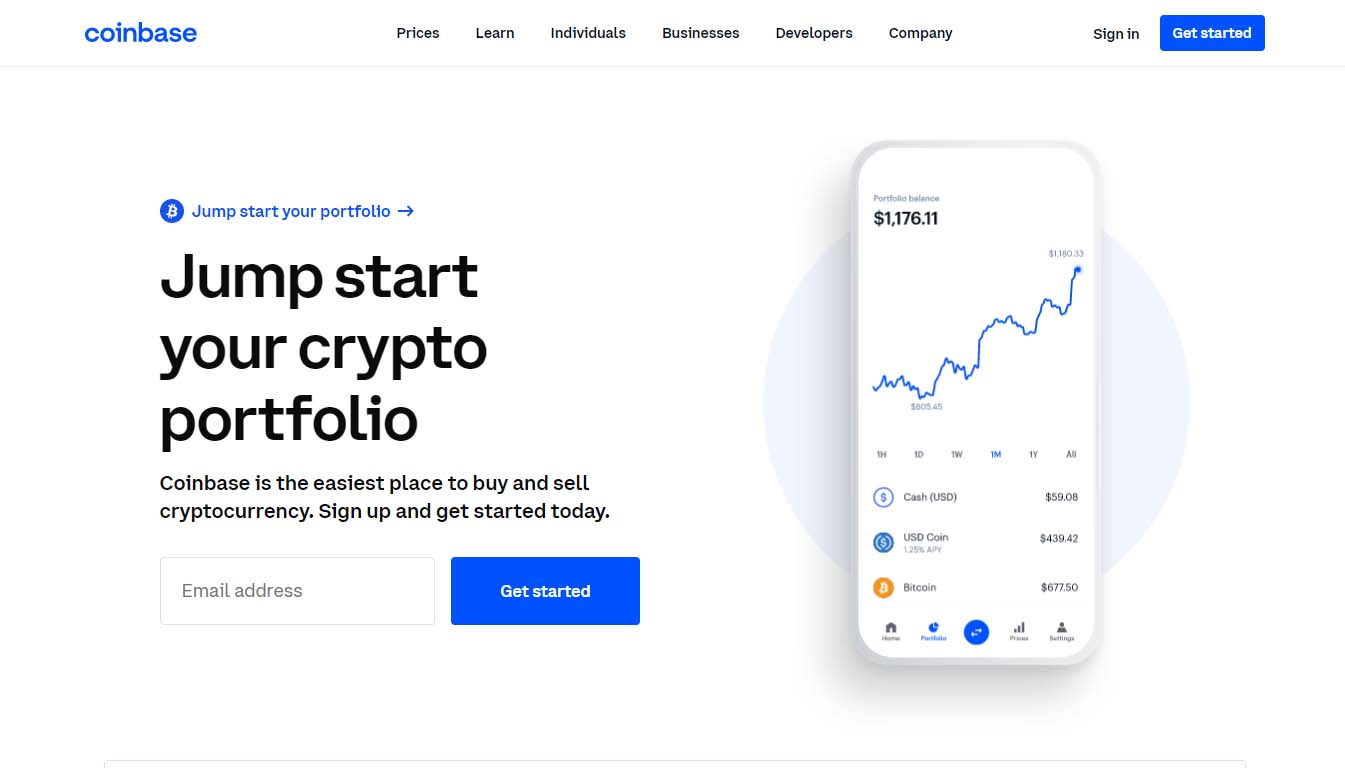 This is the most common platform for purchasing Bitcoin anywhere in the world. It recently launched PayPal connection, allowing users to pay for cryptocurrency using PayPal.
Coinbase allows you to purchase Bitcoin on their website, as well as on Android and iOS devices. You can also invest in cryptocurrency by making daily, weekly, or monthly purchases.
Coinbase is regarded as one of the best cryptocurrency exchanges in the industry. The Coinbase basic service interface is speedy and easy to use, but it also contains a few features that may appeal to more experienced users.
However, the costs of utilising Coinbase might be difficult to track, particularly if you buy cryptocurrencies with cash.
9. Gemini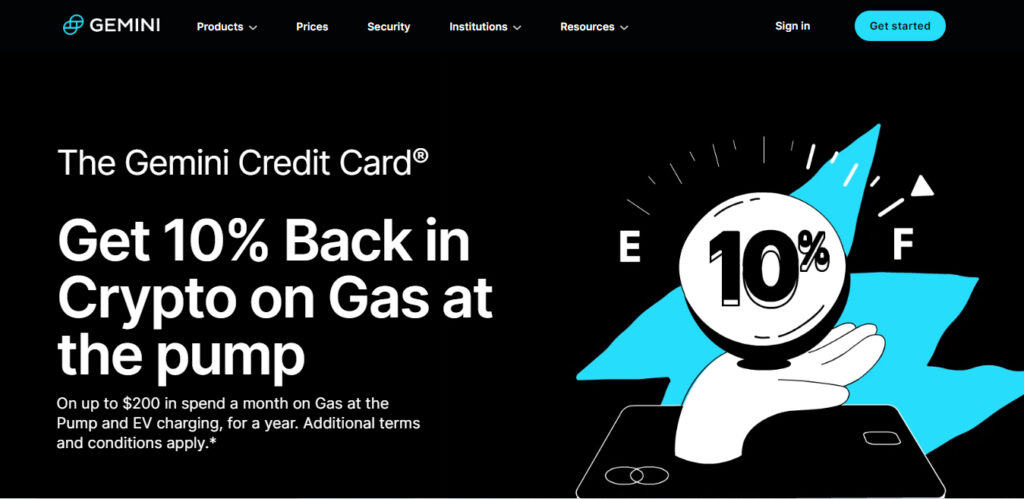 The Gemini cryptocurrency exchange has an Android, iOS, and web application where you can buy Bitcoin in India. It will also soon have a Gemini credit card, with which BTC purchasers can receive incentives while purchasing BTC through the exchange.
Gemini is a full-service cryptocurrency exchange that includes an account wallet for storing BTC, charting, portfolio management, transaction history tracking, price trackers, and other tools. Apart from BTC, it also allows you to purchase and trade other cryptocurrencies.
10. Zebpay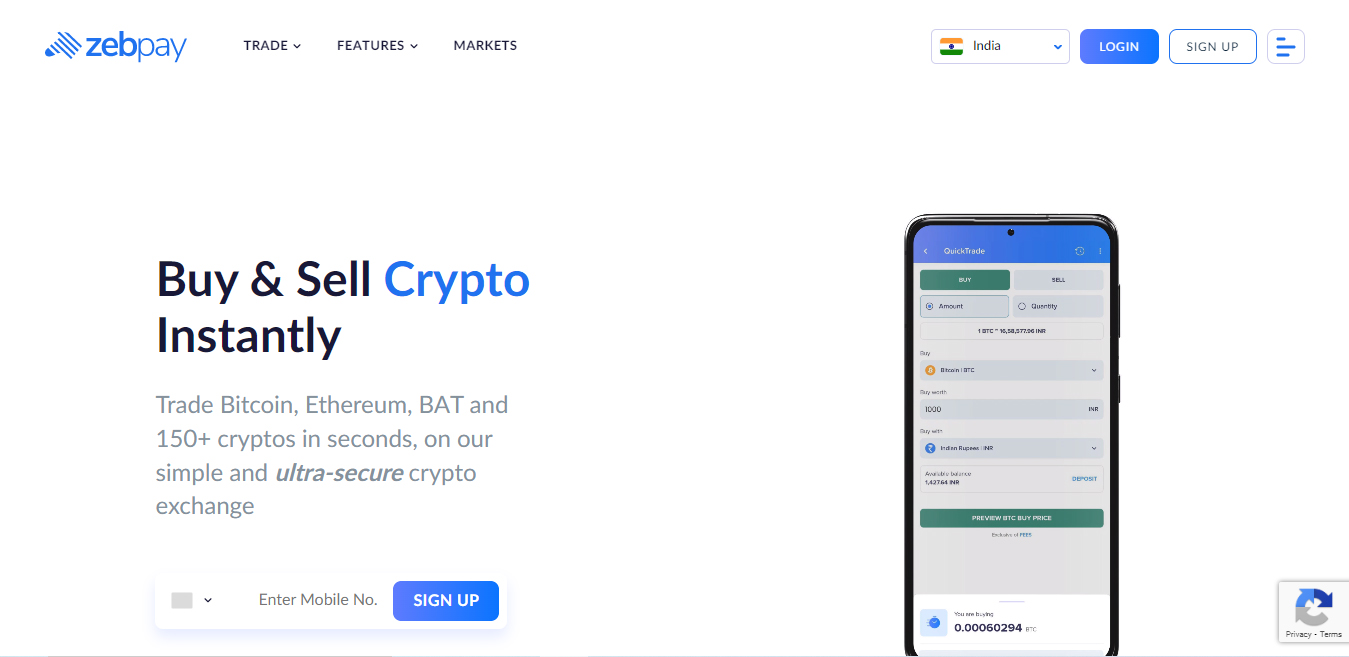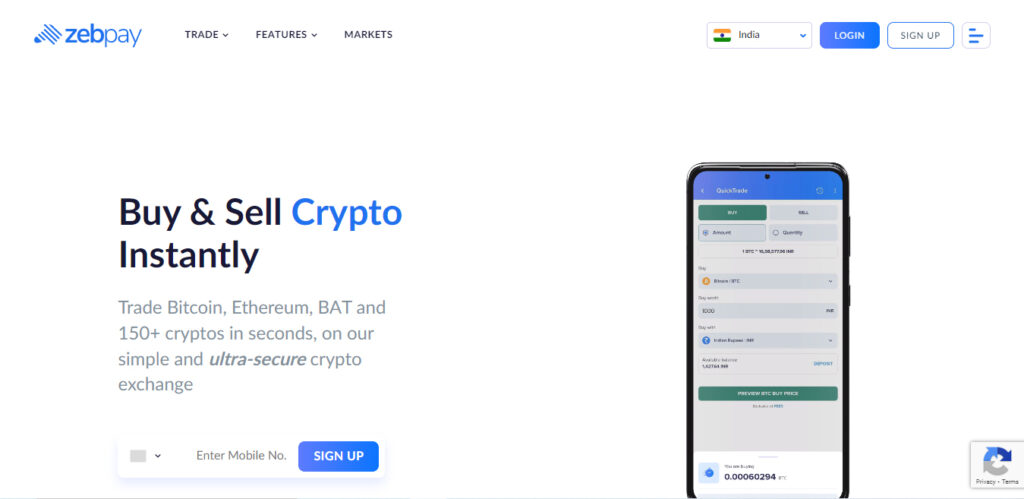 Zebpay is a crypto exchange where you can buy Bitcoin in India that can be accessed through your mobile device. You can also use your preferred device to access Zebpay via the web.
To buy or sell bitcoins and other cryptocurrencies, you must first open an account with Zebpay. This implies you must complete your KYC by submitting documents and depositing funds into your Zebpay account.
You can use Zebpay to deposit and withdraw rupees from your associated bank account.
Conclusion
My advice to all the new investors stepping into the cryptocurrency world is to be cautious and invest extra money only.
Please keep in mind that crypto investments are subject to market risks. This is just for those with technical knowledge of cryptocurrency and a high-risk tolerance. So, if you have what it takes to participate in the crypto realm, the platforms described above can best serve you.