Dear Reader, as a blogger, I may earn a small affiliate commission from this blog without any additional cost to you. This helps me keep the blog updated and running. However, the information provided on this blog is unbiased as I make sure only quality information is provided to the readers.
Introduction
Late in 2017, Nischal Shetty (a developer from Mumbai) decided to enter the crypto trading space after observing several gaps in this market. Most exchanges were faceless which led to distrust among their users. Nischal was quite active in the crypto community and realized he could do better than the existing players.
He put up a page announcing the launch of WazirX and got 20,000 people to sign up for it. Fast forward to 2021. WazirX is the biggest crypto exchange and trading platform in India.
Shortly after WazirX was launched, crypto-related payments were banned by the RBI. Other exchanges at the time either left India or gave up. WazirX, however, came to the rescue by launching its Peer-to-Peer (P2P) trading platform using which its users can exchange cryptocurrencies without using any money.
This innovation undoubtedly is one of the reasons why WazirX has a user base of over 10 million users in 2021.
Despite this undeniable social proof, there are still questions like "Is WazirX safe of buying/selling cryptocurrencies" and this is exactly why I decided to write this comprehensive WazirX review – talking about everything from its different features, withdrawal\deposit methods, support, user reviews, and much more.
But before we get into all that, let's begin with a brief introduction of WazirX and its key features.
What is WazirX
Founded on Dec 7, 2017, WazirX is the oldest crypto exchange/trading platform in India. In the simplest of terms – a crypto exchange platform like WazirX allows its users to trade a wide range of cryptocurrencies using their national currency.
So, if you are a WazirX user, you can deposit your money into exchanges and end up owning cryptocurrencies (of your choice) through that money.
In the duration when crypto trading was illegal in India, Binance acquired WazirX on Nov 21, 2019. In March 2020, the honorable Supreme court legalized crypto trading and the growth of WazirX has been unstoppable ever since. I mean WazirX's user growth has been 10x in 2021, which is a record-setting milestone in itself!
Before we start with the review, let me address the burning question – Is WazirX Legit?
Is WazirX safe for buying and selling cryptocurrency?
Ever since March 2020 when the Supreme Court made crypto trading legal in India, there is no organization that can stop users from trading in cryptocurrencies at their own risks. So, if you are declaring your profits and paying taxes on them, you are free to legally trade in cryptocurrencies.
Now, coming to the question of whether or not WazirX is the right crypto exchange/ trading platform that you should use.
The short answer is – Yes, WazirX is a 100% safe and legit platform. But, keep in mind that WazirX doesn't own any responsibility for your losses or profits made via trading on the platform except for its fees (later on this). For instance, if you end up buying a cryptocurrency listed on the WazirX platform and it loses its value, the WazirX platform itself won't be responsible for your losses.
Over the years, WazirX has become a household name in the crypto trading market and has launched its native utility token – WRX coin in February 2020.
Having said that, the chances of the Indian Government banning cryptocurrencies is negligible (in my opinion) but you can still expect some regulations to come into the picture which can be really good for investors.
A word of advice – I would recommend crypto traders to do their own research before investing in a crypto digital asset and stay wary of any scammers. There are a few steps you can take to ensure your security while trading on the WazirX platform:
Only access your account using WazirX's official website, Play Store, and App Store listing.
WazirX offers 2 different ways to secure your account – using an Authenticator app and via Mobile SMS. You can choose either of these options to keep your account secured.
It is not recommended to trade on a public network or to share your WazirX account details with anyone.
How does WazirX work?
As a WazirX user, you get three different options to trade cryptocurrencies:
Using the exchange platform,
Using the P2P trading platform, and
Via NFTs i.e. Non-Fungible Tokens.
The NFT marketplace is still in its beta version, so I won't be talking about it.
You can deposit your money into the WazirX wallet and use it to trade over 100+ cryptocurrencies listed on the platform. Other than the exchange platform, you can also trade your cryptocurrencies with others in exchange for a different cryptocurrency without directly having to involve money.
Having said that, WazirX only allows users to trade cryptocurrencies after they successfully complete the KYC process. This reinstates the fact that WazirX is a safe-to-use crypto trading platform.
How to create an account at WazirX
Let us begin with creating an account at WazirX by clicking below and Signing Up
1. You now have to provide your Email Address and password to sign up at WazirX (as shown in the image below). Following which you will get a confirmation email at your email address.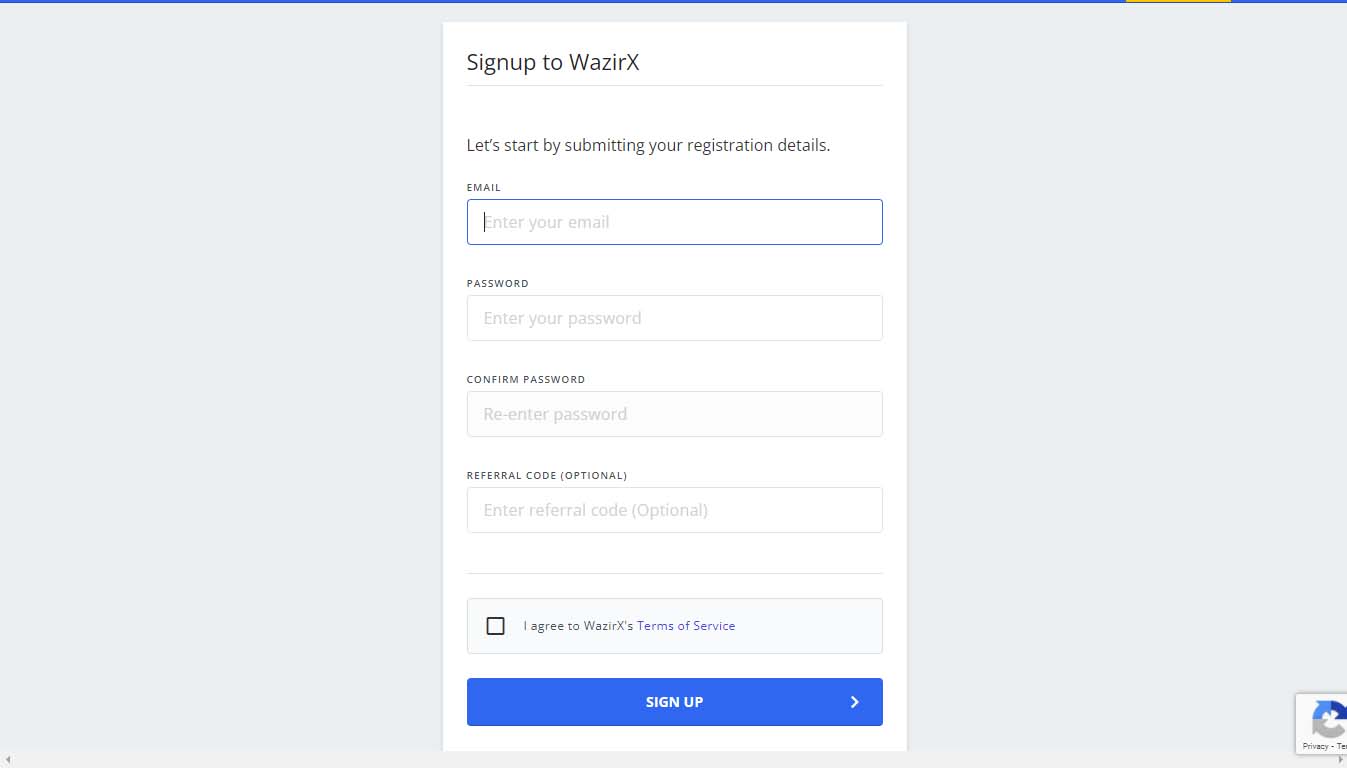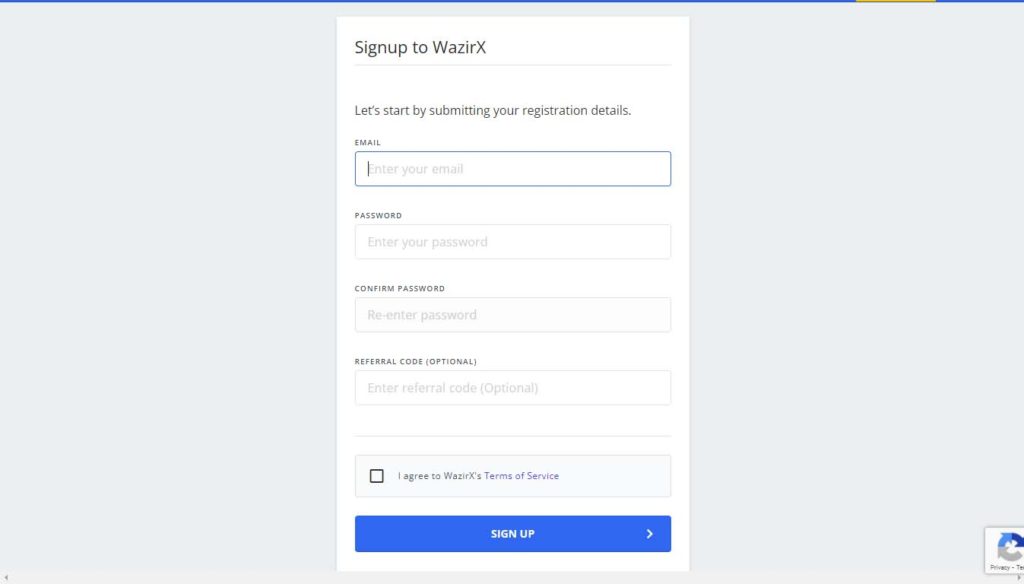 2. Click on the "Verify Email" button in the email. You can log into the website using your Email Address and Password.
In case you do not receive your confirmation email, please wait up to 10 minutes and also check your Spam Folder. Otherwise, you can resend the confirmation email by clicking on Resend Verification Email Button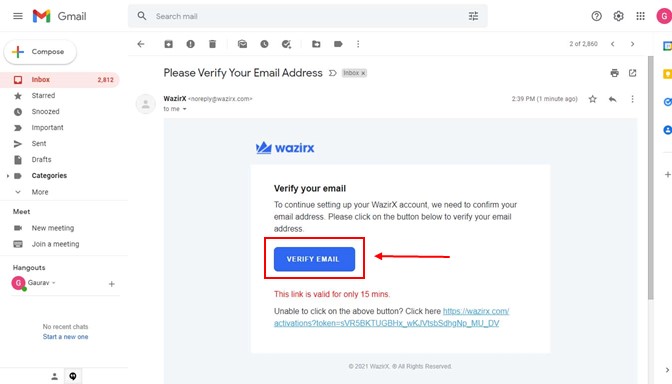 3. After verification, you will be redirected to a successful email verification page (as below). Click on the continue button to log in.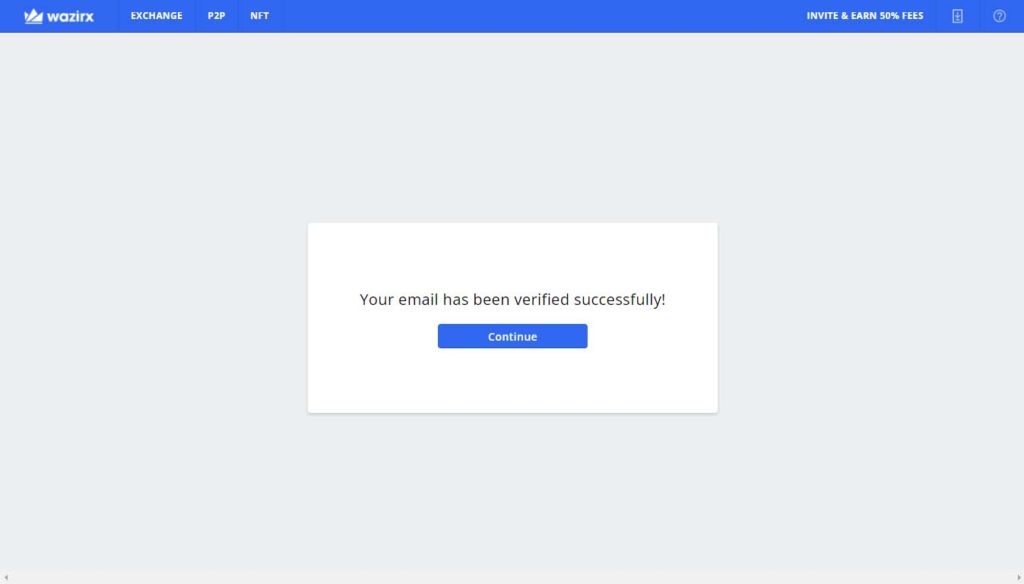 4. Continue from the Email verification page to the login page by clicking the "Log In" link on the top of the page.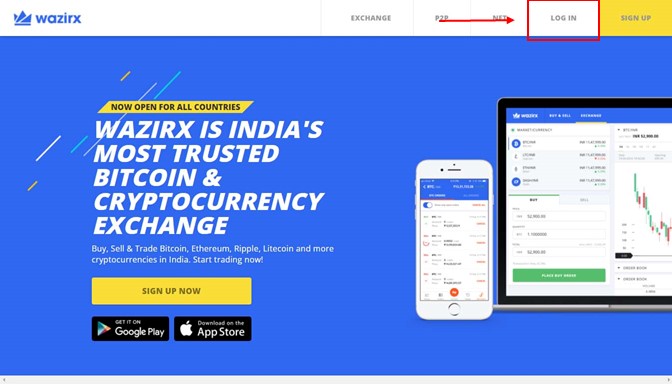 5. After logging in, you should add 2-Factor Authentication for additional security. You can either choose Mobile SMS (for OTP) or download and use Google Authenticator (for PIN). Google Authenticator is a very safe option if it is downloaded and configured on a separate device.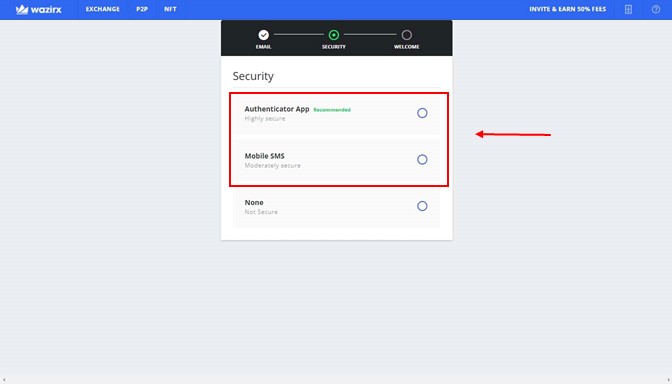 6. The platform will direct to the Security settings updated page and will display the below message " Security settings updated!"
7. KYC Details: The platform then asks you for your KYC. You have to provide complete personal details (as per your country) like Name, Date of Birth, Address, Accepted Identification Card by your country. In India Aadhar Card and passports are valid proofs of Verification.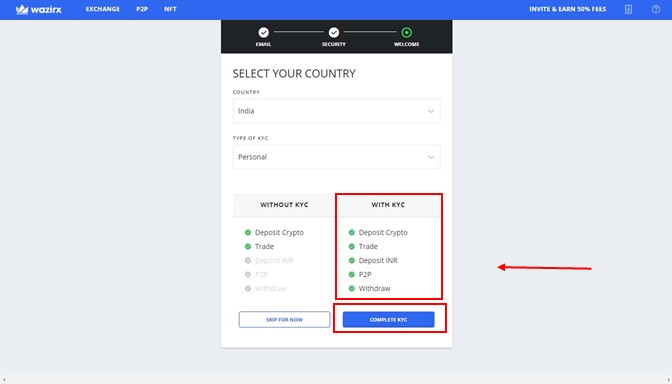 8. You have to then take a selfie for the system and proceed to verification by clicking the "Submit for Verification" button.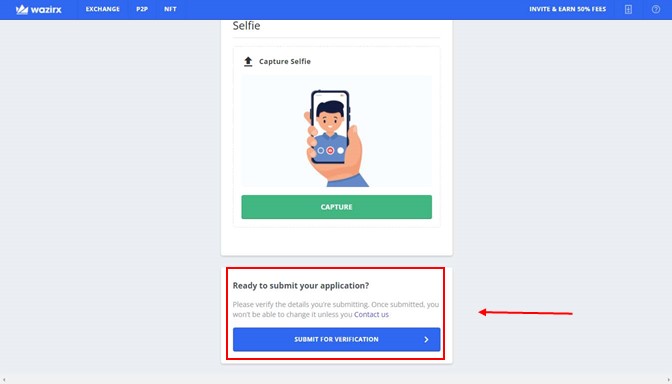 9. If you provide your KYC documents and details properly, WazirX will accept your application in a few minutes. The website mentions a maximum time of 2 days but the support seldom takes that much time.
10. Once you complete your verification you need to connect your Bank Account and deposit (discussed next) funds to WazirX wallet. With these funds you can buy your Bitcoin.
WazirX Review: Deposit and Withdrawal Options of WazirX
The withdrawal and deposit options on the WazirX platform are quite simple. You need to have a linked bank account and verified identity before you can withdraw funds from the WazirX wallet.
You can add money to the WazirX wallet via UPI, Internet Banking, NEFT, IMPS, RTGS and through MobiKwik Wallet. The deposits to the WazirX wallet made by UPI are instant. However, please note that the deposits made via bank transfers – NEFT/ IMPS/ RTGS may take up to 72 hours to reflect in your WazirX wallet.
An interesting option to mention here is that you can add funds to WazirX through NetBanking. However, an account in a Nationalized Bank is required for this. You just have to link your Bank account with WazirX and can make instant transfers. WazirX charges a nominal fee up to a deposit of each Rs. 4,99,000/-.
It recently linked its platform with Mobikwik wallet wherein WazirX doesn't charge any fee but users have to pay a fee to Mobikwik. Which again is nominal.
Here is my personal experience with the deposit options of WazirX. When the servers are overloaded, meaning there are comparatively more users on the platform, even the deposits made by UPI could take a while. I have noticed that NetBanking is the fastest option when it comes to depositing and even withdrawing (discussed later) money from WazirX.
Please note that the deposit process on WazirX is completely secure. This means that if your deposit process has failed, your money will be returned to your bank account.
You can withdraw your money via NEFT transfer which takes up to 72 hours or you can use the instant withdrawal feature available on the WazirX platform. There is a limit on withdrawal which ranges from a minimum of Rs. 1000 to a maximum of Rs. 50,00,000 per transaction. A user can withdraw a total of Rs. 1 Crore in a day.
In the case of NetBanking, this range varies from a minimum of Rs. 1,000 to Rs. 5,00,000 per transaction. And a total withdrawal of Rs. 1 Crore per day. Withdrawal through NetBanking is noticed to be the fastest way to withdraw funds from WazirX.
Please be informed that the deposits and withdrawal fees charged by WazirX depend on the option you choose. In the next section, I will give you an overview of WazirX's fees.
WazirX Review: WazirX Fees
One of the most important aspects of crypto trading is knowing the charges of the platform you are using. If you're a WazirX user, you don't really have to worry. WazirX charges substantially low processing fees as compared to other crypto trading platforms.
WazirX charges two different types of fees –
Trading fees
Fees for withdrawing & depositing funds
The most common type of trading on WazirX is Spot Trading. For Spot Trading transactions, both buyers and sellers are charged a 0.2% trading fee. If you pay for this translation fee using WazirX's WRX token, you can get a 50% discount.
For newer users, WazirX has a feature called STF – Smart Token Fund – which basically is hand-holding for newcomers on the platform to get used to the crypto trading environment. For STF market transactions, WazirX charges a flat 25% fee on the earned profits.
Depositing money to the WazirX wallet costs a user around Rs. 47.2/- for a bracket of transactions from Rs. 100-Rs. 4,99,000). At the same time, withdrawing money can cost anywhere between Rs 5 – Rs 10, depending on the channel of withdrawal.
You can also visit the official website to get a detailed overview of the trading, withdrawal & deposit fees of WazirX.
WazirX Review: WazirX Support
Another thing I usually take into account while reviewing a platform is the accessibility to its support team. In the case of WazirX, the support team is always available. There wasn't any dedicated phone support you could use to reach out to WazirX's support team until April 2021.
In April 2021, Wazir became the first crypto trading platform to launch support via the following numbers – 1800-309-4449 / 0124-6124101 / 0124-4189201.
Other than that, there are thousands of help articles on the WazirX support page where you can get solutions to your problems almost instantly. You can also follow WazirX on Telegram, Facebook, Instagram, Twitter, etc. for daily updates about upcoming maintenance schedules and other such important things.
WazirX Review: What do users say?
Despite being one of the revolutionary crypto trading platforms out there, WazirX online reviews are a mix of good as well as bad ones – not unlike other platforms out there. Here is how WazirX has been rated on different platforms:
Google Play Store: 3.9 stars by 449,359 users.
App Store: 4.2 stars by 38.3k users
The WazirX team is also prompt in replying to user reviews on Google Play Store and App Store. Here is a snippet depicting the same.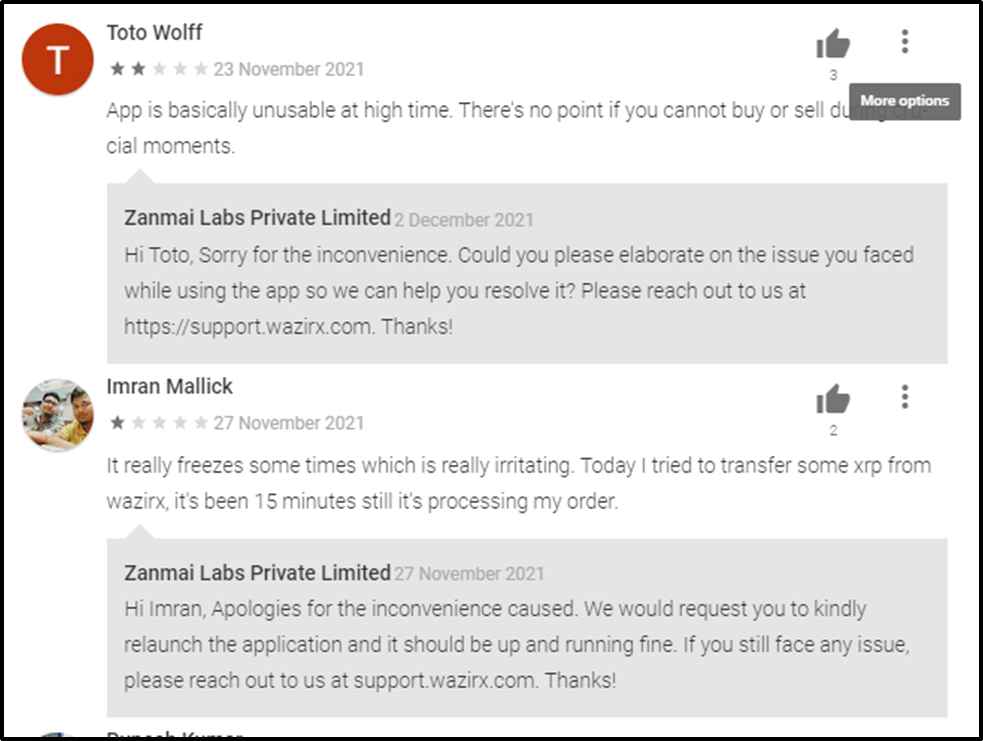 WazirX Review 2022: Over to You!
WazirX is one of the oldest and most used crypto-trading platforms in India. Millions of users, as I mentioned earlier, use it to invest as well as trade cryptocurrencies. I personally love the trading view and ease of transactions via the WazirX app.
WazirX has been in the cryptocurrency market for a long time. The makers have introduced innovative features from time to time for higher engagement of users. If we talk about Centralized Exchanges, my main concern is always about the security of my funds. WazirX keeps 95% of its funds in Cold storage which acts as strong protection against hackers. Hence, storing funds with WazirX is quite secure.
Having said that, the universal rule of trading also applies to cryptocurrencies –
Do your own research before your invest,
There are no shortcuts to success in success, and
Stay away from scammers.
Happy trading!
Frequently Asked Questions
Is Wazirx safe to buy Bitcoin or Ethereum?
WazirX is the oldest and most trusted crypto-trading platform in India. It was acquired by Binance, which serves crypto traders from 180 different countries. The WazirX platform has over 10 million users in 2021. Given this kind of social proof, it is safe to say that you can trust the app for your crypto tradings and investments – be it Bitcoin, Ethereum, or any other 100+ cryptocurrencies listed on the platform.
WazirX stores 95% of its users' funds in offline cold storage, making it unreachable to hackers. The platform uses OTP-based and Google Authenticator to validate your identity while making any trades, deposits, withdrawals, etc.
You might face delays in deposits, withdrawals, etc. on the WazirX app. It usually is caused by too many active users on the network.
You can, however, take the necessary precautions you can take while using WazirX (or, in general) to avoid falling prey to phishing scams.
Never click on unknown links that might land in your email. Unless you're sure of the identity of a sender, clicking on links might lead to an almost identical WazirX website, with a few minor differences. If you get an email asking you to change your passwords or any other sensitive information, it's recommended to log in to your WazirX app or website for any such action.


Use two different kinds of firewalls – desktop and network. Combined together, these firewalls make it almost impossible for hackers to access your system via online cryptocurrency trades that you might have made.


You can also install an anti-phishing toolbar on your desktop. This toolbar compares cryptocurrency sites you visit (or any other sites) with known phishing sites and alerts you if you are trying to access one.
Is WazirX P2P trading safe? Is it faster to buy Bitcoins on their exchange through P2P?
The short answer to the first question is – Yes, the WazirX P2P platform is completely safe. As a buyer, you can convert your money into crypto (Bitcoin, Ethereum, Dogecoin, etc.). Similarly, the platform allows you to convert your crypto holdings into money for sellers.
According to WazirX P2P data, more than $18 million P2P trades have been made on the platform with 0 reported fraud cases. The average time of matching a buyer with a seller and vice versa (for a P2P trade) is 19.4 minutes. Keep in mind that the WazirX P2P trading platform has been live since November 2019.
Needless to say, WazirX P2P trading is not only safe but also is super quick in terms of connecting a buyer and a seller.
To add icing to the cake, here are 2 key features of the WazirX trading platform:
There are no transaction fees for the WazirX P2P trading platform; it's 100% free.
WazirX helps trades connect with verified buyers, and vice versa. No wonder, its P2P platform has 2500+ 5 star reviews.
Now, to answer the second question – Yes, it is faster to buy Bitcoins through the P2P trading platform. As mentioned earlier, the platform takes just 19.4 minutes (on average) to pair you with an interested seller. Once you find a seller, you can make a direct payment while WazirX works as an escrow to safeguard this transaction free of charge.
How to buy Bitcoin or Ethereum on the WazirX app?
The process of buying any cryptocurrency from the WazirX exchange is almost the same. To give you an overview of the entire process, your funds are deposited in your WazirX wallet and then, you can use it to buy Bitcoin with as minimum as Rs 100.
I am assuming that you already have your account on WazirX with a verified Bank Account and/or UPI ID. If not please go to the create an account section at the beginning of the article. Or create an account on WazirX here
Follow these steps to buy Bitcoin on the WazirX platform.
Adding Money to WazirX wallet
Step 1: Open the WazirX app and click on the "Funds" option from the bottom menu tray.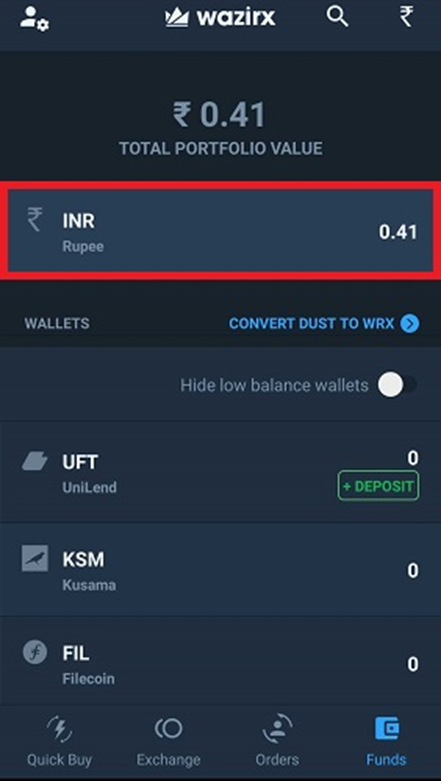 Step 2: You will see an "INR" option – the first one on your screen. Click on it, followed by the "Deposit" button.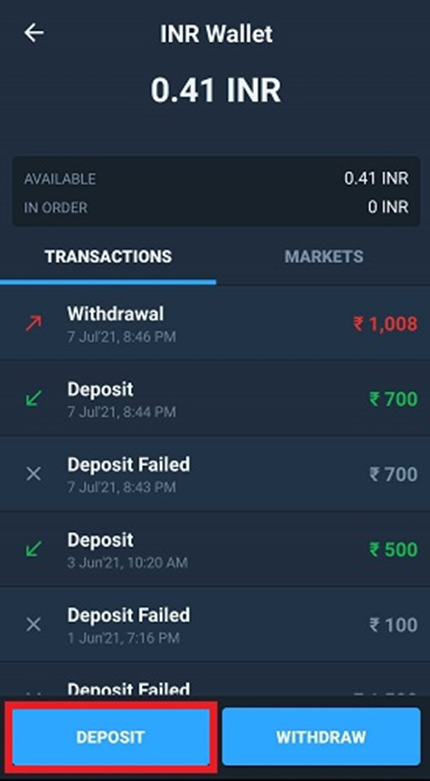 Step 3: There are multiple options to deposit money to your WazirX wallet – Instant Deposit via UPI, Instant Deposit via Net Banking, and Instant Deposit via Wallet Transfer (done via Mobikwik wallet). I recommend choosing "Instant Deposit (UPI)" for a superfast deposit.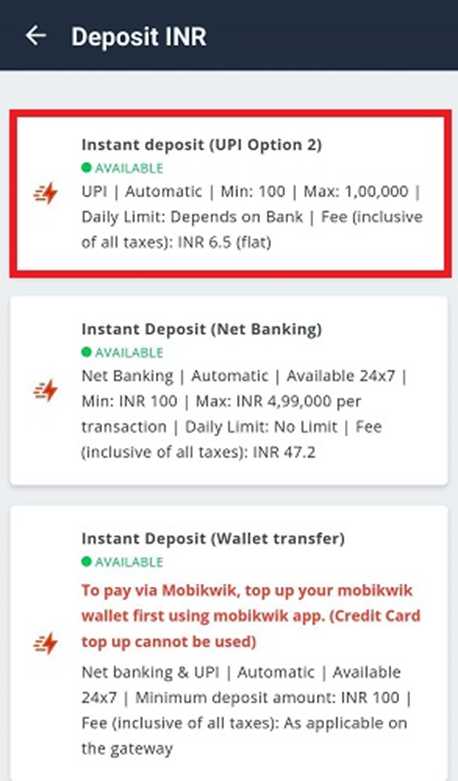 Step 4: In the next screen, enter the amount you want to deposit to your WazirX wallet and click on the "Continue" button. The minimum deposit amount in the WazirX wallet is Rs. 100 and the maximum amount is Rs. 4,99,999.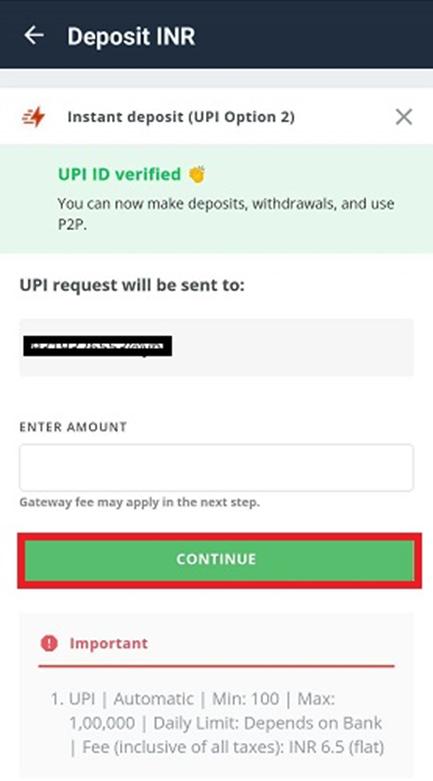 Step 5: Complete the transaction using the UPI app you're using. Once it is done, your deposit amount will be reflected in the WazirX wallet within 15 mins. WazirX charges a transaction fee of Rs. 4 for deposits made through UPI.
Buying Bitcoin (BTC) on WazirX
Step 6: Under the "Exchange" option and click on "BTC/INR", followed by the "Buy/Sell" button. Similarly, you can choose "ETH/INR" for Ethereum.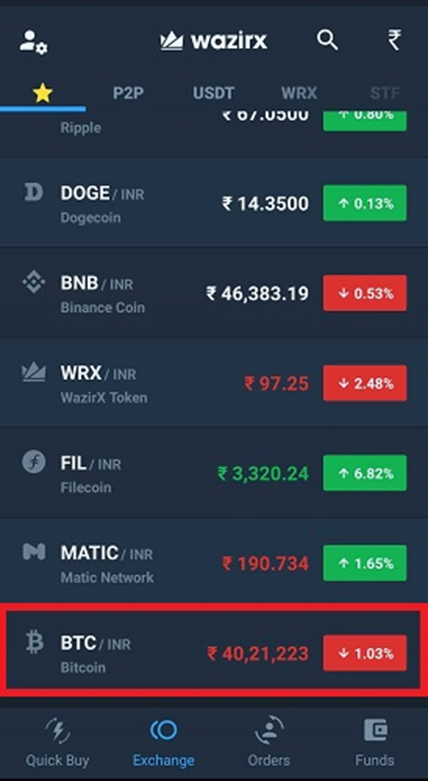 Step 7: In the "Buy" tab, enter the amount you wish to spend to buy Bitcoin (BTC) in the "TOTAL | INR" option and hit "BUY".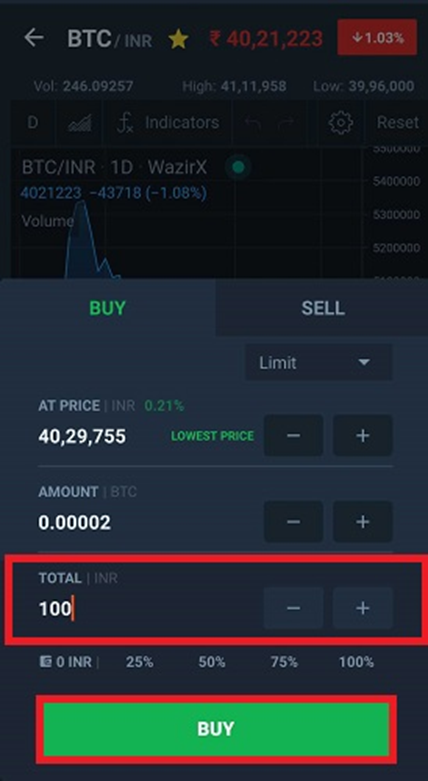 Step 8: WazirX will show you a summary of the purchase. Slide the pointer at the bottom to confirm your purchase.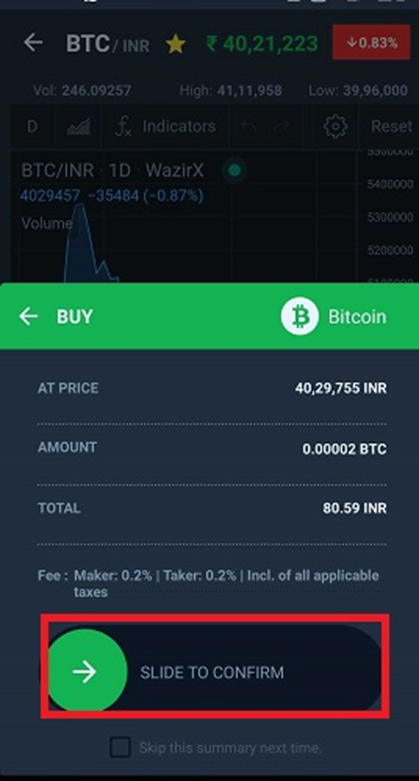 Once the process is confirmed, BTC (equivalent to your INR amount) will be added to your crypto holdings.
For any queries about the article, please post a comment in the space below.