Introduction
The Trezor Model T combines a premium look with every security feature necessary for investors to protect their cryptocurrency. Trezor is another plus because of its reputation for dependability and openness as a manufacturer.
Since this wallet is not inexpensive, it's crucial to do your research before purchasing. To find out if you ought to purchase the Trezor Model T, read our in-depth Trezor Model T review.
One of the first bitcoin hardware wallets on the market is the SatoshiLabs Trezor. The Trezor Model T, which debuted in 2014, is the company's top product and is made to appeal to both HODLers and active traders.
The Trezor Model T comes with everything under an open-source license, along with the hardware specifications and the software that runs it.
Meanwhile, a built-in touchscreen provides the Model T with a high-end appearance and makes it possible to input the PIN and passphrase on the device itself, which is quite useful.
1. What is the Trezor Model T?
The non-custodial hardware wallet Trezor Model T is made to safeguard your cryptocurrency utilizing cold storage.
It uses a USB cable to connect to computers and mobile devices. Using the Trezor Suite app, you can transfer, receive, purchase, and sell cryptocurrencies using this wallet.
2. Trezor Model T Review: It's Price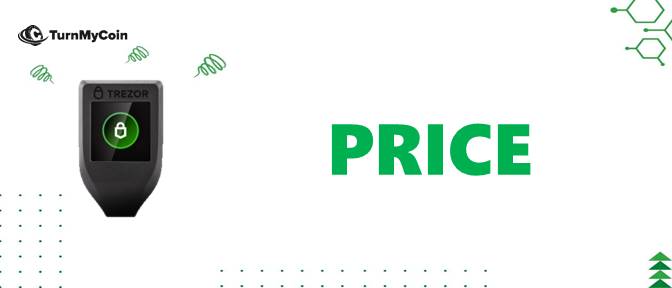 The premium Trezor Model T costs $189. The Trezor One retails for $59, which is less than half the price.
The Trezor's main rival is a device by a firm called Ledger. The Ledger Nano S Plus is available for about $79, while the more expensive Ledger Nano X costs about $149.
The KeepKey, which costs only about $49 and is the third most popular hardware wallet for cryptocurrencies, doesn't have all the functionality that the Ledger and the Trezor do.
There is a new introduction to the list of above Hardware and that is Ellipal Titan. Interestingly, Ellipal Titan is an Air-Gapped Hardware wallet.
3. Trezor Model T Review: Interface and Ease Of Use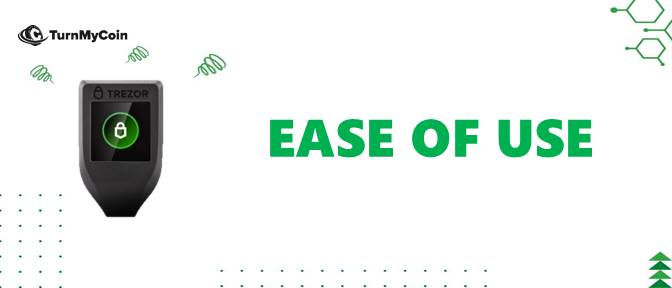 The Model T supports several cryptocurrencies by default, but users can optionally choose to utilize a firmware version called Bitcoin-only, whose creation is for handling Bitcoin operations.
Additionally, the gadget comes equipped with unique security measures like the Shamir Backup, which can generate up to 16 shares you can utilize to retrieve your cryptocurrency if something untoward happens to your device.
In-wallet exchanges are a further convenience advantage. These can be used inside Trezor to buy cryptocurrency using fiat money and swap between other cryptocurrencies.
The Trezor is compatible with all major operating systems, including Windows, macOS, Linux, and Android via OTG support. However, iOS is not supported.
To get Trezor to talk to its browser-based Trezor Wallet software, you'll need to employ one of the four documented techniques.
A Trezor Bridge installation is advisable. Once it installs on your device, launch one of the Chrome or Firefox-compatible browsers and go to the Trezor Wallet website.
You may configure the device and manage your cryptocurrency using the wallet website. It offers native support for the following cryptocurrencies: Dogecoin, Vertcoin, Litecoin, Dash, Bitcoin Cash, Bitcoin Gold, and Dash. You must use a third-party wallet for all other purposes.
The software is fairly user-friendly and allows you to set up two-factor authentication using the Universal Second Factor (U2F) standard. On services that support it, the device can also be useful for the FIDO2 security key.
In addition to the desktop version of Trezor Suite, which is now in public beta, SatoshiLabs is also developing the web-based Trezor Wallet app.
4. Trezor Model T Review: Transfering Funds
You will establish a new wallet as soon as Trezor connects to its web-based wallet application. As always, you should make a backup as soon as a new wallet is out and note the wallet's recovery seed to be sure that it can undergo recovery.
Sending and receiving crypto is a simple operation. To add an extra layer of security, select the Receive tab and create a receive address in the app, which you must then confirm on the Trezor Model T.
Additionally, by tapping the QR button on the Trezor, you can read the address's QR code, which your sender can scan to start the transfer. The Transaction tab will have a listing of all payments as soon as they are received.
To send cryptocurrency, you must first enter the recipient's address or scan their QR code. If you want to perform many transactions, you can reduce transaction costs by sending money to multiple recipients at once using the Trezor Wallet app.
When you enter the amount of cryptocurrency you want to send, the app will also show you the roughly similar amount in fiat currency. Low, economy, normal, and high transaction fees are the four default ones for the app. To select a custom cost, utilize the option or pick one of these for your transaction.
Once more, you will prompt to confirm the transaction on the Trezor after pressing submit in the web app.
5. Trezor Model T Review: Support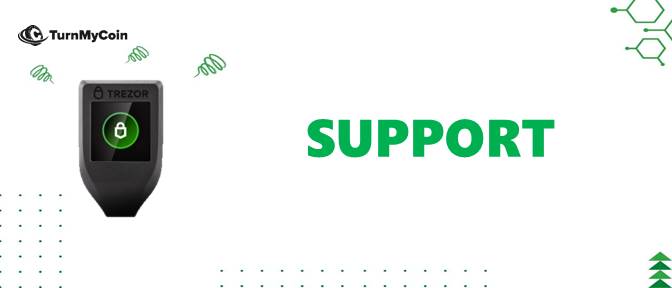 In addition to details on the Trezor products, the vast wiki maintained by Trezor also contains a tonne of educational content regarding Bitcoin & Cryptos. Users may set up the hardware wallet with the help of a comprehensive FAQ and step-by-step instructions. The troubleshooter tool can be helpful to look up solutions on the wiki for common problems.
The majority of the support section's content is written with beginners in mind, but there is also a wealth of knowledge for developers and advanced users.
Like many other wallets, Trezor allows for user and developer interaction on Twitter, Facebook, and the r/Trezor subreddit. You can contact the support team by opening a ticket if the available channels of support are unable to assist you in finding a solution.
6. Trezor Model T Review: Security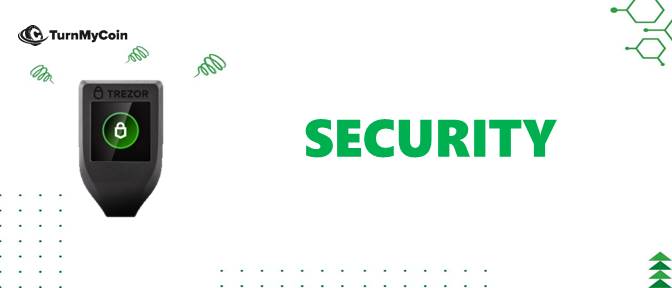 One of the safest ways to store cryptocurrency, the Trezor Model T is renowned for its high level of security. It functions as a hardware wallet and maintains the private keys for your cryptocurrency in cold storage. Cold storage is secure from cyberattacks since it has no connection to the internet.
The PIN code you create while configuring a Trezor Model T can have up to nine digits. The device automatically washes after 16 unsuccessful attempts to access the wallet, which involves entering the PIN code. The likelihood of someone using your Trezor wallet is virtually zero, provided you safeguard your PIN code.
The Trezor Model T is used to enter instructions or commands that you punch on the device. It follows that you would be secure using it even if the machine had a keylogger installed.
7. Advantages of Trezor Model T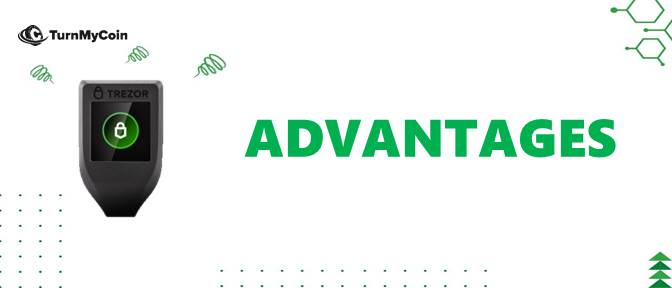 i. Cold Storage for Maximum Security
The Trezor Model T is about as secure as it gets in terms of technology. It employs cold storage because it's a hardware wallet, which means your private crypto keys are kept offline.
Thus, there is no chance that your wallet will be compromised. Trezor has a stellar reputation and is well renowned for the security of its wallets.
ii. Easy to Use Touchscreen Display
A huge touchscreen display is one of the Trezor Model T's key benefits over most hardware wallets. With only two buttons and requiring you to cycle between number options to input your PIN code, the standard hardware wallet is slower to use than this touchscreen.
iii. Compatible with Computer and Mobile Devices
All popular computer operating systems, including Windows, Mac, and Linux, are supported by Trezor devices. Apple mobile devices are the only noteworthy exclusion; they also support Android mobile devices.
iv. Supports more than 1200 Cryptocurrencies
For a hardware wallet, the Trezor Model T supports a wide variety of cryptocurrencies. Given that other digital wallets support over 1 million cards and Ledger wallets support over 5,500, it is not the greatest in this area. You may still keep a large number of cryptocurrencies in this Trezor wallet.
v. NFT Storage
If you have any non-fungible tokens, a Trezor Model T can be used to store them securely. They only need to be part of a blockchain network that works with the firmware of the Trezor gadget.
The main drawback is that the Trezor Suite app cannot secure NFTs, therefore, you must connect your wallet to a third-party program, like Metamask oe Exodus, to manage them.
vi. Digital Identity and Password Management
The Trezor Model T is more than just a cryptocurrency wallet; it also functions as a password manager, a factor in two-factor authentication (2FA), and multi-factor authentication. These added features increase the wallet's utility and help to defend the increased price.
vii. Extra Protection with Micro SD Card
You can use the microSD card slot on the Trezor Model T to add an extra layer of security. When you turn on this function, the microSD card becomes the Trezor wallet's only connection, and the card must be put in to unlock the device. As soon as your Trezor is open, you can disable this feature whenever you want.
8. Improvement Suggestions for Trezor Model T
i. High Cost
The Trezor Model T is one of the priciest hardware wallets, costing $189. If you're willing to use digital wallets, you can find several options that are free or cost less than half as much.
Having said that, this is the best cryptocurrency wallet available from a reputable manufacturer, and it is feature-rich. If you'd want to spend less, there are many more affordable solutions available, but the Trezor Model T is a great option if you want the finest of the best.
ii. No Mobile Support for iOS
This Trezor wallet's one obvious flaw is that it only supports Android mobile devices. You can't link your Apple device to this wallet if you have one.
iii. Less Convenient Than Digital Wallets
The Trezor Model T is simple to use but to use it, you must connect it to a device and input your PIN. Using a digital wallet that comes as an app or a browser plugin is quicker. However, you are sacrificing security compared to a hardware wallet because these use hot (online) storage.
9. Alternatives to Consider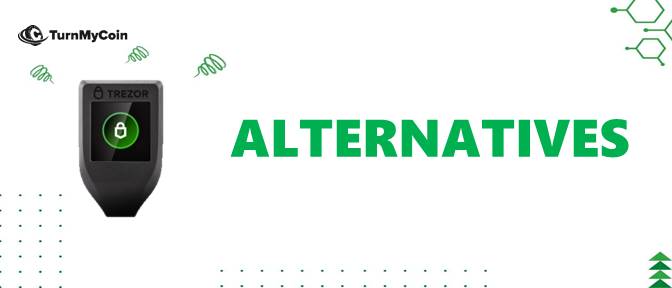 One of the first hardware wallets was the Trezor, but it's not the only one. The fact that Trezor is open source gives it a significant advantage over some of its competitors, including Ledger.
If you're looking for a less-priced hardware wallet: High-end security is by the Trezor Model One, which costs $59. It doesn't have a touchscreen or as many capabilities as the more modern Model T, but you can still store over 1,000 different kinds of cryptocurrencies in it securely.
If you're looking for a wallet that can sync with Apple products: With Bluetooth connectivity, the Ledger Nano X may connect to both Apple and Android devices. It is the most sophisticated wallet Ledger, another well-known company with a reputation for high-quality goods, has to offer.
Trezor Model T Review: Final Verdict
Overall, the Trezor Model T is the finest hardware wallet for anyone who wishes to hold onto their cryptocurrency. It is because the device can store a wider variety of cryptocurrencies than most of its competitors, and it is more compatible with third-party wallets due to its open-source design.
The Ledger Nano X is the sole actual competitor to the Trezor Model T. Ledger, however, recently experienced a data breach that made the personal data of thousands of clients public.
Although the Trezor Model T has a known vulnerability that can leak its seeds, the exploit involves physical access to the wallet, and is, therefore, less serious than the Ledger hack.
When these factors are put into consideration, Trezor's simplicity of use, open-source architecture, and extended support program are sufficient to tip the scales in its favor.
Trezor Model T is right for you because security and usability are the two features you want most from a cryptocurrency wallet. Also if you are willing to invest more to have a sophisticated wallet that will last for many years Trezor is the option.