Introduction
Each Cryptocurrency has a Public Key and a Private Key. A public key is visible to everyone however, the private key as the name indicates is visible just to you. Accordingly, while dealing with cryptocurrency you will have to deal with various private keys(similar to a password) which are difficult to remember.
Hence private keys are used to create digital signatures that can easily be verified and used in cryptocurrency transactions to show ownership of a blockchain address, it is very necessary to store these keys securely.
You should use cryptocurrencies without the risk, of viruses and keyloggers. The safest known way to store your Cryptocurrencies' Private Key is through Hardware Wallets.
You can visit our detailed article on the best hardware wallets available in the market here.
However, with the following article, I will make two leading cryptocurrency wallets battle to see which one overthrows the other and sets a legacy: Trezor Model One Vs Ledger Nano S.
For information purposes if you want to buy your Cryptocurrency then you can do so from any of these Cryptocurrency Exchanges:
But before that, it becomes necessary for all of you to become well acquainted with some basic terminologies pertaining to cryptocurrency, its assets, and wallets.
Hardware Wallets
A hardware wallet is a cryptocurrency wallet that stores the user's private keys (significant information used to legitimize outgoing transactions on the blockchain network) in a firm hardware device.
It is often a small peripheral device, a portable wallet to access your crypto resources safely from anywhere.
Moreover, a hardware wallet can log you into many decentralized Apps without having to create new accounts. A hardware wallet allows you to log into regular apps like Google and Facebook as well.
Advantages of using Hardware wallets
The private key remains unexposed: private keys are secure and hidden in this wallet, it is reliable to use.
The Increased Access Security of Pin Encryption: normal paper wallets can lose security but these have an increased ingress of security.
Hold multiple digital currencies in the same cold wallet: many wallets such as Trezor model one have an access to hold upto one thousand cryptocurrencies.
No vulnerability to computer viruses: These wallets are secure because they are not susceptible to viruses.
Transaction verification on the hardware device: As the private keys are used to create digital signatures that can easily be verified, and used in cryptocurrency transactions to show ownership of a blockchain address these devices hold the verification.
With this basic information let us get to know more about the wallets in our topic, Trezor Model One and Ledger Nano S. Both are highly competent and one must consider either equally. We will describe both wallets and hence you can easily find out which one is better for you.
We have compiled a detailed discussion on the topic under consideration Trezor Model One Vs Ledger Nano. If you want to quickly go through the differences between the two you can check our comparison table below.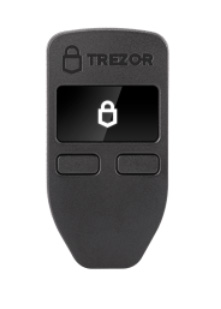 First name that comes to our mind when we think about cryptocurrency storage is Trezor, being the first to create an authorized Bitcoin hardware wallet.
It is a hardware wallet that is inexpensive and it is a good choice for those who are looking for a wallet at reasonable price and of good security.
The Trezor One supports all prime computer operating systems including Windows (version 10 or newer), MacOS (version 10.11 and higher), Linux.
Whereas, if we talk about mobile devices then Android is supported but iOS and Windows Phone are not yet supported. Also, it doesn't support ChromeOS yet officially, but it should work via Google's WebUSB.
Trezor Model One supports more than 1000 coins including
Technical specifications of Trezor Model One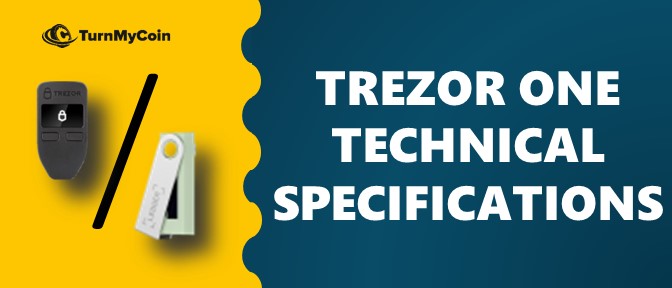 Dimensions & Weight of the device: 60mm x 30mm x 6mm, 12 g
Connectivity: Micro USB. It has a 120 MHz embedded ARM processor (Cortex M3) running a custom developed system.
Bright OLED – 128×64 pixels. Enough to hold six lines of text.
The Trezor is CE and RoHS certified, hence we can say that it is approved and meets all quality, and environmental criteria. You can travel with Trezor on the airplane, X Rays don't affect it.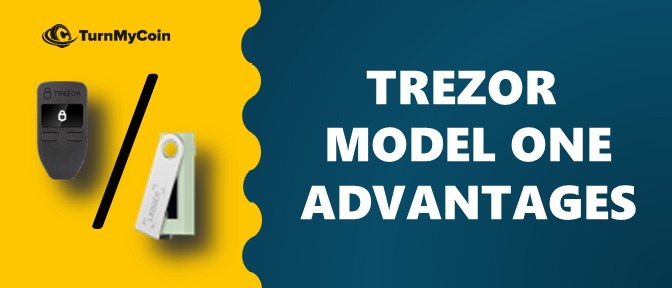 Advantages of Trezor Model One
1) Security: The biggest reason to go with Trezor is its security features. Everyone is aware that storing crypto on a hardware wallet is much more secure than leaving it online on an exchange, or even on mobile and desktop wallets.
Trezor is the primordial creator of Bitcoin hard wallet. They started as early as in 2014 and hence we cannot target their security features.
With the Trezor Model One, viruses and keyloggers on your computer are not the reasons to worry. Until someone robs your device physically, your keys cannot be accessible to any hacker or keylogger.
There you can also use Trezor Model One as your U2F (Universal 2nd factor) hardware token. One additional feature present in it is that it has an OLED display which is lacking in regular security tokens.
Trezor Model One has a 128×64 pixel OLED Display. It informs you about the authentication request before you approve it, by displaying the service you are logging in to.
2) Support for over 1000 coins: Trezor Model One has extended its support to over a 1000 coins and the team keeps adding more coins in due course. Examples of some of the coins supported by Trezor Model One are:
Bitcoin
Ethereum,
Binance Coin
Tether,
DogeCoin,
Uniswap etc
3) Affordable price point: Trezor Model One is priced around $72, this price allows even small cryptocurrency holders to secure their currency offline. A very common hurdle that comes across new crypto investors in using hardware wallets is that the price is too high, particularly in comparison to their portfolio. The reasonable price of the device proves it beneficial for new investors also.
Limitations of Trezor Model One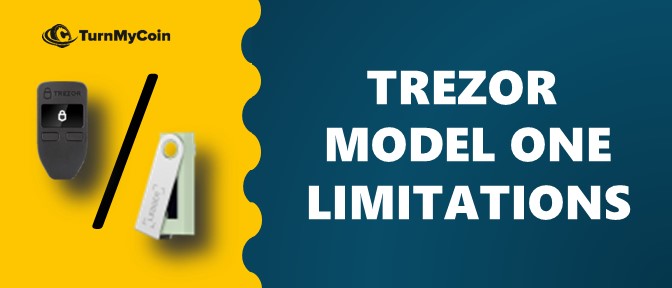 Trezor Model One does not support some major coins, such as XRP, ADA, XTZ, XMR and EOS.
Its limitations include the lack of Bluetooth capabilities.
Going on to the next in this category: The Ledger Nano S.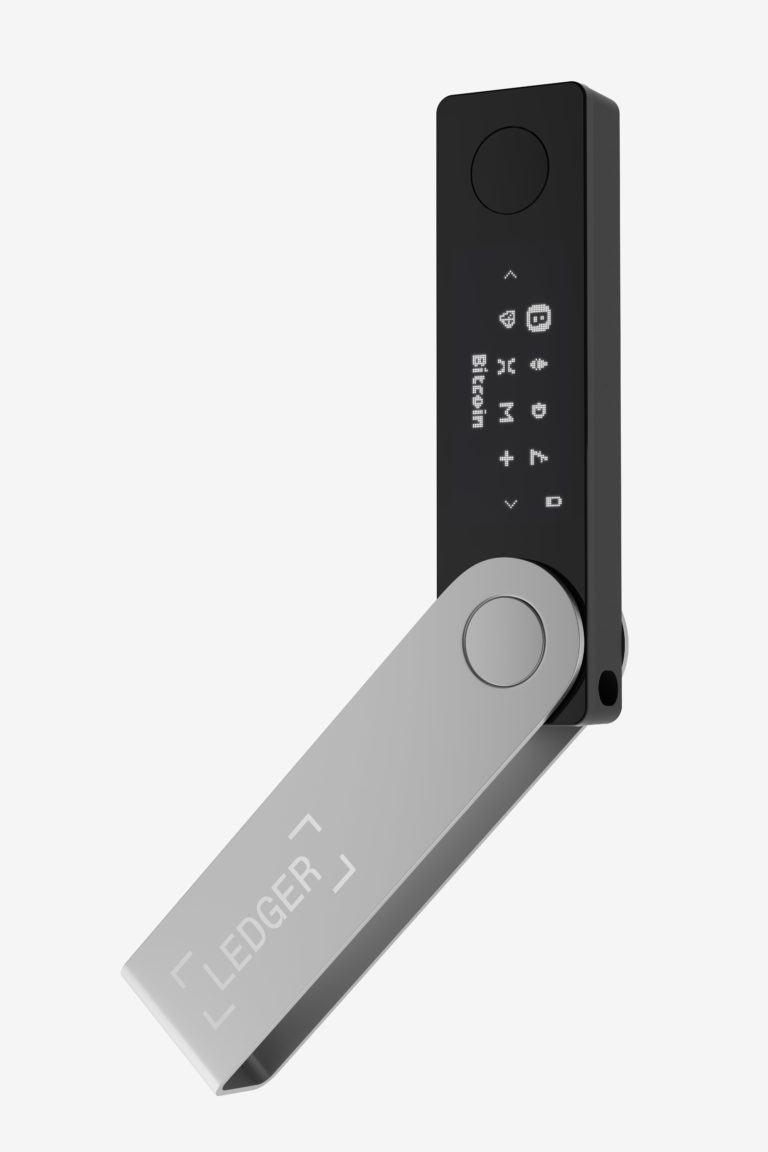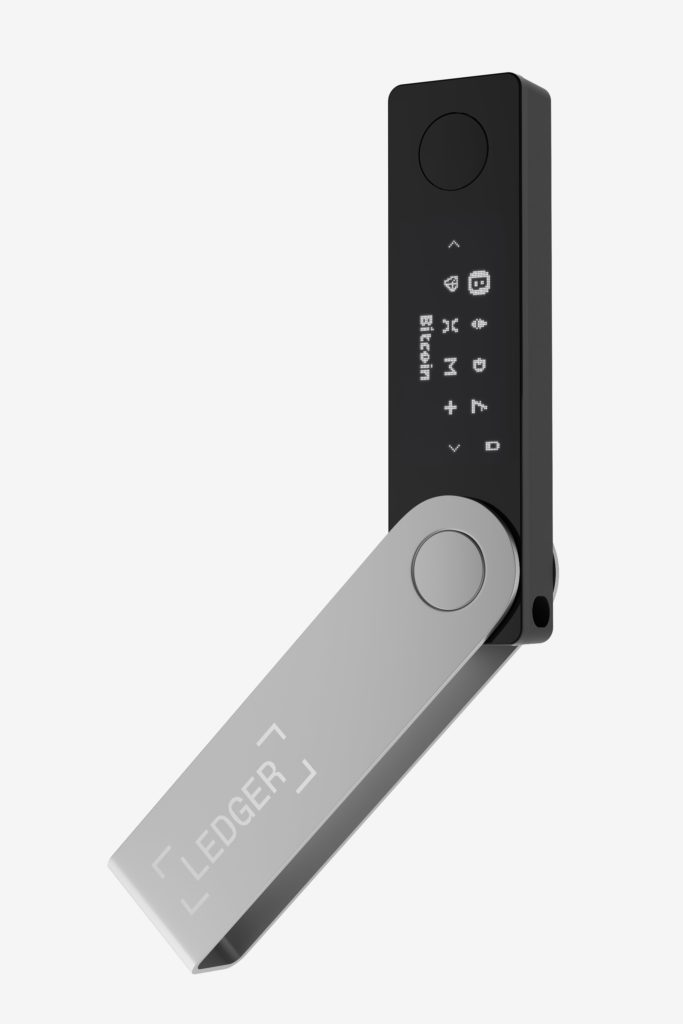 Ledger Nano S is a cryptocurrency Hardware Wallet to protect your Bitcoin, Ethereum, Ripple, ERC20 tokens etc. Based on Secure Chip technology. This wallet can connect to any USB and it lodges a secure OLED display to double-check each transaction with a single tap on its side buttons. Feature of ledger nano consists of its support for Multi-currency, Multi-apps, and Fido certified U2F.
The Ledger Nano S has robust security protocols. Due to this, it can be considered one of the most secure wallets.
Features of Ledger Nano S
The Ledger Nano S hardware cryptocurrency wallet provides extraordinary security via a secure chip and a sole operating system.
Can store more than 1100 cryptocurrencies: Ledger Nano S can store more than 1,100 cryptocurrencies and tokens with about 23 cryptocurrencies that are supported by Ledger itself and the rest supported by installed third-party applications.
Ledger Nano S supports installations: Supports Bitcoin, Ethereum, XRP, Bitcoin Cash, EOS, Stellar, and many more crypto coins. Moreover, the best feature is that you can safely install & uninstall apps on Ledger to enhance your capacity needs.
Ledger Nano S is very simple and powerful to use and it helps to grow, exchange and buy cryptocurrencies.
Technical Specifications of a Ledger Nano S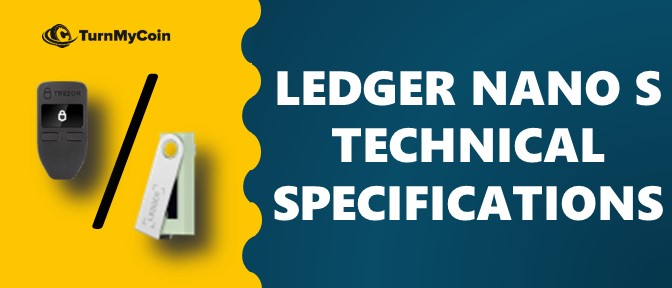 Unit Size: 104mm х 58 mm х 5 mm ~ (4.1in х 2.3in х 0.2in)
Weight: 16.2g
Connector: USB Type Micro-B
Certification level: CC EAL5+
Chips: ST31H320 (secure) + STM32F042
Materials: Brushed stainless steel and plastic
Compatibility:
Ledger Nano S is compatible with 64-bits desktop computers (Windows 8.1+, macOS 10.14+, Linux) except the ARM Processors. It is important to note that Ledger Nano S is not compatible with Chromebooks.
In mobile phones it is compatible with Android 7+ smartphones. Ledger Nano S supports iOS only in consultation mode by importing accounts from Ledger Live desktop. You need an OTG kit to connect a ledger Nano S device to a desktop or smartphone.
Importantly, the device is not suitable for mining.
Advantages of Ledger Nano S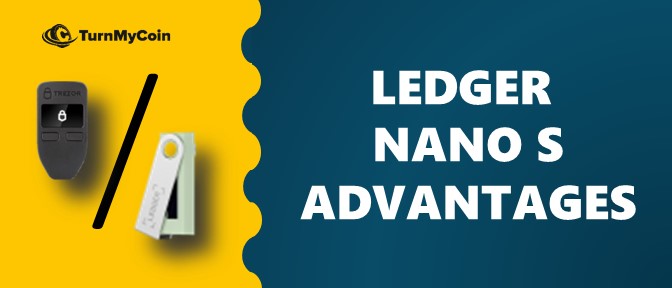 Pricing: It is priced around $59, which is less expensive than several other hardware wallets. This, in turn, makes it a good low-cost and highly secure option.
Unlike other hot wallets through cryptocurrency exchanges, ledger Nano S users hold their private keys. They are never removed from the device accessible via the web.
Ledger Nano S stores more than 1,100 currencies: Investors can store popular and lesser-known coins and tokens on the Ledger Nano S.
Another explanation which praises having a Ledger Nano S is the very good quality security it ensures. Financial backers will value having one as it provides them with a control over their private keys. Generally, a Ledger Nano S is surely unhackable. The Nano equipment accompanies an ensured chip which makes it cryptographically secured.
Different Ledger Nano S Reviews set forth their attestations that a Nano S times out after a specific season of idleness. A designed PIN code gets the Nano S for ideal security. Ordinarily, your device is locked following 10 minutes of inactivity.
You might in fact introduce the Exchange application on your Ledger device to exchange your crypto assets in the Ledger Live application.
The passphrase is a general security feature that equipment wallets like the Ledger Nano X or Ledger Nano S can use. It praises the gadget security by adding a secret word to your recuperation expression that approves somebody to utilize an entire arrangement of new records.
Limitations of Ledger Nano S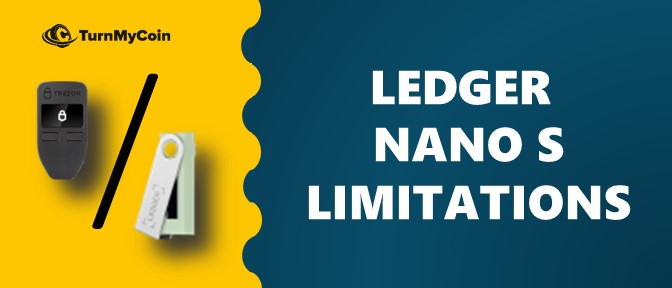 Compact internal memory: Despite the fact that Ledger Nano S supports a variety of crypto assets, it lacks the capacity of internal memory. Ledger lets you install only up to 3-5 different cryptocurrency wallets (depending on the size of the wallet apps).
The display is small and isn't a touchscreen: The Ledger Nano S screen is less than an inch in height and the Ledger Nano S is only 17.4 mm tall (0.685 inches) and one of its cons is that it features two physical buttons instead of a touchscreen.
Ledger is not as mobile-friendly as other wallets: The Ledger Nano S is lacking Bluetooth connectivity, and hence it requires a USB cable to connect to a computer or Android.
A Ledger Nano S joins a closed source device. It follows a NDA with the producer of the Secure Element chip. Essentially, an outsider can't explore any weaknesses inside the gadget.
It is a time when individuals can't get enough of plumping themselves down and watching films on high screen resolution TVs. You would find it exceptionally disheartening that a Nano S includes a 128×32 screen resolution. It is for sure a recognizable disadvantage.
Points of distinction: Trezor Model One Vs Ledger Nano S
Display and connectivity features
Both Trezor Model One and Ledger nano S connect through a USB cable. But, the Ledger devices look like typical steel universal serial bus (USB) storage devices.

Whereas, Trezor devices are a bit lightweight and are encased in a plastic casing, and are distinctly shaped. Trezor and Ledger both connect to Linux, Windows, and Mac computers. Trezor only supports Android, Ledger also supports iOS phones.
The Trezor models have larger displays, and it is quite obvious that it is easy to read from a big screen. The dimensions of the OLED screen of The Ledger is 128×64-pixel, while the Nano S's OLED screen is 128×32-pixel.

The difference can be seen in premium models of the companies where the Trezor Model T offers a liquid crystal display (LCD) color 240×240 pixels touchscreen and in contrast, the Ledger Nano X display is an OLED 128×64 pixels.
Currencies
Ledger stores over 1,800 different coins and tokens compared to 1,000 supported by Trezor.
There are a few coins the Trezor Model One doesn't support, including Cardano (ADA), Ripple (XRP), Monero (XMR), Eos (EOS), Tezos (XTZ), and Binance Chain (BNB). Notably, there are some coins which both the premium T Model and nano s Model doesn't support like Uniswap (UNI), Avalanche (AVAX), Graph Token (GRT), yearn.finance (YFT), Celo (CELO), Ocean Token (OCEAN), or Reef Finance (REEF). But Ledger devices can store all of these coins.
Security
The Ledger Model has been fabricated on two chips whereas Trezor on a single chip giving Ledger an edge over security. Ledger's second chip is a bank-grade secure element (SE), which provides additional security against hardware-based attacks.
Ledger uses a unique blockchain open ledger operating system (BOLOS) that is an open-source framework. However, unlike Trezor, Ledger wallets use closed-source firmware, meaning it's not available for third parties to review or test for susceptibility.
One such distinction is that the Trezor One wallet requires users to enter the password via a keyboard, whereas Ledger users enter it on the hardware directly.
Both the devices support BIP39 (Bitcoin Improvement Proposals) authentication. But, only the Trezor Model T, premium model of Trezor supports Shamir Backup for improved private key security.
Pricing
The Trezor One badges a price tag of ~ $72 and Ledger Nano S prices at $59. The remarkable distinction is that the Trezor One supports fewer coins than the ledger Nano S device. Ledger and Trezor both have two physical buttons and small OLED displays.
Crypto investors who want to store the coins such as Ripple (XRP), Monero (XMR), or Cardano (ADA) will prefer the Ledger Nano S as Trezor Model One doesn't support these coins.
Easy adaptability
Trezor and Ledger devices are relatively easy to set up due to their strict account verification and passphrase configuration. The two models have two physical buttons and smaller screens. Indeed people addicted to touchscreens and larger displays might find it very difficult.
Mobile Applications
Ledger Nano S works with the Ledger Live application, available as a download for desktop or mobile devices. This app lets users manage accounts, check real-time crypto balances, and send and receive funds. The Ledger device must connect to the live app for accomplishing initial setup.
In the case of Trezor Model One users install Chrome extension or the Trezor Bridge that corresponds with their operating systems. Trezor accessed the Trezor escort as a desktop app, providing access to envelope information and the engulfed exchange.
It connects with Exodus, while Ledger supports Kyber Network wallet. It offers about 15 third-party wallets against 24 third-party wallets offered by Ledger.
Summarized tabular of comparison between Trezor Model One Vs Ledger Nano S
Feature
Trezor Model One
Ledger Nano S
Weblink
Trezor.io
Ledgerwallet.com
Currencies Supported
1800+
5000+
Price
~$72
$59
Design
Triangular
Thumbdrive
Size
Model One:
60mm x 30mm x 6mm
Nano S:
104mm х 58 mm х 5mm
Weight
Model One: 12g
Nano S: 16.2g
Coins Listed
Trezor Model One coins list
Ledger Nano S Coins list
Proprietary App
Not required
Yes
Ledger Live (iOS & Android)
Number of 3rd party Apps Supported
15
24
Touch Screen
Yes
No
Connectivity
USB
USB
Firmware
Open Source. It is more dependable as anyone can check flaws and report them.
Closed Source
Case Type
Plastic
Metallic
Breach History
Only when the device was physically available
Marketing database breach
Table showing a comparison Trezor Model One & Ledger Nano S
Conclusion
Both the Trezor and Ledger secure hardware wallets have almost the same features; both are user-friendly and provide a good and secure access for storing your cryptocurrency.
Although it's quite tough to make a decision to choose one among these, Ledger has an slight edge over the Trezor mainly because of its lower price, mobile app, iOS connectivity, and support for a larger number of popular coins. Having said that, if you are a security conscious user, Trezor Model One will be better because its publically tested open-source software and the rigorous security measures that the company assures.
We certainly can't single handedly decide which one is better. Without taking your opinion into consideration, it's as good as nothing. So, do tell us which of the two you liked? You can leave a comment down and express your choice.
Frequently Asked Questions?
How to transfer crypto from Centralized Cryptocurrency Exchange to Trezor?
We are using Coinbase here as an example however the procedure for other exchanges is similar. The procedure follows certain steps as below:
Connect the Trezor one to the PC and move to wallet.trezor.io
After Connecting you have to input your Pin.
After you have inserted your Pin you need to select an account to which you want to transfer coins to.
There will be a menu option on the top and from which you need to select 'receive' and then select the option 'view full address'.
The next step is verification, check whether the address on the computer screen matches with the one on the Trezor wallet, at this point you can confirm by selecting 'continue', and if you are using Coinbase app you can select the left button to scan the QR Code.
Now copy the address from wallet.trezor.io
Next is to log in to Coinbase
Now select "accounts" on the dashboard and this account should be the one from which you want to send coins. Now the coin wallet is called 'My Wallet' and for example you choose Bitcoin then B is displayed in an orange logo.
You will enter the address that was given by Trezor in the 'Recipient' box. After the address you have to enter the amount you want to send and make a note that will help you later identify the transaction.
Now press 'continue' and it's done, you can 'view details' to mark the progress.
How to transfer from Centralized Cryptocurrency Exchange to Ledger?
Again we are using Coinbase here as an example however the procedure for other exchanges is similar.
Plugin your Ledger wallet on the PC and input your pin.
After connection opens the Ledger Live application and enter your password.
There appears an option 'receive ' on the left-hand side menu, click on it.
Now select the drop-down menu. From there, select the account and crypto type to which you want to receive crypto.
Now you have to open the corresponding app for the coin that you are to receive from Coinbase. The selection process is simple, you just need to press both the buttons simultaneously while you see the app in highlight.
Now you gotta wait until Ledger live approves that the device is connected to the correct app. As soon as it is approved you can select 'continue' when both the checkboxes are chosen.
Next, you have to select 'continue' on the option 'verify the address on device'.
You have to verify whether the address on Ledger Live is the same as that of the address that is shown on the screen of your Ledger device.
If the address is correct then you need to select the right-side button of the Ledger device.
Copy the address by clicking on the copy button.
Now log in to Coinbase and go to accounts from the dashboard.
Select the wallet from which you want to send. Now the Coinbase will display your wallet option by calling it 'My Wallet' and display the logo of that wallet in an orange logo.
You will enter the address that was given by Trezor in the 'Recipient' box. After the address, you have to enter the amount you want to send and make a note that will help you later identify the transaction.
Now press 'continue' and it's done, you can 'view details' to mark the progress.