Introduction
Setting up a new business and looking for funds to do so is a tedious task. It is a never-ending cycle of pitch calls, PR rounds, and a lot more. A traditional process like IPO not only includes a lot of legalities but is far more taxing as well.
There are strict regulations and policies placed for private companies to raise money from public investors, which makes the offerings even more strict and limited.
However, today new offering types have opened doors for such companies and entrepreneurs to raise financial backing for their projects.
Two of these that we are going to discuss in this article are Security Token Offerings and Initial Coin Offerings. Both are great options to raise funds for any company or project but have different perspectives altogether.
The article will highlight all the differences between Security Token Offering Vs initial coin offering (STO Vs ICO) and which can be a better option for someone to raise funding.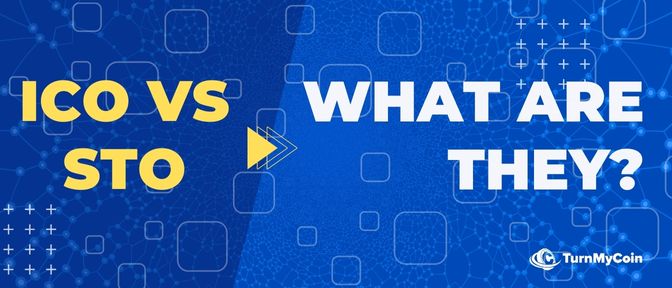 What is an ICO?
ICO or Initial Coin Offering is one of the most popular ways for companies to raise funds for their project within the blockchain and crypto space. Interested or potential investors can invest in the ICO to buy the cryptocurrency token from the company.
The same token will provide the buyers or investors with some utility related to the product or services they have invested in. It can also be used to represent the stake of the investor in the company.
A company can easily create crypto and put it on offer in the market. They simply need to decide the structure of the token, like static supply, dynamic supply, static price, dynamic price, and more. These structures decide how many tokens are available for sale to the investors and what kind of price will they be selling at.
Depending on these structures the price and availability can be static or dynamic. When compared to an IPO, it has far fewer regulations and compliance requirements.
Suggested Reading: What is Initial Coin Offering? Is it a curse or a blessing?
What is an STO?
STO or Security Token Offering also involves investors buying coins or tokens in return for money provided to the company. The major differences between Security Token Offering and Vs initial coin offering are that STO has more regulations and that of the underlying asset.
Things like token listing, data sharing, and investor onboarding process will be investigated, making it look more similar to an IPO.
When we discuss the difference between STO Vs ICO, STO is basically similar to an ICO but with real-world value. The value is not determined by the supply of the token or price. STO is a fungible and negotiable financial instrument that is attached to a specific monetary value.
In STO Vs ICO, the token value in ICO can change based on the less or more availability of the tokens, due to which the price is most of the time not static.
In STO, the price is more of real-world monetary value as they are linked to the company's assets. Also, STO is not traded on a regular token exchange, as they need specialized exchanges.
If an investor wants to invest in an STO, then they would have to go through a lock-up period. During the lockup period, the investor cannot sell their tokens. It is done to prevent any kind of unscrupulous activity.
Suggested Reading: What Is STO (Security Token Offering)? 4 Interesting Facts About It
STO Vs ICO
As discussed above, the major difference between STO Vs ICO lies in the regulatory framework. Where anyone can go for an ICO, STO is not everyone's cup of tea. Having a strict legitimacy process is what separates both of them. It is also one of the major reasons why ICO has a bad reputation in the market.
There have been many projects in the past that have been listed through an ICO and later declared as a scam. The major reason behind this is the lack of policies and regulations. Both private companies, individual creators, and more can go for an ICO and raise money for a project. It is not the case in STO or IPOs.
ICO basically starts with the intention to raise capital for the project. The company also decides what kind of investors they need to target. Once they create the token, they make their pitch to the targetted investor or investor community for funding. It might create a direct connection between the investor and the company offering the token, but due to a lack of regulations, it does not have a certainty of reliability. Whereas STO learns from ICO faulted ways.


Security tokens in an STO are programmable and enforced smart contracts, which means that they cannot tamper and we have fixed regulations in place. Where ICO does provide a quick and easy way of investing, STO provides a more secure platform where the chances of losing money are minimized for the investor.
Process of STO Vs ICO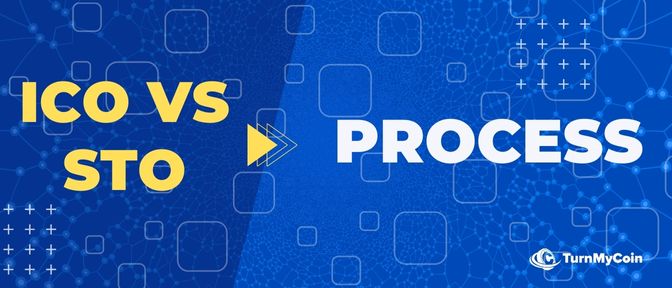 Anyone can establish and participate in an ICO as they are more comfortable and quick to be introduced to an investor.
At the same time. STO requires a company to do a lot of compliance work in advance and only fully compliant companies and accredited investors can buy or sell tokens. STOs are introduced with a view of regulatory governance.
They are registered and required government agencies, which are legal and meet all the requirements. In contrast, there are no such requirements in an ICO. A company or an individual can make a pitch through ICO for raising funds.
ICOs are launched by private or decentralized independent firms or exchanges like:
Pros and Cons of STO Vs ICO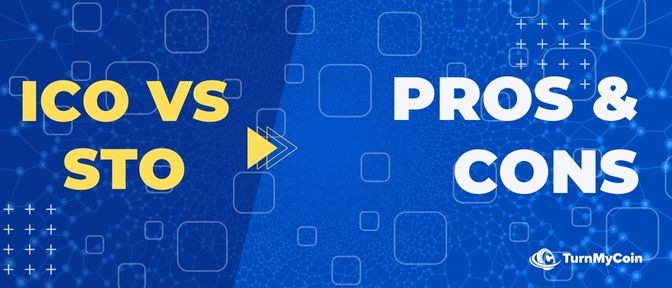 Discussing Security Token Offering Vs initial coin offering, both of them come with their own cons and pros. Let's have a complete look at the benefits and disadvantages that each represents for the investors and the companies offerings them.
ICO Pros
When it comes to an ICO, there are no barriers for any buyer or seller. Any company or even an individual can go for an ICO to raise funds for a blockchain-related project. Similarly, the investor can be a company or an individual.
The ICO launchpads have a large investor community which makes it a lot easier for companies to gain funding and promote the project at the same time.
The distribution of the tokens can be easily automated and can be set as per the tier of the investors.
There is no compliance or regulation as to how the funding that has been generated needs to be managed. The teams can manage the money as they wish.
The only thing required for a successful ICO is a well-executed digital campaign. After the ICO, when the coin price rises, the profitability for the investors also increases.
There are many ICOs that also allow users to participate anonymously. Therefore, since there are fewer regulations and compliance, you can participate without revealing your identity.
ICO Cons
The ICO is highly volatile and due to a lack of regulations, they can be easily manipulated. Spreading false or wrong information about the company or the project can easily hamper the fundraising process through an ICO.
Each company releases a whitepaper explaining the project and how it can be beneficial for investors. However, since there is no compliance, there is no guarantee and there is also uncertainty about how the product will turn out.
There have been instances of fraud and dumping schemes shared through ICO, where the companies raised millions of dollars through scams. Sadly as per a study by the Satis Group 80% of the ICOs are scams.
Lack of regulations and compliance causes problems for both the projects and investors.
ICO is basically an unregulated space that has a lot of disadvantages of its own. Therefore, the risk factor for the investors is really high.


STO Pros
Investors can acquire assets that actually derive their value from something else.
The STO is a 100% regulated offering, due to which the investment is secured and guaranteed.
Projects that come through an STO are more trustworthy than what is offered in an ICO. It is because they are regulated and checked for compliance even before they are offered.
Projects that are offered through STO has better growth in the significant years as compared to the project offered through ICO.
Security tokens are traded through brokers and dealers which are also monitored and checked by the regulators.
Security tokens are controlled with smart contracts as well, which makes them reliable and secure.
Marking manipulation, rumors and speculation are not a part of the STO, unlike in the ICO. Since regulated companies are a part of it and so are the investors, there is no room for manipulation of the market.
STO Cons
If you are trying to fund a project through STO, then it would take a lot more time for the regulators to approve this project. While it can be done almost instantaneously in an ICO.
The STO funding process is only restricted to accredited investors, which means that the funding and the sources for the same are limited.
STOs may require a substantial amount of money for the project.
Verdict
When comparing STO Vs ICO, you will find that both have great potential to change the way companies raise capital. Although it might not be similar to an IPO, it provides tons of options to mutually benefit both the investors and the issuers.
Using blockchain technology, both STO Vs ICO can automate the process and finance more decentralized. On the surface, if we compare both STO Vs ICO, they follow a similar process in which the investors purchase a token by providing funds to the company.
However, both same different regulations and frameworks which might be beneficial for a company or an individual. Depending on the complexity of the project, both platforms can be great for raising capital.