Introduction
Shiba Inu is a Meme coin. That is where most people will end their discussion and their inclination on investing or not investing in it. It did start as a Meme coin, in fact, the Shiba Inu team marketed it as a "DogeCoin Killer".
But during its journey as a DogeCoin alternative, it evolved into a full-fledged Ecosystem. Interesting, isn't it? And that was the reason why I thought of writing a dedicated article on Shiba Inu analysis.
Shiba Inu was founded by a mysterious "Ryoshi" in August 2020. The founder has preferred to remain anonymous like Satoshi Nakamoto.
It caught investors eyes when Coinbase listed it in September 2021 due to which the Shiba Inu prices soared by 40% in two days. That increase in Shiba Inu prices made multiple multimillionaires overnight.
Here's an interesting story about Shiba Inu. It started with an initial supply of 1 quadrillion. Ryoshi, the founder of Shiba Inu locked 50% of the coins at Uniswap and then gifted the remaining 50% to Vitalik Buterin (Ethereum co-founder). In the largest cryptocurrency donation, Vitalik Buterin transferred 50 trillion SHIB tokens (worth $1 Billion at that time) to India's COVID relief fund.
Vitalik did not stop there and burned 40% of the total supply to a dead wallet ensuring true decentralization for the cryptocurrency.
Shiba Inu initially used the Proof of Work (PoW) consensus mechanism. However, due to the worldwide criticism of PoW being energy inefficient, it is gradually shifting towards Proof of Stake (PoS).
Essential information of the Coin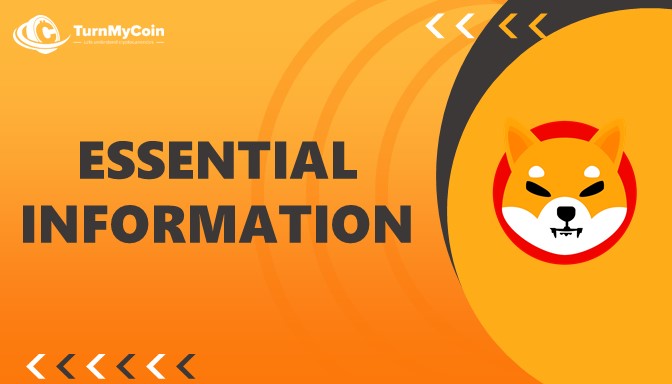 Mentioned below is some of the essential information about this cryptocurrency that should pass through your mind before we can start an exhaustive analysis of the project
Launch Date
August 2020
Website
https://shibatoken.com/
Present Price (USD)
$0.00002088
Market Cap
$11,420,364,551
Circulating Supply
549,149,516,403,369
Total Supply
1,000,000,000,000,000
All-time High
$0.00008845
Social Presence
Twitter
Telegram
Instagram
Reddit
Discord
Consensus Mechanism
Proof-of-Work phasing out to Proof-of-Stake
Available at popular
Centralized Exchanges
Huobi,
KuCoin,
Binance,
Coinbase,
OKEx
Available at popular
Decentralized Exchanges
Shibaswap,
UniSwap
Supported by Hardware Wallets?
Trezor ✔️ || Ledger ✔️
What are the reasons for the phenomenal success of this Coin and why is the value increasing?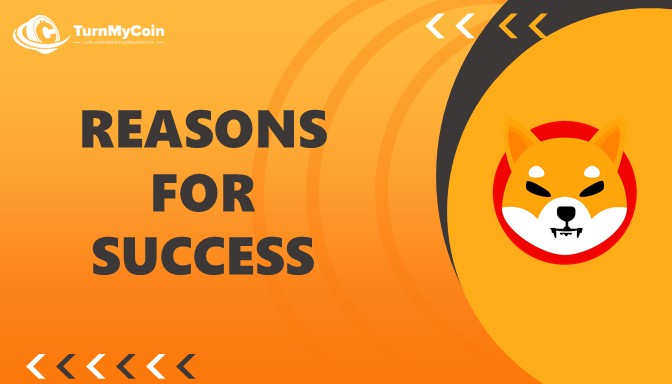 Narrative – A tweet by Elon Musk turned the tables around for Dogecoin. We have all seen the exponential growth that DogeCoin had because of a simple tweet.

This is where the meme coins gained remarkable acceptance in the cryptocurrency industry. And cryptocurrency developers stormed the market with Dog themed cryptocurrencies. Shiba Inu, Floki Inu, Baby Dogecoin, Alaska Inu are a few examples. Shiba Inu in fact is riding this dog-themed meme coin wave.

Penny coin – Investors are crazy for Penny coins. People like owning loads of cryptocurrencies instead of a fraction like in the case of Bitcoin, where you get few Satoshis even after investing a decent sum of money.

Ecosystem – Shiba Inu now has an ecosystem. I will discuss the various features of Shiba Inu which make it unique and just not another Meme Coin shortly.

Charity – Apart from working on the cryptocurrency platform, the Shiba Inu team also works for a social cause. As you know Shiba Inu is a dog breed. The team collects donations to rescue real Shiba Inu dogs with Shiba Inu Rescue Association.
What is there in Shiba Inu that distinguishes it from other Meme coins?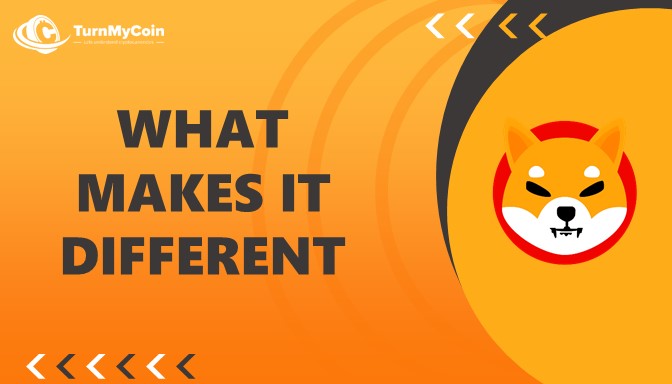 Well, I guess this is the section that you were looking for. I had mentioned earlier, the Shiba Inu ecosystem makes it different from the other Meme Coins. Let's discuss the Shiba Inu ecosystem now.
The Shiba Inu ecosystem includes:
SHIB (the foundation token)
LEASH
BONE
Shiba Swap incubator
Shiboshi Social Club – NFT Platform
Shiboshi Game(Upcoming)
ShibaSwap DeFi platform (Decentralized Exchange)
Let's understand them one at a time.
SHIB
SHIB is the official token for the ecosystem. More like the foundation currency of the system. This is the token that you normally transact at the cryptocurrency exchanges. And the one that has already made many millionaires.
For obvious reasons, it was the first one to be listed on ShibaSwap, the official Decentralized Exchange of the ecosystem. The team initially launched it as a meme coin but later changed their thought and preferred cultivating a whole Shiba Inu ecosystem.
LEASH
The team initially developed it to be a rebase token. A rebase or price elastic token is developed to automatically adjust supply for any fluctuation in the price. This means if the price of the token increases, the supply of the token will automatically reduce (generally by burning) without affecting the total value of the currency.
However, later the team decided to unleash the lease token and restrict its supply to 107,646 tokens. It can be concluded that this is opposite to SHIB in terms of circulating suppy, which was released with a supply of 1 quadrillion.
BONE
BONE is a mix of both the above tokens in terms of circulating supply and has 250,000,000 tokens in total. This is actually a governance token. A governance token gives holders the right to vote for upcoming proposals and the future of the project.
SHIBASWAP INCUBATOR
In order to encourage the creativity and growth of its holders, the ecosystem runs a ShibaSwap Incubator. The creations of different holders are showcased on the platform with credit.
SHIBOSHI SOCIAL CLUB – NFT PLATFORM
Shiba Inu's team has integrated the concept of NFTs into its ecosystem. A meme coin would not have features like Shiba Inu is offering. It is bringing exclusivity to its platform with NFTs aka Shiboshis.
In order to nurture the talent of holders (ShibArmy), the team Shiba Inu allows holders to showcase their NFTs aka Shiboshis. I am sure, you are apprehensive about it being another NFT marketplace. Well, probably that is what the team also thought. So they stepped forward to ensure that your Shiboshis can not only be exchanged but can also be used in a game (more on this later).
The platform has a collection of 10,000 exclusive Non-Fungible Tokens that you can purchase, sell and construct.
SHIBOSHI GAME
The game is still in its development stage. But looks promising. The NFTs can be used in strategic gameplay. Reminds me of the famous game Axie Infinity and how it has helped players to earn. Since the game is still not launched, it is tough to know the concept behind it and whether it will be a play to earn or not. However, if Shiba Inu does what it has stated then, this game will be a game-changer for Shiba Inu.
SHIBASWAP
ShibaSwap is where the entire action Shiba Inu ecosystem takes place. Not only did I save the best for the last but because everything that we have discussed till now was important to understand ShibaSwap.ShibaSwap is the heart of the Shiba Inu ecosystem. You can even call it the ecosystem itself. It showcases features from swapping tokens (including SHIB, LEASH & BONE) to Liquidity Mining & Staking.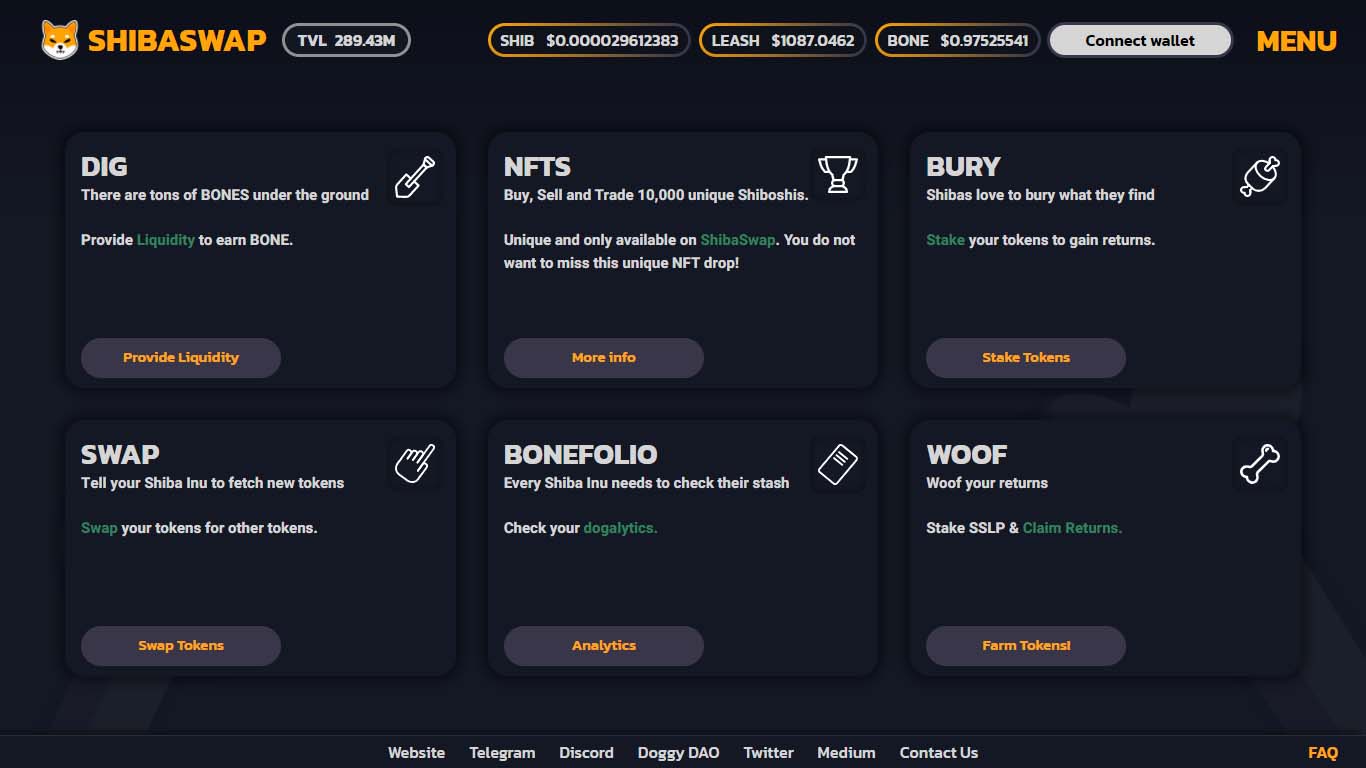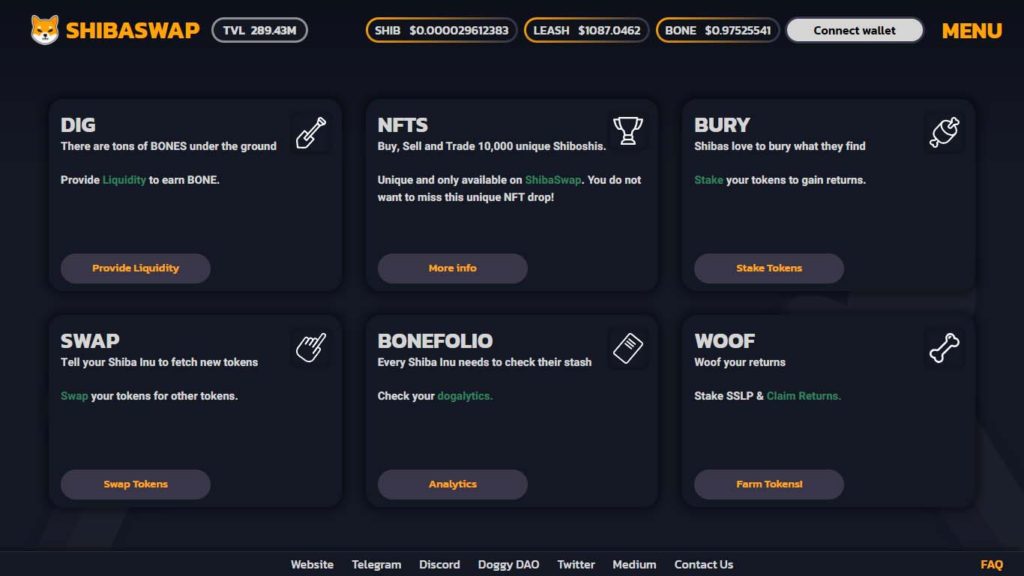 ShibaSwap at present has the following features embedded in it. These features are self-explanatory:
DIG – is the Liquidity farming platform on the ecosystem. You can provide liquidity to the pools. You can even create your own pairs. Liquidity providers receive ShibaSwap liquidity pool tokens (SSLP) tokens
NFTs – the Shiboshi Social Club finds its way to this part of the ecosystem.
BURY – is the staking platform of the system. You can bury i.e. Stake your SHIB or LEASH or BONE to earn rewards.
SWAP – is the Decentralized Exchange platform where you can swap your tokens for others.
BONEFOLIO – this part shows your portfolio
WOOF – is the feature that enables you to redeem BONE rewards by cashing out your SSLP tokens
Where can I buy Shiba Inu?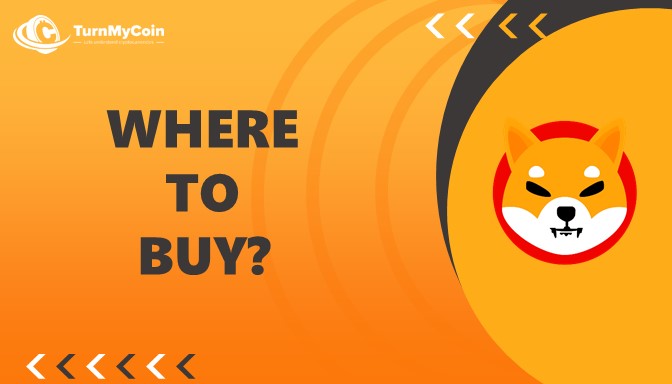 Shiba Inu (SHIB) can be bought either from Decentralized Exchanges like its official ShibaSwap or Uniswap. However, most of the new investors are normally not comfortable with buying coins over a decentralized exchange. So here is a list of well known Centralized Cryptocurrency exchanges from where you can buy your coins:
Final Thoughts
After the discussion we have had above, I understand that you will agree with the fact that Shiba Inu is not just a Meme coin. It may have started as a Meme Coin but over time the team has developed it into a full-fledged ecosystem.
There are many promising features that are still under development. One example is the Shiboshi Game and the use of Shiboshi NFTs in the game.
As we have seen in the past, the team and the ShibArmy is very flexible in incorporating and developing new technologies for the ecosystem. It has an incubator for garnering talent, a DEX, a DeFi platform, an NFT marketplace and now a game. The project doesn't stop there and has been involved in social causes as well. And all of this is truly decentralized.
This accommodating nature of the platform makes me pretty optimistic about Shiba Inu and its future.