Dear Reader, as a blogger, I may earn a small affiliate commission from this blog without any additional cost to you. This helps me keep the blog updated and running. However, the information provided on this blog is unbiased as I make sure only quality information is provided to the readers.
Introduction
With unprecedented growth, the industry has been through some controversies, but it's finally gaining acceptance from investors! New players in this space continue providing new opportunities to enable traders to invest their money. They do so by providing dependable services which will make your long-term crypto investment goals a reality soon enough.
When it comes to any form of cryptocurrency trading; You will realise that the exchange you trade on plays a vital role. And with the present development of the cryptocurrency industry, many options are available for trading.
Yet finding a secure one that also meets other expectations may be challenging. It is so considering the multitude of choices available. Out of the many platforms that have come up, you will realise that OKEx has become very popular. And hence, we have prepared an exhaustive OKEx review in this blog post. You can register at OKEx here.
Let us take a detailed review of OKEx. To make it easier for you, we have distributed the blog post in the following key points:
Fee
Security
Trading Options
Products Offered
Number of Cryptocurrencies & Fiats supported
User Friendliness
Customer Support
Verification Process
OKEx Review: Fee Structure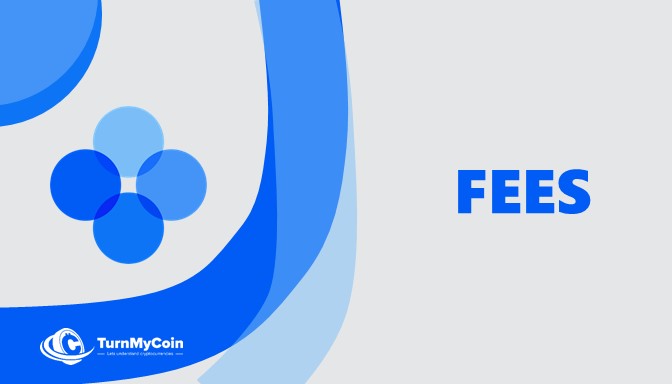 OKEx follows a tier-based fee structure, where it is divided based on the category of users: Regular users & VIP users. As the name depicts that both users enjoy different benefits & are liable to pay different fees while trading on OKEx.
Also, what makes this more complex is that OKEx has multiple fee schedules depending on the trade, currency, and volume of trade as well.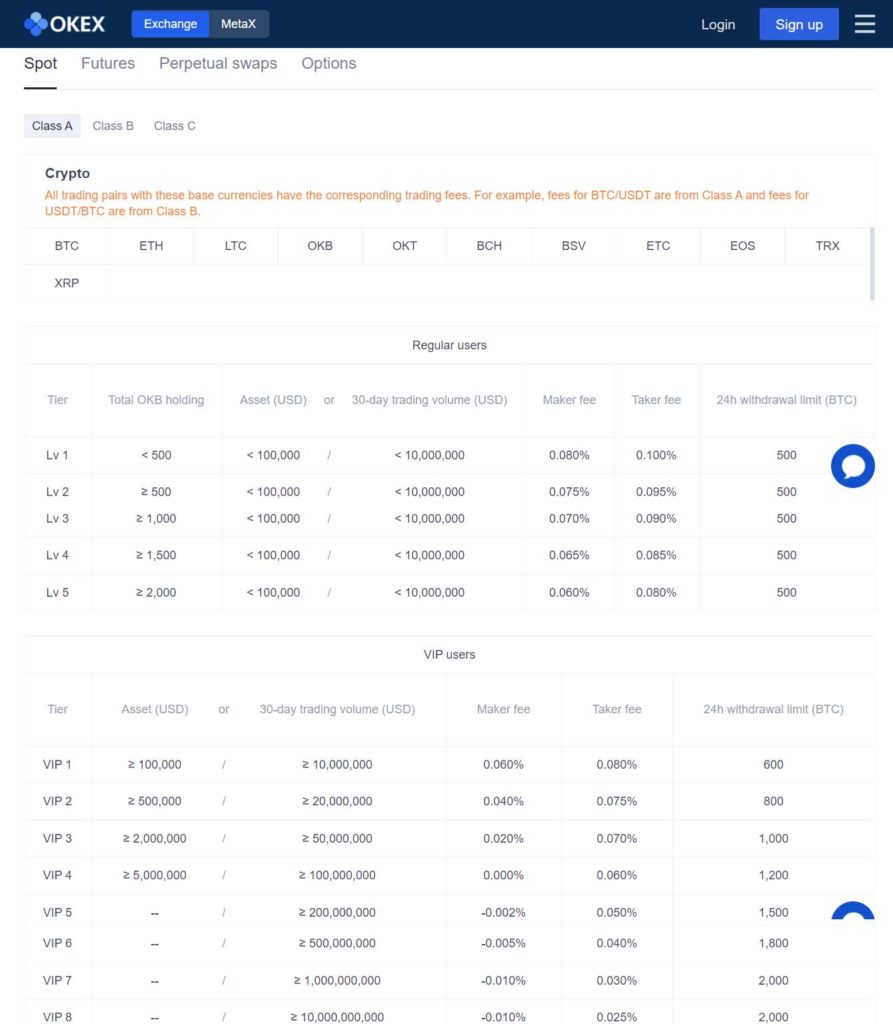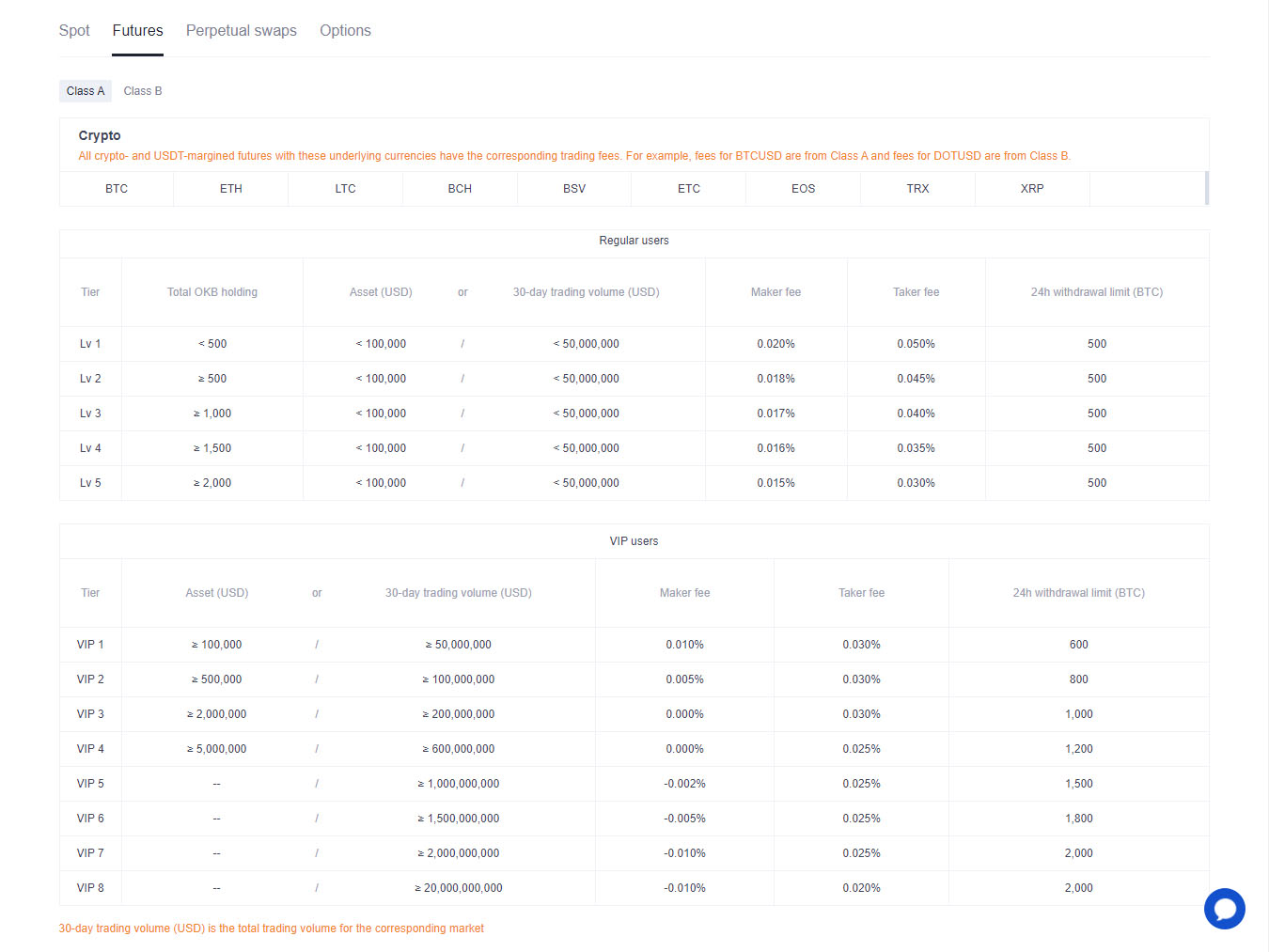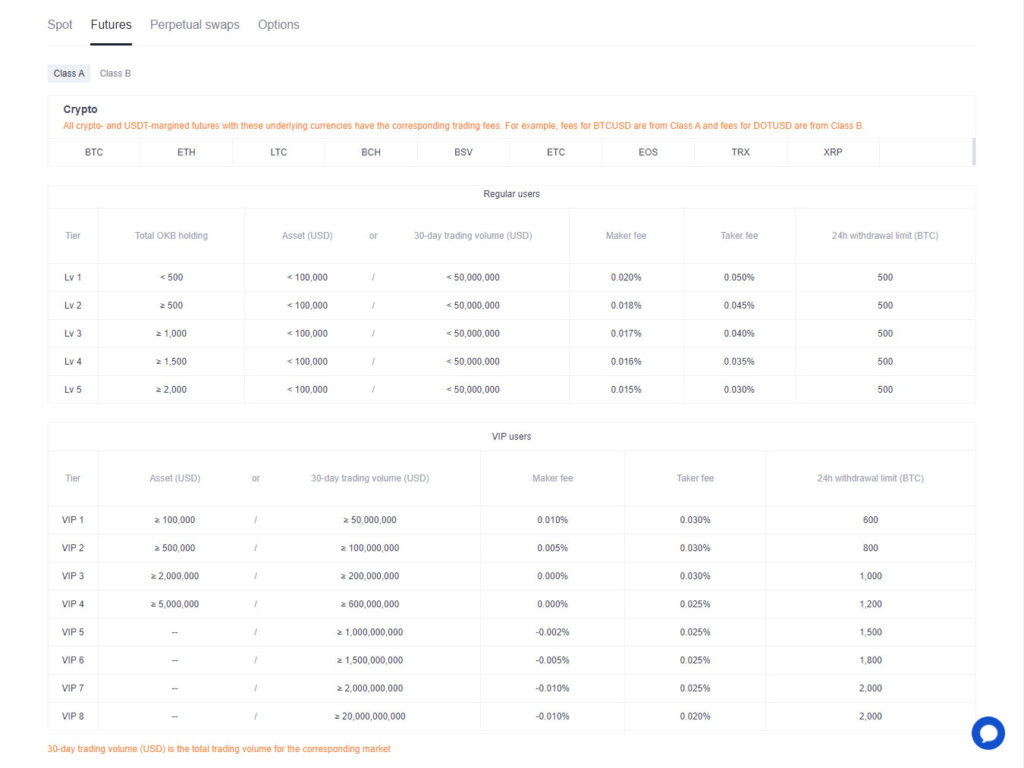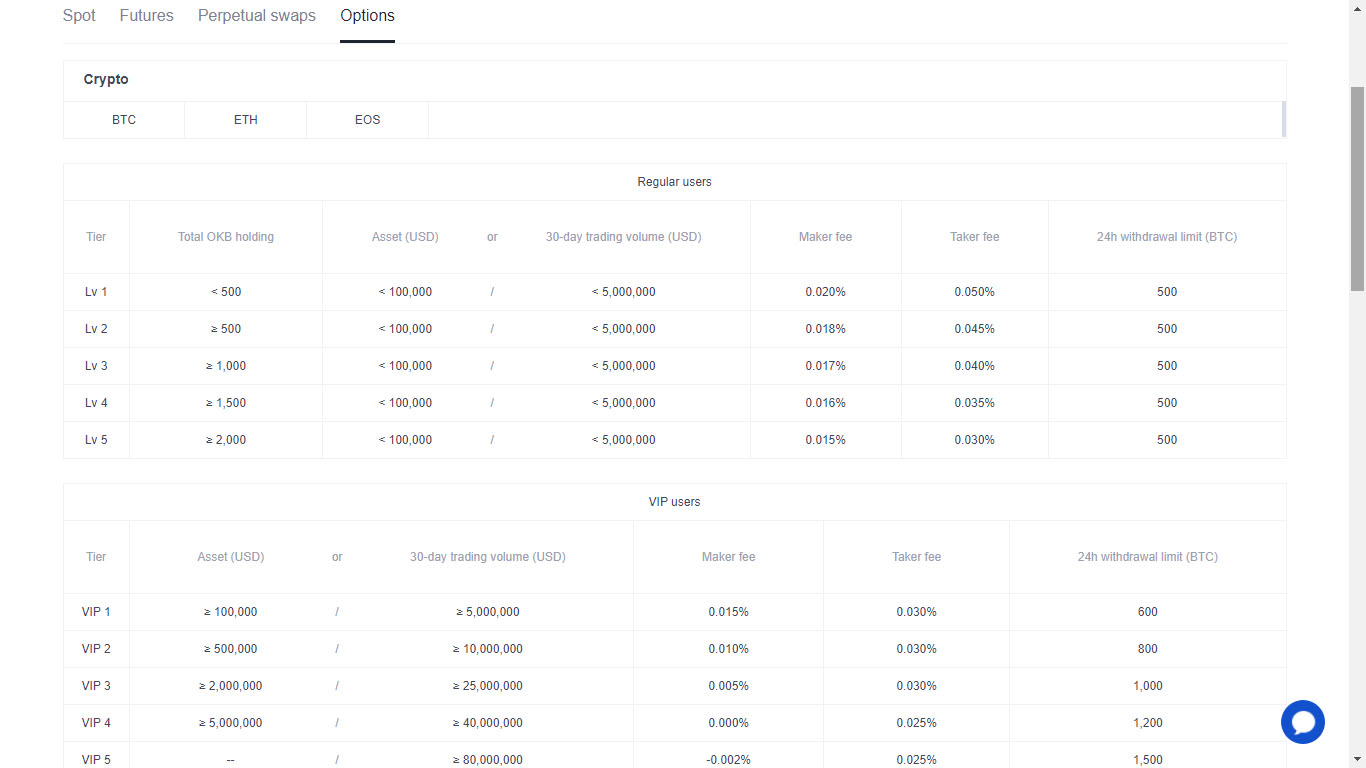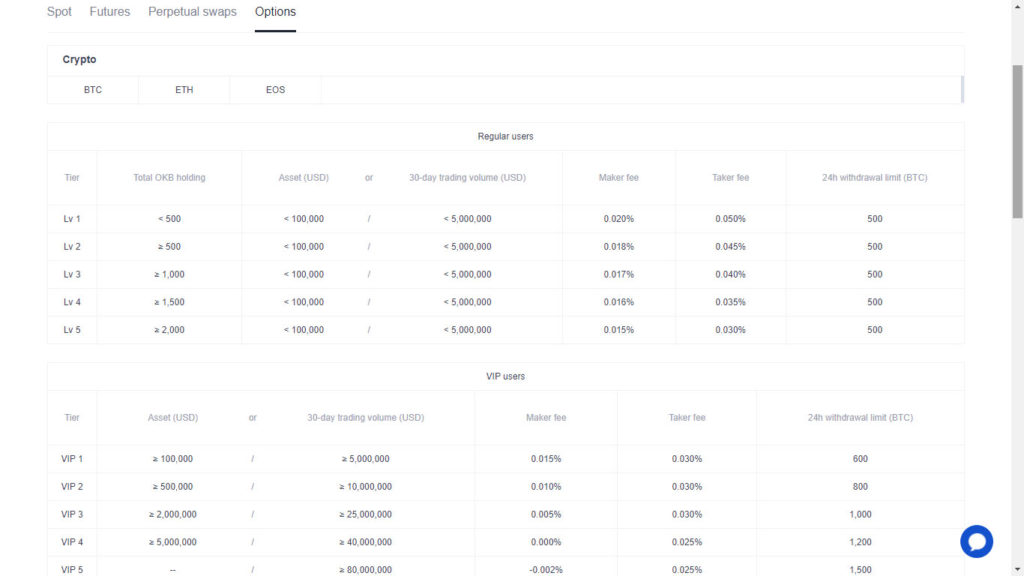 To simplify this, we would like to say that OKEx charges about 0.080%(Maker) / 0.10% (Taker) per trade for the beginning slab. It decreases if your trading increases as above.
Despite all its complexity, the fees come out to be the lowest you would find in the market.
OKEx Review: Security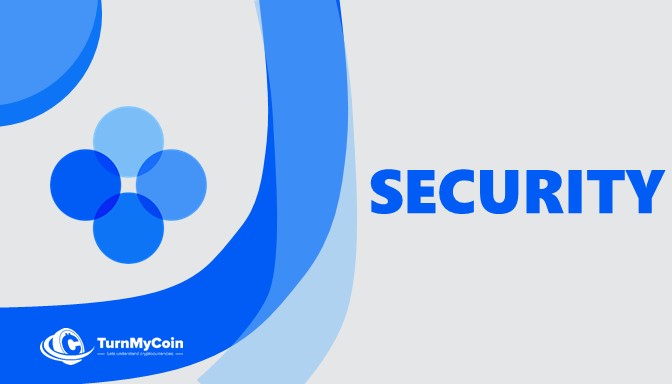 OKEx takes a lot of measures to make sure that it keeps all the investments safe. 95% of the cryptocurrencies are stored in Cold Wallet and only 5% are in Hot Wallets. There are multiple levels of protection involved including safety of private keys:
Online & offline measures
Minimize Data Risks
All investments and deposits are stored in a layered management mechanism before putting it to the blockchain network.
To keep the user's private key secure, the key data is stored on the temporary memory file. Since the data is not available on permanent storage, it becomes difficult for hackers to breach.
All communications are kept under a special communication network that is offline, and this prevents it from an online attack.
Below is a snapshot of the Deposit and Withdrawal system at OKEx. If you look carefully on the left-hand side you will find the Hot Wallet part i.e. 5% of the total storage which deals with customers deposits. Ensuring that only customers deposits are in a Hot Wallet.
Towards the Right hand side is the Semi Offline Risk Management system.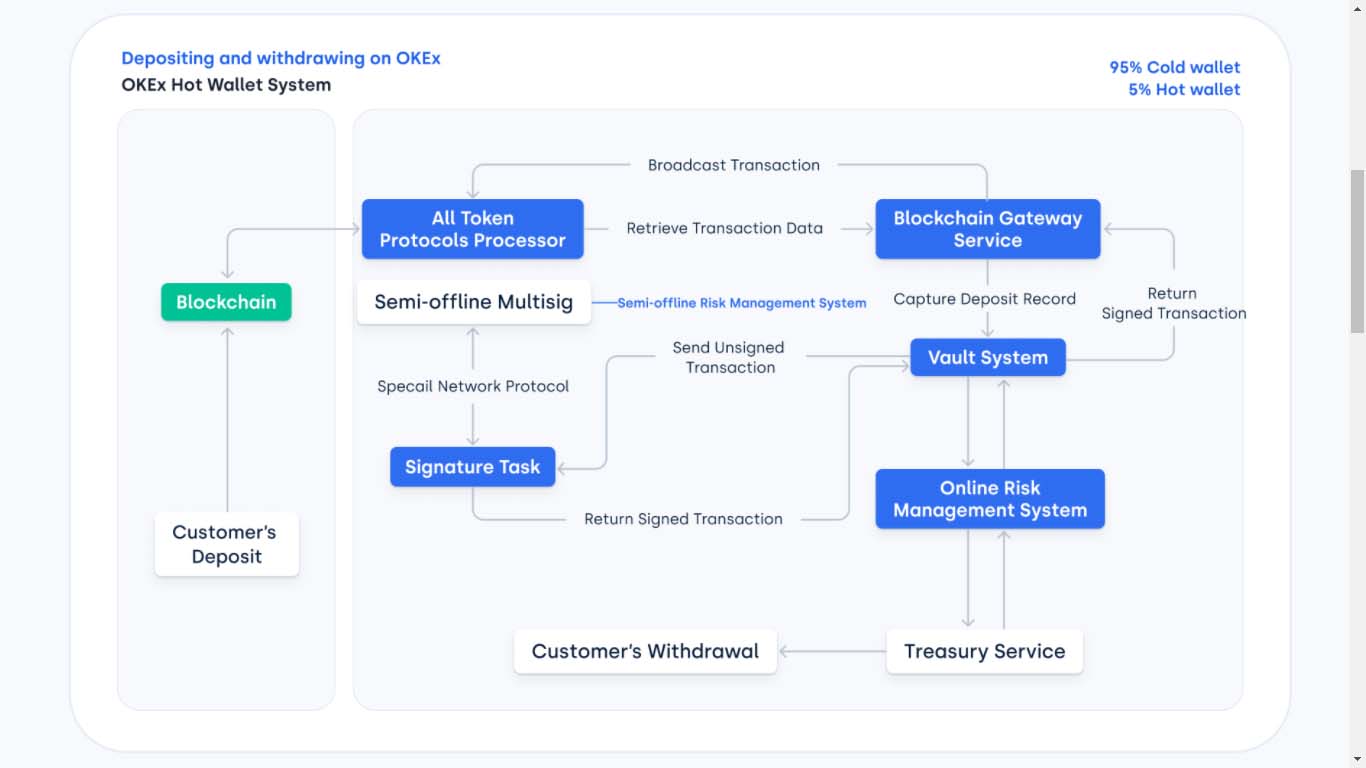 Apart from this, OKEx takes measures to ensure that all deposits and investments are kept safe on the platform at the Client end of the server as well.
Here's what the platform focuses on:
Login password
Email verification
Mobile Verification
Funds password
Google Authenticator Verification
Anti-phishing code on Emails
OKEx Review: Trading Options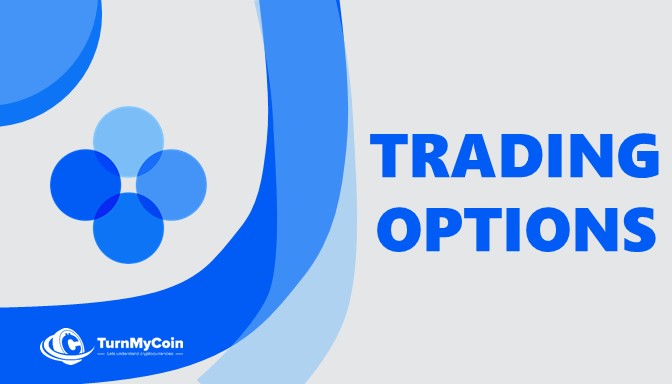 By defined categories, we mean that there is a separate section of content dedicated to different forms of trading. Such as P2P trading, third party payment channels Spot & Margin trading, Coin margined perpetual swap, USDT margined perpetual swap, Coin margined perpetual swap, Coin-margined futures, Coin-margined options.
At OKEx you can do Spot or Simple Trading and also leverage your trade with Margin Trading. For spot trading, OKEx provides features like
Limit Orders,
Market Orders,
Advanced Limit Orders,
Stop Limit Orders,
Trailing Stop Limit Orders,
Trigger Orders
OKEx allows 125x leveraged margin trading. Leveraged trading, in a nutshell, means that you can borrow money from the exchange to enter into transactions thereby amplifying your gains with same investment. Further, both Isolated and Cross trading options are available at OKEx.
For highly advanced traders OKEx provides Futures and Options trading as well.
The platform provides the facility for futures and options trading against Bitcoin, Ethereum, with weekly, bi-weekly, and monthly day contracts available. You can also use margin trading for all future contracts.
It is beyond my understanding why OKEx is not been given its due. As it is loaded with features and charges the lowest fees in the market.
Additionally, you can even use a Trading Bot to automate your trade. Users can either enter into Manual Trading or let the Trading Bot do trading on their behalf. We will discuss more on the OKEx Trading Bot in the "Products Offered" section below.
OKEx is a one-stop-shop for all your crypto purchases. With flexible payment options, fast delivery timescales, and an easy user interface, there's no wonder it has become so popular among traders worldwide!
OKEx Review: Products Offered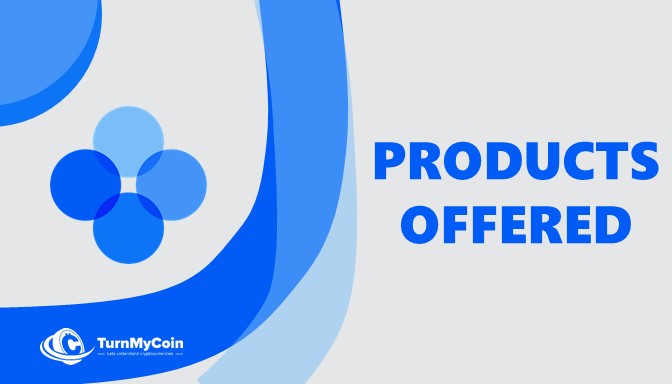 This OKEx review will be incomplete without a mention of the variety of products that OKEx offers. Surprisingly, OKEx offers incomparable products vis a vis most of the Centralized exchanges in the industry. Trading Bot, Demo Trading for learning, Staking, Loans and what not. Let us take a look at all the products that OKEx offers.
OKEx Trading Bot
Trading Bots can prove to be an astounding feature for investors who cannot continuously stay before their computer screens to buy and sell assets. A Trading Bot automatically does the needful based upon a strategy of your choice. Alternatively, the system's Artificial Intelligence (AI) can run a strategy on your behalf.
OKEx Trading Bots are of three types:
Spot Grid
You can enable the Bot to buy low and sell high manually or use the systems AI to do so. This is the simplest bot to configure and even new investors can easily configure it. After you set the parameter, the system itself makes a grid for buy and sell values to maximize your gains.
Iceberg
Next is the Iceberg OKEx bot. Investors can use this bot to split large orders in to smaller ones automatically. So the AI divides your huge order into smaller chunks and automatically places bids one below the other. This ensures that your get the best price for your order as the averaging of the price happens.
TWAP
Investors can use the Time-weighted Average Price Bot to specify a time period within which a large order needs to be concluded. The system yet again divides this large order into small chunks and places bids to ensure that the average price is maintained at the level that the investor intends.
Demo Trading
I have noticed that OKEx not only provides its investors with a platform to trade. It also ensures that its investors sharpen their investing skills. OKEx has introduced a Demo Trading facility for its new investors.
Demo trading as the name suggests is a demo account seated within your actual account wherein an investor can trade in the market without spending actual money. The interesting thing is that the prices at which you trade in the demo account is the real-time market price. You can start your demo trading account at OKEx here
It's like "a learning on the job" facility which provides absolute exposure to an investor without worrying about losing money if things turn south.
Once you learn the basics of investing, you can switch to the actual account with a click of a button and enter the normal market.
Earn more crypto & loan your currency
OKEx offers Staking, Lending Pools, Savings interest products and Flashdeals. Further, it also offers Loan facility wherein an investor can borrow money by providing cryptocurrency as collateral.
OKEx Review: Number of Cryptocurrencies & Fiat Supported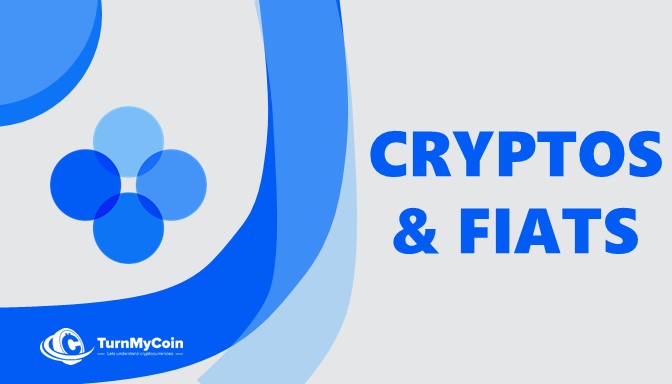 OKEx comes with the standard crypto-to-crypto trading. Also, it accepts investments in cryptocurrencies via traditional fiat money. For now, the platform supports more than 90 fiat currencies from USD, EUR, GBP, INR, KRW, JPY, RUB, TRY, USH & many more.
Coming to the cryptocurrency options, there are 325 cryptocurrencies & tokens at the exchange. Here are a few popular ones available such as BTC, ETH, USDT, LTC, XRP, BCH, DOGE, ADA, DOT, and MATIC.
New coins and currencies are regularly updated on the website.
OKEx Review: User Friendliness
Coming to the ease of usage, OKEx is a fantastic platform to learn & become familiar with cryptocurrency investing. Most of the people are still not familiar with crypto trading and still many people do not understand the technicalities.
The platform is available as a web, iOS, and android application. Overall, OKEx is highly usable and it is one of the best crypto exchanges in the market right now in terms of usability.
OKEx is fairly easy to use even for new investors as well. Neatly laid out features with explanations for each feature is a prime attraction why most investors stick to OKEx for investing.
OKEx Review: Customer Support
OKEx support is available 24X7 for all its customers. Another thing that makes OKEx special is that they have a lot of content for self-help with defined categories.
Although the blog section is for learning and will resolve most of your questions with its very easy to walk through interface, however, if you do not want to go through the text and get answers to your queries, then OKEx has the following support options
Support Center – A database of FAQs on different topics.
Ticketing – You can raise a ticket to the support team for resolution.
Community – Connect with like-minded investors.
Telegram – get updates on the platform including the launching of new coins & products.
Overall, OKEx provides excellent support to all its investors!!
OKEx Review: Verification process
OKEx has its own rules for user verification to make sure that the platform is safe for everyone to trade!!
A user has to verify his/her account on OKEx with the following:
To invest in crypto with fiat currencies, users must perform identity verification.
To make withdrawals of more than 10 BTC/per day!
When you proceed with identity verification on OKEx, there are two different accounts:
Individual accounts.
Corporate accounts.
For identity verification, OKEx takes less than 10 minutes, but sometimes the duration increases if there are higher requests.
Coming to individual accounts, there are 3 different levels of verification with different documents requirements. The identification differs based on daily withdrawal limits, P2P transaction limits, etc.
Three different levels of individual account verifications:
Level One – Basic identification
The user has to provide documents mentioning nationality, and name along with a social identification number of their respective countries.
Level two — Photo verification
When a user proceeds to level 2 then he/she has to go through photo verification. OKEx provides facial verification via the Netverify service.
Level three — Read the OKEx disclaimer
After passing levels 1 & 2; the user has to go through the disclaimer available on both OKEx's mobile/website to complete 3rd level of identity verification.
For corporate users. There are two verification levels:
Basic: Requires all details such as company name, country of origin, registered address, etc.
Advanced: Require more details such as company details, source of funding, assets, other company documents.
To know more you can refer OKEx website here.
OKEx Review: Pros & Cons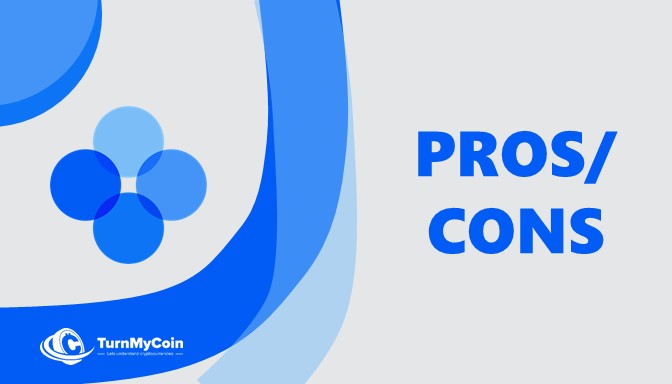 To help you decide whether to use OKEx or not we have made a list of Pros & Cons for you below:
Pros of choosing OKEx
Supports more than 90+ fiat currencies to start trading.
Provides a ton of educational content to educate its audience.
Provides Margin trading and futures and options along with standard crypto trading.
High Staking Annual percentage yields.
300+ customized crypto trading pairs.
Easy to understand Buy/Sell dashboard.
Excellent Help center with chat & email ticket system.
Take steps to keep the platform safe!
Cons
The platform has limited availability. It is not available in Hong Kong, Cuba, Iran, North Korea, Crimea, Malaysia, Syria, Bangladesh, Bolivia, Ecuador, Kyrgyzstan, Malta, and the USA(along with all its territories).
The fee structure is quite complex. It can be difficult to understand for a lot of people.
Bottom Line
OKEx is a highly advanced and secured platform. The reason why I reviewed this platform is due to its rising popularity. It was later that I realized the abundance of features and security measures that the exchange has. Its features are pretty impressive and make you wonder why is it still under-rated.
The products like Demo Trading and Trading Bot offered by OKEx are quite appealing and helpful for novice investors. In my opinion, you should definitely give OKEx a shot!