Introduction
KuCoin is one of the most popular exchanges in the world, with over 11 million users, while Coinbase is one of the top cryptocurrency exchanges in the US, so which one is the best? It all comes down to what you are looking for from your cryptocurrency exchange.
Coinbase has more deposit methods, a lower cost to purchase cryptocurrencies and a higher level of compliance and regulation, while KuCoin has a low trading fee of just 0.1%, trading robots, and a wide range of additional features, including ways to earn interest on your crypto.
In order to understand more, let's get on the ground-level comparison between Kucoin Vs Coinbase.
Kucoin Vs Coinbase: Introduction
Both Kucoin and Coinbase are well-known crypto exchange platforms in the crypto industry all around the world. Here's a brief on each one of them.
About Kucoin
Kucoin platform offers its users bank-grade security, and an easy user interface, with beginner-friendly UI & UX. Other services include instant exchange services and pools where you can earn crypto by lending and staking by using Pool-X. From the trading point of view, here are the options that are available for us to study:
Margin and futures trading
P2P exchange
Buying cryptocurrencies using a credit/debit card.
As Kucoin wants to make the beginner experience quite easy and simple. Therefore, it has all the new cryptocurrencies with the highest potential. It also consists of a large section of coins that consist of less famous cryptocurrencies, but with high profit-sharing incentives.
About Coinbase
Coinbase has two different versions at the global level, namely- Coinbase-Pro and Coinbase. Furthermore, both these versions differ greatly based on differences in features, transactions, trading amounts, etc.
Therefore, we are going to consider both of these exchanges and see which one will be more beneficial to us.
Today, the comparison of Kucoin Vs Coinbase is based on the following factors. Accordingly, the conclusion will also depend on these parameters:
Fees
Security
Number of the listed cryptocurrencies
User-friendliness
Support
Verification Process
Advantages
Disadvantages
Hence, after studying the above factors, we will construct a cumulative comparison table regarding both exchanges. And the final verdict will tell us which one is better.
1. Kucoin Vs Coinbase: Fees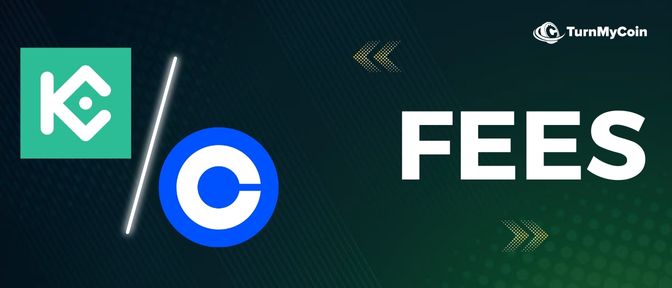 Fee Structure of Kucoin
In Kucoin, the investors need to follow a tiered fee structure for trading pairs. Here, you have to pay 0.1% for the taker and 0.1% for the maker.
Kucoin wants to make crypto trading affordable. Therefore, it has come up with a new tier trading fee discount program. It means that the fees will reduce if you trade more.
Meanwhile, there are a few conditions by which you need to abide if you wish to take advantage of the new tiered trading fee discount program.
Spot Trading Fees
In spot trading, you have to divide the fees based on trading levels. Accordingly, these levels are called VIPs in Kucoin. In addition, cryptocurrencies in Kucoin have different classes, namely Class A, Class B, and Class C.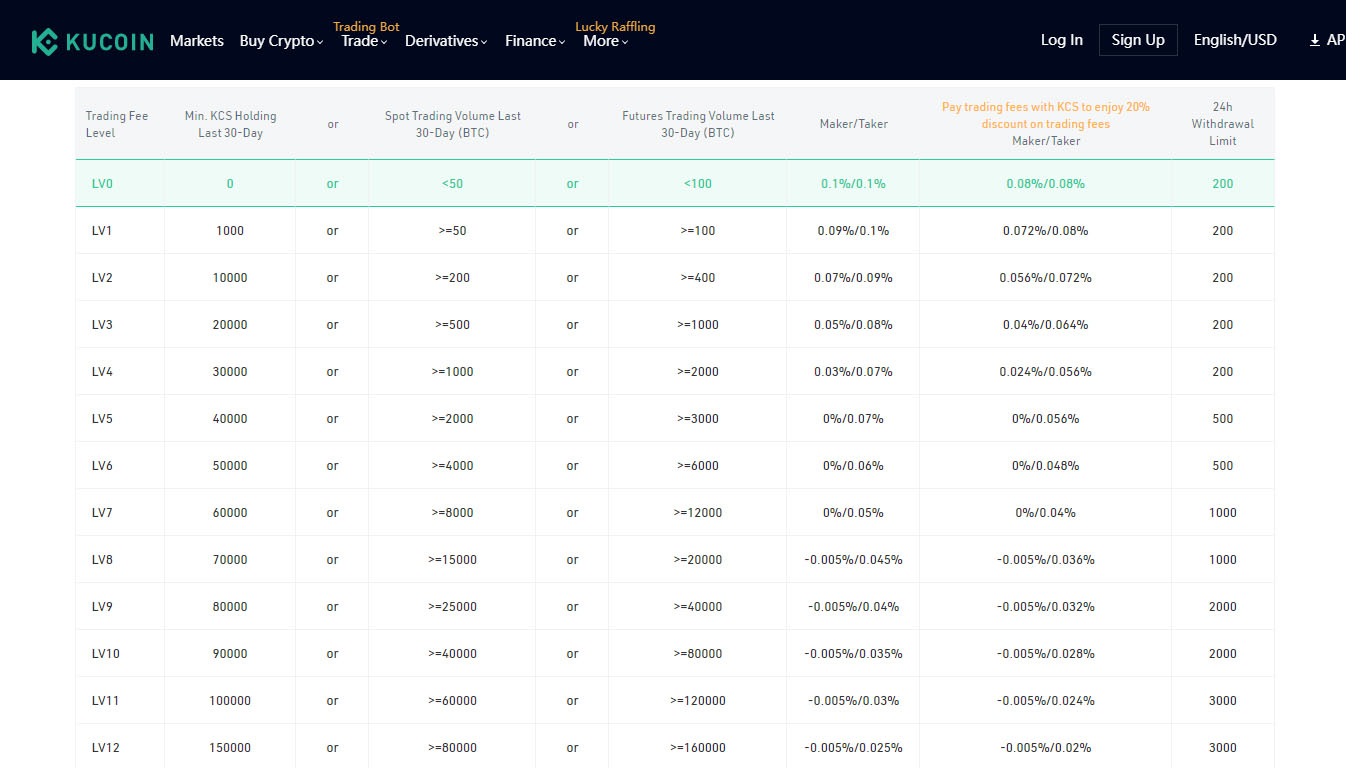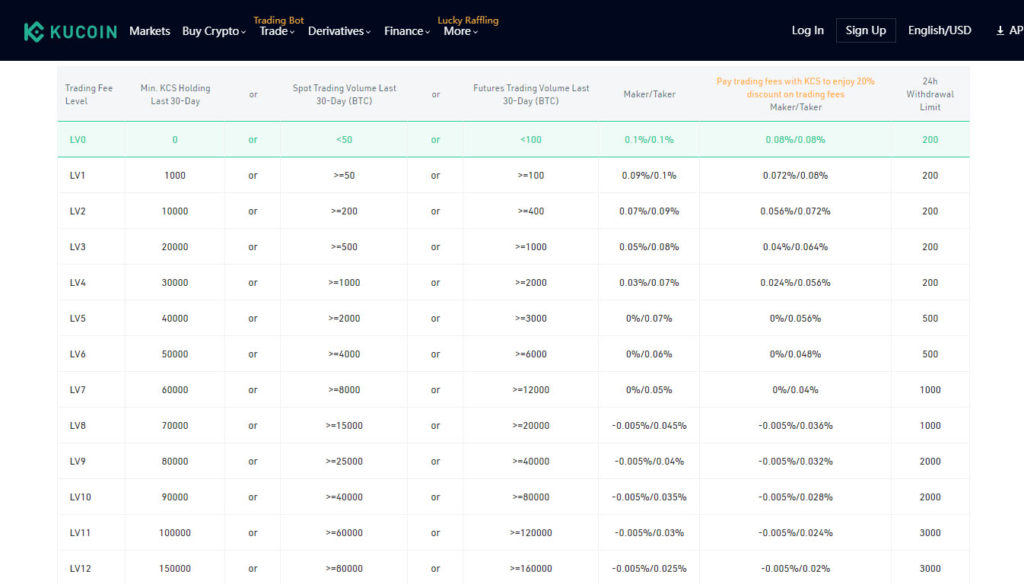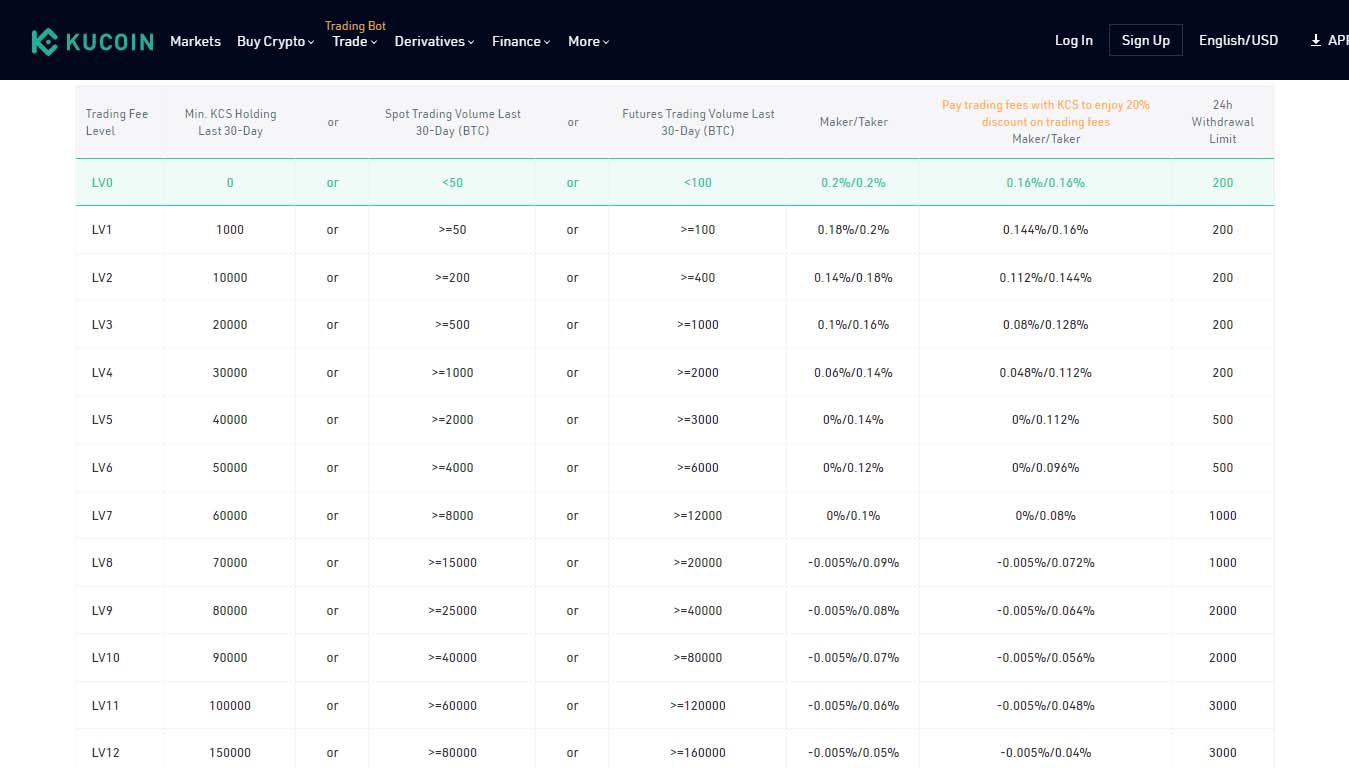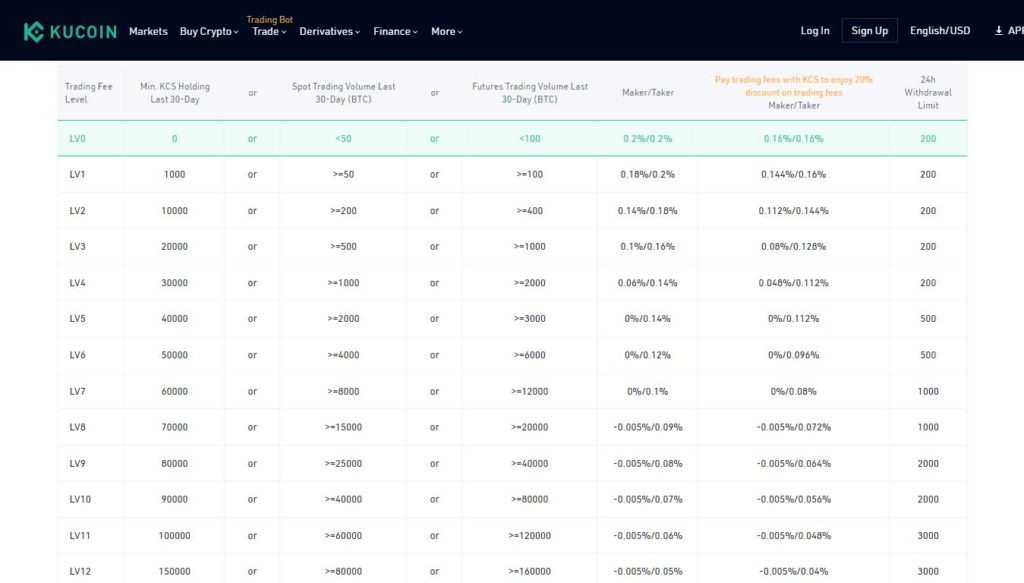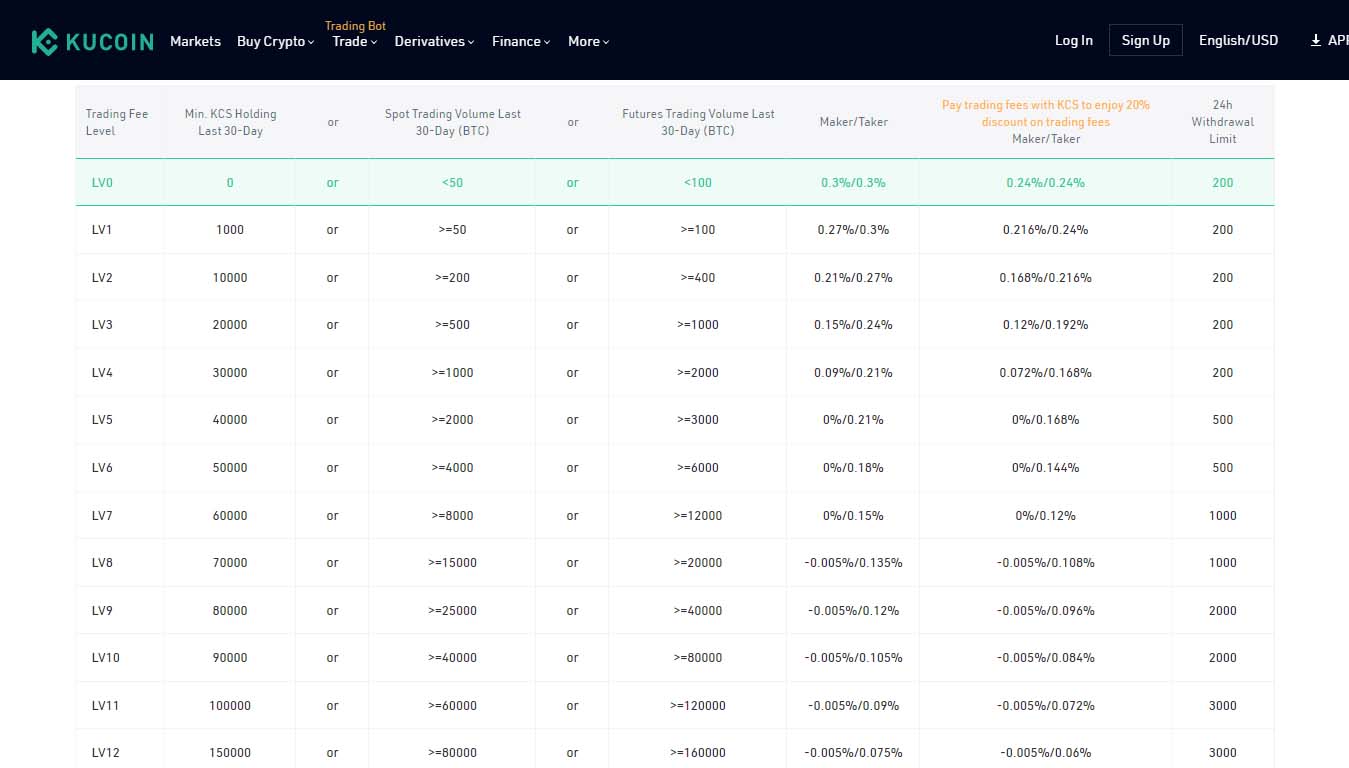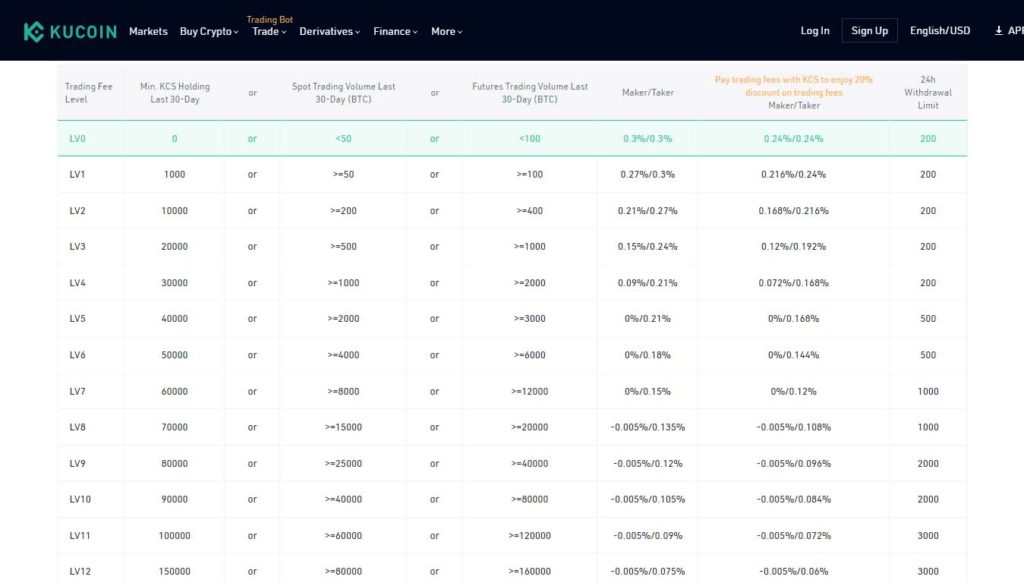 Future Trading Fees
In futures trading, the fee is according to the trading levels only.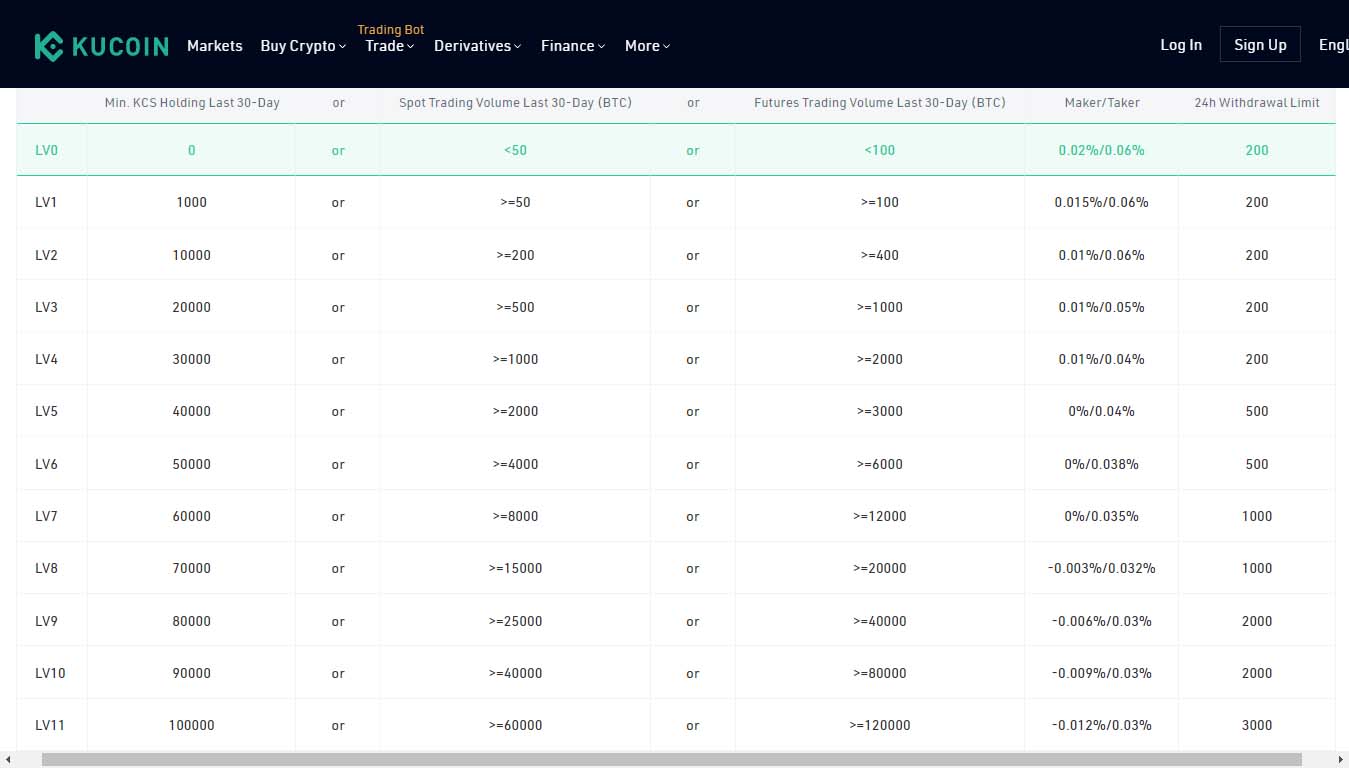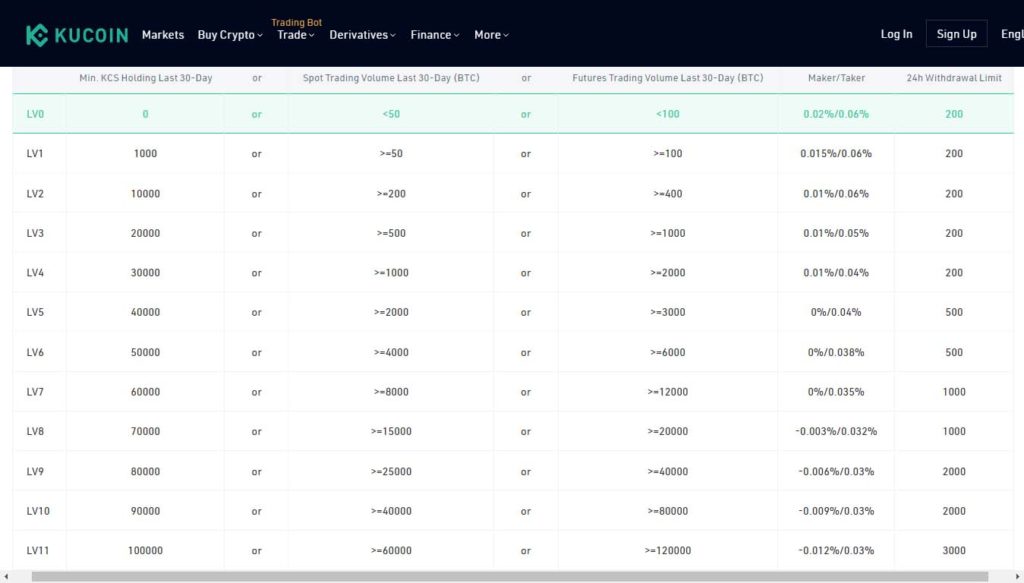 Deposit and Withdrawal Fees
While you are adding funds for trading at that time, Kucoin won't charge you the deposit fees. Whereas, the withdrawal fees will depend on the type of cryptocurrency you are withdrawing.
Another thing that makes Kucoin special is that 90% of the trading fees come back to the KuCoin community in the form of KuCoin tokens. It is also known as KuCoin Shares.
Fee Structure of Coinbase
When we talk about the fees of Coinbase, there are different fee implications, on both Coinbase & Coinbase pro.
Coinbase Fee
Coinbase charges fees based on the payment method, order size, and market conditions like liquidity and volatility. Subsequently, it lists the actual fees at the time of the transaction. Hence, you may incur different fees on each transaction.
Coinbase Pro Fee
It follows a relatively simple fee structure, where the investors pay a flat fee of 0-50% per trade. Therefore, it has a relatively simpler fee structure than Coinbase.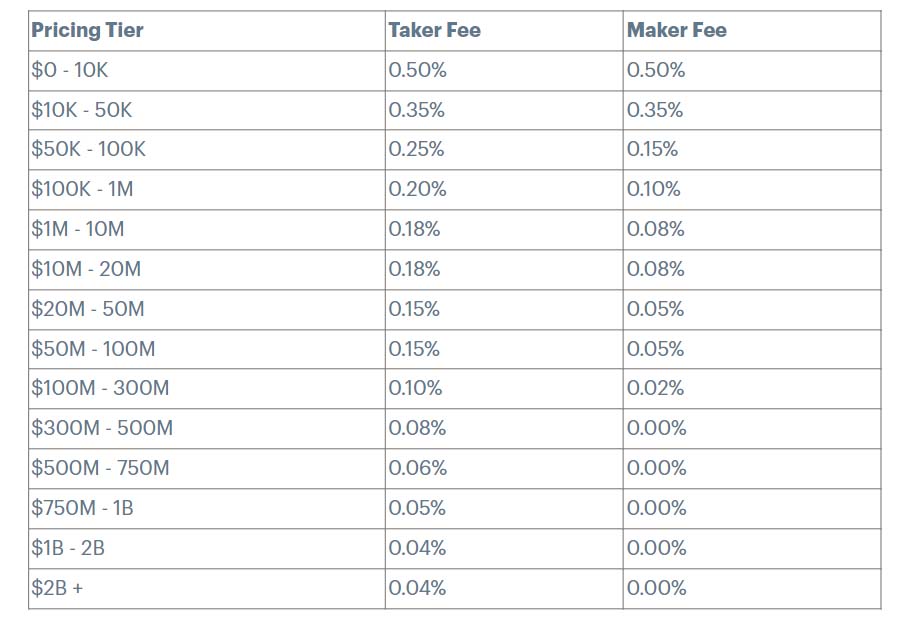 Here's a detailed comparison:
Comparing both these side by side, it looks evident that in most cases Kucoin fees will lower. However, depending upon the volume of the transaction CoinBase may charge lower though it can happen only in a few cases.
2. Coinbase Vs Kucoin: Security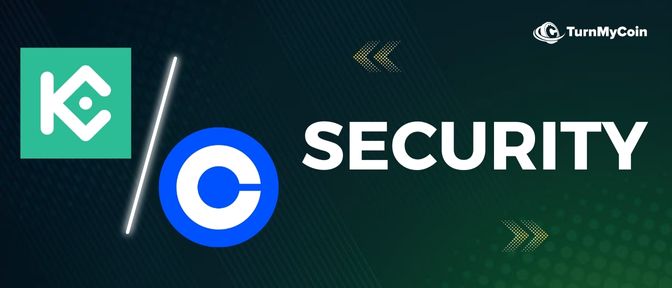 Coinbase Security
Both Coinbase and Coinbase Pro follow industry-leading security practices to keep investor deposits & assets safe! Both store more than 90% of the crypto assets in cold storage distributed across different safety boxes around the world.
Also, these assets have the support of digital as well as paper backup.
There are various security measures that one can take. It includes the following-
2-factor authentication(2-FA)
Biometric logins
FDIC Insurance for the US balances AES-256 encryption across all digital wallets.
All investments are under investment insurance so that they can pay all the investors in case of a security breach. But, Coinbase ensures bank-level security to keep all investments safe.
However, the implementation of these measures is on the server side. Additionally, to ensure the safety of the network from your side, make sure that you keep your passwords unique & use 2-factor authentication in place.
Kucoin Security
The working of KuCoin is in collaboration with Onchain Custodian so that they can secure the crypto assets listed on the exchange.
At this exchange platform, you will also get insurance from Lockton against any hacking activity. Additionally, the Bounty Program of the exchange provides the chance to ethical hackers to report any loopholes in the system.
For the customer to access the funds, a few of the funds are kept online for withdrawal, whereas the remaining funds are in cold storage. Like many other exchanges, the Kucoin wallet was also hacked.
But, there were no losses because the amount got recovered through Insurance. In addition, another thing that is commendable about Kucoin is that the actions that happen on the platform are very quick, and there is full transparency in the scenario.
It shows us that Kucoin has a customer-centric approach. The platform promotes security and asks its users to follow the two-factor authentication (2-FA) and add a password for security during trading.
You will observe that Kucoin sends its users regular emails, and updates on Telegram to its clients to make them aware of the latest measures. Thus, such steps keep the users aware and prevent phishing.
The similarity between the security system of both exchanges is that they both follow a 2-factor authentication approach. And due to this, both platforms contain an extra layer of security to them.
3. Coinbase Vs Kucoin: Number of Listed Cryptocurrencies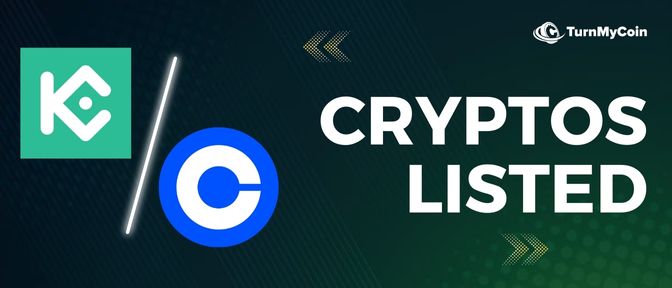 Coinbase
The main differentiating factor between Coinbase & Coinbase Pro is the number of trading options. Both Coinbase & Coinbase pro support fiat currencies such as USD, GBP, EUR, etc. However, the number of crypto trading options might differ!
Both platforms support all popular cryptocurrencies such as Bitcoin, Ethereum, Litecoin, Polygon, Shiba coin, etc.
Coinbase supports more than 232 cryptocurrencies and around 598 markets.
Please keep in mind that some coins have different trading/withdrawal restrictions. You can trade many of the supported cryptocurrencies against fiat currencies, such as the US Dollar converted against cryptocurrencies.
Also, check with your country-wide restrictions as some coins might not be supported in your country. Please visit Coinbase's official website before deciding on a cryptocurrency.
Kucoin
According to the listing, Kucoin is the most active centralized cryptocurrency exchange now. At present, when I am writing this article, KuCoin has more than 770 currencies including all popular coins such as Bitcoin, Dogecoin, Ethereum, etc. Now we have our answer to why it is the Number One cryptocurrency exchange for Altcoins.
The other reason for founding Kucoin was to create a platform that makes people aware of less popular currencies. Though, the less popular currencies hold greater risk than popular currencies such as Bitcoin, Ethereum, etc. Therefore, proper research is essential before you invest in any cryptocurrency.
Another additional reason is to support its motto of being a Global Exchange. Not remaining to just cryptocurrencies, Kucoin also provides support for over 48 fiat currencies. These include USD, AED, EUR, INR, etc. It is a fabulous fact about Kucoin because most of the other exchanges do not provide support for so many fiat currencies.
So, this was all about the members of crypto and fiat currencies. Now, let us move to the next sub-topic of discussion- the easy functionality of the platform, or you can also call it their user-friendliness.
4. Kucoin VS Coinbase: User Friendliness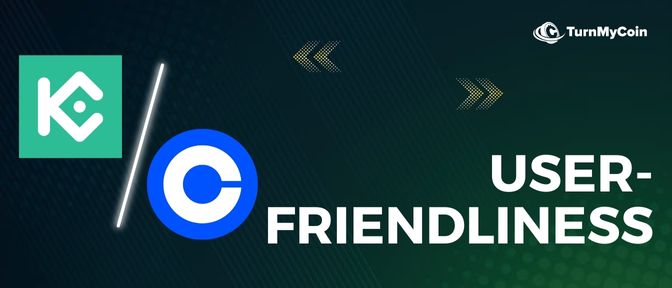 User Friendliness of Kucoin
If you are a new investor and you do not know how to invest, then you are lucky because the platform is easy to use and user-friendly. And the reason behind it is the ideology of the founders to make it a People's Exchange.
There are different charts available on the platform for customization and for you to look at different technical indicators before investing in a particular crypto asset.
The Kucoin exchange also uses different wallets for trading, withdrawal, and deposit purposes. Sometimes, it might become a little confusing for users at the start, but once you become a regular trader. KuCoin is the most user-friendly platform with which you can work.
When you use different wallets for trading and withdrawals and deposits, the process might confuse you initially, but do not worry because it becomes easy once you start trading on KuCoin. Let's now go to Coinbase.
User Friendliness of Coinbase
The trading experience of both these platforms is different. Coinbase is a beginner-friendly interface that requires no technical skills. Traders can use the website/android/iOS application to start trading.
Overall, trading on Coinbase is quite similar to stock trading with a brokerage account. The platform displays the final balance on the dashboard, and you can buy/sell cryptocurrencies directly. On the other hand, the design of Coinbase Pro is specifically for all professional traders. In addition to the standard Coinbase platform, it offers you to-
Limit order
Stop order
Time to force order
Also, there is no trading limit with Coinbase Pro, whereas the case of Coinbase imposes trading limits based upon country & currency.
All purchases are debited directly from your bank account/credit card. Again, there might be some additional fees as per your bank/country restrictions. Also, all withdrawals are deposited instantly to the investor's bank account.
5. Kucoin VS Coinbase: Support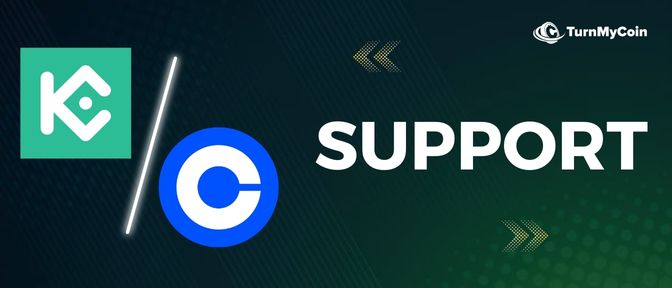 Kucoin Support
Since we know that Kucoin is a user-friendly platform. Therefore, it is not shocking to get the information that it comes with a long list of different support features.
The priority of this platform is to provide technical support to all customers, especially beginners. It is so because the new investor gets difficulty investing in cryptocurrency. The reason is the high technicality of the platform.
There are a lot of technical aspects to cryptocurrencies. For example- Staking crypto, mining, and KuCoin focus on all these aspects to provide the best services and promote investment in crypto assets.
The platform is known for providing the best services to customers 24×7. Here we have some additional information as well. It is that KuCoin is very active on its:
Telegram &
Twitter handles

and keeps informing its clients about the latest happenings & security upgrades accordingly. It helps them stay aware of the day-to-day updates of the platform.
Coinbase Support
The focus of Coinbase is to provide the best customer service in the crypto industry. Both Coinbase & Coinbase Pro provide you with the option to get support over chat & contact them through the contact us page. Apart from this, Coinbase has a help repository with all the content you need to understand trading on the platform.
And just like Kucoin, Coinbase is also very active on:
Twitter &
Facebook.

They keep their customers aware of the new updates and happenings on the platform.
6. Coinbase VS Kucoin: Verification Process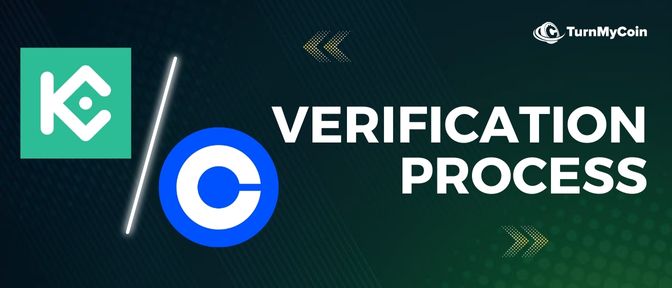 Let us know how these platforms verify their users, whether the users are authentic or fake.
Coinbase Verification Process
Coinbase allows you to verify your account via their website/mobile app. You have to upload your documents to Coinbase. The process is simple and takes about 2-3 minutes. As an additional measure, Coinbase prompts investors again & again to verify their identity to keep the platform safe.
Also, Coinbase does not accept any email applications during the whole process. You must verify your account via the Coinbase website/mobile app.
Kucoin Verification Process
You will see that Kucoin has a simple verification process, but it is still effective. Before verifying any user, the Kucoin platform screens each application beforehand.
Now, depending on the country you belong to, you have to present the Know Your Customer (KYC) details to the Exchange, like passport, Government Identification proof, etc.
The KYC process is quite simple. All you need to do is provide your information: the ID card photograph and the selfie. Once you submit all the documents, you will see that the verification status says pending. The pending stage is the one where the crypto.com team checks your application. Thus, the process can take a few hours or even a couple of days.
In Kucoin, you have to complete the 3 three levels of verification, which might take 1-3 days to complete the whole verification process. It takes time because the platform has to review each application with details. And after the review, the notification is sent to the user through email that the process is complete.
7. Coinbase Vs Kucoin: Advantages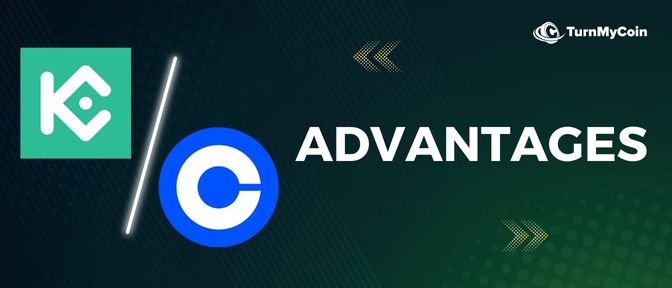 Coinbase
Here is the list of the advantages that the two versions of Coinbase provide their users.
Coinbase is authorized and regulated by the UK Financial Conduct Authority ("FCA").
The Coinbase version provides easy withdrawals through PayPal.
This version has official approval from many countries of the world.
The Coinbase version is not complex and allows you to invest & trade using credit & debit cards.
There are many more coins available in the Coinbase Pro version.
The fee structure of the Pro version is not complex and easy to understand for new investors.
The Pro version is flexible and supports advanced features like limit orders & advanced charting to aid bulk trading.
Kucoin
Kucoin has advantages over other crypto exchange platforms.
In Kucoin, you can invest the lowest possible amount, and there is no trading or withdrawal fee on this platform.
The interface of Kucoin is simple and the best for beginners. And they too have an advanced version which is perfect for the investors with experience.
There is a broad section for cryptocurrencies in Kucoin. Not limited to the already existing cryptocurrencies, they also include cryptocurrencies that have recently been released.
The security features and the security level of Kucoin are impressive.
It has the feature of anonymous trading. That means you can trade effectively without revealing your identity. It is an amazing feature because it reduces the probability of hacking attacks.
8. Coinbase Vs Kucoin: Disadvantages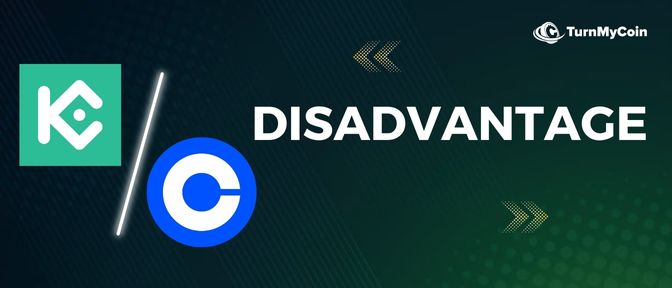 Coinbase
Here is the list of the disadvantages that the two versions of Coinbase provide their users.
The Coinbase version has high fees along with a complex fee structure. The fee structure is always on the higher side most of the time.
With the Coinbase Version, you do not get many options for using different cryptocurrencies.
The Pro version of Coinbase is not easy to understand for beginners. It is because the design is according to experienced investors. Therefore, it requires prior knowledge and research about the platform.
Even if we look at the flat fee structure of Coinbase Pro, it is very high in comparison to the other platforms that we have in the crypto industry.
To put this straight!
We can say that the Coinbase platform is more suitable for traders to start & learn about crypto trading. Subsequently, it is a platform where you can learn and make mistakes. On the other side, Coinbase Pro is for professional traders looking to stay up to date & make the most of trading.
Kucoin
Kucoin has its disadvantages over the other crypto exchange platforms.
Kucoin is not regulated and hence it cannot operate in countries like USA.
Despite the fact that Kucoin has high features and an impressive number of available cryptocurrencies. Yet the trading volume on this exchange platform is quite low. Subsequently, this low trading volume gives rise to liquidity issues for the traders who are trading with the new coins.

If you do not know what liquidity is, let me explain it to you. The liquidity of an exchange is its ability to quickly allow the sale, purchase, or swap of your cryptocurrency without any alterations in its price.
When the traffic on the website of Kucoin increases, it is unable to handle it. As a result of which, the system lags and becomes frustrating to handle.
Now, after reading both the advantages and the disadvantages of the two platforms. Also, you might have come to a conclusion about which one is better to use. Maybe, you are skeptical about your decision. Then, here is what you need. The following comparison table will help you make a better decision between the two exchanges, and my personal review might help you as well.
The Final Verdict
Here is the Final Comparison Table between the two-
Features
COINBASE
KUCOIN
Value For Money
5 stars
4 stars
Customer Support
Excellent
Good
Ease to Use
5 stars
4 stars
Statistics
Active Users
13.3 M
1M (Newer exchange)
Acceptable Cryptocurrencies
232
770
Fiat Currency Trading
USD, EUR, GBP
USD, AED, ARS
and +45 more
Features
Analytical Tool
✔
✔
Mobile Application
✔
✔
Security
Excellent
Good
Social Trading
Χ
Χ
Copy Trading
Χ
Χ
Anonymity
Χ
✔
Pricing
Maximum Trading Amount
$25K
N/A
Withdrawal Fees
Upto 3%
0.1%
Trading Fees
Up to 3.99%
Up To 0.05%
Payment Methods
Mastercard
✔
✔
Wire Transfer
✔
✔
Card
✔
✔
Table depicting comparison between Coinbase Vs Kucoin
Conclusive Analysis
From analyzing the above data, we observe that choosing an exchange in Coinbase Vs Kucoin can be based on certain factors including the risk appetite of you as an investor.
Kucoin turns out to be better than Coinbase, such as Anonymity, acceptable cryptocurrency, and lower fees. And these three are a few vital factors that one should consider while choosing an exchange.
Coinbase is more popular and highly regulated in turn offering better security to customers. Though Kucoin offers good security and its funds are insured but a still larger number of people are inclined towards Coinbase because of it is regulated.
If you are an experienced day trader, KuCoin is an excellent choice, with a low 0.1% trading fee. The only downside is that it is expensive to buy cryptocurrencies on KuCoin to start trading – in this case, I would suggest buying on another exchange, for example Coinbase, Coinmama or Gemini and sending it to KuCoin for free.
Also, do let us know your point of view about these two. Which one will you prefer?