Introduction
KuCoin is one of the most well-known trading platforms in the crypto industry. It has managed to establish itself as the one-stop-shop for all crypto operations. In 2017; when the platform had more than 200 cryptocurrencies and 400 markets. It made KuCoin one of the biggest crypto hubs online! More on it in this article on Kucoin review below.
The platform offers bank-grade security, an easy user interface, with beginner-friendly UI & UX. Coming to the trading point of view, there are multiple options available including
Margin and futures trading,
Peer-to-Peer (P2P) exchange,
buying cryptocurrencies using a credit/debit card.
Also, there are instant exchange services and pools where you can earn crypto by lending/staking using Pool-X. It also provides an opportunity to enrol in IEOs (Initial Exchange Offerings) using the KuCoin spotlight that has the lowest fees in the market!
To make investments simple for beginners, KuCoin lists down all the new cryptocurrencies with the highest potential. Also, there is a large selection of coins, some less famous cryptocurrencies with high profit-sharing incentives.
Well, this was just a glimpse of what KuCoin has in store for all its investors, let's look at the platform in detail in the following sections:
Fees
Trading Options & Products
Enhanced Security Features
Number of Listed Cryptocurrencies and supported Fiats
Ease of Usage
Support
Verification Process
Pros & Cons of KuCoin
1. Fees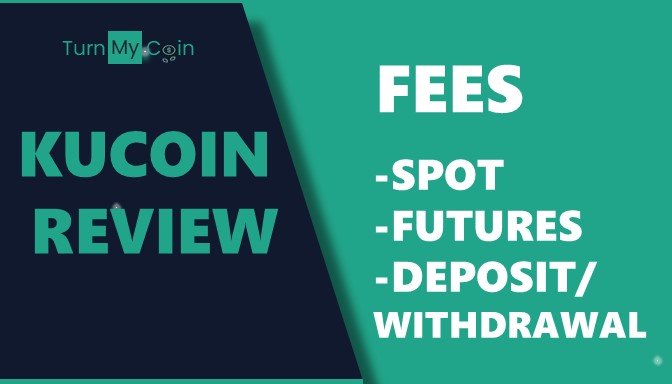 Investors need to follow a tiered fee structure for trading pairs, where 0.1% is charged for the taker and 0.1% is charged for the maker. To make crypto trading more affordable; KuCoin has introduced a new tier trading fee discount program. The fees reduce if you trade more.
However, there are certain conditions that you need to abide by to take advantage of the new tiered trading fee discount program.
Here are the conditions for the calculation of trading volume for the tier-based fee program:
KuCoin will take a snapshot of all the users (00:00 am, every day) with KCS holdings and their total trading volume (including all spots/futures) across the past 30-day period (in terms of Bitcoin).
The Users are required to meet all requirements to reach and operate at a specific tier level to avail corresponding trading fees. The user tier level and the trading fees are adjusted every 24 hours.
Kucoin charges differently for Spot Trading, Futures Trading & Deposits/Withdrawal.
Spot Trading Fees
For Spot Trading, apart from dividing fees based upon trading levels(Kucoin terms these levels/slabs as VIPs). Kucoin has also divided fees based upon various cryptocurrencies (namely Class A, Class B, Class C). Below is the chart for the fees charged by Kucoin for different Levels & Classes.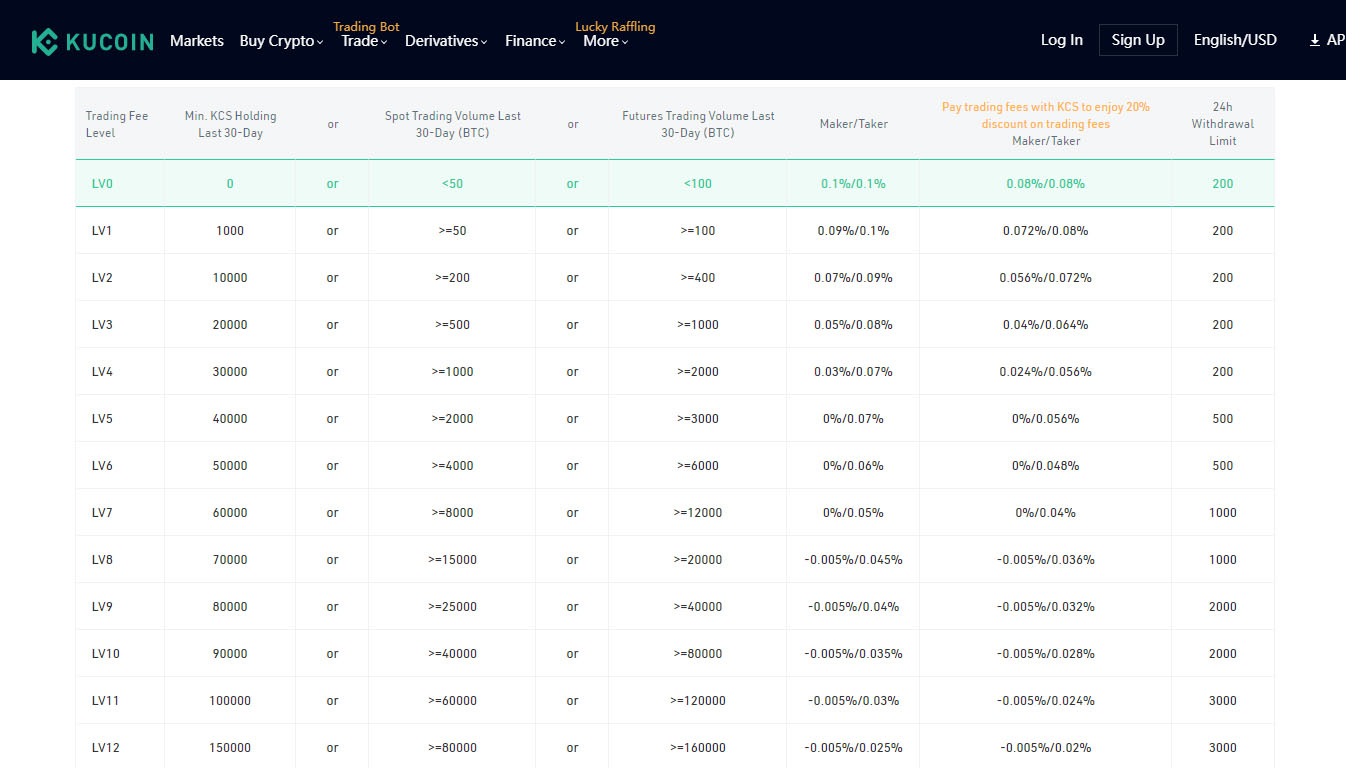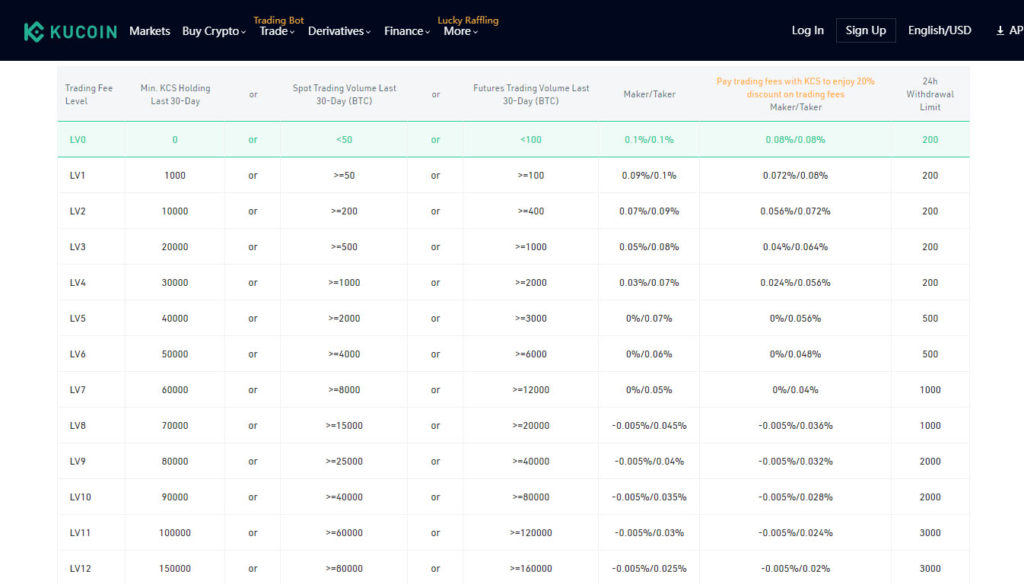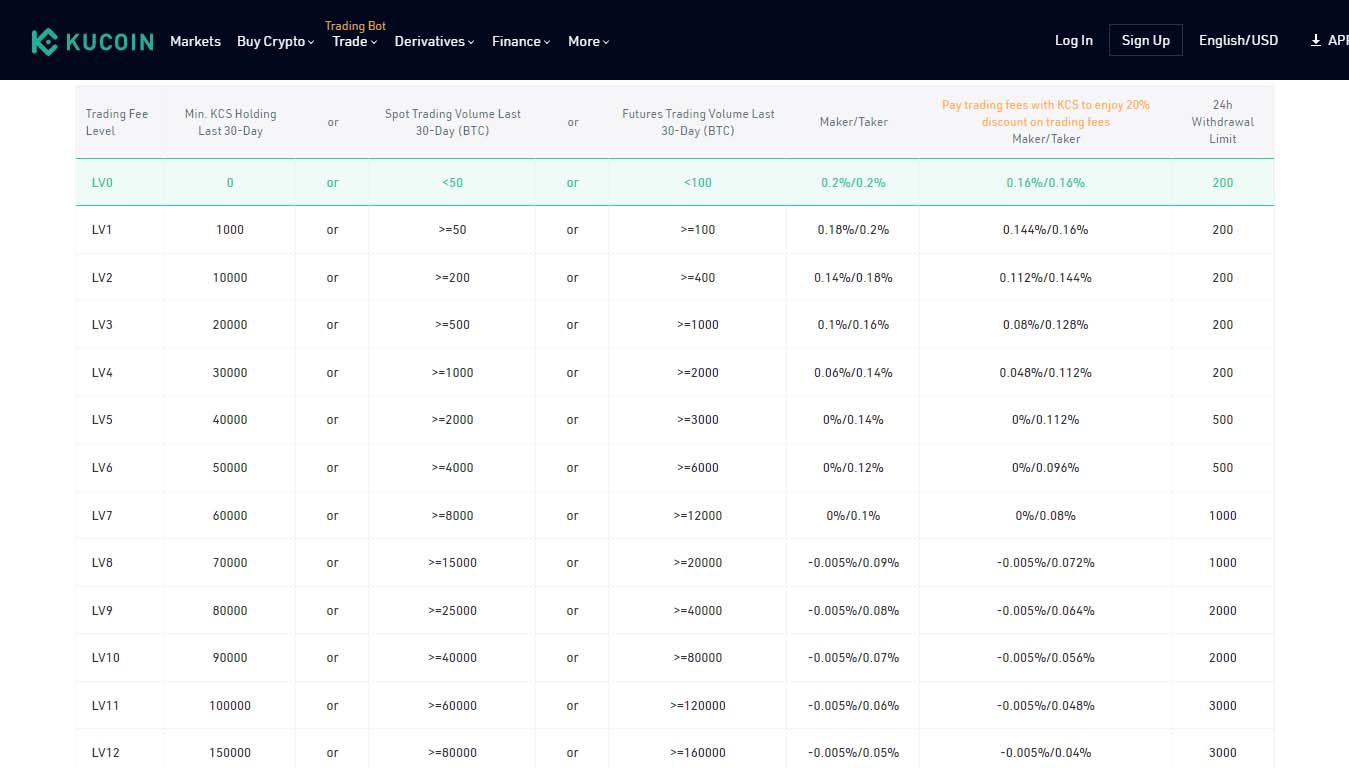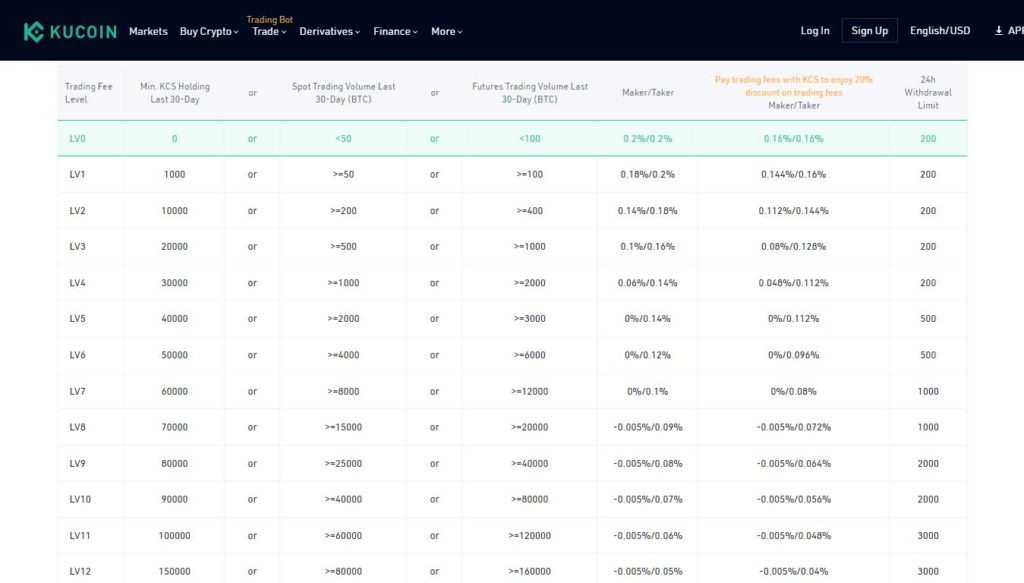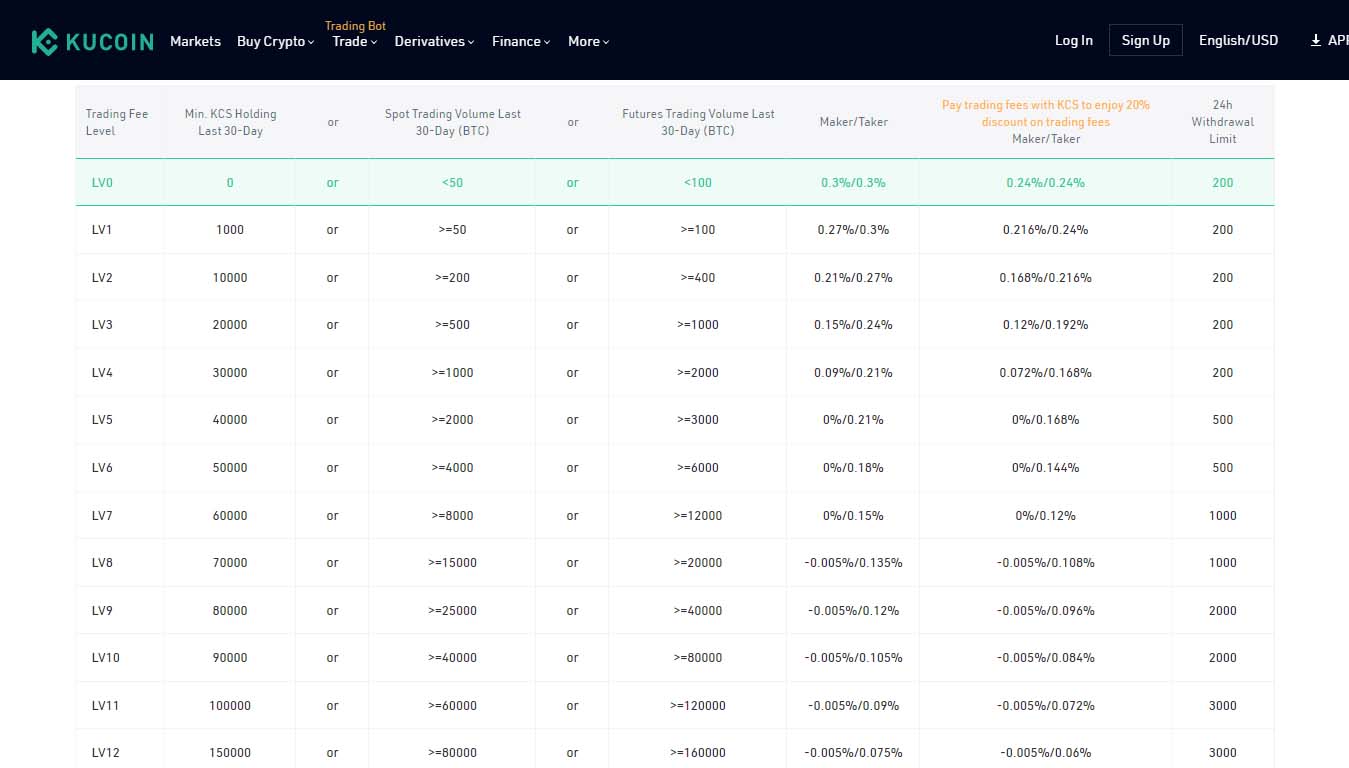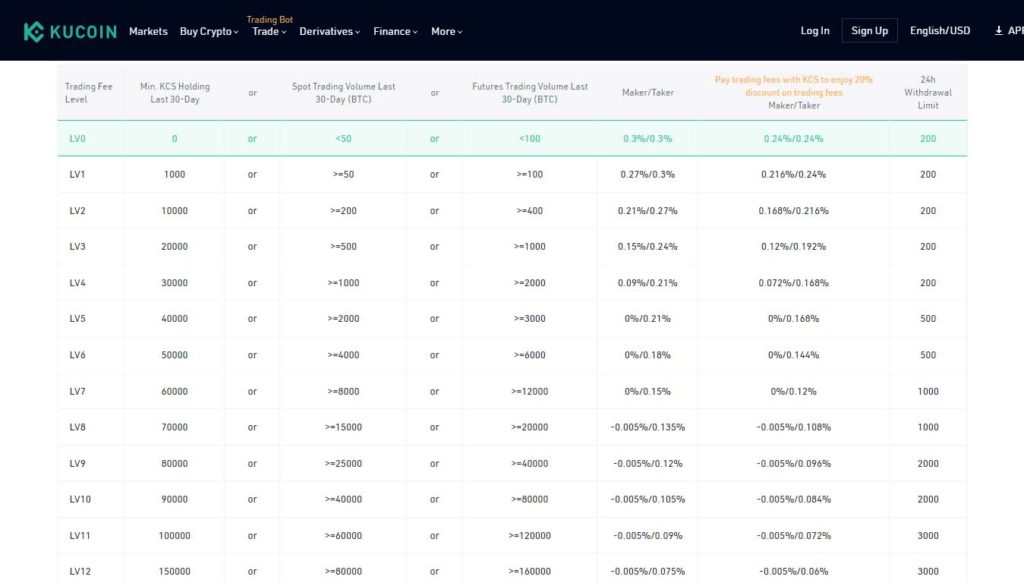 Future Trading Fees
For Future trading, Kucoin has fees based upon trading levels only. A snapshot below: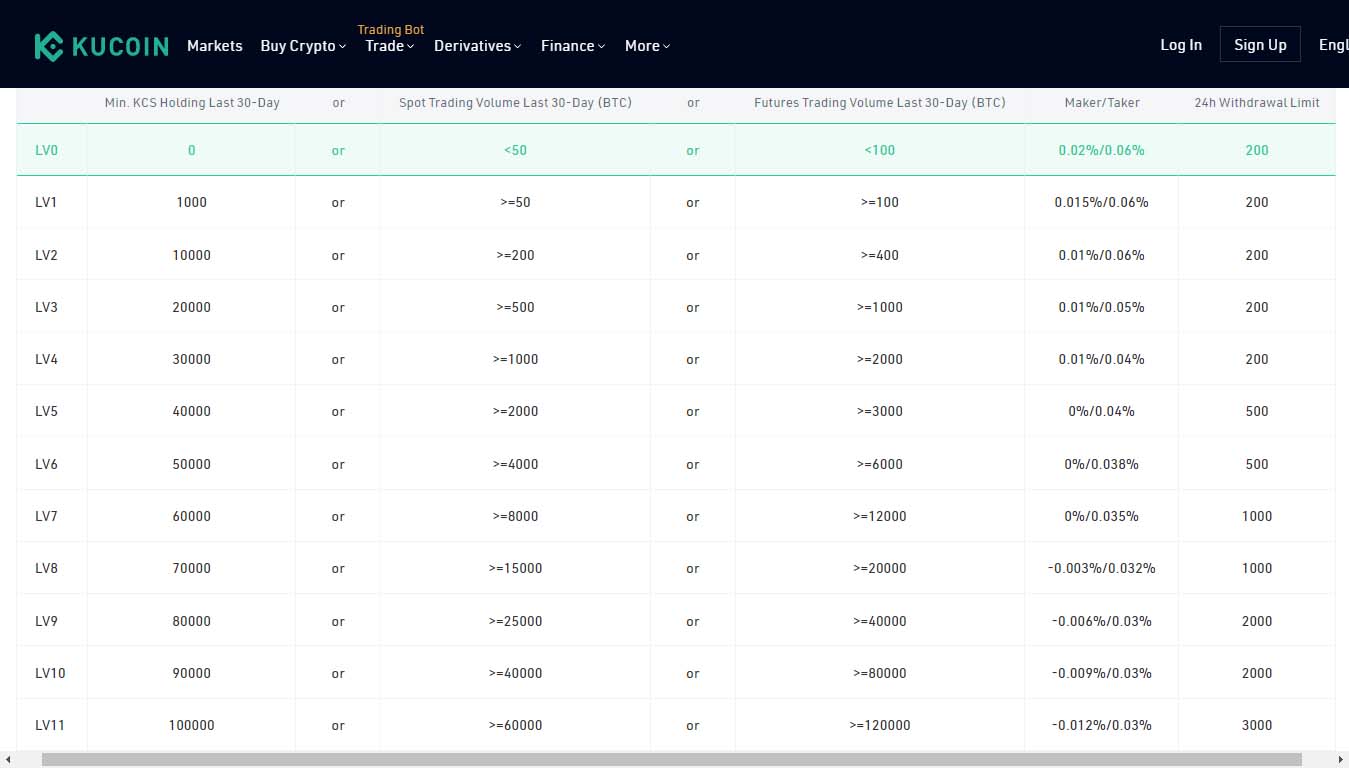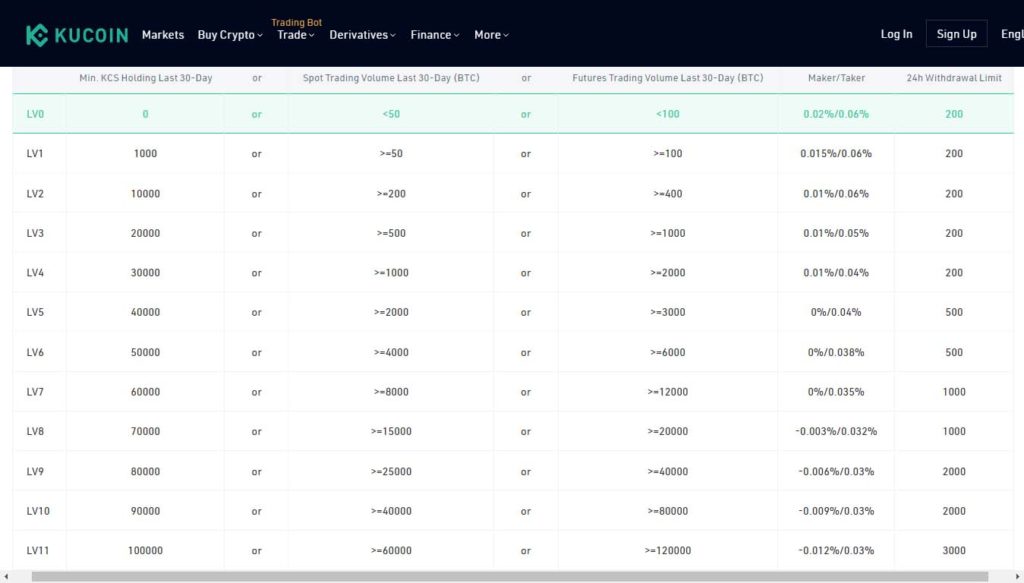 Deposit & Withdrawal Fees
Kucoin does not charge any deposit fees while adding funds for trading, and the withdrawal fee is based upon the type of Cryptocurrency. You can visit Kucoin and check under the Fees section
One more thing that makes KuCoin special is that 90% of the trading fees come back to the KuCoin community in the form of KuCoin tokens (also known as KuCoin Shares).
You can also use KuCoin to save up to 20% on the above-mentioned fees.
2. Trading Options & Products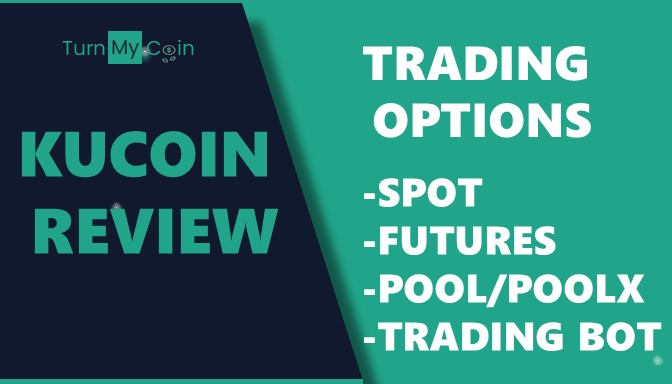 Spot Trading Options
Due to the high popularity of Kucoin, it enjoys high client confidence and hence high liquidity. The highest Liquidity was traced up to $500 Million with the smallest bid-ask spread.
To match this high liquidity Kucoin uses a highly efficient matching engine. This engine can support over 1 million transactions per second without any overload.
You can also take benefit of Margin trading at Kucoin. Presently, Kucoin provides 10x leverage. This means that you can enter a transaction with 10 times the money that you have.
You pool to use your and Kucoin's money to trade. Consequently, your profit will become 10 times. However, if you face a loss, Kucoin's algorithm closes the transaction based upon your investment so you don't lose beyond your investment. Margin trading is something that is not recommended for beginners as it is risky.
Future Trading Options
Kucoin allows 100x leverage in the case of Future Trading. It has a very advanced interface when it comes to Futures trading. In fact, Kucoin has a separate section for various options related to Future Trading. This is where it excels over most of the other Centralized Cryptocurrency Exchanges.
Apart from Trading, it also showcases competition for investors doing futures trading, bonuses, Arbitrage, Insurance funds & Risk Limit.
Products: KuCoins Pool
Kucoin boasts of a Smart pool that allows investors to pool their computing resources with KuCoin for mining cryptocurrencies. The fee for participating in the pool for mining is very low. And that is where it becomes very attractive to investors. Investors can expect higher rewards compared to solo mining.
Products: Pool-X (Staking Pool)
Similar to the mining pool as mentioned above, KuCoin also has a staking pool. The foundation of this is also the same i.e. maximize returns. The investors stake their cryptocurrencies with KuCoin and increase their chances of getting rewards if KuCoin's node gets selected.
KuCoin offers both Fixed & Flexible staking products. The investors can choose the product at their convenience. If they want more flexibility with respect to the withdrawal of their cryptocurrency, they can opt for Flexible staking. However, Flexible staking fetches lower rewards compared to Fixed Staking.
Products: Lucky Raffling
Sometime back KuCoin introduced lottery on its platform. Where investors can win and earn cryptocurrencies by participating in the event. Just like normal lottery tickets, you buy a particular cryptocurrency lottery ticket and win that cryptocurrency in the lottery.
This product is not very popular at present but is innovative and has a huge potential.
Products: KuCoin Trading Bot
If you have spent some time in the cryptocurrency field, I am sure you have heard of KuCoin's Trading bot. As the name suggests, the bot automates your transactions. It basically monitors the market on your behalf and undertakes transactions as per the strategy selected by you.
We will not be able to cover the complete topic here and I have written a separate article on Kucoin Trading Bot. However, I can list a few features briefly here so you get a hang of it.
With the KuCoin Trading bot (Kucoin's Grid Bot Trading), you can make your bot monitor spot markets, futures markets and long term investment portfolio (Smart Rebalance). Thereby saving your time and energy.
It is a little complex to learn in the beginning. But once you become comfortable with the tricks and terms, you can create a bot with a good strategy run it and forget. The bot does all the arbitrage on your behalf without you spending hours before the screen and waiting for the market to turn favourable.
In order to help beginners (in fact advanced traders also use it), KuCoin allows its investors to copy the bots of successful traders. This is fairly simple, you just need to choose successful traders from the leaderboard and use the same parameters to create your own bot.
Please Note: Even if you use Trading Bots or copy parameters from successful traders, there is no guarantee of success. This is due to the inherent nature of cryptocurrencies which are highly volatile. Hence, it is suggested that you proceed with caution.
3. Enhanced Security features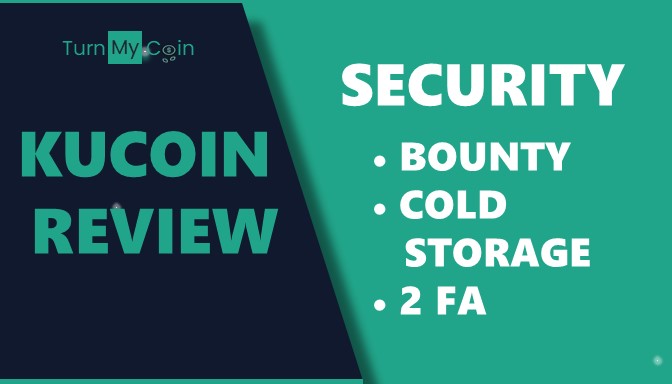 KuCoin works in collaboration with Onchain Custodian to secure the crypto assets listed on the exchange. The platform also facilitates insurance provided by Lockton against any hacking activity. Further, the platform provides a bounty program to ethical hackers to report any loopholes in the system.
Some funds are stored in online wallets so that the customers can withdraw funds online, while the rest lie in Cold Storage. Sometime back, KuCoin online wallets were hacked but all losses were compensated by insurance. Further, one thing that is commendable with KuCoin is that it was quick to take action and was transparent about the whole scenario.
This clearly shows the customer-centric approach of KuCoin with its transparency. Also, the platform encourages all users to use two-factor authentication (2-FA) and add a password for security for trading. Moreover, KuCoin sends regular emails, updates on Telegram to its clients to make them aware of the latest measures to stay protected from phishing.
4. Number of Listed Cryptocurrencies and supported Fiats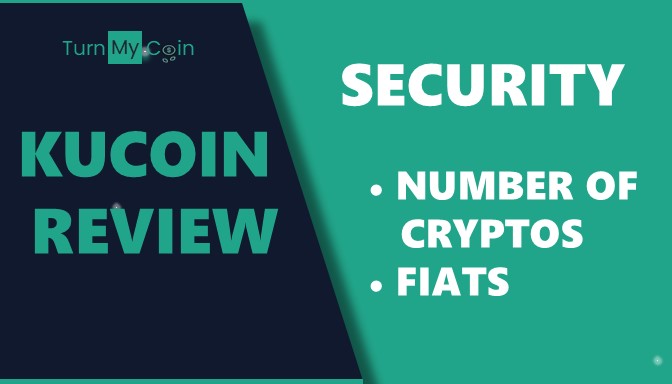 As far as I have observed, KuCoin is probably one of the most active centralized cryptocurrency exchanges when it comes to listing. At the point of writing this article, KuCoin has more than 578 currencies including all popular coins such as Bitcoin, Dogecoin and Ethereum, etc. Now we have the reason as to why it is the Number 1 cryptocurrency exchange for Altcoins.
Also, one of the main reasons for creating such a platform was to make people aware of less popular currencies. Although, the less popular currencies are riskier than popular currencies such as Bitcoin, Ethereum, etc. Therefore, you must do your research before you invest in any cryptocurrency.
Additionally, to support its motto of being a Global Exchange. Kucoin provides support for over 48 fiat currencies. Including USD, AED, EUR, INR etc. This is fabulous as many of the other exchanges do not provide support for so many fiat currencies.
5. Ease of Usage – UI & UX Experience
The platform is easy to use especially for new investors. The reason is the ideology o the founders to make it a People's Exchange.
There are different charts available for customization and for looking at different technical indicators before investing in a crypto asset.
The platform uses different wallets for trading, withdrawal/deposit purposes. It might be a little confusing for users initially, but once you start trading regularly; KuCoin is the most user-friendly platform.
Although the use of different wallets for trading and withdrawals/deposits might confuse you initially, don't worry: it's easy once you start trading on KuCoin.
6. Always Online- 24×7 Support
KuCoin is a user-friendly platform and it comes with a long list of support features. The main focus is to provide technical support to all the customers, especially beginners because new investors find it difficult and technical to invest in cryptocurrencies.
Cryptocurrencies have a lot of technical aspects such as staking, mining, and KuCoin focuses on providing the best services to promote investment in crypto assets.
The platform is dedicated to providing the best services to all its customers, and all these services are available 24X7!
To add to it, KuCoin is very active on its Telegram & Twitter handles and keeps informing its clients about the latest happenings & security upgrades accordingly.
7. Investor Verification Process
The verification process of KuCoin is very simple, but it is effective. The platform screens each application before a user is verified.
Firstly, you have to create an account at Kucoin.
Depending upon the country you are required to present the Know Your Customer (KYC) details to the Exchange like passport, Government Identification proof etc.
There are 3 different levels of verification, and it might take 1-3 days to complete the whole verification process. The reason behind this is that KuCoin reviews each application with details, and the user is notified via email once the process is complete!
8. Should one choose KuCoin over others?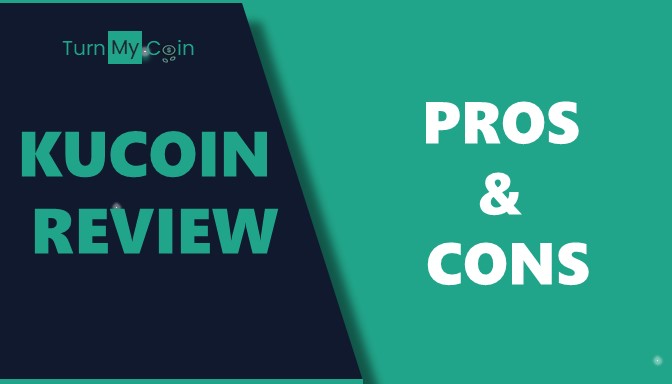 KuCoin in no doubt is one of the most investor-centric cryptocurrency exchanges! Also, the platform is one of the most innovative and industry-leading platforms of all the available options.
To summarise this review, here are the pros and cons of choosing KuCoin over the other cryptocurrency exchanges:
Pros of choosing KuCoin over others
Investments start from low deposit amounts, and there are no withdrawal and trading fees charged!
Easy to use interface is perfect for beginners, and the advanced make it ideal for experienced investors as well!
Wide selection of cryptocurrencies available for investment including the newly released cryptocurrencies.
Effective security features.
Supports anonymous trading that allows you to trade without disclosing your identity and reduces the risk of hacking attacks.
Cons of KuCoin
Despite the high features and available cryptocurrencies, the trading volume is comparatively low! This leads to liquidity issues for the investor especially while trading in new coins.
The system sometimes lags during high-traffic periods.
Concluding Thoughts
That's it, the review of KuCoin! Before writing this review, we had tested the platform for trading on multiple cryptocurrencies. Whether we buy/sell, the platform performed well and the whole experience was positive. All the withdrawals and deposits were simple!
One thing that we liked, in particular, was the ease of access to different markets while using the KuCoin app!
Overall, it is a great platform for any beginner and experienced investor looking to make some returns from investing in cryptocurrency. Also, its success speaks for itself! In just 4 years, it has captured 25% of the total cryptocurrency market. It goes head-to-head with bigger platforms such as Coinbase Pro, Binance, Huobi, Bybit, etc.
As a trading platform, it is an ideal alternative for anyone looking to invest in crypto assets!