Introduction
It is a no-brainer that Hardware Wallets are the safest cryptocurrency wallets there in the market. The primary reason for this is that they are not regularly connected to the internet. In this article, we are going to review a very useful and safe Hardware Wallet, Keepkey.
You will figure out answers to questions like:
Is it safe?
Which all Cryptocurrencies does it support?
What is the process to install it?
What is its pricing and so on
in this complete Keepkey Review.
What are private keys?
Private keys or passphrases are significant information that we use to legitimize outgoing transactions on a blockchain network. These private keys make the hardware wallet reliable for use as they increase the security through a PIN encryption.
Also, your device is no longer vulnerable to computer threats. The storage of the private keys is done without any connection to the Internet. Therefore, no remote attacker can steal your cryptos without physical access in most cases.
KeepKey Review Summary
This cryptocurrency wallet is convenient to use and can store more than 40+ crypto assets for you. The beautiful design, easy-to-use technology, and affordable price make it unique.
Though it lacks behind the two prominent crypto wallets- Trezor and Ledger in terms of coin support and overall market reputation.
However, it is a solid hardware choice for many people. You will see that Trezor, Ledger, and KeepKey are the top choices of any crypto investor.
Let us now review KeepKey in depth.
KeepKey Review: The company behind it.
Shapeshift is a Switzerland company that was founded in 2014 by Erik Voorhees. With decent funding, ShapeShift got the correct boost for their business. We are talking about ShapeShift over here because of their most popular product, Keepkey.
The most bought product of Shapeshift is an offline wallet that helps you secure your crypto assets from the reach of hackers.
The interesting part behind the creation of KeepKey is its price. Though, ShapeShift's KeepKey was priced at $239, originally. However, with time the price went significantly down to only $49. Why is that so? Well, I will leave it for you to brainstorm.
KeepKey Review: Relative Security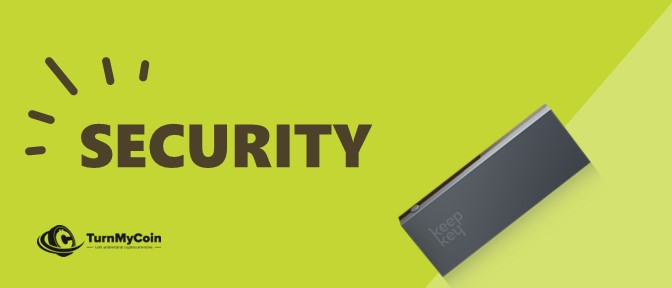 The first and foremost factor that is essential for any crypto wallet is that it should provide complete security to your crypto assets. The visual look, its capability to navigate, and other features are secondary.
You will not want your investments and assets to get stolen in the blink of an eye and that is why you are investing in a Hardware Wallet.
The security system of any wallet depends on its type. So, let us see the various wallet types.
Online Wallet
Due to their connectivity to the internet at all times Online wallets are thought to be the least secured. If you are keeping your crypto assets online then you can only trust the provider.
Even though the online wallets may not store private keys, it does not assure that cryptos listed there can't get stolen. Online wallets come with vulnerability to hacking and malware attacks.
Therefore, they can only be beneficial for storing very small amounts of cryptocurrencies. Generally, investors who are into trading prefer using Online Wallets so they can quickly swap assets online.
Exchange Wallets
You can store your assets free of cost at cryptocurrency Exchanges like:
However, yet again, these wallets are trustworthy when you do regular trades. The specific reason for this is that historically many Cryptocurrency exchanges have been hacked leading to investors losing their funds.
Hardware Wallet
A hardware wallet is a physical wallet that stores cryptocurrencies offline. Doing so prevents it from malware attacks through the Internet and from the computer already infected by it.
It means that it stores the private keys of the user in a hardware device. A hardware wallet is a small peripheral device that provides complete security to your crypto assets.
If you are looking to invest huge sums in cryptocurrencies for the long term then you should get a Hardware Wallet.
Adding here, KeepKey is a hardware wallet that comes among the top three wallets known for security.
It safeguards your cryptos from the malware-infected computer, and this makes it tough for hackers to steal the currencies.
KeepKey provides you with additional benefits of PIN code and recovery seeds.
The recovery phrase is a specific 12-word phrase that safeguards your assets. One needs to protect this phrase at all times as exposing the phrase can lead to loss of assets.
Paper Wallet
The last and the most secure among all is the paper wallet. It is where you print your Private & Public keys on a piece of paper. Many a time, even QR codes are printed so apps can readily scan them.
Once you print the keys they can be removed from the internet. It becomes the most secure way to store digital currencies as no one but you have access to them.
But, the only limitation, for me in it is a deal-breaker. And that is if you accidentally lose the wallet you lose all your cryptocurrencies.
KeepKey Review: User Friendly and Sleek Design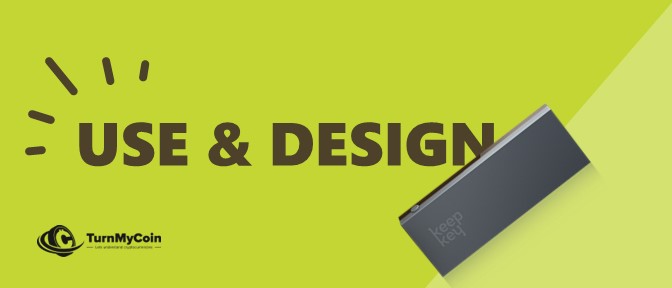 People using other hardware wallets know that they are very tricky to use. But, the major advantage of KeepKey is its user-friendly usability as there are few buttons that you can use to complete transactions.
Talking about the dimensions of the device. KeepKey is two times bigger than half palm-sized hardware device Trezor and pen drive sized Ledger.
It has a height of 38.00mm, a width of 93.5mm, and a depth equal to 12.2mm.
Due to these dimensions, KeepKey offers you another advantage. It is that KeepKey has a wider screen which allows you to clearly see the entire cryptocurrency address. Due to this quality of the wallet, you do not have to scroll it back and forth. And this aspect of the device strongly improves its usability.
The limitation of a wider screen is that it is more prone to scratches. Therefore, the company protects it with the help of a polycarbonate casing. This simple casting reduces the stress of physical damage and also affects the functionality of the device.
The installation process of KeepKey is quick and even easier than its functionality. Therefore, sending and receiving crypto assets becomes even easier. So, let's go through the installation process.
KeepKey Review: Installation Process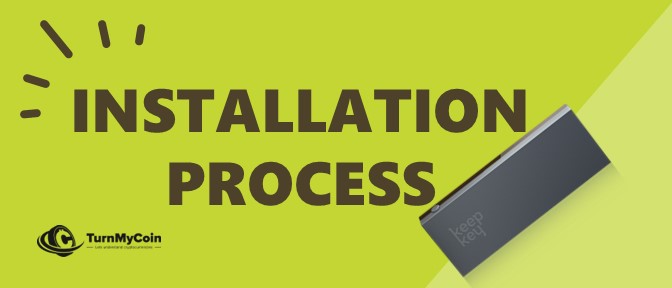 Before starting with the installation process, the following are the necessary requirements-
Of course your PC
Chrome Browser (the chrome browser should be of the latest version to avoid unwanted glitches)
USB cable
KeepKey Client App (you can get the KeepKey Client App through the Google Chrome app store and even access it from there)
Recovery Sentence Card (it is present with the package itself)
Once you have all the above requirements, follow the below procedure Step-by-step.
Step.1. Download the KeepKey Client App from the Google Chrome app store.
Step.2. Open the application and then click on the option saying, "Initialize KeepKey"
Step.3. Add the name or label of your device.
Step.4. Now press Select and confirm your PIN. The PIN can be up to 9 digits. I recommend you to at least include 6 digits. Do not perform the process negligently and take a close look while choosing the digits. It is vital because they will change before confirmation.
Step.5. Now is the time to write down the recovery phrase in case you forget the PIN. The recovery phrase consists of 12 words. And is vital for you to write down the words carefully and correctly. After you are done with it hold the button present on the KeepKey hardware wallet to confirm your recovery seed.
Step.6. That's all for the installation process of Keepkey. Now you will be directed to the dashboard. And you are good to go with KeepKey.
KeepKey Review: Pricing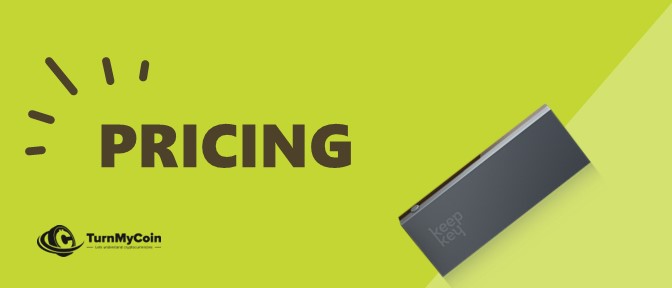 KeepKey's pricing is the most attractive feature about it. Presently, the device is retailing at $49 only, but it was not the case earlier.
The early users of KeepKey had to pay more than $239 for the same device at some point in time. But, because of the growing competition in the crypto wallet industry, the company had to lower the price. Well, that's my guess.
You might be wondering what the prices of the competitor devices are. Therefore, here is a brief price summary for you.
Therefore, the decent pricing of KeepKey is considerable.
These were the positive features that KeepKey offers. But, there are a few limitations as well. The limitations are as follows-
KeepKey Review: Limited Coin Support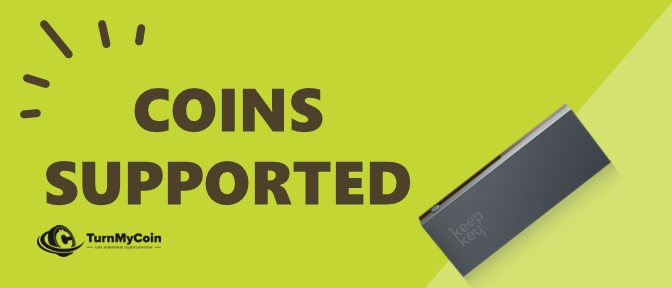 We know that it is very easy to find the wallet for the popular cryptocurrencies but what about the less mainstream coins. Should we neglect them and only focus on the popular crypto assets? Obviously not!
KeepKey's ignorance has now become its limitation. It only supports 40+ cryptocurrencies in which the leading coins are present.
But, the difficulty comes when you have to send, store, and receive the less mainstream coins. And let me tell you that we have a huge audience for these less popular coins. KeepKey supports include:
You cannot compare KeepKey in this context as the other wallets support more than a thousand cryptocurrencies. And 40 might seem like a very small number before them.
KeepKey Review: Device Size
It is an advantage in terms of screen size as the device is bigger than its counterparts. But, there is a disadvantage in terms of weight. Due to its bigger size, it becomes pretty much difficult to carry the wallet around with you.
You cannot slip it into your pocket. hide and move around without discomfort. Talking numbers, Keepkey weighs 54 grams.
Conclusion
Keepkey will not disappoint you with the security purpose as it is secure enough to store all your crypto assets securely offline. If you are running tight with the budget, then too KeepKey is a reliable option.
The big size can be beneficial to a wider view whereas it can be a hindrance when you want to carry the device around. It supports fewer cryptocurrencies but has easy functionality.
I hope that the KeepKey Reviews were helpful for you. And hope you choose the best to protect your crypto assets. If you are a KeepKey user then do let us know your experience.