Introduction
The Initial DEX Offering (IDO) has become one of the more recent blockchain fundraising strategies as a result of the booming cryptocurrency market. The first cryptocurrency fundraising technique was the Initial Coin Offering (ICO), which was in 2017 and 2018 during the crypto boom.
IDOs in this sense are a further decentralized version of ICOs. Our topic for todays discussion is "How to launch an IDO successfully in just 5 steps?". But let's get to know the evolution of coin offerings a bit before that.
ICOs were seen as more of centralized offerings as there was no security of funds and people would often get cheated upon. Hence, in reaction to the deteriorating reputation of ICOs, the Initial Exchange Offering (IEO) came up.
Since its initial introduction in early 2019, the IEO model has grown in popularity as a means of introducing new cryptocurrency ventures. In that, it involves the release of fresh crypto tokens to a group of investors or the general public on Exchanges.
IEO is comparable to an ICO. The distinction is that to serve as the facilitator for the token sale and distribution, the fundraising organization must work with a cryptocurrency exchange. Exchanges that offer IEO services are:
While several cryptocurrency exchanges are still trying to find a solution for the IEO issue due to them being Centralized. Centralization is contrary to the essence of cryptos i.e. decentralization.
Hence, a brand-new technique called the Initial DEX Offering (IDO) has appeared in recent years. This strategy offers a more complex cryptocurrency fundraising tool to address the problems with ICOs and IEOs.
What Is An Initial DEX Offering?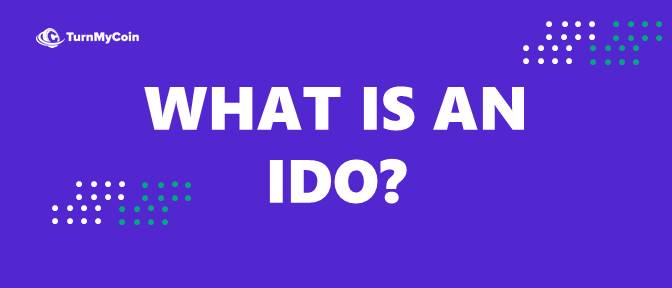 For blockchain projects that entail the open distribution of cryptocurrency tokens, money comes through the Initial DEX Offering or IDO. The fact that IDO is sold on a decentralized exchange, or DEX, is the biggest distinction between it and its forerunners.
Since there is no connection between the programs and centralized exchange. They may offer particular advantages and lower barriers to entry for both projects and retail investors.
Let's suppose a project hires an IDO. In that situation, it indicates the introduction of a currency or token via a decentralized liquidity exchange like Uniswap.
Traders can trade tokens like stablecoins and cryptocurrencies on this form of exchange on liquidity pools. It's not an issue because there are more chances for startups and established companies to create tokens and receive instant liquidity thanks to the market's increasing number of decentralized exchanges.
This new approach to fundraising can overcome the drawbacks of earlier strategies, while simultaneously boosting the cryptocurrency market because IDOs are decentralized.
IDOs are a tool that business owners can utilize to build blockchain products that are immune to third-party fraud and human mistakes.
How Does IDO Work?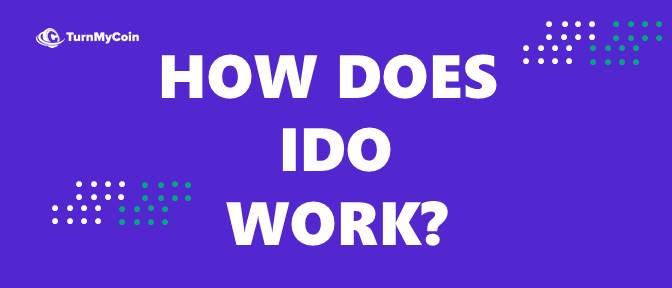 There are two phases in an IDO.
1. Launchpad
A launchpad, a platform for incubating, publicizing, and facilitating fundraising for fresh cryptocurrency ventures, serves as the setting for the first stage. Because of their extensive professional networks and vast community bases, launchpads can provide the foundation for early project development and project launches with high-impact and high-growth potential.
Holding the launchpad's native token entitles investors to projects before they are made public on decentralized markets. Members of the Launchpad community get exclusive access to tokens at a floor price determined by the platform's initial open funding round.
Launchpads can also divide into two groups:
Generalist launchpads and
Launchpads focused on ecosystems.
Generalist launchpads enable the launching of individual projects that do not relate to one another and are uncategorized in terms of their function within a blockchain ecosystem.
When IDOs were primarily around Ethereum, these launchpads were the norm. With few pre-existing connections to other launches, each project that debuts stand on its own merits.
On the other hand, ecosystem-specific launchpads nurture their ideas intending to eventually join a larger network of initiatives on a common blockchain. Utilizing synergy and network effects will help any project have a greater probability of long-term success.
2. Token Transfer
The second stage of an IDO begins with the token's transfer to a decentralized exchange, like Uniswap on the Ethereum network or Acala on Kusama.
The token is now openly marketable and accessible to the entire retail market, which frequently purchases the freshly issued token as soon as possible, pushing the price to triple digits. For launchpad participants, this is the most thrilling portion because it contains all of the rewards for investing first.
How To Launch an IDO successfully ?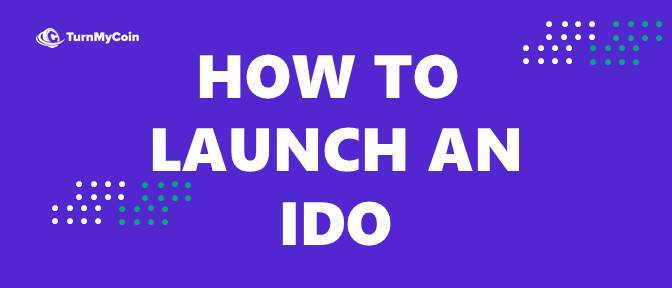 Let's now examine the procedures you must follow when starting an IDO.
Step: 1: Make a Proper Business Strategy
Make a plan that is rational for the token offering's DEX rollout. The project's goal, financing distribution, and the blockchain it will use should all be in the plan.
Additionally, you must create a general marketing strategy and a plan for how you will steer the project beyond the IDO and maintain momentum.
Step 2: Creating Marketing Collateral
A website and a white paper are necessary marketing materials for an IDO launch. Even if you don't create any additional content, you should have these two.
1. Website
An attractive, well-branded website can dramatically increase investor confidence. It is the basic material that the investor requires to understand you and your project. By pulling on their emotional levers, a superb website can aid in persuading potential investors who are already interested in the business.
Many initiatives struggle to develop a brand identity, especially those without websites.
2. Whitepaper
A top-notch white paper also enriches the investors' experience with detail and data. The investor is now getting closer to the pipeline's terminus. There is no overt sales material in a white paper because its goal is to educate readers while selling.
The white paper also includes graphs, tables, and other visuals, along with statistical information. In the end, the facts in your white paper should be used to convince the investor that the project is a wise investment.
3. Press Releases, News & Stories
This article on How to launch an IDO is incomplete without a mention of media coverage. In addition to a website and a white paper, you should also have press releases and news stories. Additionally, guest blogs are crucial to your overall marketing plan. Particularly if you want to spread the word about your IDO.
While it is possible to produce this content on your own, you can also work with a PR firm to assist you to produce pertinent and noteworthy content. If you choose to take this course of action, you must pick an agency. This Agency should have prior expertise in producing content for customers in the cryptocurrency sector.
Step 3: Visit a DEX Launchpad
Before actually producing the coin, it is vital to look into the possibilities available. We already discussed launchpads. As long as your project complies with the platform's criteria, your IDO should approve (typically consensus and whitelisting).
Step 4: Create The Cryptocurrency
Remember that virtually anyone can learn how to generate a cryptocurrency if you're concerned about the creation of tokens. Finding investors to invest in the project by demonstrating its practical worth and utility is the true problem. When the IDO and Token Generation Event (TGE) are successful, the DEX lists the token for trading.
You can list things using an automated market maker (AMM), such as PancakeSwap or SushiSwap.
Step 5: Time to Launch the Token to Raise the Funds
The process you should take when launching a crypto token is broken down in the sections below. A token pool is made by the project team. An investor can prepay for their tokens in a token pool.
After the TGE, which takes place soon after the IDO, investors will receive their tokens. The issuer may run an auction in place of setting a fixed price. The price in this case is ultimately being determined by supply and demand.
Some initiatives might entice investors to supply liquidity. It will help the project get up steam and keep it going. On the other hand, users can increase their token earnings by contributing liquidity.
Benefits Of Launching IDO?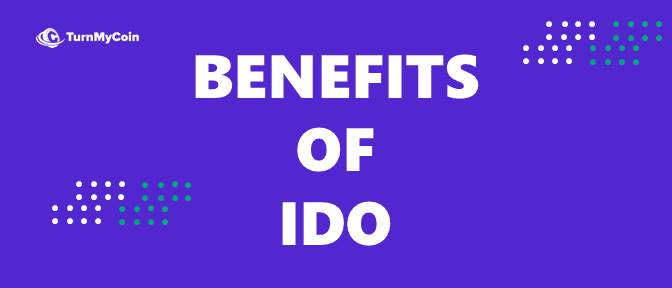 1. Instant Liquidity
A token's liquidity is crucial. A token's value may suffer greatly if it cannot be immediate liquidity. A liquidity pool offers liquidity without slippage at all price levels.
The tokens must have some value to enable token swapping in the liquidity pool because this ensures that they will gain liquidity.
2. Instant Trading
The moment a project's token starts, investors start trading it. Early investors can sell their tokens for higher profits during the IDO. When the first investor purchases a token, the price of that token begins to shift.
3. Lower Costs
The project developers must first cover exchange fees with ICOs and IEOs. The proposal must then wait for exchange approval before it can be formally listed. Utilizing IDOs saves the team money on costs.
Furthermore, there is no requirement to get authorization from anyone because the exchange is decentralized and self-regulated. It costs a few dollars in gas fees to deploy a new smart contract if the project's token uses a liquidity exchange. The asset token and liquidity pool are under smart contracts.
4. Effective for a Secure and Fair Fund Raising
The impartiality of an IDO is the second advantage. Small investors are barred from joining right away in ICOs and IEOs because tokens are often pre-mined and occasionally pre-sold to private investors. As a result, they will have an edge over smaller participants since they will resale the tokens to the wider public.
To avoid whales and bots from locking out small investors, IDO launchpads typically set a cap on the number of tokens that are offered. This guarantees that a trustworthy and equitable coin is available to all investors.
The generation and liquidity of tokens can start right away with an IDO launch, unlike traditional fundraising techniques. At first, private investors pay a lower price for a big quantity of tokens. Additionally, the token's value increases when it is for sale to the general public.
Risks Of Launching IDO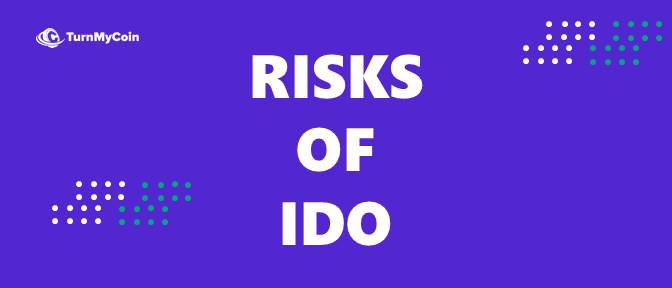 1. Requirement of More Precautions
Trading must only be done on recognized launchpad platforms with anti-scam vetting and Know-Your-Customer (KYC) procedures because decentralized exchanges lack a control mechanism. A DEX lacks this security feature because it is decentralized.
Some DEXs offer marketing support comparable to that of centralized exchanges to lower the risk. Tokenomics and security of a project should always be investigated before investing, nevertheless.
2. Over Subscription on IDO
IDOs are more concentrated on smaller-scale token sales than other techniques. Large and well-known IDO projects are consequently regularly oversubscribed, making it challenging for small investors to participate.
Because of this, several IDO launchpad systems use pre-set whitelists to regulate the number of users. Investors have the option of investing in the launchpad's tokens first or entering the lottery first.
How to launch an IDO – Conclusion
The IDO model came to address the drawbacks of earlier models including the ICO, STO, and IEO. Since an IDO is a decentralized trading platform, authorization is not required to host a fundraising event. As a result, this happens naturally.
An IDO has a tonne of advantages. But this paradigm has a lot of problems. The most prevalent of them is a quick change in pricing.
IDOs have their own set of benefits and drawbacks, much like any other approach. Although it is still in its infancy, the IDO model may turn out to be the next big thing in cryptocurrency fundraising.
After all, it makes it easier to adopt KYC procedures and remove token price swings. Because blockchain researchers are always attempting to include control mechanisms into the current IDO architecture, IDOs have a bright future ahead of them.