Introduction
Cryptocurrencies are difficult to safeguard. Since they are digital in nature they are inhenrently vulnerable to attacks. So to give you a permanent solution to this problem many hardware devices are being manufactured.
One of the hardware Air Gapped device is Ellipal Titan Mini. Let us know if this device is worth investing in this Ellipal Titan Mini Review.
About Ellipal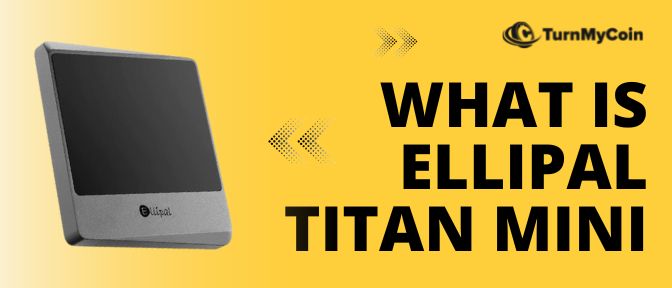 The company Ellipal was founded in 2018, by David and Thomas two incredible technology experts. The main focus of the company was a one-stop solution for cryptocurrency security and the blockchain service ecosystem.
The headquarters is located in Hong Kong, the company also has warehouses in different parts of the country like Australia, Germany, the United States, and the United Kingdom, in order to meet the demands of customers all across the world fastly.
In 2019, during a blockchain meeting, David proposed the concept of cold wallet 2.0 and he called this concept an "air-gapped cold wallet". Mr.David applied this solution to Ellipal's Product i.e. the Ellipal Titan Cold Wallet.

The main mission of the company is to create the world's most secure cryptocurrency cold wallet and also share a portable and fastest cryptocurrency service system with the whole world.
What is Ellipal Titan Mini?
Ellipal Titan Mini is a cold wallet which the most portable and easy-to-use device. We can say that is the most secure device one can get in 2022. Ellipal has an air-gapped and fully metal seal design.
Ellipal makes your cryptocurrency secure from every possible threat whether online or offline. You can create your cryptocurrency account with the help of Ellipal in a very secure and offline mode. It consists of two keys;
You can use Ellipan when you would need to securely sign for any transaction. It is the best option to carry with you anywhere.
This device guarantees the security of the user and makes sure that no hacker can hack it. You won even need the net to complete your transaction because as mentioned above it can be completely used in an offline mode.
How to use Ellipal Titan?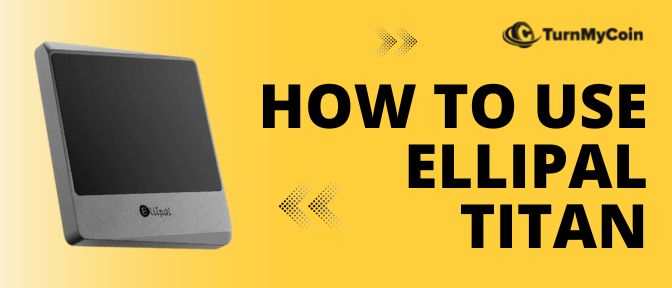 Now to get an offline wallet, you need to understand how to set it up and how to do your transactions from this, so let us get into it;
How to Set Ellipal Titan Up?
You will first turn on your Ellipal Titan and then choose your preferred language, then you have to click on NEXT and there you have to select CREATE ACCOUNT.
Then you have to fill in your account information and set up a passphrase, a passphrase is optional you can set it up if you want otherwise you can skip it, its function is crucial when you lost your wallet, and it helps you recover it.
After this, you have to select CREATE ACCOUNT and carefully read and check 3 important points. Ellipal will provide you with a set of mnemonics.
You have to write down those mnemonics and have to keep them safe as these are the only backup to your wallet and the crypto.
Then you have to verify the mnemonics by selecting the correct words that too in order and then press the option, VERIFY MNEMONICS.
After this, carefully select the coins that you want to include in the account and then finish the creation process.
How to perform transactions from Ellipal Titan?
Now to perform transactions from Ellipal Titan, you have to follow the following steps:
In order to perform transactions, we have to first use the Ellipal App.
Ellipal App sends the information of the transaction to the Ellipal Titan through a QR code.
Then the Ellipal Titan Mini confirms that the transactions in the software use your private key and then issues a confirmation of the QR code.
After this, the App scans that QR code and confirms the transaction and finally, your crypto is sent.
What Cryptos can Ellipal hold?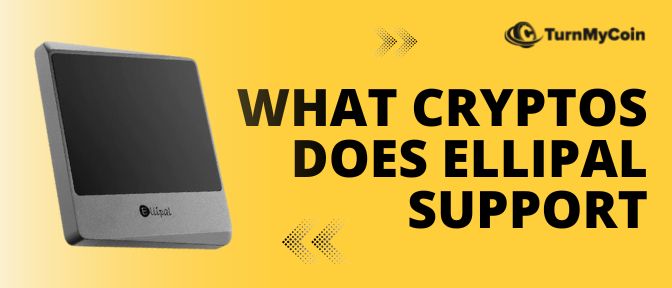 Let us first talk about what exactly is a cryptocurrency, it is basically a class of digital assets that are created using cryptographic techniques that enable people to buy or sell or even trade them securely. These currencies are not controlled by any monetary authority and can be circulated freely.
Now, the Ellipal Titan Mini can handle over 10,000 coins and along with that it also manages to support the NFTs. The list of coins that Ellipal is supporting is the following:
Solana (SOL)
Hedera (HBAR)
Bitcoin (BTC)
Ethereum (ETH)
Tether (USDT)
Binance Coin (BNB)
Cardano (ADA)
XRP
XDC
Avalanche Chain (AVAX)
Fantom (FTM)
Dogecoin (DOGE)
Polygon (MATIC)
Polkadot (DOT)
Bitcoin Cash (BCH)
Litecoin (LTC)
THETA
Stellar (XLM)
VeChain (VET)
TRON (TRX)
Cosmos (ATOM)
Bitcoin SV (BSV)
DASH
Is Ellipal Safe to Use?
We know that there are many frauds that happen to people during online transactions and they eventually get scared to use that feature again, but when it comes to Ellipal Titan you don't have to worry about a thing as they have the best features when it comes to the security of your money.
So, the security features that you will find in Ellipal Mini are the following:
AIR GAPPED means that the Ellipal can not connect to any other network or any other device. Not even a port can allow it to connect to a USB or Bluetooth or even WiFi. Also, no malware can be installed because no input ports are available.
As it does not rely on any connections, the Ellipal Mini uses the QR code which enables it to trade the information with the Ellipal App. It ensures that the QR code does not contain any private key information. Even after all this you still have your doubts you can easily scan the QR codes and see by yourself that it does not contain any information because it is a trustless trust.
Now, it not only protects your information from virtual attacks, but it also makes sure to protect your data during a physical attack. It has the ANTI-TAMPER Protection feature that is going to wipe off all your information as soon as it detects a breach. This way the hacker won't be able to steal your private keys as they will be deleted.
It is also ANTI-DISASSEMBLY, which means the hacker is not going to be successful in disassembling the Ellipal without leaving any noticeable damages, you are going to see it immediately once you have it.
The next thing it has is, TWO-FACTOR AUTHENTICATION, this is going to make you enter 2 passwords in order to complete the transaction.
What are the features of Ellipal Titan?
Let us talk about the all-over features of Ellipal Mini Titan,
Physical Features-
Size – 118*66*9.7mm
Material – Aluminum Alloy
Camera – 5M AF
LCD – 3.97 inches
Battery – 1400mAh
Standby Time – 259 hours
Storage Temperature – 20'C to 70'C

Other Features-
100% Offline Air- gapped
Trustless Trust
Brilliant Metal Texture
Unlimited Assets in One Location
Large Screen
Friendly Use
2- Factor Authentication
Auto-Selfdestruct
Offline Firmware Update
2 Accounts
What is Ellipal App?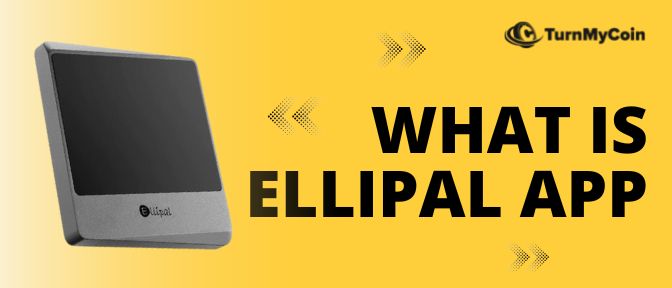 Now, as we know we need the Ellipal App, to make a transaction, so kets understand what else does this app provides us with:
Summarizing your total assets, you can check your total balance of the cryptocurrencies that too with real-time rates.
It helps you to manage multiple coins easily, you can view your transactions and exchange details directly on this app.
You can easily exchange and trade coins anytime and anywhere with your mobile phone and the Ellipal device. The Ellipal App has an INTUITIVE UI design and also step-by-step assistance that makes sure that your experience is as faultless as possible.
The transaction is only possible with a QR code scan between the Ellipal wallet and Ellipal App. This information exchange process is fully under your awareness and control.
It also helps you to monitor the real-time prices of the coins and also access the project introductions and websites.
It lets you know about the latest market news and events, that too every day.
The app has Hot and Cold wallet functions which you can use to pair with the Ellipal device and increase security.
The app also supports multiple languages, so you can choose your preferred language easily.
Ellipal App allows you to enter the password to access your accounts.
What is Ellipal Mnemonic Metal?
Mnemonic Metal is a pocket-sized stainless steel device that is designed to securely store the important data that you want to secure.
It allows 24-word mnemonic phrases and then stores the first four letters of each word. The things that are compatible with mnemonic phrases from every BIP39 wallet such as Ledger, Trezor, and Trust Wallet.
This wallet strictly follows the BIP39 standard mnemonic phrase which allows you to store 12/15/18/21/24- word mnemonic phrases. You can keep your seed words offline and also secure from hackers on the Ellipal hardware wallet and also store an indestructible backup on the mnemonic metal wallet.
It has the following features:
Metallic Body which is fireproof, waterproof, mold proof, insect proof, and can survive extreme situations, you can rely on this for a lifetime.
It is easy to set up, it keeps the mnemonic phrases input by you readable for a long time.
It is a pocket-sized wallet and light as a feather, which makes it easy for you to take it around. You can carry it anywhere you wish to carry it.
The wallet is also compatible with BIP39 wallets that are available in the market.
This has been made with stainless steel and is designed to store your data with full security with no need for specialized tools or even third-party involvement.
FAQs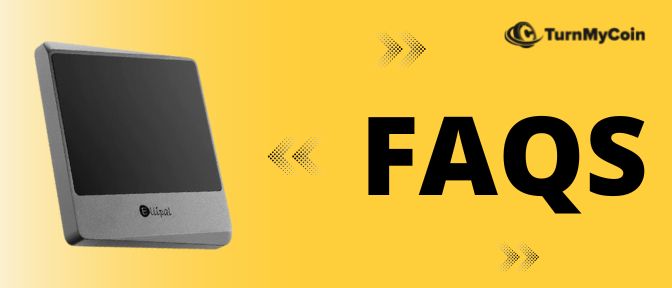 Is the Ellipal Titan waterproof?
Yes, it is IP65 WATERPROOF, which means that it can handle the splashes of water that hits it from an angle, but won't survive if immersed in water.
2. Can you stake on ELLIPAL?
With Ellipal Titan Mini, you can stake the following coins:
Cosmos (ATOM)
Tezos (XTZ)
Polkadot (DOT)
Kusama (KSM)
Cardano (ADA)
3. Does ELLIPAL Titan work with iPhone?
The Ellipal Titan can connect to both iPhone and Android devices by using QR code scanning, but it can not connect to desktop devices.
4. Can ELLIPAL hold Nfts?
You can easily access these marketplaces through the Ellipal App. All you have to do is open the DApp page on the Ellipal and look them up.
5. Is ELLIPAL wallet legit?
The Ellipal wallet is said to be 100% secure as it is completely isolated from any type of computer.
6. Can Ellipal be hacked?
The Ellipal wallets have the world's most well-known protection features which keep your data secure from physical hacking. This is also known as the Anti-Tamper Feature, it detects any attempts of hacking and then protects your data more securely.
7. Can I use ELLIPAL with Coinbase?
You don't have to use your Ellipal for receiving but only for sending, all you have to do is open the Ellipal App and then the supported token. It will show your balance and below it the receiving address and then you can copy and paste it to coinbase or binance.
8. How do you store Shiba in ELLIPAL?
For this, you are going to require to have the Ellipal Titan Cold Wallet, now the Shib you are going to buy can be stored under your wallet's ETH account and keep it secure with air-gapped security.
9. How long does an exchange take on ELLIPAL?
The company is going to check all the returned items and makes sure to confirm that the product is defective, then the replacement is going to ship out within the next 3-5 working days.
10. Where does the manufacturing of the Ellipal Device takes place?
The Ellipal Titan is the flagship crypto hardware wallet from the Hong-Kong based manufacturer, Ellipal. They feature a full-screen color touchscreen and also claim it to be a fully air-gapped device.
Conclusion
What we have seen today is still yet the world's most advanced and secure device ever, it is basically the future of the financial and cryptocurrency world. The device created by David and Thomas has provided us with an ultimate transaction device in which we do not have to worry about the net or fraud.
These devices are fully protected and secured no matter what no hacker in this world will be able to hack this. Our data and financial information will be in very safe hands if we deice to buy the Ellipal Titan Mini.