Dear Reader, as a blogger, I may earn a small affiliate commission from this blog without any additional cost to you. This helps me keep the blog updated and running. However, the information provided on this blog is unbiased as I make sure only quality information is provided to the readers.
Introduction
In this article, we will compare Bittrex Vs Binance based on various parameters we iterate below.
Both Bittrex and Binance are leading centralised exchanges. And overall live up to the expectations of an investor with their abundant features. But they have their pros and cons too.
This explanation is exhaustive and in order to put things into motion, I have divided it into various parts. First, is a small introduction about Centralized Exchanges.
Next, we compare both these exchanges. Finally, in the third part, I have prepared a table of comparisons for you as a quick reference. Hope this will be helpful in understanding.
What is Cryptocurrency Exchange?
A cryptocurrency exchange is a platform where cryptocurrencies like Bitcoin, Ethereum etc can be traded, bought or exchanged. An investor can use any of the existing exchanges to buy or exchange coins of his choice.
Additionally, apart from an Exchange, you would need a wallet to store your assets. Thankfully, both the exchanges under review provide Wallets to store your coins.
A typical cryptocurrency exchange lists all the coins that are available for trading and with their real-time price so users can quickly exchange coins for fiat currency like Dollar, Yen, Rupees etc.
An investor can also buy coins using Credit Cards, PayPal, Bank Transfer, Wire and most importantly Peer to Peer mode (P2P).
An investor can also use cryptocurrency exchange to buy Futures, Options, Stake coins. Based upon the nature of control, a cryptocurrency exchange can be either a Centralized Exchange or a Decentralized Exchange.
In the case of a Centralized Exchange, there is either a company or a set of individuals that control – management, decision making and operations.
In other words, the power to make decisions about the exchange lies in hands of a few people.
On the other hand, in the case of Decentralized Exchanges. The control does not lie in the hands of a few.
Decentralized Exchanges are often termed as DEXs. As the name suggests, there are several people who make operational & strategic decisions for Decentralized Exchanges.
As mentioned before, Bittrex and Binance are leading centralized exchanges. This implies, their respective holding companies manage, operate and control these Exchanges.
Parameters of Comparison of Exchanges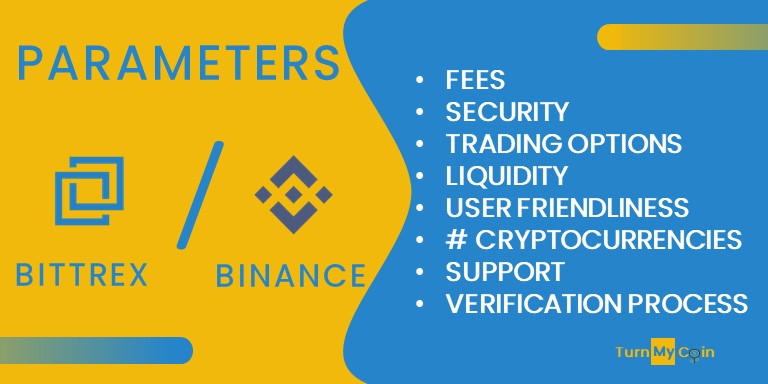 Each exchange has its own set of advantages and disadvantages. Choosing a particular exchange depends on the type of investor you are.
Hence, in order to compare these two exchanges, we have shortlisted certain parameters. These are: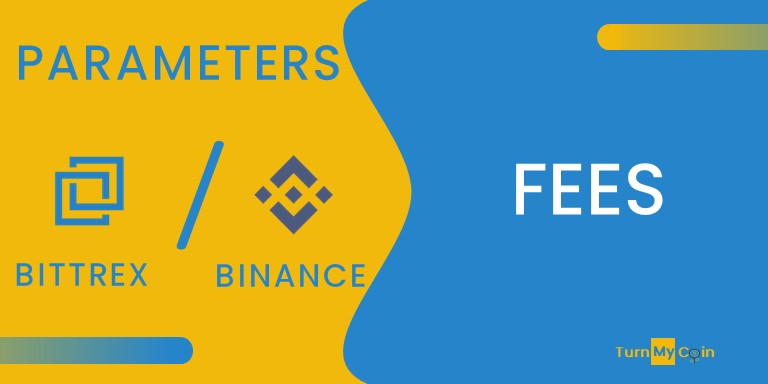 Whenever you are trading Cryptocurrencies, you have to pay certain fees. These fees can be either Gas Fees, wallet fees, withdrawal fees or Exchange Fees.
Irrespective of the quantum of fees charged by an Exchange, even small amounts can add up to become significant.
All centralized exchanges charge fees for allowing you to use their platform. This is compensation for maintaining and supporting their platforms.
Bittrex and Binance are no different when it comes to levying fees on transactions. Their rates of fees may differ but both charge fees on transactions.
Fees charged by Bittrex
Bittrex has a very simple system of calculating fees. It has made slabs for charging fees based upon the 30day Trading Volume of the trader. Depending upon the amount of trading you do during the month the fees are charged accordingly.
The platform calculates the 30-Day Volume on a daily basis. And it updates each account's trading fee between 00:30 UTC and 01:30 UTC each day.
For the lowest transaction slab, Bittrex charges a fee of 0.75% from both makers and takers. Additionally, I have attached the complete schedule for Fees charged by Bittrex below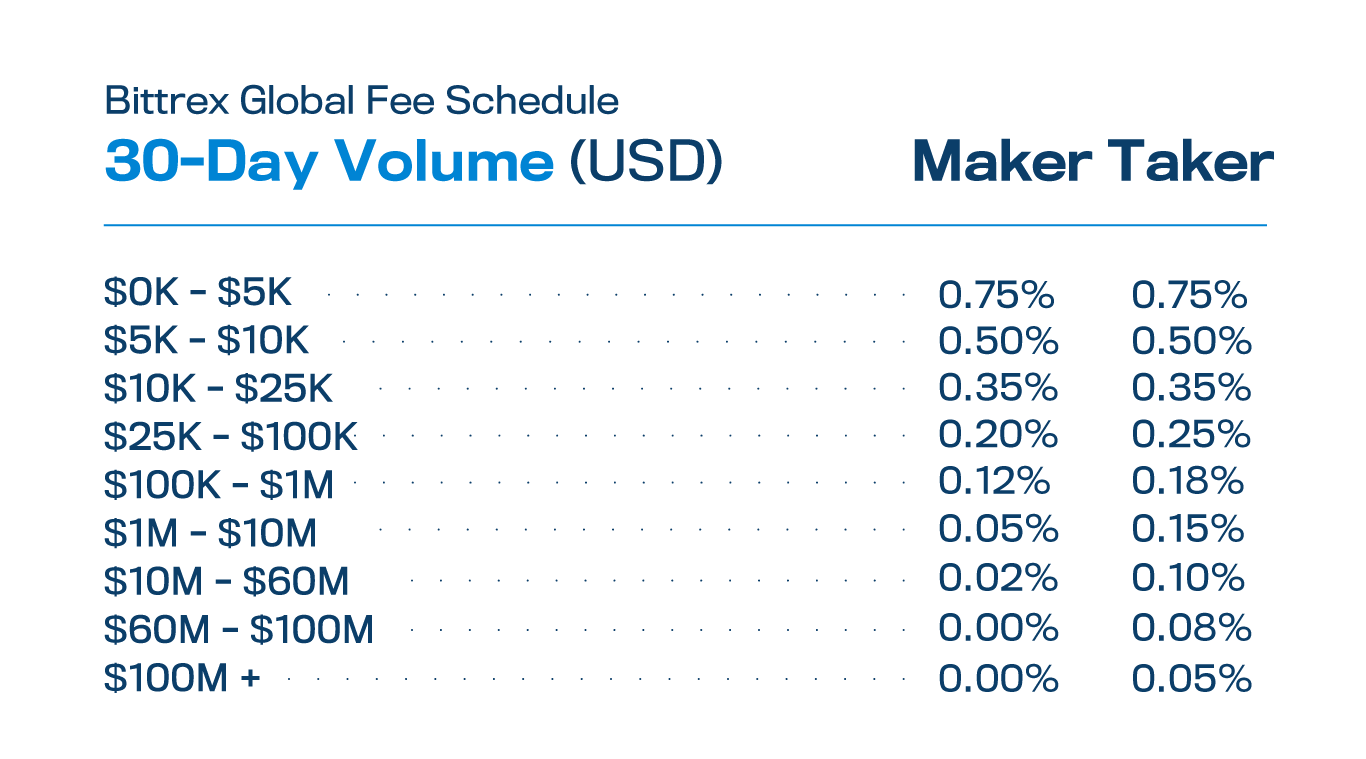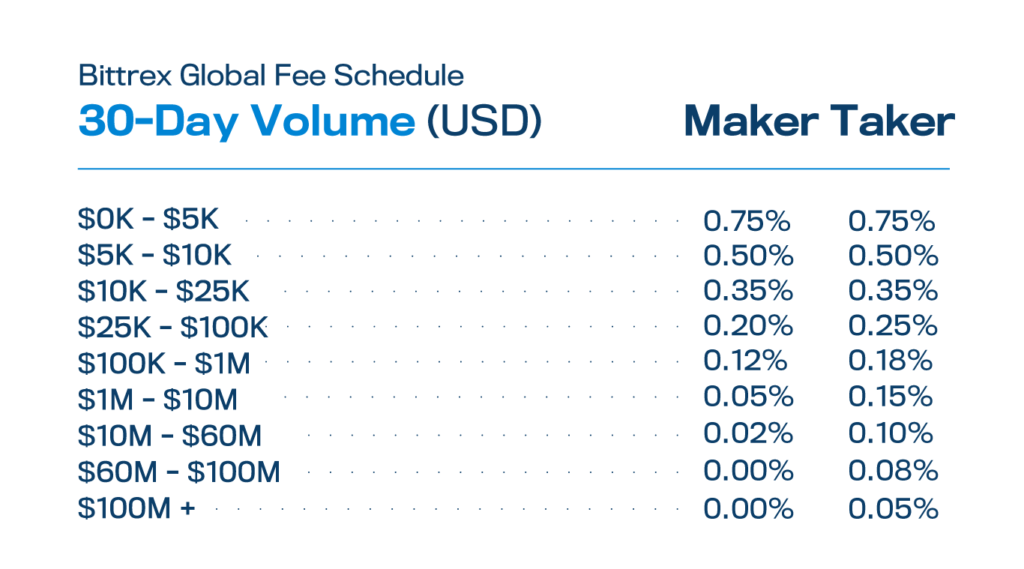 Fees charged by Binance
Binance has a very flexible system of investment. Which varies with the usage of the platform. The more trading you do lower would be the fees starting with just 0.1% Spot Trading Fees for both makers & takers.
These slabs are categorized as levels. Starting from VIP0 with the highest rates to VIP9 with the lowest.
Like Bittrex, Binance also refers to your 30day Trading volume to apply charges. However, Binance charges different fees for different types of trading like Spot, Margin, Futures, P2P etc.
Interestingly, for Peer to Peer (P2P) trading, Binance does not charge any Fees as of date.
I have also attached a Schedule of fees for Spot Trading and USD M-Futures Trading that Binance charges from traders for a quick reference.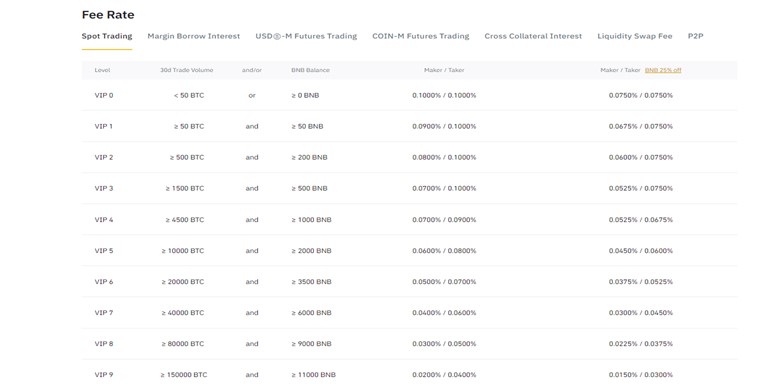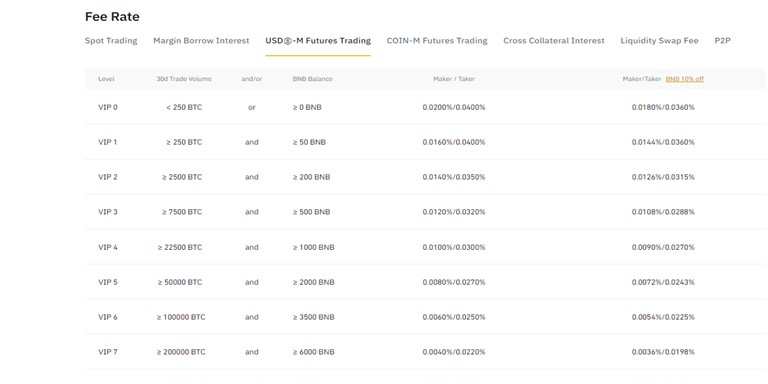 Winner (Bittrex Vs Binance Fees): Binance can afford a charging lower fees because of the high volume of transactions. Hence, as far as fees are concerned, Binance is a clear winner here.
2. Bittrex Vs Binance Comparison – Security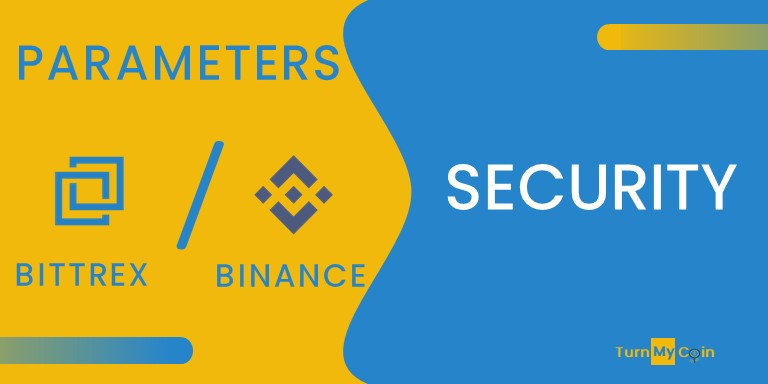 For a cryptocurrency investor, Security is one of the primary concerns. We have all heard of instances when one or the other cryptocurrency exchange gets hacked. And investors lose their money.
Users need to hand over the control of their cryptocurrencies(private key) to Exchanges.
Cryptocurrency exchanges are like other websites and may get hacked. Since exchanges are largely unregulated, the safety of investors money is sometimes questionable.
As a result, large cryptocurrency investors prefer holding their assets in Hardware wallets(Cold Storage).
Stakable Hardware wallets are often used to even stake currencies instead of exchanges. You can refer to our article on best staking wallets by visiting this page.
Having said that, most of the exchanges these days strive to keep their systems as secure as possible. Apart from the server and clientside security, they also offer 2-Factor Authentication (2 FA).
I would strongly recommend you to use 2-FA for storing your cryptocurrency as well.
2 Factor Authentication requires you to provide your login code from 2 different sources. It could be on Email, Phone or Google Authenticator. This ensures high level of security of your assets.
I would suggest that you keep either of the above on a different device than your trading device.
Bittrex Security
When it comes to Security, Bittrex has exceptionally high standards. All communication over the network is SSL encrypted. Bittrex stores over 90% of the assets traded in Cold Storage.
Cold storage Wallets are Air gapped. This means that your storage wallet is not connected to the internet. Bittrex further has a robust 2 FA with Google Authenticator making it a very secured platform.
It is a custom made platform which when coupled with the above security measures make a system highly secure. As is hinted above, Bittrex's main platform has never been hacked.
Bittrex also flaunts a cross-chain recovery service. By using this service, you can recover funds accidentally transferred to the wrong wallets. Though there are certain conditions to the above.
When it comes to the regulatory assessment, Bittrex has an attachment with the traditional US financial system. Bittrex complies with all US Laws.
Binance Security
Security at Binance exchange is also good. Binance stores a significant number of coins in Cold Storage. It maintains a good SSL Layered infrastructure.
Further, it uses email authentication to complete its 2-FA for any unrecognized login. I have also observed that Binance logs out its users every now and then specifically on its Mobile app. This practice seems regular and can ensure better security in case you lose your phone.
Moreover, for every withdrawal and deposit, Binance sends an email confirmation to you. If you want, you can even enable the 'Anti-Phising' feature at Binance.
With this feature, you will get a pre-programmed code with each email. This code confirms that the sender of the mail is Binance and not a hacker.
An interesting feature at Binance is Whitelisting. You can whitelist wallet addresses where you want to transfer your assets. Any withdrawal to non-whitelisted addresses would automatically get denied.
Historically, Hackers have hacked Binance on a few occasions wherein investors have lost their assets to them. But, thanks to the ability of this exchange, it bailed out these losses.
As far as the regulations are concerned. Binance did not integrate its systems with US Banking system instead it launched a separate version i.e. Binance US for its US customers.
Winner (Bittrex Vs Binance Security): Though Binance has learnt from its past and has implemented great security measures. My inclination is towards Bittrex because of its better storage policy and overall security infrastructure.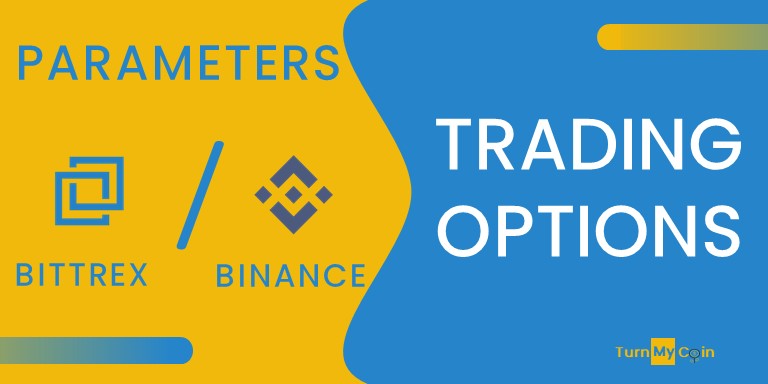 Cryptocurrency world keeps coming up with new products to appeal to its investors. There are tons of products in the crypto market as we interact today. Some guarantee returns up to 250% Annualized percentage Year (APY).
You can even buy products that reward you for borrowing cryptocurrency. Let alone the fact that you get handsome rewards for lending your cryptocurrency.
Staking, Yield Farming, Liquidity Farming, Token Air Drops, Mining are a few of the products that users love investing in.
Since cryptocurrency exchanges are still in their nascent stage, all the products are not available everywhere.
Likewise, there are infinite Trading options available in the market today. Spot, Futures, Derivates, Options trading, ladder trading, OCOs etc.
Well, Bittrex is a hardcore trading platform. They have worked upon it since the beginning to make sure that it allures traders onto the platform.
Accordingly, the features embedded in Bittrex provide regular investors with high efficiency.
For new investors, Bittrex may not be the best option before they have a good understanding of the Markets.
Spot Trading at Bittrex
Bittrex has an easy to understand Spot trading screen. It has options like:-
Limit trade,
Market Price trade,
Stop Limit,
Trailing Trade,
One Cancels the other Order(OCO),
Ladder Limit.
These features allow professional investors to control their trade. Professional investors adore these features as they provide them more control to manage their risks
Instant Buy & Sell at Bittrex
Bittrex has a very convenient option to Buy & Sell cryptocurrencies. It provides you with the ability to buy & sell cryptocurrency instantly through a Debit/Credit Card and in account USD Balance.
It is necessary to get your account verified before you transact on Bittrex. But this feature makes it extremely easy for novice traders to buy and sell.
Trading at Binance
Binance ventured into providing its customers with more Cryptocurrency associated products. They provide convenience when it comes to buying Cryptocurrencies.
You can buy your crypto asset using Peer to Peer(P2P) mode, debit card or credit card, get a Debit card attached to Binance. You can even stake (earn rewards) your currency, participate in Liquidity Pools, Mining Pools and more.
Binance has also taken care of its novice investors with a Lite version of the same platform. Where Professional traders can use the Pro version, the Lite version comes in handy for newbies. It is a very thoughtful decision that Binance made while designing its platform. This has helped Binance cater to a whole load of customers rather than just focusing on amateur investors.
Another smart move of Binance was that it introduced its own cryptocurrency, the Binance coin (BNB) that can be used to buy coins on the platform. Binance offers attractive discounts on trading fees to customers trading with BNB to complete their transactions. You can enjoy this additional benefit if you trade with BNB.
Binance Spot Trading
Binance supports multiple types of Spot Trading like market, stop limit etc. The interface is quite simple for new investors to understand.
Binance Margin Trading
Margin Trading allows investors to leverage their trade by borrowing funds. For instance, in a normal scenario i.e. spot trading, say you want to trade a currency at $100. Let's assume you invest these $100, the price increases and you make a profit of 10%. Your total gain is 10% of $100 = $10. Please Note: here I have ignored the fees of platforms for simplicity.
Now, let's understand margin trading with the same example. If you do a Margin trade with 3x leverage you can enter into this trade with $100 (your own funds) +$200 (borrowed funds) = $300 thereby increasing your profit multiple times. The Binance algorithm automatically arranges margin fees and interest on borrowed funds which is a separate topic of discussion.
Margin trading increases both rewards and exposure.
Binance further allows Cross and Isolated margin trades.
Binance Future Trading
Future trading as the name suggests allows you to buy or sell at a future price. Both buyer and seller get into an obligation wherein they agree to transact at a price (fixed price) at a particular date (delivery date) irrespective of the prevailing price.
Binance allows both quarterly and margins future trading
Binance Options Trading
Options trading gives an investor the option to buy or sell cryptocurrency at an agreed price. There is no obligation to exercise the option.
So, an investor may or may not buy or sell as the case may be at the agreed price. However, there are platform fees that need to be paid if an option is not exercised.
Winner (Bittrex Vs Binance Trading Options): Both platforms have similar features when it comes to trading. Binance has more options and caters to more types of investors based upon their expertise.
As mentioned above, it has a Lite and a Pro version on the same App. The lite version of the App enables Novice investors to understand trading before they get overwhelmed with the options available in the Pro version.
Further, Binance has options like Liquidity Swap, Mining Pools, Cryptocurrency Loans, Staking i.e. Binance Earn which are modes to earn passive income over and above vanilla trading. These additional features place Binance in a better spot as far as this segment of the comparison is concerned.
4. Bittrex Vs Binance Comparison – Number of Users & Liquidity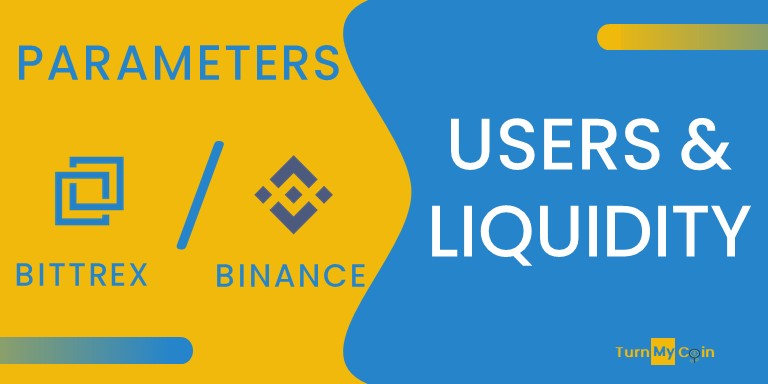 You should consider looking at the number of users on any exchange you wish to trade on. This indicates the popularity of a platform amongst users of Cryptocurrency. There's a fairly simple reason for it, let me take an example to clarify this point.
For example, let's say you anticipate that the prices of Ethereum are going to skyrocket. And you place a buy order at an exchange for 15 ETH @ USD 3500 each. This totals to $52,500. Now, there is a narrow chance that a single seller would be able to fulfil this order instantly due to the quantum of this transaction. If there aren't enough sellers on the exchange, you would land up waiting for quite some time.
Moreover, since you placed a bulk order with limited sellers onboard, the price would fluctuate. As a rule of thumb, in exchanges with fewer users, prices will rise due to this order. Hence, there is no guarantee that you would crack the complete deal at $3500.
Let's take another example. You want to trade Altcoins on an exchange. New altcoins normally have limited demand and supply. If there aren't enough users on the exchange for an altcoin, there are bleak chances that a trade will happen per expectation.
Restrictive Liquidity
There are concepts like Staking and Liquidity pools wherein users stake or lend their coins to earn rewards. You can read about the difference between Staking and Liquidity here. These products provide liquidity to the exchanges so that an exchange has enough coins to enable transactions.
Many small exchanges still do not have these options available with them. Thereby further restricting the liquidity of assets on such exchanges.
Users & Liquidity on Bittrex
Bittrex was one of the earliest exchanges for trading cryptocurrencies. It was founded in 2014 (as per the company's website) by three founders who used to work as security experts in Microsoft. However, Bittrex implemented stricter protocols due to the anti-money laundering laws.
The average liquidity of Bittrex as of date is 321. In monetary terms, the 24-hour volume of transactions comes to $161,080,545. It has 742 market pairs to trade.
Bittrex had surpassed a figure of 500,000 users. And the volume of transactions also makes it clear that Bittrex has a good amount of liquidity.
Users & Liquidity on Binance
Binance came into existence in 2017 and is a relatively new exchange. However, volume-wise, it is the numero uno of Cryptocurrency exchanges. Binance raised $50 million from the sale of Binance Coins(BNB) at the launch of its Initial Coin Offering (ICO).
Its popularity shot it to number 3 position within 143 days of its launch.
In contrast to Bittrex, Binance has average liquidity of 653. With 24-hour volume of around $34,003,449,422. It has 1447 market pairs to trade.
Binance has surpassed 13.5 million users and has caught the cryptocurrency domain by surprise. There is no shortage of users on Binance as it has a whopping 25% market share.
Winner (Bittrex Vs Binance Number of User & Liquidity): Binance has a bigger active user base. This makes it a more preferable platform choice for this segment of comparison.
5. Bittrex Vs Binance Comparison – User Friendliness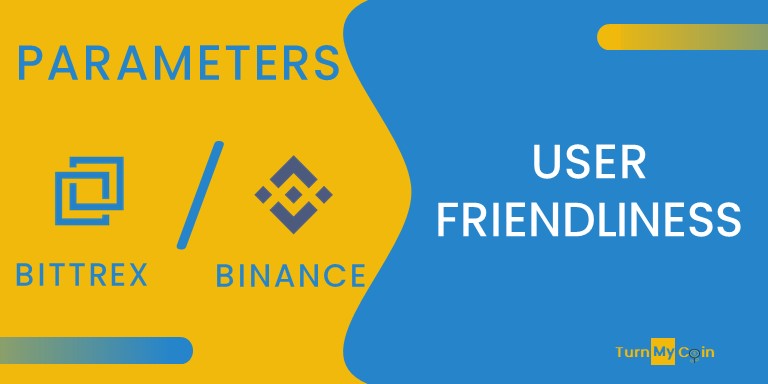 Considering the fact that a user is required to take timely actions for completing his trade, a cryptocurrency exchange has to be fast, seamless and frictionless.
Further, easy to refer charts, trends, indicators are important for a user to make decisions. Both Bittrex and Binance integrate Tradingview and have good analytical tools.
Since a staggering number of users use mobile phones for transactions, a good exchange should have support for both Web and Mobile.
Bittrex has a very simple interface. It is easy to understand and get a grasp of. If you are a customer from the USA, you would find it really easy to connect and operate because it embeds traditional Banking into the system.
Binance also has a simple interface but it also provides an easier interface for learners termed as the 'Lite Version' as previously mentioned. With just a tap, you can switch the interface into the Pro version which gives advanced features to invest.
Winner (Bittrex Vs Binance User-Friendliness): Both platforms have seamless and easy to understand interfaces. You can choose one and always have an option to switch between platforms.
6. Bittrex Vs Binance Comparison – Number of Cryptocurrencies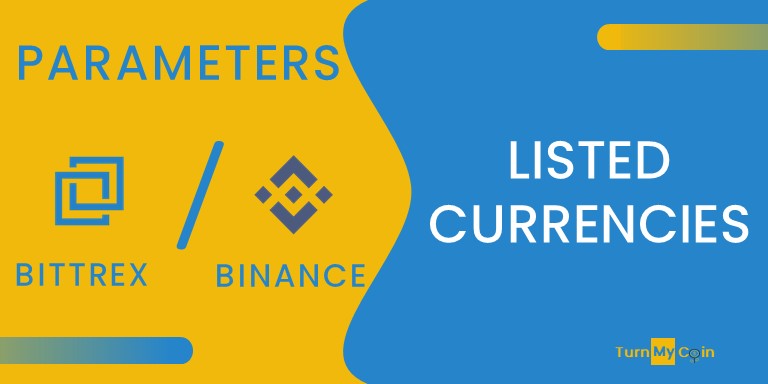 With each passing day, the number of cryptocurrencies keeps increasing. I remember when I started investing there were a total of 4000 odd currencies. Total they stand over 12,000. This is a staggering number. What do you think is the reason for such growth?
NFTs & Memecoin outburst
One of the reasons is the increase in the number of Non Fungible Tokens(NFTs) and Meme Coins. I am sure you have heard of DogeCoin. Most of us know that a tweet by Elon Musk sent the price of this coin to the moon. The impact of the tweet was such that it started a trend and Meme Coins just flooded the market.
In contrast to NFTs which carry a certain value, Meme Coins are just coins inspired by jokes on Internet and Social Media. Though there are certain coins that in spite of being inspired by Memes have a strong utility and infrastructure. Shiba Inu is a classic example of this. However, most of the other Memes coins are not worthy of your attention, forget about your investment.
Since Meme coins do not any have utility per se most are very cheap. This attracts novice investors to buy them. Some investors gain out of this gamble while others lose.
Anyone, including you and me, would want to reduce our stress by sticking to one or two exchanges to trade our coins. It's easier that way right! So it's pretty obvious that an exchange with more coins listed would be preferable. Additionally, it is important that you check the Fiat Currency like USD, INR, EUR, AUD etc that the exchange supports. Because in order to buy these coins, you need Fiat currency else you may face forex conversion charges.
Further, the coin that is listed on an exchange should be legit. There are tons of coins that are absolutely useless, often termed as shit coins. They are worthless and should be avoided.
Number of Coins on Bittrex
At the time of writing this article, the total number of coins listed at Bittrex is 383. Bittrex supports only USD. It is not surprising to see Bittrex just supporting USD. As mentioned earlier Bittrex abides by US Laws and is attached to US Banks.

Since Bittrex is more regulated, it undergoes a lot of scrutiny before listing coins on its platform. Accordingly, it can be expected that they list only valued and legitimate coins on their platform.
Number of Coins on Binance
Binance has listed 388 coins to date. Let's talk about the fiats that Binance supports now. This is where things get interesting, Binance supports 46 Fiats. This implies, that anyone across the globe can easily buy Cryptocurrencies from Binance.
Winner (Bittrex Vs Binance Number of Coins): Though both the exchanges have listed almost the same amount of coins. Bittrex takes more measures while listing the coins so we can assume that the quality of assets is better on Bittrex.

However, Binance could be a better option considering that an investor can buy crypto in his own currency.

I would suggest that you research your asset properly before investing in it.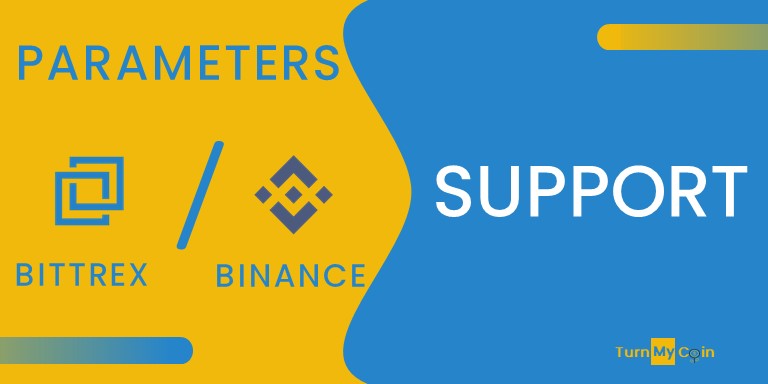 It is needless to mention that a platform should have good customer support. It is not only important for an investor but for the exchange as well. Customer feedback helps an exchange improve its services. It is also an indication of how a platform values its clients.
Customer Support at Bittrex
You can get in touch with Bittrex's support team using a third party(Zendesk) Ticket system and Live Chat. It maintains a huge knowledge base of articles to tackle customer issues.
Bittrex has an active Twitter handle and also has a Telegram Community for updating customers.
Customer Support at Binance
Even Binance has Live chat support. The knowledge base at Binance looks more appealing and user friendly. Though it looks too tedious to scroll through and get answers. The platform is quite user friendly and most of the time you would be able to find your way through.
Binance is quite active on Twitter and also has a YouTube channel to share useful insights, guides and tutorials for investors.
Winner (Bittrex Vs Binance Support): Both platforms have average customer support.
8. Bittrex Vs Binance Comparison – Verification Process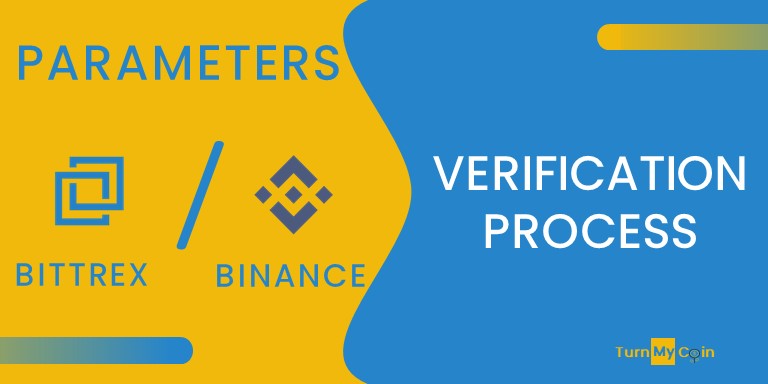 Though the Cryptocurrency domain in itself is unregulated or decentralized, the Exchanges still have to follow certain norms. Depending upon the location of the Headquarters of an Exchange, the requirements for verification change. All the Cryptocurrency exchanges registered in the USA have a stringent, orderly but speedy verification process.
Does this come as a surprise that decentralized platforms have such strict norms of verification? Well! the answer as you have guessed is yet again obvious. The increased number of money laundering cases and thefts in the cryptocurrency world requires such checks & balances.
You are required to provide Government-issued identification cards and upload a selfie of you holding the identification card for confirmation. Further, you are required to connect your Bank account with the Bank if you want to use Internet Banking like WazirX (Indian Cryptocurrency Exchange).
Moreover, I have observed that in most of the exchanges accepting Peer to Peer (P2P) transfers, you are not required to connect your Bank Account or provide Bank details for buying cryptocurrencies.
Bittrex Verification Process
Bittrex boasts a 4 step account creation & verification process in under 10 minutes. You have to select your username, provide your email address and verify it to create an account. However, it doesn't allow you to buy assets until your ID verification and additional information are complete.
You would have to provide a copy of the front/back of a Government-issued ID. Additionally, you also have to upload a selfie with the document which is matched by the platform.
Binance Verification Process
Binance has a similar verification process to get you on board. However, users have an option to provide restricted information to this Centralized Exchange. Accordingly, Binance sets a limit on the Withdrawal of money.
Also, please refer to the attached image for withdrawal limits based upon the documents you would want to share.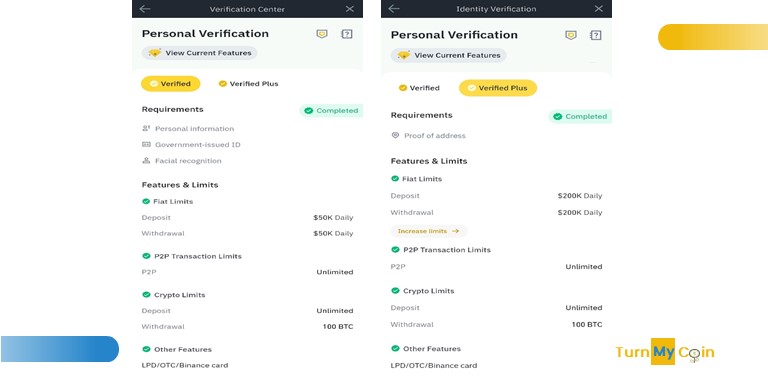 Winner (Bittrex Vs Binance Verification Process): The verification process is similar for the platforms. However, Bittrex has a very speedy verification process. In any case, if you truly want to use the platform properly you have to provide mandatory details.
Bittrex Vs Binance: A Complete Comparison Table
We have made a complete comparison Table of Bittrex Vs Binance based upon the above parameters and summarized the complete article hereunder:
Parameter
Bittrex
Binance
Winner(Bittrex Vs Binance)
Registration Links
Click Here >>
Click Here >>
–
Founded & Headquarters
2014, Seattle, Washington
2017, Cayman Islands
–
Platforms
Web, Mobile
Web, Mobile
–
Fees
0.75%
0.10%
Binance because the fees are lower
Security
Custom build scalable engine. Highly Secure
Highly Secure
Bittrex as most of the assets are stored in Cold Storage
Users & Liquidity
Good
Best
Binance
User Friendliness
Good
Good
TIE
Number of Cryptocurrencies
383 & it supports USD
388 & 46 Fiats
TIE, if you transact in USD otherwise Binance has more flexibility for users Globally. The quality of assets can be better at Bittrex because of more regulations.
Verification Process
Simple. Accepts Passport for most countries
Likewise, Binance also has a Simple process
TIE
Trading Options
Limit trade,
Market Price trade,
Stop Limit,
Trailing Trade,
One Cancels the other Order(OCO),
Ladder Limit.
Limit Trade, Market Price, Stop limit, Margin, Futures, Options
If you are an experienced trader, Bittrex gives better options to monitor risk. Binance gives easier options for new traders
Support
Average
Similar
TIE
Speed
Relatively slow due to its connectivity with traditional banking
Faster response time
Binance because it is more frictionless.
Table showing Comparison between Bittrex & Binance
Table showing a comparison between Bittrex Vs Binance Cryptocurrency Exchanges
Bittrex Vs Binance Comparison – The Verdict
In conclusion, Cryptocurrency is a relatively new domain and will require loads of improvements. Likewise, when it comes to Exchanges they need to be improved specifically with regard to Security and Customer Support.
For more Security-conscious and core trading users Bittrex is a better option. However, overall Binance has better Fees, Speed, options, products compared to Bittrex.
As an investor, you need to take a decision on what you weigh more. There is nothing that would stop you from having an account on both the exchanges together. Unless you are a US user and do not want to share your Bank details.

References: