Introduction
In the following article, we are going to review the Coinmama Crypto exchange platform. Coinmama started in 2013, and since then over 3 Million investors have trusted it as a crypto exchange for buying/selling cryptocurrencies.
In this Coinmama review I will try and answer the question as to what makes Coinmama a Unique Exchange.
I have divided the article into various parts to make it easier for you to understand. Here are the key pointers:
Fee structure
Platform Security
Number of Cryptocurrencies and Fiats Supported
User Friendliness
Customer Support
User Verification Process
You can register at Coinmama here.
And let's understand each of the above pointers in detail.
Fee structure
The fee in Coinmama depends on the user's loyalty level. So, the final fee charged to the user depends on the loyalty level in the Coinmama ecosystem.
There are 3 levels in the Coinmama loyalty program:
Services like TradeBlock XBX list an average (or market) rate based on the known exchanges. Coinmama takes this average rate amongst all major exchanges & adds a spread to the account. The summation of both is "rate" as per Coinmama.
Coinmama's market rate is based on the XBX + 2%. In addition, there is a commission fee of up to 3.90% on buy transactions and up to 0.9% on sell transactions. Further, for credit/debit card transactions, it adds a 5% momentum fee.
There are no additional fees if transactions are through SEPA bank transfer.
For transactions made by SWIFT bank transfer, there is a minimum fee of 20 GBP on orders below 1000 USD and no additional fee on orders above 1000 USD.
There are certain discounts that it offers based upon the following levels:
Curious (Level 1)
There is no discount on fees, no minimum requirement for spending.
Enthusiast (Level 2)
There is a 12.5% discount on fees, the required spend is $5,000 over the past 90 days along with faster support.
Believer (Level 3)
There is a 25% discount on fees, required spend is $18,000 (past 90 days) or $50,000(lifetime) along with faster support. To become eligible to become a crypto believer, you must have been purchasing crypto on Coinmama over the past 30 days.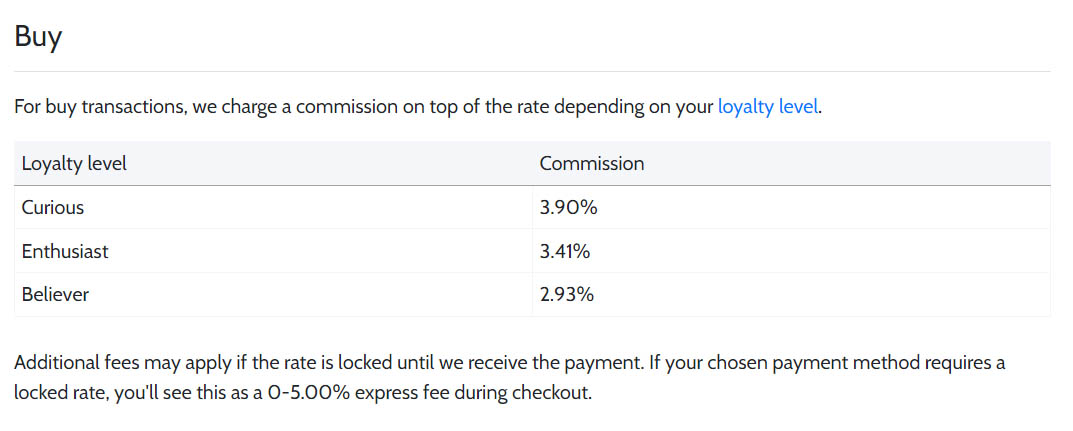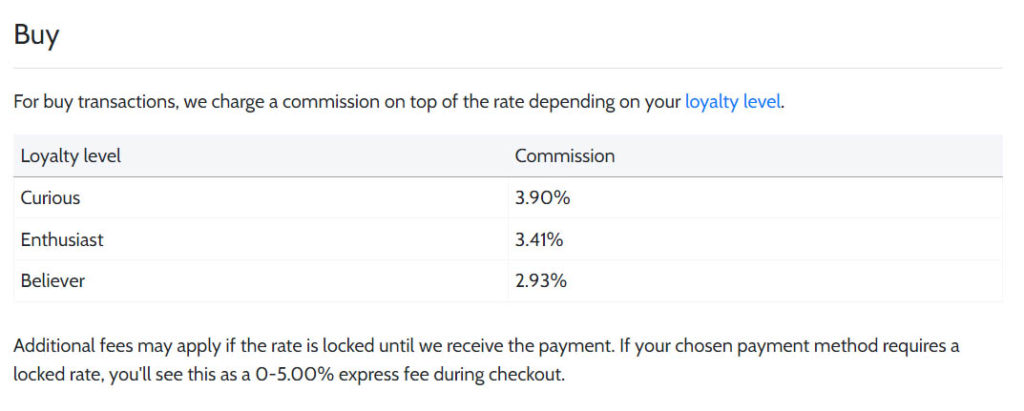 All the above-mentioned discounts are on commission fees. Once you have achieved a loyalty level, then you have to maintain the required spend as mentioned in the level.
For buying/selling transactions, there is a commission depending on your loyalty level:
Crypto Curious level has a commission of 3.90%. Enthusiast level has a commission rate of 3.41%. Believer Level has a commission rate of 2.93%.


Coinmama charges a higher fee compared to other exchange platforms but again the platform is very simple to buy your first crypto assets. As noticed, the platform requires you to trade more, to get higher discounts.
Platform security
Coinmama is strictly one crypto exchange that does not hold any digital assets. An investor must have a wallet to initiate a transaction over the platform. It is your choice whether you want to use a Hardware Wallet or a Software Wallet.
This puts everything at the investor's risk, and his/her liability to keep their assets safe!
Though the risk is yours with Coinmama, having the Private Key of your cryptocurrency with your good self is a better security measure and Coinmama does just that. You can actually store your currency in a Hardware wallet like Trezor or Ledger which are the safest wallets in the market.
Moreover, Coinmama guides all its users to create a strong password/username. And Coinmama doesn't store any payments details such as bank account/credit card number on its platform. Apart from this Coinmama encourages all its users to put up 2-factor authentication.
Further, to make the platform safer, Coinmama requires all users to verify their identity by providing government id proof.
In spite of the above, being a Centralized Exchange it is not fully secured. Coinmama was a part of a large-scale hacking incident in 2019, where thousands of user emails/passwords were leaked online.
Number of Cryptocurrencies & Fiats supported
While many crypto exchanges support 100+ cryptocurrencies, Coinmama only supports 10 cryptocurrencies:
So the options are limited here! This makes the platform an ideal choice for people who are interested in just buying cryptocurrencies stress-free. With modern-day crypto exchanges offering lucrative investment options. Coinmama is limited with currency support.
It supports 5 fiat currencies namely, US Dollars, British Pounds, Canadian Dollars, Euro & Australian Dollars. Coinmama allows transactions in 188 countries and 48 US States. Below is the list of all the restricted countries (and the US States) and those served through third parties.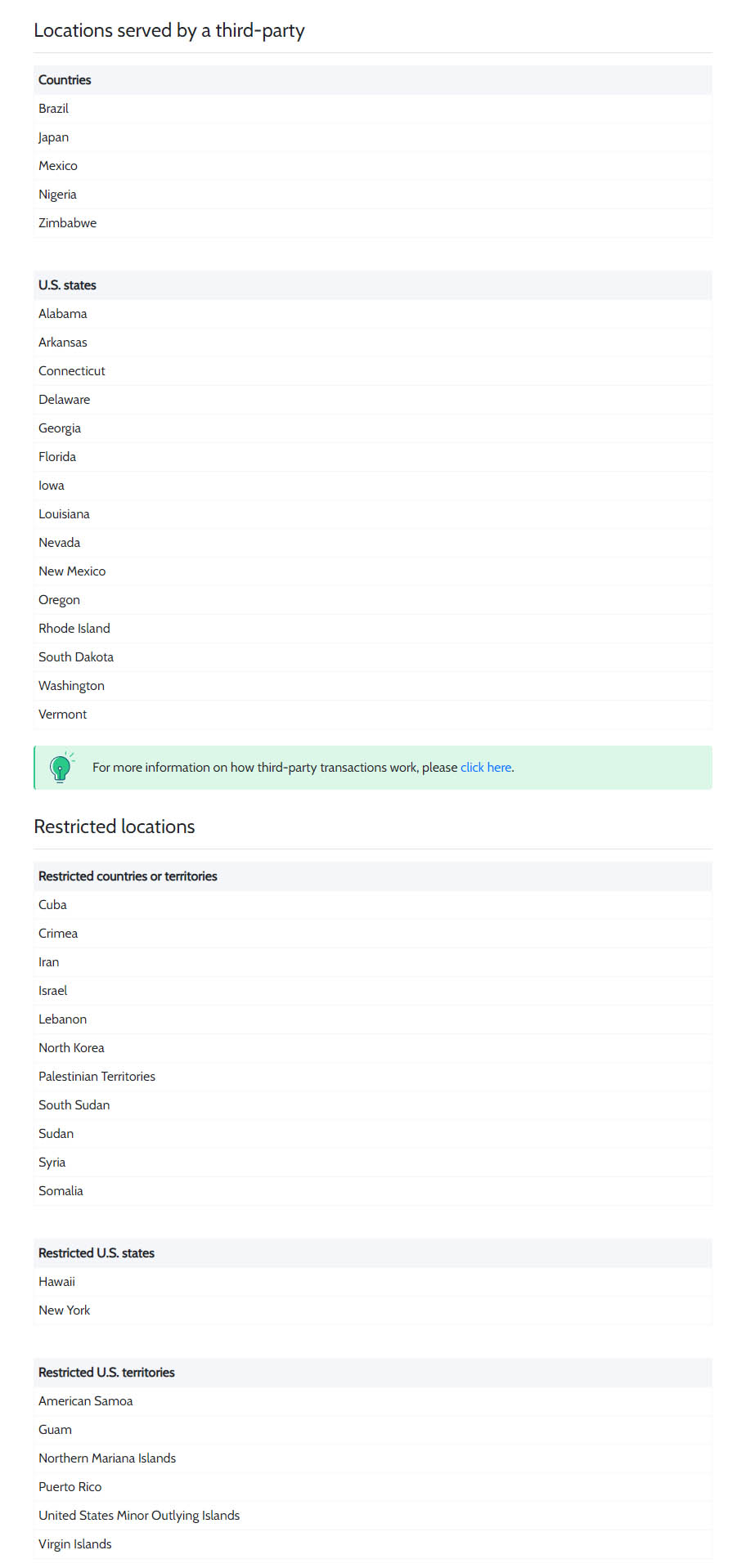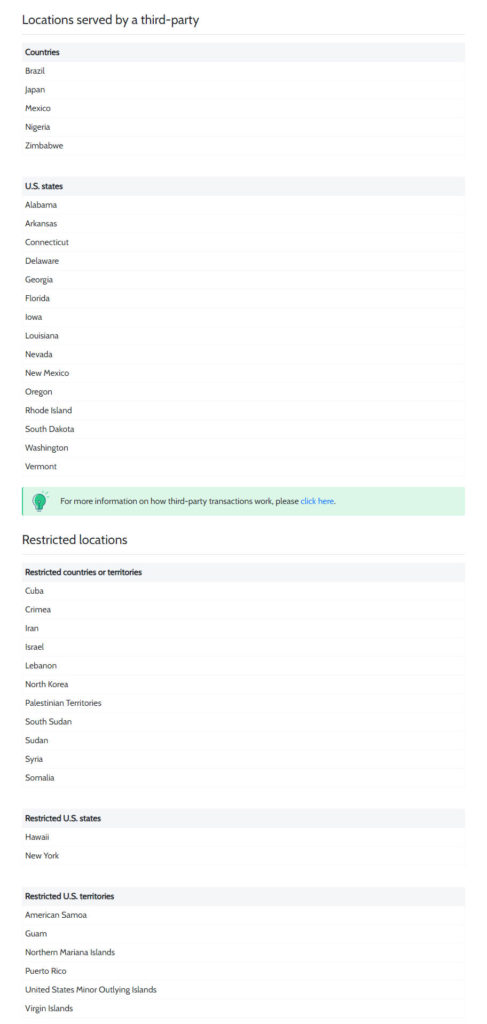 Coinmama Exchange Review:User Friendliness
The trading experience at Coinmama is quite simple & super friendly. As explained above the currency support on Coinmama is limited. Also, there is no support for crypto-to-crypto trading, and users can only sell BTC with Coinmama.
Customers can click on the Buy/Sell tab to initiate a transaction via the online dashboard. Also, the exchange is available for Android phones.
However, a thing to note here is that their minimum limit for purchase i.e., $30 and the minimum limit for sale is $100.
While making a purchase, you have to submit a form to Coinmama with details for the purchase. As far as the payment options are concerned, there are a large number of payment methods such as credit/debit cards, bank transfers, Apple pay & Google Pay. Details are attached below: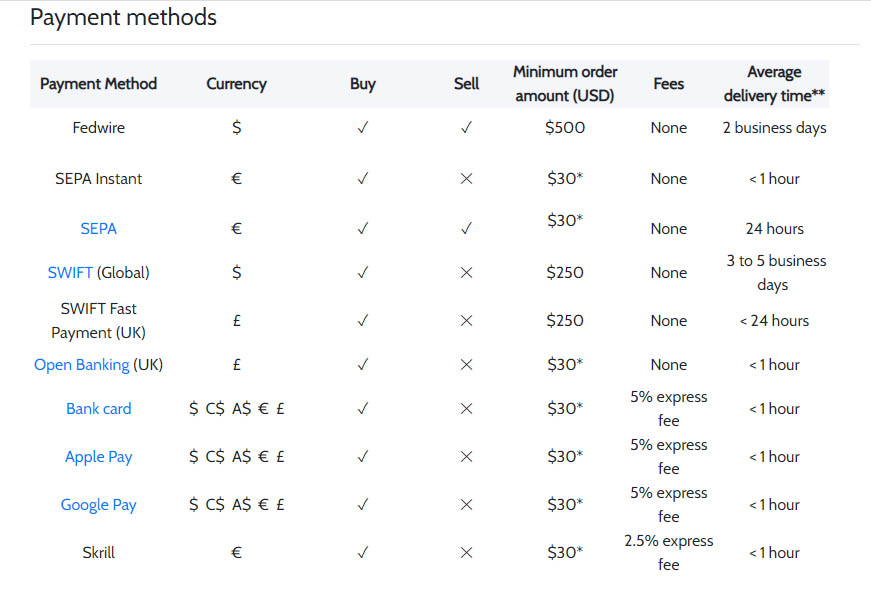 Please note: The Coinmama platform only supports selling Bitcoin. If you have other cryptocurrencies, then you can sell this platform on any other platform.
Coinmama Exchange Review: Customer Support
The next part of the Coinmama Exchange review is Customer Support. Coinmama provides customer support via a contact form. The user has to provide the nature of the query along with its description.
Although, there is a dedicated help center where you can type in your search query. You can check anything from crypto basics, account verification, or buying/selling cryptocurrencies.
This can be a big letdown because other crypto exchanges provide more options such as live chat where you can ask any question over a live chat & get the right answer without searching content through the help center.
Coinmama Review: User Verification Process
In Coinmama, there are 3 different levels of user verification. Namely, level 1, level 2, and level 3.
The main distinguishing point here is the accounting spending limit and there is a prerequisite requirement as well!
Level 1: To qualify as a buyer on Coinmama, you need to provide your complete account information. The information includes name, email id, address, along with a government-issued id-proof.
Also, you have to provide a selfie holding the government id along with a handwritten note with "Coinmama" and the current date.
Level 2: To verify at level 2, you need to spend 2,400 USD on your Coinmama account. Then, you have to upload a second government ID, a utility bill/bank statement/credit card statement (past 6 months). At last, you have to provide a KYC questionnaire to complete the level 2 verification.
Please note: Once you have been approved at level 2, then you have to make a purchase of $50,000 in cryptocurrency.
Level 3: To verify at level 3, you need to have a limit of $50,000. Once you prequalify, then you need to verify your Coinmama account over the control panel. Also, you have to upload an updated KYC questionnaire! At last, you have to wait for the response from Coinmama's support team.
Please make sure you upload the document in PDF, JPEG, or PNG format. And all details on the document must be visible. In case there is any problem in reading/validating your document, then your application will be rejected.
Summing up the Coinmama Review
Coinmama is a unique kind of crypto exchange that allows you to use your own wallet! Since you have the access to your Private Key, it can be considered as a safer option to store your cryptocurrency. Most of the high value investors store their assets with themselves and that too in Hardware wallets. Which can be connected with Coinmama easily.
However, having a wallet with the exchange is always a convenient option as the transactions become faster. This comes really handy for trading purposes.
To have a better understanding, I have summarized the Pros & Cons of the exchange below:
Coinmama Exchange Review: Pros
Simple, easy-to-use platform.
Make investors aware of security to create a strong base for investors.
Control over your Private key: Separate Hardware Wallet / Software Wallet can be used that provides utmost security.
Good for traders who trade in bulk quantities.
Coinmama Exchange Review: Cons
Investors can only sell Bitcoin
No crypto wallet provided
Loyalty programs might save you some fees, but still, you may have to pay a higher trading Fee overall.
Only 10 cryptocurrencies are available for buying on Coinmama.
Coinmama is one platform that is primarily for buying & selling(BTC only) crypto.
There are a lot of investors who want a platform that keeps their investments safe. Though there is a big learning curve, Coinmama can be suitable for investors who value safety over additional fees.
Coinmama- Frequently asked questions
Is Coinmama safe?
Yes, Coinmama is a safe cryptocurrency exchange to buy cryptocurrency. Please keep in mind that you have to store your currency with yourself. Coinmama does not hold any crypto balance on the platform.
Which wallet does Coinmama use?
Coinmama does not have any wallet associated with the crypto exchange platform. You need to have your wallet to store your cryptocurrencies!
How many cryptocurrencies are supported on Coinmama?
There are 10 cryptocurrencies available for purchase on Coinmama. However, if you want to sell, then Bitcoin is your only option.