Introduction
Coinbase Global is a US-based cryptocurrency exchange platform, and it is one of the most popular crypto exchanges around the world. It is the world's first cryptocurrency exchange with remote-first priority, as there are no physical headquarters. By far, it is the second-largest cryptocurrency exchange when it comes to trading volume.
But should you use Coinbase for your investing needs? Well, this is what this article on Coinbase Review is about! In the following section, we are going to review Coinbase on factors such as Fees, Security, number of Cryptocurrencies & Fiats Supported, Ease of usage, support, etc.
You can register at Coinbase here >>
The cryptocurrency trading platform, Coinbase global has introduced two different account options i.e., Coinbase and Coinbase Pro. There is a number of difference in features, transactions, trading amount, etc. Therefore, we are going to consider both of these in the following section so that you can make the right choice accordingly. 
Fees
There are different fee implications by Coinbase Global, on both Coinbase & Coinbase pro. Here's the fee structure:
Coinbase Fee
Coinbase charges fees based upon payment method, order size, market conditions like liquidity and volatility. It lists the actual fees at the time of the transaction. Hence, you may incur different fees on each transaction.
Coinbase Pro Fees
It follows a relatively simple fee structure, where the investors pay a flat fee of 0-50% per trade. It has a relatively simpler fee structure than Coinbase!
Here's the detailed comparison:
Comparing both these side by side, it looks evident that in most cases CoinBase Pro will charge lower fees. However, depending upon the volume of the transaction CoinBase may charge lower though it can happen only in a few cases.
CoinBase Pro Fees Schedule for your reference: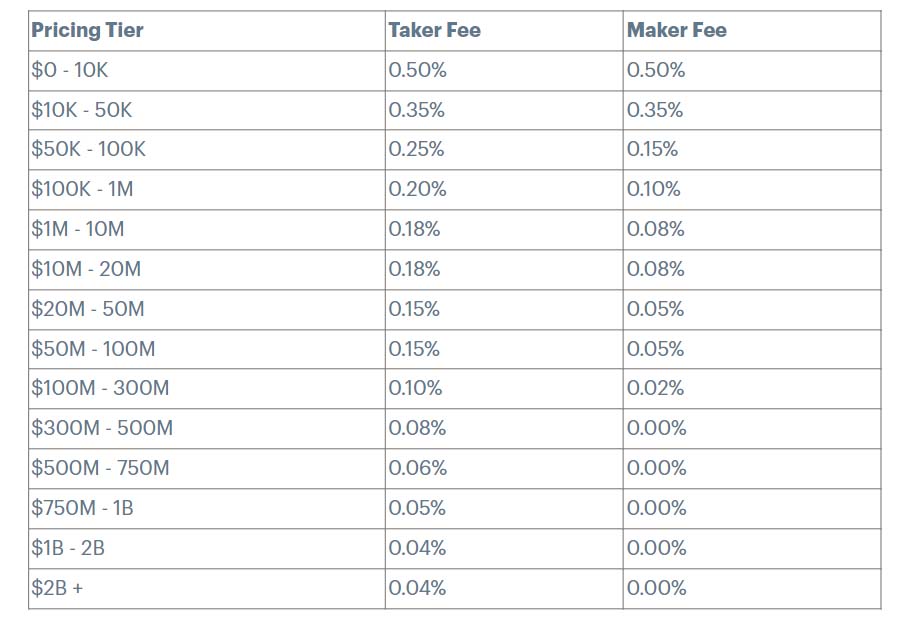 Security
Both Coinbase and Coinbase Pro follow industry-leading security practices to keep investor deposits & assets safe! Both store more than 90% of the crypto assets in cold storage distributed across different safety boxes around the world. These assets are supported by digital as well as paper backup.
There are multiple security measures in place including:
2-factor authentication(2-FA),
Biometric logins,
FDIC Insurance for the US balances AES-256 encryption across all digital wallets.
All investments are under investment insurance to pay all investors if Coinbase security breaches. Overall, Coinbase ensures bank-level security to keep all investments safe!
However, these measures are implemented on the server side. To ensure safety of the network from Client-side, all investors should keep their passwords unique & use 2-factor authentication in place.
Number of Cryptocurrencies & Fiats Supported
The main differentiating factor between Coinbase & Coinbase Pro is the number of trading options. Both Coinbase & Coinbase pro support fiat currencies such as USD, GBP, EUR, etc. However, the number of crypto trading options might differ!
Both platforms support all big cryptocurrencies such as Bitcoin, Ethereum, Litecoin, Polygon, Shiba coin, etc.
Coinbase supports more than 146 cryptocurrencies and around 434 markets.
Keep in mind that some coins have different trading/withdrawal restrictions. Many of the supported cryptocurrencies can be traded against fiat currencies such as US Dollar converted against cryptocurrencies. Check with your country-wide restrictions as some coins might not be supported in your country. Please visit Coinbase's official website before deciding on a cryptocurrency.
User Friendliness
The trading experience of both these platforms is different. Coinbase is a beginner-friendly interface that requires no technical skills. Traders can use the website/android/iOS application to start trading.
Overall, trading on Coinbase is quite similar to stock trading with a brokerage account. The main balance is displayed on the dashboard, and you can buy/sell cryptocurrencies directly.
On the other hand, Coinbase Pro is specifically designed for all professional traders. In addition to the standard Coinbase platform, it offers you to
Limit order,
Stop order, and
Time to force order.
Also, there is no trading limit with Coinbase Pro, whereas in the case of Coinbase imposes trading limits based upon country & currency.
All purchases are debited directly from your bank account/credit card. Again, there might be some additional fees as per your bank/country restrictions. Also, all withdrawals are deposited instantly to the investor's bank account.
Support
Coinbase focuses to provide the best customer service in the industry. Both Coinbase & Coinbase Pro provide you with the option to get support over chat & contact them via their contact us page. Apart from this Coinbase has a big help repository with all the content you need to understand trading on the platform.
Coinbase is very active on Twitter & Facebook.
Verification Process
Coinbase allows you to verify your account via their website/mobile app. You have to upload your documents to Coinbase. The process is simple and takes about 2-3 minutes. As an additional measure, Coinbase prompts investors again & again to verify their identity to keep the platform safe!
Also, no email applications are accepted by Coinbase during the whole process! You must verify your account via the Coinbase website/mobile app.
Coinbase vs Coin base Pro: What's the difference?
Both Coinbase & Coinbase Pro have their advantages & disadvantages. Therefore, you should choose a platform that matches your requirements. To make this easier, we have highlighted both the Pros & cons of both platforms.
Coinbase
Pros
Easy withdrawals available via PayPal.
Approved & available with multiple countries.
It allows you to invest & trade using credit & debit cards.
Cons
High fees Combined with complex fee structure which is on the higher side most of the times.
Less crypto investment options.
Coinbase Pro
Pros
More coins are available for trading
Simple & easy to understand the fee structure
Supports advanced features such as limit orders & advanced charting to aid bulk trading.
Cons
Difficult to understand for beginners, as the platform requires more research & learning.
Even with a flat fee structure, it might be more expensive than other platforms in the industry.
To put this straight! We can say that the Coinbase platform is more suitable for traders to start & learn about crypto trading. On the side, Coinbase Pro is for professional traders looking to stay up to date & make the most of trading!
Popular FAQs For Coinbase
Is there any hidden fee in Coinbase?
Coinbase Pro fees are quite transparent and have been mentioned above. However, Coinbase's fees vary with each transaction and at times can be a little cumbersome to understand.
What information is asked for user verification?
Coinbase requires you to provide your basic information. All you need to do is to create a user account on the Coinbase app/website. You must verify your email address, phone number.
We recommend that once you have registered then you should set up 2-factor authentication. Apart from this, you need to provide legal documents for identification. For example, if you are someone living in North America then you can provide your social security number for verification. In case you live in other countries, then you must provide an alternative form of identification. Once you verify(takes about 2-3 minutes, then you can add your credit card, debit card, or bank account details).
How much money do I need to start with an investment in Crypto using Coinbase?
Well, this entirely depends on your room for investment. You can start from as low as possible depending on what your pocket allows! You can buy fractions of big currencies. Also, you can buy altcoins on Coinbase.
Keep in mind that there is a trading fee . Once you begin with a transaction, then you will see your Coinbase fee, payment method, price & purchase amount on the screen. The platform is transparent, you should plan your investments with the fee involved in your budget.
Is Coinbase Wallet any good?
Coinbase has its digital wallet available for both android and iOS devices. However, the platform never tries to push you to opt for a Coinbase wallet. The keys are stored on your device, and it gives you absolute control over your crypto assets. It also allows you to keep all your digital tokens & assets such as NFTs in one place!
How safe is Coinbase Wallet?
The Coinbase wallet comes loaded with security features such as two-factor authentication. It features encryption with a private key, which is not provided in many third-party wallets. You can store all your digital investments in a single wallet at the same time.
Is Coinbase easy to use?
Both Coinbase & Coinbase Pro are easy to use and accessible via their official site and mobile application. The interface is just like a stock trading account with a broker. You can buy & sell crypto on the go!!
Which one should I choose, Coinbase or Coinbase Pro?
To put this straight, if you are an experienced crypto trader who needs advanced features. Also, if you trade in big volume, then you should opt for Coinbase Pro. If you are a beginner investor looking to start with crypto investing, then you should opt for the standard Coinbase platform as it is easier to understand.