Introduction
The cryptocurrency market is over time getting its due attention as a long-term investment opportunity. The presence of new and dependable players in the crypto space is making passage for this reality, prospects relying on primitive blockchain innovation come up with significant development drivers draw near an exciting end indeed!
The easiest way to buy cryptocurrency is through Cryptocurrency Exchanges. In the following section, we are going to discuss a reliable cryptocurrency platform CEX.io. In this CEX.io review, we will base our discussion on the following parameters:
Fees
Security
Trading options
User Friendliness
Number of listed cryptocurrencies
Support
Registration & Verification Process
What is CEX.IO?
As mentioned above, for trading in Cryptocurrency, various cryptocurrency exchange trading platforms are available. Out of the many, CEX.IO is also a top-rated Cryptocurrency exchange trading platform that is very popular among new and expert traders. CEX.IO is a Financial Conduct Authority (FCA) regulated company based in the United Kingdoms.
CEX.IO was the first platform to offer fiat-to-crypto transactions available to clients through Cards & Bank Transfers. It begin in 2013 and now has over 4 million users. Something noteworthy about this exchange is it has held its integrity. And not even one customer has lost a single penny while transacting on this exchange. We all know Centralized Cryptocurrency exchanges are vulnerable to cyber-attacks.
Further, the exchange boasts of supporting 99% of countries and 48 US States. This is a remarkable figure because most centralized exchanges are not even registered in the US yet. This exchange is registered in the United States of America, the United Kingdom, Canada and Gibraltar.
1. Fees
While trading in CryptoCurrency or, for that matter, any other financial instrument, you will know that the fees you have to pay are crucial. As it is, there is a considerable amount of volatility in crypto trading.
If you are to trade on an exchange platform, where you end up paying heavy fees. It will only eat into your profits. Thus, it is evident that you choose the ones with a low fee structure.
In terms of fees, you will be happy to know that the fee on CEX.IO is relatively low in respect to the other regulated exchange platforms. While trading on the platform, you are to pay a maker fee between 0.10 to 0.25 %. On the other hand, the taker transaction fee is between 0 to 0.16 %. You can refer to the below screenshot for the complete fee schedule which depends on your trading volume.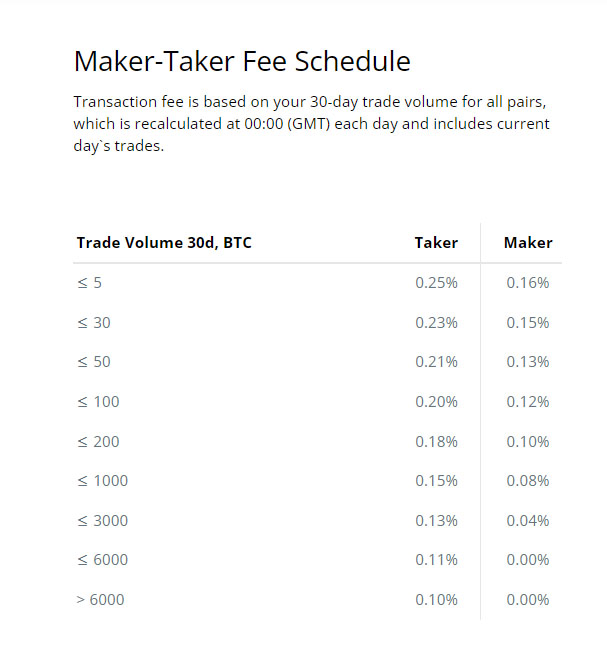 Besides, the trader is to maintain a 2.99 % deposit during trading. And this is where I have a little concern, most of the platforms do not charge any deposit fees. The schedule for Deposit & Withdrawal fees is: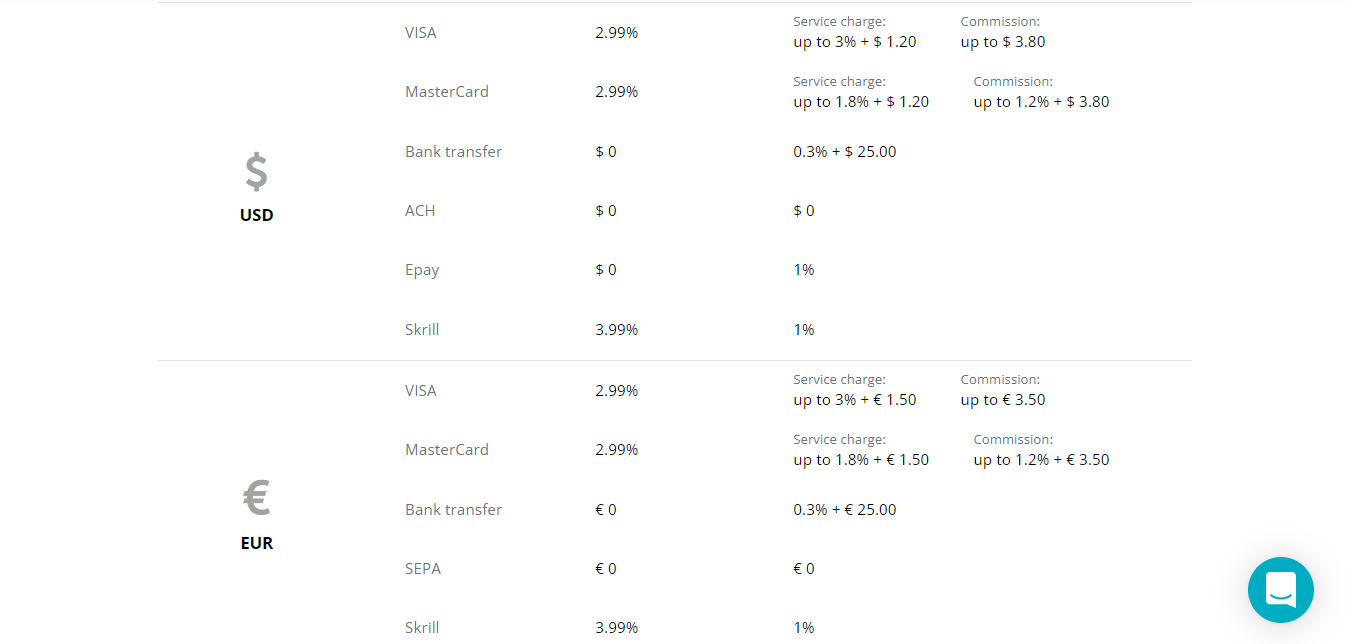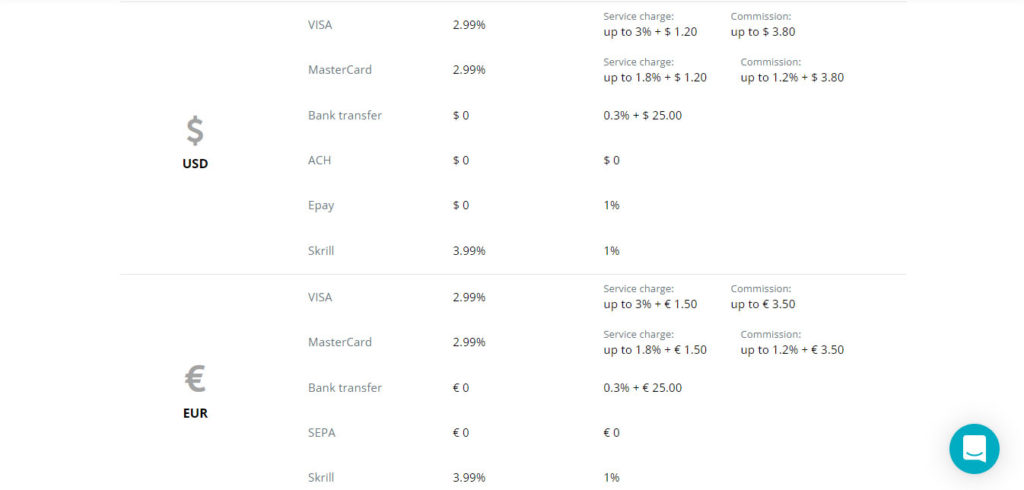 2. Security
No matter what financial instrument you are to trade in; security is critical. After all, you will be dealing with financial assets with high value. If you are thinking about whether CEX.IO is an entirely safe and secure trading exchange platform to utilize? The straightforward answer is yes.
Over the years that it has been in existence, which supposedly is a long time in crypto terms. It follows all the suggested security practices and it is very safe compared to other platforms as it is thoroughly regulated.
I made a mention of this earlier as well that no user has lost any funds with CEX.IO. This comes in as a surprise, where most of the other Centralized Cryptocurrency Exchanges have been hacked in the past. Don't get me wrong here, I am not hoping that it should be. I am just trying to infer that it has certainly done a lot to keep itself safe.
Before you start trading, you are needed to verify the security of your account. Though it may be time-consuming, it is worth investing the time. Your resources will probably be protected on the site, as there have never been any hacking episodes. Many steps have been undertaken to keep the platform entirely safe.
Pro Tip: Although CEX.io is a protected trade! It is constantly prescribed to move your crypto to a hardware wallet like Ledger or Trezor, assuming you anticipate holding it long haul, regardless of the trade you use. By transferring your holding of cryptocurrencies to a hardware wallet, you can be undoubtedly sure that they are entirely safe.
3. Trading Options & Products available
Trading Options
When you choose Trading Exchange options, the variety of trading available is another important criterion for your choice. CEX.IO offers two types of trading options to its users namely, Spot & Margin.
Most new users prefer using Spot trading because it is simple and does not require too much training. Also, the risk on your investment in the case of Spot trading is limited. At CEX.IO you can place both limit & market orders through its user-friendly interface.
Seasoned traders prefer using the Margin trading feature. You can easily leverage your trade by borrowing from CEX.IO and entering a transaction. You can 100x leverage your trade with CEX.IO
Products offered
Staking
Staking is a very rewarding product. Most long term investors hold their cryptocurrency assets in their wallets. Whether Hardware wallets or otherwise. Now imagine getting rewarded for holding your cryptocurrency! Isn't it a blessing? Well, here is staking for you, where you earn rewards while holding your crypto in your wallet. To know more about Staking and how you can earn rewards, please go through this article.
You can earn staking rewards with CEX.IO by holding (HODL) your cryptocurrency in the CEX.IO wallet. There are a decent number of stakable coins that CEX.IO has listed as below:
However, CEX.IO has a limit on the minimum quantity of each crypto that you should hold before you can earn staking rewards. Please go through the same before staking.
Loan
CEX.IO is quite innovative when it comes to introducing products in the market. Loan and Debit Card are two such products that I find really impressive. Just like in traditional banking, you take a loan from a bank by pledging an asset as a security. Likewise, in the case of CEX.IO, you take a loan, by pledging your cryptocurrency.
Basically, you do not sell your cryptocurrency but can still get money on which you can pay interest as in the case of a traditional bank.
The duration of the loan varies from 7 days to 1 year. However, I found that there are few cryptocurrencies that can be pledged. And these are Bitcoin, Ethereum, Litecoin, ChainLink & Stellar (XLM).
Debit Card
This product is still being developed and is open for early access to the United Kingdom users at the time of writing this article. CEX.IO card is a Visa Card and can be used wherever Visa card is accepted. It is similar to your normal Debit card where you pay by swiping your card and getting a cashback. In CEX.IO Debit Card you use your crypto assets to pay the amount and get cashback in cryptos. You can even withdraw cash for cryptocurrencies.
"Direct" payment from your website
Another product that is worth a mention is CEX.IOs payment gateway for cryptocurrency purchases. This product can help you sell cryptocurrency under your name. You do not have to apply for licenses or get into the legal hassles. Just use CEX.IO's direct payment gateway and you are sorted. To open an account, CEX.IO requires your basic information actually, your Know Your Customer(KYC) to create your account. And once done you can then sell cryptocurrencies on your website.
4. User-friendliness
Whether you are a beginner to Crypto Trading or a veteran, you will agree that the user-friendliness of the exchange platform is always vital in the success of a Cryptocurrency Exchange.
The most appealing thing about CEX.IO is its simplicity. Most of the interfaces of other platforms are stuffed with numbers with cumbersome texts littered everywhere. Contrastingly, CEX.IO gives complete details to its investors, thereby keeping the interface clean and easy to understand.
The user-friendliness offered by the platform makes it so popular, along with other benefits like a wide range of payment options and so on.
5. Number of Listed Cryptocurrencies & Fiat Support
The number of listed coins is an important feature of a good cryptocurrency exchange as it provides more options to its investors. Though CEX.IO has been in the industry since 2013, it hasn't listed as many cryptocurrencies as other recently listed exchanges have. Its listed cryptocurrency tally stands around 106 projects.
As per my understanding, CEX.IO is more active in launching innovative products instead of projects. This could be a possible reason, as I have noticed many other highly regulated exchanges launching loads of coins. So, regulations cannot be a reason for listing fewer projects.
CEX.IO has limited its support for Fiats as well. It offers support only for USD, EUR, GBP and RUB.
6. Customer Support
You will realize that crypto trading requires a high level of technical expertise. No matter how technically sound you may be, you will find that technical hiccups happen. In such instances, responsive customer support becomes critical for crypto trading.
After all, it is your money that is at stake. And delays may lead to financial losses. So, no matter which crypto trading platform you choose; you need to make sure that the same is responsive and has all your needs covered quickly without any delay.
CEX.IO is the most responsive Bitcoin exchange by far when it comes to customer support! Whether you need help verifying your account or want a quick answer for any of those questions – one thing's certain is that they are always there.
CEX.IO has an active Twitter account. Further, the knowledge bank is exhaustive and easy to glide. You may find your answer already listed therein before you even think of heading to the support.
7. Registration & Verification Process
The registration & verification process that they follow is a very comprehensive procedure. It ensures safety for its clients. If you take a closer look at the verification process of other exchange platforms, then it is one of the best in the industry by all standards. Let me guide you through the registration and verification process of this exchange in the following steps:
Registration Process
Step 1: Open your account with CEX.IO and click on the "Register" button on the top right corner as shown in the screenshot below.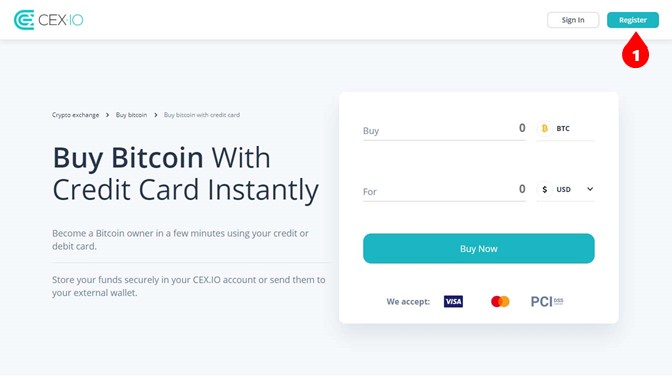 Step 2: The platform then asks you to select the type of account. You can either choose an individual account or a business account. We are using individual account here in the example.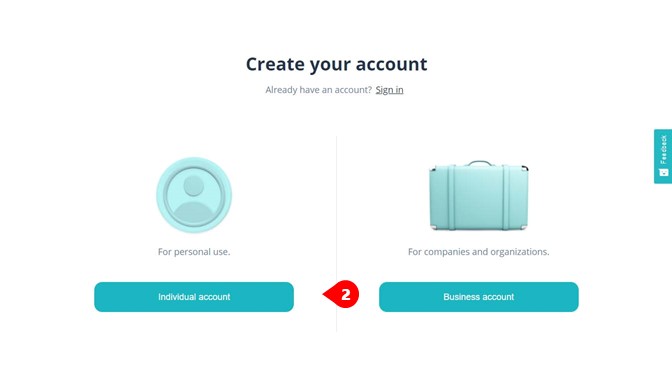 Step 3: Next, you have to put basic details like email address, name, country of residence etc. Please make sure you enter verifiable details in this form because the platform shows subsequent forms accordingly.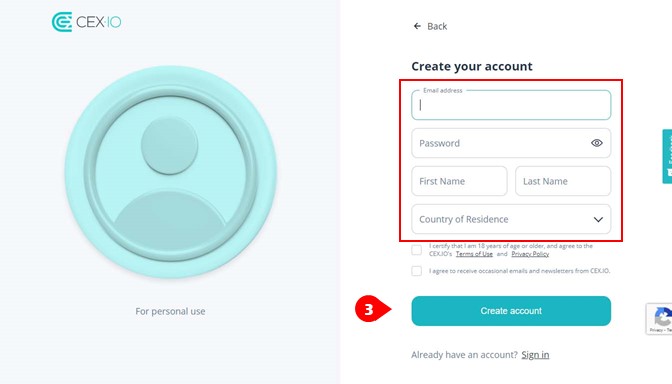 Step 4: You will receive a code on your email which you have to put on the next page.
The email looks something like this. You can either click the link or enter the code received in the mail.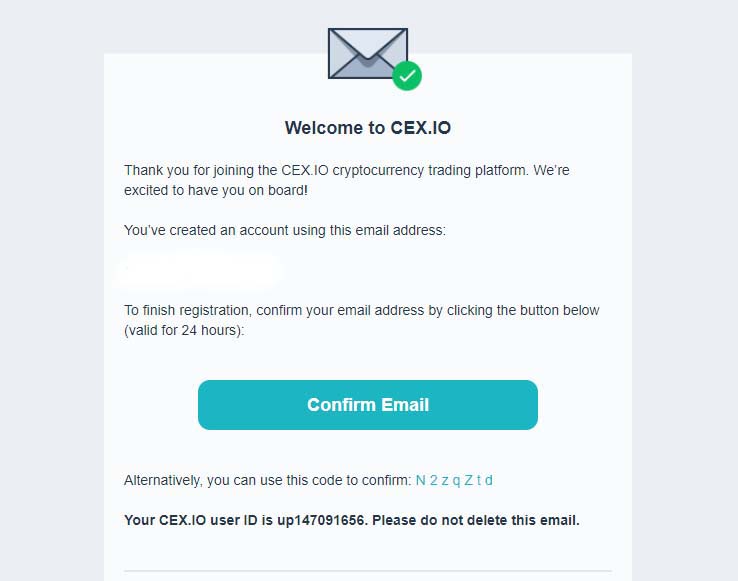 Click "Proceed" on the website once you have entered the Confirmation code in the box.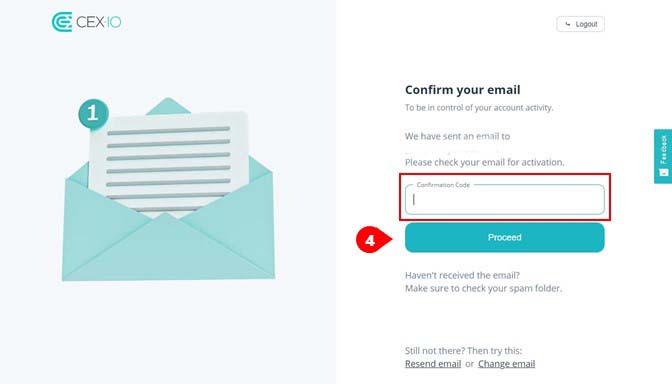 Step 5: If you can see this page below then you have successfully created your account. Great! Moving forward, in order to transact through this account, you have to verify your details by clicking on the "Increase Limit" button. At present, your limit is zero and you cannot transact.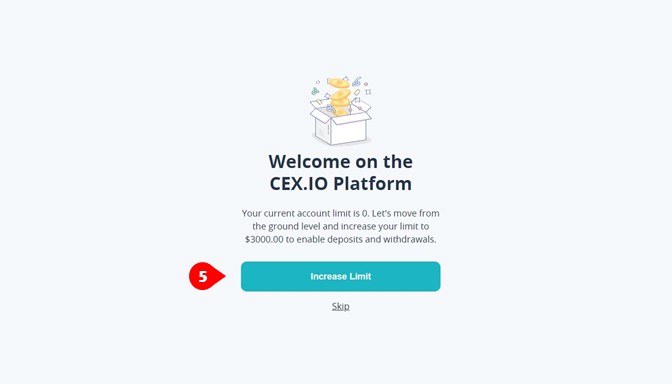 Verfication Process
Step 6: Once done, the platform will take you to the verification page. There are three stages of verification. Each of the stages increases your deposit & withdrawal limits. You can click on "Get info" at the top of each tab to see what all documents are required. So let's start with Stage One. Accordingly, Click "Start" as shown below.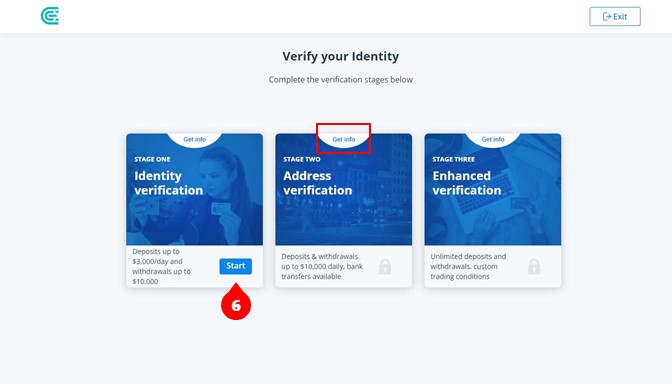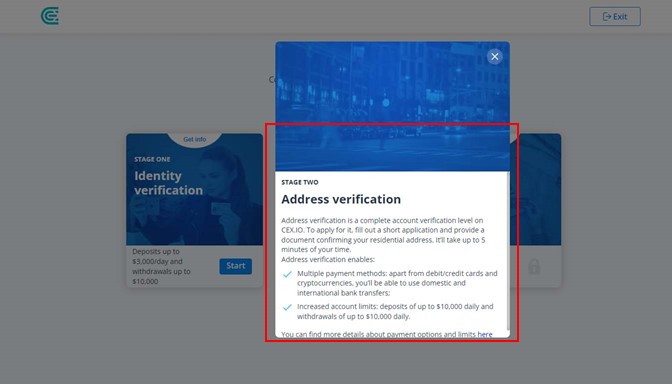 Step 7: Country Verification Page: You can put your address and SSN (in case of users from USA) and proceed by clicking "Next".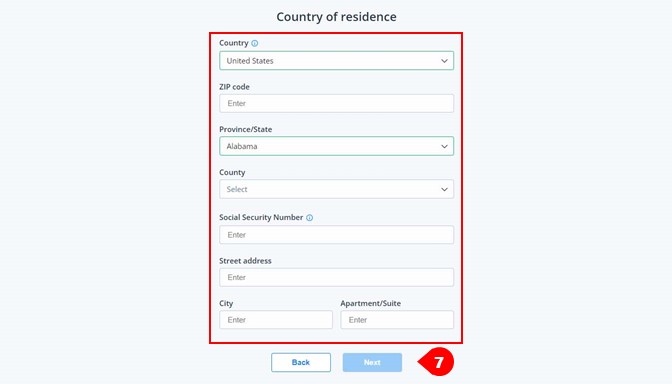 Step 8: Next, the platform asks for your Phone number where it can send you a verification code to verify your phone. Once done, click "Next".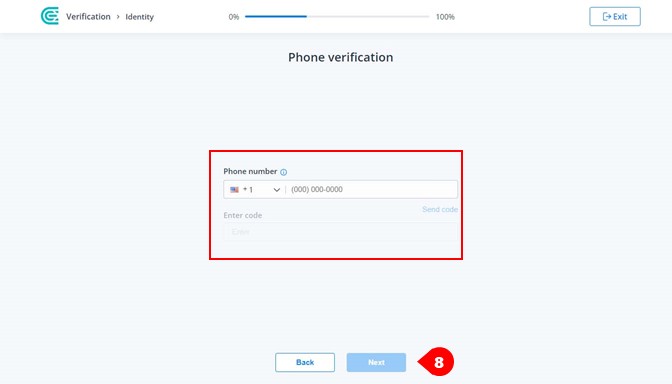 Step 9: Proof of Identity Documents: You have to select one of the documents from the dropdown list to verify your identity. I have selected "International Passport Option" in this walkthrough. You can select as per your convenience and click "Next".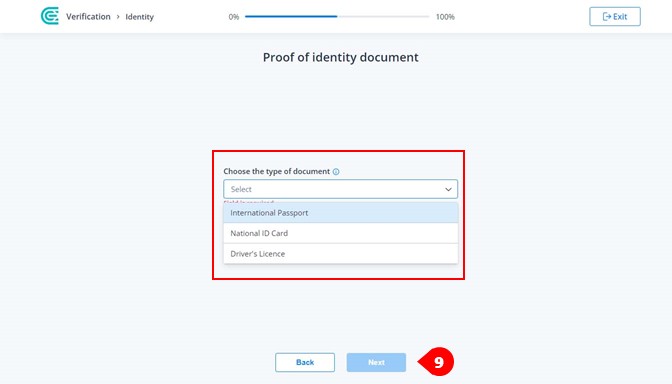 Step 10: The platform will now ask you to upload a softcopy of the document you selected in Step 9 above. Upload the file and Click "Next".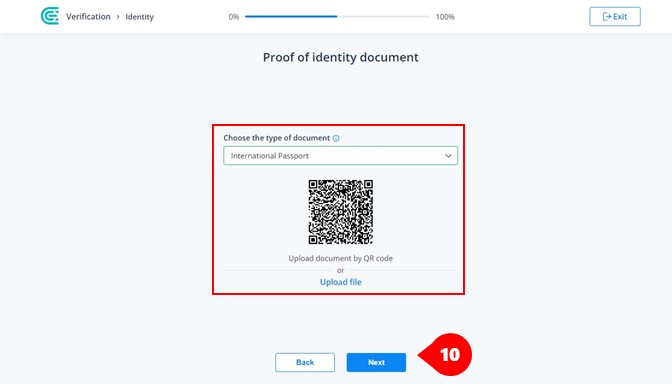 Step 11: The platform now gives you options to add the front side of your passport and a selfie with a note containing the message "I'm a CEX.IO customer, mm/dd/yy". After uploading it, click "Next".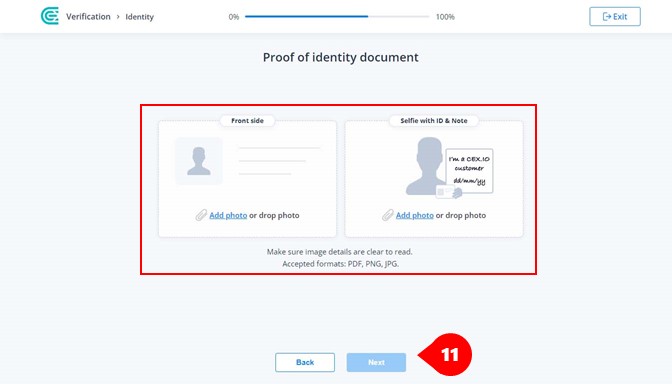 Step 12: Next, you have to put your personal details once again for verification including your Date of Birth.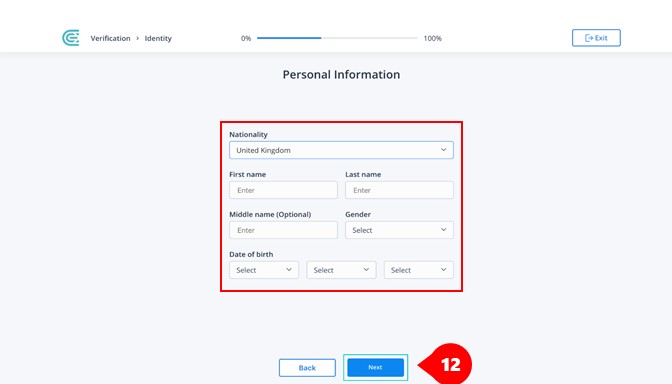 Step 13: Following the above, you have to enter your Identification document's number and click "Next".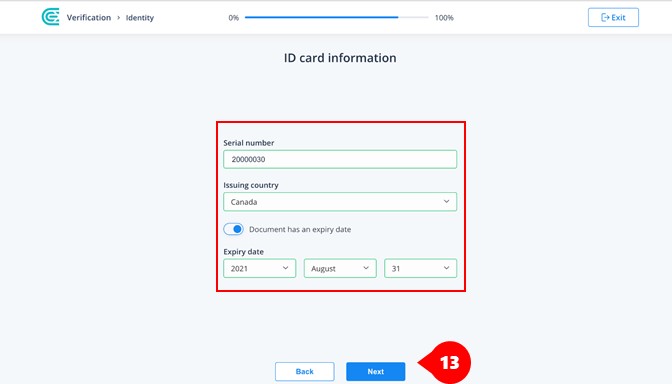 You can then submit your application for registration with CEX.IO in the next step. CEX.IO normally takes 2 hours-3 days to complete the verification process. If you want to increase your deposit & withdrawal limits further, you can complete Stage 2 and Stage 3 verification as per your need.
Final Thought
From our review of CEX.IO there are certain interesting takeaways. Firstly, the exchange is quite an innovative exchange. The products that it has showcased in the past and those in the pipeline are worth investing in. Secondly, it is quite a secured exchange which is historically proven. And thirdly, its fees are comparable to other regulated centralized cryptocurrency exchanges in the industry.
There are certain drawbacks though like a low number of listed cryptocurrencies. Which is an important factor while choosing your exchange. Also if you compare the Fees with unregulated Centralized Cryptocurrency Exchanges, it is on the higher side.
In a nutshell, it will completely depend upon your inclination in dealing with a regulated exchange vis-a-vis the fees charged by the exchange. If higher fees are a concern then there are loads of other options and if they are not then CEX.IO is perfect for you whether you are a new or an advanced investor.