Introduction
Bitflyer's exchange platform is a great place to start for buying your first bitcoin and other crypto assets. Bitflyer is a Japanese exchange with the market's most significant bitcoin trading volume.
The app is popular among traders primarily because of its security, reliability, and multiple language support. This Bitflyer review is meant to show you the ins and outs of exchange. So you can make an informed decision when dealing with this platform. 
1. Bitflyer review: What is Bitflyer?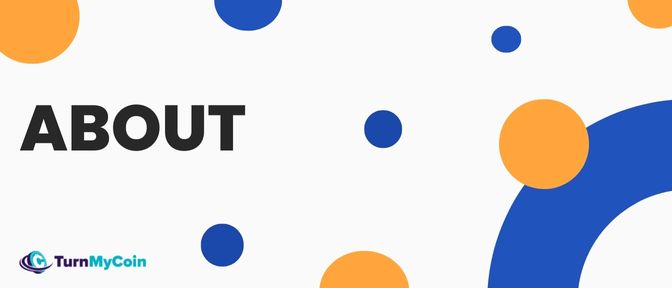 Bitflyer is a Japanese cryptocurrency exchange. It was one of the first bitcoin exchanges to be licensed by the Japanese Financial Services Agency (FSA). It started operating in 2014, and it has since expanded its services.
BitFlyer was established in 2014 by former Goldman Sachs trader Yuzo Kano; the company is now one of the largest Bitcoin and blockchain firms in Japan.
Having established its position in the Japanese market, it's starting to expand into the European and U.S. crypto markets. Yuzo wanted to make Bitcoin trading accessible to everyone.
The company started by offering its services only to Japanese residents but eventually started offering international customers access to its services.
2. Bitflyer Review: How Does It Work?
In this part of our Bitflyer review, we'll take a look at its functionality. The Japan-based cryptocurrency exchange Bitflyer offers Spot and F.X. futures trading using the Lightning Exchange and crypto derivatives, margin trading, and quick transaction execution for experienced traders.
The Lightning Exchange is a new feature that allows you to buy or sell bitcoin with another user quickly and easily without waiting for blockchain confirmation. The Lightning Network uses payment channels to enable users to make transactions without waiting for a blockchain confirmation.
It means that you can make many small transactions with only one confirmation before waiting for another. This makes it easier for people who want to trade small amounts of bitcoin or other cryptocurrencies quickly and easily without waiting for confirmations from miners before sending out their next order.
It also allows them to make large trades without having their orders rejected because they need more liquidity in their account at any given time. BitFlyer Lightning, which offers both the trading of Bitcoin and futures exchange, was responsible for more than 1.5 billion USD in average daily trading volume in 2018.
BitFlyer Lightning's futures exchange allows users to trade contracts for difference (CFDs) on Bitcoin. CFDs are agreements between two parties that enable trading without owning or having possession of an asset. The trader can buy or sell a purchase based on its worth at a given time.
3. What features does Bitflyer offer?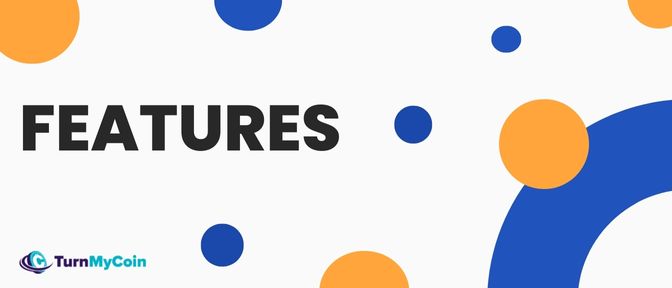 Let's take a look at the features of Bitflyer in this Bitflyer review. The company has several features that stand out among other exchanges.
3.1. Security and Compliance
These are some of the most important things to watch out for when choosing an exchange to buy cryptocurrencies. At bitFlyer, they work hard to ensure that their customers are safe and secure while trading on their platform.
The company has a strict policy when it comes to security, which includes verifying the KYC information of its clients before accepting them onto the platform. They were also the first exchanges in Japan, the U.S., and E.U. to receive approval from regulators.
3.2. Platform Security
Bitflyer is one of the most security-conscious enterprises in the industry. It has a 7-year history without hacking incidents and stores all crypto in cold storage.
Bitflyer uses two-factor authentication (2FA) when logging into the system, and all employees are required to use 2FA to access any systems that have access to customer information or funds.
It means that even if an employee's account is compromised, they still cannot access anything that would compromise customer security.
3.3. Chain Flyer
BitFlyer offers a blockchain explorer service called ChainFlyer that lets you explore the structure of Bitcoin. With the help of a chain flyer, you can see the entire history of bitcoin transactions, including all addresses and balances.
You can also see a list of blocks that have been found by miners so far and how many bitcoins have been mined in each block.
3.4. API Service
BitFlyer API Playground is a tool for programmers to carry out tasks like trading using the software automatically. It's the fastest way to build an application for auto trading, with an easy-to-use interface that provides a simple way to create and test your program.
The programmers can link their applications directly to BitFlyer using API. This service is most commonly used by Trading Bots like Cryptohopper, Cryptohero, etc.
4. Customer support
Customer support is another area bitFlyer excels in. The company has a well-designed and easy-to-navigate website, which makes it easy for customers to find what they need and get in touch with the exchange if they have any questions or concerns.
If you have questions about the exchange or your account, you can contact the team 24/7 via email, phone call, or live chat. The team is very responsive and helpful, which we appreciate regarding this service.
They have active on Social Media as well like:
5. What are Bitflyer Fees?
BitFlyer Trading fees are flat, so you won't have to worry about maker and taker fees when trading. They have a fee of 0.2% per trade, which is pretty good compared to other exchanges.
BitFlyer has a flat fee structure, which means the same fee is charged regardless of whether you are buying or selling any crypto. This makes it easy to calculate your total cost of trading and compare it to other exchanges.
However, if your transactions increase they do offer rebates. Here is a snapshot of the fees that Bitflyer charges for BTC/EUR & BTC/JPY. Trading Fees for ETH/EUR & ETH/JPY is zero.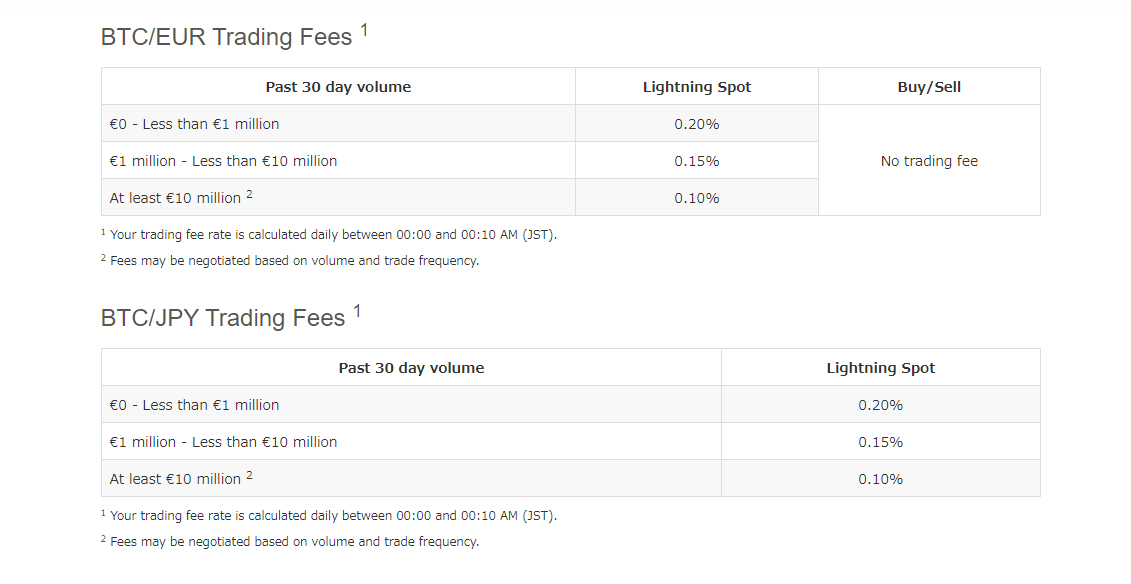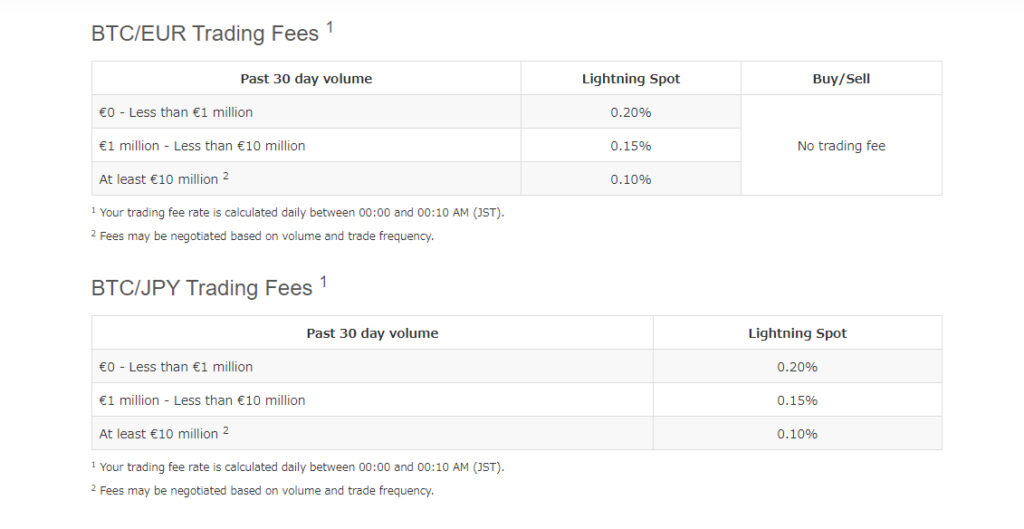 When withdrawing funds, the platform charges a withdrawal fee of 0.0004 BTC. This helps cover the transaction's cost and allows BitFlyer to continue providing users with excellent service.
6. Is Bitflyer Safe?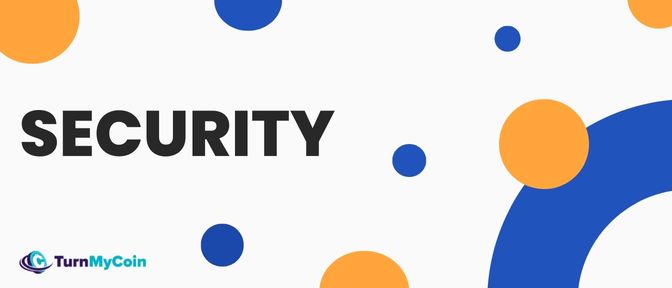 Let's take a look at the security measures Bitflyer has in place to help you decide if this exchange is right for you. Bitflyer is safe, but it's not without its risks.
The company has been around since 2014 and has a good track record for protecting user data and complying with all applicable laws. However, like any exchange, there are some issues you should be aware of before using the service.
Forbes Magazine has listed them as one of the most trusted cryptocurrency exchanges. And their customer support team is known for being responsive and helpful. First and foremost: Bitflyer is a Japan-based company. This means that some specific laws and regulations apply to them that don't necessarily apply to other exchanges.
If you live outside the United States or the European Union, you can also use Bitflyer. But do keep in mind that some other factors could affect your ability to use the platform (such as whether or not your bank allows cryptocurrency trading). BitFlyer is also fully compliant with Japan's Financial Services Agency (FSA) regulations.
6.1 User's Security at Bitflyer
In our bitflyer review, we found that users can be assured that their funds are safe when using BitFlyer's services. You can rest easy knowing that your money is safe when it's not used for trading purposes.
BitFlyer keeps user funds secure in cold storage, so you cannot access them without permission. (meaning hackers cannot access them).
This ensures that users can rest easy knowing that their money is safe. When it's not being used for trading purposes—and it's also one less thing for you to worry about.
The exchange utilizes the latest security technologies, including multi-signature Bitcoin security, SSL communication, SHA-256 technology, Google two-factor authentication, and Anti Money Laundering (AML) policies.
These features protect users from fraud or hacks while using their accounts or even when they're not logged into their accounts.
BitFlyer also offers an internal audit function that allows users to monitor the activity of other users on the platform. So if someone suspicious is trying to get into your account or move around funds without permission (or if there's a glitch in the system), you'll know immediately what's going on so you can report it immediately before anything happens.
Though the Security at Bitflyer is exceptionally good, it is a centralized exchange. I normally suggest that you should not keep a huge amount of crypto assets on centralized exchanges. You should keep only those assets that you want to trade. The remaining can be stored either on hardware wallets like
7. Registration Process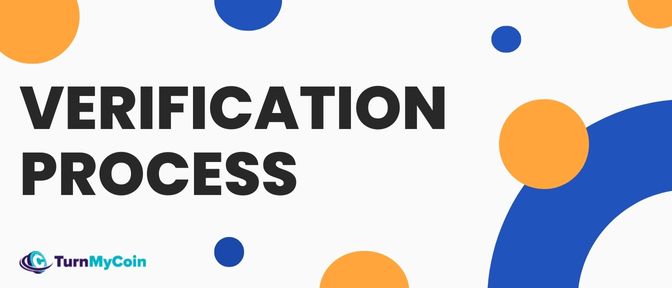 Let's take a look at Bitflyer review of the registration process. To sign up for an account on Bitflyer, visit their website and click the "Sign Up" button at the top of the page.
Enter your name, email address, and password to create a new account.
After this step, you will be asked to verify your email address by clicking on a link sent to your inbox once you have confirmed your email address.
You will be asked to enter personal information, such as your country of residence, date of birth, gender, phone number, occupation, and KYC process. After entering this information into their system, you can create an account with Bitflyer.
8. Bitflyer's Pros and Cons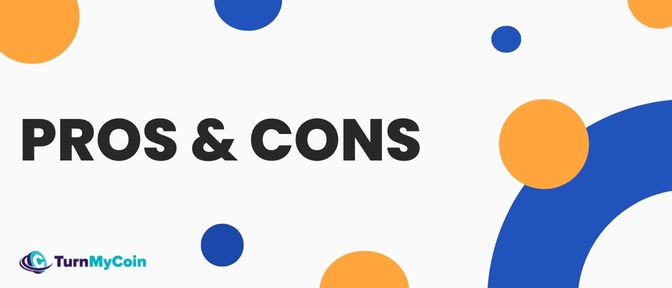 The BitFlyer review is incomplete without a discussion of the platform's pros and cons. Let's take a look at what makes this exchange stand out from the crowd.
8.1. Pros
Bitflyer is a simple and easy-to-use platform that allows you to easily navigate the platform, place trades, and monitor your cryptocurrency portfolio. It is also one of the few regulated cryptocurrency exchanges in the world.
Bitflyer has extremely high liquidity, which means that there are always enough buy and sell orders to meet market demands. Additionally, Bitflyer is one of the few exchanges that offers two trading platforms: one for individuals and one for institutional investors.
8.2. Cons
Limited cryptocurrency support outside of Japan.
Credit card transactions are not supported outside Japan.
Final Thought
While Bitflyer does not offer an index option for its users, the bitcoin exchange is an excellent choice for those interested in buying and selling large amounts of bitcoins. In our Bitflyer review, we found, Bitflyer has fantastic features that make it easy to use, secure, up-to-date trading technology, trustworthy and specifically suits new investors.

Bitflyer has made a name for itself by providing an outstanding customer service experience. They are consistently highly rated in reviews and customer feedback. It will continue to advance, making it more and more likely that customers will avoid using other exchanges for their transactions.

The platform also offers advanced features such as margin trading, bitFlyer wallet, financial services, and trade history. All these features make bitFlyer a trusted exchange for beginners and advanced traders.

With low fees, plenty of support, and robust security measures. Bitflyer truly is one of the best exchanges for even inexperienced traders.
Frequently Asked Questions
Is Bitflyer regulated?
Yes, Bitflyer is regulated. Bitflyer is a cryptocurrency exchange that was founded in 2014 and based in Tokyo, Japan. The company is licensed by Japan's Financial Services Agency (FSA), one of the most stringent regulatory bodies in the world.
When it comes to cryptocurrency exchanges. In fact, they are one of only 16 companies that have been granted official licenses from the FSA to operate as a cryptocurrency exchange.
Can Us investor Trade with Bitflyer?
US investors have been able to trade on Bitflyer since 2018. When the company received full approval from the US Securities and Exchange Commission (SEC). This means that you can use your USD to purchase Bitcoin or other cryptocurrencies at Bitflyer.
What Countries Does Bitflyer Support?
Bitflyer is a cryptocurrency exchange that allows you to trade Bitcoin and Ethereum. It's available in Japan, the United States, and Europe.
What Can You Trade On Bitflyer?
Bitflyer is a cryptocurrency exchange that has been around since 2014. It's headquartered in Tokyo, Japan, and it has offices in San Francisco, California, and Luxembourg. The exchange is available in Japan, the United States, and Europe.