Introduction
Let us introduce you to the two most incredible cryptocurrency trading and investment portals, which also happen to be the biggest cryptocurrency exchanges on the planet.
In general, Huobi is a Seychelles-based cryptocurrency exchange. Online cryptocurrency exchanges like Bitcoin are offered by Binance, another well-known platform for trading cryptocurrencies.
In this article, we will dive deep and aim to find out which one is better: Huobi or Binance. We would dissect the two based on the features, fees, security, user friendly, verification process, etc.
Binance Vs Huobi : Introduction
In 2017 a man named Changpeng Zhao established a centralized cryptocurrency exchange. In just 5 years, Binance has reached great heights of success, becoming one of the world's leading cryptocurrency exchanges.
Although during the establishment period, Binance went through a lot of hurdles like the US laws but came out with a solution to deal with it by building a separate firm named "Binance US". Hence Binance is the controller, decision maker, and operator of the exchange which works on a centralized framework.
It is another popular cryptocurrency exchange that started in the year 2013. Huobi Global leads in the list of top 10 Cryptocurrency exchanges. It is better known to be a Crypto platform for the Chinese but it is expanded globally having a well-settled foot in places like Hong Kong, Korea, and Japan having 3 different iterations namely Huobi Global, Huobi Korea, Huobi Japan.
Huobi And Binance Comparison
Let's begin by comparing the two leading cryptocurrency exchanges in the world. Additionally, let's find out which is better in what terms. Also, let us explore what made them stand out and how the two can help you in your crypto trading and investing.
Fee structure: Huobi vs Binance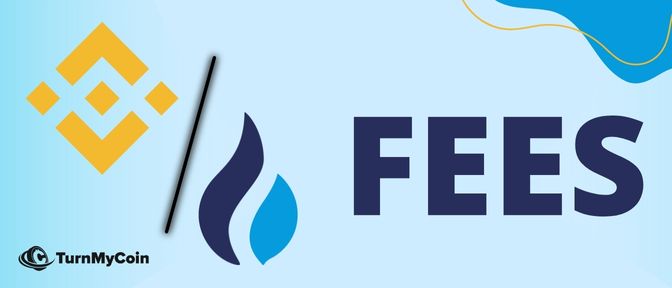 The trading of the cryptocurrency is not free of cost but it charges a fee when you buy, sell or exchange the crypto. This set fee allows such exchange platforms to carry on their innovation, modification, and maintenance. Although the fee charged is nominal, it increases when the quantum of exchanges increases.
In the case of Binance, its charges range from 0.1% to 0.02% as a spot trades fee. Moreover, it has different value ranges for the different types of trades like margin, future, etc.( although no charges for P2P trading).
Similarly for Huobi, it has a tiered structure for charging fees called Huobi Token which goes for crypto and margin trading. Talking about the tier structure has two types: the Normal Users and the professional Traders. For normal users, the fee is around 0.20% and the level is from 1 to 6. While for the experienced tier the level goes from 1 to 9 where the maker and taker fee is also charged.
The fee charged varies according to the user's level and rate. A withdrawal fee is also charged, varying from $0-$20.
If you look for discounts, Huobi Offers discounts to users who hold HT. In contrast, Binance offers a 25% fee discount when the user transacts through the native currency Binance Coin.
Security: Huobi Vs Binance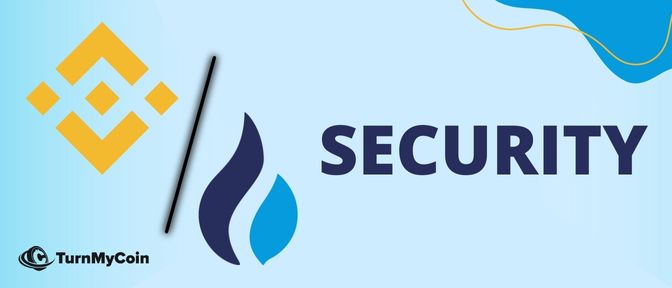 The important factor in crypto trading is security. We rarely see incidents of hacking in crypto so this becomes an important factor.
For Binance, although it also does not give 100 % surety of the security, if we look at the past experiences of hacking in Binance exchange, it had successfully bailed out the loss of the investor.
Binance is a Cryptocurrency Exchange where whenever you make a transaction the CEX is the owner of your crypto, and it showcases you as the owner just for the sake of records.
Well, this is the case with almost every Exchange but yes, Binance opts to keep your crypto in the cold wallets for security reasons as they are much safer rather than online hot wallets. Further to make exchanges more secure, it offers 2-Factor authentication to add on an additional layer along with Yubikey.
Huobi
On the other hand, Huobi also prefers Cold wallets. As they are not connected to the internet hence they are much safer from hackers. But Huobi opts for multi-signature cold wallets. To provide more security assurance, they have kept 20000 BTC as the security reserve fund in case of accidents.
But as Binance, Huobi is not licensed and therefore faces a lot of issues. Taking one of the incidents, Huobi was forced to shut all investors' accounts in Singapore due to clashes with the laws which restricted the investors. However, it has gained Crypto trading business approval in Gibraltar and has acquired a DLT license. This might help Huobi gain the trust of investors for now.
Moreover, there are some additional features offered by Huobi for security reasons. This includes Address Whitelisting which ensures transactions are made to the whitelisted wallets only.
Additionally, for client-end security, it offers 2-factor authentication, email, and phone number verification, pattern password as well as fingerprint Unlock. Therefore, Huobi seems to be the perfect and secure platform for beginners as well as advanced investors.
Trading Options: Huobi Vs Binance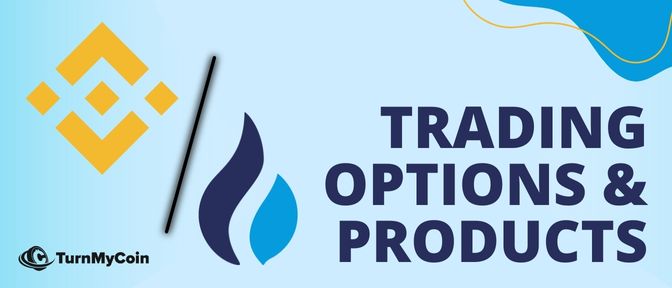 Binance provides users with various types of trading like Binance Spot Trading, Binance Margin Trading, Binance Options Trading, and Binance Future Trading. The types of trading have different features like
For Huobi, there are many trading options like Spot Trading, Margin Trading, Derivatives and even the P2P feature is also available.
In the case of Spot Trading, it includes Limit Orders, Market Orders, Stops Limit Orders, and Trigger Orders. While margin Trading consists of Limit Orders, Market Orders, and p Limit Orders. Lastly, the Derivatives comprise Limit & Trigger orders for coin margined coin-margined futures, coin-margined swaps, USD and Margined Contracts.
Products Offered: Huobi Vs Binance
Binance
Why is Binance one of the leading Exchanges? The simple answer to this is – Innovation and a wide range of Products.
From products like Staking, and Mining Pool to Launchpad and NFT Marketplace there is a lot for the users to earn more profits. Let's discuss them in detail.
NFT Marketplace: Today NFTs hold very high value and Binance offers a successful marketplace for NFTs. this marketplace is a hub for the gaming NFTs as well, along with those hot selling NFTs/
Platforms like Launchpads: Binance also offers guidance and assistance to the new projects through its launchpad and launch pool. It takes on the responsibility to organise the pre-launch, listing, and promotion-related responsibilities. This allows the teams to look only for the plans to develop and flourish.
Earn with Auto Invest: Binance also offers a product that is auto-invest. This allows the user to earn passive income. The only thing the user needs to perform is to choose a cryptocurrency and plan its schedule further. Henceforth, it's your own choice to redeem whenever you wish to.
Dual Investment Plan: Dual Investment Plan as the name suggests, is meant for two currencies. The user needs to deposit the currency and expect the returns in the currency you have subscribed for.
Mining Pool: Another product is mining pool. It aims to give users opportunities to lend their hash rates.
Staking: Binance Staking Pool is one of the best products which Binance offers. It assures returns at a better profit than owning solo stakes as a high amount of crypto is invested. Binance has an overall system for Stake mining with 80 products for locked staking, 11 for DEFI staking.
Liquidity Mining: Liquidity plays a vital role in trading. Hence Binance offers investors a way to earn interest and rewards just by adding the liquidity to its liquidity pools. It has quite an expanded Liquidity Pool.
BNB Vault: It is another good product which Binance offers. It is basically a yield aggregator that allows investors to invest in launchpools defi staking to earn rewards.
Huobi
Talking about Huobi, it has some features or say products which truly make it stand unique, especially its trading bot. Let's have a look at those products one by one:
Huobi Trading Bot: This grid trading bot allows the users to buy at low and sell those at higher prices avoiding the human errors.
Staking: Huobi is a crypto exchange offering a striking mechanism with 15% rewards to holders. But this option is only allowable to users holding the following crypto currencies:
Casper, Zilliqa, Aelf, Terra, Persistence, Solana, Casper.
Prime Pools: Another product from Huobi is its Huobi Prime Pools. You get the chance to get the airdrops just by locking the assets you possess which proved helpful in case you want to hold those crypto for a longer run. One can earn upto 400% of the offer for the airdrop. The following currencies can be locked for the free airdrops:
BTC- bitcoin
HT- Huobi Tokens
TALK-Talken
COTI
ETH- Ethereum
DFA define
Crypto loans: Huobi is a good option in case the user wants to borrow funds. This can be done if the user pledges their cryptocurrencies as a collateral. For the borrowing purpose, if the user hold the following cryptocurrency then only they are eligible to borrow funds:
DOGE- Dogecoin
BTC- Bitcoin
HUSD
ETH- ethereum
HT- huobi Token
LT- Litecoin
HPT- Huobi Pool Token
EOS
XRP
DOT- polkadot
LINK- Chainlink
FIL- filecoin
BTH- Bitcoin Hot
OTC trading and Lending services: OTC stands for Over- The- Counter. It is provided by the Habit Limited Company offering two services which are Over Counter Trading and Lending Services. Each offers a blocking feature that does not affect high worth individuals and liquidity. Whereas the Lending service serves to provide services for institutions & high net worth people when they require the USDT in return for pledging their cryptocurrencies.
User friendliness : Huobi Vs Binance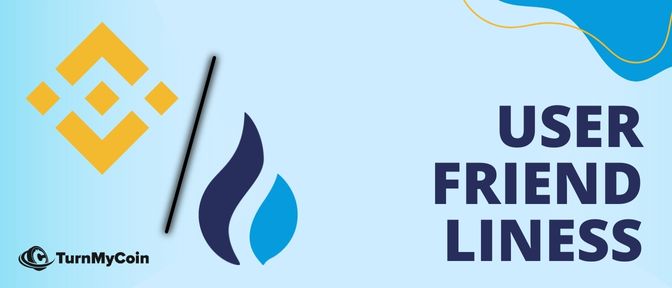 Any service provider needs to make sure that the services they provide are easy to use and easy to understand for the user. In the case of Huobi, it successfully presents services that are easy and simple in an interface for advanced as well as new beginners.
One can call the Exchange a user-centric platform where it tries to provide every detail to the user in one place like cryptocurrencies, how to invest, the guides to use, trade, sell or buy, and even the latest articles related to investing in cryptocurrency are published for the users to learn everything about the trading and make most of it.
The best thing is that Huobi is available on both mobile phones and Pc and it focuses on the needs of both advanced investors and new beginners.
On the other hand, Binance also provides a user-friendly platform, with seamless designs of the web and app. It has worked additionally for both tiers of users and made different versions for the advanced investors and new users. For advanced investors, it bears the name 'Pro Version'. And the one meant for the new beginners gets the name ' Lite Version.
Talking about the two versions, the lite version is all set to offer users the feature to buy and sell crypto assets at the least possible procedure. This is so simple that people with 0 experience in investing can only understand this at first glance. Once you get the understanding then proceed to the pro level where you will get to explore more. But here's the thing if you don't feel comfortable using the pro version; you can easily toss back to the lite version without much effort.
The number of cryptocurrencies and fiats: Huobi Vs Binance
Huobi comprises 609 cryptocurrencies, among which popular ones are as follows:
Bitcoin (BTC)
Dogecoin (DOGE)
Ethereum (ETH)
Litecoin (LTC)
Monero (XMR)
Huobi Token (HT)
Huobi USD (HUSD)
Tether (USDT)
Tron (TRX)
Uniswap (UNI)
Zcash (ZEC)
Moreover, Huobi Global supports a lot of fiats, 50 to be precise.
The Binance exchange platform is famous for the various innovations and modifications it keeps on introducing. Therefore in terms of the number of cryptocurrencies, one can not have a fixed number of cryptos as it keeps on introducing new cryptocurrencies now and then.
The innovation to make new projects, and the innovation to make new listings is something that makes the Binance Exchange platform one of the leading crypto exchanges in the world.
Talking about the Fiats, Binance has around 46 fiats currencies and more than 383 coins that it supports. Although in this case, Binance is way behind other Exchanges as they possess high numbers of cryptocurrencies supported by them.
But the fact that Binance assures its users that they can buy the cryptocurrencies using the native or say flat currencies is what makes its user base way more than the other Exchanges which have more numbers of currencies to support than Binance.
Support: Huobi Vs Binance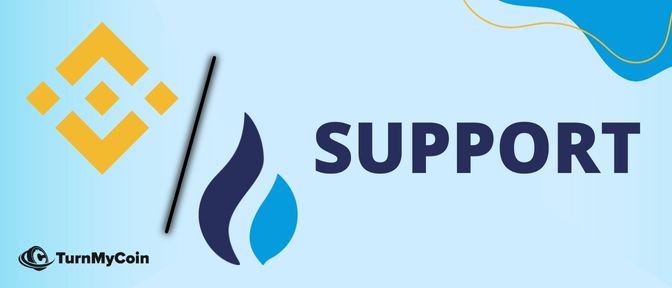 Every web application or any service that exists in the world, needs to have strong support and a customer care system. This is what allows the users to feel related and connected to the service, so let's find out what kind of support system is offered by the two leading crypto exchanges of the world.
Binance
It offers a live chat option for its users, which is quite simplified and easy to understand. The knowledge base provided is also almost user-friendly and attractive but the case with Binance is that the support system is something they need to work on.
The popular exchange platform somewhere lacks the resolution. It is not as per the expectations from a Numero Uno Exchange. the support system is not so active as the queries go unnoticed for many days and no replies are observed from the support teams for a long time as per the experiences of the users.
But yes, the support system of Binance is not limited to its web and app but it is observed that the Binance team is quite active on Twitter and the Binance Academy is another thing established by Binance to help its users. The Twitter team of Binance keeps on providing insightful news and stuff for its users from time to time.
On the other hand, Huobi's support system is known as one of the most dedicated support systems for its users. One can say that Huobi understands the value of its customers and never fails to help the users on time. They know the fact very well that investment in cryptocurrencies is sort of decentralized and hence the support system needs to be strong for the betterment of the users.
The system of the queries is such that first, you tend to find the question in the prefilled list, if the queries do not exist there then the user can question in the chatbot guides to find the answer whereas another option is to use the Query button and hence ask the question, to which the Huobi team will revert in the least possible time.
Pros & Cons: Huobi Vs Binance
Pros of Huobi
Huobi is extremely well in liquidity. The huobi global offers high liquidity for the exchange for the popular cryptocurrencies like bitcoin , ethereum etc.
Huobi exchange very prominently offers a wide range of cryptocurrencies for the users to invest in that too with least hassle.
It is slowly and slowly opting and settling in countries following the rules and regulations established there and is trying its best to set its foot in each and every country and expand.
Cons of Huobi
Although Huobi has the best to offer, there are some cons too, like its history of being inflated in trading volumes.
Secondly,the regulatory regulations. The fact that it is not licensed is another cons of the Huobi Exchange platform.
Pros of Binance
The Binance exchange platform is low non instant. Also it allows instant buying fees.
The binance platform offers a wide range of coin selection or we can say that it allows the users a long list of cryptocurrencies they wish to invest in as per their wish.
The platform not only allows the buying, selling and exchanging of the cryptocurrency but also it offers a wide range of innovative products for the users to earn more profit through various ways.
Cons of Binance
Binance has more than enough features to offer to target both the new as well as advanced investors but there also exists some negative of the platforms like-
It is not made available for the users in the US as there are some conflicts due to the rules and regulations.
Secondly, the platform experiences hiccups in the process of verifying the accounts.
The Binance exchange platform also fails to provide the non-transparency in the corporate structure.
Binance V Huobi – Summarized Comparison Table
| | | |
| --- | --- | --- |
| | Binance | Huobi |
| Fee Structure | Charges range from 0.1% to 0.02% as spot trades fee | The fee is around 0.20%(for normal users) |
| Discounts | 25% fee discount when the user transacts through the native currency Binance Coin. | Offers a discount to HT holders only |
| Security | Stores crypto in cold walletsOffers 2-Factor authentication to add on an additional layer along with Yubikey | Stores crypto in multi-signature cold wallets.Offers features like: Address Whitelisting 2-factor authenticationEmail, phone number verificationPattern password, as well as fingerprint, unlock |
| Trading Options | Binance Spot Trading Binance Margin TradingBinance Options TradingBinance Future Trading | Spot TradingMarginTrading |
| Product Offered | Staking,Mining Pool, Launchpad,NFT Marketplace | Huobi Trading BotStakingPrime Pools |
| Number Of CryptoCurrency Supported | 46 fiats currencies more than 400 coins that it supports | 412 cryptocurrencies |
Conclusion
So investors, here we come to the end of this article, we covered a lot many aspects of the two leading exchange platforms comparing each and every feature it offers to their users.
On one hand where Binance can be regarded as loaded with features and has targeting content designed for each category, be it beginners or be it advanced, investors. The platform satisfies the requirements; hence, the cons and negatives can be neglected as the features dominate them.
It is just a matter of fact that if the user takes precautions from own their side then this platform is best suited for the trading, investing, buying, selling, and exchanging of cryptocurrency.
While on the other hand, Huobi is really meant for the advanced investors giving impressive features along with new products, a wide range of cryptocurrencies, fiat choices and various options to trade.
It even caters to the high institutions with high net worth and the individuals who are really pro players in the investing sectors and who wish to enter this block trades.
Despite the dark past Huobi has in terms of rules and regulations, Binance somewhere dominates it. But yes, one could not ignore the efforts Huobi is making to follow the rules and regulations and trying each and every term to improve itself.
Therefore, investors choose the best and make sure to choose wisely, this is all about the article and at last we leave it to you to and on your requirements and prefer the best.