Introduction
Crypto has become one of the most popular investment options with time. High returns in a short period of time have been one of the major reasons for it. Due to this, people have become a lot more inclined to invest in crypto rather than other types of investment options.
Bitcoin reached the $60,000+ mark last year and many other cryptos like these were one of the major contributing factors. However, investing in crypto needs experience and patience. Research and understanding market trends lead to a profitable investment.
If you are new to the world of crypto investment, then it proves a bit difficult for you, unless you have had enough experience. For someone, who wants to start investing in crypto on a positive note, we have crypto bots. We have a list of the best crypto trading bots that can make crypto trading easier and more profitable.
What are crypto trading bots?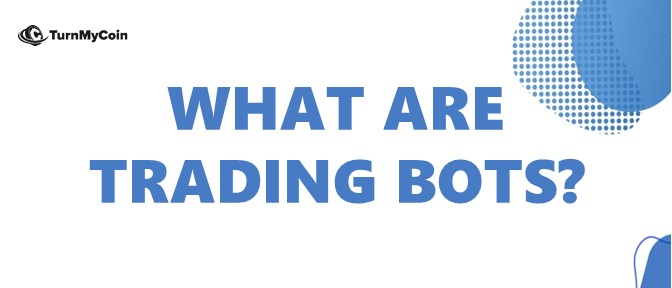 Before looking at the best crypto trading bots, let's know what trading bots actually are. Trading bots are nothing but programs that have been created to execute specific results in the trade. These crypto bots can be programmed to either buy or sell specific crypto at a specified time or price.
It is a great option to use as it automatically buys the crypto when programmed and sells it when the price reaches a certain level. There are a lot of different crypto bots on the internet, created both for beginners in the crypto market and pro traders. One of the major benefits of using crypto bots is the lack of human emotions.
While human users can be more inclined to buy specific crypto and might suffer loss, this is not present in a crypto bot. Once the bot has been given the instructions, it cannot be changed and the transaction will be processed as instructed. Also, crypto bots do not require any kind of technical expertise to execute them. Due to this, it offers a great solution for traders for on-the-go trading.
How do they work?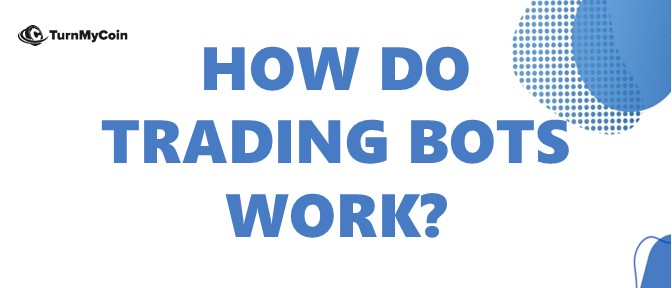 Some of the best crypto trading bots in the market are hosted by reputed platforms and have specific rules by which it works. The rules can be changed by the traders to suit their needs. One of the major advantages of using the crypto bot is that it can work for 24 hours, something that is not possible with human efforts.
Crypto bots can also be programmed to work any time of the day and make the trades day or night, based on the market trend and moves. Most of the crypto bots have all the basic features which would help users to automate trade transactions.
Some of the bots also come with specific features which are unique to them and often used by professional or expert traders. They can help traders to buy crypto at the lowest price in the market, depending on the crypto you select to trade in.
Who can use it and how is it helpful?
Most of the best crypto trading bots are created in a way that they can be used without any specialized knowledge. Therefore, even a newbie can use them easily. However, for pro traders, using emotions can sometimes be helpful in crypto trading, which cannot be done with crypto bots.
They can use it to make trades day and night, which is much more efficient. With no or little experience, crypto trading bots can be used by anyone. Before using a crypto bot, the user should have knowledge about the crypto market and should research the crypto they want to invest in.
Having details about the crypto trends and price variations in the past, it would be easier to work with the crypto trading bot.
7 Best Crypto Trading Bots
If you are looking for the best crypto trading bots that can help you to manage all your crypto exchange accounts in one place, then this is the one you should go for. The platform allows users to trade major crypto like Bitcoin, Ethereum, Litecoin, and more. It has a better UI and an intuitive setup process.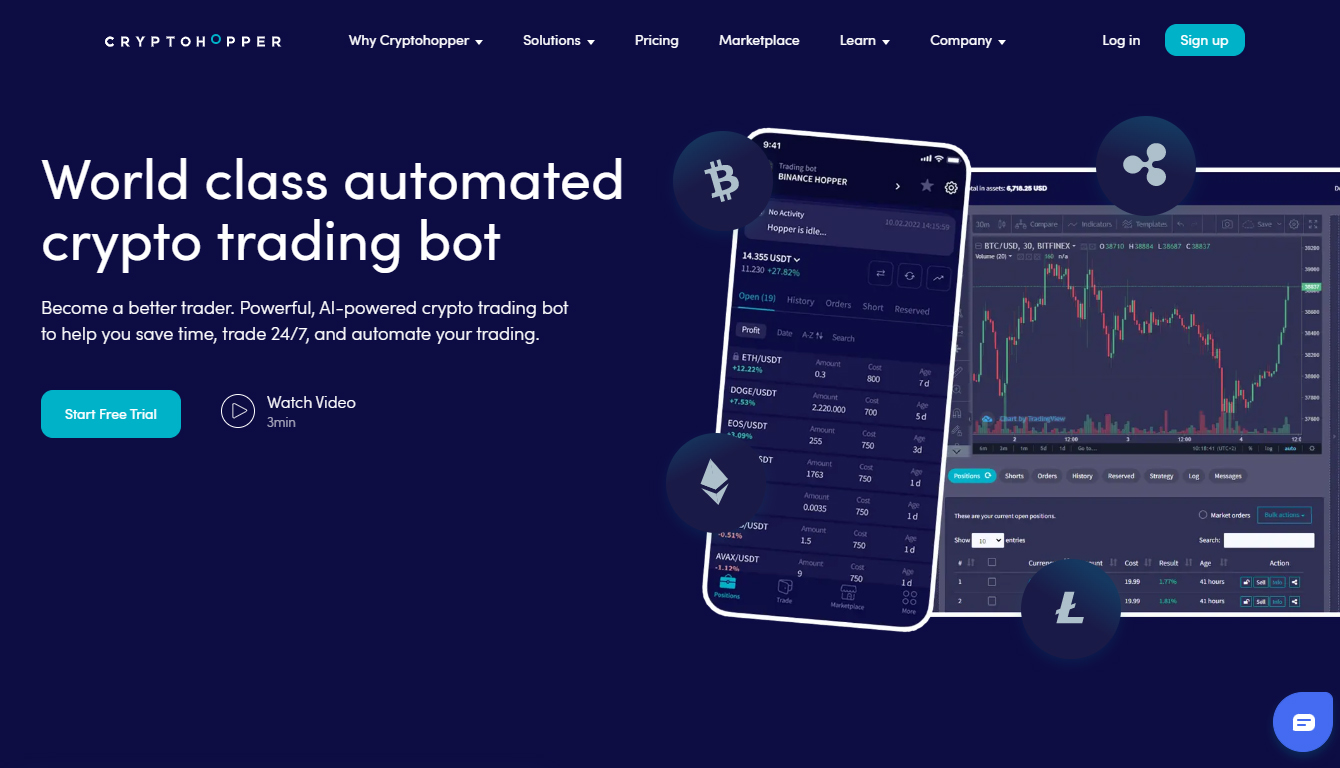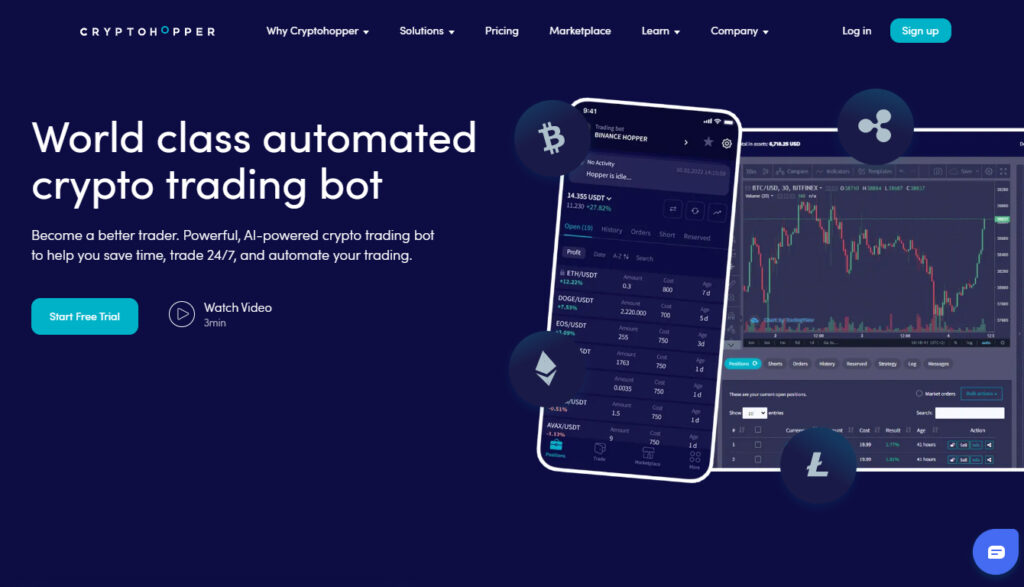 Users also do not need any kind of credit card information to set up an account. The trading bot available on this platform is
Market-Maker,
Arbitrage,
AI, and more.

It also allows the users to make Paper trade to check the strategies with no financial risk. The only problem you might face with it is that it lacks good technical support.
Features
The Bitcoin trading bot on the platform allows users to have their own technical analysis.
Users can use pre-defined strategies and bot templates.
The account has more safety on the platform due to some of the most secure protocols.
It has a user-friendly interface and keeps user data private.
It also gives regular performance reports to manage the crypto trading bot accordingly.
The advanced strategy designers use 30+ Indicators and 90+ Candle Patterns.
It might be possible that you want to or are trading in different types of crypto assets. In that case, Bitsgap is the best platform to manage all kinds of crypto assets in one place. The platform is able to analyze more than 10,000 crypto pairs and can detect crypto coins with the shortest potential.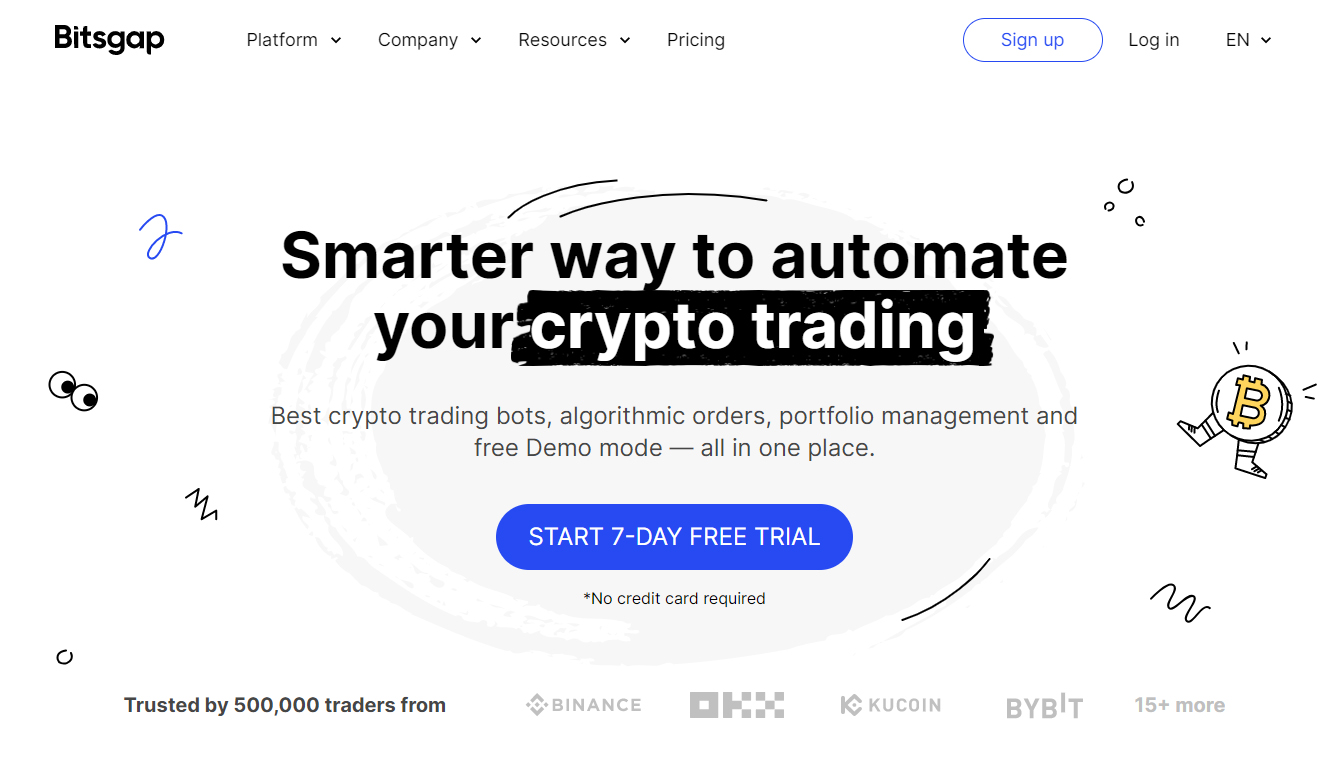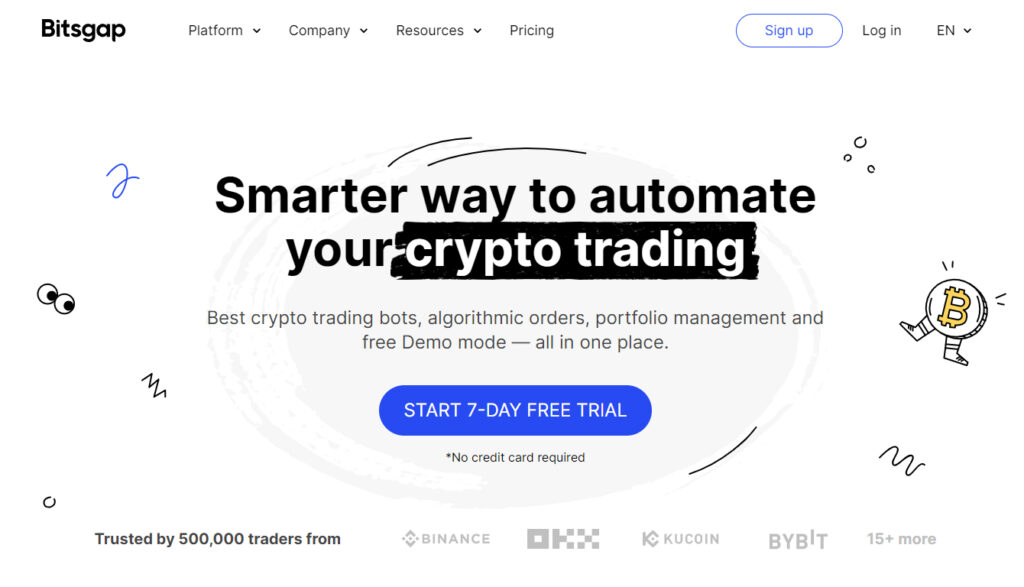 Creating a bot strategy with Bitsgap is the easiest and takes the least time. Bitsgap is currently available on over 25 brokerages. It might be simple to use but comes with a lot of functionality. It also has a detailed trading view chart which helps in assessing the bot performance. The platform does not have any kind of native mobile app, but we might see one in the future.
Features
The trading bots provide a trading chart through which all the trades can be easily viewed.
It is fully automated and works round the clock.
The bot also allows testing features before making the actual investment and can be accessed without actually downloading it.
All the funds on this platform are kept in exchange balance for better security.
The trading bots on Bitsgap have more than 100 technical indicators and 12 different chart types for research and tracking.
If you are looking for the best crypto trading bots, which have existed in the market for the longest time and have users' trust, then HaasOnline is the best available option. Through this, you can manage automated trading on over 37 crypto exchanges and create trading strategies with just one click.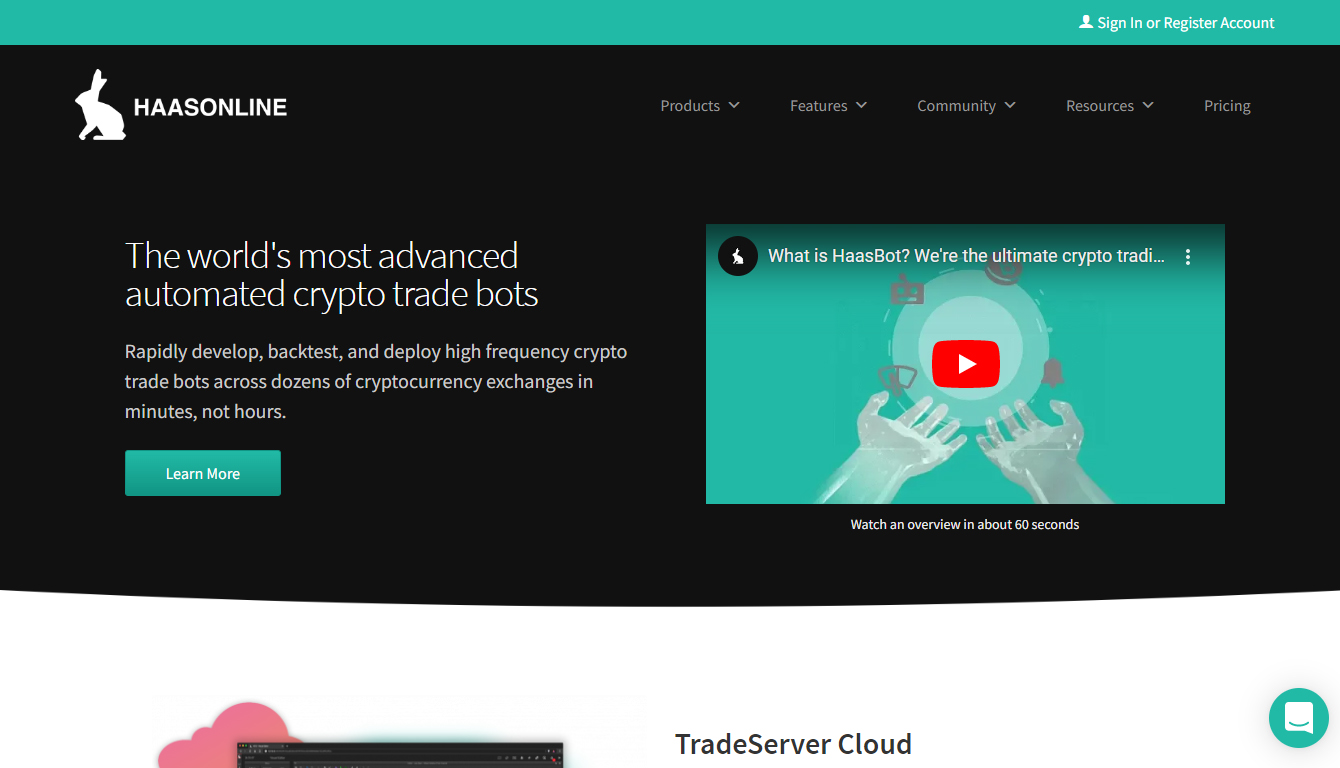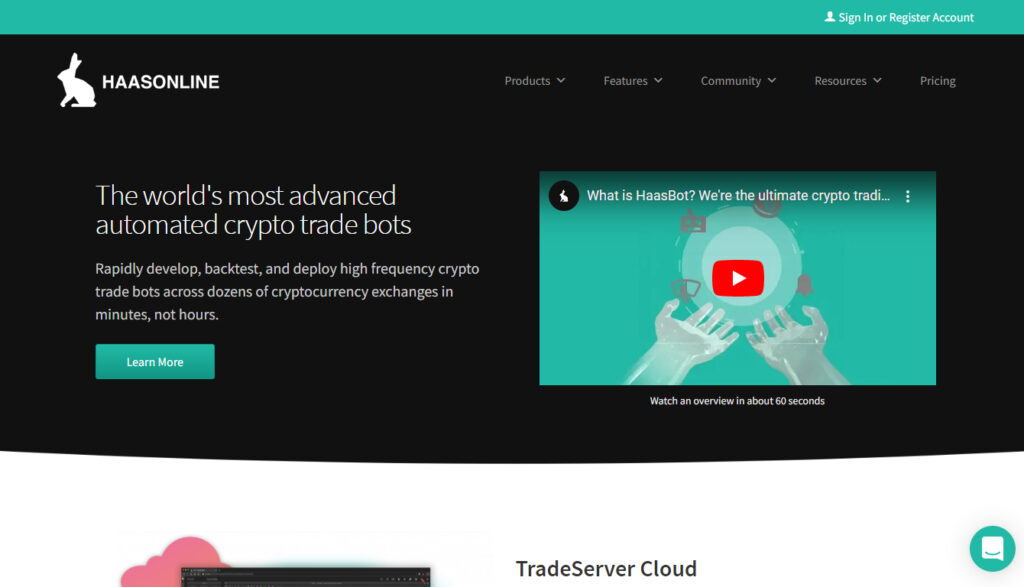 It comes with a cloud-based bot trading platform with optimal security. It also provides the facility of paper trade using live order books, which reduces the financial risk. To improve the return on investment using the bots, it also offers backtesting & batch-testing to find historical optimization. However, it lacks a mobile app, which might come in the future
Features
Recreates virtual trading strategy with bot automation
Its bitcoin trading bot allows creating own technical analysis
Keeps the data and code private
Provides custom dashboard for better monitoring of market movements
Real time performance reports
Has HaasScript which is a purpose-driven language developed for trade bots.
It is considered one of the best crypto trading bots in the market when it comes to providing multiple features for both new and advanced traders. It has different bots on offer which help to trade easily in any market. If you are looking for a reliable bot, then they also have a Bot marketplace, which offers proven bots by experienced traders in just a few clicks.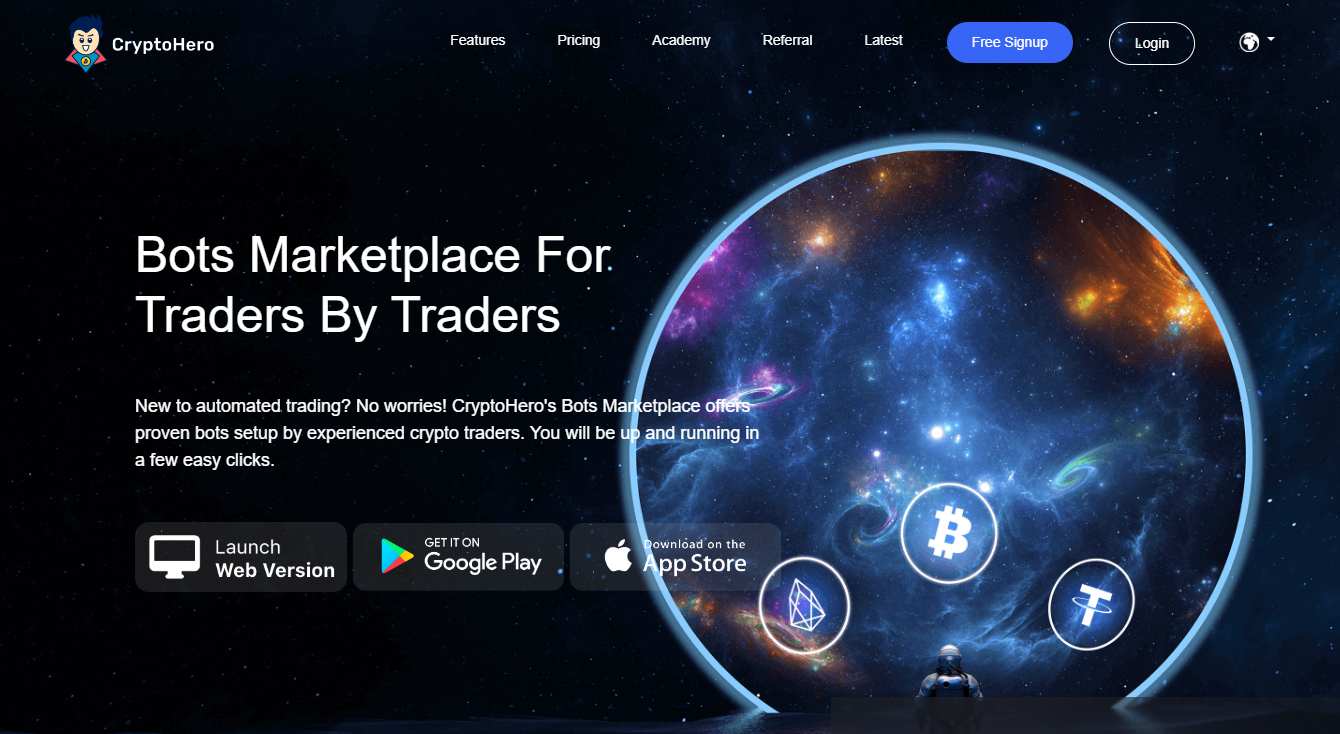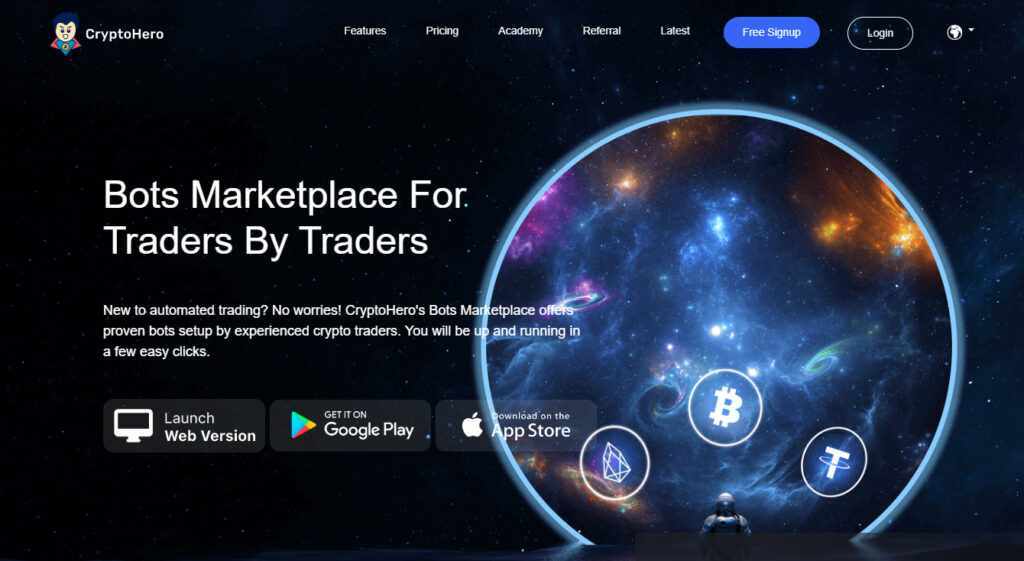 The best part about the platform is that it can be accessed from both web and mobile applications, making it easily accessible through any device. It is also very secure and does not share trading data of users with any exchange without permission.
CoinHero has a free plan and very responsive customer service. It also offers advanced features like trailing stop loss, combination triggers, and more.
Features
Easy to use interface, which allows users to make strategies with any code.
Fast back-testing feature to check the strategies.
Portfolio management provides the details of all digital assets over multiple changes.
Manual trading through the trading terminal, which allows trading across exchanges.
Bot marketplace for deploying a tried and tested bot with proven results.
Intelligent data centers provide access to crypto and finance data.
5. Trality
If you are looking for a crypto bot that uses advanced algorithms to make profits through crypto trading, then Trality is what you should go for. The platform offers some of the best tools to create an algorithm that is both educational and community-driven. The best part about their bots is that they not only help with automated trading but also educate the trader for the future.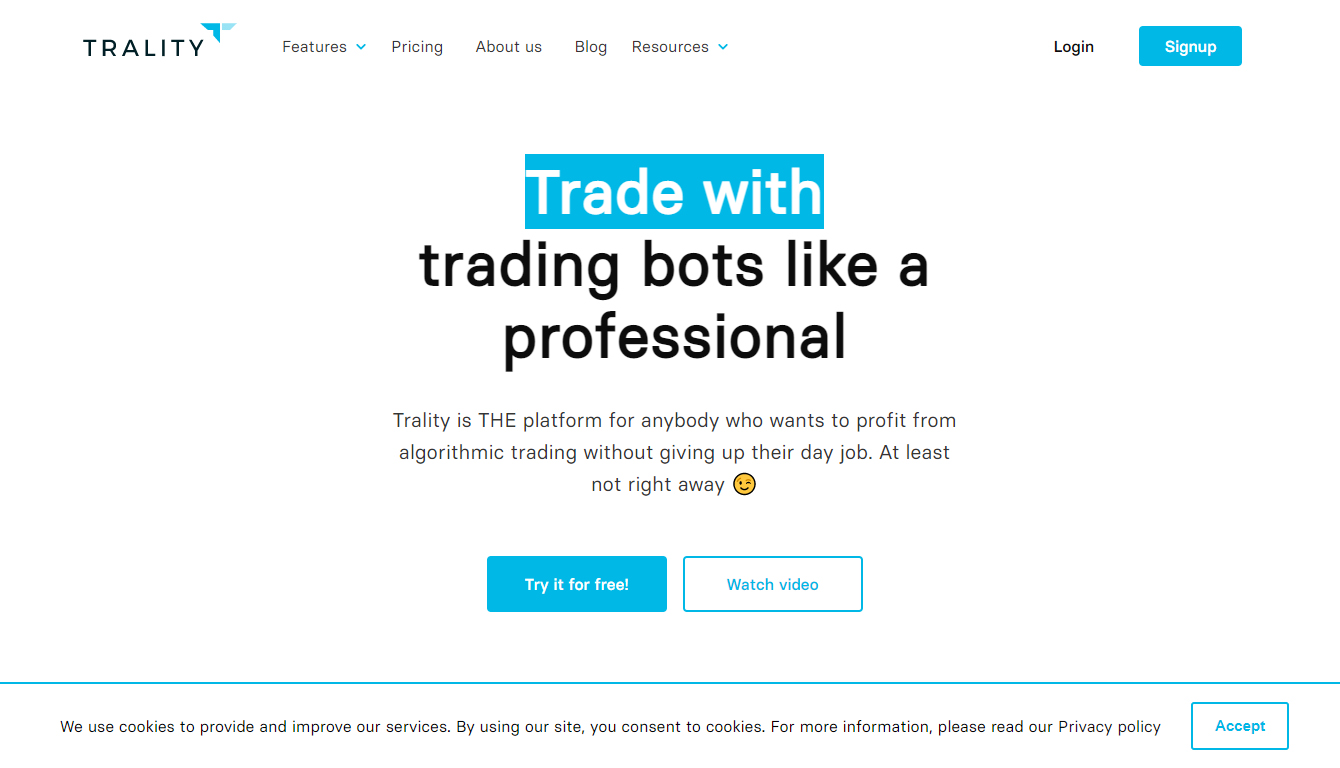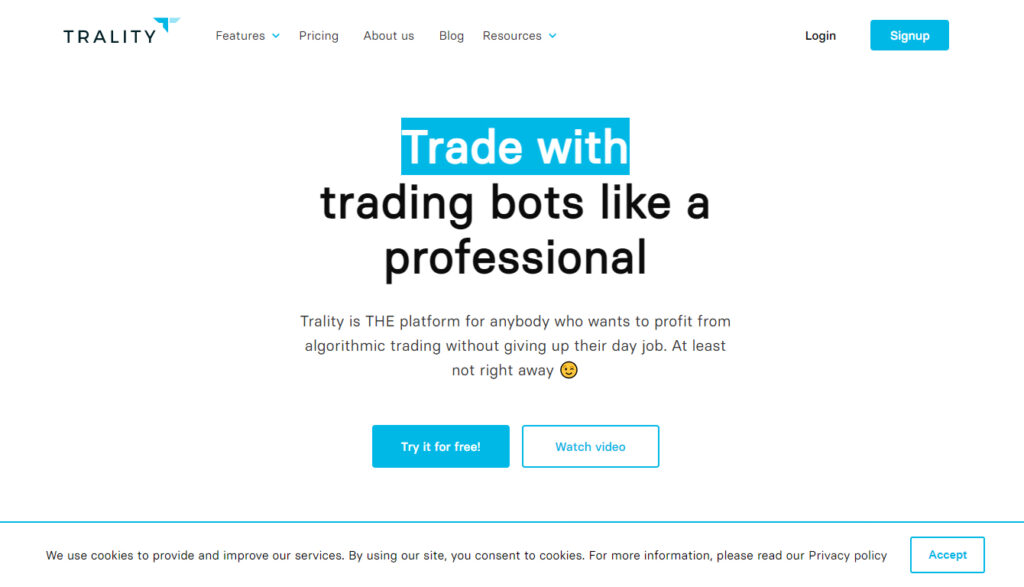 The user has the option of choosing between the Code editor and Rule builder to create their own trading bot. Also, all the trading strategies are encrypted end-to-end. However, it does not have a mobile application yet, which can be expected in the future.
Features
It has a lot of pre-defined strategies or templates that can be used for trading
Renting of bots option for expert traders
Drag and drop user interface for beginners
Python code editor with in-browser feature
Live tracking based on cloud technology with 24/7 reliability
Over 100 technical indicators
6. Coinrule
In the list of best crypto trading bots, Coinrule stands as one of the most trusted platforms. It is an automated trading platform that enables traders to trade on multiple platforms like Binance, Kraken, Coinbase, and more. Coinrule currently has more than 150 trading strategies and templates for bots.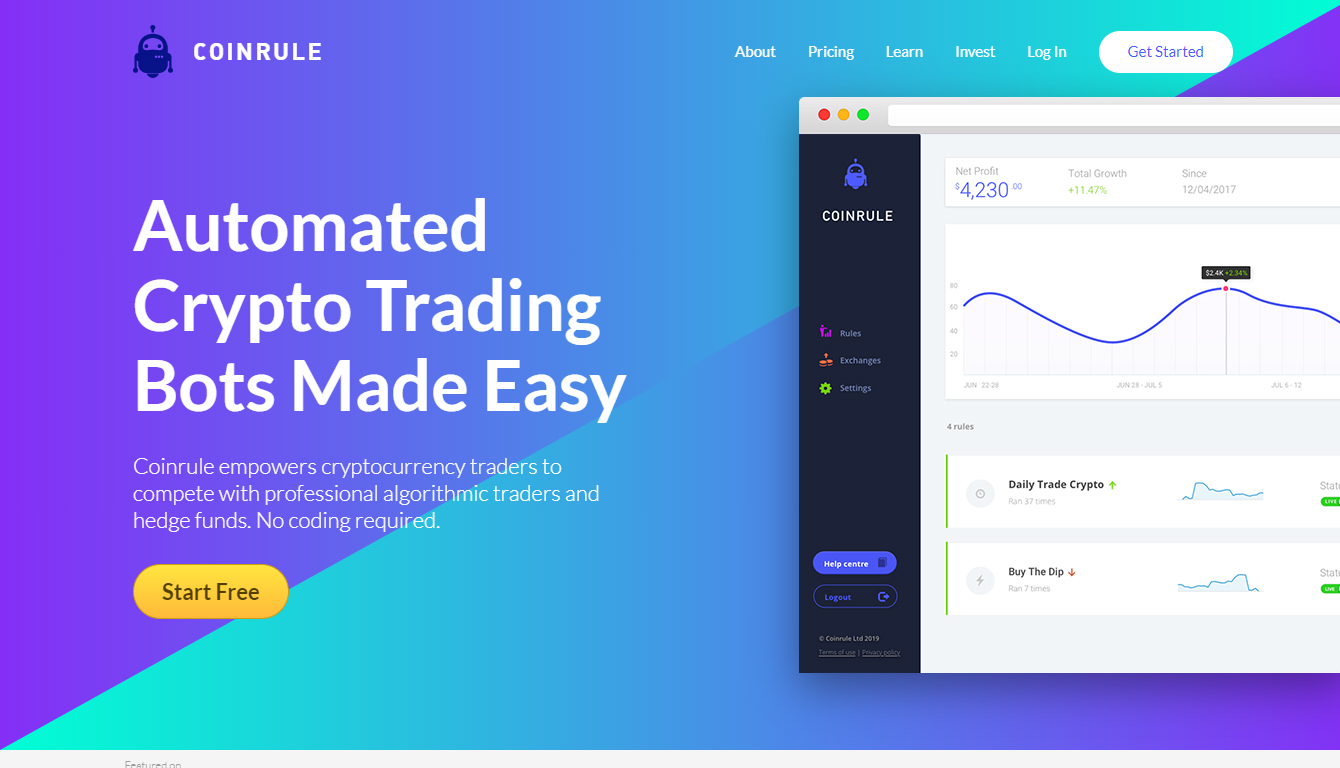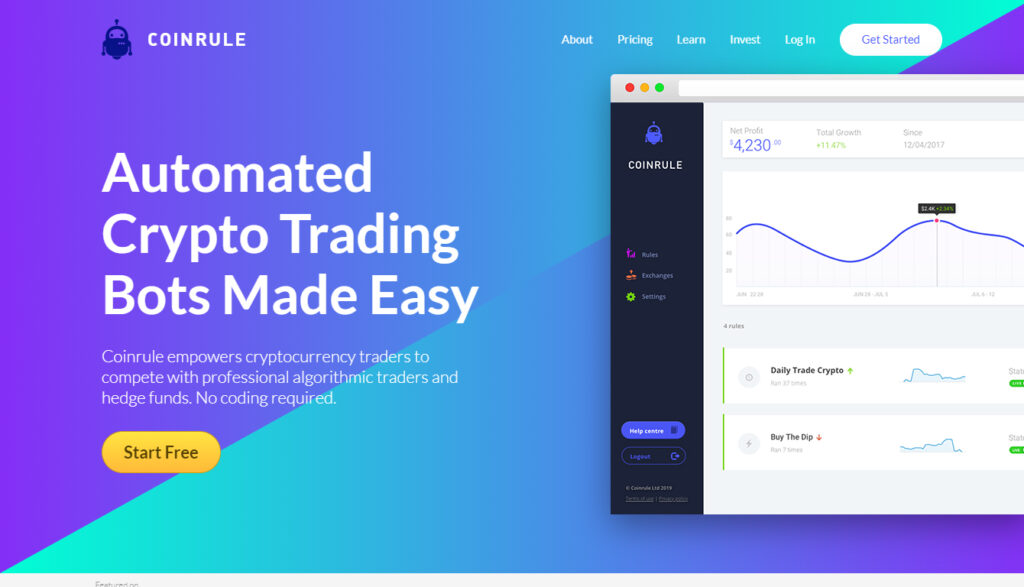 It also provides popular indicators to the user that can be used to create automated trading rules. You can select from both free plans and expert plans for an extra level of trading. The entire platform is backed by a team of crypto experts for reliability. It does not have a native mobile application, which does seem to be the need of the hour.
Features
The platform offers real-time customer service, which is not easily available on other platforms
It provides test rule performance on past data
Users can set custom trading rules and market indicators to help to allocate funds with ease.
Military-grade encryption with robust backtesting for strategies
7. Pionex
When it comes to the best crypto trading bots, Pionex stands top of the list. It is one of the most popular and most used crypto trading bots right now. Pionex is the world's first crypto exchange that provides 16 free trading bots for users. Users can simply use them to automate trading 24/7.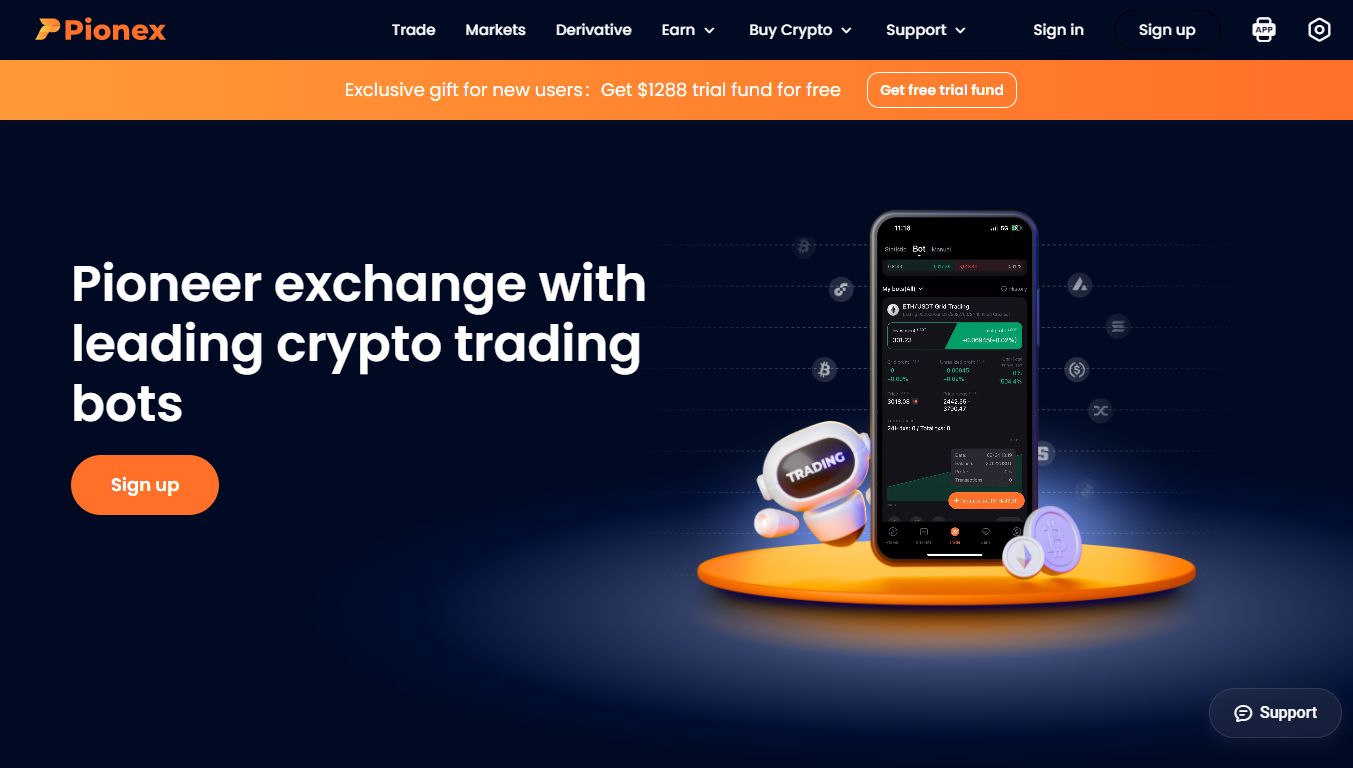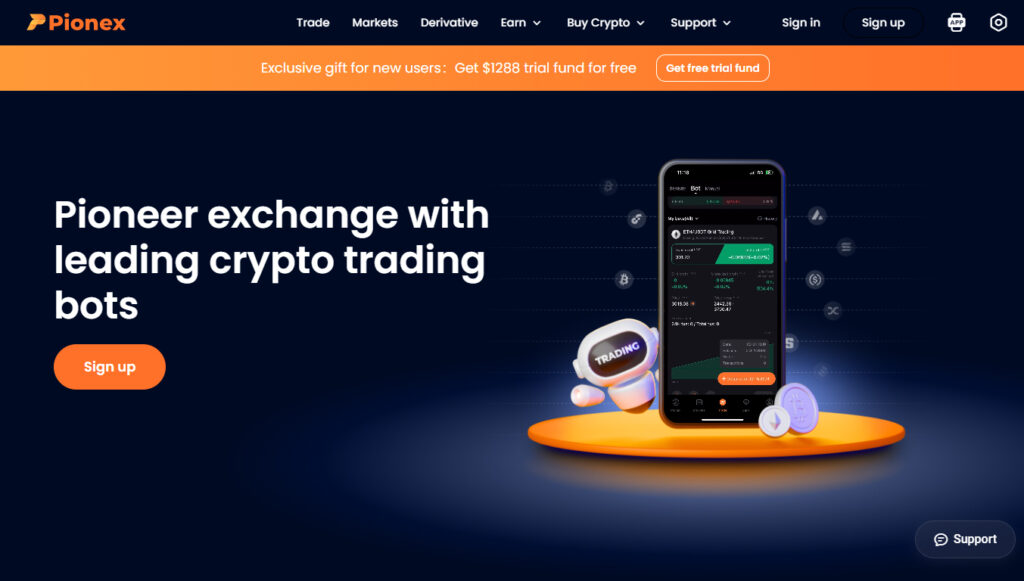 It is currently the biggest Binance broker and aggregates the liquidity from Binance and Huobi Global. If you are new to crypto trading, you can do it on this exchange with the help of free bots. The interface is very easy to use and would easily help any user in setting up automatic trades. The only problem with the platform is that it does not allow any custom trading strategies.
Features
Currently, Pionex provides 16 free trading bots for retail investors and the number would increase in the future, with a major upgrade in features.
When it comes to the trading fee, it has the lowest when compared to major crypto exchanges in the world. It is 0.05% for the maker and taker.
Their Grid trading bot allows the users to trade the crypto at a low price while buying and a high price while selling.
It also has a leverage grid bot, which can provide the users with up to 5x the leverage while trading.
Another bot called the Spot-Futures Arbitrage helps retail investors to make passive income with low risk. The return that the users can expect with this bot can range from 15-50%.
It also has a Smart Trade terminal, or a type of dashboard, which can be used to set up stop-loss, tailing in one trade, and take profit.
The platform is US FinCEN's MSB (Money Services Business) License approved.
The users can deposit and withdraw in USD for trading.
It is available for web and mobile apps on Android and iOS
Verdict
These are some of the best crypto trading bots in the market right now and will provide effective results for 24/7 trading. You can create custom strategies and use advanced tools for better results as well. All these bots have both a free and paid license. If the free version suits your needs, you can continue using their paid features as well with proven results.